Converting employees into influential leaders is crucial for the success of any business. To do this, it's important to provide leadership training for your employees that provides a platform for them to develop essential leadership skills and qualities that focus on critical thinking, problem-solving, decision-making, and communicating.
What is Leadership Training?
Leadership training refers to the courses or workshops an employee takes to improve their leadership skills. It not only provides employees with the necessary skills but also empowers them to take ownership of their work and enables them to think strategically, see the bigger picture, and take calculated risks.
Leadership training helps nurture employees by fostering self-awareness, emotional intelligence, and resilience. Employees who undergo leadership training gain a better understanding of themselves and their team members, enabling them to build strong relationships with colleagues and effectively manage conflicts or challenges that may arise within the workplace.
Examples of Leadership Training Topics
There are numerous topics that can be covered in leadership training to enhance the skills and attributes necessary for leaders to thrive in the workplace. Below, we cover 10 of those leadership training topics.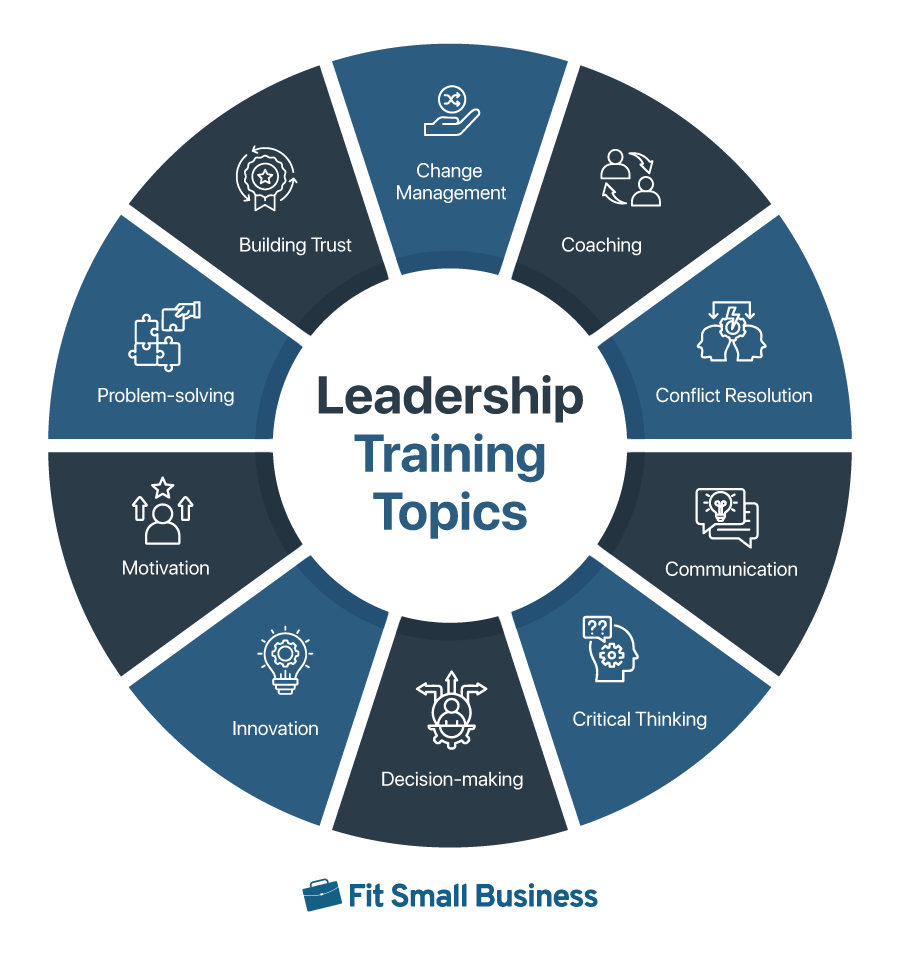 1. Change Management
Change is a constant in any business; therefore, change management training should focus on helping leaders adapt and be accepting of change. By equipping leaders with strategies to navigate complex and unpredictable environments, you will ensure you have leaders who can effectively manage change.
Your training should provide leaders with the tools they need to minimize resistance from employees and create an environment where everyone feels supported throughout the transition process. With strong leadership in place, your company can embrace change as an opportunity for growth rather than as a challenge.
2. Coaching
The most effective leaders are also coaches. And, well-trained leaders understand the power of coaching in order to empower their team members to reach their full potential.
Rather than merely providing solutions or giving instructions to employees, coaches should ask thought-provoking questions that stimulate self-reflection and promote critical thinking. This encourages individuals to find their own answers and take ownership of their development. By honing this skill, leaders can unlock potential within their employees, build trust, and establish a foundation for ongoing collaboration.
3. Conflict Resolution
A key aspect of leadership is the ability to effectively resolve conflict. However, not all leaders excel at this. By investing in training programs that focus on conflict resolution skills, you can promote a culture built on trust, respect, and open dialogue.
When conflicts arise within a team, employees will look to their leader for guidance on how to deal with them. If a leader responds impulsively or aggressively, it can create a toxic work environment where open communication and collaboration suffer. On the other hand, leaders who have been properly trained can model healthy conflict-resolution strategies that promote mutual understanding and respect among team members.
4. Communication
An effective leader knows how to communicate with their team. Seeing to it your leaders are trained in the proper way to communicate with employees will ensure your operations run smoothly and create a positive and productive work environment.
Properly trained leaders know how to actively listen to their employees' concerns, ideas, and feedback. By doing so, they make employees feel valued and respected, leading to higher job satisfaction and increased engagement.
5. Critical Thinking
Critical thinking enables leaders to analyze complex situations, question assumptions, and make informed decisions. The best leaders undergo training to develop their critical thinking abilities and apply them in practical situations.
One approach to critical thinking training involves giving leaders real-life scenarios that require them to think critically and come up with innovative solutions. By putting leaders in these challenging situations, they can practice applying critical thinking skills in a safe environment and learn from their mistakes without the fear of negative consequences.
6. Decision-making
Your leaders must be able to make critical decisions quickly. While this is usually considered a natural skill, it can also be sharpened with proper training. By providing leaders with the tools, frameworks, and techniques needed to assess complex situations and make informed choices, you set them up for success.
Diversity training can help leaders hone their decision-making skills by engaging with individuals from different backgrounds and cultures. This allows leaders to broaden their understanding of complex issues and consider a wide range of viewpoints before making a decision.
7. Innovation
Leaders must be equipped with the skills and mindset to drive innovation within their teams. Innovation training will help leaders embrace a growth mindset, instead of seeing failure as something to be feared. This type of training allows leaders to take more risks and encourages their team members to do the same.
A crucial component of innovation training is developing the ability to think outside the box. Through various exercises and techniques, innovation leadership training helps expand thinking, challenge assumptions, and find new solutions to complex problems.
8. Motivation
Effective leaders must possess the ability to motivate their team. When leaders are motivated, they create an environment that inspires their team members to perform at their best. Their training should focus on building skills for recognizing and acknowledging the achievements of their team members.
Motivation training is not just about delivering inspiring speeches—it requires a deep understanding of personal motivators and the ability to recognize and appreciate the efforts of others. Empowering leaders with these skills will help them motivate teams more effectively toward achieving company goals while fostering a positive work environment that fuels individual growth.
9. Problem-solving
Problem-solving is a critical skill for leaders, as they are often confronted with challenges that require innovative solutions. However, many leaders struggle with addressing these issues due to a lack of proper training.
Investing in problem-solving training can greatly enhance a leader's ability to tackle problems head-on and implement effective strategies. This training will teach leaders how to look at problems from different angles. Learning techniques, such as brainstorming and thinking outside the box, can help leaders expand their problem-solving abilities and come up with creative solutions they might not have otherwise considered.
10. Building Trust
Typically, in order to build trust, leaders must first prove they are trustworthy. This can be done through practicing active listening and helping employees solve problems. However, trust building can also be taught.
This type of training can help leaders understand the importance of trust, develop effective communication skills, and learn how to create an environment of openness and transparency. It can also help leaders identify any barriers or issues that may be lowering trust within their team and provide them with strategies to overcome these obstacles.
Benefits of Leadership Training
Without strong leaders, teams can become disorganized, feel unmotivated, and lack direction. This is why investing in leadership training is essential. These programs provide individuals with the knowledge to lead their teams effectively.
Leadership training also has a positive impact on the overall culture of an organization. It creates a collaborative environment where team members feel safe to contribute ideas and take initiative.
Leadership training benefits the leader through the following:
Self-reflection: Leadership training provides an opportunity for self-reflection and personal growth. It allows leaders to identify their strengths and weaknesses, enabling them to work on areas that need improvement.
Confidence: When employees see that their leaders are knowledgeable and confident decision-makers who genuinely care about their growth and development, it fosters a sense of trust and respect within the team.
Better decision-making skills: Through training, leaders learn how to think critically, analyze situations, and make informed decisions that benefit both the team and the company.
Improved communication: Effective leaders need to be able to convey their thoughts and ideas clearly and concisely while also actively listening to others.
Emotional intelligence: Having empathy and emotional intelligence is crucial for effective leadership, as they allow leaders to understand and connect with their team members on a deeper level.
Measuring the Effectiveness of Leadership Training
Measuring the effectiveness of leadership training requires a refined approach that combines assessments, observation of applied skills, and feedback. Only by using these different methods can you gain a better understanding of how successful your leadership training is.
Key performance indicators (KPIs): By tracking KPIs related to team productivity, employee engagement levels, and revenue growth, you can gain valuable insights into whether the training program had a positive impact on leadership outcomes.
Technology-driven tools: These capture data from various sources and provide insights into how leaders apply their new skills in day-to-day work situations.
Assessments: Assessing participants' skills, knowledge, and attitudes before and after the training will allow you to gauge how much growth has taken place.
Application: This can be measured by observing leaders' behaviors and actions post-training and comparing them to desired outcomes.
Feedback: Colleagues, direct reports, and team members can provide feedback on whether the trained leaders are exhibiting improved performance, communication, decision-making, and other crucial leadership abilities.
Bottom Line
Leadership training for employees not only enhances the skills and capabilities of individual employees but also has far-reaching benefits for the entire company. It helps to cultivate and develop effective leaders who can steer their teams towards success. Well-trained leaders can inspire and motivate their teams to achieve higher levels of performance, leading to increased productivity and profitability.