MarginEdge Review: Features, Pricing & Alternatives 2022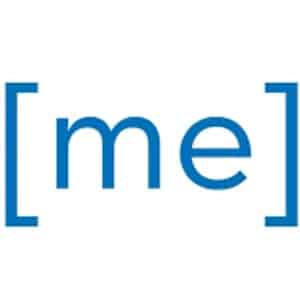 What We Recommend MarginEdge For
Whether you're a single operation or a multiunit group, MarginEdge can help you run your restaurant more profitably. Anyone who's looking to save time with data entry and handle all aspects of their restaurant business, such as inventory, recipe management, and invoice processing, should consider it. We ranked it among the best restaurant accounting programs for restaurant integration with QuickBooks Online.
Existing QuickBooks, Xero, and Sage Intacct users: It integrates with all versions of QuickBooks, Sage Intacct, and Xero for general bookkeeping.
Midsized and large restaurant locations: Recipes are updated with daily food costs, which is especially useful for larger restaurants.
Food waste and spoilage reduction: Its reports compare actual food usage to what should have been used given recipes and sales, helping you control costs and eliminate food waste.
When To Use an Alternative
Food trucks and food delivery: Because MarginEdge lacks food distribution software, Food Service Ace is a better choice because it provides great mobile apps that assist you with scheduling, preparing, and routing order deliveries to your customers.
Restaurants looking for an all-in-one restaurant software: While MarginEdge has a comprehensive suite of features, it doesn't include a bookkeeping system. For this, we suggest Restaurant365, which provides many of the same restaurant features as MarginEdge but also includes bookkeeping in one comprehensive software.
Small caterers: With a lower volume of food, small caterers probably don't need the advanced features of MarginEdge. QuickBooks Online, even without an integration, provides good inventory management, project tracking, and invoicing that will work well for small caterers and small restaurants.
If you would like to consider general bookkeeping software for your restaurant, check out our evaluation of the best small business accounting software.
MarginEdge Pros & Cons
PROS

CONS

Supports more than 45 popular POS systems
Not a standalone bookkeeping system
Integrates with all versions of QuickBooks Online, QuickBooks Desktop, Sage Intacct, and Xero for general bookkeeping
Requires 7shifts integration for employee scheduling
Unlimited free electronic bill payments and tech support
No forecasting features
All-inclusive and fixed pricing
Improved and revamped mobile app
Inventory and recipe costs stay up to date when a product is purchased from a new vendor
MarginEdge Pricing
MarginEdge charges a flat fee of $300 per location, per month. You have the option of annual billing for a 10% discount or $3,240 (approximately $270 per month). This price includes access to all of the features, such as invoice processing, bill pay, and recipe costing.
However, MarginEdge isn't intended as a standalone bookkeeping system, and you'll need to sign up for bookkeeping software, such as QuickBooks Online Plus, which costs $85 per month for unlimited locations.
MarginEdge Features
MarginEdge has many features that will help you streamline your key activities and obtain a glimpse of your restaurant's financial picture. These include a recipe management system, invoice processing, bill pay, and labor expense management. It also provides powerful tools for live budget and cost tracking and inventory management.
2022 Features & Enhancements
Improved mobile app: MarginEdge's mobile app can now do more. Users can see sales data, use biometric sign-in, track and count inventory, auto-convert measurements, such as from grams to ounces, and view and process invoices (a feature in the old app).
More POS integration: MarginEdge has expanded its POS integration to Upserve, Revel, and Clover.
Invoicing optimizations: Users can now export a comma-separated values (CSV) file of order details at the invoice level and delete or update invoice images on closed orders. Invoicing between restaurants is now possible as well.
Auto Pay: With Auto Pay, you can now set up automatic and recurring payments in MarginEdge so that you won't miss or forget a payment accidentally. You can set auto pay per invoice or vendor several days before it's due.
Multiuser management: It now allows account administrators to invite users from different locations to streamline processes and make user management easier.
Employee scheduling: With its recent integration with 7shifts, users can now import labor data from the employee scheduling tool. They can also integrate labor costs with restaurant costs to give managers a full view of materials, labor, and overhead information.
---
Recipe Management System
With this, you can manage all of your recipes in one place and always know the plate costs for everything you serve. You can also enter and price recipes, keep them organized, and print them with photos to display within the kitchen. Creating a recipe is one of the central components in tracking the theoretical usage of products, which provides you with valuable data regarding your restaurant's profit margin. You can also add equipment that will be used in your recipes and indicate whether a product has any allergens.
---
Vendor Payment
MarginEdge automates the bill payment process, eliminating time spent doing data entry. By using the mobile app, you or your team can take pictures not only of invoices but also credit memos, service bills, and petty cash receipts. Also, if a vendor emails you a PDF file, you can forward it to MarginEdge, and it'll process it for you. There's no limit to the number of bills you can pay each month.
Once you sign up, it generally takes seven to 10 business days to process your invoices. After that, the standard processing time is one to two days. You'll be able to view the different statuses of your invoice—from preprocessing to closed—as it makes its way through the approval process before being sent to your accounting system.
---
Bill Pay
The Bill Pay feature is included in the cost of MarginEdge, and it allows for unlimited payments, either electronically or by check. You can view all of your invoices on one screen and sort them by vendor, due date, or payment status. Multiple-location restaurant groups can also view and pay invoices across locations from a single screen.
Once you have selected the payments you want to make, MarginEdge will send the payment as scheduled. All payments are synced with your accounting system. With Bill Pay, you can pay bills in one payment. There's no need to pay bills by location, which is a great timesaver for restaurants with multiple branches.
---
POS System
MarginEdge connects directly to your POS system to gather everything that you sold and import wage data. By adding pictures of invoices and sales from your POS, you'll have real-time access to useful data like recipe pricing, updated inventories, and budgets.
---
Labor Expense Management
MarginEdge collects labor data automatically from your POS system so that you can view wage data on your P&L and budgets. You can also add salaried employee data for a more complete picture of your labor costs. However, MarginEdge doesn't have a payroll integration.
This feature is only available for the following POS systems: Toast, Revel, MobileBytes, POSitouch, Upserve, Aldelo Express, Silverware, TouchBistro, Aloha, Brink, NCR Silver, CBS Northstar, Grubbrr, Sapphire, and MICROS.
---
Inventory & Purchasing
With MarginEdge, you can decide which products to inventory and how to count them easily. You can also create and print one or multiple count sheets to use when performing manual inventory counts to update MarginEdge. As invoices are processed, it'll update product prices as needed automatically.
For multiple locations, you can control product names, units, and how they're coded centrally. Once the inventory has been updated and management has approved it, you can export the data to your accounting system.
---
Prime Cost Data
MarginEdge provides you with the tools to determine your restaurant's prime cost or the total sum of your labor costs and cost of goods sold (COGS). This should guide how you manage your day-to-day revenue to ensure a good profit margin for your restaurant. Some of the available reports are: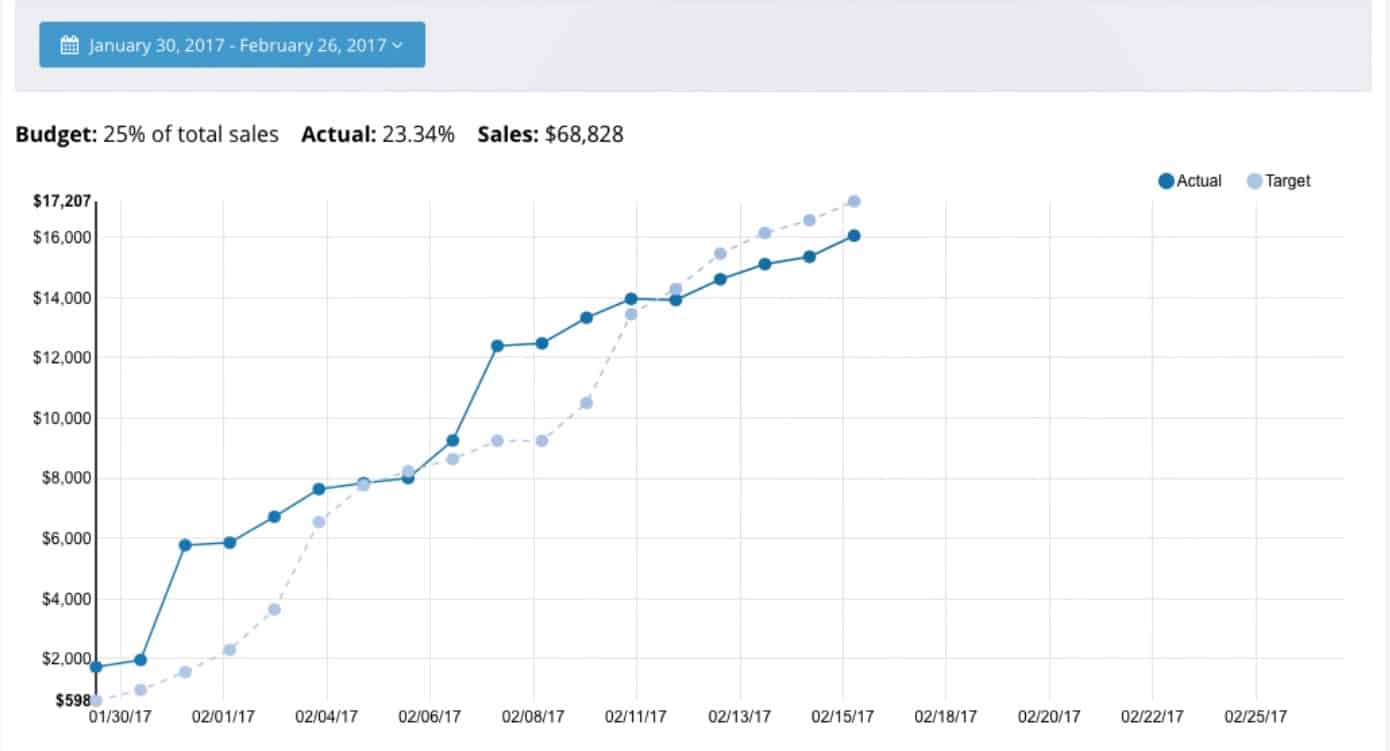 ---

---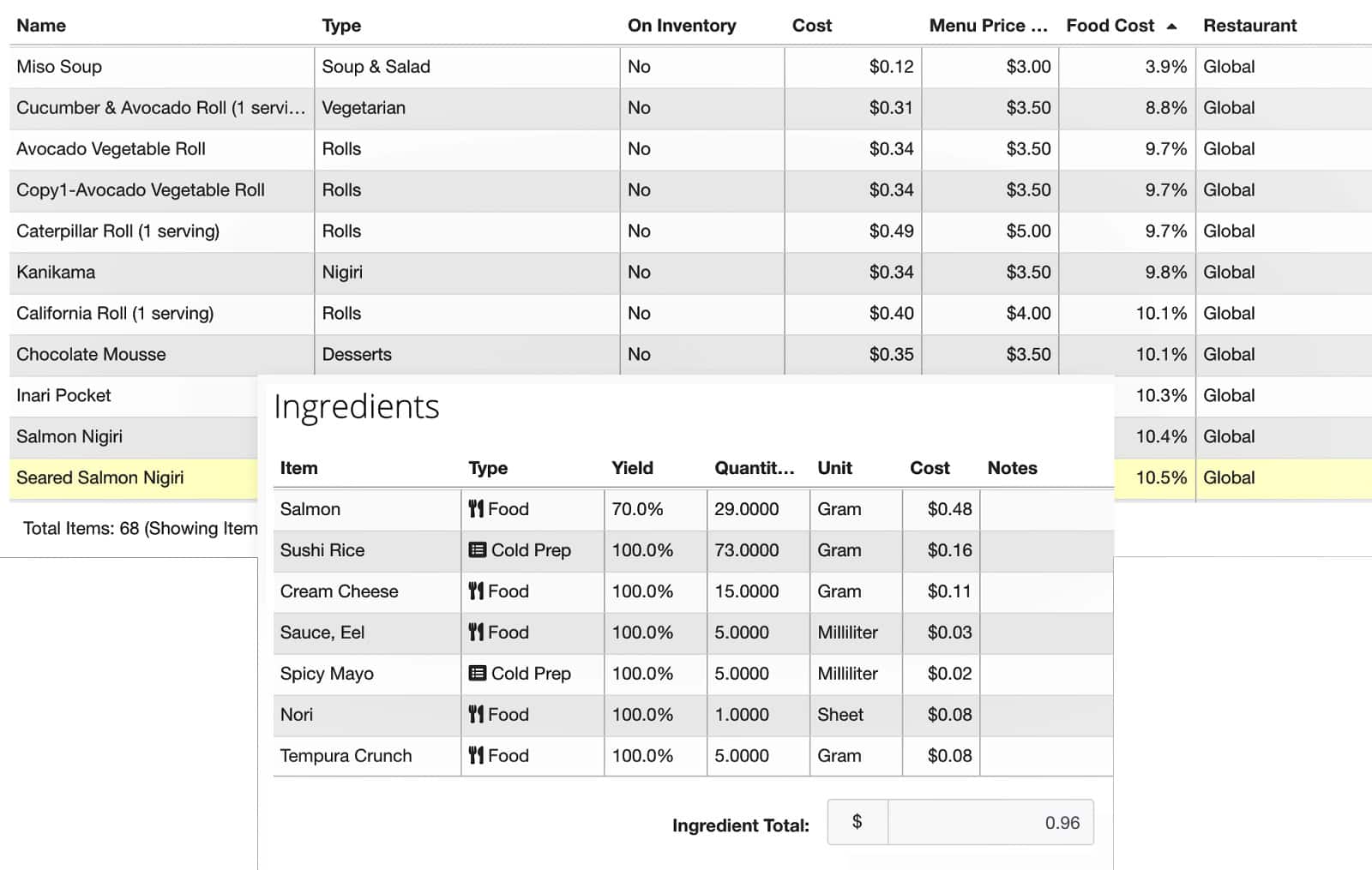 ---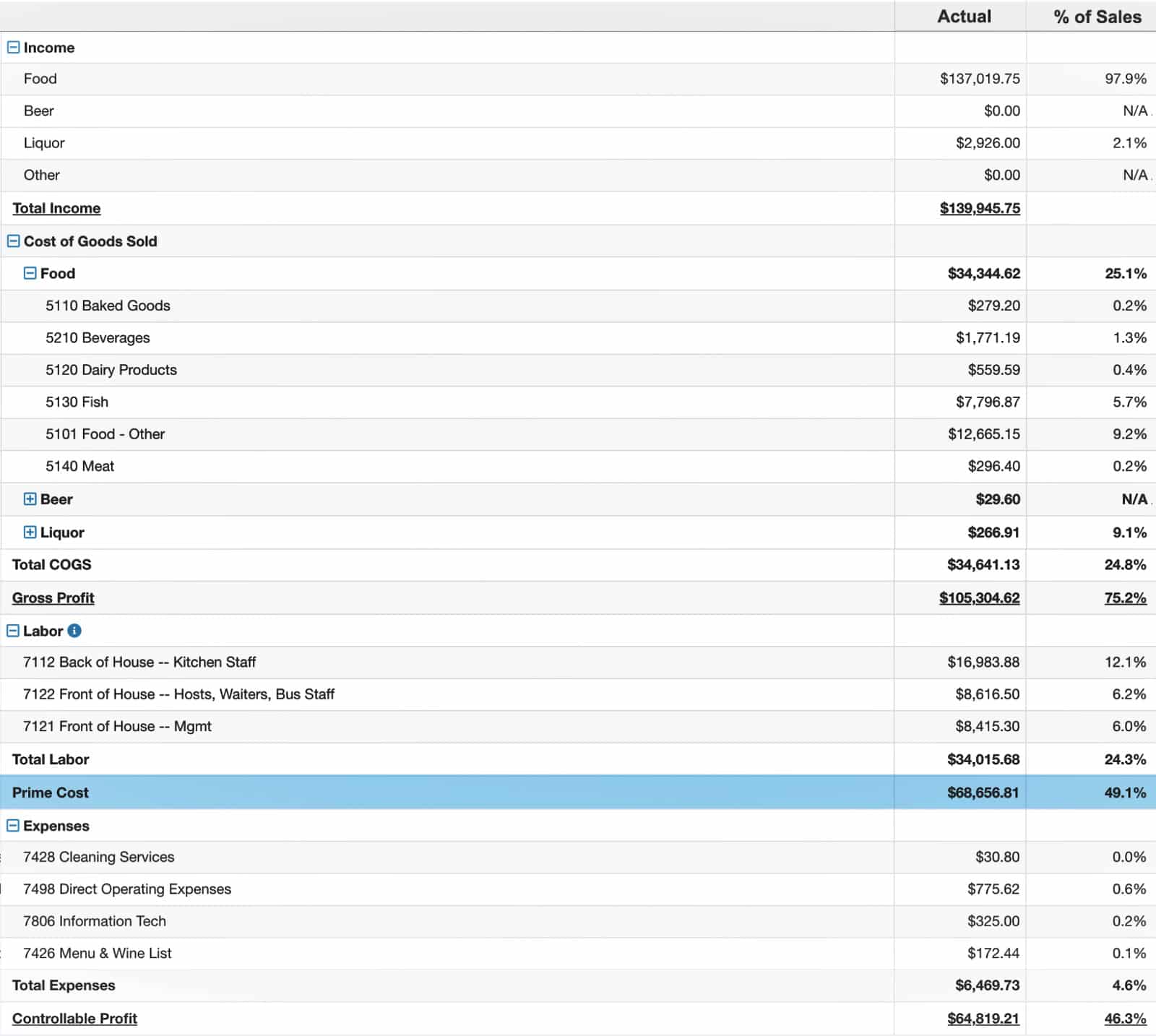 ---
---
MarginEdge Customer Support
MarginEdge has unlimited tech support available, which can be accessed by completing a support request form on the website. There's also a help page with several useful resources, including weekly interactive training sessions, video tutorials, product release notes, and articles.
MarginEdge Ease of Use
MarginEdge is highly intuitive and fairly easy to use, with a dashboard that's simple to navigate. All of the data that you need to access is right at your fingertips, and it can be customized to suit the needs of your restaurant.
When you log in to MarginEdge, you'll land on the Home dashboard, and the navigation bar on the left side of the screen enables you to access other sections, which are described below:
Home: This screen displays sales numbers with period-to-date and year-to-date summaries, along with budget data.
Orders: View all of your invoices, place orders, and upload and approve invoices in this section.
Performance: This is where all of your reports can be found. There are eight total, including Budget, Category Report, Controllable P&L, Food Usage Report, Sales, Price Alerts, Price Movers, and Theoretical Usage.
Vendors: You can edit vendors here, as well as view orders by vendor, and edit their settings.
Products: View a list of products already entered in MarginEdge's system here. You can also add and edit a product's category, unit of measure, or vendor item association.
Recipes: Access MarginEdge's powerful recipe management system here, which you can use for recipe organization, staff instructions, dynamic recipe pricing, and kitchen display of recipes for the team to reference easily.
Inventory: This is where you can enter products into inventory and determine how to count them. You can also create and print multiple count sheets to use when taking inventory in the restaurant.
Labor: All labor data from your POS is displayed here, which includes wage data. You can also map job titles to labor categories for more detailed report data.
Bill Pay: Pay your bills directly from within MarginEdge, which allows for both check and electronic payments.
Accounting: All activities related to accounting can be accessed here. This includes reconciliation, sales entries, setting up budgets, and closing the books.
Setup: All of MarginEdge's settings can be configured here, including users, integrations, and point of sale.
Central: This section gathers data from all restaurant locations―if more than one―and allows for customization based on time period.
Sales: This report shows daily sales data and compares it to the prior week and prior year, with period-to-date and year-to-date summaries.
Budget: View your budgeted versus actual costs for different categories such as COGS and restaurant supplies.
MarginEdge Alternatives
| | | |
| --- | --- | --- |
| Best for: Mobile restaurants and food delivery | Best for: All-in-one bookkeeping and restaurant management | Best for: Food service businesses that don't need specialized restaurant management features |
| Cost: Quote-based, depending on number of locations and services | Cost: Starting at $399 per month, per location | Cost: Starting at $85 per month for project tracking |
Bottom Line
MarginEdge provides you with a real-time view of food and labor costs, so your restaurant can be more efficient and profitable. By submitting vendor invoices via the mobile app, email, or connecting directly to your vendors, MarginEdge will import the data down to the line item detail. It connects to your POS to provide daily reports, which allows you to monitor your labor expenses, sales, and COGS.
You also can set and monitor budgets for a variety of categories and monitor inventory levels to identify waste. The recipe management tool allows you to manage recipes from one central cloud-based system and control your margins in real-time. Because of these capabilities, we recommend MarginEdge as a powerful supplement to your bookkeeping software.