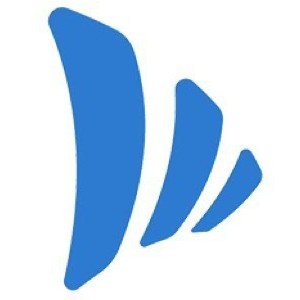 Wave is a free cloud-based accounting software with integrated invoicing, payroll, payment processing, and receipt scanning features. It helps small businesses and freelancers perform accurate and intuitive accounting for free and process financial transactions (payroll and payment processing) at a blissfully low cost.
What We Recommend Wave For
After doing extensive research on Wave, I've concluded that it's adaptable accounting software and a good alternative to pricier options. Wave provides a simple, easy-to-navigate dashboard where users can easily generate reports, such as a balance sheet, cash flow statement, profit and loss report, sales tax report, and more.
Wave simplifies accounting and invoicing processes, eliminating the hassle that comes with chasing payments and monitoring expenses.
Wave Is Especially Good For:
Businesses looking for free bookkeeping software: The best thing about Wave is that it's accounting, invoicing, and receipt scanning services are free to use. It makes money through its payment processing and payroll services. Find and compare our best free accounting software.
Businesses looking for an alternative to QuickBooks: Small businesses and freelancers who want to opt-out of QuickBooks or find it expensive turn to Wave because it provides comprehensive accounting for free, without limitations on transactions or users. To help find other better-fitting accounting solutions, check out our article on the best QuickBooks alternatives.
Freelancers and self-employed businesses: Wave comes with core features like recurring billing and flexible payment options, which help freelancers complete essential tasks, such as sending invoices, tracking client payments, and logging deductible expenses. Our article on the best accounting software for freelancers provides additional freelance accounting solutions for you to consider.
Businesses looking for easy accounting software: Wave is 100% web-based, so there's no need to install any software. Its intuitive design and complementary mobile apps help you easily stay on top of your accounting process.
Businesses comprised of more than one company: Wave lets you set up and manage multiple entities or companies. This means you don't have to create separate accounts for each of your companies. Check out our article on the best multicompany accounting software to discover other accounting solutions for multiple entities.
Business looking for mobile invoicing: Download Wave's mobile invoicing app on Google Play or App Store and start creating, sending, and tracking invoices on the go. If you need software that allows you to do more of your bookkeeping anywhere, read our article on the best mobile accounting apps.
While Wave does not offer industry-specific features, it is flexible enough to be included in our best software for the following industries:
Wave Is Not a Good Fit For:
Law firms: If you are managing trust accounts, then Wave is not for you. It doesn't support three-way reconciliation, which means that there's no way to balance your trust account bank statement, internal books, and the client ledger balances. If you're looking for a suitable accounting tool for your law practice, you better check out our review on the best law firm accounting software.
Construction firms: While Wave has good basic accounting features, it doesn't have an advanced job costing system like QuickBooks Premier Contractor Edition. Wave doesn't enable you to assign labor and equipment hours, revenue, materials, and other costs to jobs. To help you find the proper solution for your construction business, we have compiled the best construction accounting software.
Restaurants: Wave has no built-in or integrated point-of-sale (POS) system, a key feature that helps restaurants and retail businesses automate their daily operations. If you are interested in accounting software with an integrated POS system, read our article on the best restaurant accounting software.
Looking for something different? Read our guide to the best small business accounting software and check out our top picks.
Wave Overview
| Pros | Cons |
| --- | --- |
| Accounting, invoicing, and receipt scanning services are free | There's no way to manage inventory |
| Allows you to manage multiple businesses under a single account | Lacks other essential features like time tracking and audit history |
| Supports unlimited users and transactions | Not a good fit for large businesses |
| Excellent selection of features for small businesses and freelancers | Multiple apps instead of a single full-featured app |
| Can handle multicurrency transactions | Client portal is only for invoices |
Wave Pricing
Wave's accounting, invoicing, and receipt scanning software is completely free to use. However, Wave charges fees similar to paid software for credit card payments and payroll.
Services

Pricing

Accounting, Invoicing, and Receipt Scanning

$0

Credit Card Processing

2.9% + 30 cents per transaction (for most cards)
3.4% + 30 cents (for American Express)

Bank Payments

$1 per transaction

Wave Advisors

Starts at $79 per month

Payroll

Starts at $20 plus $6 per employee per month (Self-Service States)
Starts at $35 plus $6 per employee per month (Tax Service States)
Wave Features
Wave is a well-integrated software designed to help small businesses and freelancers take the pain out of accounting. The setup process is easy, and it has an easy-to-use interface that is ideal for users with no prior experience. You can use Wave on any device anytime and anywhere, and if you need help understanding its features, you can seek assistance from its Help Center.
New users can create their Wave account for free. Wave redirects you to its dashboard after logging in, where you get instant access to bills and invoices, a graph displaying how your business is performing, shortcuts to create a new invoice, and other essential features, such as recurring invoices, banking, and payroll.
As you scroll down the page, it displays a chart with cash coming in and out for the last 12 or 24 months. It also displays invoices and bills payable, net income, an expenses breakdown, and shortcuts to adding a customer, vendor, inviting a collaborator, and more.
Here is a view of Wave's default dashboard:
Dashboard
As a well-integrated software that combines invoicing, accounting, and receipt scanning into a single package, you can create and send invoices and estimates, record expenses, and perform other functions easily in a few clicks.
On the left side of your dashboard, you can access the following menus instantly:
Sales: Links to record transactions like estimates, invoices, and customer payments as well as generate sales reports and customer statements.
Purchases: Under Purchases, you can record your company's bills, view scanned receipts, browse vendor information, and set up your products and services.
Accounting: Click on Accounting to input new transactions and categorize transactions transferred from your bank, review your chart of accounts, reconcile your bank accounts. There is also an option under Accounting to hire a Wave Advisor, a service that lets you talk to a live bookkeeper.
Banking: Connect your online bank accounts to Wave to automatically transfer transactions. There is also an option to subscribe to Wave Payments to allow your customers to pay online with their credit cards.
Payroll: Manage payroll-related transactions, including employee data, timesheets, transactions, taxes, and tax forms. This requires a subscription to Wave Payroll.
Reports: Wave lets you create 12 reports: profit and loss, balance sheet, cash flow, sales tax, payroll wage and tax report, income by a customer, aged receivables, purchases by vendor, aged payables, account balances, trial balance, and account transactions.
Wave Advisors: Hire Wave Advisors to help take the headache out of your accounting process.
Wave puts a ton of functionality at your fingertips to help you create and send out unlimited invoices, manage and track profit and expenses, and more. Let's take a closer look at Wave's core features.
Recurring Invoices
The ability to create recurring invoices is a real time-saver, as it automates the billing process for your customers that pay a standard monthly fee. Wave offers customizable templates that you can edit and send to customers quickly using the online program or mobile phone.
From your dashboard, click on the Sales menu, choose Recurring Invoices, and then select Create Recurring Invoice to get started. As soon as your invoice is set to recur, Wave will generate it for you automatically. Your invoices are categorized by status: Active, Draft, and All recurring invoices:
Payroll
If you subscribe to Wave Payroll, you can pay both employees and independent contractors, generate W2 and 1099 forms, make tax deposits, and file payroll tax returns automatically. Direct deposit is free, and payroll can be run weekly, biweekly, bi-monthly, and monthly.
Unfortunately, this full service is only available in 14 states: Arizona, California, Florida, Georgia, Illinois, Indiana, Minnesota, New York, North Carolina, Tennessee, Texas, Virginia, Washington, and Wisconsin. Subscribers in other states must use the self-service option and file all the required forms and make all tax and payroll payments with the appropriate agencies.
To preview your first payroll, you need to add your team, business details, and pay schedule: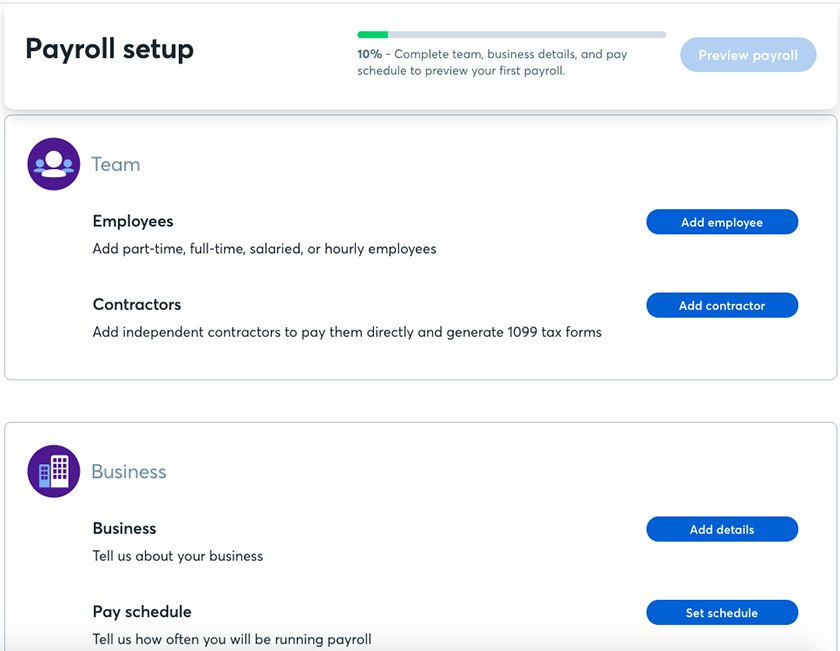 Mobile App
Wave's mobile invoicing app allows you to track, edit, send, and record payment of invoices anytime and anywhere. Any changes you make in the app will appear in your Wave account, and vice-versa. It includes all the invoice features of your Wave dashboard accounting, such as a list of your invoices, current customer profiles, products and services, and more.
The invoicing app works seamlessly with Wave Payments, allowing you to accept all major credit cards and bank payments. You may download the Wave invoicing app on Google Play and the App Store.
Integrations
Wave integrates with plenty of third-party software to help you get more work done. It integrates with the following tools: Google Sheets, BlueCamroo, Zapier, Shopify, Square, Stripe, Calendly, Acuity, HubSpot, Pipedrive, Harvest, Mailchimp, Automational, SendPulse, Slack, ShipStation, Formstack Document, Approval Donkey, eEndorsements, and more.
Reporting
Wave users can easily create various reports that will show how their business operates daily. While these reports can be conveniently exported to a comma-separated values (CSV) file format, they have limited customization capability. There are currently 12 available reports you can generate on Wave.
Customer Service and Ease of Use
Wave lives up to its claim to be a simple accounting platform. I have personally signed up for Wave, and I found it easier to use and set up than most accounting systems. Since it is completely cloud-based, you don't need to install any software, and most of its features are ready to use upon logging in.
In terms of customer service, Wave currently offers email support for customers in North America and any regions that accept credit card payments for Wave invoices. It also offers chat support 60 days after purchase to help users with any product setup issues as well as unlimited live chat for customers with any of its paid services, such as Payments by Wave or Payroll.
You may also submit a ticket request from the Wave website or access support within your Wave account. Wave's Help Center also offers a variety of resources to help you get the most out of your software. There is also the option to join a user community.
Wave Alternatives
Bottom Line
Wave offers many helpful features, all built with small businesses and freelancers in mind. Despite several limitations, Wave provides a great value with a ton of functionality at no cost. It has a helpful dashboard that gives you a good overview of your business performance, and its features are easily accessible from the vertical menu bar. One of the more helpful features is its Integrations tab, which lets you connect with various apps to get more work done.
If you are a freelancer or a small business just starting out, then Wave might be for you.
Visit Wave, create and set up your account, and start using it for free.