Wave Accounting Review: Features & Pricing in 2023
Wave is a free cloud-based accounting software program that allows you to manage your bookkeeping, invoicing, and payment processes in one place. With it, you can send unlimited invoices, manage your accounting for free, and process financial transactions―payroll and payments―at a low cost.
Wave Accounting

What We Like
Free accounting, invoicing, and receipt scanning services
Pretty straightforward to set up
Easy to record a bill and manage unpaid bills
Generates different types of accounting reports
What's Missing
Not a good fit for large businesses or businesses with inventory
Can't set up separate income and expenses by classes or locations
Can't reconcile bank statements when timing differences exist
Poor customer support
Pricing
When to Use an Alternative
Wave Accounting

What We Like
Free accounting, invoicing, and receipt scanning services
Pretty straightforward to set up
Easy to record a bill and manage unpaid bills
Generates different types of accounting reports
What's Missing
Not a good fit for large businesses or businesses with inventory
Can't set up separate income and expenses by classes or locations
Can't reconcile bank statements when timing differences exist
Poor customer support
Pricing
When to Use Wave
When to Use Something Else
Wave Accounting Deciding Factors
Supported Business Types

Freelancers and very small service businesses with little or no inventory

Pricing

Wave is totally free for its accounting, invoicing, and receipt scanning features. Additional fees may apply for payment and bank processing.

Free Trial

Wave is free forever

Payroll

$35 per month plus $6 per employee for users in New York, Georgia, Illinois, Arizona, California, Indiana, Virginia, Washington, Minnesota, North Carolina, Texas, Tennessee, and Wisconsin. For the remaining 36 states, it's $20 per month plus $6 per employee.

Standout Features

Optical character recognition in receipt scanning
Sales tax in invoices, bills, and estimates
Easy to set up and use
Customer profiles to track the status of invoices

Customer Support

Chatbot, email, and self-help library; live chat is also available to customers using one of Wave's paid services
Wave Accounting New Features for 2023
Set and restrict user roles: In the user management settings, you can now invite a user and assign them specific roles. You can set them as Viewer, Editor, Payroll Manager, or Admin.

Viewers have view-only access and no edit roles
Editors receive edit permissions for all accounting and invoicing functions but can't modify or view Wave settings, bank connections, and credit card payments
Payroll Managers get full access to the payroll tab
Admins have full access to everything.

Small business coverage insurance through Next Insurance: Wave users can now sign up for Next Insurance within the Wave app. Take note that this isn't an integration with Next Insurance—Wave only serves as a portal where you can apply for insurance.
Workers' compensation insurance through Next Insurance: Wave also offers a portal to Next Insurance so that you can sign up for workers' compensation insurance. This insurance coverage is automatically included in payroll.
Wave Accounting Alternatives
| | | |
| --- | --- | --- |
| | | |
| Best for: Small businesses in general and those looking for inventory features | Best for: Unlimited users and fixed asset accounting | Best for: Small businesses looking for industry-specific accounting features |
| Starts at: $30 per month for one user | Starts at: $37 per month for unlimited invoicing and billing | Starts at: $549.99 per year for one user |
| | | |
Wave is free for accounting, invoicing, and receipt scanning. We awarded Wave a perfect 5 out of 5 for pricing because while they charge for payment processing and additional services, the charge is very similar to what other software providers charge in addition to their monthly fee. Wave offers the additional services for a reasonable cost:
Credit card payments: 2.9% + 60 cents per transaction or 3.4% + 60 cents per AMEX transaction.
Bank payments: 1% per transaction but a minimum of $1 fee
Wave Payroll: Fixed monthly cost of $35 for tax service states or $20 for self-service states. There is also an additional $6 per month per active employee or independent contractor.
Wave Advisor: $149 per month for bookkeeping support
Accounting and payroll coaching: $329 per coaching session and email support
Wave Accounting Case Study
At Fit Small Business (FSB), we've developed a case study to evaluate accounting software across 11 different categories based on a common set of facts and functions.
The graph below shows how Wave scores across each category compared with two of its competitors, Lendio Accounting and QuickBooks Online Plus. We provide a detailed explanation of the scores in the Features section.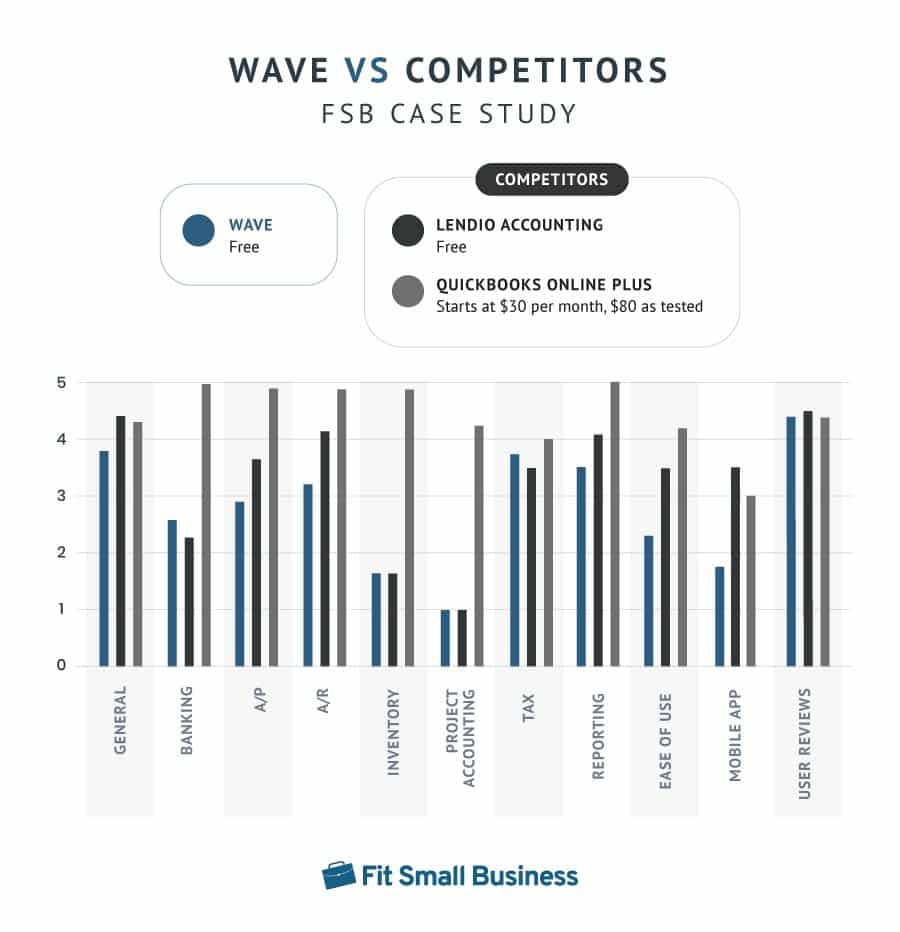 Wave and Lendio Accounting, two free accounting software in the list, are nearly head-to-head in almost all features. However, we like to emphasize that Wave isn't strong in ease of use. This area is important because some small business owners prefer to do-it-yourself (DIY) their business's bookkeeping, and limited customer support channels make it difficult for DIY bookkeepers to access solutions to their problems. But overall, both Wave and Lendio Accounting offer competitive accounting features as a free software service.
We also compared Wave with QuickBooks Online, a paid software service. QuickBooks Online is our best small business accounting software, and since it's paid, it outshines Wave in terms of features. Though Wave's scores are low as compared to QuickBooks Online, we still think Wave suits new businesses―less than two years in operation―because it's free. But as your business grows, shifting to QuickBooks Online is the best option.
Wave Accounting Features
Wave doesn't skimp on basic features for small businesses, but it also has some limitations, considering it's free software. In our internal case study, we examined Wave up close across 11 categories and achieved the following scores and results. You can learn more about the features by watching the video of our accounting expert as he assesses Wave based on the case study criteria.
General (3.80 / 5)
Wave earned high marks for general features because of its good usability rating. It's fast to set up a new account, and it's simple to add business information, such as company name, type of business, address, and contact details.
By default, Wave sets up your chart of accounts based on common accounts and categories, but you can add other accounts if you need to. To add an account, go to the Chart of Accounts page under the Accounting menu, and choose from the tabs at the top of the page for the account or category you wish to add:
While it's easy to use, we encountered several issues with its general features. There's no option to set up two separate classes or locations, which can be difficult if your company has different locations or offers several classes of products or services. However, we were able to successfully add a new user and limit access to each user.
Some other inconveniences we found include the inability to use account numbers in your chart of accounts, import bank balances, and import your chart of accounts. Another feature of good accounting software is the ability to close a prior year to lock previous transactions, but Wave also falls short on that.
Wave General Features Video
---
Accounts Payable (2.90 / 5)
One of Wave's biggest strengths is managing unpaid bills, which is critical in the accounting process. Your A/P transactions can be conveniently managed from the Purchases menu, which consists of all the features you need to record your purchases: Bills, Vendors, and Products and Services.
We like how easy it's to record a new bill and enter an expense without paying. You can snap a photo of your expense receipt and upload it to Wave through the mobile app. Check out our other choices for the best receipt scanner apps.
To record a bill in Wave, click on the Create a Bill button, and then the Add bill screen appears:
Unfortunately, you can't create a recurring transaction directly from the bill, which is something you can do in other software like QuickBooks. You also can't create recurring expenses and create and send purchase orders (POs).
As a free software program, it's surprising that Wave can also
Track 1099 independent contractor payments
Create products or services to auto-fill bills
Record partial payments to a vendor
Wave Accounts Payable Video
---
Accounts Receivable (3.20 / 5)
Wave's ability to manage sales taxes and invoices is impressive. There are different ways to customize your invoice, including the ability to choose from different templates, add your logo, change colors, and include a personalized message. You can add a new customer while creating an invoice and add inventory to your invoice before emailing it to your customer:
Other tasks you can perform in Wave's A/R system include:
Set up recurring invoices
Create a product or service item to auto-fill invoices
View outstanding invoices without generating a report
Track sales tax collected and remitted by jurisdiction
View detailed tax reports
While Wave has a good invoicing capability, it still comes up short in terms of other features. For instance, you can't combine multiple checks in a single deposit, issue a credit memo to a customer, or add tracked expenses to an invoice.
Wave Accounts Receivable Video
---
Banking and Cash Management (2.58 / 5)
You can connect your bank account to Wave and upload bank statements to synchronize your transactions. Instead of establishing a live connection with your bank, you can import QuickBooks Online files, which is very convenient.
However, if you're looking for accounting software with a good bank reconciliation feature, look elsewhere, as bank reconciliation in Wave is very limited. While it has an automatic reconciliation feature, it doesn't allow for any reconciling items, such as checks written but not yet processed by your bank.
Also, if you need to print dozens of checks, you'll prefer QuickBooks Online to Wave. Wave users have to write checks by hand.
Wave Banking and Cash Management Video
---
Fixed Assets (0.50 / 5)
You can't count on Wave for managing fixed assets, which isn't surprising for a free software program. In our case study, FSB purchased a job trailer with a bank loan. Wave will record the purchase price in the fixed asset and note payable accounts—but that's the only thing it does.
There are no options to track or view your list of fixed assets. Also, you can't set up separate depreciation for fixed assets or create loan amortization schedules. If fixed assets are a big part of your business, consider Xero because it's an affordable option with a comprehensive fixed asset manager.
Wave Fixed Assets Video
---
Project Accounting (1.00 / 5)
Wave isn't ideal for contractors and other companies needing project management features. You can create and send estimates, but you can't assign those estimates to individual projects. You also can't track actual income and expenses by project.
You might find the estimate feature helpful, but we recommend you check out our list of the best contractor accounting software for more comprehensive project accounting features.
Wave Project Accounting Video
---
Sales & Income Tax (3.75 / 5)
Wave allows you to add sales taxes to invoices, bills, estimates, and expense and income transactions. Whenever you enter a transaction with a sales tax, it records the amount automatically in the sales tax liability account.
While you can track your sales tax in Wave, there's no way to file your returns or pay your tax liability. This feature is also handy if you're working with independent contractors and need to generate a 1099 form for tax filing. The sales and income tax features are evaluated across the other categories, so it has no separate video.
---
Inventory (1.63 / 5)
Wave's inventory management feature is very basic, so if you're a product-based business, you should consider alternatives like QuickBooks Online or Xero. You can add a product or service, but not the quantity purchased or sold. This means that Wave can't calculate your cost of goods sold, which is important if you deal with inventory.
We examined Wave's inventory management feature across the other categories, mostly Accounts Receivable and Accounts Payable.
---
Reporting (3.50 / 5)
Wave scores high in this category because of its robust reporting capability as free software. We tried to generate 16 types of reports and successfully generated the following: profit and loss statement, cash flow statement, A/P aging, A/R aging, general ledger, trial balance, transaction list by customer, and expense by vendor. In addition to missing some desired reports, Wave's reporting feature doesn't allow for customizing your reports.
Wave Reporting Video
---
Ease of Use (2.28 / 5)
Wave has limited customer service. You can't chat with a live person if you're just using the free features of Wave, and you can't contact them over the phone or through email. Live support is available for users who process payments in Wave. You can browse through some self-help resources, like set-up guides and troubleshooting tips, from the Help Center or through the chatbot.
You can access personalized support through the Wave Advisor program where you can get coaching and year-round advice from a Wave expert. These support services are expensive for most small businesses, and we can't fully recommend them to you unless you have a budget to spare.
Overall, Wave is easy to use and has a low learning curve. The interface is clean and not overwhelming. Even if you don't have accounting experience, you can familiarize the features of Wave in less than a week.
---
Mobile App (1.75 / 5)
Instead of a single application, Wave uses two separate mobile apps with very limited features. They perform pretty basic tasks, like sending invoices, receiving payments, and capturing an expense receipt. You can't set up and create projects, track time worked, categorize bank transactions, and view reports, which can be a problem if you often do business on the road.
Wave Mobile App Video
---
Assisted Bookkeeping Options
You can hire Wave Advisor at $149 or more per month to help you with bookkeeping and taxes. There's also Accounting & Payroll coaching for a one-time fee of $329. You'll get access to unlimited email support for 30 days, live chat with customer support, and two hours of live coaching.
While we appreciate having these kinds of services, it's an additional cost to users, and we don't fully recommend for solopreneurs and freelancers buying these additional services unless there's a budget allocated for accounting assistance.
Wave Accounting Integrations
Wave can integrate with Google Sheets and BlueCamroo directly from its interface. However, the rest of the integration must be made through Zapier. If you have a Zapier subscription, you can integrate a lot of ecommerce apps.
Wave has very high positive ratings on user review websites. Around 90% of the user reviews gave a score of about 4 stars, which means that many still like it despite certain cons about the software.
GetApp: 4.4 out of 5 stars based on around 1,280 reviews
TrustRadius: 6.8 out of 10 based on about 160 reviews
Frequently Asked Questions (FAQs)
Is Wave Accounting secure?
Yes. Wave uses 256-bit transport layer security (TLS) encryption for data security, and all accounting data are stored in servers monitored 24/7. Your credit card numbers are also not stored in Wave.
How many users can I invite to Wave Accounting?
You can invite as many users as you like. When inviting users, you can give them roles to limit their ability to edit, create, or delete transactions or generate reports. To add more users, go to Settings and click Users under User Management.
Is Wave Accounting free for all?
Yes. You can use the free accounting, invoicing, and receipt scanning features. However, third-party integrations and payment processing are excluded from the free version of Wave. If you want to integrate other apps using Zapier, you have to subscribe to Zapier.
Bottom Line
We hope this case study provides you with insightful information and analysis to help you decide whether Wave is the best fit. Despite several limitations, it still has plenty to offer small businesses. It contains essential functionality that will help you pay bills, invoice customers, and track your expenses. It doesn't have the best customer service, but most of its features are easy to use, so you shouldn't have any trouble setting it up and using it.