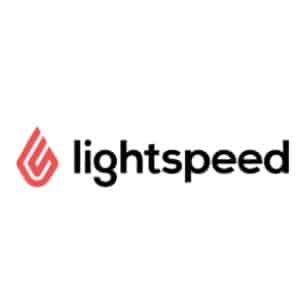 Lightspeed Restaurant is a cloud-based, all-in-one iPad restaurant POS system. With pricing starting at $59 per month, this system is incredibly affordable for independent restaurants. Lightspeed Restaurant has built-in tools for online ordering and reservations, inventory, loyalty, kitchen display system (KDS), and more. At the end of 2020, Lightspeed bought both ShopKeep and Upserve POS, so it will be fascinating to see how all three systems evolve in the year ahead.
What We Recommend Lightspeed Restaurant For
Overall, the Lightspeed POS brand is consistently one of our overall top-ranked POS for small businesses. Lightspeed Restaurant is no different, as this iPad POS system is an excellent all-in-one solution with lots of room for customization.
In particular, we recommend Lightspeed Restaurant for:
Brick-and-mortar bakeries: Lightspeed's inventory functions, alongside its competitive price, make it an excellent choice for a bakery POS.
Quick Service Restaurants (QSRs) that use a KDS: Lightspeed Restaurant's vivid and easy-to-use KDS is one of our favorite restaurant KDS, making this POS an excellent fit for QSRs that rely on them.
Restaurants that need self-service kiosks: We also like Lightspeed Restaurant's self-service kiosk screens for quick service and tableside self-ordering screens for full-service restaurants.
When Lightspeed Restaurant Would Not Be a Good Fit
At the time of this writing, I would not recommend Lightspeed Restaurant for:
Restaurants that want driver management: While Lightspeed Restaurant has two distinct built-in online ordering and delivery tools, neither currently supports driver management and GPS tracking. For those functions, you'll want to check out Toast and Revel.
Large restaurants that need vendor management: Lightspeed's ingredient level inventory module is not automated to produce orders and manage invoices with one click. You can get that function via third-party integration or check out Upserve (which Lightspeed recently purchased).
Those that require workforce management: If you want built-in employee scheduling and digital staff onboarding, you'll need third-party integrations. You might also be happier with Toast.
To reiterate, Lightspeed purchased competing restaurant POS systems ShopKeep and Upserve in December 2020, and Upserve's POS offers tools that directly support in-house delivery, in-depth reporting, and vendor management. As such, Lightspeed may soon strengthen some functions of the Lightspeed Restaurant POS.
Want more options? See our guide to the best restaurant POS systems to find the perfect fit.
Lightspeed Restaurant POS Overview
PROS
CONS
A 14-day free trial is available.
Offline functionality is weak.
Software pricing is transparently listed online.
Built-in inventory does not include vendor management.
Choose built-in payment processing or go with popular third-party options.
Reporting has limitations.
Streamlined, all-in-one system is easy to use.
Online ordering does not include driver management.
Lightspeed Restaurant Pricing
Affordable baseline price: Software for a single terminal starts at $59 per month.
Transparent pricing: Lightspeed clearly lists pricing for POS software and add-on modules on the Lightspeed Restaurant website.
Multiple Add-on Tiers: Lightspeed prices Basic add-ons at as low as $12 per month. A separate tier of Premium functions starts at $39.
Free Trial: Lightspeed offers a 14-day free trial of the restaurant POS.
When you spend hours searching for a restaurant POS, seeing Lightspeed's clear pricing structure is like finding water in a desert. So, I give high marks to any software provider that makes pricing information easily accessible. Currently, Lightspeed Restaurant lists the price for its baseline POS at $59 per month for a single terminal—one of the lowest entry-level prices available for a restaurant POS.
Lightspeed Restaurants separates optional add-ons into two distinct tiers: Basic and Premium. Most of the tools that a small to midsize restaurant would use to expand their POS are included in the Basic list, while the Premium tools are a little more niche. Pricing for Basic add-ons starts at $12 per month, whereas Premium add-ons start at $39.
| Basic Add-Ons | Premium Add-Ons |
| --- | --- |
| Starting price at $12 per month | Starting price at $39 per month |
| Customer-facing display | Self-Order Kiosk |
| Kitchen Display System | Delivery Integration |
| Self-Ordering Tableside Menu | Accounting |
| Advanced Reporting | Loyalty |
Remember that all listed prices are only starting prices, so you'll still want to contact Lightspeed for a quote. However, you can get a jump-start on the product demo by poking around in the free trial.
Lightspeed Restaurant Payments
Multiple processing options: Choose the built-in Lightspeed Payments or integrate with popular processors Worldpay or TSYS.
EMV and PCI compliant: With your liability covered, you are less likely to encounter chargebacks.
End-to-end encryption: End-to-end data encryption ensures safe mobile payments and prevents potential fraud.
Mobile payment options: Lightspeed Payments supports mobile tap readers. Also, its Order Ahead module operates via Stripe to accept online and mobile payments.
Lightspeed Payments is built into the Lightspeed POS. Its transaction rates are a flat, custom-quoted rate based on your business type and sales volume. User reviews and previously quoted rates I have seen are competitive, starting around 2.6% + $0.10 for swiped, dipped, and tapped in-person transactions and 2.6% + $0.30 for manually-keyed transactions. Lightspeed Restaurant also integrates with Worldpay and TSYS, so you can shop around to get the best rate for your restaurant.
There is one slight wrinkle in Lightspeed Restaurant's payment puzzle, however. The Order Ahead module only accepts payments through Stripe. So, if you want to accept online payments via your own online ordering menu, you'll need a Stripe account in addition to whatever other payment processor you use for your general POS operations.
Lightspeed Restaurant Hardware
Operates on iOS devices: Lightspeed Restaurant operates on iPads and iPhones and iPod touch for quick tableside ordering.
Variety of Peripherals: Customize your POS configuration with KDS screens, customer-facing displays, self-ordering kiosks, bar code scanners, and various printer setups.
Custom-quoted: Pricing for Lightspeed Restaurant hardware is available via Lightspeed's sales department.
Bring your own iPad: Bring your own iOS devices that operate with iOS 12.2 or higher.
Lightspeed Restaurant is browser and cloud-based, so you can run the POS on compatible iPads that operate with iOS 12.2 or higher. Lightspeed Restaurant sells peripheral POS hardware that includes:
iPad stands and handheld cases
Epson receipt and kitchen printers
Swipe, tap, and dip card readers
Bluetooth and USB bar code scanners
Integrated cash drawers
Verifone Mobile, PIN pad enabled card readers
Beyond simple POS terminals, the platform enables you to:
Configure iPads as KDS screens, self-order kiosks, and customer-facing displays
Use iPhones and iPod touch devices as handheld POS devices for placing orders
Process payments on tap, dip, and swipe card readers attached to terminals or via handheld Verifone PIN pad devices
Lightspeed Restaurant's starter terminal kit consists of an iPad stand, receipt printer, kitchen printer, cash drawer, and a "Lite Server." The Lite Server is a peripheral that boosts the Lightspeed Restaurant's offline functionality. In an internet outage, it will keep tickets printing in your kitchen, but it won't process credit card transactions. If your restaurant has a dependable internet service, this will never be a problem. If you don't, though, you might prefer a system like Revel, as it offers a more robust offline functionality.
Lightspeed Restaurant POS Features
Lightspeed Restaurant combines a high-function with low-cost. The POS has everything that a small restaurant needs in the baseline POS software, and these functions quickly expand with optional add-ons and third-party integrations.
Your basic Lightspeed Restaurant POS allows:
You to create detailed, customized floor plans that reflect your restaurant location
You to create multiple menus and product categories to offer in-house dining, take out, catering, or retail items
Your employees to clock in and out directly in the POS—and you can set a variety of access permissions to customize what tasks each of your team members can access
Your staff to ring-in orders with seat and course numbers in full-service settings or easily build combos in quick-service restaurants
Check splitting and payment splitting to be completed with only a few taps
We'll explore Lightspeed Restaurant's inventory, online ordering, and customer and workforce management below. In addition to those expanded features, Lightspeed Restaurant includes:
Mobile accessibility: You can access the restaurant manager dashboard from any internet-enabled device to read reports, update menus, and manage inventory.
Multi-location controls: Track the performance and manage the menus of multiple locations from a central, browser-based management dashboard.
Accounting integration: Lightspeed Restaurant integrates with QuickBooks Online, QuickBooks Desktop, Xero, and Sage One for accounting accuracy.
Other third-party integrations: Lightspeed Restaurant connects with over 50 popular third-party apps like Homebase (employee scheduling), Restaurant365 (restaurant accounting), MarketMan (inventory management).
Lightspeed Restaurant Inventory
Ingredient-level: System updates stock levels to reflect sales in real time.
Bulk updates: Bulk import menu items from .csv file and bulk edit ingredients in restaurant manager dashboard.
Low stock alerts: Notify you in real time when supplies are low.
Centralized: Inventory syncs with all your ordering channels; in-house, online, and delivery.
Custom permissions: Give select employees inventory editing access.
Speed Ready-to-eat (RTE) sales: Assign bar codes to make grab-and-go items scannable.
Lightspeed Restaurant's built-in, ingredient-level inventory is similar to competitors TouchBistro and Rezku. All three systems allow you to enter bulk ingredients into a virtual inventory and attach those ingredients to specific menu items so you can track supply depletion as items sell. As with the others, in Lightspeed Restaurant, you'll have to manually update product levels as new orders arrive, perform physical counts on paper, and manage vendor orders offline.
These limitations won't hinder the operation of small, focused restaurants like coffee shops and burger joints—but suppose your restaurant has an extensive menu that changes often, you'll then feel the pinch. If vendor management and physical count tools are essential to your operation, you can add them via Lightspeed Restaurant's integration with MarketMan.
Lightspeed Restaurant's product management interface is much more visually oriented than other similarly priced systems. The editing screen is laid out like a POS order screen, which makes it easy to locate the item you need to update. However, users who prefer a traditional spreadsheet-style view can use the bulk editor to make changes to multiple items simultaneously.
Lightspeed Restaurant Reporting
Get the picture anytime: Snapshot reports show hourly, daily, weekly, and monthly views.
Foundational functions: Shift summaries by server, shift snapshots, and close of day reports streamline daily operations.
At-a-glance analysis: Dynamic graph and chart graphic.
Choose your format: Export select reports as CSV or PDF files.
Two-tier reporting options: Choose what level of analytics you need.
Speedy customization: Advanced reporting has drag-and-drop design functions.
Lightspeed Restaurant includes several pre-built reports in the basic POS:
Basic reports: Covers sales and cost summaries by hour, day, week, or month
Product report: Tracks your individual item sales and illustrates your best and worst selling products in bar graphs and pie charts
Category report: Separates your revenue by sales category (appetizers, entrees, dessert, lunch, catering, etc.), so it is easy to see where to improve your operation
To customize reports, you'll need to add the Advanced Reports module. In addition to tax summaries, tip reports, and a top-selling items graph, the Advanced Reports add-on allows you to create custom reports through a drag-and-drop report designer. I'll be honest—the report designer is frankly fun to use, especially if you want to create sharp-looking reports to keep a large manager group or multiple locations on the same page.
| Basic Reporting | Advanced Reporting |
| --- | --- |
| Receipts Summary | All Basic Reports plus: |
| Snapshots by hour, day, week, month, and year | Top 5 Selling Graph |
| Labor Hours | Tip Summary |
| User Activity | Total and Average Receipts, customers, revenues, and taxes |
| Product Tracking | Sales Tax Summary |
| Ingredient Tracking | Table Revenue |
| Daily Closing Summary | Payments Summary |
| Server Shift Summary | Kitchen and Bar Summary |
| Total Revenue by Category | Floor Revenue |
| W-2 Withholding Report | Customizable Category and Modifier Revenue |
The Basic reporting is robust enough for most small to midsize restaurants. The reports in both reporting tiers feature colorful charts and graphs that add visual texture and show your restaurant's performance at a glance. The multi-tier reporting system also ensures that small operations won't pay for reports they don't use.
Lightspeed Restaurant Mobile Ordering
Built-in or integrated: Use built-in order and delivery management modules or rely on third-party integration.
Lightspeed Delivery: This built-in module manages all of your third-party orders from a central dashboard. No need to juggle individual tablets.
Lightspeed Order-Ahead: A mobile web app supports direct online ordering via any web-enabled device.
Take control of pricing: Create a delivery-only menu with separate prices to keep your costs in line.
Keep in touch: Automated SMS text messaging lets customers know you have received their orders.
Lightspeed offers two distinct options to support digital ordering and delivery management. The first module, Lightspeed Delivery, streamlines a restaurant's relationship with third-party delivery platforms. To manage in-house delivery, you want the Lightspeed Order Ahead module. Both are offered as Premium add-ons, with pricing that starts at $39 per month.
Lightspeed Delivery lessens the headache of working with third-party delivery platforms. This allows orders from third-party delivery platforms to be added directly into your POS order stream. Lightspeed Delivery can also create a separate delivery menu with delivery-only pricing so that you can manage all of your third-party menus from a central dashboard and set hours for accepting delivery-platform orders.
Lightspeed Order Ahead is a little oddly named; most other POS platforms would call this online ordering. Whatever the name, Order Ahead enables you to post a menu online so that your customers can place orders from any web-enabled device. It orders fold directly into your in-house order stream and print in your kitchen once you accept them. Customers can place these orders for in-house pickup, curbside pickup, or in-house delivery. You can choose to automate order acceptance or require a manual acknowledgment from your staff to accept online orders. Currently, Lightspeed Restaurant does not have built-in driver management features or GPS tracking.
Accepting online payments via Order Ahead requires a Stripe account. Stripe's processing fees are typically 2.99% + $0.30 per transaction, but it offers volume discounts for businesses that process a lot of payments. You'll need to reach out to Stripe directly to set up an account and finalize your processing rate. Lightspeed Restaurant does not charge any additional processing fees on these payments and does not receive any portion of the Stripe transaction fees.
If you want to combine Lightspeed Delivery and Order Ahead functions, you might prefer to use Lightspeed Restaurant's integration with Mobi2Go or Seat. These integrations funnel all your orders from third-party platforms into your POS and support direct online orders and payments through your restaurant's website. Mobi2Go does charge a monthly subscription fee, so you'll need to contact the provider for pricing.
Lightspeed Restaurant Customer Management
Customizable points and rewards: Choose how customers earn points and reward with percent discounts, dollar discounts, or promotional items.
Flexible enrollment: Enroll customers via POS pop-up prompts or by scannable receipt QR code.
Pay with rewards: Accept Loyalty Points as payment if you choose.
Custom messaging: Create marketing emails or texts and send them to filtered lists of customers.
Lightspeed's Loyalty features are dynamic, with features that help you reward returning customers and target your promotions to their interests. The Loyalty module is a Premium add-on with pricing starting at $39 per month. With that, you gain the ability to sort your customers into custom groups based on their purchases, dining frequency, birthday month, or anything you choose. If you want to create a group of customers who drink bourbon, then email them an invitation to a bourbon tasting, as Lightspeed Loyalty has all the tools you may need.
You can prompt your staff to ask customers to join the loyalty program at the end of a sales transaction, and they can enroll the customer directly in the POS. Loyalty customers can be tracked in your system by their cellphone numbers, or you can choose to distribute custom-designed loyalty cards.
Choose how you want to reward guests who reach certain milestones by offering a promotional item or a dollar or percentage discount. You can also accept rewards points as a form of payment if you like.
Lightspeed Restaurant Workforce Management
Customizable user permissions: Prevent errors by controlling what functions each employee can access.
Timeclock: Lightspeed Restaurant acts as your tink-keeping system to log employee hours.
Scheduling integrations: Lightspeed Restaurant integrates with popular third-party scheduling apps Homebase, 7shifts, Shiftbase, and more.
Tax support: Built in "IRS" and "Tax" reports calculate relevant taxes and W-2 withholding information for you.
Lightspeed Restaurant performs baseline functions, like supporting several user roles with customizable permissions and acting time clock to log employee hours. You can export employee hours as a CSV or PDF file to easily transfer to your payroll system. Anything more involved—like building employee schedules and blocking early clock-ins—requires a third-party integration.
Like all restaurant POS, Lightspeed Restaurant supports tip reporting and basic tip tracking. It currently can't automatically calculate various styles of tip pools (like competitor Revel Systems), but tip regulations vary so much from state to state that you may prefer to manually track them to ensure your restaurant stays compliant.
Lightspeed Restaurant Ease of Use
Streamlined interface: Navigate through screens and menus with intuitive taps, swipes, and smartphone gestures.
Image-based: Menus screens feature food photos, and back-office screens show options in thumbnail icons.
Kitchen customization: Use printers or KDS screens on your kitchen line. Write kitchen-only menu names for printers.
Accessible back office: Managers can access browser-based manager dashboard from anywhere there is internet.
Strong support: Customer support is available 24/7, and the manager dashboard contains training videos.
Lightspeed Restaurant is iOS-based, similar to competitor TouchBistro. However, Lightspeed Restaurant's user interface is much more dynamic than TouchBistro, as it breaks out of the ubiquitous iOS gridded navigation menus—creating a highly textured visual ecosystem that is much easier to read at a glance.
Order screens are image-based so that customers can see what they are ordering on self-service kiosks, and staff can show customers images tableside. Moreover, you can set a specific name for dishes that will only print in the kitchen, so if your line cooks read French or Spanish more fluently than English, you can give them tickets in their preferred language. Restaurants that operate with a KDS will find Lightspeed's KDS screens incredibly easy to navigate, with easy color-coding that separates orders as they near completion.
Owners and managers can access Lightspeed Restaurant's management dashboard from any browser, so they can view reports in the back office, their home computer, or any web-enabled mobile device. The report interface is streamlined and easy to navigate, and reports are highly visual, showing your performance metrics at a glance with vivid charts to illustrate data.
Lightspeed's customer care team is available 24/7—except for holidays—via phone. They also offer live web chat during standard business hours and respond to emails within a day. You'll find a variety of training videos in the manager dashboard, and Lightspeed maintains a database of helpful training resources online that you can access at any time.
Lightspeed Restaurant Software Alternatives
For a cloud-based POS, Lightspeed Restaurant has a lot of bases covered, but it may not be perfect for every type of restaurant. If you want comprehensive tools for managing vendors or an in-house delivery team without adding third-party integrations, you might find a better fit in another system.
| If you need | Check out: |
| --- | --- |
| Strong offline functionality | |
| Automated vendor management with your inventory | |
| Native online ordering and delivery | |
What Users Think of Lightspeed Restaurant POS
Lightspeed Restaurant users love the system. Nearly every Lightspeed Restaurant POS review you can find online is positive—and the users are not alone, as industry experts love it too.
Finances Online: Awards Lightspeed POS a rare 100% user satisfaction rating. On the site, 11 user reviews give the system an average score of 4.6 out of 5, while Finances Online experts rate it an 8.6 out of 10.
Software Advice: Lightspeed Restaurant is listed as a Frontrunner software tool and earns a rating of 4.46 out of 5 based on 22 user reviews.
G2: Ranks Lightspeed Restaurant as a 2021 Leader, with an overall rating of 4.6 out of 5, based on 31 user reviews.
That said, there are some limitations you should note. The most common criticism Lightspeed Restaurant receives is about offline functionality. If your restaurant does not have robust and consistent internet access, it is just not going to be a fit for you.
| Users Like: | Users Don't Like: |
| --- | --- |
| Payment processing options | Limited offline functionality |
| Browser-based management dashboard | Ingredient-level inventory needs a lot of administrative attention to stay updated |
| Lots of integrations to create a custom solution | Integrations can add up, creating a system that is as expensive as higher-priced competitors |
| Support for multiple languages | |
| Streamlined user interface for front of house staff, customers, and kitchen staff | |
Bottom Line
Lightspeed Restaurant is a streamlined restaurant POS with a mission to provide affordable software to independent restaurants. This accessible system is great for restaurants that rely on peripheral hardware like KDSes and self-service kiosks. It is also an affordable, feature-packed solution for restaurants with strong internet access. A 14-day free trial makes it easy to try out the system before you commit. To find out if it is a fit for your restaurant, contact Lightspeed for a demo or free trial.