Lightspeed Restaurant is a constantly evolving cloud point of sale (POS) that regularly appears on our rankings of the best restaurant POS systems and the leading POS systems for small businesses. In our most recent restaurant POS ranking, Lightspeed Restaurant earned a 3.9 out of 5 for its highly customizable, user-friendly tools. This POS is best for growing restaurants needing a flexible POS that can grow as their business needs change.

Pros
14-day free trial
Supports multiple payment processors
Operates on iPads
Easy to self-install
Cons
Limited advanced functions if not enrolled in Lightspeed Payments
Delivery tools do not include in-house driver management
Who Should Use Lightspeed Restaurant:
Cafes and bars
Full-service or quick-service restaurants
Food and beverage businesses that need a Kitchen Display System (KDS)
Food and beverage businesses that prefer to use iPads
Who Should Use an Alternative:
Restaurants that want in-house driver management or industry-grade hardware
Supported Business Types

Full Service Restaurants, Quick Service Restaurants, Cafes, Coffee Shops, Ghost Kitchens

Standout Features:

24/7 customer support
Multiple payment processor integrations
Robust ingredient-level inventory
Advanced reporting
Mobile report access
Self-installable

Monthly Software Fees

Starter: $69
Essential: $189
Premium: $399
Enterprise: Custom-quoted

Setup and Installation Fees

None; software is self-installable

Contract Length

Starting at 1 year; contract terms may vary based on subscription level

Payment Processing Options

Lightspeed Payments (preferred processor), BridgePay, Cayan, WorldPay (formerly Vantiv)

Payment Processing Fees

Average

Lightspeed Payments start at:

2.6% + 10 cents per in-person swiped, dipped, or tapped transaction
2.6% + 30 cents per manually keyed-in transaction

Customer Support

24/7 via phone, email, or in-app chat
Robust online knowledge base
Best for

Monthly software fees

In-person processing fees

Full review

Free POS on restaurant-grade hardware

From $0

From 2.49% + 15 cents

Small restaurants that need a free, iPad POS

From $0

From 2.6% + 10 cents

Multilocation restaurants wanting driver management

From $99 per terminal

Varies by processor
Lightspeed Restaurant Overview
Lightspeed Restaurant is a terrific fit for growing restaurants, cafes, and bars. It beats a lot of its competition in serving businesses that need an affordable iPad POS. Lightspeed is especially great if you need built-in marketing and inventory tools in your POS, and its peripheral software for kitchen display screens and self-service kiosks are some of the most user-friendly we've seen.
If you regularly need to manage a team of in-house delivery drivers, Lightspeed Restaurant is not the best system for you; instead, check out Toast or consider Revel Systems (if you have multiple locations). And if you want to use advanced features and bring your own processor, Lightspeed will disappoint; most advanced features require enrollment in Lightspeed Payments to function fully. Outside of those minor limitations, though, you'll find Lightspeed Restaurant to be a constantly evolving, self-installable restaurant POS.
Lightspeed Restaurant Fee Calculator
Lightspeed Restaurant is midpriced, compared to other cloud restaurant POS systems. It does not offer a free baseline subscription like competitors Square and Toast, but it is less expensive than Revel and legacy POS systems like MICROS.
The POS is offered at four subscription levels: Starter, Essential, Premium, and Enterprise. This pricing scheme helps small restaurants afford this comprehensive POS without paying for high-volume tools they don't need. We did deduct some points for this category due to Lightspeed's lack of an annual subscription option with more attractive pricing.
Since our last update:
Lightspeed Restaurant has renamed some of its subscriptions and made certain features available in its base plan—namely Advanced Insights, and CRM and loyalty functions. These changes are reflected throughout the article.
Pricing Plans
| | Starter | Essential | Premium | Enterprise |
| --- | --- | --- | --- | --- |
| Monthly Software Fees | $69 | $189 | $399 | Custom-quoted |
| Menu Management | ✓ | ✓ | ✓ | ✓ |
| Basic Inventory | ✓ | ✓ | ✓ | ✓ |
| Reporting and Analytics | ✓ | ✓ | ✓ | ✓ |
| CRM and Loyalty | ✓ | | | |
| Advanced Insights | ✓ | ✓ | ✓ | ✓ |
| Advanced Inventory | Optional add-on | ✓ | ✓ | ✓ |
| Online Ordering | Optional add-on | ✓ | ✓ | ✓ |
| Contactless Ordering | Optional add-on | ✓ | ✓ | ✓ |
| Order and Pay at Table | ✕ | ✓ | ✓ | ✓ |
Lightspeed Restaurant is one of the few cloud POS systems that supports multiple payment processors. So, you can choose from the convenience of built-in payments with Lightspeed Payments or shop for the lowest rates from processors on the BridgePay, Cayan, and WorldPay gateways.
With Lightspeed Payments, transaction fees are flat-rate, so you pay the same fixed fee no matter the card type (unlike interchange-plus rates, which can vary by card type). This makes it easier to budget for your expected processing fees.
Lightspeed Payments Baseline Processing Rates

In-person tapped, dipped, or swiped

2.6% + 10 cents

Online

2.9% + 30 cents

Manually keyed-in

2.6% + 30 cents
Note that these are baseline rates; contact Lightspeed for a custom quote based on your sales volume and business type.
Lightspeed Restaurant's Advanced Insights reporting module syncs directly with payment data (including credit card information) from Lightspeed Payments. So if you plan to rely on automated customer and sales insights from your POS, Lightspeed Payments is your best bet.
---
Lightspeed Restaurant operates on iOS devices like iPads, iPods, and iPhones that run iOS 13 or later. If you have compatible iPads or other devices, you can use them to run your POS, or you can purchase tablets from Lightspeed for custom-quoted prices. Lightspeed also operates with industry-standard printers, cash drawers, and barcode scanners from Epson, Star Micronics, and Socket.
Epson TM-M30II-NT Receipt Printer

Socket 7Ci Barcode Scanner

Studio Proper iPad Stand

Lightspeed POS Terminal Kit

Thermal Receipt printer

Bluetooth barcode scanner

Restaurant-grade iPad stand

Receipt printer
Cash drawer
Lightspeed iPad stand (iPad not included)
Kitchen printer
Beyond simple POS terminals, the Lightspeed platform enables you to configure iPads as KDS screens, self-order kiosks, and customer-facing displays. You can use iPhones and iPod touch devices as handheld POS devices for placing orders. Additionally, you can process payments on tap, dip, and swipe card readers attached to terminals or via handheld Verifone PIN pad devices.
Restaurants will find Lightspeed's KDS screens incredibly easy to navigate, with easy color-coding that separates orders as they near completion. iPads that are configured as self-service kiosks are equally intuitive for both full-service and quick-service restaurants.
---
Lightspeed Restaurant combines high function with affordable cost. The POS has everything that a small restaurant needs in the baseline POS software, and these functions quickly expand with optional add-ons and third-party integrations. Lightspeed did lose a few points due to some functions, such as employee scheduling, being available only via third-party integrations.
With Lightspeed Restaurant, you can create detailed, customized floor plans that reflect your restaurant location and create multiple menus for in-house dining, takeout, catering, or retail items. Your employees can clock in and out directly in the POS, and you can set a variety of access permissions to customize what tasks each of your team members can perform. The system includes course and seat management, combo building, check splitting, and house account management.
Lightspeed Restaurant has also added the ability for US Lightspeed Payment users to pre-authorize bar tabs. The feature is still in beta mode, but you can contact Lightspeed for more information.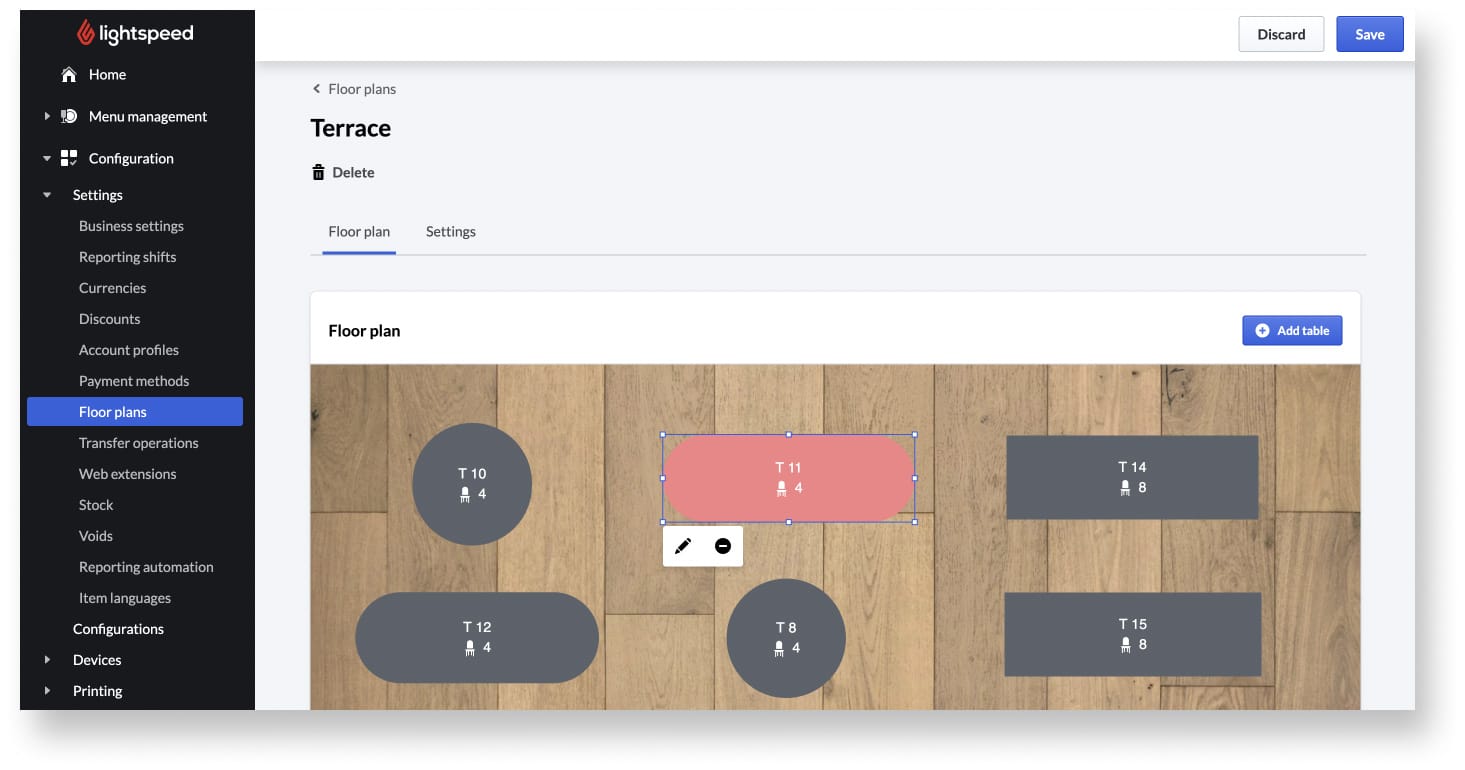 ---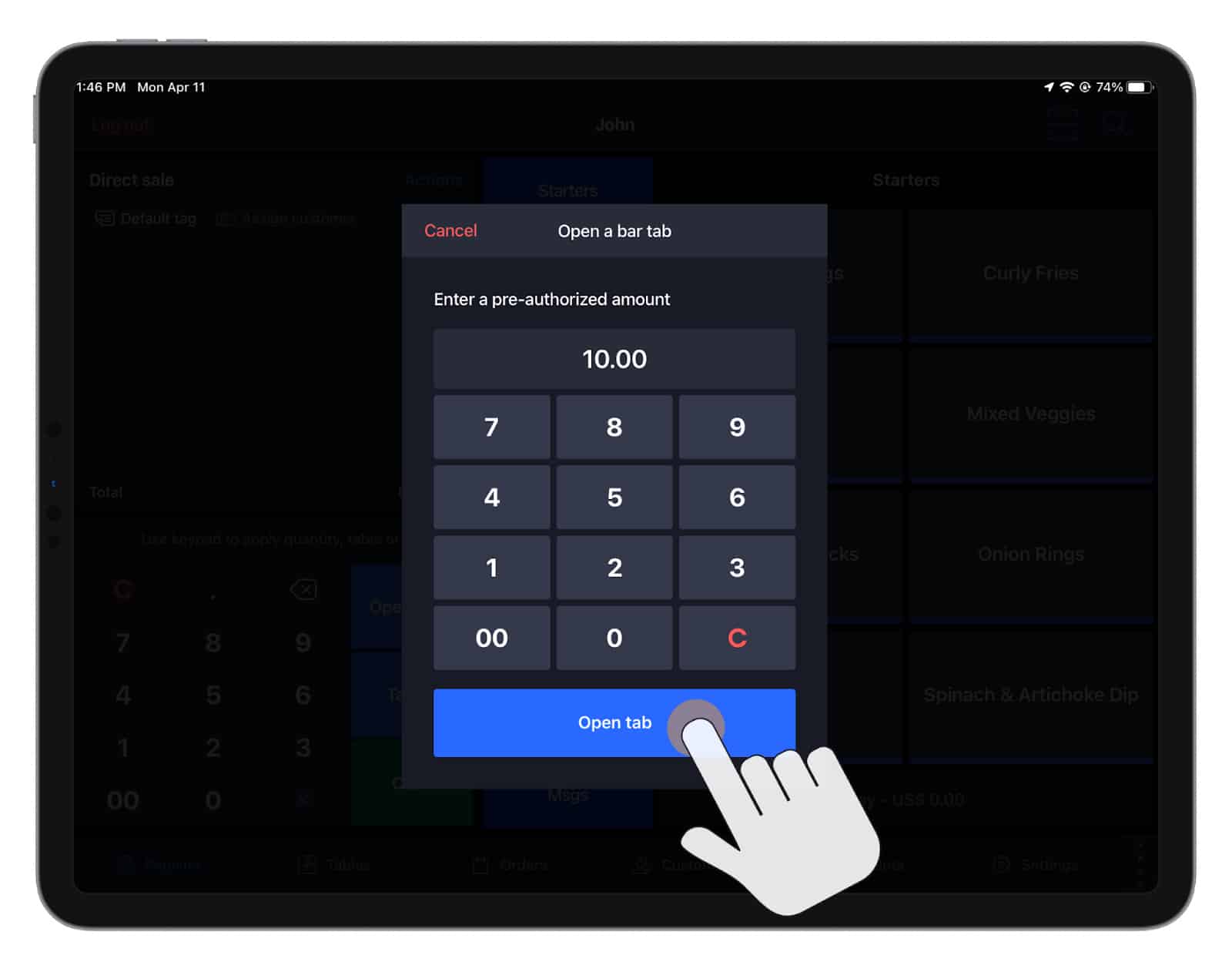 ---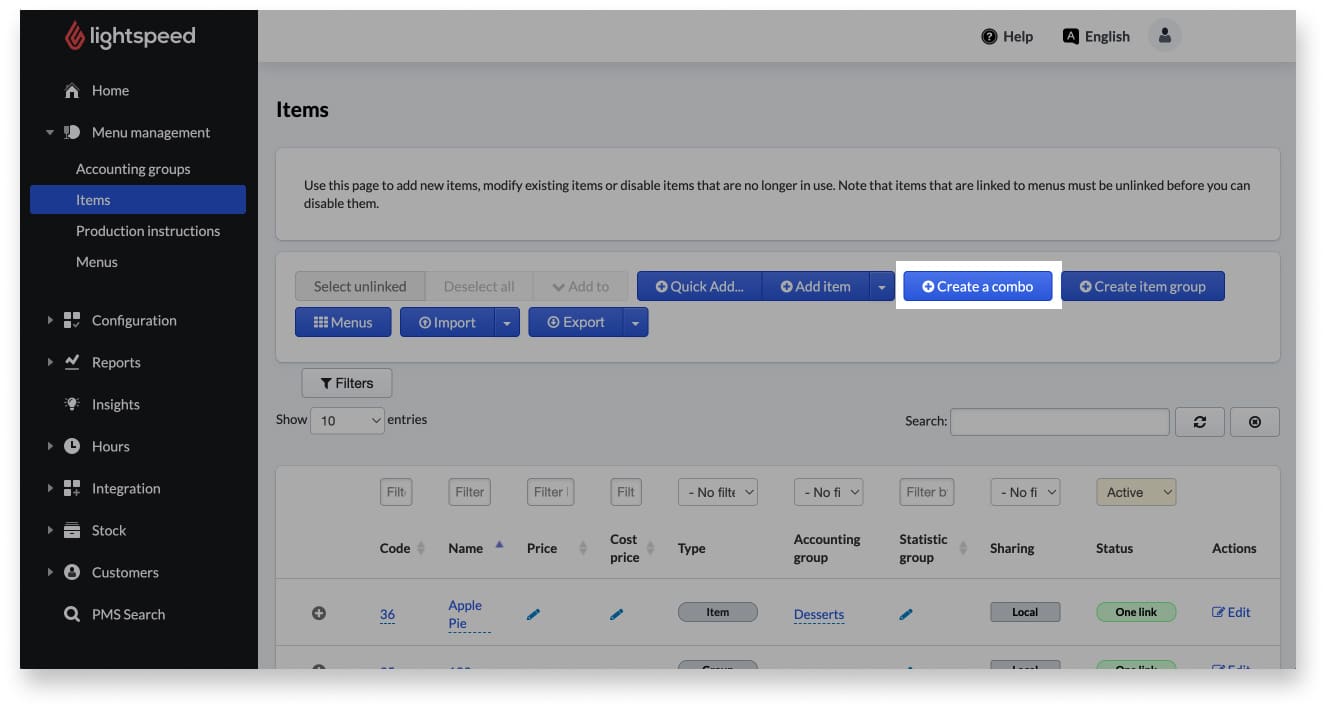 ---
Lightspeed Restaurant features all the basic reports you need in the baseline POS. You can view shift reports by server and see sales by day, week, or month. The IRS Reports screen includes easy W-2 and Form 8027 reports for recording employee withholding and tips for tax purposes.
Lightspeed's Advanced Reporting feature provides you with additional data like revenue by restaurant location, payments summary, and customizable category and modifier reviews. Through Advanced Reporting, you can also create custom reports using a simple drag-and-drop report builder.
---
Lightspeed Restaurant includes two tiers for ingredient-level inventory tracking. Basic inventory is included in the baseline POS, and Advanced Inventory can be obtained as an optional add-on. Advanced Inventory is included by default in the higher subscription tiers.
Both inventory modules include ingredient-level inventory, real-time supply depletion based on sales, and low-stock alerts. You can also create and place purchase orders from within the inventory modules.
---
Multilocation management is available in higher subscription plans. Users can track the performance as well as manage and customize the menus of multiple locations from a central, browser-based management dashboard. You can view individual or combined reports to get a full-spectrum view of your group operations. Multilocation restaurant groups can also get multilocation gift cards, and create items, modifiers, and discounts for each location from the master POS account.
---
Lightspeed Restaurant integrates with QuickBooks Online, QuickBooks Desktop, Xero, and Sage One for accounting accuracy. It also connects with over 50 popular third-party apps like Homebase (employee scheduling), Restaurant365 (our top recommendation for restaurant accounting), and MarketMan (our top recommendation for restaurant inventory management).
Looking for more restaurant software?
Check out our rankings:
---
Lightspeed Restaurant has added a slew of advanced features over the past few years and has also made some of these features available in their baseline subscription. This all-in-one system became a super-system when it absorbed popular POS systems, Upserve and ShopKeep. ShopKeep's tools provided more focus on the smallest businesses, while Upserve's advanced tools strengthened the system's high-volume tools.
Lightspeed Restaurant didn't earn a perfect score here, though, because many of the advanced features come with advanced prices. Many of the former Upserve's analytics and inventory tools are only available in the higher-priced Essential and Premium packages, for which you must pay more than double the price of the Starter subscription. And there is one niche restaurant POS tool that Lightspeed is missing completely: built-in delivery driver management. But otherwise, this POS has all the bases covered.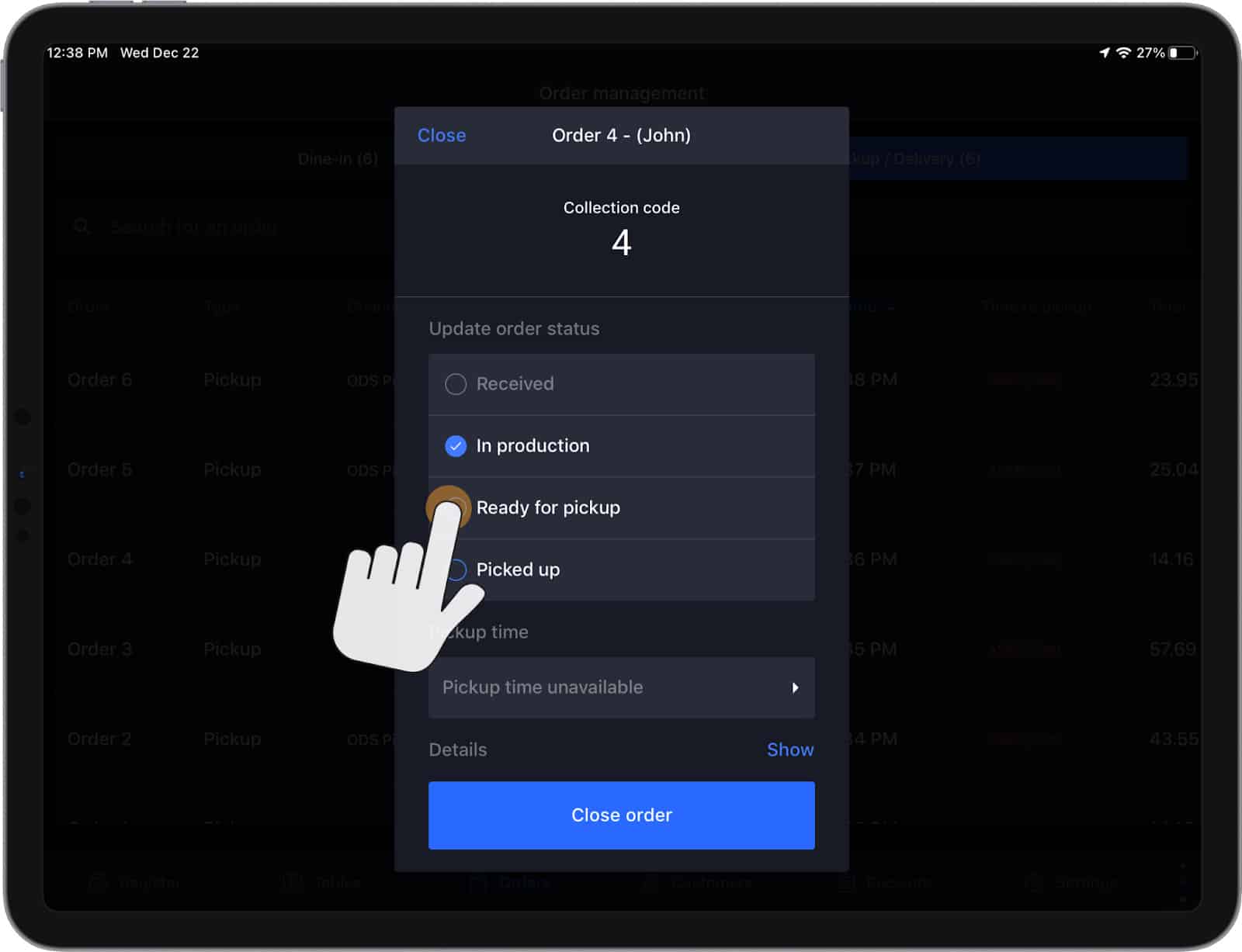 ---
---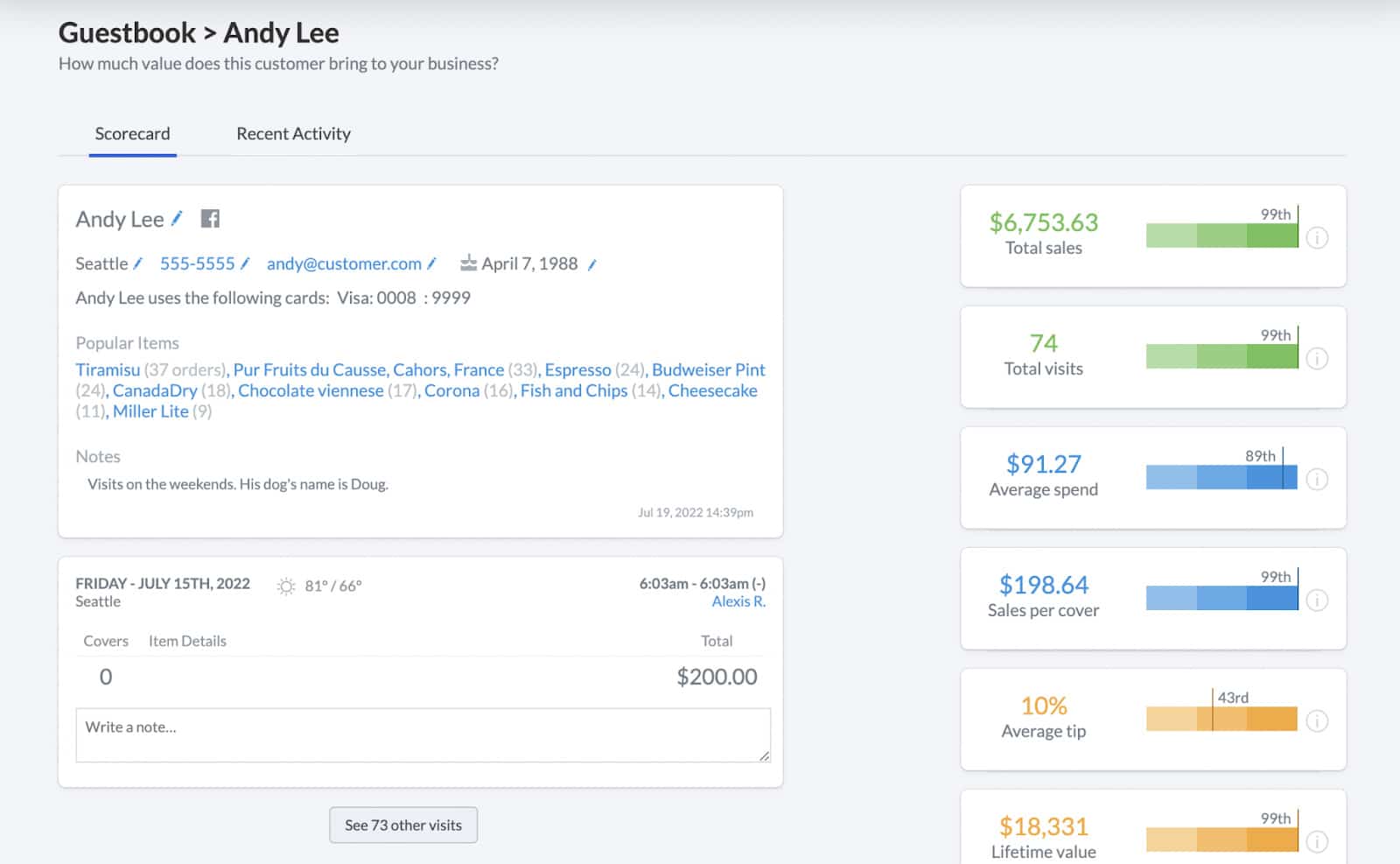 ---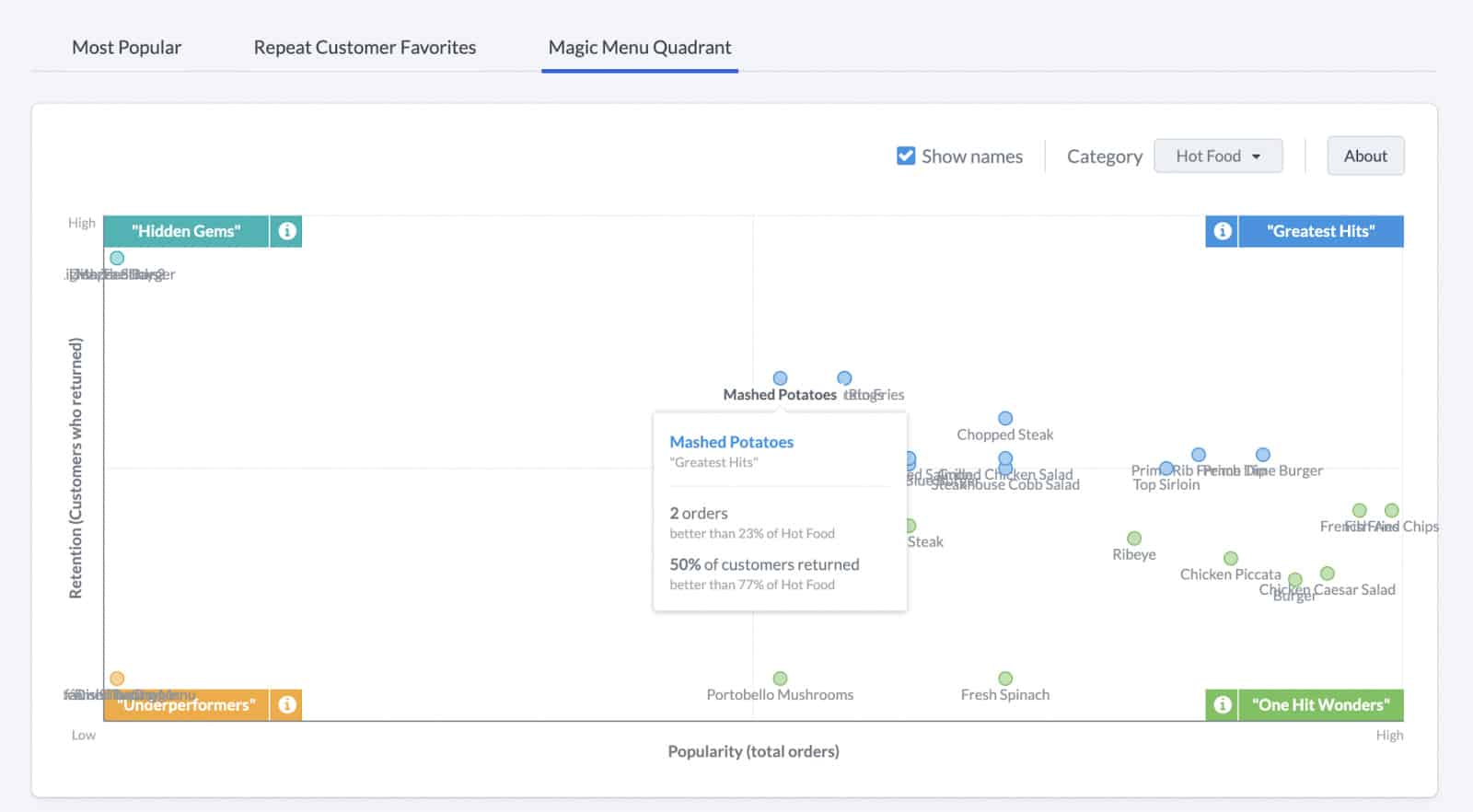 ---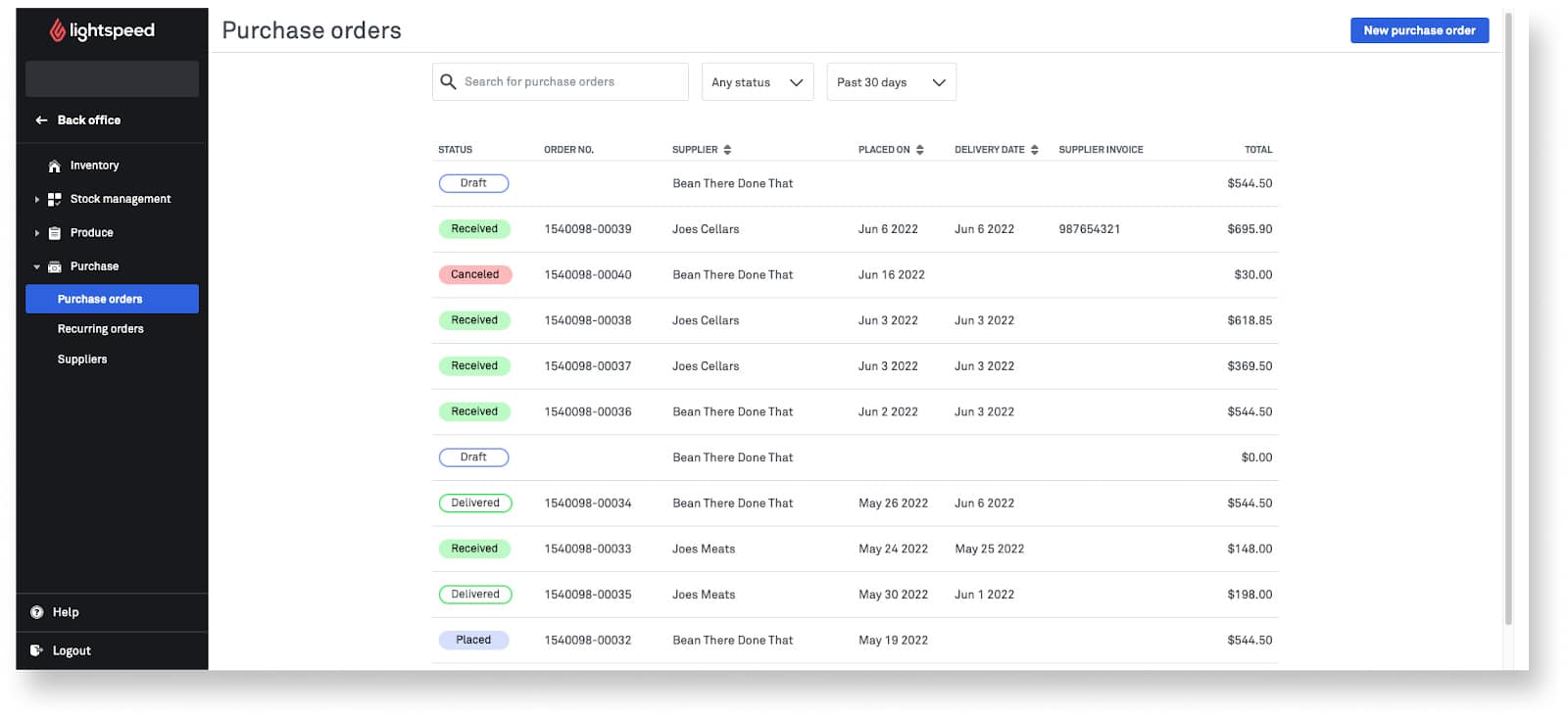 ---
Lightspeed's standout functions include excellent deep-level reporting and analytics, automated Advanced Inventory, and insightful online ordering and order management features. Expand the sections below for a deeper look at Lightspeed Restaurant's advanced functions.
Lightspeed includes a feature that it calls Advanced Insights, currently available on all subscription levels. Advanced Insights unlocks automated analytics like menu quadrant reports that show you which menu items are your highest performers, which should fall off your menu, and which might just need a marketing boost to become stars. Advanced Insights also includes detailed staff performance reports that help you identify top performers or training opportunities.
This module also integrates with Lightspeed Payments to show you highly detailed customer information. You can track how often customers visit and how much they spend, creating a pattern of guest behavior over time, which will allow you to create a more personalized experience for them while also maximizing your profits. These guest insights are automatically generated from card swipes—even if the same customer uses various cards—so there is no additional data entry or administrative oversight required.
Users should note, however, that Advanced Insights only works with Lightspeed Payments. If you use a different integrated payment processor, you won't reap the benefits of automated customer reporting.
---
Advanced inventory is essentially the automated inventory module from Upserve, which Lightspeed acquired in 2021. This inventory tool has long been a strong, automated inventory tool, featuring purchase order and vendor management, alongside deep-level inventory insights that show real-time food costing, highlight price fluctuations, and show where you can save on your cost of goods sold (COGS). Advanced inventory is included in Essential and Premium subscriptions; Starter users can add it for a custom-quoted fee.
---
Lightspeed offers two distinct options to support digital ordering and delivery management. The first module, Lightspeed Delivery, streamlines a restaurant's relationship with third-party delivery platforms. In particular, it synchronizes orders from these platforms with your restaurant POS app. Meanwhile, Lightspeed handles online and mobile ordering via its Order Anywhere tool. Both modules are offered as add-ons to the restaurant POS, though pricing is currently not publicly listed. Though, previous versions of these two tools started at $39 per month.
Lightspeed Delivery operates via third-party online ordering aggregator, Deliverect. This module directs orders from third-party delivery platforms into your POS order stream. With Lightspeed Delivery, you can also create a separate delivery menu with delivery-only pricing that you can manage from a central dashboard. Updating this menu will update your menus across any integrated third-party delivery platform that you partner with.
Lightspeed's Order Anywhere tool enables you to receive pickup orders from a POS-connected online ordering site. This site is optimized for mobile devices and supports orders from internet-connected computers, mobile devices, and smartphones. Order Anywhere also includes QR code ordering tools that enable customers to place contactless in-person orders and payments from their smartphones. To accept payments in your Order Anywhere module, you need to enroll with either Lightspeed Payments or have a Stripe account.
---
One of Lightspeed Restaurant's most industry-specific functions is Timed Events. This feature allows you to organize discounts for individual or grouped products, applicable during a fixed period of time. For example, you can set discounts for Happy Hour events, brunch menus, or holiday specials that automatically begin and end based on the time frame you specify.
---
Lightspeed's Loyalty features are included in all the subscription plans. The robust loyalty features help you reward returning customers and target your promotions to their interests. You can sort your customers into groups based on their purchases, dining frequency, birthday month, or any custom grouping you choose. For example, you can create a group of customers who drink bourbon and then email them an invitation to a bourbon tasting; Lightspeed Loyalty has all the tools you may need.
You can prompt your staff to ask customers to join the loyalty program at the end of a sales transaction, and the staff member can enroll the customer directly in the POS. Loyalty customers can be tracked in your system by their cell phone numbers, or you can choose to distribute custom-designed loyalty cards that give customers discounts and other perks.
Choose how you want to reward guests who reach certain milestones—by offering a promotional item or a dollar or percentage discount. Alternatively, you can offer a specific menu item like a free coffee or dessert. Rewards can be offered to specific customer groups or offered to all loyalty customers. You can also choose to accept reward points as a form of payment.
---
Lightspeed Restaurant is iOS-based, similar to competitor TouchBistro. However, Lightspeed Restaurant's user interface is much more dynamic than that of TouchBistro. Lightspeed breaks out of the iOS gridded navigation menus, creating a highly textured visual ecosystem that is much easier to read at a glance.
Order screens can be image-based so customers can see what they are ordering on self-service kiosks, and staff can show customers images tableside. Moreover, you can set a specific name for dishes that will only print in the kitchen, so if your line cooks read French or Spanish more fluently than English, you can give them tickets in their preferred language.
Owners and managers can access Lightspeed Restaurant's management dashboard from any browser, so they can view reports in the back office, on their home computer, or on any web-enabled mobile device. The report interface is streamlined and easy to navigate, and reports are highly visual, showing your performance metrics at a glance with vivid charts to illustrate data.
Lightspeed Restaurant support is available through a customer care team 24/7—except for holidays—via phone. It also offers live web chat during standard business hours and responds to emails within a day. You'll find a variety of training videos in the manager dashboard, and Lightspeed maintains a database of helpful training resources online that you can access at any time.
For all these reasons, Lightspeed Restaurant earned a high score on our Ease of Use evaluation, only losing a few points due to the lack of offline functionality with integrated payments (though you can work around this if you have a peripheral card reader that supports offline payments). This is mitigated by LiteServer, a small local server designed to imitate Lightspeed's cloud-based servers. This allows you to continue performing some (but not all) functions even if your internet connection fails. See Lightspeed's function list for full details about what you can and cannot do with LiteServer in the event of an internet connection failure.
Lightspeed Restaurant has grown by leaps and bounds in the past couple of years. The POS is as easy to use as they come and offers massive functionality for a self-installable cloud POS. The addition of advanced inventory and reporting capabilities makes this user-friendly POS a truly excellent POS for restaurants of all types. Incorporating Upserve's functions into Lightspeed Restaurant served to make the latter even more robust, adding and improving features that will increase the effectiveness and efficiency of any restaurant.
The only thing that could make Lightspeed more compelling would be a free or pay-as-you-go subscription option. And it would be great to see their take on drive-thru management, as well as including more functions in the base POS that currently exist only as third-party integrations. This system develops new tools quickly though, so there's every chance we'll see these offerings when we next review this excellent system.
What Users Say in Lightspeed Restaurant POS Reviews
Overall, users love the Lightspeed Restaurant system. Nearly every Lightspeed Restaurant review you can find online is positive—and the users are not alone; industry experts love it too.
Finances Online: Lightspeed POS achieved a rare 100% user satisfaction rating. On the site, 10+ user reviews give the system an average score of 4.6 out of 5, while Finances Online experts rate it an 8.6 out of 10.
Software Advice: Lightspeed Restaurant is listed as a Frontrunner software tool and earns a rating of 4.45 out of 5 based on around 70 user reviews.
G2: Lightspeed Restaurant won G2's 2022 "Users Most Likely to Recommend" award, and users award it an overall rating of 4.5 out of 5, based on around 50 user reviews.
Users love the responsive and friendly customer support. Our experience with the Lightspeed team definitely backs this up; we've never waited longer than a few minutes for a response from the sales or support team.
That said, there are some limitations you should note. If your restaurant offers lots of complex order combos—like a pizzeria, say—Lightspeed's combo functions may not be robust enough for you. And some users say the back-office functions have a learning curve. This is understandable, as Lightspeed Restaurant has recently updated several features. Finally, Lightspeed is occasionally not very forthcoming about certain updates, such as information about possible contract length or the availability of free trials (currently, Lightspeed Retail offers a free trial, though it appears the restaurant POS no longer does).
Here is a quick summary of common likes and dislikes from Lightspeed Restaurant users:
Users Like

Users Don't Like

Numerous payment processing options
Back-office features can take some time to learn and are occasionally unreliable
Lots of integrations to customize the POS and add functionality
Combo-building tools are not able to handle very complex orders
Flexible and user-friendly KDS, kiosks, and other hardware
No native tools for driver management, scheduling, and more
Generally responsive customer support
Loss of some functionality when offline
Methodology: How We Evaluated Lightspeed Restaurant POS
We score restaurant POS systems on 20+ criteria that are critical to restaurant success. First, we consider price and then look at both general and niche POS functions. Finally, we consider ease of use and how actual users respond to the system, alongside our restaurant expert's personal experience using the software.
Click through the slides below for a detailed explanation of our criteria:
10% of Overall Score
We first consider whether a given POS system offers a free plan or free trial and entry-level software subscription under $75 per month. We give high marks to a POS system that supports multiple payment processing options. Finally, we consider hardware costs and subscription length, if applicable. Systems that allow restaurants to use their own hardware or avoid long-term service contracts earn the highest marks. Lightspeed Restaurant POS scored fairly well for pricing. Though it has no long-term free plan, it does offer reasonably-priced subscriptions, the most basic of which costs less than $75 per month and still contains many features.
30% of Overall Score
Every restaurant needs to track employee hours, process contactless payments and gift cards, and quickly access sales and labor reports. Because many restaurants process tips for employees, we evaluate all systems' tip-tracking functions. We also consider advanced workforce management features like built-in employee scheduling and enforced clock-ins to keep costs in line. Lightspeed Restaurant again performed fairly well here: it has great inventory management at both a basic and advanced level, loyalty options, and a good reporting system with options for advanced reporting. While Lightspeed Restaurant has many integrations to choose from, it would have been good to see some of those features as native tools within the POS.
30% of Overall Score
We examine the number of restaurant-specific functions that are relevant to various restaurant types. In particular, we look for specialized functions like cash management and credit card pre-authorization. We also award more points to a POS system with customizable reports, ingredient-level inventory tracking with physical counting tools, integrated online ordering, and dynamic loyalty and marketing tools. While Lightspeed Restaurant features are great for bars and kitchens (such as KDS and vendor management), the POS could have scored better if it included a native delivery management function without the need for third-party integrations.
15% of Overall Score
We give higher marks to a restaurant POS system that offers 24/7 customer support. We also award points to POS systems with hybrid installation or an offline mode, so it is still operational if your internet goes out. We also consider how much installation support a system offers and whether it is cloud-based, enabling mobile access to management and reporting dashboards. Lightspeed restaurant performs quite well here, only missing out on more complete offline functionality and a hybrid installation type.
15% of Overall Score
Lastly, we evaluate any standout features that a POS system has. We also consider whether the system offers good overall value for its price, and judge its popularity among restaurant businesses. Then, we award points based on our personal experience interacting with the software and the company's customer support representatives. Lightspeed Restaurant achieved a perfect score here, with good value for money, generally positive user reviews, and a broad range of features (especially following the incorporation of Upserve's functions).
*Percentages of overall score
Lightspeed Restaurant Frequently Asked Questions (FAQs)
At the moment, no. Lightspeed Restaurant previously offered a 14-day free trial (something they still offer on the retail POS), but this option is no longer available on the Lightspeed website. Lightspeed did not respond to our requests for more information about the availability of free trials for the restaurant POS. Lightspeed previously required 1-year or 3-year contracts for its POS software, though current contract terms are unclear.
You can also work with Lightspeed to come up with a custom quote based on your restaurant type and other factors.
---
If you use the Liteserver local server, then some of the POS functions will work offline, and some won't. Unfortunately, you won't be able to accept integrated card payments, use third-party integrations, or apply gift card functions. But you will be able to take orders, create and print receipts, and use some staff management functions. See Lightspeed's LiteServer function list for more details.
---
Bottom Line
Lightspeed Restaurant is a streamlined restaurant POS with a mission to provide affordable software to independent restaurants. This accessible system is great for restaurants of any size, but especially those that rely on peripheral hare KDS screens and self-service kiosks. To find out if it is a fit for your restaurant, contact Lightspeed for a demo or free trial.