10 Useful Mike Ferry Scripts To Generate & Nurture Real Estate Leads Effectively
Mike Ferry scripts are designed for connecting with clients and generating leads. We'll explain why these real estate scripts are effective tools and how to use them when contacting buyer and seller leads, engaging in circle prospecting, converting expired listing leads, or responding to objections. We've identified the best scripts to download and use for negotiation and sales, compiled demo and role-play videos, and included expert tips to help you incorporate aspects of Mike Ferry scripts into your conversations more confidence.
1. "Just Listed or Sold Script" for Circle Prospecting
Just listed or just sold scripts are used by real estate agents to generate more listings through neighborhood searches or circle prospecting. Circle prospecting entails contacting individuals within a specific geographic area and asking them if they or someone they know is considering moving. These scripts allow agents to show marketing materials and efforts that they've done for the properties they've sold or going to sell in that area. Also, to develop business in a particular area to help them generate leads and create their own farm areas.
When using Mike Ferry's Just Listed/Sold Script, Eric Jon Melnikoff, a real estate broker from Keller Williams Realty, connects with potential sellers by calling someone in the same neighborhood as the recent sale. He markets himself as a broker with just sold property. Observe how Eric uses a positive voice tone and a friendly attitude to develop rapport with the listener and convince them to keep in touch with them. To see it live, download the video below:
Pairing effective scripts with the right tools and strategies is the key to successful prospecting. The My +Plus Leads neighborhood search tool allows agents to collect lead data in specific areas. It also provides data for one ZIP code plus a 50-mile radius. This tool is ideal for agents who want to expand their farm area of just sold and just listed listings through circle prospecting.
2. Generate & Nurture Leads Using "FSBO Script"
A for-sale-by-owner (FSBO) lead is someone selling their house without the assistance of a real estate professional. These sellers may have had negative experiences with agents or simply do not want to pay a broker fee. Thus, using an FSBO script keeps agents focused on nurturing leads and works to persuade sellers to choose you as an agent rather than work on their own.
The following tips will help you to develop trust and relationships with each FSBO lead, increasing your chances of converting them into clients:
Keep your FSBO scripts clear and straightforward.
Show genuine interest and pay close attention to what homeowners say.
Respect their decisions. Don't make a follow-up call if they turn down your services.
Provide your contact information in case they decide to list with an agent later.
Bring up past FSBO leads you've assisted or other sales where you went above and beyond for the seller to demonstrate how you can help them.
Mike Ferry's FSBO Script was utilized by Rick Colton of Colton Lindsay Realty on a live FSBO lead call. He creatively modified the script and smoothly handled objections by being an active listener, mirroring the prospect's objection, identifying the underlying cause of objection, and using empathy to validate the prospect's concerns.
Agents can visit Zillow, Craigslist, or their local multiple listing service (MLS) systems to find FSBO leads. However, an easier way to obtain FSBO leads is to purchase them through a lead generation company like REDX. REDX provides a comprehensive prospecting tool for real estate professionals to generate listing appointments. The platform includes FSBO lead sources, expired leads, seller leads, and a lead management tool that simplifies follow-up.
3. Utilize an "Expired Script" to Relist Expired Listings
Properties that have been on the market past their expiration date are known as expired listings. Agents can find leads for expired listings by using the MLS, asking other agents in the industry, purchasing them, and searching public records.
Here are some tools and ways to convert and nurture expired listing clients until they are ready to use your services:
Send drip marketing campaigns to homeowners with expired listings to nurture leads consistently.
Use SMS marketing campaigns to connect with prospective sellers or buyers about open houses and demonstrate to the homeowner that you are available and prepared to conduct business.
Send eye-catching direct mailers like brochures and postcards to reach out and set up an appointment with expired listing leads.
Conduct a marketing presentation showcasing the property's essential home features ignored during the first attempt. Include sales strategies to demonstrate how you plan to accomplish the job.
Mike Ferry Expired Script was used in the live role-play of a listing appointment call between two top producing real estate agents in North America. You'll see how they deal with challenging, extinguished objections and successfully overcome them by clearly explaining how their company's marketing strategy differs from the past realtor they worked with and how their way is better than the previous effort.
4. Reconnect With Leads Through "Center of Influence or Past Client Script"
The center of influence or past client script is used to contact people who already know, like, and trust you for lead generation. This is not a call to "keep in touch" with past clients but to identify their upcoming real estate needs or to obtain a referral from someone they know who is looking to sell or buy a house in the future.
Keep track of past clients and maintain a good relationship with them through the help of customer relationship management (CRM) software that automates reminders for important events like anniversaries or birthdays. Here are four techniques you can use to start maintaining contact with past clients:
Keep your clients updated about market changes, whether the market becomes favorable or if other significant changes are happening.
Create a real estate client follow-up system to manage multiple past clients.
Send postcards with information on newly listed and recently sold homes to previous clients, so they can keep updated on the local market.
Prepare pop-by gifts for in-person visits to strengthen the relationship and show past clients that you're still thinking of them.
Tony Smith, Mike Ferry Organization's Vice President, discussed how to utilize your Center of Influence or Past Client databases to maintain and nurture connections with them. In his video below, he recommends consistently sending mailings to touch base, like distributing postcards to your past clients once every quarter. He strongly suggests reaching out to clients regularly to strengthen the relationship and earn a consistent flow of leads and listing transactions.
5. Assess Listing Prospects Effectively With a "Pre-qualifying the Listing Presentation Script"
Agents use the pre-qualifying listing presentation script to assess the homeowners' background, reasoning, and financial situation before meeting them to conduct an actual listing presentation. It gives agents a complete picture of the seller's status, so they can personalize their presentation and focus on the most critical elements to the seller. It includes several questions, such as:
How much would you like to list the property?
What price won't you go below?
Are you planning to interview more than one agent for the job of selling your home?
How much do you owe on the property?
Will you help finance the house for the buyer? Or do you want your cash out?
These questions help address any pain points the sellers have during your listing presentation to beat the competition and demonstrate your value as a real estate professional.
Watch the demonstration of Anthony Nader, a real estate agent of Epic Real Estate Sales, LLC, on how to use Mike's expired and pre-qualifying listing presentation script. Anthony successfully booked an appointment with a lead by directly calling an expired listing and then proceeded to pre-qualify the property by asking questions like "How much do you want to list your home for?," "How much do you owe on the property?," and "Would you please describe your home for me?"
After you've made an appointment with a potential lead, prepare a listing presentation, so you can secure their listing as your exclusive property. Visit our article, The Ultimate Real Estate Listing Presentation, and download the free template to start.
6. Use the "One-Minute Listing Presentation Script" for Faster Lead Conversion
Mike Ferry's "one-minute" listing presentation script is meant to convert home sellers into clients. It enables listing agents to make a quick first impression on a prospective client and pitch themselves as the best person to hire.
Follow these valuable tips and strategies to close your deals quickly with real estate leads:
Before working with real estate leads, conduct a screening interview to qualify them.
Know leads' budgets and timelines early to determine which houses are within their budget and which ones to show them.
By asking leads, "When would you like this done?" and "Do we have a deal?" you can assert your intent to close the deal and create a sense of urgency.
In the video below, Joey Rodriguez, a local real estate agent in Southern California, shows how he qualifies his prospects, overcomes prospects' objections, and creates a sense of urgency to close for the signature using the "one-minute" listing presentation script. Joey directly asked his leads with questions like "Do you really have to sell your home?" and "Do you want me to handle the sale for you?" to immediately close the transaction.
7. Obtain a Listing From Potential Home Sellers With the "Absentee Owner Script"
Real estate agents should use the absentee owner script to obtain a listing from potential home sellers who own a real estate asset but opt not to occupy the property or participate in its management. Absentee owners are a powerful source of future real estate leads since they are motivated sellers or dedicated to the passive income they receive from outside management of their properties. Browse rental listings, do cold calls, purchase an absentee owner list, and direct mailing to generate absentee owner leads.
Agents can make use of map search tools like BatchLeads, providing detailed property information for those seeking off-market properties. Browse through public records to generate reports on your lead lists, including phone numbers, addresses, social media profiles, and other properties owned.
Brandon Mulrenin from ReverseSelling shows how to prospect absentee owners using the absentee owner script in a live cold call video. He asks questions like "How long do you own the property?" and "Do you consider selling your property in the future if the prices continue to go up?" to determine if the absentee owners are potential leads or not. Discover more tips and tricks by watching the video below.
8. "CMA Presentation Script" for Evaluating Property Market Value
Mike Ferry's Comparative Market Analysis (CMA) presentation script is used for evaluating and determining the market value of a property by comparing it to other similar properties that have been sold and those currently on the market. To determine the value of a property, buyers do comparison shopping. They look at the price of the listing based on its location, year built, renovations, millage rate, features, and benefits. Then, they compare it with similar properties that have sold recently or are currently on the market.
Monica Diaz, an agent from Century 21 Masters, conducted a live role-play using the CMA presentation script to turn the pre-qualified leads into clients. Monica compares the seller's property to properties currently on the market and just sold properties, helping determine the property's actual market value.
9. Resolve Sellers Objections With the "40 Real Estate Objections Script"
Real estate agents must know how to handle objections since it is integral to building relationships with leads and establishing themselves as knowledgeable partners who can help solve client problems. It also allows salespeople to determine whether the lead they are speaking with is a real opportunity to complete a transaction.
Mike's 40 Real Estate Objections Handled script helps build relationships and open doors to understanding your prospect more and learning about their plans. Some common objections in real estate transactions are the following:
"The agent's commission is too high."
"I don't want to lower my price."
"Another agent will list my house for more."
"I want to sell it myself."
"I don't think I'm ready."
To see how important overcoming objections is, download Mike Ferry's 40 Real Estate Objections Handled scripts here and check out The Mike Ferry Organization video below. Mike has shared several points on handling objections like "The stronger your presentation, the fewer objections you'll receive," and "objections must be answered and resolved rather than ignored."
10. Turn Objections to Opportunities With the "Most Common Buyer Objections Script"
This Mike Ferry script covers 14 of the most common buyer objections you're likely to come across with, such as "We don't feel like this is the time to buy," "The area is too new," and "I don't like the neighborhood." The script teaches you how to handle buyer objections well by listening fully to the buyer's objection, not reacting defensively, and focusing on solving the problem. Here are a few examples directly from the script:
"We don't feel like this is the time to buy!"
I understand… There's never a "perfect time" to buy a home… let me ask you… what specifically is stopping you from making the decision to buy this home?
(The summary close is for follow-up to all objections)
(Name) … you told me you wanted (x) … correct?
You also said you wanted (y) … is that right?
Is it the price?
Is it the monthly payment?
Is it the home?
Based on that… let's do the right thing… and BUY THIS HOME… it starts with a signature.
"The area is too new"
I can appreciate that… of course you realize this gives you a chance to gain much of the appreciation that newer homes often experience… Does that make sense? Great! Do you have any other concerns?
"The taxes are too much"
I understand… taxes are high today… and I know you're aware that taxes are deductions on your income tax… right? Terrific!
Are you also aware you can make payments monthly… or would you like to pay twice a year?
To further understand the Mike Ferry Most Common Buyer Objections script, watch Mike Ferry Organization's video below explaining how to make it simpler for an agent to work with buyers. For example, lenders should pre-qualify 100% of all buyers, agents should have a standard or requirements for buyers, and agents must not show buyers more than three homes at a time.
How To Enhance a Mike Ferry Script
Now that you've read and seen the Mike Ferry scripts in action, focus on making them compelling enough to close more deals. Here are six tips for using Mike's scripts to help you get more clients:
1. Memorize the Scripts Without Sounding Robotic & Stiff
There are various ways to memorize the Mike Ferry scripts, like reading them aloud, giving each paragraph a trigger word, and creating an acronym. However, many new agents are put off by the prospect of sounding robotic or stiff when reciting the memorized script during the actual call. It is critical to learn a script early on to determine which tone or approach will work best for you, so you'll be able to add personal inflection and anecdotes that match your personality.
A script must fit your character and be delivered in your natural voice to be effective. Follow these guidelines to avoid sounding like a robot:
Make the script conversational by making it a two-way conversation.
Slow down, say things clearly, and pause between thoughts or before answering a question. It does not have to be perfect. It only needs to be genuine and helpful.
Incorporate stories to prove your points. It gets people to visualize and help connect the dots to achieve emotional engagement, which is critical in any decision-making process.
Have confidence in yourself. When you speak confidently, your tone of voice changes completely. A self-assured person is almost always perceived as well-organized.
2. Practice Using Mike Ferry Scripts Consistently
Practicing Mike Ferry sales scripts will improve your tone or sound, the impression you make, your rapport, and your overall convincing power. According to Psychology Today, deliberate practice involves the following:
Pointing out the areas that require improvement.
Setting both short-term and long-term goals to determine what to concentrate on at each stage of development.
Pertinent and suitable feedback and instruction.
Documenting and assessing upgrades all the time.
Being consistent and repetitive in practicing.
3. Role Play the Script With a Partner
Another great practice to improve your performance and skills is to role-play the script with a friend or agent who knows some of the objections that buyers or sellers might ask. Learning the script by role-playing is much easier than memorizing Mike Ferry's cold-calling scripts alone.
To make your role-playing effective, you or your partner could take notes, so you can work on improving your style or performance. It would be best if you also made your role-play as accurate as possible and focused on objectives, allowing your partner to give specific feedback.
4. Record Yourself During Your Practice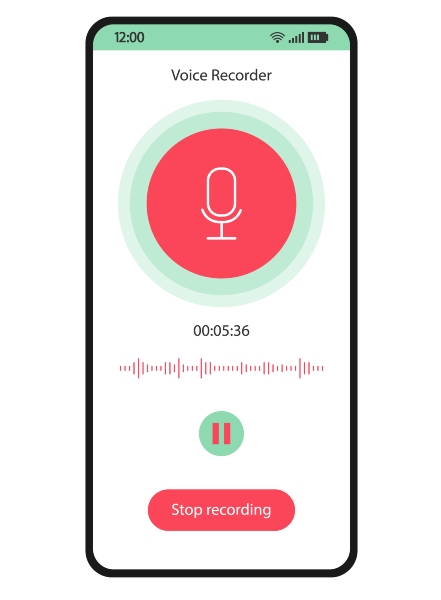 Because it can be difficult to objectively critique your cold calling while role-playing or on the phone, recording yourself on a smartphone or a computer is more feasible. When you listen back to yourself, you may be surprised to discover that what you thought was effective sounded flat, or you may notice that you are projecting your voice aggressively or communicating too confidently. Modulate your voice and use familiar words or phrases to avoid these things.
5. Focus on Your Goal To Generate Leads
Real estate agents' goals include generating and nurturing leads to build their client base and grow a successful business. Mike Ferry's scripts eliminate possible distractions, like unnecessary questions, and enable you to focus on your plan, like booking an appointment to see a seller's house or taking a buyers on a property tour.
Here are some advice to help you to stay focused on your goals:
Determine which motivators work best for your personality. It could be incentives or achievements.
Make a list of your goals and keep it somewhere visible—constantly reminding you of the things you want to achieve.
Set milestones for your goals, helping you stay focused by breaking a larger goal into smaller parts that feel more attainable.
6. Talk Less & Listen More
According to FinancesOnline, a 43:57 talk-to-listen ratio produced the "highest-yielding" conversations in their study, where sales reps spent 43% of their engagement time talking and 57% listening. Therefore, your mindset should focus on solving the potential client's problem rather than bragging about your excellent performance.
Listening is a far more valuable skill in sales than talking. It may sound counterintuitive, but remember that an agent's role is to effectively solve a problem for your clients, not sell them something.
Bottom Line
With over 45 years of real estate experience, Mike Ferry and his organization have provided agents and brokers with tools to succeed in the real estate industry. Use these sales and cold-calling scripts to generate leads and sharpen your sales skills. To become an expert at cold calling, memorize, practice, and be confident in these scripts until they become second nature.