10 Expert Tips on How to Get Clients in Real Estate
Clients are the lifeblood of a successful real estate career. Your success hinges on your ability to find and leverage multiple prospecting techniques to generate and convert leads. From volunteering in your community to leveraging technology, creating a real estate website, hosting events, and posting on social media, there are countless ways to get leads and clients. We compiled 10 of the best tips on how to get clients in real estate to build a thriving business.
1. Define Your Target Market
Many struggling agents ask the question, "How do real estate agents find clients?" In many cases, the agents asking this question are actually trying to do too much—marketing to anyone and everyone. The best real estate prospecting tips involve focusing on a few specific pieces of the business instead of overgeneralizing yourself and your services.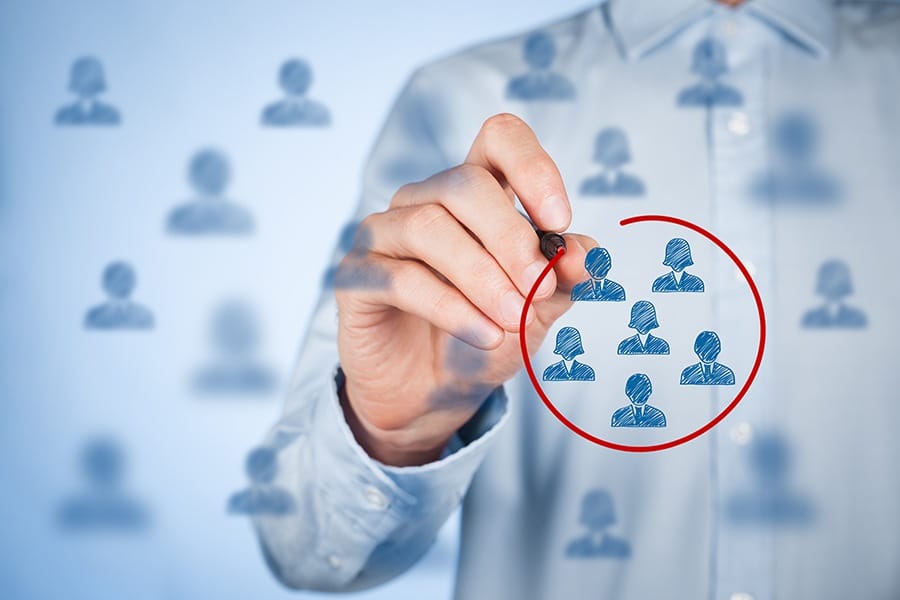 Instead of focusing on short-term lead generation, create a long-term plan to make a name for yourself. This includes clearly defining your real estate brand, your audience, and ultimately your target market. Start by determining what makes you stand out from other agents in your area, whether it is your strengths, skill set, background, or network.
Although it's not required, one of the best ways to find clients in real estate is by choosing a real estate niche. This can be as simple as defining the geographic area where you have the most expertise (typically called your real estate farm area), or it can mean developing a specialty in commercial real estate or with expired listings.
Create a real estate niche by finding gaps in the market where specific types of real estate clients are not currently being served. For example, some homeowners inherit property after the death of a close family member, and they may be unsure about their next steps. If you find that this is a relatively common problem for homeowners in your area, create a specialty of helping grieving homeowners through difficult decisions about their homes.
Catalyze AI is a lead generation tool made specifically to help you find leads who have gone through a recent change that affects their homeownership, like marriage, divorce, or inheriting a property. It uses event-driven predictive analytics to help you find and market to potential homesellers before any of your competition finds them. Try Catalyze AI today.
2. Buy Real Estate Leads
Although it isn't free, buying real estate leads is a legitimate strategy to supplement your business while you learn how to get real estate clients in other ways. For example, Zillow Premier Agent provides buyer leads ready to purchase a home as soon as possible. Although you are required to pay a fee for leads, Zillow actually includes a return on investment (ROI) calculator to adjust your budget, track conversions, and ensure that you are making a profit.
It also gives you premier placement on local listings, increasing the chances of buyers and sellers reaching out to you. Since Zillow is the most popular real estate website with over 36 million monthly visits, signing up to be a Premier Agent may be the fastest and most effective strategy to get clients for real estate.
3. Tap Your Sphere of Influence (SOI) for Referrals
Whether you're a new or experienced agent, your sphere of influence (SOI) is one of your most valuable resources for finding clients in real estate. Your SOI is made of anyone who already knows and trusts you, including your friends, family, colleagues, agents in different locations, or community business peers. Ultimately, you want all of these people to be brand ambassadors who sing your praises to their friends and family to generate real estate referrals.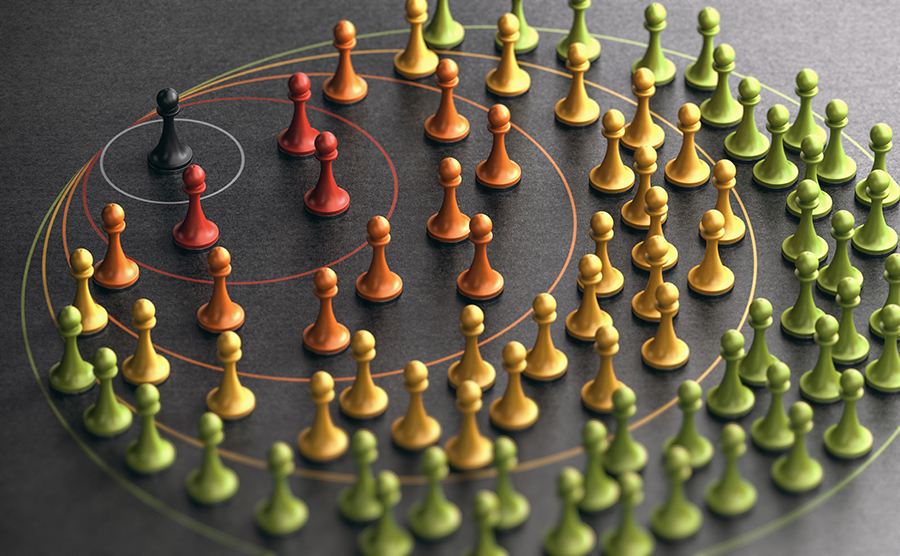 Studies by the National Association of Realtors (NAR) found that 86% of sellers found their agent through a referral. In addition, the survey found that 89% of homebuyers were willing to recommend their agent to others. These are the reasons why marketing to your existing SOI is arguably the best way to get clients in real estate. Almost nothing is more powerful than word-of-mouth recommendations.
To get more real estate clients from your SOI, start by sharing on your social media platforms or within your social circles that you're an agent and open to referrals. Your trusted friends and family members may not need any more encouragement to spread the word, but you can increase your results further with more encouragement and reminders. This could be a bottle of wine, gift card, or home decor item with a handwritten note to thank them for sending you a client.
If you're looking for more creative referral incentives or client gift ideas, consider sending pop-by gifts or consider automating them with a service like EvaBot. EvaBot will ask the gift recipient a series of questions to customize the perfect gift for them. You control the price point, and you can even include a personally branded gift item and handwritten note. Check out their 14-day free trial to get started today.
4. Strategically Market & Advertise Your Services
There are an endless number of real estate marketing ideas you can employ to get more real estate clients, so it's important to be thoughtful and strategic about the methods you choose. If you attempt every marketing and advertising strategy available, you'll spread yourself too thin, and all of your efforts will be ineffective. However, if you start with a foundation of identifying your target audience, you can more clearly pinpoint the most effective ways to reach them.
To begin strategically reaching leads, consider the areas where the people in your target audience are paying the most attention. If you have a young audience, social media or text message marketing might be the best place to start. On the other hand, an audience with a different demographic might respond best to real estate mailers. Start by gathering a list of all the potential marketing strategies, which should include:
Direct mail: Real estate flyers or postcards are simple yet extremely versatile ways to ensure that your target audience sees your marketing. Mail can be used to introduce yourself, promote events, or specifically target buyer or seller leads.
Real estate newsletters: Newsletters include relevant and time-sensitive information for a hyperlocal audience, and they are powerful because they can be shared online, in-person, or through mailing campaigns.
Signs: Real estate signs can be used to draw attention to listings, businesses, and services you offer. This is an affordable option to reach a large number of local leads.
Google ads: Google ads, also called PPC ads (pay-per-click), provide detailed targeting options to help you reach a specific audience and maximize conversions.
Email marketing: On average, emails generate $36 for every $1 spent. With such an incredible ROI, email marketing is an integral way to stay top of mind with new, current, and past real estate leads.
Text message marketing: With a 98% open rate, SMS marketing almost guarantees that your message reaches your audience. Plus, messages are short and sweet, allowing you to generate and nurture leads in less time than other methods.
If you're not sure where to start with your marketing materials, explore ProspectsPLUS! and its inventory of templates. ProspectsPLUS! provides premade postcards, brochures, and newsletters that can be customized to your brand and target audience. It also has direct mailing lists that you can use to farm specific locations or demographics to generate clients.
5. Automate Follow-ups With Real Estate Software
As you learn more about how to find clients in real estate, it will become blatantly obvious that you need tools to stay on top of all communications and follow-ups. You will be unsuccessful at finding real estate clients if you fail to respond to messages or calls quickly or don't consistently follow up with prospects. Luckily, there is an incredibly wide range of real estate software that will save you time and massively increase your ability to find clients as a realtor.
Real estate software includes mobile apps or web-based systems that can be used for lead generation to get new clients in real estate, manage transactions, automate email and social media marketing, schedule appointments, organize leads, and communicate efficiently. Although the software itself can be overwhelming, taking the time to choose the right real estate marketing tools and learning how to use them will help you become much more efficient and benefit your business in the long run.
When learning how to get clients as a real estate agent, one of the best strategies is to invest in a client relationship management (CRM) system like Pipedrive to keep constant communication with your clients. CRMs also make it easy to store client information and documents (such as contracts), set reminders to follow up with clients, take notes, and see all of your pending deals in a visual format in one place.
Pipedrive will also keep track of the transactions in your pipeline and has built-in e-signature and document tracking capabilities for optimum organization and efficiency. Ultimately, using a comprehensive real estate tool like Pipedrive will be essential in helping you build a client base in real estate.
Pro tip: If you're just starting out, your budget for software might be small, but there are free real estate CRMs you can use for lead generation and nurturing. In addition, many CRMs offer a free plan and low-cost pricing tiers to meet a wide range of real estate agent budgets. Learn more about the best CRMs for real estate agents to make the right choice for your needs.
6. Be Active on Social Media
Social media is a necessary tool for finding clients as a real estate agent. Although it can seem overwhelming, successful real estate agents use social media strategically to build their brand and local reputation, and it ultimately becomes a powerful advertising and marketing machine. By using social media strategy, you can not only generate leads at no cost, but also turn cold leads into clients through genuine connections.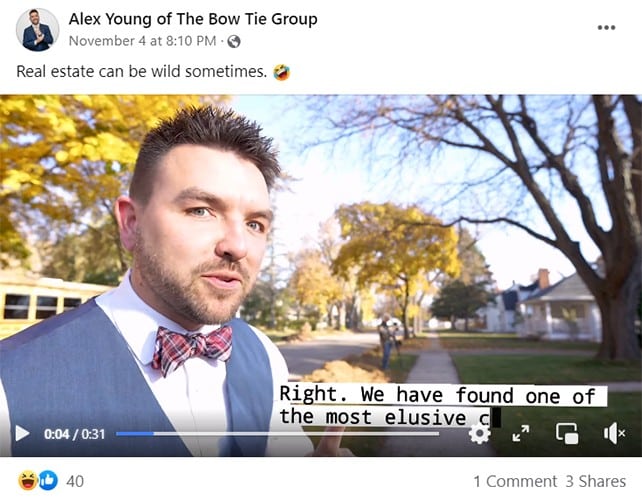 ---

---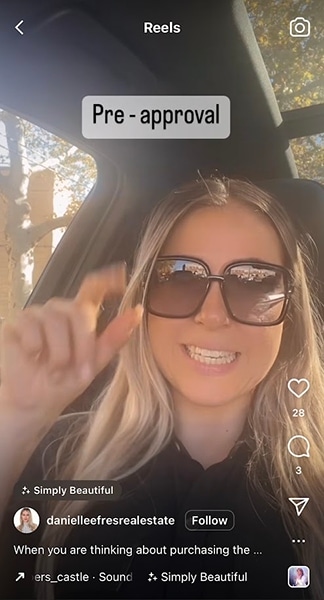 ---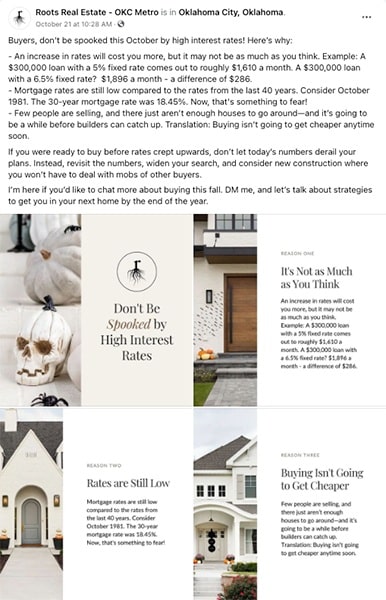 ---
With strong realtor social media marketing techniques, learn how to attract clients in real estate. You don't have to immediately become a full-time social media marketer on every social media platform, but you should pick one or two to invest your time and energy into. A few of the most effective social media platforms for real estate are:
In addition, social media allows potential clients to get to know you and see your work before you even meet or speak for the first time. It also allows you to build a connection with others by finding common ground and learning what's important to them. Before you get on a call with a potential client, take a moment to look at their profile on LinkedIn or Facebook and connect with them if you haven't already so you can become familiar with them before your conversation.
Keep in mind that there are also a variety of social media tools available to help with every part of planning, creating, implementing, and tracking your strategy—and many of them are free or highly cost-effective.
For example, Canva is an easy-to-use platform for creating graphics and editing photos that is free to use. It provides hundreds of social media templates and hundreds of thousands of design elements, fonts, photos, and effects, along with brand tools to help you create cohesive content for all platforms. Sign up to use Canva for free today!
7. Build a Strong Online Presence With Websites & Landing Pages
According to the National Association of Realtors, 97% of all homebuyers use the internet in their home search. This means having a professional real estate website is one of the best ways to get new clients in real estate. Setting up a real estate website with your listings, branding, reviews, and information about your expertise builds trust and can make it easy for new real estate clients to reach out to you.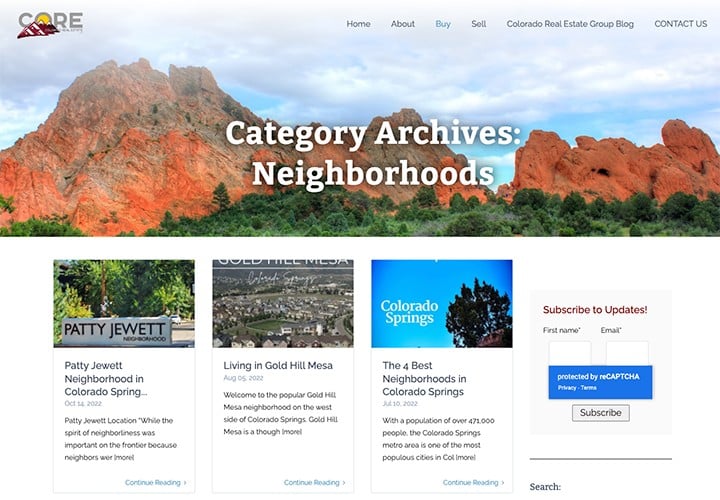 ---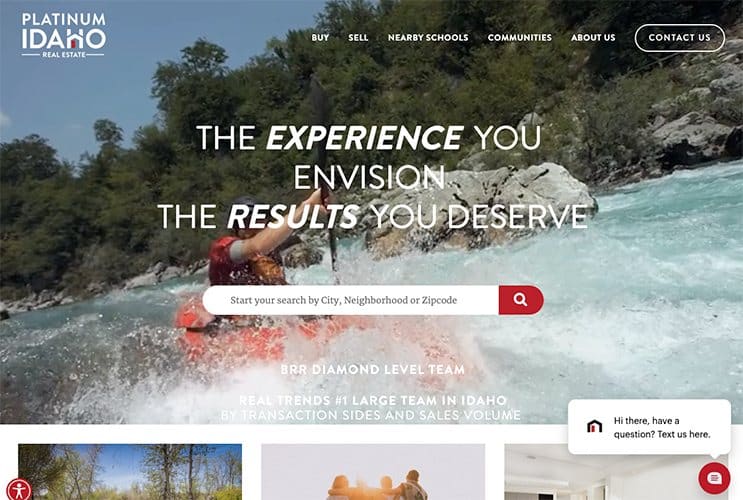 ---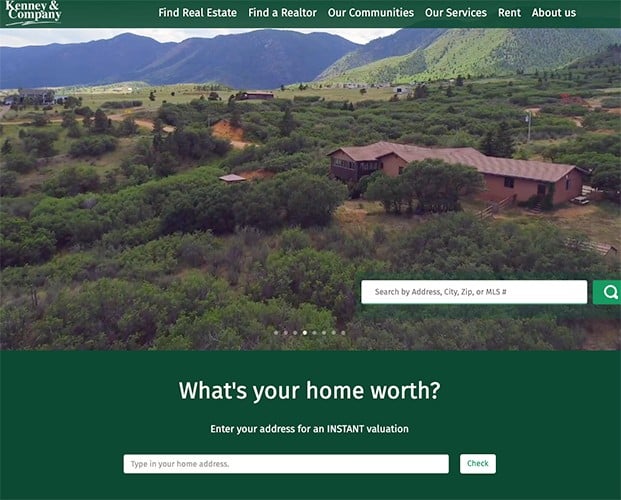 ---
As a new real estate agent, having even a simple website is beneficial for building your authority, and it leaves you with an opportunity to build more content as you grow. For example, you could create a neighborhood-specific website with the neighborhood history, local events, key phone numbers, real estate stats, and blogs about properties and the state of the market, like Colorado Real Estate Group. This content can then easily be expanded or repurposed to create emails and social media posts.
In addition, having real estate landing pages can help you advertise to specific types of clients and audiences directly. For instance, if you are looking to target seller leads, your landing page might offer a free home valuation. Upon adding their contact information, the leads will receive a home valuation, and you will be able to contact them and assist them with their listing.
Plus, creating a professional IDX real estate website can be quick and easy with Placester. Placester is a real estate-specific website creator that doesn't require you to use code to create a robust, user-friendly custom website. It provides a variety of website templates for you to choose from, an unlimited number of landing pages, and a marketplace for you to outsource tasks to Placester-approved professionals.
In fact, you can also get a done-for-you website, custom designed and set up by professional marketers. It's completed within 24 hours, and you receive a draft version to approve or request edits. Learn more about how Placester can help you create a powerful website and build an online presence.
8. Build Your Expertise & Exposure Through Publishing
Another way to build an online presence is by contributing to publications. This can be for a local newspaper, online blog, or email newsletter. For example, if you work closely with a mortgage professional who sends a monthly newsletter to their clients, ask if you can write a column in the newsletter that showcases your real estate expertise. This strategy helps you get in front of other professional audiences while positioning yourself as an expert in your niche and location.
In addition, you can also reach out to writers of professional real estate publications like Inman or The Real Deal and see if you can contribute to their articles through quotes or guest posts. Explore tools like Help a Reporter Out (HARO), a popular place for publications of all sizes to request quotes, interviews, or other resources from professionals in every industry.
HARO sends you daily emails with a variety of opportunities from publishers. It is free to use and has helped hundreds of real estate agents and professionals expand their online reach and get quotes in national publications.
9. Host Events That Leave a Lasting Impression
When considering where to find clients for real estate, open houses are an age-old marketing strategy that has helped agents grow their businesses. The primary goals are to create buzz and generate interest for a property, but open houses are also one of the few ways to get face-to-face time with potential clients, which cannot be undervalued. Instead of holding an identical open house to every other agent in your area, think about unique open house ideas that will help to get customers in real estate.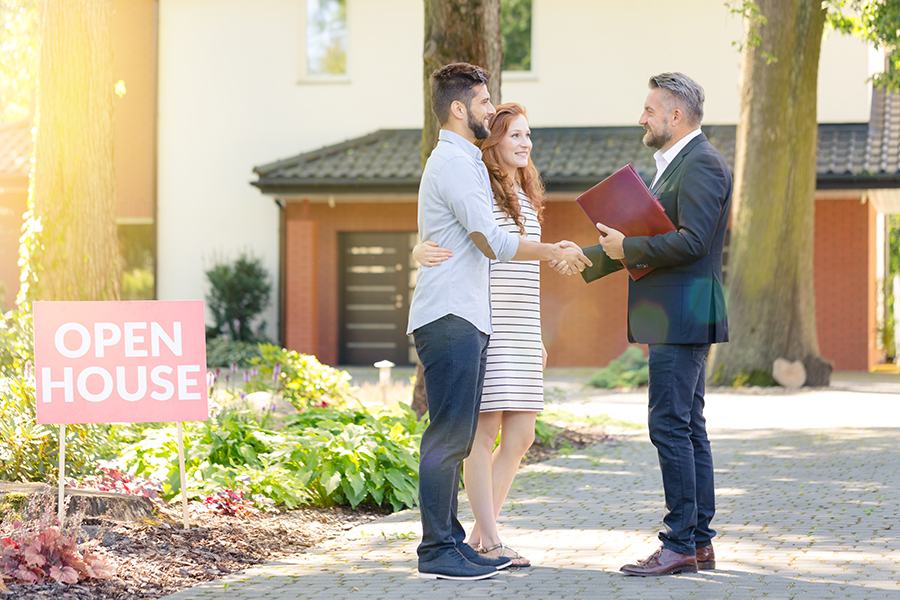 Make your open house an experience by providing food and drink, which will not only make people happier to attend, but also encourage people to stick around longer. Keep in mind that buyers are not the only attendees at an open house. You're also likely to encounter homeowners who can become seller leads, who may be evaluating you as a potential agent to sell their property.
Open houses aren't the only events that provide opportunities to gain clients in real estate—host your own real estate events. Homebuying and selling are complex processes, so providing education about them can help you attract new leads.
Consider holding in-person or virtual events to discuss common pain points and explain processes for the different buyer or seller types (e.g., first-time buyers, empty nesters, and investors). You can further expand your audience and reach by holding events in conjunction with other industry professionals, such as mortgage brokers, title agents, or even divorce attorneys and financial advisers.
10. Get Involved With Your Community
If you want more tips on how to get clients in real estate, go back to your sphere of influence (SOI). Since your SOI is so valuable in learning how to get more real estate clients, expanding it should be a priority. Networking has been a vital part of successful real estate agent businesses for decades, so it should be a high priority. It can also be done in a variety of ways, like formal networking events, conferences, workshops, and industry associations.
On the other hand, it can also be done through everyday activities like going to the gym, interacting in Facebook groups or book clubs, or sitting in a restaurant and chatting with the person next to you. You can also participate in charity events, volunteer at your neighborhood schools, or become a member of a local foundation.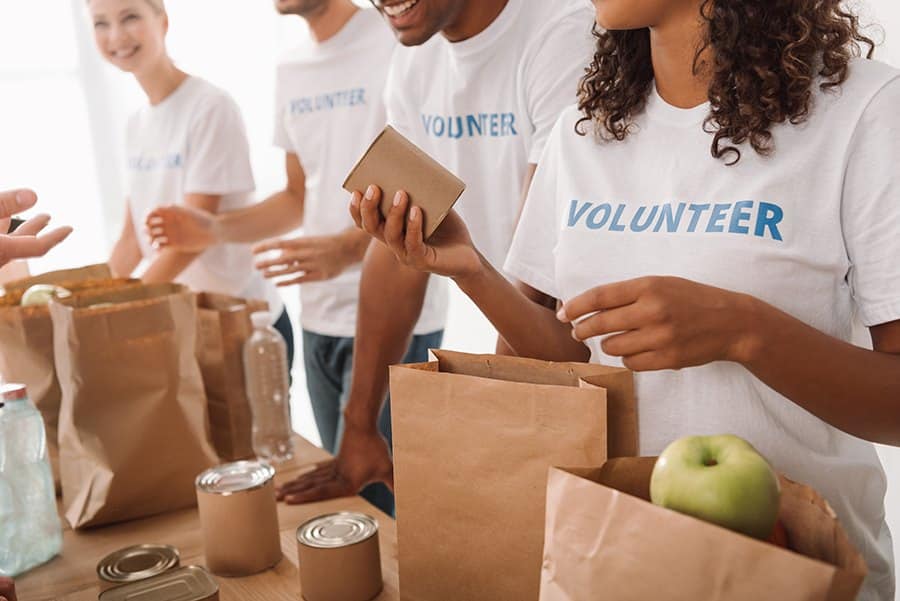 Regardless of the networking activity, the most important element is to introduce yourself and your real estate services to new people. Learning how to find real estate clients comes down to building authentic connections with people and clearly communicating your value. The most successful network opportunities may appear at unexpected times, so keep your eyes open for opportunities and be prepared.
Consider creating an elevator pitch, a 30- to 60-second script that highlights your unique value as a real estate professional. It should speak to your audience and let them know your goals and the skills that make you valuable to your clients. Practice your speech at home so when you meet new people, and they ask you, "What do you do?" you'll be able to confidently and naturally communicate. Being prepared to share your elevator pitch will help you gain a new acquaintance and potentially a future client.
Bottom Line
A common question among new and aspiring agents is, "How do real estate agents get clients?" In reality, there are an endless number of potential strategies for how to get clients in real estate. However, you must decide which avenues are best for your unique real estate business. Although lead generation does not happen overnight, you will find that combining multiple realtor tips for clients will help you quickly and efficiently learn how to get real estate clients.