Multiple Listing Service (MLS): The Simple Guide for Agents
A multiple listing service (MLS) is a database of current and historic real estate listings in a local area. This database is created, maintained, and paid for by either the National Association of Realtors (NAR) or local real estate professionals. In this guide, we'll explain how it promotes greater cooperation between listing agents and buyer's agents who may work at different brokerages, as well as its other benefits and alternatives.
Did you know? While agents commonly use the word "the" when talking about their specific MLS, there is more than one active database in the United States. Although numbers fluctuate, there are currently 952 MLS systems certified by Real Estate Standards Organization (RESO). Each regional MLS has its own listings, and agents pay dues to list and access other agent's listings on the MLS.
How Does the Multiple Listing Service Work?
When an agent signs an exclusive listing, they enter photos and property information like price, commission, square footage, and other details into the multiple listing service. Once a property listing is on the MLS, buyer's agents can access the information and arrange showings for their clients. In this way, it ensures that key data about a property is always shared between the two parties.
All (or any) agents who are members of the multiple listing service can co-broke any listing on the MLS. For instance, two agents or brokers can view a shared listing and work together to complete the transaction and split the commission. Most commonly, this involves one agent representing the seller and the other agent representing the buyer.
A multiple listing service also provides historical data about a property. Examples of this include previous sales and tax information, as well as expired and foreclosure listings that agents and appraisers can research to calculate home valuations and prepare comparative market analyses (CMA) reports.
What Information Does the Multiple Listing Service Provide to Agents?
Although it's much easier to get property details today than it was in the 1800s, the MLS is still typically the hub for the most accurate, up-to-date, and comprehensive property details. Not only will agents find details like the square footage and type of property on the MLS, but they can also learn about a home's appliances, annual taxes, utilities, showing procedures, flooring types, rooms sizes and types, and renovations.
The MLS also includes details about a home's or property's history on the market. Real estate agents can see when it was listed, past sale prices, the owner's name, and the seller's listing agent's name and contact information. Although not all fields are required, and so may not be available on each listing the MLS, it's still an extremely valuable tool to research a property to prepare it for sale or answer a buyer's questions.
What Is the History of the MLS?
Before the MLS, real estate brokers and agents would gather regularly at offices of their local association to trade information about homes they were trying to sell, hoping this network could help connect them with buyers. After discovering that this ad hoc system lacked efficiency, they came to an agreement to compensate the listing brokers, and the first MLS was born in the late 1800s (according to NAR).
At that time, the National Association of Real Estate Exchanges (now known as the National Association of Realtors, or NAR) endorsed the use of this system by all agents in 1908. From then, it evolved into the modern system in use today—a comprehensive property listing database that is online and fully searchable by a number of filters, including price, neighborhood, and home features.
Today, through nearly 1,000 MLS databases, real estate brokers share information on properties they have listed and invite other agents to cooperate in the sale in exchange for compensation if they produce the buyer. It benefits both buyer's and seller's agents in a variety of ways (listed below), and has become a cornerstone for real estate agent success.
Benefits of Using a Multiple Listing Service
The original MLS was designed to help speed up the information-sharing process between buyer's and seller's agents. However, there are a number of other reasons successful agents rely on a MLS today. For example:
1. Allows Agents to Better Identify Properties for Clients
The most obvious benefit for real estate agents who use the MLS is gaining access to the most extensive data on any given property. You can give your clients much more accurate and in-depth information about individual properties or your local real estate market.
Real estate agents can also use MLS data to create comparative market analysis (CMA) reports and come up with pricing recommendations. You can use CMAs to help gain listing leads, accurately price seller properties, and help buyers determine if a home is fairly priced. By using the data available to you on the MLS, you can build trust and provide a premium service to your clients that leads to referrals and repeat business.
MLS databases are intended to be the most accurate and authoritative sources for property information. Because they are managed and regulated by local state or county real estate boards, you can be assured that the real estate agent listed on the MLS is the one working with the sellers. Plus, there are often additional forms and details attached to MLS listings. This is particularly important for property disclosures, but can also include things like a floor plan diagram and neighborhood reports.
2. Gives Agents a Marketing Edge Compared to Going Alone
Since the MLS was created as a tool for real estate professionals, it isn't available to the general population, including homeowners and homebuyers. To access the MLS, you must have a real estate license and pay the appropriate membership fee. This makes it more challenging for clients to buy or sell a home without an agent, giving you a major marketing advantage.
3. Levels the Playing Field for All Brokerages
The MLS provides the same property information to all licensed real estate professionals in the area. That means that it doesn't give any advantages to large real estate brokerages over small or individual brokers. As long as you have access to the MLS, you have the best real estate market information and are eligible to assist in real estate transactions.
4. Offers Tools for Scheduling Appointments & Communicating Feedback
Since you can feel confident that the agent and contact information listed on the MLS is correct, you are able to schedule showings without having to message multiple numbers or look for the correct information.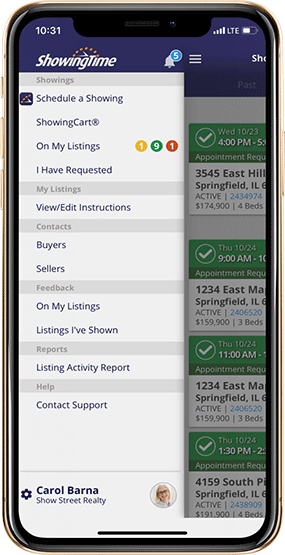 In addition, many agents use the ShowingTime app to simplify the process even further. With the ShowingTime app, buyer's agents can automatically schedule appointments, communicate with clients, and add feedback for listing agents.
Alternatives to Using the MLS
While the MLS is a vital piece of a real estate agent's toolkit, it isn't the only real estate listing platform available. Whether you are a licensed real estate professional or not, it's wise to use the reach of each available platform to your advantage, which will often mean using them in combination for maximum reach.
A few popular alternatives to the multiple listing service are:
Don't forget about the power of social media. Maximize your reach by listing your property on Facebook Marketplace and Craigslist. You can also find highly targeted audiences and generate real estate leads with Facebook groups and Instagram hashtags.
Since all of the alternatives to the MLS receive millions of visitors every month, you should utilize this valuable traffic. For instance, you can sign up for a free Zillow agent account, run real estate ads on social media, or get leads sent directly to you as a Zillow Premier Agent.
Bottom Line
A multiple listing service is a shared database of property listings that is created, maintained, and paid for by real estate professionals for the exclusive use of real estate agents and brokers. Although there are alternative real estate platforms, the MLS provides incomparable data accuracy and exclusivity that makes it a vital tool for real estate professionals.