To jump-start a successful real estate career in Montana, aspiring agents and brokers must complete high-quality prelicensing and continuing education (CE) coursework mandated by the Montana Board of Realty Regulation (MBRR). The top Montana real estate schools offer access to courses with various online learning formats, interactive features, and affordable pricing that fit students' budgets.
We've researched dozens of Montana online real estate schools to identify the best real estate courses based on pricing, course features, quality of education, and customer service:
Best Online Montana Online Real Estate Courses at a Glance
School

Education Provided & Starting Price

Learning Formats

Pass Guarantee

Customer Support

Prelicensing: $320

CE: $29

Exam prep: $99

Self-paced
On-demand
Livestream

✓

Phone, email, and live chat

Prelicensing: $320

CE: $29

Self-paced
On-demand videos
Livestream

✕

Phone and email

CE: $25

Exam prep: $79

✓

Phone, email, and live chat

Prelicensing: $349

Broker licensing: $419

Exam prep: $99

Self-paced
On-demand video

✕

Phone, email, and live chat

Prelicensing: $299

Exam prep: $59

Self-paced
On-demand video

✕

Phone, email, and live chat

Prelicensing: $357

CE: $29

Exam prep: $30

✕

Phone, email, and live chat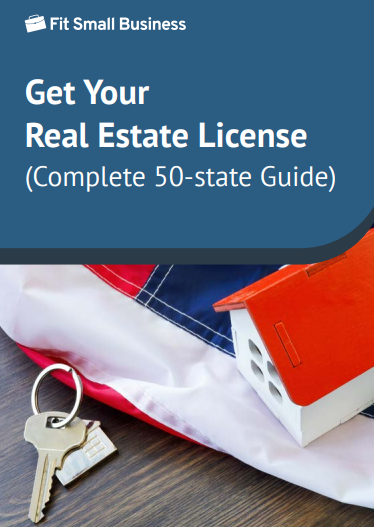 Thank you for downloading!
Your e-book is on the way! If you don't see it, check your "Spam" or "Promotions" folders.
Colibri Real Estate: Best for Affordable Self-paced Prelicensing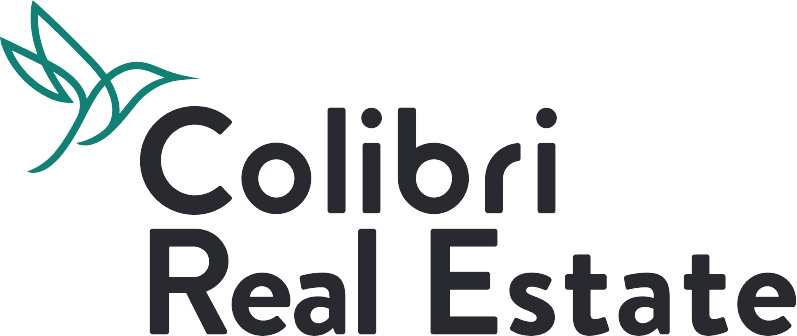 Pros
Multiple course formats
Pass or Don't Pay Guarantee
Affordable prelicensing education
CE property management package
Cons
No prelicensing broker education
Exam prep materials are not offered with its Basic package
Our Expert Opinion on Colibri Real Estate
Colibri Real Estate is named as one of the best online Montana real estate schools for its self-paced real estate prelicensing classes. It also offers CE classes through its partnership with McKissock Learning and provides salesperson, broker, and supervising broker CE courses for Montana real estate license renewal.
Montana real estate school online course formats include livestream, on-demand, and self-paced education to accommodate different learning needs. The CE courses are customizable and can be purchased individually or as a package. With the Pass or Don't Pay Guarantee, if you don't pass the licensing exam on your first try, Colibri will reimburse the original cost of either your prelicensing package or exam prep.
Accreditations: Association of Real Estate License Law Officials (ARELLO), International Distance Education Certification Center (IDECC), and Montana Board of Realty Regulation (MBRR)
CompuCram Exam Prep: An interactive exam readiness assessment, flashcards, vocabulary matching tools, unlimited practice tests, and simulated tests that mirror the state exam.
Exam Crammer series: A series of six webinars led by professional real estate instructors with a hyper-focused approach to exam preparation. Additional features include buyers and sellers checklists, guides, worksheets, and a comprehensive professional development library.
Animated video library: Colibri Real Estate has partnered with Sketchy to offer animated videos that help you master complex subjects.
Career success tools: One-year free access with pro series webinars, buyers and sellers worksheets, checklists, and guides, and a professional development library.
---
Colibri Real Estate receives a 4.6 out of 5 rating. Most reviewers rave about its instructors and the support they receive from customer service. One student reported that she loved her Colibri experience and was surprised by how much she learned. She stated that the dashboard has many resources for studying as well.
A negative reviewer said that Colibri doesn't supply books early enough and doesn't allow access to the flashcards until you complete the course. Another reviewer reported that she was one module away from completing her course, and without notice, the course reset to the beginning, losing all her work.
If you're looking for a Montana real estate license online course with flashcards included in your course package, try Cooke Real Estate School.
---
Colibri Real Estate offers Montana real estate classes in tiered prelicensing and exam prep packages. Each package builds on the previous one and adds new features with price increases. There are five CE options for brokers, salespersons, and property managers.
Education Type

Price Range

Course Details

Prelicensing

$320 to $550

Tiered packages available
70 hours of education
Three e-books
Instructor support
Visual learning objects and videos
Additional resources for higher-tiered packages

Continued Education*

$29 to $139

Individual courses or packages available
Membership package providers a year of CE courses

Exam Prep

$99 to $219

Two packages available
Audio and review guides
*Offered through its affiliate partner, McKissock Learning
---
McKissock Learning: Best for Customized Continuing Education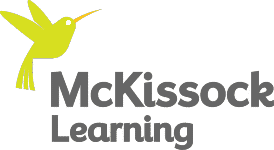 Pros
One-year membership access
Over 100 free learning tools
Package customization
Cons
No post-licensing or broker courses
No on-demand classes
No interactive study groups
Our Expert Opinion on McKissock Learning
McKissock Learning is the best online real estate school in Montana for affordable, customizable continuing education. Its courses meet the Montana real estate continuing education requirements so agents and brokers can renew their licenses. The CE course customization lets students swap classes in each package based on student preferences.
Students can complete their education via livestream, online self-study, or have correspondence course materials mailed to their homes. However, it only provides CE. Its partnership with Colibri Real Estate allows students to take prelicensing and exam prep courses and attend McKissock for continuing education.
Accreditations: ARELLO, IDECC, and MBRR
Instructor support: Access instructors for questions and additional support via phone or email.
Partner directory: In the CE Plus membership dashboard, students can access dozens of McKissock affiliate partners for discounts on resources to help in their careers.
Pro-Series library: Includes webinars and an on-demand library with industry topics, insider tips, and expert advice.
Over 100 job aids: Including worksheets, scripts, and checklists to stay on track and grow a thriving real estate career.
---
McKissock Learning has an online rating of 4.5 out of 5. The positive reviews state that the platform is easy to use and everything is accessible from the dashboard. They also like the flexibility to take classes that fit their busy schedules. Some report that the annual CE Renewal membership takes the guesswork out of finding classes between license renewals.
One negative reviewer said that the school invited them to take an in-person exam, completed the exam, and upon submission, discovered it was a practice test, not an exam. Another student reported that customer service was poor, leaving them on hold for a long time. If you want a top-rated customer service experience, check out Colibri Real Estate.
---
McKissock Learning provides the same tiered prelicensing packages through its partnership with Colibri Real Estate. Its CE real estate classes online in Montana can be taken individually or in your choice between two customizable packages.
Education Type

Price Range

Course Details

Prelicensing

$320 to $550

70-hour course plus three e-books
Over 800 visual learning objects and videos
Real estate flashcards, readiness assessments, and audio review guides
Pass or Don't Pay guarantee
Webinars and worksheets
Comprehensive professional development library

Continued Education

$29 to $139

Individual classes
Customizable packages
Choose packages with or without NAR ethics course
CE Plus annual membership adds webinars, videos, discounts on business products and services, and access to specialists
*Provided by its affiliate partner, Colibri Real Estate
---
The CE Shop: Best for the Most Comprehensive Exam Prep Tools

Pros
Free exam readiness assessment
Free career resources
Affordable continuing education
Cons
No prelicensing education
Limited course formats
No livestream courses
Our Expert Opinion on The CE Shop
The CE Shop provides self-paced, on-demand learning and materials for learning at your own pace. It's the best online real estate school in Montana for its comprehensive Exam Prep Edge package, and it also offers affordable continuing education classes. There's a free exam readiness assessment, so you'll know where to focus your studies.
The CE Shop's continuing education and exam prep are accessible on any device, so you can study for your exam on the go. You can also study with your peers in its interactive study groups and access instructors for support. The CE Shop offers excellent free career resources through its Agent Essentials database, where you can access articles, podcasts, e-books, videos, and blogs, to get your business off to a great start.
Accreditations: ARELLO, IDECC, and MBRR
Unlimited practice tests: While some schools give you a set number of exam practice tests, the CE Shop provides an unlimited supply, so you can test yourself until you feel confident to take the exam.
Exam Prep Edge: Provides students with an intuitive study platform, a free initial assessment, and an interactive dashboard.
Agent Essentials: A comprehensive database of free career resources, such as videos, podcasts, webinars, blogs, and e-books.
Customer support: Students can contact customer support seven days a week via phone, live chat, and email.
---
The CE Shop has a 3.7 out of 5 rating based on 6,447 reviews. Positive reviews stated that the platform was easy to use and information was straightforward. Many reviewers raved about the convenience of having access from their mobile devices and tablets so they can study from anywhere.
Some negative reviews said that customer service was unhelpful and could not contact a manager to help with their issues. Another student said he failed the state portion of the exam several times despite using the exam prep tools. The CE Shop doesn't offer Montana students prelicensing education or livestream classes, so if you're looking for those options, check out Colibri Real Estate.
---
The CE Shop offers continuing education and includes two packages offered at the same price. One includes the National Association of Realtors (NAR) ethics class. Each package provides different classes. You can also take individual CE classes and choose those you like.
Education Type

Price Range

Course Details

Continued Education

$25 to $105

Offers mandatory and elective classes
12 credits to cover Montana license renewal requirements
With or without NAR ethics course

Exam Prep

$79

Take the readiness assessment to evaluate your current knowledge
Study at your own pace
---
Cooke Real Estate School: Best for Upgrading a Broker's License

Pros
Montana salesperson and broker prelicensing
Instructor assistance available
Interactive study groups
Cons
No livestream courses
No CE classes
Most expensive prelicensing on our list
Our Expert Opinion on Cooke Real Estate School
Cooke Real Estate School is the best Montana real estate license school for upgrading to a broker's license. It is the only school in our top six to offer both salesperson and prelicensing broker education, which include tiered packages with self-paced learning. It also provides state and national exam prep packages and professional development courses, including one for broker management.
Its broker and salesperson prelicensing packages include textbooks and the materials you need to study for your licensing exam. Higher-tiered broker prelicensing packages include exam prep tools, so students don't have to purchase extra materials. It also provides interactive study groups to engage with other students.
Accreditation: MBRR
Free shipping: All textbooks are shipped for free with two- to three-day delivery, according to a postmaster advertisement.
Course extensions: Students automatically get six months of course access, with up to a six-month extension if needed.
Professional development courses: There are five professional development courses from which to choose. These include a broker management course, sales and marketing, commercial real estate, real estate finance, and a real estate investing course.
Assessment quizzes: Students are given an assessment quiz after every video presentation, which requires a score of 80% before the session is marked complete. This diligence helps students retain what they've learned and increases their chances of passing the exam.
---
Cooke Real Estate School has a 4.7 out of 5-star review. One student said the school helps its graduates find a job after they get their licenses. Another student says the courses are fun, and the school has a positive atmosphere.
An unsatisfied student reported the website software was sluggish, and customer service didn't get back to them after a few attempts weeks apart. We have found it to be the highest-priced prelicensing education in our evaluation, so if you're looking for something more affordable, check out The CE Shop.
---
There are seven prelicensing packages. Four are for salesperson prelicensing education, and three are for the broker's education. All packages offer tiered pricing, with each upgrade adding more courses to the latter. The exam prep has two options to help pass the exam.
Education Type

Price Range

Course Details

Prelicensing

$349 to $599

70-hour licensing course
Two textbooks
Interactive study groups
Tools such as study guides, additional textbooks, and documents
Higher-tiered packages include additional courses

Broker Prelicensing

$419 to $599

60-hour self-study licensing course
Three textbooks
Course documents
Real estate math book
Sales and marketing course with a textbook in Platinum package

Exam Prep

$99 to $139

Montana real estate law and national exam prep courses available
Each contains an exam prep textbook
---
Visit Cooke Real Estate School
VanEducation Center: Best for Flexible Payment Plan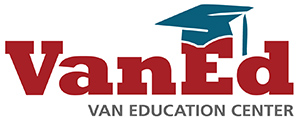 Pros
Accessible from any device
12-month course access
Instructor support
Cons
No livestream options
No CE classes or broker prelicensing
No interactive study groups
Our Expert Opinion on VanEducation Center
VanEducation Center is one of Montana's best online real estate schools due to its payment plan options for prelicensing students who can't pay the total price upfront. Students can begin their courses with the first payment and pay the rest over two to three months.
Courses are self-paced videos accessible from any device so students can study anywhere conveniently. Students also can connect with their instructors via phone, email, chat, and online Q&A. However, it doesn't offer continuing education or livestream courses for students that prefer a live classroom.
Accreditations: ARELLO, IDECC, and MBRR
Infographics library: These tools can be helpful as study aids for new students and aid current agents and other industry professionals in colorful visual displays on various real estate topics.
Free e-books and how-to guides: Choose from two e-books and dozens of how-to guides to launch and grow your real estate knowledge.
Career tips and business practice articles: Explore numerous articles on growing your career and a real estate business.
Real estate marketing blog: Get up-to-date content on developing your marketing strategy.
---
VanEducation receives a 4.1 out of 5 rating from student reviews. Positive reviewers liked its affordability, ease of use, and ability to connect with mentors. Others liked the thoroughness of the content, affordability, and flexibility of self-paced learning.
Negative reviews stated that the exam prep is complex, the software has glitches, and it doesn't track progress, so students waste time sifting through content to return where they left off. Another student has connectivity issues and says the content jumps from subject to subject and is disjointed. For easier-to-use software, try 360training Agent Campus.
Read how our experts feel about this real estate school in our VanEd review.
---
VanEducation Center offers three options, two for salesperson prelicensing and one for exam prep. Students can purchase the prelicensing and exam prep courses separately or combined in a package and save a little money. These are the only products it offers:
Education Type

Price Range

Course Details

Prelicensing

$299 to $349

70-hour prelicensing course
The higher-priced package includes the national exam prep course

Exam Prep

$59

The exam prep course includes the national portion of the exam
---
360training Agent Campus: Best for Course Simplicity
Pros
Self-paced courses
Instructor access
Works on any device
Cons
No livestream courses
No career assistance
No interactive study groups
Our Expert Opinion on 360training Agent Campus
360training Agent Campus is perfect for students who want a straightforward no-frills course experience. It offers salesperson prelicensing and continuing education for brokers and salespersons. It also provides exam prep tools to help students pass their Montana real estate licensing exam.
For further simplicity, 360training Agent Campus offers its courses exclusively through online self-study course formats, removing the guesswork of which course format to choose. It is accessible on any device, so students can study anywhere and have access to their instructors by email or phone. Its prelicensing packages include a real estate math course, and its premium package adds a communication course to help students connect with their real estate clients.
Accreditations: ARELLO, IDECC, and MBRR
Support options: Access support by phone, email, live chat, or through its knowledge archives.
Comprehensive informational blogs: Choose among hundreds of blog posts dating back to 2014 on evergreen and current topics.
Professional development courses: Purchase affordable non-credit courses in business development, business compliance, individual, manager, and sales training, and fostering a respectful workplace.
Bulk purchase discounts: Receive up to 42% in course discounts when purchasing content in bulk.
---
360training Agent Campus received a 4.1 out of 5 based on 7,028 reviews. One reviewer likes the course layout for its simplicity and easy navigation. Another student appreciates that the content is frequently updated and kept current, so the exam has no surprises.
Opposing feedback centers around connectivity issues and exams timing out white students try to connect. A student reports the screen keeps freezing and takes a while to load, and another student feels the content was too heavy on legal topics and could use more balance. 360training Agent Campus doesn't offer livestream classes. For students who want livestream continuing education, go to McKissock Learning.
---
These tiered prelicensing packages cover the required 70 hours of Montana real estate education. For a bump in prices, each package adds tools and features. Students can purchase individual CE classes based on their interests and license renewal needs, or buy one of the three packages, which offer different content in each. Though the CE packages specify "broker," they also meet the requirements of salesperson license renewal.
Education Type

Price Range

Course Details

Prelicensing

$357 to $424

Self-paced 70-hour prelicensing course
Three-hour math course added in tier two package
Thee-hour client communication course in its Premium package

Continued Education

$29 to $80

Take individual CE classes or buy a package
NAR ethics course in package #2

Exam Prep

$30 to $79

Readiness and practice exam
Packages offer unlimited practice questions
Instant feedback on state and national exam portions
---
Visit 360training Agent Campus
How We Evaluated the Top Real Estate Schools in Montana
With so many options to find an online real estate school in Montana to meet your needs, it can become overwhelming. We've compared and evaluated the best online Montana real estate schools based on learning styles, pricing, quality, and program features. We also evaluated the expertise of the providers and customer reviews.
Of these, Colibri Real Estate ranks as the best online real estate school in Montana, especially for students seeking prelicensing education for the Montana real estate exam. Colibri Real Estate was chosen for its various course formats, reasonable pricing, accessible peer and instructor support, and user-friendly online platform.
To arrive at our unbiased score of Montana real estate classes online, we evaluated the following criteria:
25%
Learning Style/Course Features
25% of Overall Score
Consists of various formatting and learning styles for each course to meet the specific needs of the agent as well as ease of course accessibility.
20% of Overall Score
Pricing is based on the cost and availability of pre- and post-licensing, continuing education courses, and exam prep for each online institution.
15% of Overall Score
The availability of each level of education for different stages of licensure. This would include pre- and post-licensing, continuing education courses, broker prelicensing, and exam prep.
15% of Overall Score
Extending services past licensure, such as coaching and training and career assistance. Also, whether the provider offers pass or refund guarantees for its courses.
10% of Overall Score
Based on customer feedback for each program, with particular attention given to reviews of the product and popularity of the provider, to certify the course meets user satisfaction.
10% of Overall Score
Expertise in the field and firsthand experience with the providers allow us to evaluate the standout features, value for the money, and ease of use for each school.
5% of Overall Score
We looked into the convenience and attainability of customer service for technical support and instructor assistance.
*Percentages of overall score
Frequently Asked Questions (FAQs)
Get a real estate license by completing 70 hours of Montana prelicensing education courses online at any state-accredited real estate school. You can also take the exam online, if it is available, and apply online for your license at the Montana Board of Realty Regulation (MBRR).
---
You must be at least 18, with a 10th-grade education, and complete 70 hours of real estate salesperson education within 24 months of applying for your license. You must pass the real estate licensing exam within 12 months of applying, join a brokerage, and show proof of Errors and Omissions (E&O) insurance. The licensing fee is $80, which you must submit with your application.
---
Prices for online real estate schools in Montana vary depending on the type of education and package contents. Prices range from approximately $300 to $500 for prelicensing education, $29 to $139 for continuing education, and $80 to $140 for exam preparation materials.
---