Before becoming a real estate salesperson, you must take and pass the real estate exam, which covers state and national real estate topics. Real estate practice exams develop familiarity with test questions and help reduce anxiety by identifying knowledge gaps. In addition, there are many simple, actionable tips like studying ahead, reading out loud, and using mnemonic devices—helping you prepare for the real estate exam and feel confident on test day.
Take our free practice real estate test below to see if you're ready to ace the real estate exam. Then, read along for tips and resources to help you feel confident and ace your real estate exam on the first try.
How prepared are you for the real estate license exam?
1. Know What's on the Real Estate Exam
Every state's real estate exam questions cover national and state-specific real estate law. The subject areas for the national portion are the same in every state, but content areas in the state portion are unique from state to state. In general, the state portion of the exam will include questions about state-specific laws, regulations, and the practice of real estate within the state.
The national portion of the exam includes general skill questions and information necessary to practice as a real estate agent, like agency law, the basics of property ownership, real estate math and financing, and contracts.
Common subject areas on the real estate exam include:
Property ownership and land use controls and regulations: This section typically covers classes and characteristics of the property, how to describe property, encumbrances, and government rights in land (e.g., eminent domain).
Laws of agency and fiduciary duties: The exam touches on subjects like how to create and terminate an agency relationship, responsibilities an agent owes to a buyer or seller, and necessary disclosures.
Property valuation and financial analysis: Exam centers generally provide a basic calculator to assist with questions on how to estimate home value and conduct financial analyses.
Financing: Test takers should understand types of loans, financing and credit laws, and financing documents like mortgages and notes.
Transfer of property: Important property transfer concepts include title insurance, deeds, escrow, and tax implications and requirements.
Practice of real estate and disclosures: Aspiring agents should understand elements of real estate practice, such as truth in advertising, fair housing, ethics, property management, and disclosure statements.
Contracts: The contract law covered on the real estate exam generally includes documents like listing agreements, offers and purchase contracts, promissory notes, and purchase and lease options.
2. Invest in Real Estate Exam Prep Providers
There are many different ways to study for the real estate exam on your own, but working with an exam prep program is often more efficient and effective. Many real estate exam prep courses include extensive study tools, groups, instructor access, practice real estate exams, and even provide a step-by-step strategy to help you study every day.
Start by evaluating which of the following top exam prep courses is the best fit for you.
Providers

Best For

Widest range of study tools, real estate exam practice questions, and on-demand and live webinars and video lessons

Six months of access to the study tools, videos, and example questions on real estate exam at the most affordable price

Live online courses and in-depth study materials and sessions with an instructor

Aspiring agents wanting self-paced and interactive exam prep for national and state-specific material in every state

Key Features

Live online group webinars
Study tools
State-specific real estate license exam questions

6 months of access
Pass guarantee
Video, audio, and interactive tools

Live and online options
Instructor-led state-specific courses
A la carte study tools

Unlimited real estate practice tests
Interactive dashboard and platform
90% national pass rate

Starting Price

$59

$39

$99

$60

Learn More
3. Take Notes on Paper
It's somewhat uncommon to see people taking notes with pen and paper during this digital age. However, studies found that students who took notes on laptops did significantly worse on tests than students who wrote their notes longhand. In fact, it was found that 77% of students who used handwritten notes scored better than those who took notes electronically.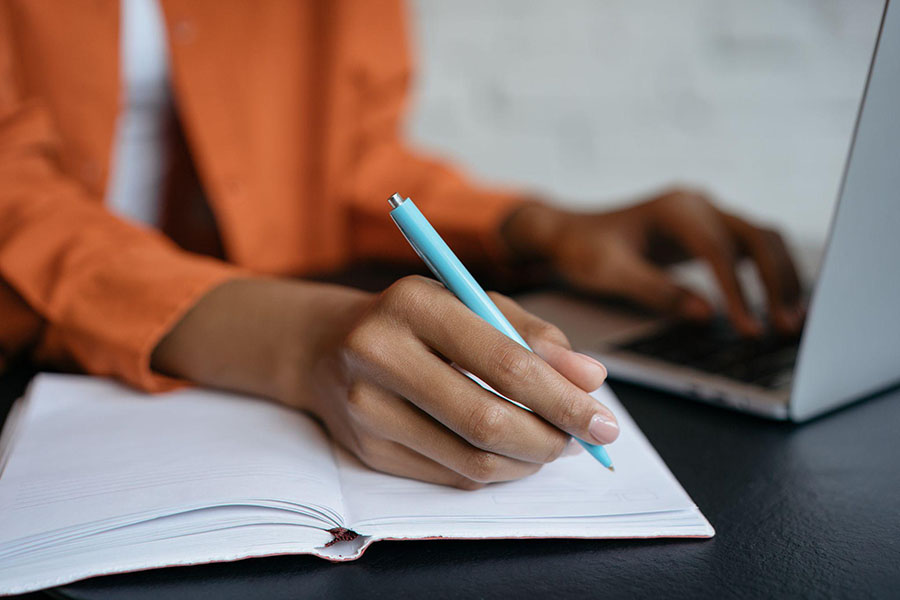 When people type their notes, they tend to write down what the lecturer says verbatim, which doesn't require as much thought. In contrast, people who handwrite notes from their real estate education courses must think about the content, note what's most important, and rewrite it in their own words.
If you strongly prefer to review notes on a computer, consider re-typing your notes in outline form or writing them on paper after the lecture or online lesson is completed. Then, study your notes and create flashcards to solidify the concepts further.
4. Schedule Short Periods of Focused Study
Most students and aspiring real estate agents struggle with procrastination. One way to trick yourself and prevent procrastination is by using the Pomodoro technique. Set a timer, study for 25 minutes, then take a five-minute break. Use the free Pomodoro tracker below to start timing yourself and tracking your tasks.
During study time, cut out all possible distractions and focus entirely on studying. During the five-minute break, reward yourself with ice cream, a YouTube video, or a short walk. You should also take one long break after working for more than a few hours.
5. Study a Little Bit Every Day
The reality is most students of all ages and industries "cram" for tests, but there are many studies done that prove the ineffectiveness of cramming. In fact, "the spacing effect" is the scientific term used to describe the opposite of cramming, which is studying something over time.
The spacing effect has been studied in different ways since 1885. Interestingly, a study by UCLA found that 90% of participants in multiple experiments scored better when they studied over time. However, during the experiment, 72% of participants mistakenly believed cramming was more effective.
If you genuinely seek the best way to study for the real estate exam, take it from the research and aim to study a little bit every day. Even short study periods after each real estate class will ultimately be more impactful for your memory than an all-nighter before the exam. It's even better to set aside an hour or so each day to read materials or practice with your study tools.
6. Make Real Estate Exam Flashcards
Another scientifically proven way to prepare for the real estate exam is using flashcards. Part of the reason flashcards work so well is that they force you to remember information outside the context of a multiple-choice question without the ability to eliminate answers that are obviously incorrect. Moreover, real estate flashcards can be portable or digital, so you can study anywhere, anytime.
Another benefit of including flashcards while studying for the real estate exam is that they're already included in some of the top exam prep courses. For example, Prep Agent includes interactive online flashcards in addition to real estate prep videos, audio lessons, vocabulary sheets, and thousands of practice questions. Plus, the online flashcards allow you to easily customize real estate exam questions for even better understanding.
7. Read Out Loud to Improve Memory
Another physical activity to help your memory is reading information aloud. It's called the "production effect," and science has shown that speaking aloud and simultaneously hearing yourself helps your brain store the information in long-term memory. In fact, students in studies recognized and remembered from 54% to 85% more terms when they were read aloud.
Use this real estate test tip on the terms or concepts you're having difficulty remembering, like encumbrance, liens, or easement. If you're struggling to remember concepts for your real estate exam, recruit a friend or family member to listen to your review and explain terms and concepts aloud.
8. Take a Walk Before Your Real Estate Exam
Many scientific studies have proven a clear relationship between physical exercise and improving memory. Since exercise increases the oxygen and blood flow to the brain, your concentration and memory improve as well.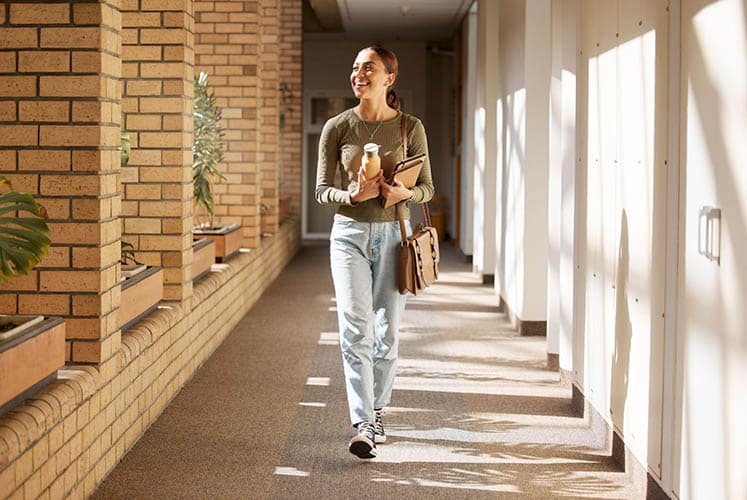 While you study and prepare for the real estate exam, make it a priority to take exercise breaks by taking a walk or going to the gym. In addition, plan ahead for test day. Before sitting down for the exam, take a quick stroll to clear your mind, increase focus, and improve your performance.
9. Use Mnemonic Devices to Make Memorizing Easier
A mnemonic device is a memory technique that uses shortcuts to recall complex information, like "ROY G BIV" for the colors of the rainbow. In scientific studies, mnemonic devices have helped students remember information with up to 39% more accuracy. There are already a few popular mnemonic devices for real estate exam topics, like H.E.A.R.S., which covers the area of implied covenants. However, creating your own mnemonic devices can make it easier for you to remember study materials.
Here are a few clever mnemonics teaching you how to pass a real estate exam:
Implied Covenants
Mnemonic device: Even if a lease is silent on the topic, the landlord H.E.A.R.S. these five implied covenants:
H: Habitability
E: Quiet enjoyment
A: Assignability of the lease
R: Good repair (this covenant is made by commercial landlords)
S: Minimal security precautions
Extinguishing an Easement
Mnemonic device: To remember the necessary steps to extinguishing an easement, use A.C.R.A.M.:
A: Abandonment
C: Condemnation by state's exercise of eminent domain
R: Signed writing, releasing the easement
A: Adverse possession of a servient estate in a hostile manner, preventing use of the easement
M: Merger by common ownership of all (100%) dominant and servient estates, because one can't possess an easement, covenant, or profit on their own property
Negative Easement
Mnemonic device: Remember L.A.W.S. to memorize four types of negative easements:
L: Light easements
A: Easements of air
W: Easements regarding water use
S: Easements of support
10. Remove Distractions
According to the American Psychological Association, "multitasking" is not the process of performing two or more tasks simultaneously. Instead, it's actually "switching costs," which means it takes longer to complete both tasks and is less effective. Thus, when studying for the real estate exam, you shouldn't try to focus on anything else.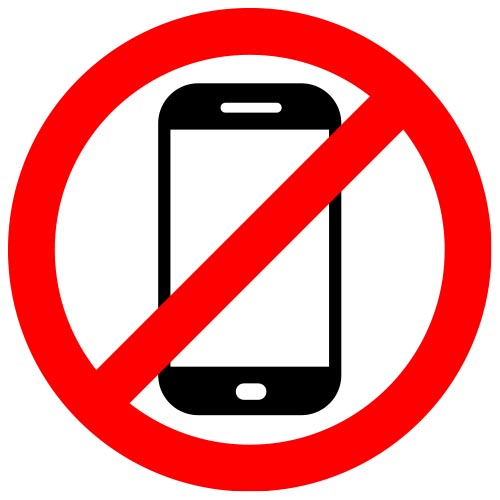 For example, some people study with distractions like cell phones, TVs, and other electronics, but this leads to poor retention, greater frustration, and brain drain. Instead, it's much more efficient to focus on the real estate material for a short time without any devices or distractions, then reward yourself with the electronics afterward.
11. Study With Friends
If you have friends or colleagues taking the exam at the same time, form a study group so you can share notes, trade mnemonic devices, complete sample real estate exams, and help each other work through complex concepts. If you don't already know of others studying for the same exam, consider joining online forums or study groups where you can collaborate and get real estate test help. For instance, Prep Agent has a free Real Estate Exam Study Facebook Group you can join.
12. Master Exam Day Best Practices
If you've spent a few weeks or months studying regularly, using study tools, and actively improving your memory and understanding, you should be confident about your ability to pass the real estate exam. However, taking an important exam can be stressful no matter how well you've studied, so there are a few test day practices to remember.
To stay calm and focused during the test, follow these suggestions:
Relax: If you start feeling anxious during the test, pause to take a deep breath or a sip of water. Calm your nerves by reminding yourself that it will be over soon, and you will be a licensed real estate agent.
Skip difficult questions: If you don't know the answer to a question on the real estate exam, temporarily skip it and come back to it later. Lingering over difficult questions wastes valuable test-taking time and mental energy, so save the hardest questions for last.
Work backward to choose the correct answer: Pick out answers you know are wrong and cross them out. If you have to guess, 50/50 odds are better than picking one answer out of four.
Don't change your answers: Once you've answered a question, don't go back to change your answer. Studies have shown that you're far more likely to change a right answer to a wrong answer than vice versa.
Bottom Line
Preparing in advance for your real estate exam will make you feel more confident on exam day and yield successful results. Take our real estate practice exam to gauge your skills, and use a variety of the tips above to get ready. Also, consider using an exam prep provider like PrepAgent to ace your test on the first try. It has tools like audio and video lessons, flashcards, vocabulary worksheets, and live online webinars. Plus, PrepAgent offers a money-back guarantee if you're not satisfied.