The primary difference between post- and pre-tax deductions is the time at which employees are required to pay taxes on them. Pre-tax deductions, like some retirement contributions and insurance premiums, are amounts you subtract from the employee's earnings before computing taxes, driving the tax bill down for both you and your employees. Post-tax deductions are the opposite.
QuickBooks Payroll can help you manage all of your employees' payroll deductions. You can set them up within the system once, and they will automatically deduct from employee paychecks each period going forward. In addition, QuickBooks Payroll Elite comes with tax penalty protection—should you receive an IRS penalty, QuickBooks will pay the fees and interest, even if you made the error. Automate your payroll deduction process today.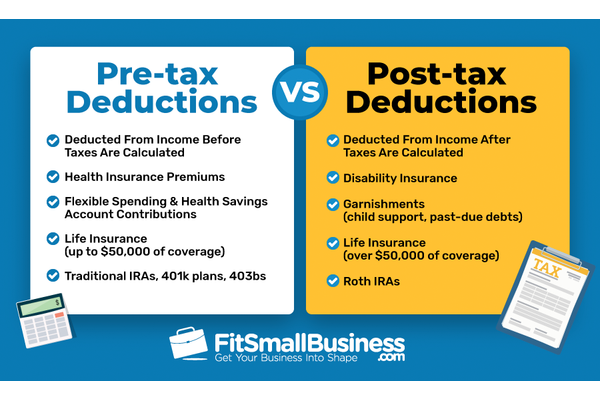 How Post-tax and Pre-tax Deductions Work
When you're ready to calculate payroll, you must know the total amount of deductions applicable to each employee and whether they're pre- or post-tax. For instance, Employee A may have health insurance (pre-tax) and child support (post-tax) deductions taken from their check while Employee B has a Roth 401(k) premium (post-tax) and a flexible spending account (FSA) contribution (pre-tax).
To calculate the payroll and income taxes you should withhold, you would multiply the employee's taxable income by the applicable percentage (set by the IRS, state, or local agency). For instance, a 6% tax rate applied to an income of $500 equals a $30 tax bill ($500 x 6%= $30). You must subtract all pre-tax deductions from the employee's income amount before calculating taxes owed. If the prior example included $20 in pre-tax deductions, the tax bill would have been $28.80 vs $30, because the tax rate would apply to $480 of taxable income vs $500.
Post-tax deductions are not factored into the payroll tax calculation. If you deduct money from an employee's check for a post-tax deduction, like a Roth 401(k) premium, you do not need to reduce the employee's taxable income amount to account for it. No matter how much money you withhold from an employee's paycheck for post-tax deductions, employees should still be taxed on all of the income they earned to pay for it.
QuickBooks Payroll makes separating post-tax and pre-tax deductions easy. There are rules set up within the system for payroll deduction items. So, once you add a deduction to an employee's paycheck, the software knows when to deduct it during the payroll calculation process. It subtracts pre-tax deductions before calculating taxes and vice versa for post-tax deductions.
Types of Pre- and Post-tax Deductions
When it comes to payroll deductions, there are many different types that may apply to your company's payroll. Some are either always pre- or post-tax, and others may be one or the other, depending on the situation and what your employee chooses. Some pre-tax deductions are also limited to certain benefit amounts. For instance, the pre-tax benefit for voluntary life insurance premiums is up to $50,000 in benefits; anything after that is taxable.
A Closer Look at Pre-tax Deductions
Some pre-tax employee deductions you may be familiar with are:
Health insurance: Typically includes medical, dental, and vision insurance; there are some post-tax options out there though, so it's important for you to check when adding them to your benefit offerings.
Health savings accounts (HSAs) & FSAs: These give employees an opportunity to pay for projected medical expenses before actually incurring them so they can avoid taxes; employers benefit too, because they don't have to pay Social Security or Medicare tax on income employees deposit into these accounts.
Commuter benefits: Employers can deduct transportation costs for expenses like parking garage fees and public transit passes from employee paychecks on a pre-tax basis if they find a provider that offers a plan with commuter benefit options.
Life insurance: Employer-paid life insurance premiums are tax-exempt up to $50,000 of coverage. Premiums paid by employees can be pre-tax up to $50,000 of benefits in regards to FICA and unemployment taxes. There is no limit to the pre-tax amount when it comes to income taxes.
Retirement contributions: Traditional IRA plans, 403bs (for nonprofits) and many 401(k) plans are pre-tax. Employees are however limited on how much they can contribute to each plan on an annual basis, and they will have to pay taxes when they withdraw the funds during retirement. Also, these are still subject to FICA, just not income taxes.
A Closer Look at Post-tax Deductions
Some post-tax employee deductions you may be familiar with are:
Retirement contributions: Roth IRAs are paid for with after-tax dollars. The benefit is that employees won't owe taxes on it when they withdraw the funds during their retirement.
Disability insurance: Disability insurance for which your employees pay the premium is typically available to purchase with either pre- or post-tax dollars. Employees have the option of deciding which to sign up for.
Life insurance: Premiums for any life insurance benefits offered over $50,000 must be paid on a post-tax basis.
Garnishments: Examples include student loans in default, child support, and old medical debt; these don't receive any tax benefit and should be classified as post-tax deductions.
Common Mistakes Employers Make When Subtracting Payroll Deductions
The most common mistake employers make when reducing an employee's income by payroll deductions is subtracting the deductions at the wrong time. It's easy to forget and deduct health insurance premiums after calculating taxes or Roth 401(k) contributions before, especially if you're calculating payroll manually vs using software like QuickBooks Payroll. Let's take a look at an example.
Anna earns $1,000 for her work this pay period and has the following deductions:
Anna's Payroll Deductions
| Pre-tax Deductions | Post-tax Deductions |
| --- | --- |
| Health Insurance Premium: $100 | Garnishment: $20 |
| Life Insurance Premium: $50 for $50,000 in benefits | Disability insurance: $5 |
| Total Pre-tax Deductions: $150 | Total Post-tax Deductions: $25 |
To calculate the proper payroll and income taxes, you would do the following: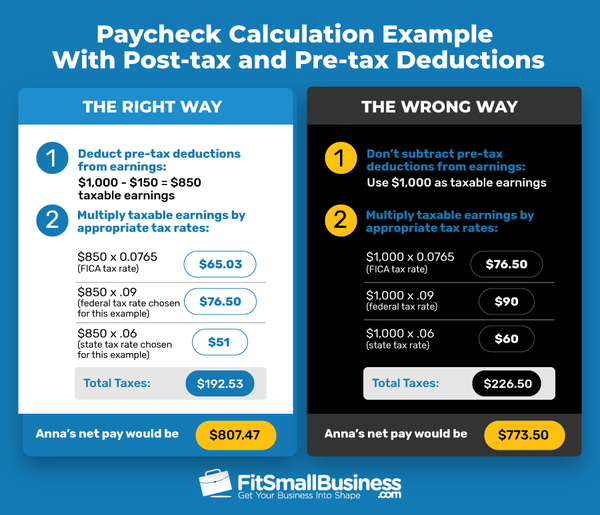 In the example above, the error would cause you to withhold almost $34 extra in taxes; however, imagine incorrectly calculating larger amounts for numerous employees. You would have to process retro payments to ensure your workers are paid the right amounts. In addition, you'd also need to calculate the amount you overpaid in employer taxes (FICA and unemployment), since they are also calculated based on the employee's income.
Using QuickBooks Payroll could save you thousands or more dollars in tax overpayments and penalties for not paying the right amount. Calculations are automatic, and the system is programmed to process pre-tax deductions vs post tax deductions accordingly.
Which is Better: Pre-tax or Post-tax Deductions?
As your employees start weighing their options for certain benefits like retirement contributions, they may have questions about whether they should choose pre-tax or after-tax benefits. There is no true answer as to which is better. Some pre-tax benefits, like retirement contributions, are subject to taxes later, so employees need to consider how much they expect their income to increase over time. Generally, higher income leads to higher tax rates.
If an employee expects their income to rise significantly during their retirement years, it would be a good idea to make after-tax contributions. However, if they expect it to drop significantly, they should consider using pre-tax dollars; they'll have to pay taxes later, but it might be at a much lower rate.
Keep in mind though that we can't forecast future tax rates. There's no way to know exactly what they will be or the impact they'll have on your employees' pre-tax benefits until the time comes.
Frequently Asked Questions (FAQs) About Pre- and Post-tax Deductions
You may have additional questions about pre- and post-tax deductions that weren't answered in this article, so we have listed answers to some of the most frequently asked questions below. If you have feedback, questions, or suggestions, please feel free to leave a comment at the bottom of this page.
Which taxes should you disregard for pre-tax benefits?
It depends on the pre-tax benefit under consideration. For instance, you don't have to withhold FICA and federal income taxes on any income used to pay pre-tax health insurance benefits. Federal unemployment insurance (that employers pay) is also disregarded. If your business is subject to state and local income taxes, you should check to see if you and your employees are allowed to claim pre-tax health insurance benefits at those levels as well.
Other benefits like 401(k) plans are only partially pre-tax. The 401(k) premiums paid with pre-tax dollars are not subject to income taxes, but you must still withhold and pay FICA taxes.
Can employees claim pre-tax deductions on their income tax return?
No, if employees pay for a benefit or expense with pre-tax dollars, they aren't allowed to deduct it on their income tax return. If calculated correctly, the employee shouldn't pay applicable taxes on the income used to pay for these deductions, which means there would be nothing to include on the income tax return.
Can health insurance be paid with post-tax dollars?
Yes. Employees usually have the option to have their premiums deducted using after-tax money. Typically though, most employers offer health plans that are on a pre-tax basis.
Bottom Line
It's important to pay attention to the types of payroll deductions you are processing for your employees, because they all have different tax rules. Being familiar with the different benefit plans as well as your state and local laws regarding certain pre-tax benefits will save you time when you're running payroll. Many payroll deductions can be applied on either a pre- or post-tax basis, so be sure you know exactly which options your employees want to pursue.
If you could use help keeping track of the different payroll deductions your employees have, consider using a payroll provider like QuickBooks Payroll. You can set up the deductions you want the system to subtract from each employee's paycheck, and the software will deduct it automatically each period. Also, if you need help offering post- and pre-tax benefit options, QuickBooks will connect you to its partner SimplyInsured, where you can sign up for plans you want to offer.