How to Create Real Estate Drip Campaigns (+ Examples)
Real estate drip campaigns deliver scheduled emails to leads and provide an automated way to personalize your marketing efforts. Drip campaigns are typically sent through email marketing providers at regular intervals, but can also be triggered when leads take specific actions, such as clicking a link or replying. They should include a variety of content, like introductions, newsletters, and market updates. Over time, these messages build trust, keep you top of mind, and increase sales.
If you are ready to start nurturing leads with real estate drip campaigns, read the four steps you need to take before sending your first email, along with examples of drip campaign emails.
1. Choose an Email Marketing Provider to Send Your Campaigns
Since drip campaigns are fundamentally different than sending manual or individual emails, the first step is to sign up with a real estate email marketing company. Email marketing tools help you organize contacts, create email lists, and typically have email templates ready to use. After choosing the right tool, that's the time you can start developing your realtor drip email campaigns and establish an email strategy.
Real estate drip campaign providers vary in price, features, templates, and subscription levels. In general, the best platforms should be relatively affordable, user-friendly, and customizable enough to create emails that fit your brand and campaign needs.
Here are four top real estate email marketing platforms:
2. Create a Real Estate Drip Campaign Strategy
Just like every type of marketing, you need a complete strategy in order to be successful in real estate. Your realtor drip email campaigns should be planned out according to your client's journey. For instance, trying to push every lead to buy a house immediately would be ineffective because many of your leads are likely homesellers or potential clients for the future. Instead, you need to pay attention to their real needs and send emails that resonate with your leads at every stage of their individual journey.
Here are just a few factors to consider as you map out your real estate drip campaign:
Target Audience
Arguably one of the most important elements in real estate lead generation and marketing is defining your audience. Some new real estate agents mistakenly think their audience is anyone and everyone, so they try to appeal to everyone. The result is overgeneralized marketing that is almost never effective.
Instead, it's important to identify the specifics of each of your marketing efforts. That means that every real estate drip campaign should be written and created with a specific audience or type of client in mind. By doing this, you'll be able to create relevant emails that keep them engaged and draw them further into your market funnel. Separate the leads on your email list into categories like these:
Buyers
Sellers
Warm leads
Hot leads
Cold leads
Leads from specific sources (referrals, partners, online form, Zillow, and so on)
As you develop your campaigns, continue to customize your content for the needs of the buyers and sellers that you work with. For example, you may find that it's common for buyers in your area to need help differentiating between neighborhoods. You can create content within an email outlining neighborhood features, local events, and popular establishments so buyers can choose the best fit. On the other hand, sellers typically need information pertaining to home upgrades or tasks they can do to maximize the value of their homes.
It's not difficult to identify your target audience, especially when you have the right real estate customer relationship manager (CRM). LionDesk makes it easy to organize your existing contacts and automatically organizes new leads as they come in from a variety of sources. Along with its extensive third-party integrations and transaction management tools, LionDesk may be the all-in-one real estate marketing tool you're missing. Start your 30-day free trial today.
Timing & Frequency
Timing your emails effectively is extremely important to make sure that your emails are seen and attentively read by potential clients. Studies show that one-third of email marketers send emails every week, while only 13% send emails daily, monthly, or multiple times per week. These statistics differ between industries, but they suggest that most businesses see the best results from sending weekly emails.
For example, even if you send incredibly valuable emails, it's unlikely that homebuyers and sellers will continue to stay engaged with daily emails. Carefully choose how often to send emails to each segment of your email list, and don't be afraid to adjust timing and frequency until you figure out what works best.
Event-based Triggers
Leveraging triggers within your drip email campaigns is a sure-fire way to ensure that your email content is relevant and timed accurately. Some common triggers are for "events," which refer to the readers taking action like clicking on a link in an email, filling out a form, or viewing a property.
There are many different types of triggers you can create within your email campaigns to make emails feel personal for each of your contacts. In fact, you could create a trigger for almost any detail you learn about your leads. For example, mark down their birthdays, anniversaries, pet birthdays, and homebuying anniversaries to celebrate every year. For potential buyers and sellers, set a trigger with a slightly different personalized check-in email once every month.
Pro tip: As you develop your email drip campaigns, consider infusing your strategy with text message marketing. Marketing text messages have a massive average response rate of 45%, making it is easier for many customers to communicate through text instead of email. Combining email and text message drip campaigns can maximize communication and personalization with leads.
3. Design Your Drip Campaign
An important part of sending drip campaigns is keeping the repetitive nature of emails fresh and engaging. If you send the exact same type of email to your leads every time, it will annoy your potential client and can quickly get your account flagged as spam. Instead, utilize multiple types of emails throughout the buyer's journey in order to best provide value and build trust.
That said, while the emails within a real estate marketing campaign have different types of content, they should all have some basic elements in common. These are six elements of an effective email:
Subject line: The subject line is the first thing a buyer sees in their inbox, and a weak subject line can prevent them from opening your email at all. Alternatively, a clear, strong subject line piques the interest of your leads by being relevant, unique, and interesting.
Email body: The body of the email includes the majority of your content. Write interesting and unique information to give the reader a reason to continue reading and connecting with you.
Email images: Images give your audience a visual representation of the information in the email. This is ideal for readers who are skimming content and want to get a sense of what the email is about. In particular, images are the best way to showcase the best features of real estate properties.
Call to action (CTA): A CTA asks the reader to take some kind of action in order to move forward in the buying cycle, like clicking or subscribing. Strong CTAs are clear, actionable, and often create a sense of urgency for the reader.
Social icons: Social icons allow readers to connect with agents on Facebook, Twitter, Instagram, and LinkedIn. While you can always send an email to an agent, social media gives them a way to engage with you on the platforms they are most comfortable with.
Email signature: Almost every email platform will give you the ability to customize your signature and make sure it automatically appears with every email. It can be highly formatted to include your headshot and social media links, but even a simple signature with your name, title, phone number, and website address can be effective.
To get started on your drip campaign right away, consider Constant Contact. It provides pre-designed templates and email automation to engage your audience and nurture leads. Continue building your email list with sign-in forms and Facebook ads. Try Constant Contact today for 20% off your first 3 months.
4. Schedule & Send Your Email Campaign
Once your emails are written and designed, schedule your drip sequence. Most platforms include an email scheduler. In fact, even Gmail allows you to schedule individual emails in advance. However, it may be necessary to choose a tool that includes trigger marketing, so you can customize every email and send it at the right time for each customer in the sales journey.
On the other hand, adding triggers can take email personalization to a new level. Since triggers are event-based, it's a more effective strategy to send highly relevant and personalized emails to each member of your contacts. Not all email software provides this level of customization, but HubSpot offers comprehensive email scheduling, automation, and tracking to maximize the impact of your realtor drip email campaigns.
HubSpot is one of the most popular and well-known marketing tools, partially because of its wide range of powerful and comprehensive tools. Within its Marketing Hub, you have access to tools that help you publish search engine optimized (SEO) blogs, manage social media platforms, integrate video with your contact, offer live chat support, track and manage contacts in a CRM, and of course, send highly customized real estate email drip campaigns. You can even start using HubSpot for free to see how the platform will elevate all of your marketing.
Real Estate Email Drip Campaign Templates
The majority of real estate drip marketing services offer a number of professionally designed templates that agents can use to create emails quickly and easily. Here are a few examples of different types of real estate drip campaign templates that can be effective, along with information about when and how to use them:
Introduction Email
The welcome email is particularly important because this is the first email your contacts receive after signing up or subscribing to your list. It typically has the highest open rates of all emails, according to Campaign Monitor.
It allows you to connect with new leads and sets a precedent for how you will show up in their inbox in the future. Keep your introduction email relatively simple, with a short message, your headshot, contact details, and social media channels. Aim to keep it brief, captivating, and informative.
Pro tip: Don't forget to include an "Unsubscribe" button in every email you send. It is legally required by the CAN-SPAM laws to allow your recipients to opt out of emails at any time. Even though having a contact unsubscribe from your list may feel like a failure, it actually ensures that your existing contacts are engaged and are leads who are likely to convert into clients.
Single-listing Promotion Email
A single listing email template allows agents to focus their email on one particular property, highlighting its features and the appropriate next steps for any interested buyers. This is best for segmented lead lists who are actively home shopping, and particularly effective if your leads are looking for properties with certain specifications. It shows buyer leads that you are actively working in the market and aware of their needs.
Multiple Listing Promotion Email
An email template with multiple listings allows you to present several properties that might appeal to a buyer. It should feature streamlined information such as price, number of bedrooms and bathrooms, square footage, and address, essentially allowing your leads to easily compare the properties. These emails are most effective for buyers who want to buy a home or property, but haven't specified a list of requirements.
Sharing multiple listings in one email helps familiarize buyers with different types of homes while keeping you top of mind. These emails are ideal when combined with an IDX real estate website so you can guide buyers further with your own resources and gain more insight into their needs. Don't forget to include your agent contact information and prompt them to show it on your email and your website.
For more ideas and inspiration, look through 20 Best Real Estate Agent Website Examples + Design Tips.
Real Estate Event Email
Emails are a crucial part of promoting a real estate event. This event template is created for agents and brokers who offer virtual or in-person classes, seminars, or social events to those in their community. This is an ideal way to build relationships with both buyer and seller leads and build your network.
When you send an email with a distinct purpose of getting readers to take action, be careful not to distract them, or you'll lose potential conversions. While you can keep any branding elements in the email, like a header or footer, the best way to maximize conversions is to simplify the email and focus on one call to action. In an event email, your call to action (CTA) could be a registration button or a link to a sign-up page.
Open House Email
Sending an email about your upcoming open houses should be a crucial part of your real estate listing marketing plan. You could also tease the open house in a "coming soon" email about the listing weeks before the event, but make sure you send details at least a few days before the open house. This template is designed to include a few attractive listing photos and a primary header with details, similar to an open house flyer.
Alternatively, you could frame your open house email as an exclusive invitation to make leads feel special and increase interest. Open house emails are most effective when sent to buyers who are actively viewing properties and looking for a similar home.
For additional tips on what else you need to do to prepare for your open house, read through our article How to Host a Real Estate Open House (+ Free Checklist) and download the free checklist to get organized.
Educational Email
Sharing educational content with your leads through email is a great way to stay connected and show your authority and ability to help them. Keep in mind that using small, digestible bullets or numbered lists is best for emails since large paragraphs can be overwhelming in this format.
Educational emails are designed to touch base with the buyer without overwhelming them with information. Consider including information like:
Market sale trends (applicable for buyer and seller leads)
Home inventory in their area (applicable for buyer and seller leads)
Home maintenance tips (ideal for homeowners)
Financial homebuying and home owning tips (ideal for renters and homebuyers)
Referral Email Campaign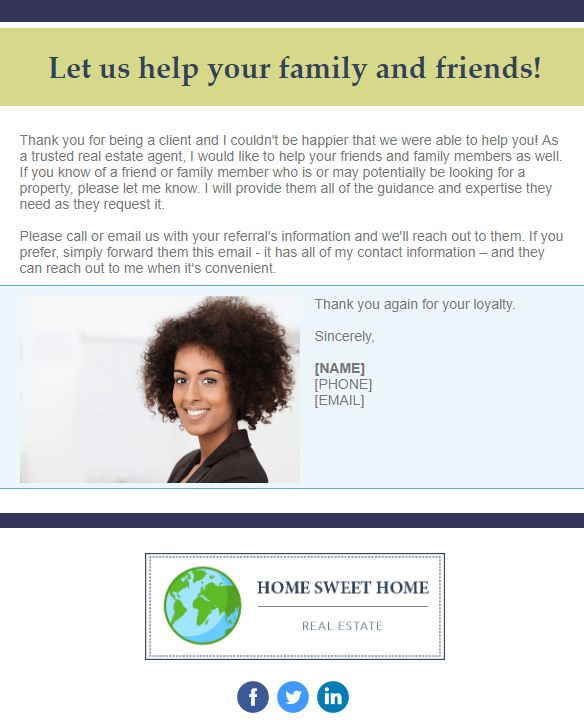 Real estate referrals are vital to every agent's business, so it's important to include an email for this purpose within your drip campaigns. Referral templates should utilize a simple design and get straight to the point. Don't forget to make it easy for clients to connect you with referrals by providing clear instructions to do so and including all of your contact methods.
Bottom Line
Real estate drip campaigns help you stay connected to potential clients through automated emails or text messages while they go through every stage of the buyer journey. Drip campaigns are often spaced out by a few days and follow a logical pattern, but email software helps you customize your strategy to your leads and clients.