8 Best Real Estate CRM Software for 2023
Real estate client relationship management (CRM) software streamlines the process of managing property transactions, contacts, and monitoring listings. The best real estate CRMs also have features for generating leads, automating and tracking client activity, communicating with team members and prospects, and marketing to clients through email, phone, online advertising, and social media. We looked at several real estate CRM software options for agents and brokerages and narrowed it down to the eight best CRMs for real estate.
Based on our in-depth analysis of over a dozen CRMs, here are the eight best CRMs for real estate agents, teams, and brokerages:
Real Estate CRM Software Comparison Table
CRM Software

Starting Price

Free Trial

Marketing capabilities

Customer Support

$0

✓

Email marketing
Social media
Marketing app integrations

Email, phone, live chat & scheduled assistance

$21.90 per month

✓

Email campaigns
Marketing app integrations

Email & live chat

$299

✕

Email drip campaigns
SMS marketing
Autoresponders

Phone

$29 per month

✓

Email campaigns
Gmail integrations
Email and social media integrations

Email & phone

$39

✓

Phone, email, and text campaigns
Print ad & digital media marketing
Video marketing

Email, phone & live chat

$0 per month

✓

Marketing Hub for social media, email, and text campaigns
Ad management
Blog, website, and search engine optimization (SEO)

Email, phone & live chat

$32 per month

✓

Email marketing
Text messaging
Direct mail

Email, phone & live chat

$45 per month

✓

Email campaigns
Social media and internet data exchange (IDX) listings websit

Email, phone & live chat
Not sure of which real estate CRM is best for your business? Take this quiz to start exploring CRM options.

Which real estate CRM software is right for you?
Zoho CRM: Most Customizable CRM With Integrations
Pros
Integrates with Zoho's ecosystem
Highly customizable
Widest range of features and products available with integrations
Cons
Clunky interface
Less robust and intuitive platform than other real estate CRMs
Limited customer support without additional fees
Our Expert Opinion on Zoho CRM
Zoho CRM is a tool designed for small businesses, with many general features to automate and streamline the sales cycle and simplify collaboration for real estate teams. It offers a wide range of products and tools, including predictive sales, marketing automation, design studio, process management, and omnichannel communication.
As a Zoho CRM customer, you can integrate your CRM with any individual products or suites from Zoho to customize what the tool can do for your real estate business and team. In fact, Zoho CRM also integrates with other products like Google Workspace and Microsoft 365. This unique capability makes Zoho the most customizable real estate CRM software available on the market.
Zoho provides multiple package and suite options, like Zoho CRM, Zoho CRM Plus, and integrations with any of their other 80+ individual software products for real estate businesses. Just a few of these products include:
Sign: Digital signature app and document management
Booking: Appointment scheduling
SalesIQ: Live chat app for websites
Bigin: Pipeline management
RouteIQ: Sales map visual solution
Social: Social media marketing software
Sites: Online customizable website builder
Books: Accounting software
Contracts: Legal software with contract management
WorkDrive: File management system
All Zoho CRM plans include tasks, events, scoring rules, multiple pipelines, workflow rules, reports and analytics, social profile integrations, and custom lists and views. Upper-level plans and Zoho CRM Plus also provide more features like SalesSignals for effective communication, more intensive customization, team blueprints, and AI assistance for prediction, marketing, and customer support.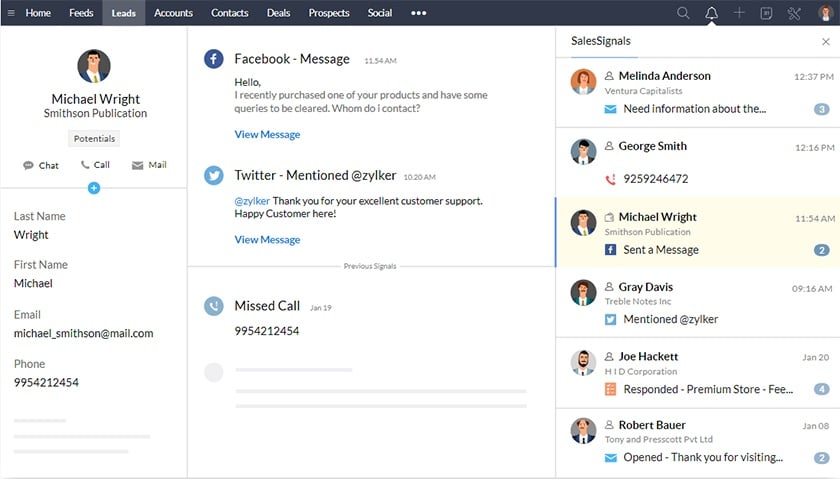 ---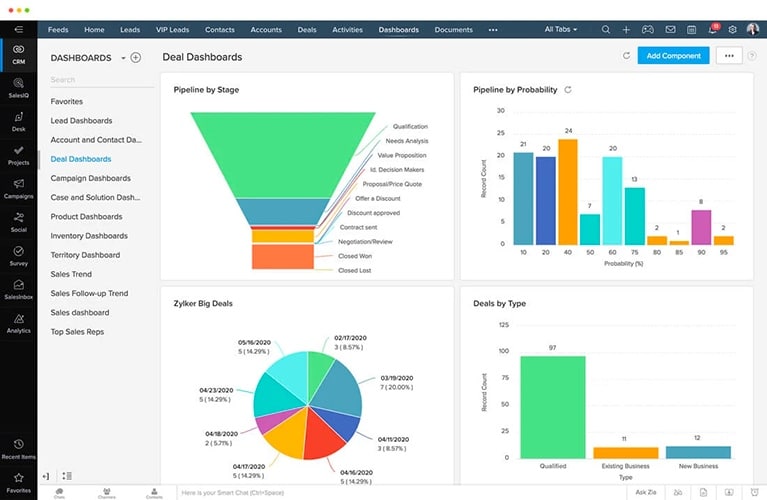 ---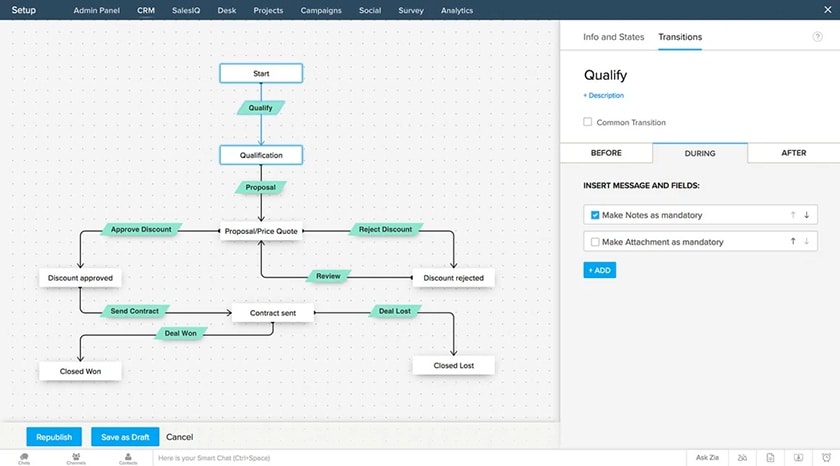 ---
Additional Zoho CRM Features:
Team and collaboration features: Includes visual roadmaps, blueprint for teams, automated workflows with suggestions
Omnichannel communication tracking: Centralized database for client communications from email, SMS, and social media
Artificial intelligence (AI) tools: Automatic suggestions and customization options to track high-priority clients, set reminders, and improve communication and processes
Additional customer support options: For quicker responses from customer support, you can pay for premium or enterprise-level support.
Zoho CRM Pricing: Starting at $0 per month
The most affordable and foundational real estate CRM is Zoho CRM, which is offered in tiers starting at an affordable price of $0 per month. Another top real estate CRM option is Zoho CRM Plus, which offers more robust features. In addition, Zoho provides basic customer support with all plans and additional packages for more access and quicker response times.
15-day free trial of Zoho CRM, 30-day free trial of Zoho CRM Plus
Free: $0
Basic: $49
Standard: $99
Professional: $249
Enterprise: Custom pricing
Classic support: Included with all plans
Premium support: 20% of subscription fee
Enterprise support: 25% of annual subscription fee
Discounts available with annual billing
Zoho CRM Reviews:
Zoho customers unsurprisingly love how versatile the CRM can be, allowing them to perfectly customize it for their needs and keep their business management centralized and organized. Many customers stated they felt the price was highly competitive for the number of features they use. Zoho CRM can help you be successful in real estate no matter what functionality you need.
However, with thousands of online reviews, Zoho CRM has an average customer review rating of 4.0 out of 5. This is not an exceptionally high rating, primarily because of the complexities of such a multifaceted tool. Many customers also said the platform is not as intuitive or modern as other real estate CRMs on the market. If you're looking for a CRM with a minimal learning curve, try Real Geeks.
Pipedrive: Most Affordable Real Estate CRM for Growing Agents & Teams
Pros
Visual sales pipelines
Affordable per user starting price
24/7 customer support on live chat and email
Cons
Lacks robust marketing tools
Lead generation tools only with additional cost
Platform experiences regular glitches
Our Expert Opinion on Pipedrive
Despite being a general purpose CRM rather than a real estate-specific one, Pipedrive is a top CRM for real estate agents. It is a sales-focused CRM with a visual drop-and-drag pipeline to track the progress of leads and focus on those most likely to convert. Its customizable sales cycle, segmentation, activity reminders, and detailed reports help real estate agents, brokers, and teams get the most value and return from their real estate CRM software.
Relative to the other paid plans on this list, Pipedrive offers the most value at the best starting price and plans that scale as the size and needs of your real estate business grow. Its base plan provides many essential features for real estate businesses, like lead and deal management, contact management, analytics, and third-party integrations. Additional plans add more features without significant price increases, making it ideal for single agents and small teams who want a product that will grow with them.
Pipedrive offers essential tools for real estate businesses like document management, email marketing, and integrations with Zillow, one of the best real estate lead generation websites. In addition, customizable reports will help to track performance, predict revenue, and calculate your return on investment (ROI). Unlike other real estate CRMs, Pipedrive offers application programming interface (API) integrations with the base plan. These integrations enable you to connect Pipedrive with the other applications and software tools your team uses to work day in and day out.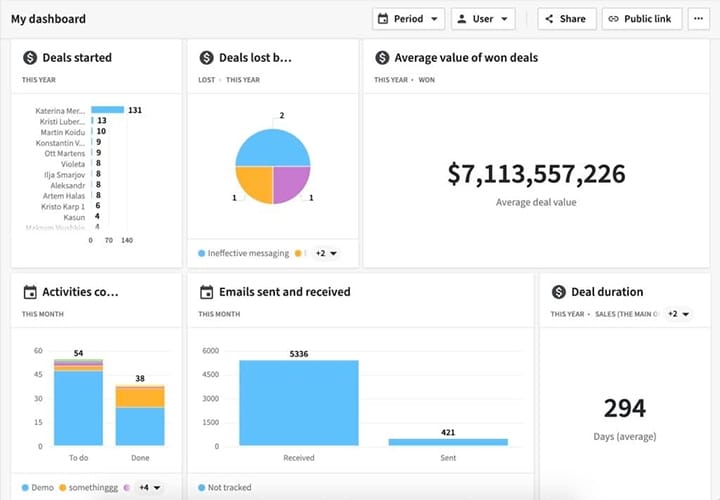 ---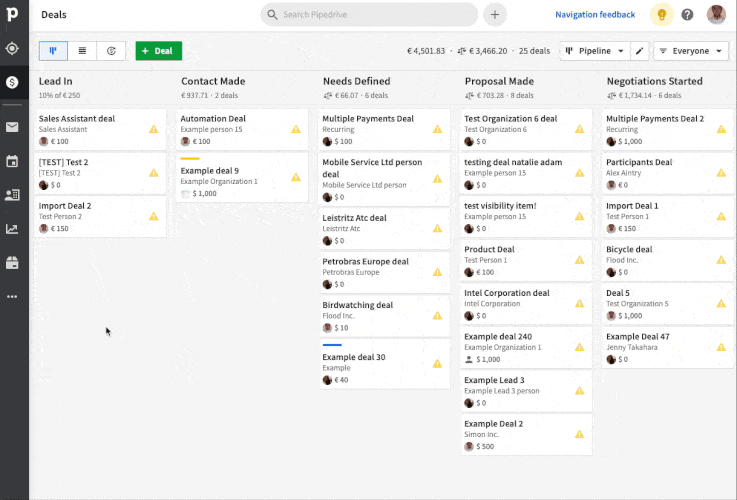 ---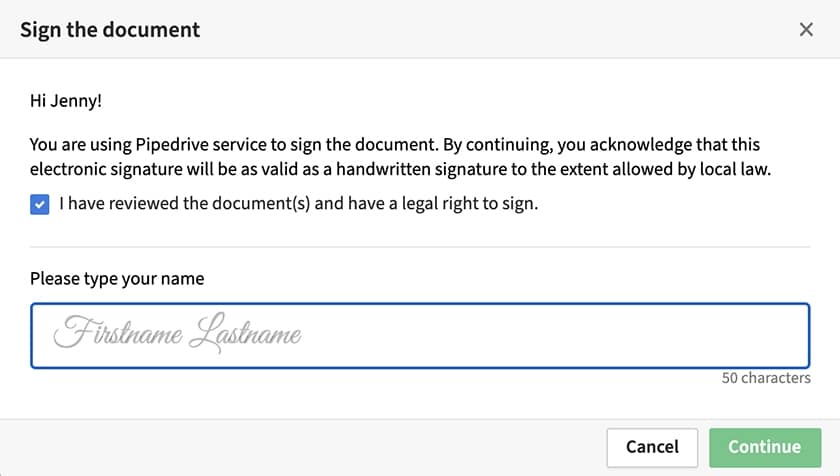 ---
Additional Pipedrive Features:
Mobile app: Mobile application auto-syncs real-time data updates with the web app
Document management: Digital signature and document tracking capabilities for transaction management
Artificial intelligence (AI) sales assistant: Automated assistant improves decision-making and performance by analyzing data and suggesting new solutions
Communication tracking: Smart contact data feature provides valuable insight on prospective buyers, and emails are automatically linked to contacts, deals, and opportunities in the pipeline for easy access
Pipedrive Pricing: Starting at $14.90
Pipedrive uses a tiered pricing model to support sales agents as their business grows. This is what makes Pipedrive one of the best real estate CRMs for single agents as well as teams and busy brokerages.
Free trial: 14 days full access
Essential: $21.90 per user monthly
Advanced: $27.90 per user monthly
Professional: $49.90 per user monthly
Power: $64.90 per user monthly
Enterprise: $99 per user monthly
Discounts available with annual billing
Pipedrive Reviews:
Pipedrive has an excellent customer review rating of 4.2 out of 5, with over thousands of users sharing positive experiences and feedback. Customers love the intuitive interface, which makes it easy to organize and customize data and prioritize tasks and contacts. They also say that the ability to connect to other apps and real estate software maximizes productivity.
On the other hand, some users with less favorable reviews share that they experienced too many glitches within the add-on features like web forms and chatbots. Others stated that they loved the interface of the platform but needed more robust marketing and lead generation features to effectively nurture their leads. For a more marketing-focused CRM, consider HubSpot CRM.
Real Geeks: Best All-in-One Real Estate CRM for Lead Generation & Marketing
Pros
Built-in IDX website with landing pages
Email and SMS marketing
Online advertising tools
Cons
Limited customization options
Limited customer support
Less extensive marketing tools and options than other CRMs
Our Expert Opinion on Real Geeks
Real Geeks is a sales and marketing solution specifically designed for real estate professionals. Its CRM includes the most essential features for real estate agents, like lead activity tracking, email marketing, segmentation, lead statuses, and follow-up reminders. It also has built-in online marketing tools and features, like an IDX website, lead generation landing pages, and Facebook and Google ad management.
Since Real Geeks provides a website, communication tools, and a CRM built for the needs of real estate agents, it's ideal for agents and teams who want the easiest and quickest method to get marketing systems up and running. Instead of creating a website or landing pages from scratch, you can simply choose a template and customize it in a matter of hours.
Since Real Geeks is one of the few CRMs on this list built specifically for the real estate industry. Its features are highly relevant to the needs of agents and teams. Plus, it provides a complete IDX real estate website and landing pages with web forms to generate buyer and seller leads. Leads automatically go into the CRM, where their activity is tracked and integrated with their social profiles. Lead statuses help you prioritize leads most likely to convert, maximizing your ROI and helping you get more clients without manually creating a full marketing funnel.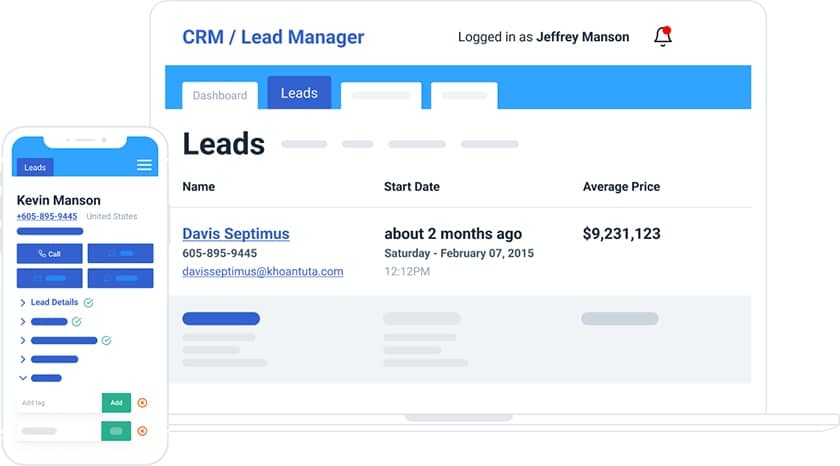 ---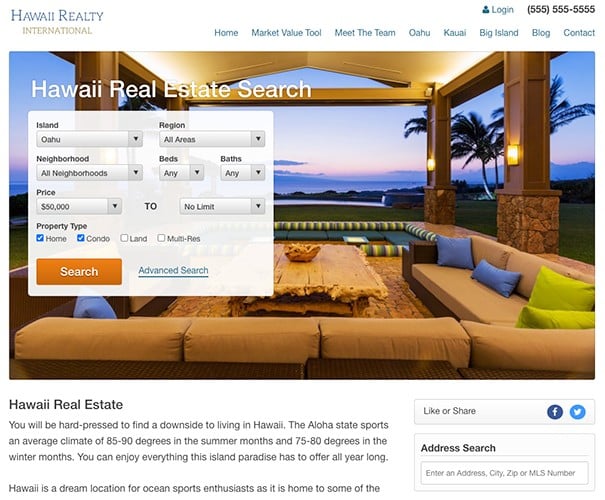 ---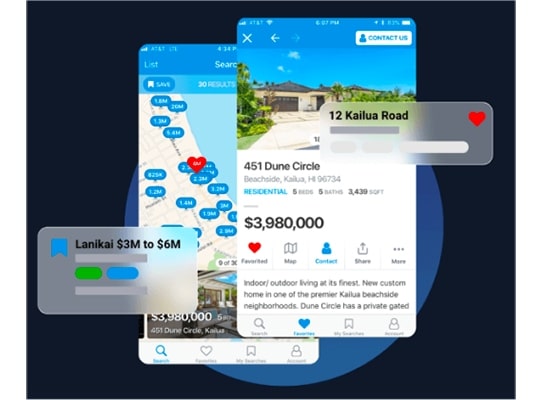 ---
Additional Real Geeks Features:
Support center: Comprehensive support center includes video walkthroughs, product updates, and ticket-based support system
Real estate lead generation: Includes home valuation and property search landing pages, automatic lead routing, and third party integrations
Online advertising tools: Facebook and Google pay-per-click (PPC) ad management to maximize lead generation
Mobile apps: Manage your CRM from any device with the Real Geeks app, and provide a property search app for leads and clients
Real Geeks Pricing: Starting at $299 per month
Real Geeks does not provide tiered options, but includes all of its website and CRM features in a single all-in-one package. The only feature not included in the primary plan is Facebook and Google advertising management, which is an add-on monthly package.
Website and CRM: $299 per month
Online advertising: $600 per month + ad spend
Real Geeks Reviews:
Customers give Real Geeks an overall rating of 4.4 out of 5, with the vast majority of reviewers calling it "the best real estate platform," "the premier CRM for real estate professionals," and "paradise for getting warm leads." Users say the CRM is easy to use, and the features are hand-picked to maximize ROI for real estate agents.
The small number of less enthusiastic reviews say that they wanted more extensive pipeline management with customization options, and that Real Geeks may not work for larger teams. If you're looking for a CRM for real estate professionals that provides an almost unlimited number of marketing and team collaboration features, try Zoho CRM or HubSpot.
Copper: Best CRM for Google Workspace Users
Pros
Designed specifically for and integrates with Google Workspace apps
Built-in project management capabilities and Kanban-style project boards
Built-in tag feature for segmenting leads
Cons
Some integrations are only available on the Professional plan
Sales goal tracking is only available on the Business plan
Features needed for real estate businesses to handle transaction management and property listings are through integrations only
Our Expert Opinion on Copper
Copper is an intuitive CRM software program built for nurturing customer relationships. With tools and features for lead generation, lead management, nurturing, and pipeline management, it serves as an all-in-one CRM software for real estate agents and teams.
Among the best real estate CRMs, Copper stands out as having been specifically created to integrate seamlessly with Google Workspace applications (formerly G-Suite). Its customizable pipelines and projects can streamline all your marketing and business management processes, all for an affordable per-user cost.
Copper provides an array of features to help manage sales, contacts, communications, and marketing, even on its basic plan. It helps generate real estate leads from social media and online forms, and auto-enriched profiles pull information about potential buyers' and sellers' likes and interests directly from their email and social media accounts.
In addition, Copper users can also handle back-office tasks like transaction enablement and accounting within the platform. For example, there are integration capabilities with DocuSign to handle contract signings and QuickBooks to handle bookkeeping.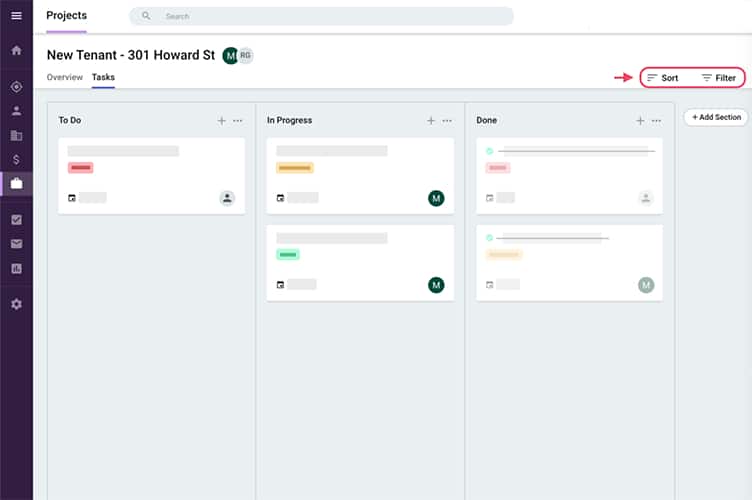 ---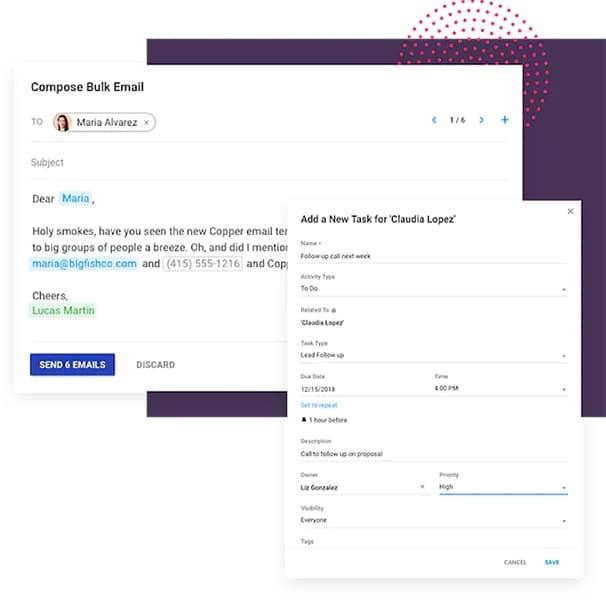 ---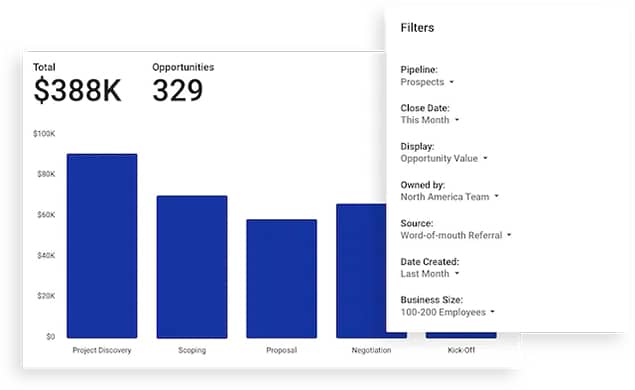 ---
Additional Copper Features:
Google Integrations: Integrates and syncs with Google Workspace applications like Sheets, Gmail, Docs, Calendar, Slides, Calendar, Hangouts, Drive, and Studio
Back office integrations and features: Integrates with QuickBooks for invoicing and accounting capabilities as well as DocuSign for eSignature and contract generation features
Marketing tools: Provides email templates and drip campaigns, as well as bulk email creation with customized contact alerts
Mobile app: App allows you to stay in touch with reminders and contacts on the go
Copper Pricing: Starting at $23 per month, billed annually
Copper CRM provides three tiered plans with increasingly robust marketing and management features. The basic plan is a great starter realtor CRM to help you get organized, create pipelines, and collaborate with team members. On the other hand, the Professional and Business plans equip growing and scaling real estate businesses to customize processes and maximize productivity.
Free trial: 14 days
Basic: $29 per user monthly
Professional: $69 per user monthly
Business: $134 per user monthly
Up to 29% off with annual billing
Copper Reviews:
Copper users have given the software a rating of 4.5 out of 5, saying that they love the way it automatically integrates with Google to streamline their workflow. Many reviewers commented how valuable it was to be able to track each contact's data across platforms and set reminders in Google calendar. Overall, users almost unanimously loved the ease of use and organizational capabilities of Copper CRM.
As with all top real estate CRM software programs offering a wide range of features, customers had many feature-specific suggestions and feedback. Even though the majority of users are more than happy with the platform, some noted the price could add up for teams. They also referenced technical glitches and less-than-ideal experiences with customer service. If you prefer a real estate CRM built for teams, consider Pipedrive or LionDesk.
LionDesk: Best for Multichannel Communications
Pros
Video email and texting platform
Features for designing digital and printed mail
Hundreds of email and SMS drip campaign examples and templates
Cons
Lacks built-in project management features
Limited customer service
Confusing pricing structure
Our Expert Opinion on LionDesk
LionDesk is a real estate-specific CRM that focuses on helping you nurture every single lead. It does this by providing plenty of features for multichannel communications and lead generation, including Facebook ads using pre-built audiences, custom landing pages, lead distribution, and lead imports from third-party sources.
One of the unique offerings from LionDesk is its variety of communication methods, including email marketing, SMS marketing, calling with a power dialer, autoresponders, direct mail, and even video email and texting. Its AI feature, inside sales association (ISA), will even conduct automated text conversations with your leads over a 12-month period. These unique and real estate-specific features make LionDesk the ideal choice for agents, teams, and brokerages who want to master their nurturing strategies and campaigns.
LionDesk offers tons of communication-specific features for sales professionals to contact and nurture leads effectively. In addition, its CRM manages contacts and tasks with reminders, labels, and filters. All lead sources, deals, and activities are tracked and are visible in easy-to-understand reports and charts. It also uniquely provides a calling center, which includes a built-in power dialer that allows agents to go through call lists quickly while automatically updating the activity in the CRM records.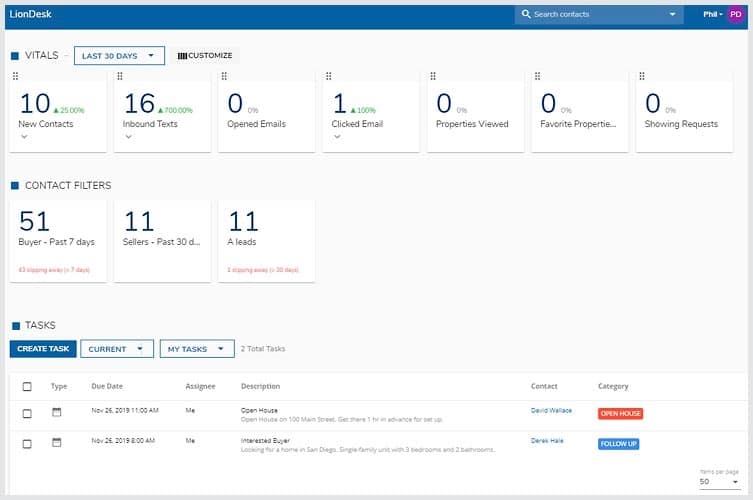 ---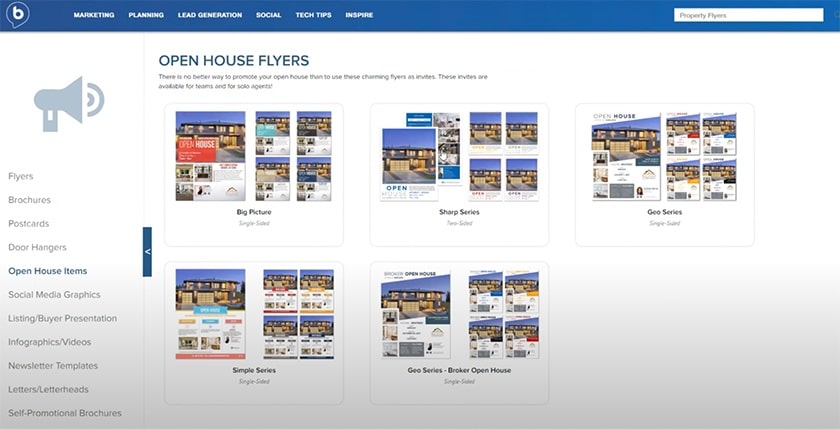 ---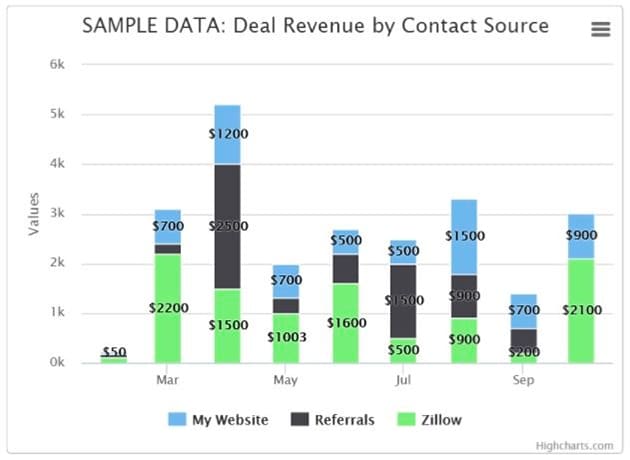 ---
Additional LionDesk Features:
Transaction management: Create pipelines to track current clients and closings
Marketplace with additional products: Add-on features include landing pages, power dialers, and concierge setup options
Broker-specific solutions: The LionDesk broker platform has all of the standard features along with agent managing tools, like activity reports and lead distribution.
Built-in autoresponders: AI lead follow-up feature uses an auto-bot to have a live chat conversation with potential buyers.
LionDesk Pricing: Starting at $39 per month
LionDesk uses a credit-based system for emails, texts, and video texts to make up two different pricing tiers. There are also multiple add-on options within each plan, as well as a LionDesk Marketplace with additional products like landing pages, single or multi-line dialer, and CRM Concierge.
14-day free trial
CRM: $39 per month
CRM Premier: $139 per month
Landing pages: $29 per month
Single line dialer: $99 per month
Multiline dialer: $149 per month
CRM Setup: $499 one-time fee
CRM Recharge: $549 one-time fee
Discounts available with annual billing
LionDesk Reviews:
The vast majority of LionDesk reviewers noted that the communication tools were extensive, easy to use, and were effective in nurturing clients and standing out from the competition. They also said the learning curve is very brief and the pre-made email and text drip campaigns were well-written, further simplifying their marketing and nurturing tasks.
However, a good number of customers referenced difficulty with reaching customer support, lowering LionDesk's overall customer review rating to 4.1 out of 5. A smaller number of customers also noted the interface is not particularly modern or intuitive, and glitches are somewhat common. For a real estate CRM with highly accessible customer service, consider HubSpot.
HubSpot: Best CRM for Content Marketing
Pros
Free plan and free supplemental marketing tools
24/7 customer support on all channels
Content management system (CMS) integrates with the CRM
Cons
Marketing, sales, and customer service tools are only available at additional cost
Marketing and Sales Hub can be time-consuming to learn
Relatively expensive to upgrade plan
Our Expert Opinion on HubSpot
HubSpot is a CRM real estate software with robust tools for sales, marketing, and operations for individuals or large enterprise-level teams and brokerages. It offers a free CRM with limited functionality, but its most valuable offerings for real estate professionals can be found in the content management system (CMS), sales hub, and marketing hub. These platforms provide pipeline management and extensive content marketing tools like social media, advertising, blogging, and email marketing.
HubSpot's CMS is best for real estate businesses that use content marketing to educate potential leads and enhance their brand presence. It includes website hosting, drag-and-drop page editing, and SEO tools, while the Marketing Hub amplifies your efforts by attracting visitors and leads through social media, real estate Google ads, and Facebook ads. In addition, the HubSpot CRM can track and organize all leads and contact data from these sources in a single, easy-to-use platform.
The free HubSpot CRM includes basic tools for pipeline management, email marketing, scheduling meetings, tracking deals, and managing tasks with reminders. The spread of functionality available for free makes it one of the best CRMs for real estate agents who want to start with an affordable, intuitive tool that can expand as they grow.
On the other hand, the Hub packages offered for Marketing, Sales, Operations, and CMS can be pricey but provide every tool and feature that real estate businesses will need. Agents who manage websites and social media pages also have access to supplemental free tools, such as a blog idea generator, marketing plan creation tool, and website grader feature. Additionally, HubSpot Academy is packed with free video tutorials that walk users through every aspect of content marketing on the platform.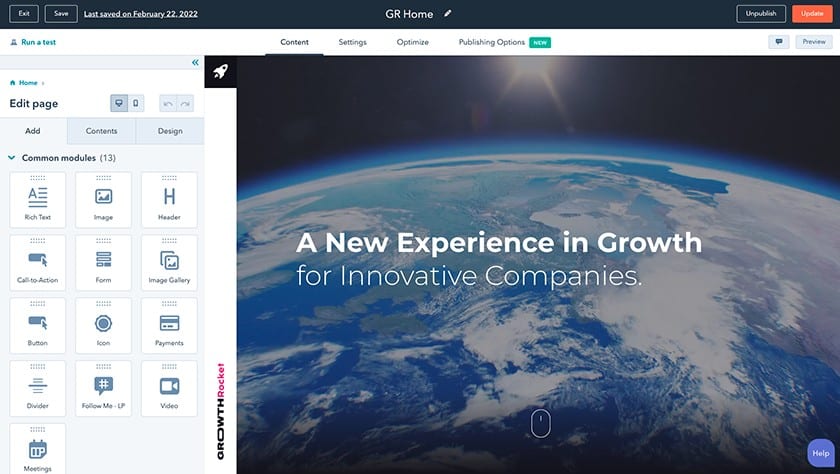 ---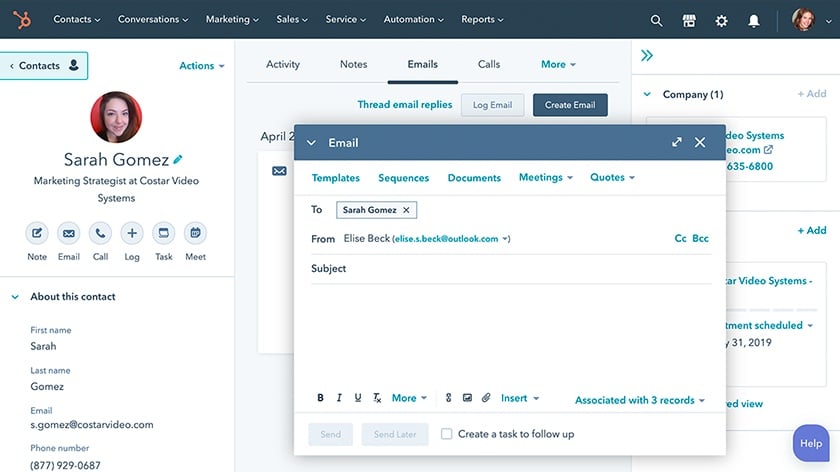 ---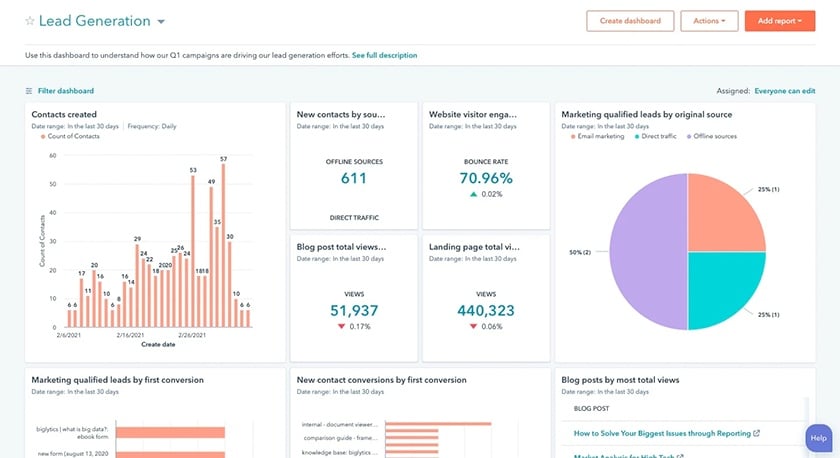 ---
Additional HubSpot Features:
Mobile CRM app: Carry the HubSpot CRM with you to constantly stay on top of communications and follow-ups
Content creation tools: Blog idea generator, website grader, SEO blog maker, website themes and templates
Detailed analytics and reporting: Track and evaluate detailed marketing analytics across all platforms in a centralized and easy-to-navigate location
Free business tools: Free marketing and administrative tools like the marketing plan generator, invoice templates, and landing page builder
Extensive marketing and sales resources: The HubSpot blog includes some of the most detailed and extensive resources on sales and marketing that you can find online, as well as video tutorials, podcasts, downloadable resources, and certification courses.
HubSpot Pricing: Starting at $45 per month
HubSpot offers a free CRM and various "hubs" or packages for marketing, sales, customer service, operations, and the CMS. Prices for each start around $45 per month, but enterprise-level plans can be as much as $9,000 per month or more. It also offers add-ons and customizable packages for real estate professionals who want to mix and match services from different hubs. Use the HubSpot price calculator to learn more about their pricing for your needs.
14- day free trial
Free CRM: Limited features
CRM Suite: Starts at $30 per month
Marketing Hub: Starts at $45 per month
Sales Hub: Starts at $50 per month for two users
Service Hub: Starts at $45 per month for two users
CMS Hub: Ranges from $23 to $1,200 per month
Operations Hub: Free or starts at $45 per month
HubSpot Reviews:
Out of over 9,000 customers who have reviewed HubSpot online, over 6,000 of them have given the CRM for realtors five stars. Overall, HubSpot has a customer review rating of 4.4 out of 5, with most users loving the intuitive dashboard and the wide range of tools and customizable features. Many users rave about the platform's functionality, calling it "the holy grail of marketing" and a "game changer." A high number of reviewers also noted how accessible and helpful the customer support team is.
However, some users report that the free CRM is limited. On the other hand, the paid plans have so many features they can be incredibly overwhelming and require a significant time commitment to learn. If you'd rather start with simpler CRM software for real estate, try Pipedrive.
WiseAgent: Best Real Estate Marketing Resources & Support
Pros
Referral tracking
Unique communication tools and resources
24/7 customer support and onboarding
Cons
No IDX website
Limited lead generation tools
Fewer marketing tools than other CRMs
Our Expert Opinion on WiseAgent
Wise Agent made our list of the best CRMs for realtors because it's one of the few software programs built specifically for real estate professionals. It provides lead generation tools like customizable landing pages, direct mail, email drip campaigns, and essential contact management functionality.
Wise Agent stands out from other top real estate CRMs with their unique communication tools and resources. For example, they provide a Gmail Chrome extension and Gmail conversations tool because such a large percentage of their customers operate in Gmail. Although they're a small software company, they provide 24/7 support and one-on-one onboarding. These features show that Wise Agent focuses on supporting agents and continually creating tools to make your tasks easier and more efficient.
Wise Agent has a user-friendly dashboard and platform with the most crucial CRM features for real estate agents. It also uniquely provides real estate resources like real estate transaction calculators, real estate integrations, continuing education (CE) tracker, a referral tree, and accounting help. They even provide real estate newsletters to use within your marketing. Unlike many other real estate CRM software options, their customer service is available 24/7.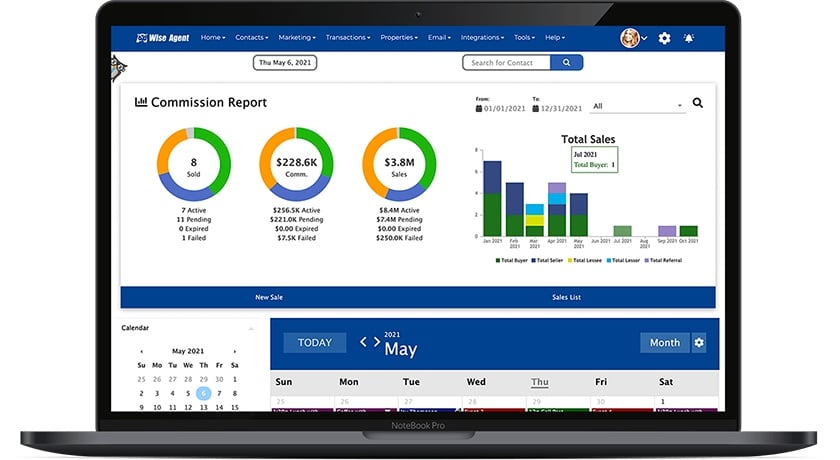 ---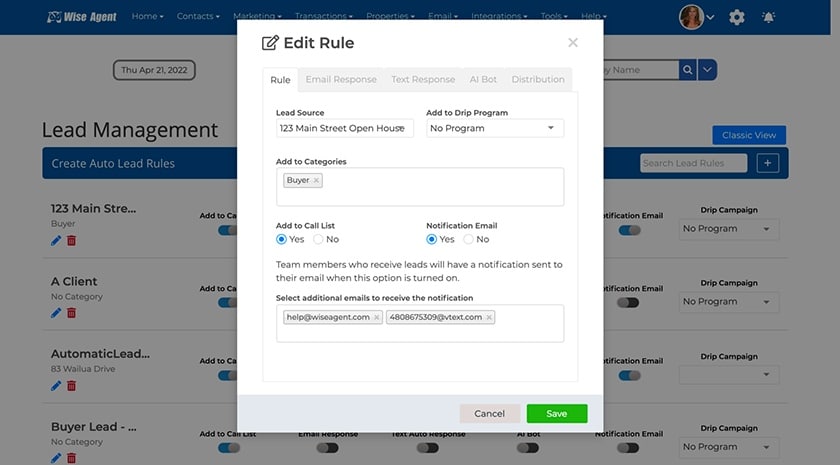 ---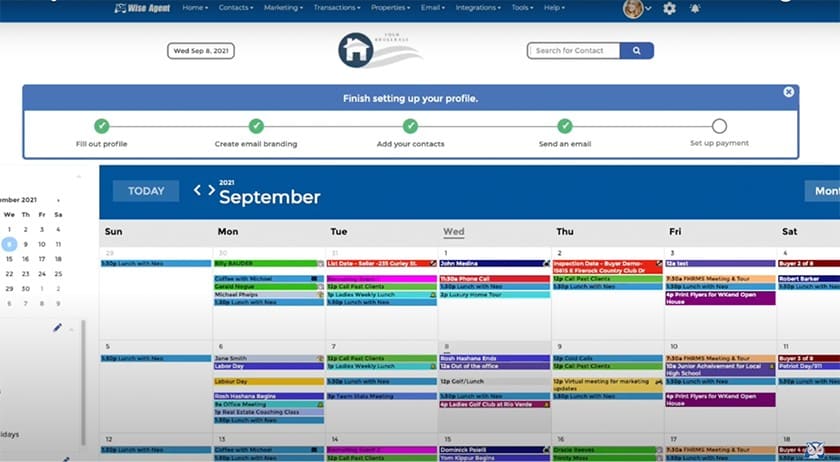 ---
Additional WiseAgent Features:
Mobile app: Access your Wise Agent CRM on the go with a user-friendly mobile app
CRM calendar: Create task lists, set and track goals, and track your CE requirements
Lead management and automation: Automatically add new leads to daily call list, run A/B testing to nurture leads effective, and create rules for leads from different sources
Transaction management: Includes property list, document storage, lockbox list, and commission reports
WiseAgent Pricing: Starting at $32 per month
Wise Agent doesn't use product tiers to offer varying features, so all its features are provided whether you choose a month-to-month contract or annual billing. Both plans include the ability to add up to five users at no additional cost.
14-day free trial
Monthly plan: $32 per month
Annual plan: $326 per year
Enterprise plan: Custom pricing
Wise Agent Reviews:
Overall, most Wise Agent reviewers were extremely enthusiastic about the product, giving it a 4.4 out of 5 rating. Some of the features that users especially loved are the commission tracker, landing pages, and drip campaigns, and marketing automations. Reviews almost unanimously noted exceptional customer service.
One of the most notable negative reviews for Wise Agent is that features will change somewhat consistently without prior warning. Even unhappy customers noted that the general functionality of the platform is ideal for agents, but updates ended up frustrating them. An alternative CRM option with similar offerings and designed for real estate professionals is LionDesk.
IXACT Contact: Best for New Real Estate Agents
Pros
Rookie program with a six-month free trial
Concierge setup services
Email marketing
Cons
Many add-on features not included with CRM package
User interface can be challenging to navigate
Functionality on a mobile app is limited to contact communication and task management
Our Expert Opinion on IXACT Contact
IXACT Contact is excellent real estate CRM software for new agents for several reasons. The first is simply economical, as IXACT Contact offers a six-month free trial with all features included for those who have just become a real estate agent within the past 12 months. This is an incredible opportunity for new agents to get their businesses up and running with professional CRM tools at no cost.
IXACT Contact is also ideal for agents wanting to use content marketing to build their brand authority. Its website templates, direct mail tools, and social media management are curated specifically to help agents drive attention and traffic to their business.
IXACT Contact is full of features that benefit new and experienced agents alike. It includes real estate website templates with SEO-friendly and mobile-friendly designs to help you start generating leads from landing pages and blog posts. For an additional fee, you can add IDX listings to your website. Social Stream is another unique feature that assists you with social media management by providing pre-made social media content and scheduling tools.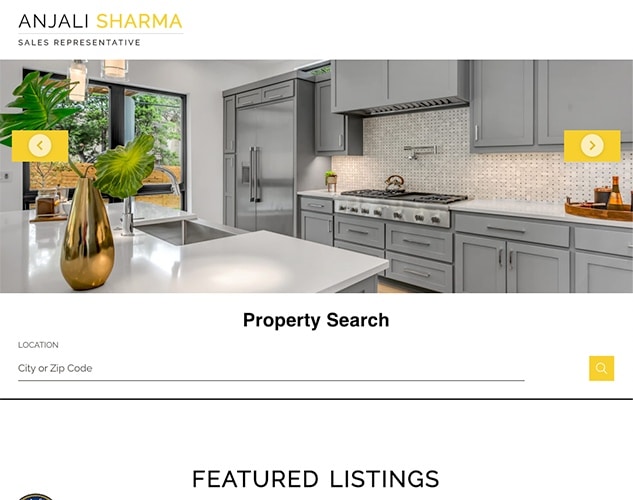 ---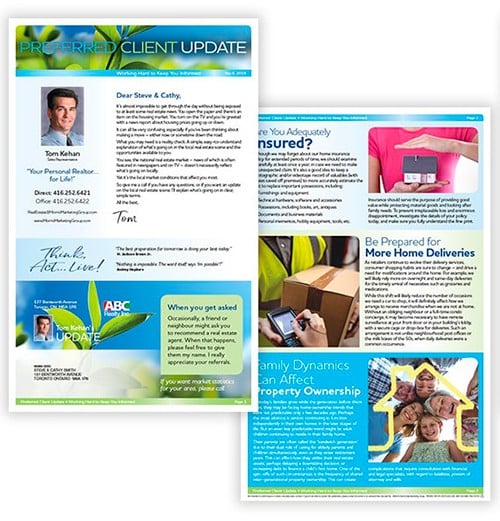 ---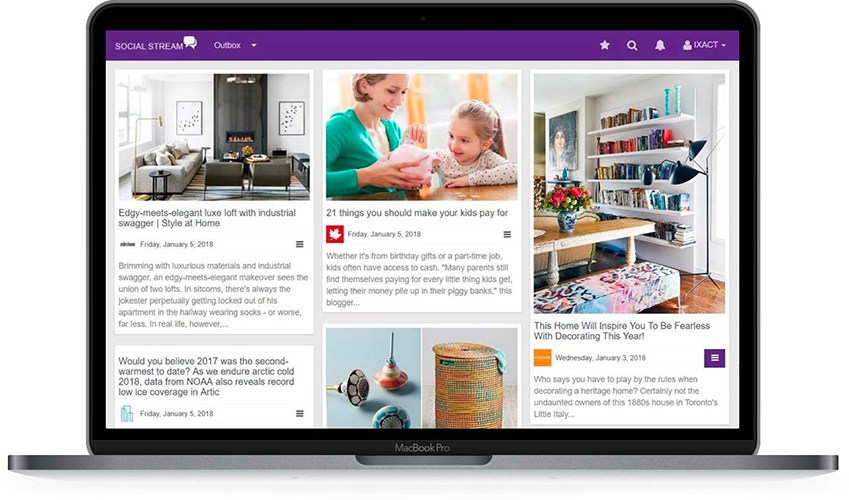 ---
Additional IXACT Contact Features:
Mobile app: Updates contacts in real time and keeps you in touch even on the go
Keep In Touch Coach: Automated tool that sends reminders to send messages at regular intervals and for birthdays and anniversaries
Contact intelligence: Rich social profiles find and import lead information, including birthdays, move-in history, referrals, and communication history
Lead generation tools: Automatically generate and import leads from Zillow, social media, and your website
IXACT Contact Pricing: Starting at $45 per month
IXACT Contact provides one CRM package with different pricing for month-to-month and annual contracts. There are also multiple service add-on options that may increase the monthly cost.
Free trial: Five weeks and/or up to six months for new agents
Monthly: $45 per month
Annual: $456 per year
Teams version: $45 per month
Agent website add-on: $19-39 per month, plus domain registration and one-time setup fee of $65
Social Stream add-on: $20 per month
Mass Email Purchases add-on: Ranges from $10-150 per month based on email limits
Text Marketing add-on: Ranges from $5-175 per month based on text message limits
Discounts available with annual billing
IXACT Contact Reviews:
IXACT Contact has an excellent customer review rating of 4.5 out of 5. Customers love its unique features, like modern agent websites, monthly newsletters, and automated marketing. There are almost no complaints about software glitches and few notes about missing features, which shows that IXACT Contact's CRM is highly functional and effective.
The small number of unsatisfied customers stated that the CRM is not as modern or visually appealing as others, and that they would benefit from more integration options. For a real estate CRM with almost unlimited integration capabilities, check out Zoho CRM.
How We Evaluated the Best Real Estate CRM Software
When searching for the right CRM system for your real estate business, a few of the most critical factors to look for are ease of use, automation, and nurturing tools. We measured the best real estate CRM by evaluating pricing and capabilities specific to real estate businesses, such as functions for promoting services to buyers or sellers, tools for posting up-to-date property listings, and capabilities for managing transaction opportunities. In addition, factors associated with product usability and customer support were evaluated.
Based on our evaluation, Zoho CRM is the best overall choice for its extensive number of features and product integrations that automatically customize the platform for your needs. Its automated workflows, customizable pipelines, and affordable pricing help real estate agents work independently or within a team with more efficiency and confidence. Plus, they offer a free forever plan, so there's no risk for you to try it today.
The tabs below offer insight into our evaluation process for choosing the best real estate CRM software options:
25% of Overall Score
When evaluating each real estate CRM, we considered access to free account options, varying subscription plans, and whether or not monthly billing plans are available.
25% of Overall Score
We reviewed features that are staples to most real estate CRMs like customizable pipelines, reporting and analytics, contact management, task assignments, and integrations.
15% of Overall Score
Features like a mobile app, lead rotation, email and other marketing tools, listing management, data tracking, team collaboration tools, website and landing page creators, and deal management were considered as they are highly beneficial for real estate businesses.
10% of Overall Score
Based on customer feedback for each CRM, with particular attention given to reviews and popularity of the product, to certify the CRM meets user satisfaction.
10% of Overall Score
The functions of any application are only as beneficial as it is usable. These criteria were analyzed by knowledge required to set up the CRM, skills needed to operate the platform, and the intuitiveness of the user interface.
10% of Overall Score
In addition to our first-hand experiences with the providers, we evaluated what other users say about each of the best real estate CRM platforms. These criteria consider how customers feel based on their reviews to gauge ease of use, value for money, and how beneficial some built-in features are to users.
5% of Overall Score
Extensive support and service can prevent issues a user might encounter. These are evaluated in terms of customer service hours and availability of support through various channels like phone, live chat, and email.
*Percentages of overall score
Bottom Line
Choosing the best real estate CRM software will go a long way in building your business. Whether you are an independent agent, part of a team, brand new to the industry, or highly experienced, there is a real estate CRM that can fit your needs. Consider Zoho CRM for your real estate needs because of their highly customizable platform with extensive integrations.