8 Ready-to-Use Real Estate Email Marketing Templates (Free Download)
Email is one of the most effective methods of real estate marketing because it can be automated and highly customized for each contact. Utilize real estate email marketing templates in any stage of the sales journey—from first contact to former clients to open house follow-ups. Since crafting individual emails and setting up multiple campaigns would be extremely time-consuming, email marketing templates, such as welcome emails and former client emails, help agents communicate and nurture leads more efficiently.
If you're looking for inspiration to create your own unique, customizable messages, we've created eight real estate email templates to download, add to your repertoire, and use today:
Download Our Real Estate Email Marketing Templates
Having email templates at the ready will save you time and effort when you need to follow up with prospective, existing, and past clients quickly. Download all of our email marketing templates to use at your convenience, but make sure to read through the additional tips and strategies in the article below.
1. The Welcome Email
The first email any lead should receive is a welcome email, typically sent immediately after they sign up or subscribe to your contact list. Welcome emails have the highest open rates at 82.21%, so it's very important to send a strong welcome email that establishes the value you'll provide for them in the future. Keep this message short, personable, and professional. You can also tell them what to expect from future real estate emails—and you as an agent.
Example Welcome Email Template
Subject line: Welcome to the Family
Hi, [first name]!
You can take a deep breath and relax now. Buying or selling a home can be a daunting experience, but my purpose is to give you step-by-step tips to simplify the process and make sure you feel completely confident in searching for the perfect home for your family and selling your current home.
I've lived in [hometown name] for the past [X] years, and I've learned some of the best methods for finding, selling, and negotiating homes here.
In these emails, you can expect to get sneak previews of new listings (before they're available to anyone else), home shopping tips, seller marketing strategies, and unique real estate market details in [hometown name].
I'd love to find a time soon to grab a coffee and bagel on me. Feel free to email me any time with available days and times.
Welcome to the [agent/brokerage name] family!
[Signature and headshot]
[Phone number/email address]
[Links to website, social media, etc.]
It's possible to manually send a welcome email from your favorite email client, but that will prevent you from sending it immediately and accessing important analytics like open rates and click-throughs. This email will be much more effective within a complete real estate drip campaign strategy that utilizes an email marketing tool like Market Leader.
With Market Leader, you can get exclusive leads, a powerful CRM, and listing marketing materials like social media posts, ready-to-print flyers, and a single property website. Learn more about how Market Leader can help you create an effective marketing funnel.
2. The Newsletter Email
Email newsletters are a key strategy to show potential leads your authority and market expertise. Real estate newsletters are common, and their familiar format makes it easy for you to educate, entertain, and nurture new leads until they're ready to start working with you. Consider mailing printed versions of your newsletters to your farm area as another method of generating and nurturing leads.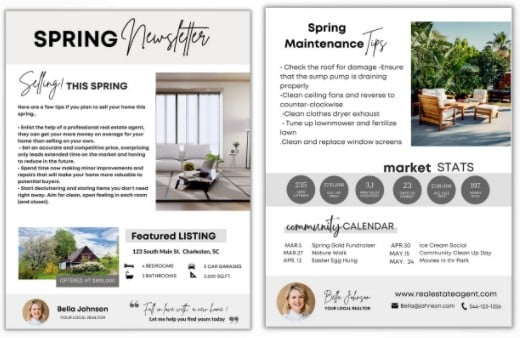 ---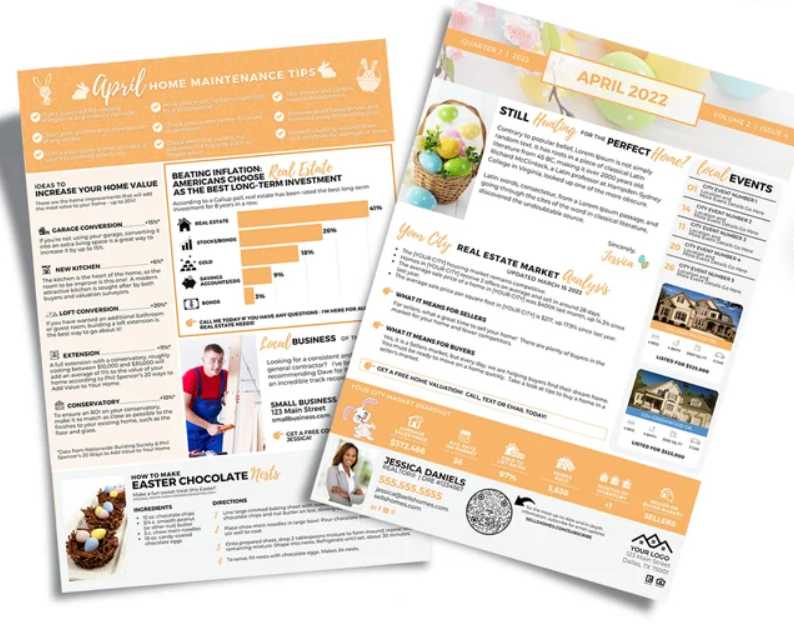 ---
Try to keep these emails short enough to read or skim in a few minutes, and only send relevant, engaging, and shareable content. You can include fun event details, market reports, interesting articles, seasonal home maintenance tips, sneak previews of new listings, or a recent testimonial. Two to four relevant topics per email are more than enough.
Example Newsletter Email Template
Subject line: [Month/Season] Newsletter
Happy spring! What are you looking forward to the most: warmer weather, the end of the school year, or baseball season?
This month, [neighborhood name] is hosting some especially exciting events:
[list of events]
[Month/Seasonal] Home Maintenance Tips
[Neighborhood] Market Update
I hope to see you around!
[Signature and headshot]
[Phone number/email address]
[Links to website, social media, etc.]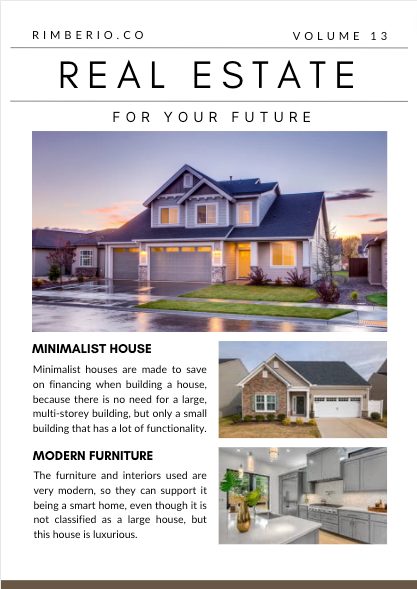 ---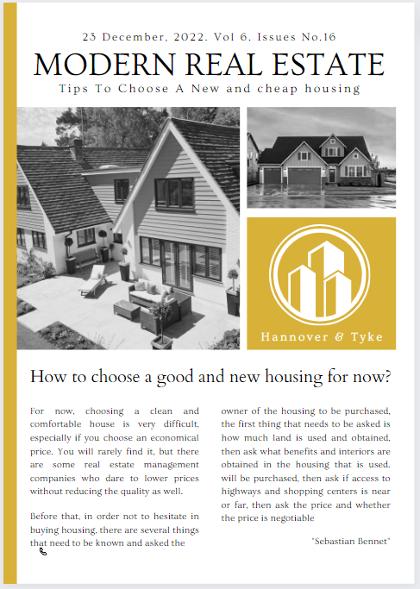 ---
One option to keep your newsletters organized, unique, and on-brand is to purchase a bundle of email templates for real estate agents, or use Canva to create them in advance and simply add the correct information each month. Canva is an extremely user-friendly graphic design software that includes thousands of graphics, fonts, and templates. Try Canva's free plan and see how it can make newsletter creation easy.
3. The Buyer Lead Email
Buyers who are actively home shopping will primarily want to see new listings and tips on making the homebuying process simple. If they sign up to receive listing alerts through your website right away, that means they may be ready to buy. It's important to set up a specific email system for these buyers so they learn that you and your emails are the best sources of information on homebuying, home shopping, and evaluating new listings.
Example Buyer Lead Email Template
Subject line: New Listings in [Ideal neighborhood]
Hi, [first name]!
There's been a lot of sales activity in [neighborhood name] this month, so I want to keep you updated on new listings as soon as they go up.
I'm including a few hand-picked listings that fit your needs, as well as a few that are worth a look.
I've also been watching the recent sales to get more details about how to negotiate the best deal when we find the right property for you.
I'm available to schedule a showing for any of these properties or grab a coffee to talk about the best way to find your future home in this market. Just hit reply or text/call me at [XXX-XXX-XXXX].
[new listings that match your lead's search criteria]
Talk soon!
[Signature and headshot]
[Phone number/email address]
[Links to website, social media, etc.]
If you don't get a list of their wants and needs for the home during sign-up, be sure to reach out and gather as much information as you can. In these cases, text message marketing, in addition to your email marketing campaign, is especially useful because it can generate more responses than real estate emails to clients.
To combine email and SMS marketing, Top Producer is one of the only real estate CRMs with both of these capabilities. It also includes additional tools like transaction management, lead routing, and automated market reports. This simplifies the process of compiling market data and boosts your credibility as a real estate expert. You can even track reports to see who received them and how they respond. See how Top Producer can elevate your marketing today.
4. The Seller Lead Email
Whether seller leads find you through a home valuation page on your site, an open house sign-in sheet, or a referral, their primary interests are usually learning how much their home is worth and figuring out if you're the person who can sell it for the best value. Sometimes these homeowners will find you months before they actually plan to sell, and other homeowners will be looking to make a move quickly.
It's important to strategically write emails for both types of sellers and time them correctly. You may be able to answer their questions about home value right away, but it can take time to show them that you're the right agent for their needs. You can do this by sending emails with offers of a free comparative market analysis of their home or a listing presentation.
Ideally, you should create multiple email campaigns and marketing materials to target potential sellers at every stage of the sales process. Both campaigns can include similar content, but at different frequencies and messaging. Include local market data, increase or decrease in their home value, and the price of recently sold homes in their area in the past 30 days.
Example Seller Lead Email
Subject line: Selling your house for the most $$
Hi, [first name]!
Selling a home is exciting—congratulations! It's a new beginning for you and your family.
The first thing that's important to do is gather all the information about your area, property, and recent home sales so we can make a plan. I'll put all of this into a personalized comparative market analysis (CMA) for you to read over and start gathering your thoughts, questions, or concerns.
You don't have to do anything for the CMA—that's my job! But it won't be completely accurate if I don't have a firsthand look at your property. When do you have 30 minutes next week for me to stop over?
For now, here's the most recent market data for [neighborhood name]. It's clear that [specific detail about the local market], so [brief description of how that will impact the home sale]. I'm thrilled to start planning how we can get the best value for your home!
Feel free to reply here or text/call me at [XXX-XXX-XXXX] with any questions at all.
Talk soon!
[Signature and headshot]
[Phone number/email address]
[Links to website, social media, etc.]
5. The Former Client Email
Eighty-two percent of all real estate transactions come from referrals. That's enough to make or break your business, so it's important to invest in generating real estate referrals. Staying top of mind with former clients should be a crucial part of your email marketing efforts. Send former clients an email with a referral request around 90 days after closing a deal, and be personal. Asking for a referral requires trust, and that means making yourself more approachable.
While you can and should use an email template as a starting point for your correspondence, it is well worth spending a few minutes to customize this message to the individual client. When possible, reference a past event or communication that shows you still care about their well-being long after your first real estate deal together.
Example Former Client Email Template
Subject line: How's the new home?
Hi, [client name],
Can you believe you've owned your house for a few months already? I was in your neighborhood last week, and it reminded me of you. How is everything in the home going? Do you have any questions I can help with?
Did you ever get a chance to go to [event/activity/location]? I remember how excited you were about [event/activity/location].
I want you to know that even when we're not working together on a property, you can still reach out to me at any time. I'm always happy to hear from you.
And if you have a friend or family member who needs real estate-related advice or is considering buying or selling a home, it means so much to me when I'm referred by my clients. Please don't hesitate to call or text me at [XXX-XXX-XXXX].
Best regards,
[Signature and headshot]
[Phone number/email address]
[Links to website, social media, etc.]
It's smart to get in the habit of taking notes on each lead and client as you communicate with them more. As your real estate business grows, you won't be able to remember details about all of your clients weeks after closing. To combat this, use a customer relationship management (CRM) software like LionDesk to record notes immediately following a conversation. LionDesk also makes it easy to segment lists by interest and keep track of when to follow up with your next message. You can even try LionDesk free for 30 days.
6. The Open House Lead Email
Open houses are an incredibly valuable opportunity for business growth. The majority of open houses visitors are homebuyers who are actively shopping for a home, making it easy for you to offer your services to any of them who don't have an agent or need additional help.
Make sure you use an open house sign-in sheet to gather your visitors' contact information. Even if you don't sell the listing to a visitor from the open house, you'll end up with a list of qualified leads. Send a follow-up email within one to two days after the open house so you can catch the buyers when they're likely still thinking about finding their dream home.
As with most real estate email templates, avoid writing big paragraphs or including too much information. Establish a clear goal for your email and keep the content brief, friendly, and to the point. With follow-up emails, you may find that simple emails without pictures or formatting perform better because you want the message to truly feel like it's one-on-one. Try using the template below, or get even more open house follow-up email templates.
Example Open House Lead Email Template
Subject: Thank you for stopping by and visiting (open house address)
Dear [potential buyer],
It was nice meeting you [and your family, if applicable] over the weekend at the [open house address] open house. I wanted to touch base with you to answer any additional questions, hear your feedback, and expedite any requests you may have.
I'd love to learn more about what you're looking for in a home. If you need something slightly different, I have a few similar properties that might be a better fit.
Please feel free to contact me here or at [phone number] if you'd like to go see other homes or have questions about [street name].
Thank you!
[Signature and headshot]
[Phone number/email address]
[Links to website, social media, etc.]
You shouldn't have to designate a few hours to open house follow-ups. Instead, you can automate the process with a tool like Constant Contact. Constant Contact allows you to create email templates and easily input contacts to automate sending of follow-up emails. You can also customize each campaign for different contacts so that all of your communication to potential leads fits their specific needs. Start using Contact Contact today for 20% off your first 3 months.
7. The 'After a Showing' Email
Any time that you come in contact with people who are actively working on a real estate transaction, you have an opportunity to build a relationship with them. When potential buyers schedule a showing at an active listing, you can be confident they are serious buyers. By opening communication lines, you may be able to gather more information or feedback about your listing, how your marketing is perceived, and potentially generate new leads.
Emails to showing visitors are similar to open house follow-up emails in a few ways. While you should start with an email template like the one below, your emails may be received better if they are simple and don't include images or formatting. Instead, add any customization or details you may have and focus on showing the recipient how valuable their feedback is to you.
Example 'After a Showing' Email Template
Subject: What are your thoughts about [property address]?
Hi [first name],
I'm [your first name], the listing agent for [address]. How was your showing earlier today?
I'd love to hear your honest thoughts about the property. You have your own unique needs and perspective, and I can't tell you how valuable it is to hear both positive and negative feedback about the actual property or even the online listing and information.
If you're thinking of submitting an offer, give me a heads-up here so I can be ready for it and prevent any delays.
You probably have a lot on your mind, but any thoughts you can send over would be enormously valuable to me.
Thanks for your time!
[Signature and headshot]
[Phone number/email address]
[Links to website, social media, etc.]
Pro tip: Keep in mind that showing visitors have not subscribed to your email or contact list, so it's illegal to start sending them marketing emails. You can add them to your contact list for future reference, but be careful that you remain compliant with the rules in the CAN-SPAM Act.
8. The Online Inquiry Email
There are so many different ways to generate real estate leads online, and email should be one of your primary ways to follow up and connect with internet leads. Depending on which lead sources you work with, you'll need to customize your real estate email templates for each type of lead and where they are within the sales process.
For example, leads from content marketing or social media marketing can frequently take weeks or months to nurture before they are ready to start a transaction. On the other hand, buyer leads from Zillow may be active buyers who are ready to start viewing properties immediately.
Example Online Inquiry Email Template
Subject: What are your questions about [property address]?
Hello [first name]!
I'm [your name], and I just got your inquiry about [property address or information title].
House hunting is so exciting! It can be overwhelming too, but with the right strategy, we can find the right home for you without unnecessary stress.
First, are you itching to schedule a tour for this property, or do you have some questions first? I'm here to help with whatever you need!
You can reach me through this email address or by calling/texting me at [XXX-XXX-XXXX].
Talk to you soon!
[Signature and headshot]
[Phone number/email address]
[Links to website, social media, etc.]
Zillow Premier Agents automatically receive inquiries on properties listed by other agents and receive additional exposure on other Zillow-owned real estate platforms like Trulia and StreetEasy. With an email template prepared for these leads, you can start connecting with them as soon as they reach out for help. Learn more about how being a Zillow Premier Agent can generate more quality leads and grow your business.
Real Estate Email Marketing Tips
All types of real estate email campaign templates require their own unique strategy and messaging, so you should view them all individually. However, there are some factors that are important in every marketing email you send. As you develop and write your email campaigns, keep these tips in mind:
Send emails regularly and consistently
Always present a clear call to action (CTA)
Keep email marketing campaigns relevant
Be personal and friendly instead of overly professional
Use segmentation to keep all emails relevant to the recipients
Pay attention to analytics to make adjustments
Be sure you adhere to spam laws and restrictions
Read more about these tips and additional strategies to use for your email marketing in our article, 7 Effective Real Estate Email Marketing Strategies & Tools.
Bottom Line
According to the National Association of Realtors (NAR), 95% of realtors noted that they use email every single day, making it an essential tool for successful real estate agents to communicate with real estate agents, leads, and clients. By using these real estate email marketing templates, you're already a few steps closer to generating new leads and clients through email marketing.