Email marketing serves as an invaluable tool that offers a personalized touchpoint to keep you top of mind for new and former clients. Drafting impactful emails from scratch can be time-consuming, so having ready-made templates available ensures you can get your message across in a timely fashion. These real estate email templates not only save you time but also ensure your messages are professional, consistent, and effective.
Staying connected with your clients is key to building strong relationships and growing your sales pipeline. To help, we've designed 11 distinct real estate email marketing templates. Download and customize them to your liking and integrate them into your marketing communication strategy today: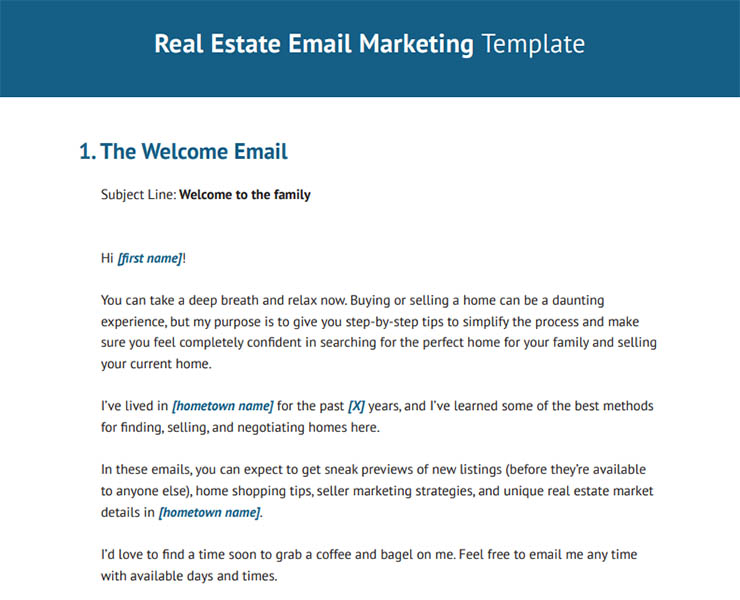 Thank you for downloading!
💡 Quick Tip:
Create custom email campaigns using Constant Contact. Choose from their robust template library or curate your own using branded keywords and drag-and-drop functionality.
Visit Constant Contact
1. The Welcome Email
The welcome email is a starting point for building a relationship with a new client or if you're prospecting with former clients. It should be sent immediately after a lead shows interest in your real estate listings or services. The aim is to establish a trusting relationship and set the stage for future interactions.
A strong welcome email is personal, authentic, and engaging. Showcase the benefits of your services, thank them for their interest, and clearly outline what they can anticipate from your end. To amplify its impact, real estate agents can consider including a special welcome offer or inviting them for a no-obligation consultation.
Subject line: Welcome to the family
Hi [first name]!
You can take a deep breath and relax now. Buying or selling a home can be a daunting experience, but my purpose is to give you step-by-step tips to simplify the process and make sure you feel completely confident in searching for the perfect home for your family and selling your current home.
I've lived in [hometown name] for the past [X] years, and I've learned some of the best methods for finding, selling, and negotiating homes here.
In these emails, you can expect to get sneak previews of new listings (before they're available to anyone else), home shopping tips, seller marketing strategies, and unique real estate market details in [hometown name].
I'd love to find a time soon to grab a coffee and bagel on me. Feel free to email me any time with available days and times.
Welcome to the [agent/brokerage name] family!
[Signature and headshot]
[Phone number/email address]
[Links to website, social media, etc.]
To maximize the effect of a welcome email, real estate agents should automate the mailing. They can do so through platforms like Constant Contact, which is an established provider in the email marketing space. Agents can set up triggers to automatically send emails after prospective clients fill out a sign-up form. Real estate agents can benefit from its easy-to-use email editor, vast template library, and image storage capabilities. It also offers analytics to track open and click rates to gauge how your emails are performing.
2. The Newsletter Email
A newsletter email offers an excellent way to maintain regular engagement with your clients and potential customers. It should be sent on a consistent schedule like weekly, biweekly, or monthly, depending on your client preferences and your marketing content schedule. To make real estate newsletters more effective, real estate agents should curate the content to match the interests and needs of their audience. This could include relevant market trends, new and exciting listings, and community news.
Subject line: Spring newsletter
Happy spring! What are you looking forward to the most: warmer weather, the end of the school year, or baseball season?
This month, [neighborhood name] is hosting some especially exciting events:
[List of events]
[Month/Seasonal] Home Maintenance Tips
[Neighborhood] Market Update
I hope to see you around!
[Signature and headshot]
[Phone number/email address]
[Links to website, social media, etc.]
Integrating visuals, such as property photos or infographics, can make your newsletter content more digestible and appealing. For more engagement, consider incorporating interactive elements like polls or quizzes, and always invite feedback and inquiries to maintain an open dialogue. Try not to overload one newsletter with too much information all at once. Instead, add a "learn more" button that leads a client to your website for more detailed information.
Agents can create visually appealing and professional-looking real estate emails with Canva. The platform has a wide range of customizable real estate email templates and easy-to-use design features—enabling real estate agents to craft visually compelling emails that stand out in crowded inboxes. However, Canva doesn't offer features like sending emails, managing email lists, or tracking performance. You would need to use it in conjunction with an email marketing or client relationship management (CRM) platform.
3. Buyer Lead Email
The buyer lead email is designed to engage potential buyers and should be sent once they've expressed interest in buying a property. Strive to understand your buyer's specific needs and preferences to optimize your buyer lead emails' impact.
You can do so by highlighting properties that meet their criteria and leveraging compelling imagery and detailed descriptions to paint a vivid picture of each listing. For a more persuasive approach, emphasize the unique selling points of each property and how they align with the potential buyer's lifestyle or investment goals.
Subject line: New listings in [ideal neighborhood]
Hi [first name]!
There's been a lot of sales activity in [neighborhood name] this month, so I want to keep you updated on new listings as soon as they go up.
I'm including a few hand-picked listings that fit your needs, as well as a few that are worth a look.
I've also been watching the recent sales to get more details about how to negotiate the best deal when we find the right property for you.
I'm available to schedule a showing for any of these properties or grab a coffee to talk about the best way to find your future home in this market. Just hit reply or text/call me at [XXX-XXX-XXXX].
[new listings that match your lead's search criteria]
Talk soon!
[Signature and headshot]
[Phone number/email address]
[Links to website, social media, etc.]
4. Seller Lead Email
Similar to buyer lead emails, a seller lead email targets potential sellers. To maximize the effectiveness of seller lead emails, agents should provide valuable insights to prospective sellers, such as the current real estate market, trends affecting property values, and effective marketing strategies for their property type. Agents can establish expertise and credibility by sharing success stories or testimonials from satisfied clients. This is an opportunity to make a compelling case for why they should choose you as their listing agent.
Subject line: Selling your house for the most $$
Hi [first name]!
Selling a home is exciting—congratulations! It's a new beginning for you and your family.
The first thing that's important to do is gather all the information about your area, property, and recent home sales so we can make a plan. I'll put all of this into a personalized comparative market analysis (CMA) for you to read over and start gathering your thoughts, questions, or concerns.
You don't have to do anything for the CMA—that's my job! But it won't be completely accurate if I don't have a firsthand look at your property. When do you have 30 minutes next week for me to stop over?
For now, here's the most recent market data for [neighborhood name]. It's clear that [specific detail about the local market], so [brief description of how that will impact the home sale]. I'm thrilled to start planning how we can get the best value for your home!
Feel free to reply here or text/call me at [XXX-XXX-XXXX] with any questions at all.
Talk soon!
[Signature and headshot]
[Phone number/email address]
[Links to website, social media, etc.]
Placester is a comprehensive real estate marketing platform offering a suite of powerful email marketing tools designed specifically for real estate professionals. Agents can set up their desired real estate email template in the platform for automatic email campaigns. It can also segment contact lists for more targeted messaging and provide in-depth analytics on campaign performance. Placester provides tools for successful real estate agents to connect with their audience to drive engagement and conversions.
5. The Former Client Email
Reconnecting with former clients can be a great source of repeat business and referrals. Former client emails should be sent at thoughtful intervals, like on the anniversary of their property purchase, during holiday seasons, or when a property similar to theirs is listed or sold.
This approach keeps your relationship warm and maintains your presence in their minds for any future real estate needs. To enhance the effectiveness of these emails, they should be personalized based on each client's situation. Make sure to always express your eagerness to assist in any future real estate transactions.
Subject line: How's the new home?
Hi [client name],
Can you believe you've owned your house for a few months already? I was in your neighborhood last week, and it reminded me of you. How is everything in the home going? Do you have any questions I can help with?
Did you ever get a chance to go to [event/activity/location]? I remember how excited you were about [event/activity/location].
I want you to know that even when we're not working together on a property, you can still reach out to me at any time. I'm always happy to hear from you.
And if you have a friend or family member who needs real estate-related advice or is considering buying or selling a home, it means so much to me when I'm referred by my clients. Please don't hesitate to call or text me at [XXX-XXX-XXXX].
Best regards,
[Signature and headshot]
[Phone number/email address]
[Links to website, social media, etc.]
A customer relationship management (CRM) system assists in maintaining connections with former clients and lets agents send their real estate email campaign templates directly through the platform. A CRM is particularly helpful when it comes to remembering and acknowledging important dates for former clients. LionDesk is a CRM platform designed specifically for real estate professionals. Its automation tools allow for personalized follow-up emails with their database segmentation. Additionally, it offers tracking and analytics to monitor campaign performance and lead activity.
6. Open House Follow-up Email
The open house follow-up email is crucial in maintaining momentum after an open house event. Emails should be sent within 24 to 48 hours after the event while the property is still fresh in the prospective client's mind. Personalize your message by referencing specific discussions or observations from the event, answering any pending queries, and providing additional details about the property not covered during the visit. A quick and personalized follow-up can distinguish you from other agents and significantly increase the chances of a prospect becoming a buyer.
Subject: Thank you for stopping by and visiting (open house address)
Dear [potential buyer],
It was nice meeting you [and your family, if applicable] over the weekend at the [open house address] open house. I wanted to touch base with you to answer any additional questions, hear your feedback, and expedite any requests you may have.
I'd love to learn more about what you're looking for in a home. If you need something slightly different, I have a few similar properties that might be a better fit.
Please feel free to contact me here or at [phone number] if you'd like to go see other homes or have questions about [street name].
Thank you!
[Signature and headshot]
[Phone number/email address]
[Links to website, social media, etc.]
For more open house tips, visit the following articles:
7. Real Estate Email Marketing Template for 'After a Showing'
The "After a Showing" email should be delivered promptly after a private property viewing. Use this opportunity to address any concerns or questions that arose during the showing and highlight the property's attractive features. Use this email to also reiterate how it aligns with the prospect's preferences. Agents who include details specific to the prospect's reaction or questions during the showing can demonstrate your attentiveness and commitment to their needs. This can help an agent strengthen a prospective client's interest and begin to build a trusting relationship.
Subject: What are your thoughts about [property address]?
Hi [first name],
I'm [your first name], the listing agent for [address]. How was your showing earlier today?
I'd love to hear your honest thoughts about the property. You have your own unique needs and perspective, and I can't tell you how valuable it is to hear both positive and negative feedback about the actual property or even the online listing and information.
If you're thinking of submitting an offer, give me a heads-up here so I can be ready for it and prevent any delays.
You probably have a lot on your mind, but any thoughts you can send over would be enormously valuable to me.
Thanks for your time!
[Signature and headshot]
[Phone number/email address]
[Links to website, social media, etc.]
One of the main features of Top Producer is the ability to create personalized and automated follow-up email templates for real estate agents. After a showing, an agent can quickly select and customize a professionally designed template, adding personal notes or details specific to the client's feedback during the showing. Its tracking features allow you to see when your emails are opened or clicked, helping you understand your clients' interests and engagement. The platform makes it easy for real estate agents to maintain engagement with potential buyers and increase the chances of a successful sale.
8. Online Inquiry Email Template
When you receive an online inquiry through your website or real estate listings, speed and precision are crucial to creating an opportunity with the lead. An online inquiry email should be sent immediately in response to the inquiry. The speed of response demonstrates your commitment to providing customer service and making prospective clients feel like they are a priority.
Make sure your response is comprehensive and addresses their question or concern directly. Offer additional information and resources that could assist them in their decision-making process. A quick and informative response can leave a positive impression turning an inquiring lead into a committed client.
Subject: What are your questions about [property address]?
Hello [first name]!
I'm [your name], and I just got your inquiry about [property address or information title].
House hunting is so exciting! It can be overwhelming too, but with the right strategy, we can find the right home for you without unnecessary stress.
First, are you itching to schedule a tour for this property, or do you have some questions first? I'm here to help with whatever you need!
You can reach me through this email address or by calling/texting me at [XXX-XXX-XXXX].
Talk to you soon!
[Signature and headshot]
[Phone number/email address]
[Links to website, social media, etc.]
Pro tip: Keep in mind that showing visitors have not subscribed to your email or contact list, so it's illegal to start sending them marketing emails. You can add them to your contact list for future reference, but be careful that you remain compliant with the rules in the CAN-SPAM Act.
9. Obtaining Rental Leads Email
Using a rental leads email template serves as a tool for real estate agents to secure potential renter leads. This template offers a standardized structure for opening up the communication lines with prospective rental leads and provides room for more personalization. It allows agents to introduce themselves professionally, express their understanding of the potential renter's needs, and showcase their willingness to assist in finding the perfect rental property.
Agents can add personalization or more information about the listing a renter inquired about, additional neighborhood information, or enticing offers and deals that agents can offer their exclusive clients.
Subject: Thinking about [City/Neighborhood]? Let's find your perfect rental!
Hello [first name],
I'm [your name], your local real estate expert. I understand that searching for the ideal rental property in [City/Neighborhood] can be a challenging process, and that's why I'm here to help.
Finding a place that meets your needs in terms of location, amenities, price, and comfort is my top priority. I would love to learn more about what you're looking for in a rental property.
Feel free to respond to this email or reach me directly at [XXX-XXX-XXXX] to discuss your needs or any questions you might have.
Looking forward to helping you find your perfect rental home!
[Signature and headshot]
[Phone number/email address]
[Links to website, social media, etc.]
10. New Listing Email
Sending information about new listings can showcase your inventory and entice clients to reach out about your services. Agents can use this email to highlight key property features, incorporate high-quality images, and provide essential details like price and location, etc. It allows agents to stir interest and excitement about a new property on the market, which can lead to quicker responses, more inquiries, and potentially faster sales. Using a template can also save an agent valuable time by standardizing the process of announcing new listings and creating brand awareness so prospective clients can associate your template with your services.
Subject: Just listed: your dream home at [listing address]
Hello [first name],
I'm thrilled to introduce a stunning new property that's just hit the market in [City/Neighborhood]! [Briefly describe the property, e.g., This 3-bedroom, 2-bath home combines modern amenities with classic charm.]
To learn more about this exciting listing, you can visit [link to the property], or let's schedule a tour at your earliest convenience to experience it firsthand.
Feel free to reach out to me at [XXX-XXX-XXXX] or respond to this email if you have any questions or if you're interested in viewing the property.
Don't miss out on this opportunity to find your dream home!
[Signature and headshot]
[Phone number/email address]
[Links to website, social media, etc.]
Market Leader offers real estate-focused CRM and marketing solutions. Its email marketing features include a library of customizable real estate email marketing templates, automatic responders, and drip email campaigns. Its tracking and analytics tools help you monitor who opens your emails and who interacts with the provided links. These informative reports allow agents to refine their strategy and focus on engaged leads. Market Leader also provides branded content that enables you to send relevant real estate news to your contacts.
11. Review Request Email
Having a higher review count in addition to positive reviews about your services can strengthen an agent's reputation. Sending a review request email lets agents courteously and professionally solicit feedback from past clients. Reviews gathered from this process serve as an illustration of an agent's expertise, reliability, and customer service ability to potential clients. These reviews also offer constructive insights that can guide agents in refining their services and making them more responsive to clients' needs.
Subject: How was your experience with [Your Name or Your Company]?
Hello [first name],
I hope you are settling in well into your new home! It was an absolute pleasure assisting you throughout your real estate journey.
As I strive to provide the best service to my clients, I would greatly appreciate it if you could take a few minutes to share your experience. Your feedback not only helps me improve, but it also helps other potential clients in their decision-making process.
You can leave your review on [link to review platform] or simply reply to this email.
Thank you in advance for your time and for choosing [Your Name/Your Company] for your real estate needs.
[Signature and headshot]
[Phone number/email address]
[Links to website, social media, etc.]
Real Estate Email Marketing Statistics
Email marketing statistics indicate the effectiveness of email marketing and why real estate agents need to incorporate it into their marketing strategy. The statistics offer valuable insights to provide a snapshot of what's working and where opportunities for business growth lie. They can help real estate agents pinpoint the types of content that resonate with audiences, the ideal frequency of communication, and the best times to send emails.
Some important email marketing statistics to be aware of:
These email marketing statistics provide a compelling case for the importance and effectiveness of email marketing. Agents should take into account these insights to help optimize your email marketing efforts and ensure you are reaching the right people at the right time.
Resources for Email Marketing & Templates
Email marketing software not only automates sending emails but also provides tools to help design engaging emails, segment your audience, track your performance metrics, and much more. The right platform can streamline your marketing efforts, enabling you to send real estate marketing email templates to reach your clients with targeted messages at the right time.
Here are some of the top email marketing software tools for real estate agents:
| Software | | | | |
| --- | --- | --- | --- | --- |
| Best For | A free plan for basics needs | Landing page forms for lead generation | Many integration capabilities | Campaigns for e-commerce |
| Key Features | Free | $9.99 per month | Free | $49 per month |
| Starting Price | | | | |
Bottom Line
Real estate agents who utilize email marketing can create an effective marketing strategy that helps them reach a broad audience, nurture relationships, and ultimately drive lead generation. The proven effectiveness of personalized emails makes it clear that email marketing continues to be a crucial tool for real estate professionals. Using the provided real estate email marketing templates can help agents quickly process emails to capture prospective client attention at the appropriate time.
Frequently Asked Questions (FAQs)
You can start with your existing clients and network. Before sending emails to your list of contacts, make sure you have their permission to send them emails. Then, you can grow your list by offering valuable resources on your website in exchange for email addresses like market reports, e-books, or access to exclusive listings.
---
Email marketing is an effective and cost-efficient way to keep in touch with past, current, and potential clients. It helps build and maintain relationships, showcase listings, share market information, and stay top of mind when clients are ready to buy or sell.
---
The frequency of emails can depend on the nature of your content and your audience's preferences. Although you want to stay present in their minds, it's important not to overwhelm them with too many emails, or else they will have the opposite effect. A weekly or bi-weekly newsletter could be a good starting point, and then you can gauge their engagement.
---