Roofstock Review: Is It Right for Your Real Estate Business?
Roofstock is an online real estate investment marketplace ideal for investors who want to diversify their portfolio with turnkey single-family rentals (SFRs). Its team of property managers handles the day-to-day operations of your rental homes. Customers like how it simplifies SFR investing and provides tools that ensure their rental property investments are performing well. In this Roofstock review, we evaluate its features, investment opportunities, associated fees, and customer feedback.

What We Like
Roofstock is available in 27 states, which is a larger footprint compared to other turnkey real estate investment companies
Team of professional property managers
Integrated financing solution for easier financing
Data analytics and rental property optimizing tools
What's Missing
No Roofstock mobile app
Roofstock One not available for non-accredited investors
Money-back guarantee and Vacancy Protection do not cover all Roofstock properties
Recommended For:
Property investors looking for remote real estate investing opportunities and hands-off property management
High-volume and institutional investors looking to buy, manage, or sell single-family rentals
Investors looking for self-directed individual retirement accounts (IRAs) and 1031 tax-deferred exchanges
Turnkey providers or fix-and-flippers who want to sell their properties to other investors
Not Recommended For:
Non-accredited investors who want automated and passive investment options
Investors looking to expand their portfolio in commercial real estate
International investors who want to invest in Roofstock One
Non-accredited investors who don't have a lot of capital to buy SFRs
Pricing
List on the Marketplace: Free
Sell a property: 3.0% of the sale price or $2,500, whichever is higher
Buy a property: $0.5% of the contract price or $500, whichever is higher
Roofstock One: minimum investment of $5,000
Other Articles Featuring Features
Markets Where Roofstock Is Available
Although Roofstock is not available in every state, it has the most availability compared to other turnkey real estate investment companies. Search for investment properties in the following states:
Alabama
Arizona
Arkansas
California
Delaware
Florida
Georgia
Illinois
Indiana
Kansas
Kentucky
Michigan
Minnesota
Mississippi
Missouri
Nevada
New Jersey
New York
North Carolina
Ohio
Oklahoma
Pennsylvania
South Carolina
Tennessee
Texas
Virginia
Wisconsin
Roofstock Reviews: What Users Think
As of this writing, there aren't many customer review ratings for Roofstock from third-party sites. But if you're wondering, "is Roofstock legit?" here are some Roofstock reviews we gathered online:
One buyer was satisfied with Roofstock's various investment opportunities and professional team who assisted him in the entire process of buying a rental. Roofstock also provided him with a "roadmap" to invest safely and remotely outside his state. A seller liked Roofstock as it allowed him to market his residential asset to other property investors. Lastly, one 1031 exchange customer said he was able to double his returns by investing in Roofstock's rentals.
Trustpilot: 3.2 out of 5 stars based on three Roofstock.com reviews
We found a few negative Roofstock reviews on Trustpilot. One user said that although the platform is "OK," Roofstock's services are "pretty expensive." One customer complained about poor customer service, saying "agent won't answer" when contacting them. While Roofstock has one of the largest footprints in terms of turnkey rental investments, you can check other alternatives like Norada Real Estate Investments for extensive customer service and fast responses to inquiries.
Would the Expert Use Roofstock?
We highly recommend Roofstock to those looking to invest in SFRs and other residential investments, especially newbies who want to get their feet wet with low to moderate-risk investments. Regardless of your risk capacity, you can find different real estate investment options. Furthermore, Roofstock's robust features and experienced team can help you maximize your potential returns and protect your investments.
However, just like most real estate investments, investing in Roofstock may require a great deal of capital. If you want to earn rental income, you need to buy a property, priced at a minimum of $25,000. That said, Roofstock may not be the best option for non-accredited and retail investors with low investment capital.
Roofstock mainly focuses on SFRs and residential properties. If you're looking for more diversity, we recommend checking Howard Hanna Real Estate Services. What we like about Howard Hanna Real Estate Services is its variety of properties you can buy, including single-family homes, multifamily, duplex, commercial properties, and even raw land. The company also offers hands-off property management.
Roofstock Alternatives
If you want to explore investment options other than Roofstock, check out alternative turnkey real estate investment companies and compare their features and pricing. Here are a few of the best alternate options:
Software

Best For

Investors who prefer a market-agnostic investing approach

Investors who want to buy and sell high-end properties

Analytics-driven investors who want access to the neighborhood investment rating (NIR) system

Individual investors who want end-to-end turnkey solutions

Key Features

Available in 16 states
Rent guarantee
Private lending program and mortgage financing
DealGrader scoring system

Available in 11 states
Mortgage, title, and escrow services
Free market analysis
Auction program

Available in 8 states
Neighborhood and property analysis
Free rental property return calculator
Downloadable real estate investment guides

Available in 6 states
Comprehensive property management platform
Lease-up guarantee
Vacancy Prevention Assistance Program

Property Starting Price

$92,000

$20,000

$70,000

$190,000

(average price)

Learn More
Roofstock Pricing
As a turnkey real estate investment company, Roofstock doesn't offer subscription plans. Depending on what you want to do on the platform, you will be charged specific fees. Refer to the table below to determine how much you will pay to sell, buy, or invest in Roofstock:
| | List a Property | Buy | Sell | Hands-off Management | Roofstock One |
| --- | --- | --- | --- | --- | --- |
| Who Service Is Best For | Sellers who want to market their homes to property investors | Property investors who want to diversify into SFR investing | Turnkey providers and flip-and-flippers looking to sell their properties | Property owners who want to earn rental income without directly managing the property | Investors looking for passive and low-risk stock investments |
| Related Fees | Free | 0.5% of the contract price or $500, whichever is higher | 3.0% of the sale price or $2,500, whichever is greater | Varies depending on the property manager; contact Roofstock for more info | $5,000 minimum investment and at least $100 at a time thereafter |
Roofstock property managers charge property owners several fees for managing and maintaining SFRs. Pricing varies depending on the service provider, but often includes the following:
Setup fee
Management fee
Leasing fee
Leasing-renewal fee
Maintenance fees
Eviction fees
General Roofstock Features
Single-family rentals
Multiple real estate investment options
Roofstock Marketplace and Roofstock One
Calculators, data analytics, and property optimizers
If you're wondering "what is Roofstock?" it's a real estate investment platform that allows you to invest in turnkey properties, particularly in single-family rentals (SFRs). There are several ways to invest through Roofstock:
Sell your rental property on the Roofstock Marketplace
Buy a rental property and have it managed by Roofstock
Invest in Tracking and Common Stocks through Roofstock One for passive income.
Roofstock ensures your rental investment portfolio is profitable and efficient. Thus, it provides investors with multiple tools, including data analytics like Neighborhood Rating and Roofsavvy as well as calculators. Roofstock also offers a money-back guarantee and Vacancy Protection for eligible properties, providing enough time for properties to start generating rental income.
Buy residential assets
SFRs, portfolios, and short-term rentals available
Shop with an agent
Roofstock Marketplace allows individual and large-scale investors to buy, sell, and remotely manage real estate investments. You can directly own SFRs, small multifamily buildings, short-term vacation rentals, and large portfolios of residential assets. To get professional assistance growing your investment portfolio, Roofstock can connect you with a member of their Certified Agent Network.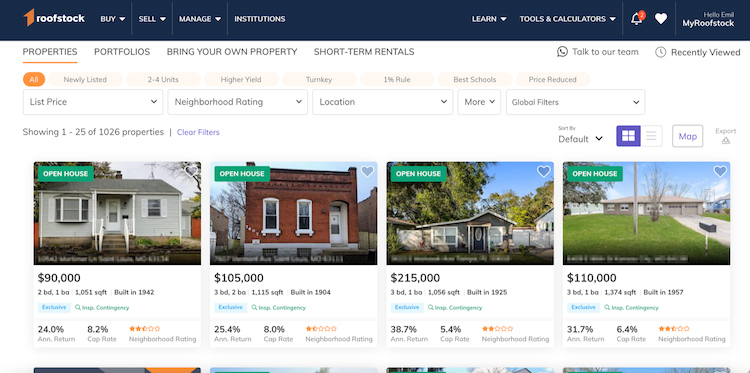 ---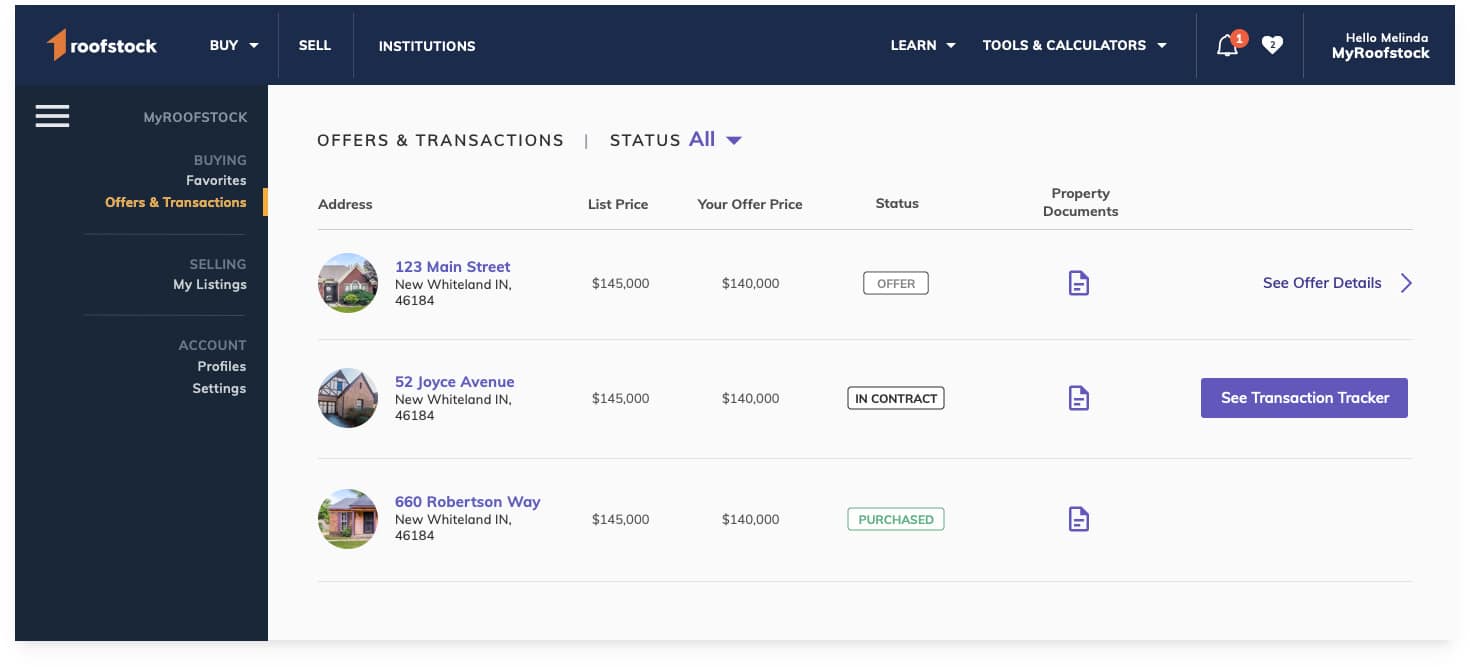 ---
Buying properties on the Roofstock Marketplace is a traditional form of home ownership. What makes it efficient is its streamlined and less costly process of buying a property, obtaining financing, and finding a property manager. To determine the profitability of a listing, you can receive a complete forecast of the potential return and rental revenue on any SFR using Roofstock's Cloudhouse Rental Calculator.
Once you purchase on the Roofstock Marketplace, you hold the direct title to the property. You are also responsible for its management, leasing, and upkeep, either directly or through a property manager.
---
Remote property management and rental income
SFRs managed by professional property managers
Optimize properties using Stessa and Great Jones
What makes the Roofstock Marketplace a considerable investment option is the hands-off property management it offers to rental owners. First, you have to buy a rental property directly from a seller on the Marketplace, with Roofstock as the transaction facilitator. All transactions are securely done online, so you can finalize deals from anywhere. Some rental properties are certified and come with a 30-day money-back guarantee to make sure you're satisfied with your investment.
After closing, Roofstock will set you up with property managers who will take care of the rental's daily operations. From there, you can earn rental income and gain continuous support from Roofstock. Note that as the property owner, you still have responsibilities like insurance, taxes, reserve fund, compensation for services rendered, utilities, and homeowners association (HOA) fees whenever applicable. Make sure to read and understand your property management agreement with Roofstock.
To track and optimize your rental properties, Roofstock utilizes Stessa for simplified money management and Great Jones for tech-forward property management.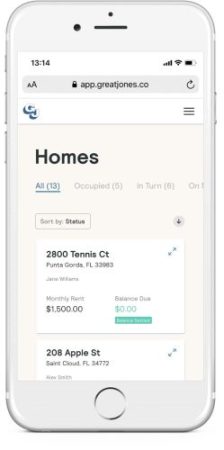 ---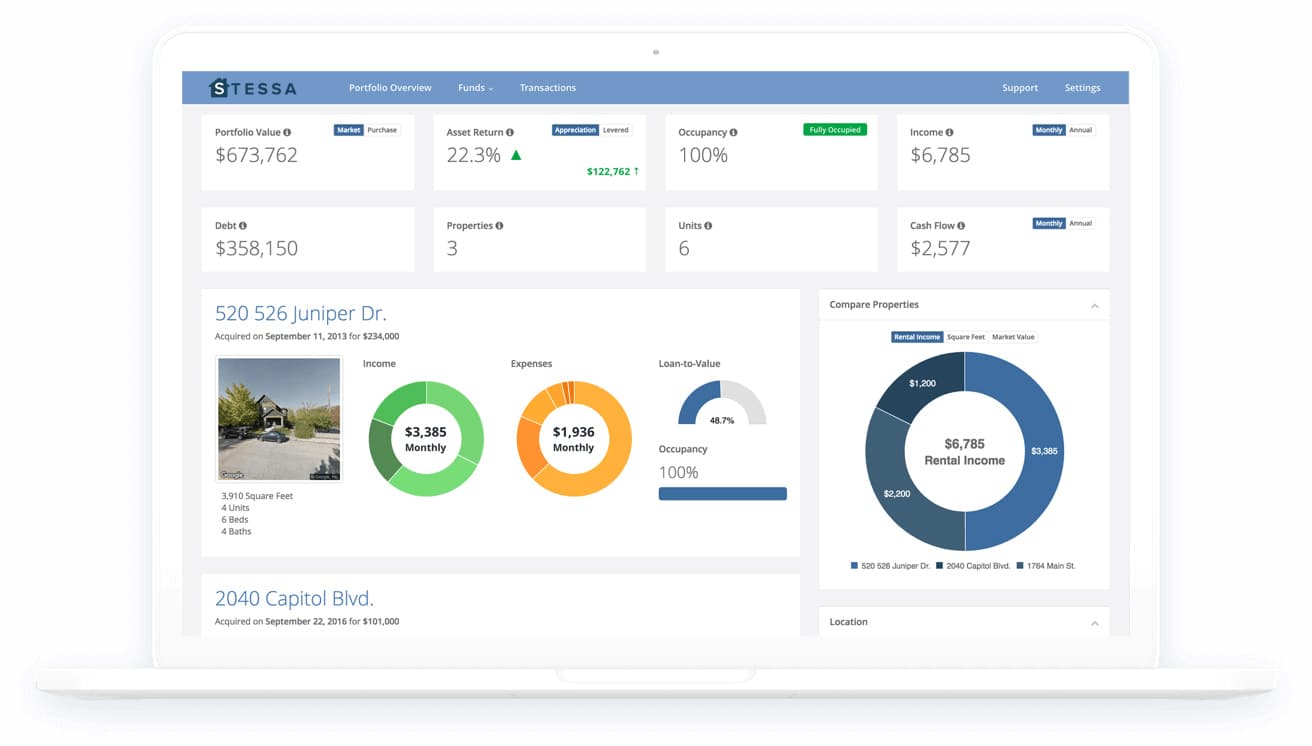 ---
---
Sell rental properties on the Marketplace
Roofstock Offers
Extensive network of buyers
If you're a property owner looking to sell a rental, list it on the Roofstock Marketplace and promote it to an extensive network of buyers looking for SFRs. When you sell a property, Roofstock will act as your exclusive broker. Nevertheless, you still gain complete control over the entire sale process and can set the price, as well as accept, negotiate, and reject offers.
With Roofstock Offers, you can sell your qualified rental properties for cash and close in as quickly as 10 days. This frees you from the complicated process of traditional homeselling—no more home staging or viewings.
---
SFR rating index
Provides neighborhood insights
Powered by a proprietary algorithm
Roofstock's Neighborhood Rating is an SFR rating index for neighborhoods located in the U.S. The index lets property buyers and sellers determine how well a neighborhood is performing investment-wise. If you're a buyer, you can check a property's Neighborhood score and compare it with similar properties. For sellers, the Neighborhood Rating will help you assess the property's saleability so you could make some improvements and curb its market value, if necessary.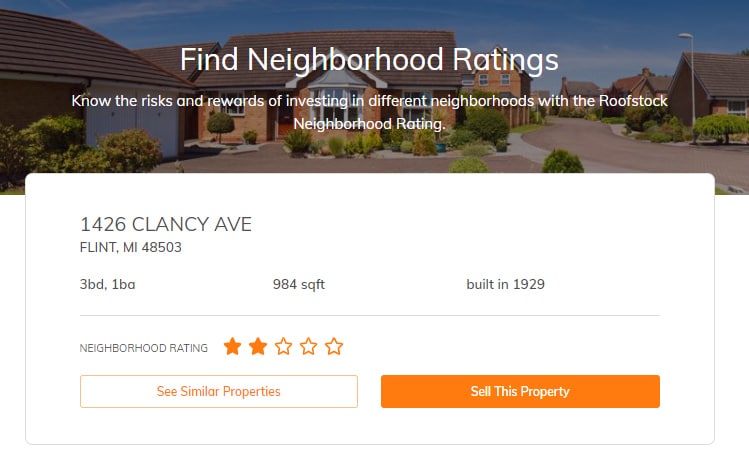 ---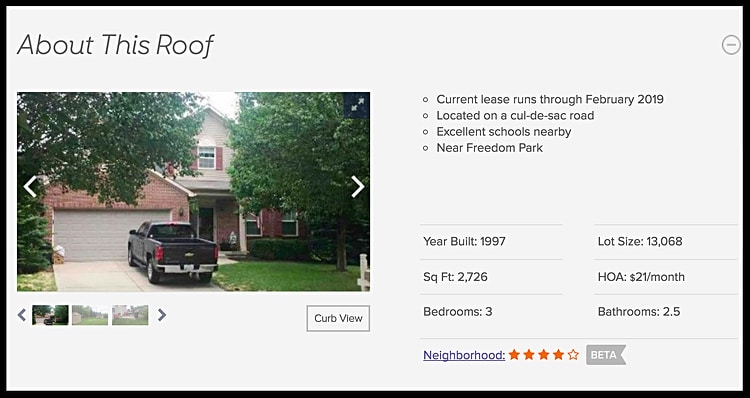 ---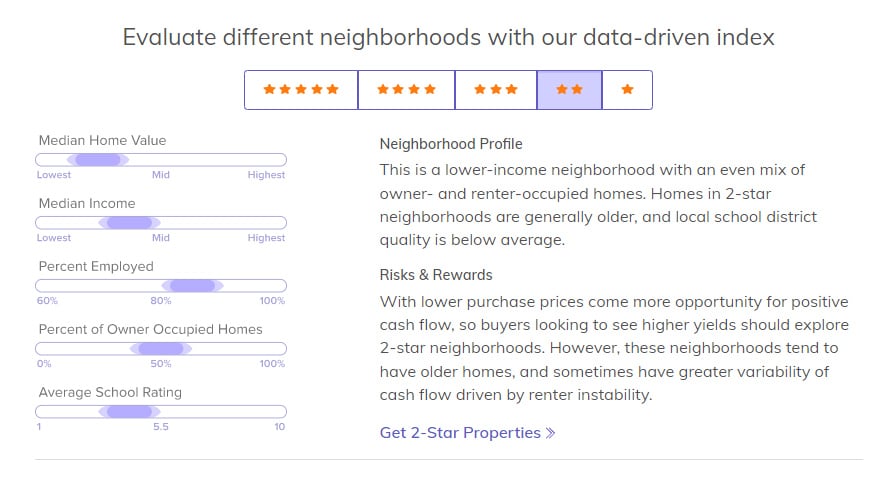 ---
Neighborhood Rating utilizes a proprietary algorithm computed at the census tract level to assess neighborhood-specific risks and benefits. Several factors are considered when running a Neighborhood score. These include school district quality, employment rates, home values, income levels, educational attainment, crime rates, and percent of owner-occupied homes.
---
Covers 75% of the rent for six months
Only rent-ready SFRs purchased on the Marketplace are eligible
Property should be managed by Roofstock preferred property managers
If you buy an SFR on the Marketplace that is vacant at closing, Roofstock offers Vacancy Protection for up to six months. To be eligible, you must work with a Roofstock preferred property manager, and your property must be rent-ready. The Vacancy Protection covers the rent on your home for a specific period. If you get no signed tenants within 45 days, Roofstock will pay you 75% of the predetermined market rent for six months or until a tenant signs a lease, whichever comes first.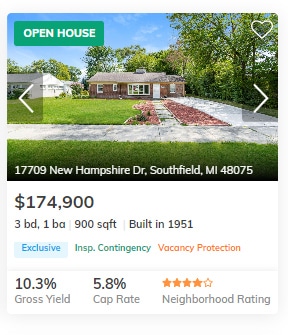 ---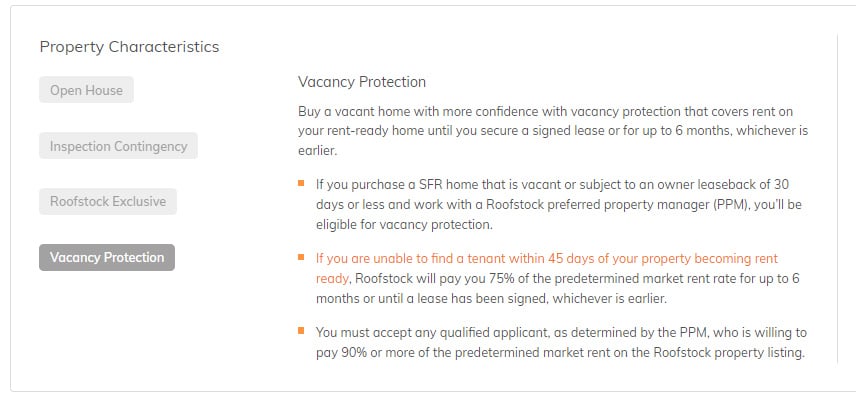 ---
---
Valid for 30 days from the closing date
Certified SFRs purchased on the Roofstock Marketplace are eligible
Refunds are based on the original price at closing
Roofstock provides a 30-day money-back guarantee for certified single-family homes that buyers are unsatisfied with. If your property is eligible, you need to send an email within 30 days from the closing date to start the process. Roofstock will then re-list your property for free on the Marketplace and other channels. When someone buys the property, Roofstock will give you a refund of the original price at closing. In case the property doesn't sell in 180 days, Roofstock will buy the property from you.
Note that Roofstock portfolios, short-term rentals, VIP programs, and multifamily properties are not eligible for the money-back guarantee.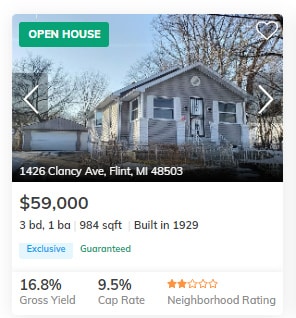 ---

---
---
Rental property optimizer
Property performance and monthly income breakdown tracking
Free mobile app available on iOS
To make sure your investment properties and portfolio are performing well in the market, Roofsavvy provides data analytics that helps investors monitor, analyze, and plan their investment strategies. Roofsavvy gathers current data of all your rental homes, which you can easily view on the dashboard. Review your rental income breakdown in proportion to your expenses, mortgage, and net cash.
Investors can access all property information and performance aspects, including past/current data, closing documentation, and contact details. Once a tenant pays rent, you will also get notified. Further, Roofsavvy sends you updates and reminders of upcoming events and related market trends, so you don't miss anything. Download Roofsavvy on any iOS device, perfect for investors who are always on the go.
Note that Roofsavvy is only accessible to investors who purchase Roofstock properties and partner with a preferred property manager.
---
Financing calculator
Set your own financing terms
Get pre-approved from lending partner
If you don't have enough cash to pay the entire sale price, apply for pre-approval from Roofstock's lending partners. All you need to do is select a third-party lender listed on Roofstock, apply for pre-approval, select a property in your budget, and submit your pre-approval letter.

---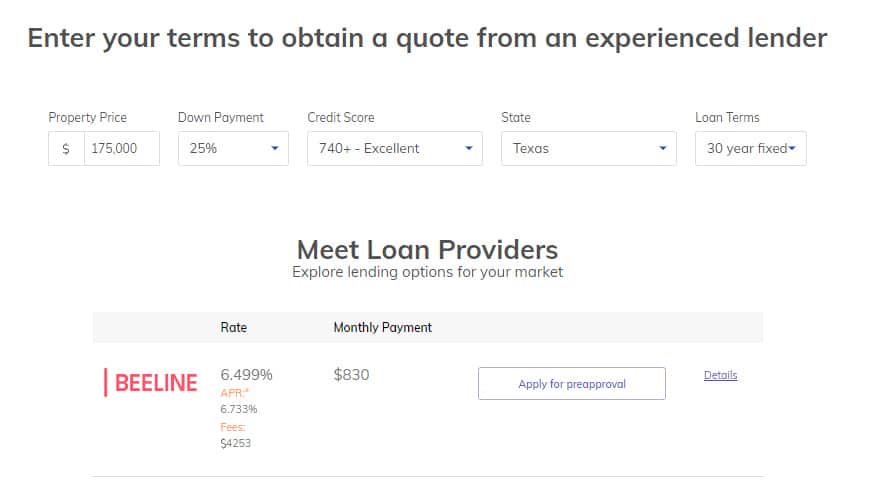 ---
Obtain a quote by using the Financing Calculator, which lets you determine possible mortgage rates and monthly payments based on your terms. Input the property price, down payment, credit score, state, and loan terms into the calculator to view available financing options. You can opt to connect with a lending partner and apply for a loan or simply contact your own lender if you prefer.
---
Passive real estate investment option
Targeted portfolio of Roofstock One Tracking Stocks
Broad diversification through Roofstock One Common Stock
Available to accredited investors only
Roofstock One provides an innovative rental investment platform for investors looking for a passive income stream. With a minimum investment of $5,000, you can start trading Roofstock's property shares. This is a sound alternative to direct ownership, especially since Roofstock's property managers will do the legwork to ensure all the properties in your portfolio are performing well.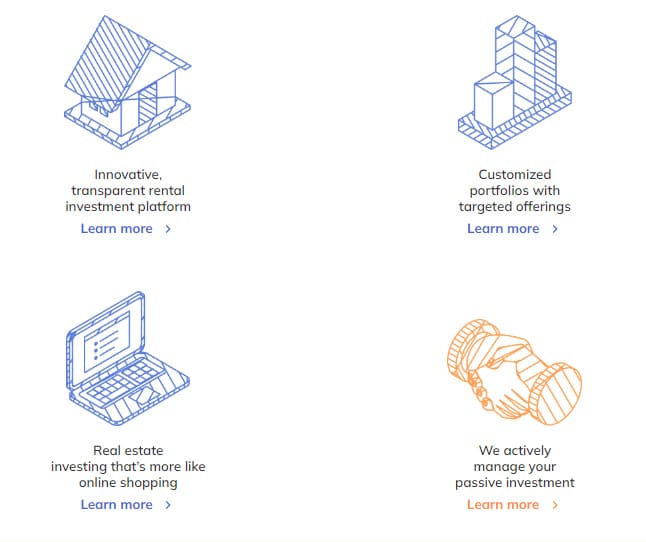 ---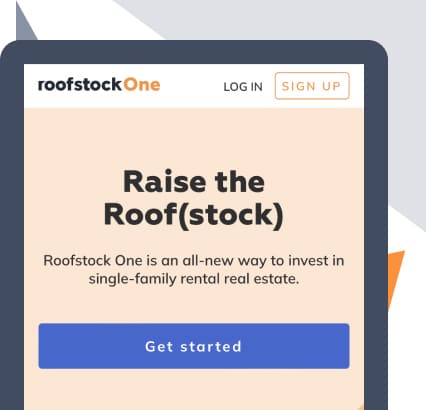 ---
Using Roofstock One's software, customize your portfolio based on the cities or states you want to invest in. More importantly, you can readily track the economic performance of rental properties in your portfolio. You will then receive distributions based on the rental yields. Tax filing is also simplified with the 1099-DIV form.
To participate in Roofstock One, you need to be an accredited investor as defined in Rule 501 of Regulation D under the Securities Act of 1933. Usually, these are financial companies and high-earning individuals qualified to invest in complex and sophisticated types of securities.
Here are the types of stocks and investment options available on Roofstock One:
Tracking Stock: SFR real estate investment trust (REIT) providing exposure to multiple properties
Common Stocks: A broad-based and diversified investment opportunity
Self-directed individual retirement account (SDIRA) investing: Buy Common Stocks to diversify retirement investments
1031 Exchange: Defer all capital gains taxes by reinvesting the proceeds in a new property or portfolio
To get more real estate investment tips, you can visit Roofstock's Blog page and Knowledge Center, which are growing repositories of information for buyers, sellers, owners, and investors.
---
Self-study and 1:1 workshops
Members-only Q&A sessions
Access to an online investor community
To help you grow your investment portfolio, Roofstock Academy offers courses that discuss the different phases of real estate investing. Roofstock Academy offers several programs to suit every member's unique learning style, schedule, and budget. If you prefer a self-study format, combine on-demand courses with exclusive events and members-only Q&A sessions. To speed up your learning, choose one-on-one coaching with an expert and get access to Roofstock Academy's online investor community.
According to a Roofstock Academy review, the courses are helpful to beginner and intermediate investors who want to learn the fundamentals of real estate investing. Furthermore, Roofstock Academy does not just discuss successful investments, but also investment mistakes and how to avoid them.
---
Phone and email support for general inquiries
Different teams for different types of inquiries
Continuous support for Roofstock rental owners
If you have general questions, contact Roofstock's customer support via phone and email. If you're planning to buy a rental property, schedule a call, and a Roofstock representative will connect with you for more details. Roofstock also has Seller Support for serious owners who want to sell on the Roofstock Marketplace.
If you're a real estate agent who wants to work with Roofstock's clients, reach out to Agent Support. For rental property owners on Roofstock, you will be connected to property managers who oversee your properties and assist you if you have questions or other concerns.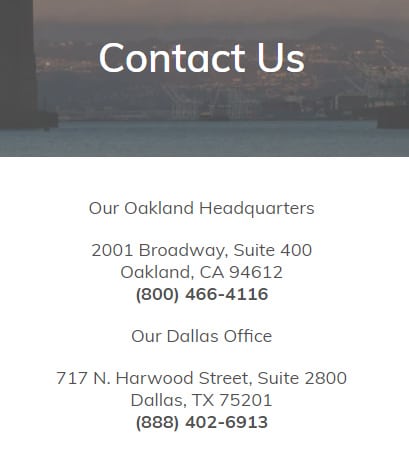 ---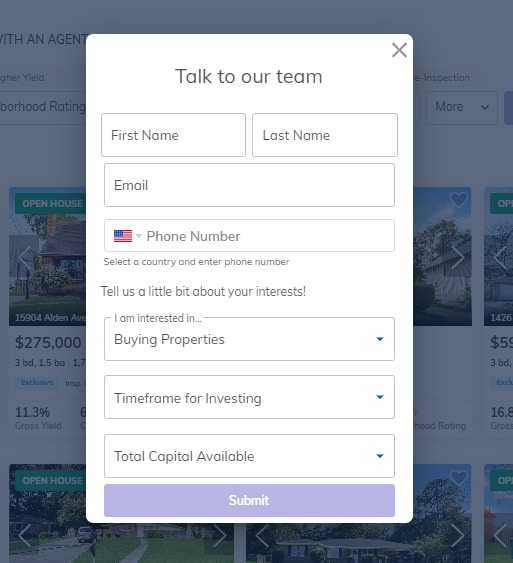 ---
---
Ease of Use
MyRoofstock account
Simplified rental buying and selling process
Complex website
So, how does Roofstock work? It's fairly straightforward. To sign up for a free account, add your email address and create a password. Fill in your personal information afterward and build your investor profile (you can skip the last step). Once your account is set up, start browsing properties, portfolios, and short-term rentals on the Roofstock Marketplace.
Buying a Roofstock property is done 100% online—just search for a property, analyze its investment potential, check out, and close. If you want to sell your property, you will have to sign a listing agreement, publish your listing on the Marketplace, negotiate, accept, or reject offers, and close the transaction.
The MyRoofstock dashboard helps investors customize their buying and selling experience. With MyRoofstock, buyers can easily save their favorite properties, monitor property status and pricing changes, and view the certification status of a listing. Sellers can edit their listings, respond to offers, make counter offers, and manage documents on their MyRoofstock dashboard. Users can also quickly access the Cloudhouse Rental and Financing Calculators on the dashboard.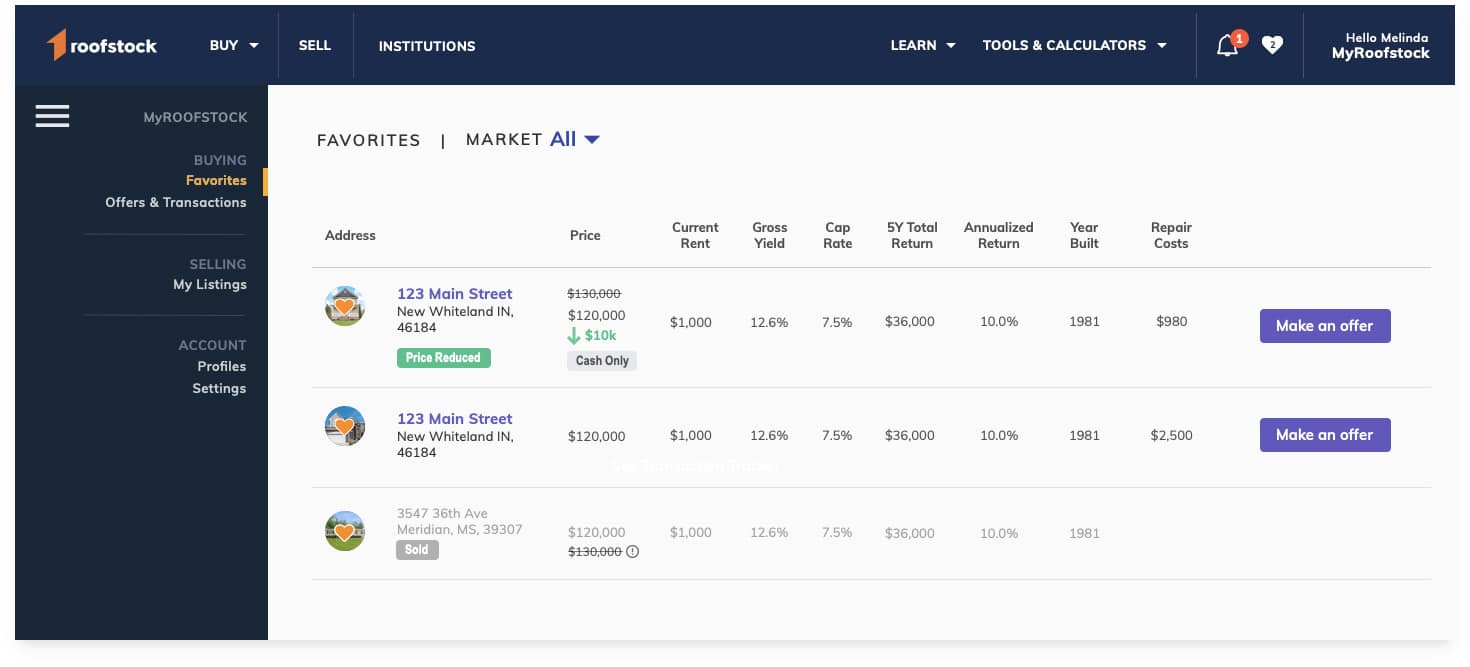 ---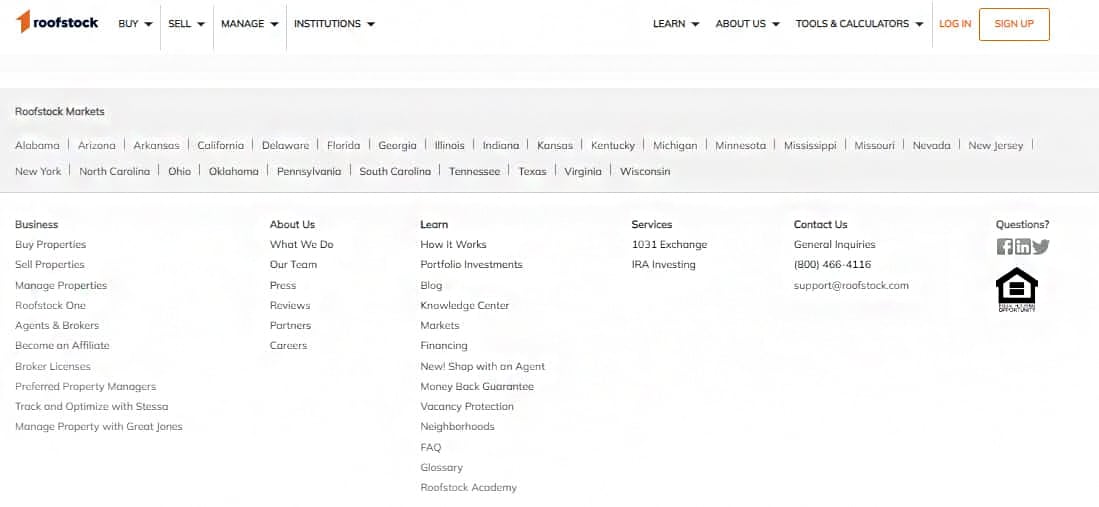 ---
If you're new to Roofstock's website, you might get overwhelmed by loads of information presented on the Homepage. Since Roofstock offers multiple features and services, navigating the website might take time to find information about a feature. Nevertheless, you can easily jump to certain pages through the links on the top navigation bar and website footer.
Bottom Line
Roofstock is an online real estate investment company that provides several options for investors looking to diversify their portfolio with SFRs. Based on this Roofstock review, customers liked how Roofstock simplifies rental investing—from buying or selling a turnkey property to remotely managing a property and earning passive income by investing in property shares.
So, is Roofstock worth it? While Roofstock can be expensive for retail and non-accredited investors, it's a sound alternative to hands-on property management and traditional homebuying and homeselling.