How to Find Investment Properties for Sale in 5 Ways
Successful real estate investors use multiple methods of generating property leads, which include using online listing sites, networking with other investors and other members of the community, working with real estate professionals, and marketing directly to homesellers. In this article, we've identified the five most effective strategies on how to find investment properties for sale, along with a list of platforms for investors to use.
1. Online Listing Websites
When you're considering how to find investment properties for sale, the most convenient method is using online listing websites. There are many different types of listing websites for buyers and investors, and some platforms provide extensive information necessary for investors.
In many cases, this is the best way for new investors to find investment properties because you can start researching and making offers right away. However, it is also the most common way for both investors and homebuyers to search for properties, so you'll encounter the most competition.
PROS

CONS

Online sites are easy to use
High level of competition for properties
Provide an extensive amount of property, financial, and market data
Competition drives sale prices up
Easy to contact the homeowner or seller
Some listings sites require a membership
Best for: Investors who want to search through the highest number of residential listings with detailed search filters
With 36 million monthly visits, Zillow is the most popular online real estate listing site for residential properties. It's an ideal resource for finding investment properties and evaluating prices of current and recently sold listings. While you build your investment portfolio, the extensive market data available on Zillow will help you learn more about property values, in-demand home features, and the state of the local real estate market.
It also provides more intensive filtering options and keyword searches than other listing sites along. You can save searches and get notified as soon as new properties with your search criteria are published. As you learn how to find investment properties for sale, Zillow will be a crucial tool for your growing business. Start using it for free today.
---
Best for: Listings and market estimations with the most accurate information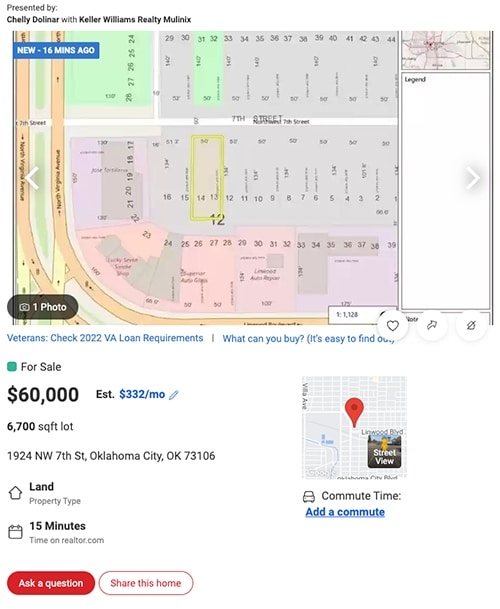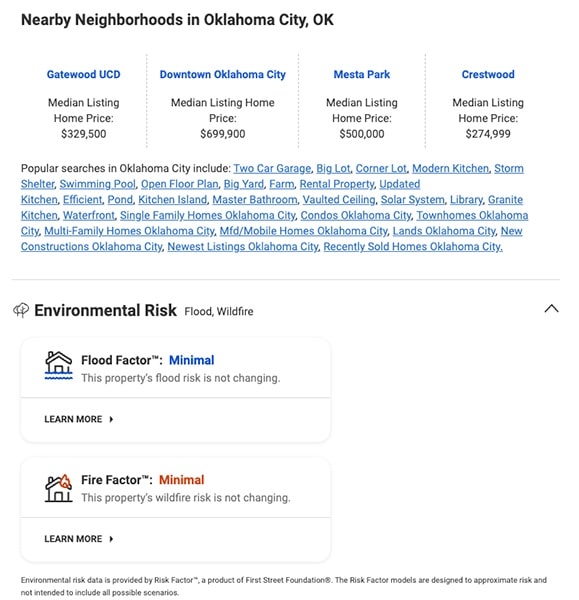 ---
Realtor.com is a national online service that lists residential property details through associations with over 580 MLS (multiple listing service) databases, making its property data more accurate than most other listing sites. It includes properties for sale and for rent, and you can search locations by state, county, and specific cities and towns.
It provides some of the most detailed and insightful information on neighborhood home and rental values, which you can see above on this Oklahoma City home. The median home listing price is provided for multiple local areas like Gatewood, downtown Oklahoma City, and Mesta Park. These details make Realtor.com ideal for investors learning how to find rental properties to buy.
With Realtor.com, search for single-family homes, foreclosures, and multifamily homes like duplexes, triplexes, and fourplexes, and add more specific search criteria like homeowner association (HOA) fees, age of the home, and home features. You can even search for land and instantly view the lot's environmental risk factors and utility connections.
Realtor.com also stands out from other listing sites because of its extensive number of resources available for real estate agents, investors, and homeowners. In the "News and Insights" section, find valuable information about home improvements, financing, and even weekly real estate market updates.
---
Best for: Investors looking to purchase foreclosed or bank-owned homes through online or in-person auctions
Auction.com focuses on the sale of residential bank-owned and foreclosure properties through online and in-person auctions. Listings include extensive details and due diligence information like property information, inspection reports, deed type, title report, agency disclosures, and the purchase agreement. Many listings also include additional documents, like you can see in the example listing above, including REO state rider, Hold Harmless Agreement, and Lead Based Paint Hazard Disclosure.
Auction.com is ideal for real estate investors looking for properties well below market value for fix-and-flip deals, BRRRR (Buy, Rehab, Rent, Refinance, Repeat) strategy, or long-term rentals. It's free to sign up with Auction.com, and you won't pay any money until you start bidding on a property.
---
Best for: Finding off-market properties or For Sale By Owner (FSBO) properties with less competition than other listing sites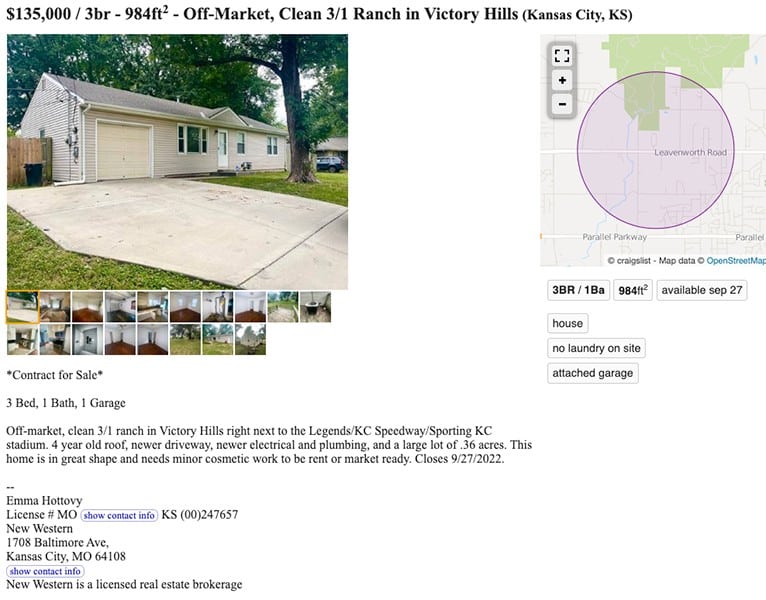 ---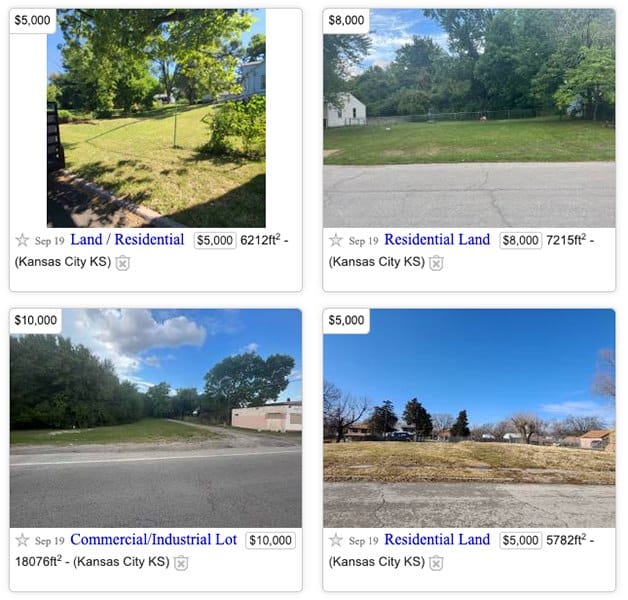 ---
Craigslist is a classified ads website where local residents can list almost anything for sale. Although it's often overlooked as a real estate listing site, it's a great way to find investment properties for sale. Since the "real estate for sale" category is broad, you may find all types of properties for sale on Craigslist, including single-family homes, apartment buildings, commercial lots, FSBOs, and residential land.
Many homeowners will list properties on Craigslist that aren't listed on the MLS or more popular listing sites, also known as "off-market" properties. See an example of this in the above image. Listings like these give buyers less competition and more opportunities to negotiate with sellers. This makes Craigslist an ideal way to find investment properties for sale if you're willing to hit the ground running, do some property repairs, and work individually with homeowners to get a deal.
---
Best for: Investors wanting the most accurate, up-to-date information on homes in preforeclosure, foreclosure, or auction
RealtyTrac is a paid site that provides access to the most comprehensive online database of foreclosed properties for sale. It specializes in selling homes in preforeclosure, foreclosures, auctions, and bank-owned properties, and most information is only available with a membership. However, you can visit the site and preview investment properties for sale.
Even though it requires an upfront payment, there are thousands of foreclosures and bank-owned properties on RealtyTrac that may be difficult to find otherwise. Listings also come with an analysis tool called "Deal-O-Meter," which estimates its potential return on investment. The RealtyTrac membership fee is $49.95 after a seven-day free trial. When you're still learning how to search for investment properties, you may want to start with free listing sites. However, RealtyTrac may be the best choice when you want to increase your production and income.
---
Best for: Real estate investors focused on commercial property listings and relevant data
Loopnet is a commercial real estate database with listings for sale or lease and auctions. It includes a wide range of property types, including office space, retail, industrial, multifamily, restaurants, and shopping centers. Loopnet is also one of the few investment property databases with online auctions, which makes it easy to evaluate property information and strike a deal in a matter of days.
If you're considering buying or leasing commercial real estate, Loopnet is hands-down the best way to find investment properties. It is designed for real estate investors and business owners, and listings include extensive financial information and local market data. There are also many different search filters and criteria like metros, submarkets, and vacancies to help you pinpoint the right investment property for you.
---
Best for: Finding foreclosed properties and getting automatic property value, rental value, and profit estimates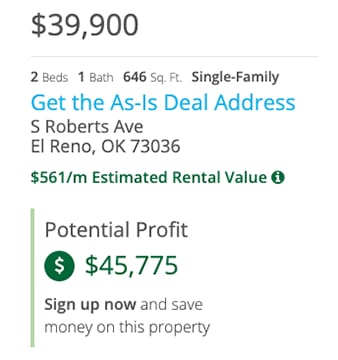 ---
Foreclosure.com, a popular source of distressed property listings, provides information on listings that include foreclosures, preforeclosures, short sales, sheriff sales, bankruptcies, city-owned properties, rent-to-own, tax liens, and fixer-uppers. It gets property data from foreclosing lenders, government agencies, and a network of corporate sellers, so you can find new investment property listings as soon as possible.
Foreclosure.com also uniquely provides estimates on property value with improvements, rental values, and potential profits on each listing. However, you must have a membership to access property, financial, and market data, which costs $39.80 per month. This may be a valuable strategy as you learn how to find investment properties since it minimizes competition and simplifies financial calculations.
---
Best for: Investors wanting in-depth property and ownership data and research tools
PropertyShark is a real estate research tool and listing platform for both commercial and residential property information. It is ideal for investors in the New York City area. However, it's expanded to cover 46 states and includes information on preforeclosures, foreclosures, current properties for sale, and recently sold properties. It also provides property development and ownership histories, property characteristics, sales history, current property values, zoning regulations, and air rights.
In addition, having a PropertyShark membership provides access to more tools and automatically generated reports. For example, investors can purchase a comparable report, real estate leads and property lists, and a map view of current listings and recently sold investment properties. In combination, these tools and reports can save you hours of research on each potential property. Membership fees range from $59.95 to $169.95 per month, but they could lead to thousands of dollars in profit.
---
Best for: Investors primarily searching for turnkey properties, single-family homes, short-term rentals, and real estate portfolios for sale
Roofstock is a real estate marketplace created specifically for investors. It includes the most relevant and important property and financial data for each listing, like annualized return rates, cap rates, gross yield, and cash flow. It also uniquely provides a marketplace of portfolios for sale. Roofstock is ideal for evaluating individual properties for sale, and for any investors looking to invest in single-family rentals, whether they are short-term vacation rental properties or long-term rental units.
Roofstock uniquely lists the highest number of turnkey properties, managed by Roofstock's vetted and preferred property managers. As a turnkey real estate investment company, it's a great source of properties that require very little or no upfront investment and repairs. Turnkey properties are great for investors who don't want to be hands-on with managing their properties. Search for deals by minimum repairs needed, single family, two- to four-units, higher yield, 1% rule, gross yield, cap rate, or higher appreciation potential.
---
Best for: Finding the highest number of FSBO listings and easily contacting homeowners
Although there are many For Sale By Owner (FSBO) websites, FSBO.com is the most popular and, thus, the most likely place homeowners would first try to sell their property. Buying FSBO properties is a great strategy for real estate investors as they learn how to find investment properties for sale because there is no agent fee and homeowners are often more willing to negotiate the price.
Most listings on FSBO.com are single-family homes, but there are also multifamily listings, land, condos, coops, and townhomes available. However, the listings do not include as much detail or financial information, so you will have to evaluate the property closely. FSBO.com also makes it extremely easy to contact the owner for questions or negotiations, and it's free to browse properties and contact the seller.
---
2. Work With Real Estate Professionals
Another way to find investment properties is by working with other real estate professionals, which can include agents, wholesalers, or land brokers. All of these professionals have expertise in real estate, and are familiar with the process of finding properties and evaluating their investment potential.
PROS

CONS

Specialized expertise in real estate and the local market
Agent commission fees up to 6% of the sale price
Local real estate connections
Finding the right real estate agent or wholesaler to work with
Access to the MLS
Final investment decision depends on your evaluations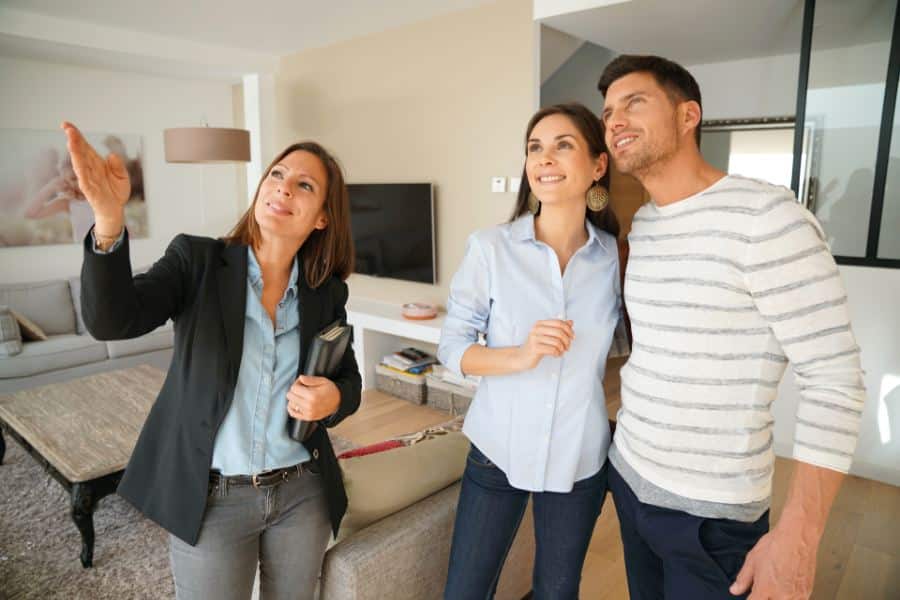 Depending on their business and time in the industry, it's likely that they also have valuable connections in your area that can help you find your next investment before it's listed on the market.
A few types of real estate professionals who can become an integral part of your investing business may include:
Real estate agent or broker: Agents and brokers are salespeople who are constantly meeting and networking with homebuyers and sellers in your area. They are also actively spending time in a variety of local neighborhoods, so they can often pinpoint sellers or properties before others.
Wholesaler: Wholesalers are targeting owners of distressed properties, but their success depends on finding investors to buy each property. Working with a wholesaler can be an effective shortcut to finding fixer-uppers for sale.
Land broker: Land brokers are most similar to real estate salespeople, but work only on buying and selling land transactions. These are important connections to have if buying land is one of your investment strategies.
However, not all professionals are equal, and it can be uncomfortable and time-consuming to work with agents, brokers, or wholesalers who may not have the necessary experience or expertise to assist you. In addition, working with a real estate professional automatically comes with a fee, and wholesalers may increase the sale price by tens of thousands of dollars. However, if you're a first-time or new real estate investor, working with professionals can be an invaluable way to get your foot in the door and start generating profit.
3. Network With Other Real Estate Investors to Find Investment Properties for Sale
It's easy to view other real estate investors as your competition, but they can actually be valuable assets while you learn how to find investment properties and make smart financial decisions. The professionals you've worked with previously, friends, and family members form your initial network. Still, you should be intentional about building a network of other investors, landlords, and connections in the real estate business world.
PROS

CONS

Investors are experienced in finding off-market deals
Similar investors can present competition for properties
Investors know how to evaluate a property and estimate profits
May create competition for team members and contractors
Learn from other investors
Networking is important for investors of all experience levels. New investors can use guidance from experienced professionals, and any investor can refer a potential investment property to another investor. At the beginning of your investment career, you may have a smaller budget and more criteria for investment properties that minimize your risk. Over time, you'll likely make different investment choices based on your lifestyle, location, or budget changes. Other investors may be the best source of real estate deals.
To start building your network, try joining some of the following real estate investor groups:
Joining business and investing groups like these can drastically simplify the process of building a network. They are made up of other professionals with goals like yours and experience that you can learn from. Plus, many groups host online and in-person meetings that are pressure-free or teach valuable information for free.
Search for local events on social media, Facebook groups, or on Meetup.com. Meetup.com is a service that organizes online groups that meet in person for meetings and events. With a little searching, you should be able to find a group or event that fits your needs and experience level.
4. Market to Distressed Homeowners & Sellers
Some of the most profitable real estate deals come from distressed homes, which may be damaged, dated, or in preforeclosure. This is because homeowners are often in a bad financial situation and are unable to make updates or necessary repairs to the home. They are often willing to sell their home for a price below market value if it will help them financially.
PROS

CONS

Potential for the highest returns on investment
Difficulty reaching some homeowners
Negotiate lower sale prices when you work with the homeowner
Difficulty finding properties before they're in foreclosure or preforeclosure
Ability to help homeowners in difficult situations
Properties may not be in ideal locations or have massive renovation needs
However, most homeowners struggling financially are unaware of this, and do not realize how an investor may be able to help them. By contacting the owners of a home that needs extensive repairs, you may be able to get a great deal on a property, help someone in need, and face no competition from other buyers or investors.
Keep in mind that this can be highly labor-intensive and requires some marketing and advertising skills. Distressed homeowners can often be difficult to reach, may not be in ideal situations, and don't usually hand their property over easily. For these reasons, marketing to sellers is usually most effective for more experienced investors who can confidently evaluate properties and manage a marketing campaign as well as other real estate deals.
Distressed homes are a great investment for home flippers, but to learn more about finding properties just for fix-and-flip projects, read our article How to Find Houses to Flip in 7 Steps.
In addition to marketing to distressed homeowners, you can also market to anyone interested in selling their home. As you start buying more properties and become known as a real estate investor, homesellers may reach out to you if they need to sell their homes. As your skills and experience grow, other investors could invite you to partner with them or recommend deals that don't fit within their investment goals.
Creating a personal brand or having an investor website and social media presence is important to showcase your business to prospective homesellers, landlords, lenders, and other investors to show you're serious about real estate investing and that you are a professional. Marketing software like Constant Contact can help you create landing pages, social media posts, and text messages to send to potential sellers. They even have marketing automation tools and reporting to take the heavy lifting out of your hands, and guarantee you are reaching your target audience.
5. Word-of-mouth Through Your Sphere of Influence
As your real estate investing business grows, you should utilize multiple strategies to consistently find profitable investment properties. Marketing to your sphere of influence (SOI) is a strategy that can constantly be used while you simultaneously generate property leads through other methods.
PROS

CONS

Sphere of influence will naturally grow over time
Property leads won't always be the right fit
Can be managed on autopilot
Nurturing your SOI takes time and effort
Possibility of generating a variety of leads
Friends, family members, acquaintances, and even professionals in related areas of expertise can be great sources of information and connections, like mortgage brokers, attorneys, home inspectors, and property managers. The more people who know you're a real estate investor, the more people who will reach out to you with potential properties or connections.
However, nurturing your SOI requires time, effort, and strategy, so it's most effective for growing investors with a team that can manage a variety of tasks. It can work well for new and first-time investors, although your sphere of influence will grow over time.
In order for your connections to reach out to you with potential property leads, they have to remember that you are a real estate investor and be aware of how they can help you find properties. This requires nurturing them, maintaining communication, and creating an easy pathway for them to refer you to others with distressed properties or reach out if they have one.
The best way to maintain communications with large numbers of people is by using a real estate customer relationship manager (CRM) like HubSpot. The HubSpot CRM is free to start using, but it also provides multiple packages and a la carte options as your business grows. It allows you to keep all of your contacts in one place, keep notes on communications, and stay up to date on potential and current deals. Sign up for HubSpot CRM for free today.
Bottom Line
As a real estate investor, your income depends on your ability to find, evaluate, and generate a profit from investment properties. New investors sometimes think there are only a few ways to find potential deals, but successful real estate investors know your next deal can come from many places, like online listing sites, auctions, real estate professionals, other investors, and directly from sellers. Begin by using a minimum of two or three strategies, and include building your network. With the right strategy, you'll be able to consistently find new properties and increase your profits.