The best real estate investment deals often come from the less obvious places. You might think that the only way to find investment properties for sale is by calling a real estate agent, calling the number on a for sale by owner sign, or scanning through online listings of homes. Although these can be part of your overall strategy for both finding and evaluating deals, the best real estate investment deals often are found by taking a multi-pronged approach.
You can find real estate investment opportunities by developing your personal brand, using online resources, direct and print mailing, cold calling, building relationships, and researching court databases, pre-foreclosures, and bank-owned properties.
Let's get started.
Online Properties for Sale
Using online sites for finding investment properties for sale is the most convenient way to find properties. Familiarize yourself with how the properties are listed on these sites so when you evaluate deals you can compare property criteria based on your investment goals. There are dozens of online sites that list properties for sale, sold, expired, foreclosed, or in pre-foreclosure.
Here are some popular sites for finding investment properties for sale:
Multiple Listing Service (MLS)
The Multiple Listing Service, or MLS, is a database of 800 sites that list details of properties for sale, properties that have sold, and expired listings. Investors don't have direct access to the MLS, because it is limited to licensed real estate agents and brokers who pay annual membership fees to use the service.
If you want to get information about properties for sale through the MLS, you can send your broker or agent the specific criteria you're looking for in an investment property. They can sign you up to receive daily or weekly emails of properties that come on the market that match your criteria, or they can search for you and contact you to schedule a showing.
Realtor.com
Realtor.com is a national online service that lists residential property details and their current status. It includes properties for sale and for rent. You can search locations by state, county, and specific cities and towns. You can also search the rental unit database to see what current market rents are in the locations you wish to buy. With Realtor.com you can search foreclosures, get current property values data, and search property records.
Here is an example of a duplex for sale on Realtor.com. You can click the drop-down arrows for property details. You can also click on the image to view all the property photos. Realtor.com provides property history such as when the property last sold, listing history, and any price or status changes.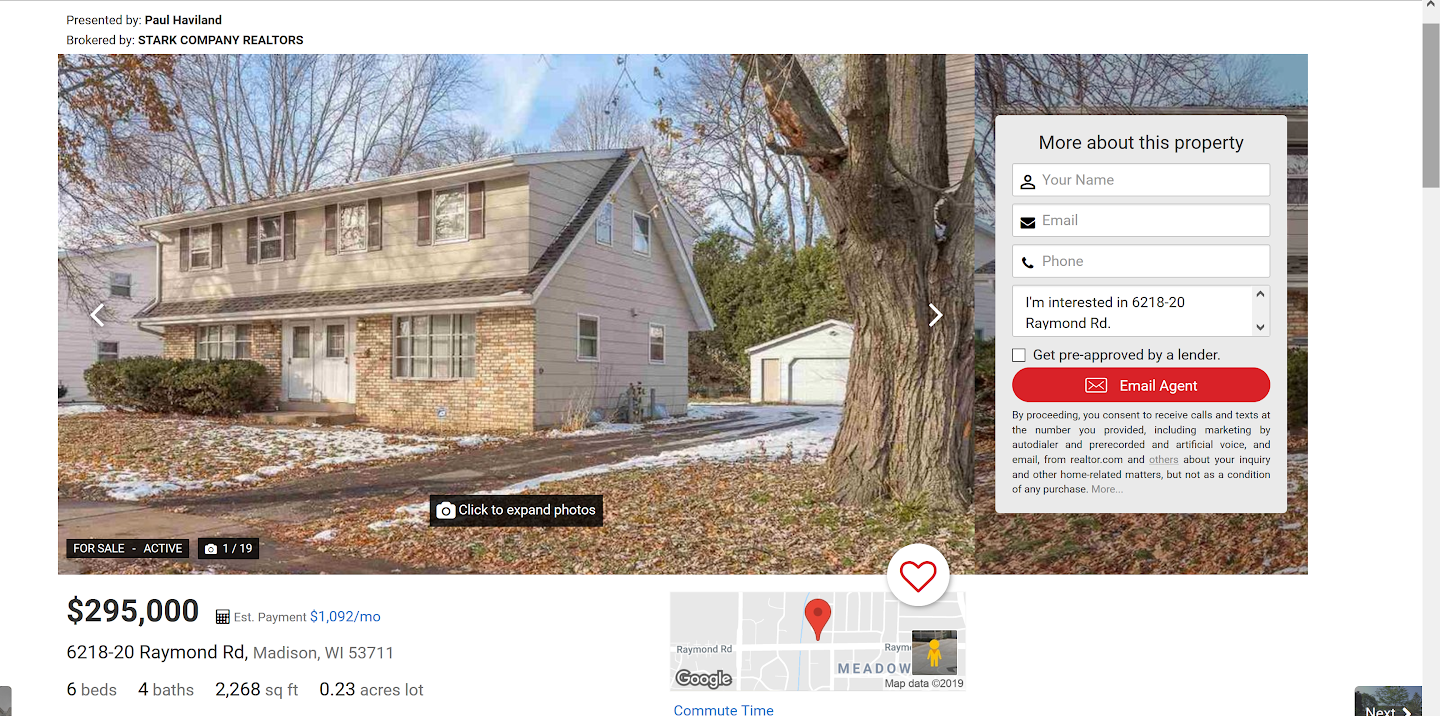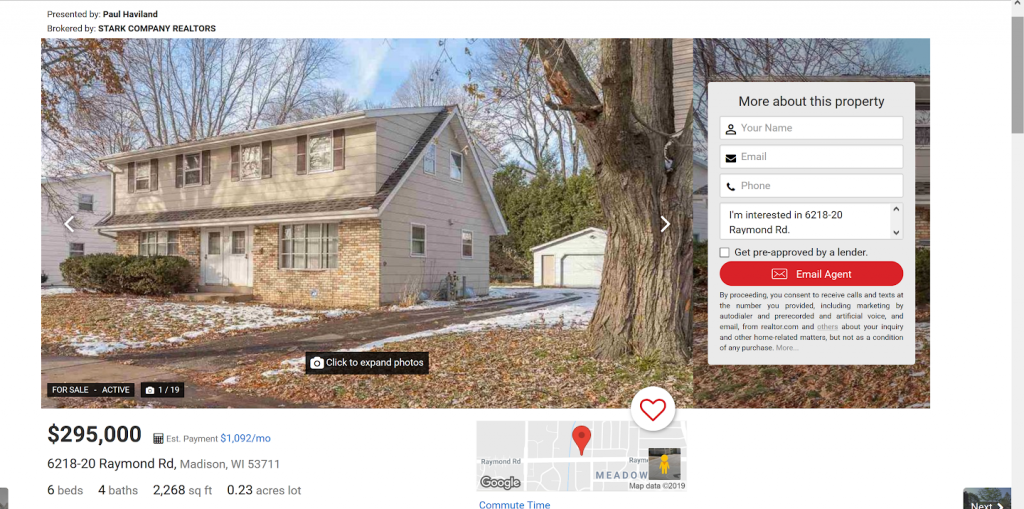 Zillow.com
Zillow is another popular site for finding residential investment properties for sale. A feature of Zillow that's not available on Realtor.com is For Sale by Owner listings. It also allows site visitors to search for pre-foreclosures and properties that are coming soon to the market. After choosing your search criteria, by clicking on the listings, you can access property details and photos.
Craigslist
Craigslist is a classified ads website that includes a section on housing for sale where you can search for properties, list vacant units, and list properties you are selling. You also can use Craigslist to market your real estate investment business to find leads. If you look at this image from a Craigslist search for properties, you can see an investor's classified ad among the property listings.
Loopnet.com
Loopnet is a listing site for commercial properties for sale or lease. It includes office space, retail, industrial, multifamily, and other types of properties. After choosing a location and property type, you can narrow your search by price per square foot, per unit, per acre, or asking price. You can also choose minimum and maximum square feet, or click on "more filters" for an advanced search.
Auction.com
Auction.com focuses on the sale of residential bank-owned and foreclosure properties through online and in-person auctions. To find auctions, enter the location you wish to search and it provides a list of upcoming auctions in that area. Using the drop-down menus, you can search by property type, bank-owned or foreclosure auctions, held in-person or online, and the property's condition. "More filters" allows you to further narrow your search criteria.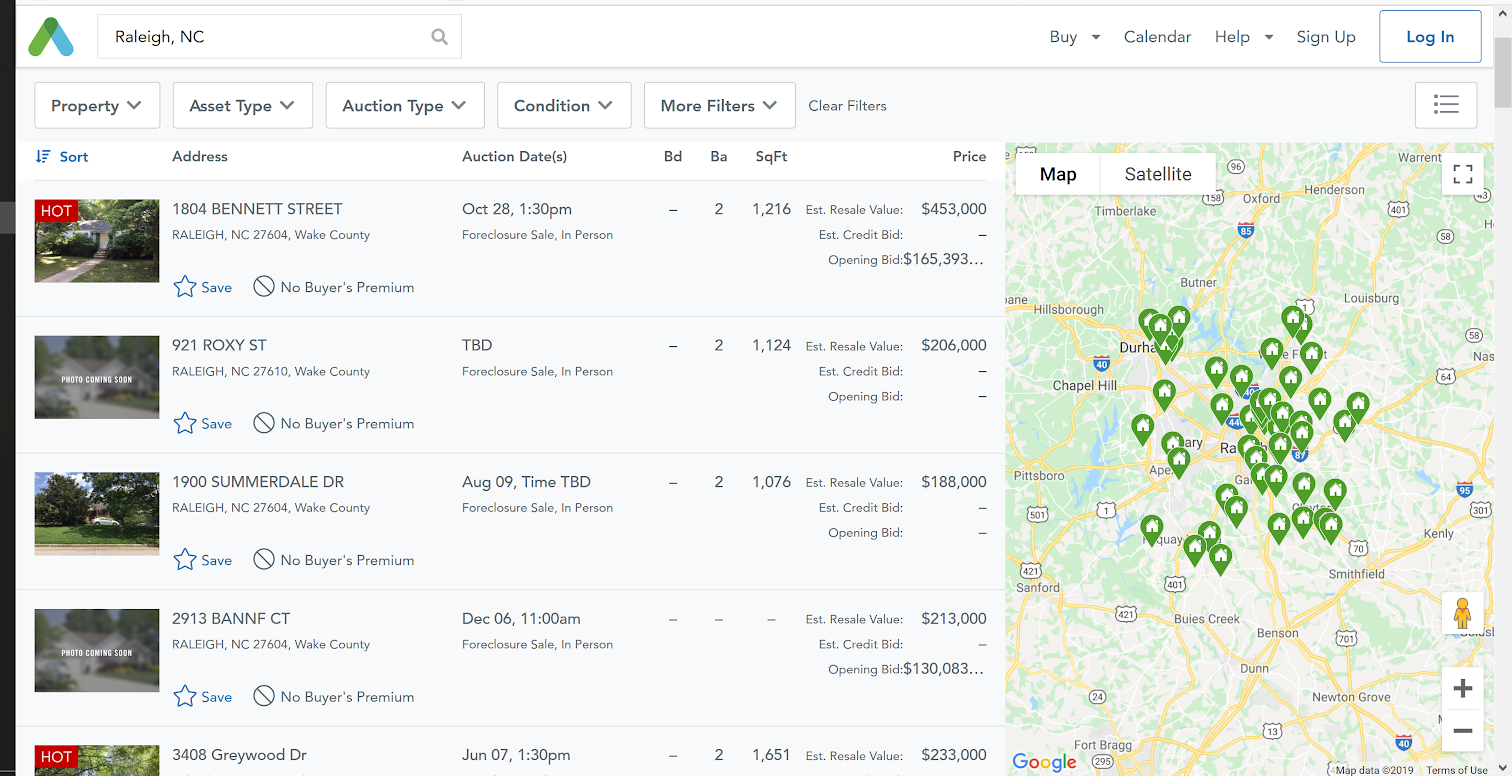 RealtyTrac.com
RealtyTrac is a paid site for accessing the most comprehensive online database of foreclosed properties for sale. Although RealtyTrac.com specializes in pre-foreclosures, foreclosures, auctions, and bank-owned properties, site visitors can also preview for sale and sold properties. Since investors can sometimes score great deals from pre-foreclosures and foreclosed properties, it might be worth paying the membership fees.
Membership for RealtyTrac is $49.95 per month, and it offers a seven-day free trial.
Subscribers can save 17% by prepaying for three months, 25% for six months, or get the biggest savings of 42% for 12 months. RealtyTrac allows visitors to preview limited information on properties for free such as street name, property type, beds, baths, and square footage. It doesn't include photo access without a subscription.
Although RealtyTrac provides a lot of listing information on the site, to reduce risk, investors still need to do their full due diligence.
Trulia
Trulia.com is owned by Zillow. Trulia is easy to use and offers basic information on residential properties for sale, whereas Zillow provides a more comprehensive experience for site visitors. Trulia provides a breakdown of the monthly property costs so investors can calculate a rough estimate of some property's expenses such as the mortgage, taxes, insurance, association fees, and private mortgage insurance when applicable.
Trulia also lists crime data for the past 365 days in neighborhoods where you search for properties. It is drawn from local police and news reports, so investors can determine if it is a location that is easy or difficult to rent. Crime data includes theft, assaults, arrests, vandalism and burglaries.
PropertyShark
PropertyShark offers commercial and residential property information. It was founded in 2003 in New York. Since then it has expanded to cover 48 states offering information on pre-foreclosures, foreclosures, current properties for sale, and recently sold. It also provides property development and ownership histories, property characteristics, sales history, current property values, zoning regulations, and air rights.
Though investors can get basic free property information with a location search, investors can get multiple comprehensive property reports for a subscription fee. Fees are based on property location. For some regions the data is limited and fees start at $19.95 per month. In states like New York where PropertyShark provides a lot of property information, fees start at $39.95 per month.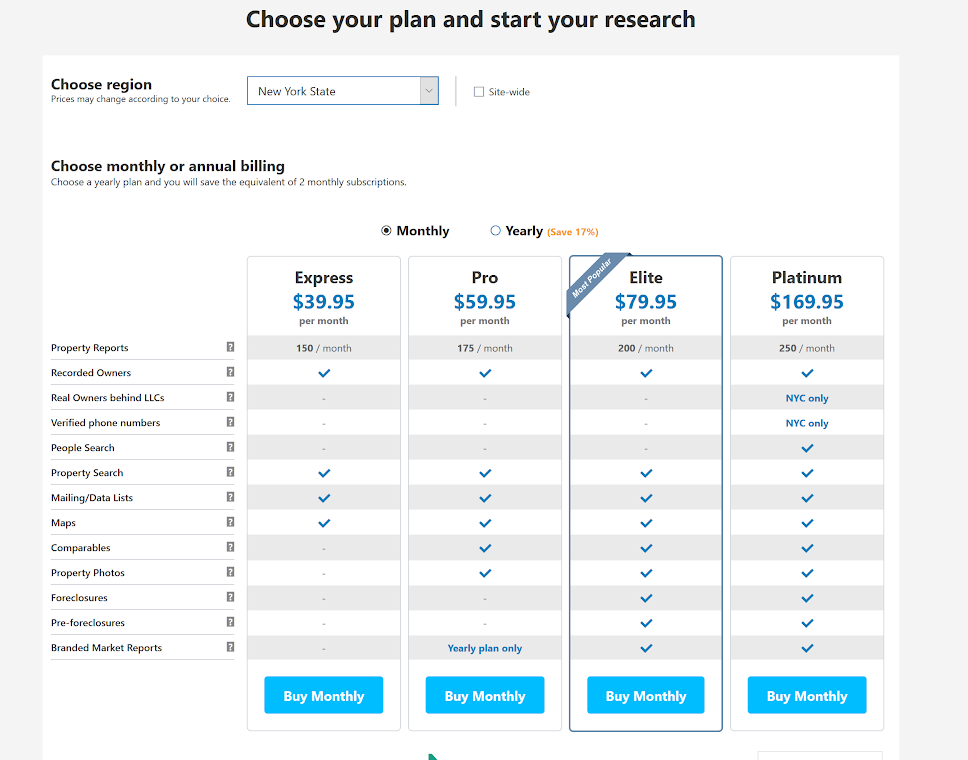 Free Property Search Data
Roofstock
Roofstock is a real estate listing website where investors can buy turnkey properties managed by Roofstock's vetted and preferred property managers. With turnkey investment properties, all the rehab work is done, some are rented, and someone else does the property management. It's great for investors who don't want to be hands on.
Turnkey properties cost more than other investment properties because of the rehab and property management costs. Investors can search for deals by minimum repairs needed, single family, two- to – four-units, higher yield, 1% rule, the best schools, or a higher appreciation potential. They can also search by gross yield, cap rate, and rental income.
Forsalebyowner.com
There are many For Sale by Owner websites. For Sale by Owner (FSBOs) listings are properties not listed with real estate agents, but ones that owners are selling on their own. Forsalebyowner.com is a leading free FSBO site where homeowners can list their residential properties for sale and buyers can search listings. Many are single-family homes, but there are also multifamily listings, land, condos, coops, and townhomes available.
Sometimes you can find good FSBO deals, but don't assume because there is no real estate commission, the seller will drop the asking price. The reasons an owner will sell their own property varies from being underwater on a mortgage to feeling confident they can do a better job than an agent.
You can also do a simple Google search using "investment properties for sale," or "vacation rentals for sale" where you'll find a host of additional sites that list potential investment property deals based on your search criteria.
Personal Branding & Marketing
If you're looking to expand your real estate portfolio, leveraging a personal brand can save you time. As you start buying more properties and become known as a real estate investor, home sellers may reach out to you if they need to sell their homes. As your skills and experience grow, other investors could invite you to partner with them or recommend deals that don't fit within their investment goals.
You might think that creating a personal brand or having an investor website and social media presence is irrelevant for finding investment properties for sale, but in today's society with at least half of the world online it's important your personal brand shows prospective home sellers, landlords, lenders, and other investors you're serious about real estate investing and that you are a professional.
Investor Websites & Social Media
The basis of your professional real estate investing website can include information about you, the different types of properties or projects you invest in, vacancies, a tenant portal for document sharing and rent collection, and properties you list for sale. You can include blog posts and share other content about real estate investing to establish credibility and expertise. What you include on your website will, however, depend on your budget, goals, and how much time you have to put into it.
You can outsource to a web developer, use a website template, or invest in online cloud-based property management software that includes a professional website. The website should be appealing and easy to navigate. You also want to have a consistent brand when using images, logos, and colors, so people can recognize and associate you with your brand. In marketing, consistency is key.
Some important features to include on your website are:
Your business name and logo: This should be consistent in the header of every page of your site, so your site visitors become familiar with you and can easily identify you.
A professional-looking headshot or company profile: Home sellers can be influenced by a friendly face, so having your photo on the site can make you more approachable.
An "About Me" or "About Us" page: Include background information about you or your company, skills and experience, your reasons why you invest in real estate, and the types of properties you invest in, i.e. commercial, single family, and apartments, so visitors can get to know you.
Vacant rentals and properties for sale: To make your site visually appealing, include rental and pricing information, photos, and property details.
Search engine optimization: Use keywords and phrases on your site to increase search engine traffic and visibility.
Claim your Google Place: Increase local visibility by claiming your business listing on Google Place.
Social media buttons: Link to your social media business pages from your website so people can follow you and see your investing activities.
Lead capture tools: Include a free download lead capture box so visitors can enter their email addresses and get added to your inbound marketing.
Contact information: Include your business contact information so site visitors can reach you.
Social Media
Approximately 2.82 billion people use social media. Which platforms you choose depends on where the types of people you want to connect with hang out. Don't limit yourself to just one. Choose a minimum of two or three of the most popular social media platforms such as LinkedIn, Facebook Pages, and Twitter. Post updates about your real estate investing activities and be sure to include photos.
You can list houses for sale and apartments for rent on Facebook Marketplace. LinkedIn is great for making professional connections with other investors, landlords, and service professionals you want to network with. Use Twitter for frequent short updates and information sharing. Social media groups provide ways to interact with people interested in real estate investing. The goal is to get in front of as many eyes as possible, posting and interacting.
Direct Mail and Printed Materials
Besides your online presence, also include traditional forms of marketing in your marketing mix like direct mailing campaigns, posters, bandit signs and other printed media. Printed materials and mailings have a cost associated with them. However, many investors find that sending letters and postcards, putting out bandit signs, and contacting prospective sellers yields great results.
Let's examine a few.
Multi-tiered Direct Mailing Campaign
According to the Association of National Advertisers (ANA), the most effective marketing strategies combine snail mail with digital marketing. Multi-tiered direct mailing campaigns harness both and are far more effective than sending a one-off letter or postcard because of its multiple touch points. We've included a free downloadable checklist on how to do a multi-tiered direct mailing campaign.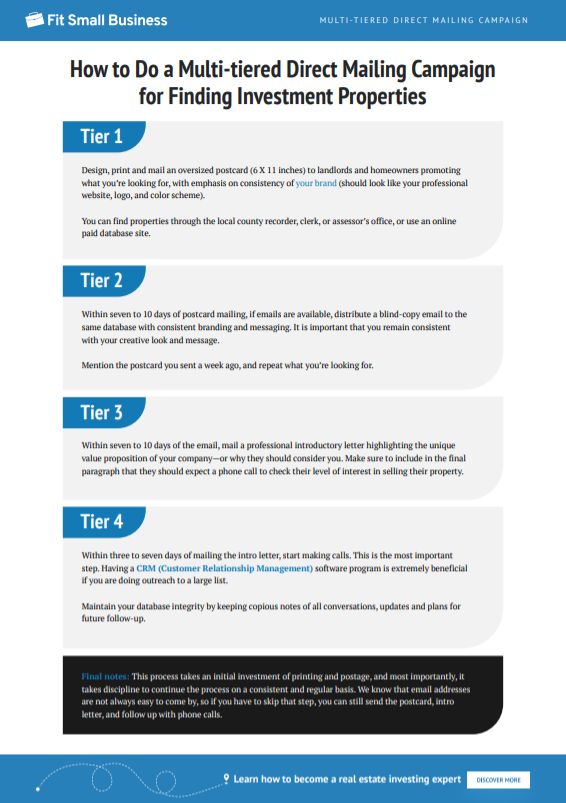 Download Multi-tiered Direct Mailing Campaign
Yellow Letters
Yellow letters are handwritten prospecting letters that real estate investors send to property owners whose property is not for sale, but that they may want to buy. The name "yellow letters" came from sending handwritten notes on yellow legal pads. Today's marketing environment requires adding a personal touch, and what could be more personal than a handwritten letter addressing owners by name?
The example below is a basic yellow letter. It's sufficient, brief, and to the point. You can further personalize it by including a sentence or two about your "Why?" or your goals, and the reason that you're looking in that neighborhood, town, or region.
If you can find the homeowner's phone number or email address, you can mention in the letter that you plan to call or email on a specific date instead of asking them to call you. If you do so, still include your name and email address—they may contact you first.
Sample Yellow Letter
Flyers and Bandit Signs
You've certainly seen flyers and bandit signs placed in desirable neighborhoods. This is another way to find investment properties. In some states this marketing is illegal, so check local ordinances before placing any posters or signs. If signs are allowed, make sure you follow ordinances on where they can be posted. Where trees or utility poles signs are not allowed, community bulletin boards may be a viable option.
For finding investment properties for sale, keep the flyer's design to a minimum, use large letters on contrasting colored paper so signs can be viewed from a distance. Use heavy duty staples or zip ties to hold them in place so others can't remove them and check on them each week, replacing where damaged or removed.
Networking for Real Estate Investing
Real estate investors need to build a strong network if they want to find real estate deals. It is not optional. Your network should extend beyond your dream team of professionals, friends, and family, and include other investors, landlords, and connections in the business world. We've included a free download, "13 Effective Real Estate Investing Networking Tips" to help you get the most out of networking events.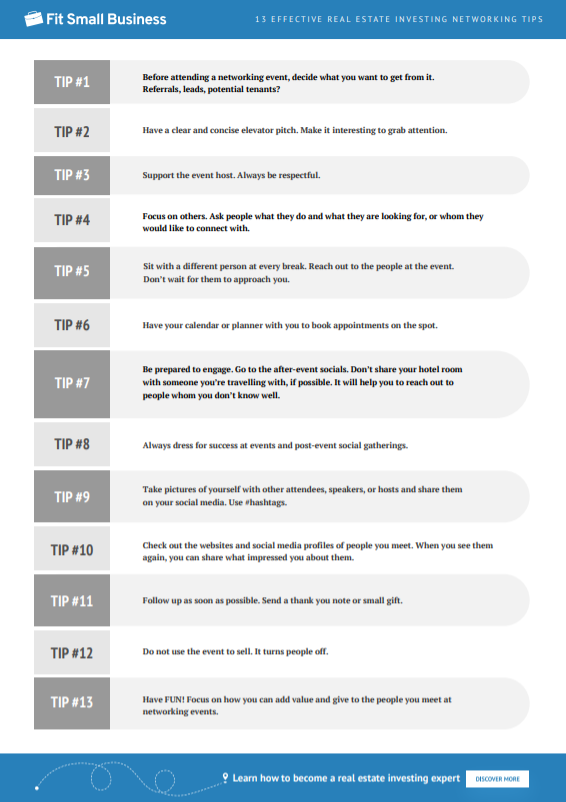 The more you become known as a real estate investor, the more people will reach out to you, so you want to be strategic about your network since you won't have time to meet with everyone. In this section, we'll cover the best resources for finding and growing a network. Choose a minimum of two or three to get started.
Download 13 Effective Real Estate Investing Networking Tips
Investor and Landlord Groups
Building a network of real estate investors and landlords is the most important part of your network. In the chapter Building Your Investment Dream Team, we shared different ways to find in-person investor and landlord groups through national organizations like the National Real Estate Investors Association (NREIA) and the National Real Estate Investment Club (NREIC), where you can search for groups by your location.
Local landlord groups can be found through The Landlord Association and the National Association of Independent Landlords. Many of these groups offer professional development opportunities to their members, and provide education and resources about local landlord and tenant laws, investment opportunities, and access to discounted services from local service providers such as plumbers, electricians, lawyers, accountants, and property managers.
Online Groups
Some local investor and landlord groups offer a hybrid of online and in-person networking opportunities, while others are online. Hybrid groups are great, because you can build personal relationships with members during in-person meetings, and also have access to other landlords and investors online between meetings to troubleshoot challenges, ask for advice and referrals, and share information about vacancies.
Meetup.com is a great resource for finding hybrid groups. Meetup.com is a service that organizes online groups that meet in person for meetings and events. There's a Meetup group for every interest, including real estate investing. To find a local group on Meetup.com choose the "Career and Business" category and enter your desired location. If you don't see a real estate investor or landlord group on the first page, you can search by entering keywords.
Besides Meetup.com you can find online real estate investment groups through social media platforms like LinkedIn and Facebook Groups. Online groups are great for investors who own out-of-state properties and can't attend local groups in the state where their investment properties are located. If you can find state-specific online landlord and investor groups, even better.
Investment Property Professionals
In a previous chapter, we covered who should be on your dream team of professionals. This team is part of your network, but you don't have to limit your investment property professionals network to your team. In fact, the more Realtors, contractors, lenders, and other service professionals you know, the better. You'll always have someone to call if you have an emergency and your plumber or electrician can't be reached.
As your business grows, your team evolves, so knowing many professionals can help when you need new or additional services. Investment property professionals also may know about properties not yet listed for sale. These professionals are part of your contact sphere. They don't do what you do but they serve the same market of property owners.
Networking for Personal & Professional Growth
We've discussed filling your network with investors, landlords, and real estate investment professionals, but you also need to network outside of the real estate investing world. Everyone we meet has the potential to help us find investment opportunities. However, you don't want to network only with the goal of finding properties, but also to have a social network, give back to the community, and attend to your spiritual and personal growth.
Religious Organizations
Your church, synagogue, mosque or other religious organization provides networking opportunities for personal and spiritual growth. It provides a place to share your bigger "Why?" with others and to find and give support.
Rotaries
Rotaries are organizations where business and professional leaders meet to provide community and charitable services to others. As an investor, joining a rotary not only connects you with the business community, but gives you an opportunity to step outside your investor role in service to others, grow lifelong friendships, and get involved in your community.
Business Networking International (BNI)
Business Networking International (BNI) is a franchised networking organization that trains its members in effective networking strategies and provides opportunities to give and receive referrals. Depending on your location, BNI annual membership fees are between $400 to $600. Prospective members can visit twice as a guest to check it out and see if it is right for them.
If you're not ready to join, you can ask if you can be a stand-in substitute for a member when they're unable to attend. BNI members adhere to a strict attendance policy, so when they need to miss a meeting, they often call on a substitute to attend on their behalf. Members and guests, including subs, can share their elevator pitch, and network with other members for referrals.
Friends & Family
Having friends and close family relationships can make us healthier and happier. Our friends and family are also often our biggest cheering section as we hurdle over obstacles toward our goals. Friends and family can help you find investment properties, share your social media and blog posts, give warm introductions to people in their networks that can help you find properties, and refer you to service professionals they recommend.
They can also give you honest feedback and help you stay on task with your goals. If you're married or in a domestic partnership, having the support of your closest companion can help you weather challenging times. Some spouses or domestic partners also become real estate investing business partners bringing another set of hands and skills to finding, buying, and managing rental property.
Distressed Homeowners & Properties
You might not have considered going to court to find investment properties for sale. However, courthouses are great places to find potential deals before they hit the market. It's a fact that 50% of marriages end in divorce, people pass away, and assets get split or sold, including real estate. Housing courts are filled with burned-out landlords on their umpteenth eviction. Distressed homeowners facing foreclosure may file bankruptcy to buy them time.
Perhaps you cringe at approaching someone about to lose their property or who is in distress, but your offer to buy their property could save them time, money, and from the pain of foreclosure. Your offer to buy their home might stop a foreclosure and free the homeowner from greater credit damage.
When approaching distressed homeowners, remain professional yet compassionate. Approach them with a spirit of being helpful and make clear they're under no obligation to sell to you. You're just there to evaluate the property to see if it is right for your portfolio and offer them a fair price if it makes sense for you to proceed. Let them know they can accept, reject, or counter-offer and that they will always remain in control.
Some ways to find distressed properties are:
Probate leads: You can go to the probate court, scan local newspapers, and check public record websites for probate leads, find the estate executor or owners name and contact information and call or write them a letter.
Housing court evictions: Some housing court records are online through the local courthouse database or you can go to the housing court and search evictions. Contact the owner using a yellow letter or the multi-tiered direct mailing campaign. You don't have to mention the eviction.
Pre-foreclosure leads: You can find pre-foreclosures on Zillow, in the public records section at the county recorder's office, in local newspaper announcements, and through attorneys and real estate wholesalers.
Foreclosures: Banks and mortgage lenders typically list their foreclosure auctions and REO listings online and in newspapers.
Auctions: Auctions are listed in newspapers, and online through auction houses. You can subscribe via email to receive auction notices.
Leg work: While driving in neighborhoods where you'd like to buy, look for vacant properties, properties with deferred maintenance, FSBO signs, and homes that fit your goals. Take down the address, get the owners' names online, and add them to your mailing list.
Short sale properties: Short sales are when sellers get a lender's approval to sell a property for less than the mortgage balance. When you search properties online, they often disclose it is a short sale or that it requires a third-party approval.
Expired listings: The easiest way to find expired listings is by asking your Realtor to do an MLS search and have them reach out to the seller expressing your interest in the property.
Summary & Quiz
In this chapter you learned how to find investment properties for sale through building a personal brand, looking through online listings, building a network, and reaching out to homeowners who may need to sell. Begin by using a minimum of two or three strategies, and include building your network. In a short period of time you'll have more than enough properties to choose from.
Key Points to Remember:
Creating and leveraging a personal brand saves time and money
Investor websites should be appealing and easy to navigate
Post investing activities and share updates on social media
The most effective strategies combine direct mail with digital marketing
Become familiar with online real estate listing sites
Networking is a must for successful real estate investing
Distressed homeowners might consider your offer on their home a relief
Finding Investment Properties Quiz
Answer a few questions about your business, and we'll give you a personalized product match.