How to Buy a Multifamily Property in 10 Steps
Investing in multifamily real estate is a profitable approach for generating cash flow and developing a solid investment portfolio in a single real estate transaction. To learn how to buy a multifamily property, start by identifying your budget. Then, explore property types and communities, select a lender, and calculate profitability. Whether you decide to flip multifamily buildings for a quick profit or rent them out, researching and buying a multifamily home will significantly impact your success and potential profits.
Baselane is a new banking platform built specifically for independent landlords. In addition to its high-yield 4.25% APY on all deposits, Baselane offers an array of rent collection features like automated payments, fees, and reminders.

---

Free banking
Free rent collection
Free bookkeeping and reports 
Here's a breakdown of how to buy a multifamily property in 10 steps:
1. Decide if You're Ready to Purchase
Multifamily investment property offers many benefits. For instance, it can provide a more predictable income than single-family rentals and an increased cash flow. It is also generally more straightforward and manageable than purchasing a large commercial property. However, it's undeniable that the upfront costs can be pricey. Multifamily mortgage loans typically require a 20% down payment of the property price, plus there are inevitable maintenance and property management costs.
Before investing your money and time in a multifamily property, consider the pros and cons of buying this type of property below:
PROS

CONS

More potential cash flow
Higher upfront cost
Can expand your portfolio quickly
Competition for multifamily homes may be fierce
Your risk is diversified and/or reduced since you have multiple units and a larger pool of tenants
There is the possibility of vacancies and late rental payments
You could earn tax benefits and write off the mortgage interest and the repairs, maintenance, and advertising costs as business expenses
Because not everyone is interested in or able to afford a multifamily home, it might be more difficult to sell
Landlords need to make sure that all rents are paid on time and transferred into their bank account. To automate rent collection, use an online rent payment system like Baselane, which gives real estate investors a completely automated rent payment system that includes security, pet deposits, and late fees. It also provides customizable lease templates to ensure your contracts adhere to state and local standards and regulations.
2. Determine Your Budget
After learning the pros and cons of buying multifamily homes, the next step to buying a multifamily property is to sit down and determine a budget before purchasing. Establish your financial goals and decide how much you are willing to put into this investment. You'll need to take many different costs into account and be prepared for unexpected expenses that may arise.
When looking into your finances, consider the following factors:
Closing costs: These are generally 2% to 5% of the sales price of the property and include lender fees, title insurance, property insurance, and property taxes. The higher the home's sale price, the higher your closing costs will be.
Carrying costs: These are the monthly recurring costs of holding onto the property, including your mortgage, taxes, insurance, and utilities.
Renovation costs: Depending on the property's condition, you may need minor and/or significant renovations before renting it out. Consider how much you will need to spend on the property before taking further steps.
Ongoing repair costs: These are variable costs that can pop up anytime, like a clogged pipe, broken water heater, or roof leak. Therefore, you need a planned profit margin to cover unexpected expenses.
Timeline: Your timeline involves the time it takes to make repairs or renovations, find a tenant, and start accepting payments. The more extended renovations take, the higher your carrying costs will be.
Pro tip: Overestimate your expenses. Multifamily real estate investing almost always calls for unexpected expenses. It's best to overestimate your potential costs and have a larger cash reserve than you need. Ensure you have an extra cushion in your repair budget when calculating your total return on investment (ROI) to ensure you won't be left with a costly surprise.
3. Examine the Different Types of Multifamily Property
Although multifamily properties are viewed the same way from an investment or financial point of view, the term includes a variety of building types. The three main types of multifamily properties are residential multifamilies (duplexes, triplexes, and fourplexes), apartment complexes, and turnkey properties. Research each type equally before starting the investment process to see which will best fit your financial goals.
In your research, you may find that a different type of property fits your needs or rental market better than you initially realized. Explore each of them by clicking on the options below:
When learning how to buy your first multifamily property, duplexes, triplexes, and fourplexes are most frequently the property type that investors start with. Plex units differ from apartment complexes because they have a separate entrance to each unit rather than one entrance to all units. These residential homes with multiple units can be located in various areas and are generally less complex to purchase and manage than apartment complexes.
Pro tip: Aspiring investors spend months figuring out how to buy a multifamily property with no money and often decide house hacking is the best solution. House hacking means purchasing a home as your primary residence, living in one of the units, and renting the other units to others. While this isn't an ideal or long-term solution for many investors, it's a great way to start your real estate investment journey.
---
Apartment complexes can be powerful investments because they can generate a higher amount of cash flow that is less susceptible to vacancy issues. However, buying an apartment complex is notably more complicated and expensive than buying smaller multifamily homes. Maintenance and management costs are significantly higher, and you will generally need a commercial loan.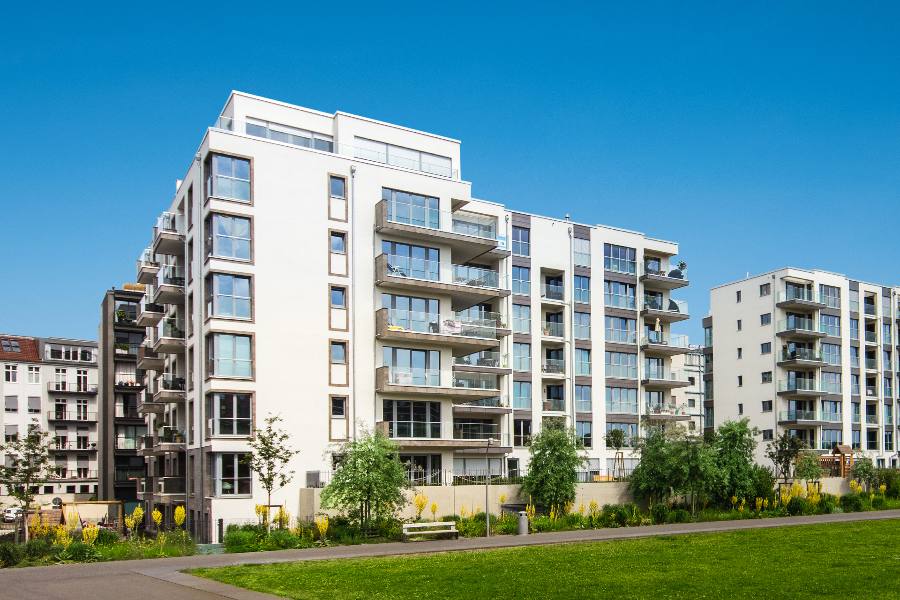 ---
If you'd prefer to skip the hassle of finding tenants for an entire building or complex, consider looking into turnkey real estate properties. Turnkey real estate comes with existing tenants and property managers, which can mean immediate rental income upon closing. Make sure you research the property's current income, tenants, and property management companies so that you're prepared to make any necessary adjustments.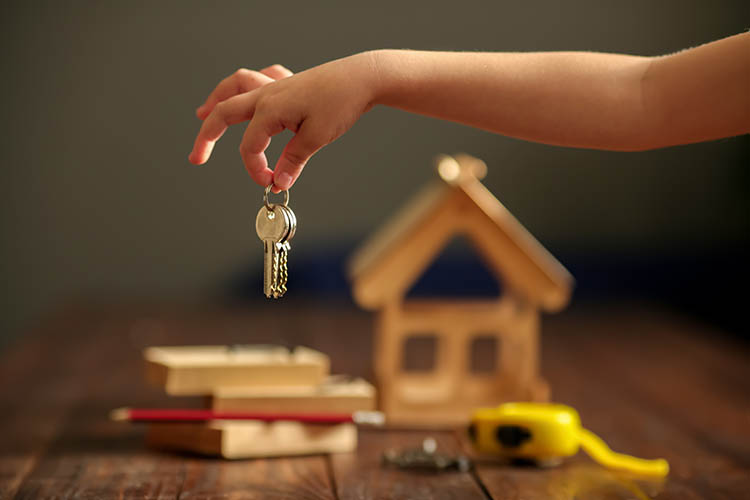 ---
4. Research Potential Neighborhoods & Choose a Location
Experienced real estate investors know what to look for when buying a multifamily property, and that location significantly impacts their financial success. Instead of buying a duplex for sale down the street, research potential neighborhoods in your area to find the most profitable locations. Identifying great locations for investment properties is half the battle of making a wise investment.
This means that you'll need to gain a solid understanding of the rental market in your target area. A few of the most important factors to consider include:
Average rental rates
Average vacancy rates
Employment rates
Average price per rental unit
Much real estate data is available online through reputable sources like the U.S. Census Bureau and the U.S. Bureau of Labor Statistics (BLS). If you need access to your local MLS, contact a real estate agent in your area to gather data or create a rental market analysis.
5. Choose Your Lender & Get a Pre-approval Letter
Finding a lender to finance your real estate investment can take time and effort. In many cases, financing an investment property is much different from financing a primary residence, with different requirements, interest rates, and types of loans. You need a professional who understands the ins and outs of real estate investing, especially if you're buying your first rental property.
The right loan type for your investment depends on the property you choose to buy, so you need to be informed about each property type before shopping for homes. For example, you can get a Federal Housing Administration (FHA) loan and pay a smaller down payment if you're purchasing a triplex in which you plan to live.
On the other hand, if you're purchasing a property that needs renovations, consider taking a hard money loan. Unlike most banks, most hard money lenders understand that properties have more potential after repairs, so they'll lend based on after-repair value (ARV)⁠. That will get you more money to purchase and renovate a multifamily property.
Along with the type of loan, you'll want to work with a lender specializing in investment properties. Rental property loans typically have higher interest rates because of the risk the provider is taking to lend the money to a borrower. A few of the best investment property loan providers are:
PennyMac
Lendio
PNC
Quicken Loans
LendingOne
Options for Purchasing With No Money Down
Some investors shun multifamily properties because they can be expensive to purchase. However, these properties offer an opportunity to generate significant cash flow and provide considerable returns when handled effectively. For individuals who want to purchase with no money down, there are various options to invest in multifamily properties, like the ones listed below:
Partnerships: In the real estate industry, partnerships are common because numerous investors join forces to divide the costs of a deal. For instance, one investor could handle the daily labor necessary to manage and maintain a multifamily property while the other investor may serve as the primary source of financing. With this arrangement, both investors benefit from the transaction while playing different roles.
Equity shares: Giving a partner a property's equity share in exchange for the cash necessary for a down payment on multifamily real estate is another approach to investing without using any money. This would entail sharing a portion of your stake, which may result in a lower overall return.
Hard money: A hard money loan is a short loan backed by real estate rather than the buyer's finances. Although these loans can be authorized fast and require little documentation, their interest rates are usually substantially higher than those of conventional mortgages.
Real estate crowdfunding: Crowdfunding is the process of raising funds by requesting a group of investors for small amounts of capital rather than one enormous contribution. Websites like GoFundMe and Kickstarter, which make it simple for people to crowdfund any project, make this method of fundraising widely utilized.
Seller financing: Seller financing makes payments directly to the seller to purchase the property over time. These agreements can function as lease-to-own agreements or, more traditionally, standard loans, with the seller serving as the "bank."
Once you've chosen a lender, you must get pre-approved before visiting potential investment properties. Multifamily investment can be competitive, so it's necessary to have a pre-approval letter for the purchase amount when you make an offer on a property.
6. Find a Real Estate Agent to Work With
Although the process of purchasing a multifamily property is somewhat similar to buying a single-family home, there are key differences that require specialized expertise. Working with a qualified real estate agent who understands the differences between purchasing a family home and investment property is essential, especially if this is your first rental property. Take some time to search and interview a few agents with investment experience before making a choice. Listing websites like Zillow, Realtor.com, and Refin are great places to start your search.
7. Narrow Down Your Search to One Multifamily Property
Once you have a clear budget, an agent, and a qualified lender, shop for potential multifamily homes. There are many ways to find investment properties for sale, like searching online marketplaces, the local MLS with a real estate agent, or contacting homes in preforeclosure or foreclosure.
Regardless of how you find potential properties, evaluate them with the mindset of an investor, landlord, and owner. Evaluate the potential income and return on investment based on data like the property's price, cost of repairs, approximate rental value, and rate of appreciation. Use our Gross Rent Multiplier (GRM) Calculator to help you compare and contrast similar properties.
In addition to the basics like bedrooms, bathrooms, layouts, size, etc., you also need to pay special attention to other important elements:
Location: Consider the local rental market and the property's proximity to schools, hospitals, and other establishments like stores and activities.
Maintenance history: Checking out past maintenance work on the property can give you valuable information about what repairs and upgrades may need to be made soon or have already been attended to. In addition, take any deferred maintenance into account. Deferred maintenance can mean additional costs to you, as you'll have to be responsible for the repair after you buy the property.
Remodel potential: Be creative and consider how you can remodel the space to maximize its use. For example, adding a wall and creating an additional bedroom could be a relatively simple strategy to increase functionality and profitability massively.
Resale value: Even if you plan to hold on to the property for a long time and rent it out, you should still consider the pros and cons of listing the home in the future. Demand for multifamily homes is typically lower, so it's best to choose a property with various appealing or unique features for potential resale value.
Pro tip: If you are new to investing in real estate or this is your first multifamily property, consider starting with a smaller unit, like a duplex or triplex. Managing multiple units can be challenging, so it's easy to manage a smaller number of tenants than a large apartment complex. It's also quicker to renovate or sell a smaller property if needed. Starting small is a great way to learn the ropes with less risk.
8. Estimate Your Profits & Losses on the Property of Interest
With a potential property in mind, it's time to dig into the numbers and make an informed decision. Figure out the current income of the property so you can begin estimating what your potential income can be. Ensure your potential income exceeds your monthly costs, including the multifamily mortgage, utilities, taxes, property management, repairs, and ongoing maintenance, such as lawn care or snow removal.
Remember also to calculate the long-term financial impact of owning this property. Decide what your primary financial goal is, whether that's monthly cash flow or property appreciation. Measure the profits and losses according to that goal, and the final calculations should clarify your decision.
Use our rental property profit and loss spreadsheet and our Rental Property Calculator to determine the income a rental property can produce, your return on investment, and cash flow.
9. Make an Offer on Your Multifamily Property
Even though buying investment properties can be competitive, it's essential to know all the numbers before you make an offer. You can use a competitive market analysis (CMA) to help you choose an offer price. This report estimates a home's current worth using sales and property data from similar homes (commonly known as "comps").
Your real estate agent can also be a valuable resource during this process since they will be the one to create a CMA and meet with the seller's agent to negotiate on your behalf. With a clear budget and accurate data, you can be confident in the amount you are willing to offer for the property.
An alternative way to make an offer is through Roofstock, which allows you to list a property and make an offer for free. You only pay a fee of 0.5% if your offer is accepted. Include the purchase price, your pre-approval letter, any required contingencies, and the closing date.
10. Get Funding & Close on the Property
After the seller has accepted your offer, you'll start the closing process. If you get funding from a lender, this process can take approximately 30 to 60 days. Depending on your state's legal requirements, you'll hire an attorney, get title insurance, and complete any home inspections or appraisals specified in the offer. Finally, on closing day, you will pay the down payment, complete all paperwork, and receive the keys to your new multifamily property.
If you're working with an agent, they should provide you with a closing checklist. If not, you can download our free Real Estate Closing Checklist for Buyers to help you complete your transaction and start making a profit.
Bottom Line
Buying a multifamily home can be both risky and rewarding. It's vital to be thorough and strategic at every step of the process and remember that an investment property that generates a high return on investment (ROI) can pay off for many years. Next time you think about buying a multifamily home as an investment, use the above expert tips as your guide.