Semi truck insurance, also called owner-operator truck insurance, is a blanket term for a collection of policies for commercial truck drivers. Many of these policies cover truckers' legal liabilities in different situations, such as hauling cargo or non-business driving. Owner-operators can expect to pay between $8,000 and $12,500 per year for truck insurance.
At a minimum, semi truck drivers need liability insurance, which covers injuries or damage to other parties when the driver is at fault. Progressive Commercial can help you find an affordable policy that fits your needs. It even offers discounts for things like having your CDL for 2+ years or paying the policy in full upfront. Visit their website to get a quote and receive proof of insurance within minutes of completing a policy application.
Top Semi Truck Insurance Providers
| Provider | Best For |
| --- | --- |
| | Owner-operators looking for discounts on trucking insurance |
| | Truckers who've been declined by other insurers and want fast quotes for truck insurance |
| AP Intego | Owner-operators and motor carriers looking for pay-as-you-go workers' comp insurance |
| | Owner-operators who want to be matched to the best insurer for their business |
| HUB International | Truckers who want 24/7 roadside assistance throughout the U.S. and Canada |
Progressive Commercial, the business insurance arm of Progressive, specializes in commercial auto insurance. In fact, they're one of the nation's largest providers of commercial auto insurance and can get owner-operators, motor carriers, and private carriers fast online quotes and 24/7 customer service.
Progressive Commercial offers a long list of discounts for their truck insurance customers, reducing rates for having a commercial driver's license (CDL) for two years, being in business for three years, or paying in full at the start of a policy. This makes them the ideal insurer for owner-operators who want discounts on top of already low rates.
CoverWallet is another online insurance agency with a simplified application that returns quotes for trucker insurance immediately. The company works with leading insurers, including CNA, Liberty Mutual, and Chubb.
Truckers who have been declined by other insurers should try CoverWallet. Because they're an insurance brokerage, CoverWallet can quote multiple carriers at the same time. This increases your chance of finding an insurer who will work with you even if you have bad credit or fines on your record.
AP Intego is an online agency that can offer quotes multiple insurance carriers for owner-operators and motor carriers looking for liability, physical damage, and workers' compensation coverages. They do this through a single application that is easy to understand and takes just minutes to complete.
AP Intego is the best choice for truckers who have employees because of their pay-as-you-go workers' compensation insurance plan. It connects directly to your payroll service, so it charges a monthly premium based on your actual payroll instead of an estimate. This keeps truckers from getting hit with unexpected workers' compensation bills at the end of their policy term.
Insurance321 is an online insurance marketplace that matches business owners to the best insurer for their operations. Once business owners submit preliminary information, an Insurance321 representative contacts them to learn more about their business. When all of this information is compiled on Insurance321's platform, the business owner is connected with the best insurer for their insurance needs.
Owner-operators who want a simple process for getting the right coverage should consider working with Insurance321. Instead of applying to multiple carriers to compare quotes, truckers are immediately connected to the best provider for them.
HUB International is a huge global property and casualty insurer with a team of specialists dedicated to insuring the transportation industry. They offer a wide array of policies for owner-operators, motor carriers, and towing businesses of all sizes.
HUB International is the best choice for truckers with routes throughout the U.S. and Canada. Not only can HUB cover your business, but they offer member benefits that includes a 24/7 roadside assistance program. For just $399 per year, truckers get coverage for tows, tire changes, replacement parts, and more.
How Truck Insurance Works
People who own and operate their own trucking businesses need truck insurance, but which policies they need depends on whether they operate under their own authority or lease through a carrier. For instance, carriers provide liability coverage for truckers working under permanent lease, while truckers working under their own authority need to get their own.
Types of Truck Insurance
Truck drivers need several types of commercial auto insurance coverages; however, the coverage you need and the costs you pay depend primarily on your operator owner (O/O) status. There are two types of statuses: owner-operators under lease to a motor carrier and owner-operators working under their own authority.
An O/O under permanent lease with a motor carrier usually has some insurance needs covered by the motor carrier. The insurance costs for this driver are usually lower compared to an O/O working under their own authority, and who is responsible for obtaining and paying for their own truck insurance.
Most Common Types of Truck Insurance
| Type of Insurance | What It Covers | Who Needs It |
| --- | --- | --- |
| General Liability Insurance (also called public liability insurance) | Third-party property damage and bodily harm | O/O with authority & motor carriers |
| Trucking Liability Insurance (also called primary liability) | Third-party property damage and physical injury resulting from truck accidents | O/O with authority & motor carriers |
| Non-trucking Liability Insurance | Third-party damages when you are using your truck for non-business purposes | O/O under lease |
| Bobtail Insurance | Third-party damages when you are using your truck for business purposes but you aren't hauling a load | O/O under lease |
| Physical Damage Coverage | Damage to your truck caused by collision, theft, vandalism, or natural disaster | All O/O |
| Motor Truck Cargo Onsurance | Damage to the cargo you're hauling | All O/O |
| Workers' Compensation Insurance | Employees' lost wages and medical bills after a work-related injury or illness | All O/O & motor carriers with employees |
Here are the seven most common types of semi truck insurance:
1. General Liability Insurance
General liability insurance, sometimes called public liability insurance in the trucking industry, covers third-party bodily injuries and property damage that result of business activities that aren't related to truck driving. For instance, general liability typically covers medical or legal bills if a customer breaks their ankle tripping over boxes in your office.
According to the Federal Motor Carrier Safety Administration (FMCSA), owner-operators with authority, freight forwarders, and motor carriers are required to carry public liability insurance by law. However, the coverage is a good idea for any business owner because it pays for a number of common business risks. Drivers under lease do not usually need general liability insurance; most are covered by the motor carrier's policy.
"An aspiring owner-operator will want to be aware of a few things before they start shopping for insurance coverage. The FMCSA mandates the minimum insurance required to operate and expects proof when one is filing for operating authority (MC number). The FMCSA also requires a driver to have public liability insurance. PLI is broken into two types of coverage: bodily injury and property damage. The minimums are driven by types and weight of freight. Remember that acquiring the FMCSA minimum doesn't necessarily mean you are ready to start hauling freight. Think of who your customers will be, what kind of freight you will be hauling, and what minimums are required."

– Alex Lauderdale, Sr. Editor and Transportation Analyst, EducatedDriver.org
2. Trucking Liability Insurance
Trucking liability insurance, also known as primary liability, pays for injuries and property damage you may cause others when operating your truck. Interstate truckers who haul non-hazardous goods are federally mandated to have a minimum of $750,000 of truck liability insurance. Intrastate truckers have to carry the minimum as mandated by their state's laws.
Trucking liability policies usually require every truck to be scheduled, or listed on the policy. Insurance companies will not pay claims if the truck is not scheduled.
3. Non-trucking Liability Insurance
Non-trucking liability insurance covers damages and injuries to third parties that occur when you're driving your truck for non-business purposes, such as running personal errands. If you have a truck accident when you're not working, non-trucking liability pays for the other person's medical bills and property repairs.
This coverage is primarily for drivers under lease with a motor carrier. Even though they are typically covered by their motor carrier's general liability insurance, that policy is only for business activities like hauling cargo, dead-heading, or traveling for maintenance. Drivers still need non-trucking liability insurance to cover non-business driving.
4. Bobtail Insurance
Bobtail insurance is liability insurance that covers you and your semi truck when you're driving for business but not hauling a load, like when you're traveling between jobs. The policy pays your legal bills if someone sues after an accident. Motor carriers often require leased drivers to carry bobtail insurance.
Some examples of accidents that trigger bobtail insurance include:
Accidents on the way to pick up your first load
Accidents after you drop off a load and are on your way to pick up the next
Accidents on your way home after a delivery
Bobtail insurance is often confused with non-trucking liability coverage. Both cover gaps in the liability insurance commonly provided by motor carriers. However, bobtail insurance covers business-related driving, whereas non-trucking is for personal driving.
5. Physical Damage Insurance
Physical damage insurance pays for damages and repairs to your truck caused by certain covered perils including accidents, natural disasters, theft, and vandalism. It's not legally required, but it is recommended for all drivers. Plus, most lenders require physical damage insurance for financing.
Physical damage insurance comes in two parts:
Collision: Pays for damage to your rig when it collides with another vehicle.
Comprehensive: Pays for damage caused by most other perils, including theft, hail, vandalism, and fire.
All owner-operators need physical damage insurance to protect their investment in their trucks, and this includes drivers under lease. Most motor carrier's liability insurance extends to drivers, but that doesn't cover physical damage to the driver's truck.
6. Motor Truck Cargo Insurance
Motor truck cargo insurance covers your responsibility for the cargo you carry, typically paying out when it's lost or damaged. The coverage is not a legal requirement, but it is recommended for all owner-operators and for-hire motor carriers.
Common triggers for motor truck cargo insurance include:
Fire
Collision
Theft
Water damage
Equipment breakdown
Striking of a load
7. Workers' Compensation Insurance
Workers' compensation insurance is a state-mandated coverage that pays employees' medical costs and lost wages if there are work-related illnesses or injuries. Typically, only motor carriers and owner operators with employees have to get workers' compensation, but some states may require coverage for business owners in high-risk industries.
Depending on state law, injuries covered by workers' compensation typically include:
Traumatic injuries after a truck accident
Repetitive stress injuries from loading and unloading cargo
Work-related illnesses from exposure to harmful chemicals
Which policies you need mainly depends on your status as an owner-operator. Owner-operators working under their own authority generally need all of these semi truck insurance policies. Truck drivers working under a lease need to look at their contracts to determine what coverage they need.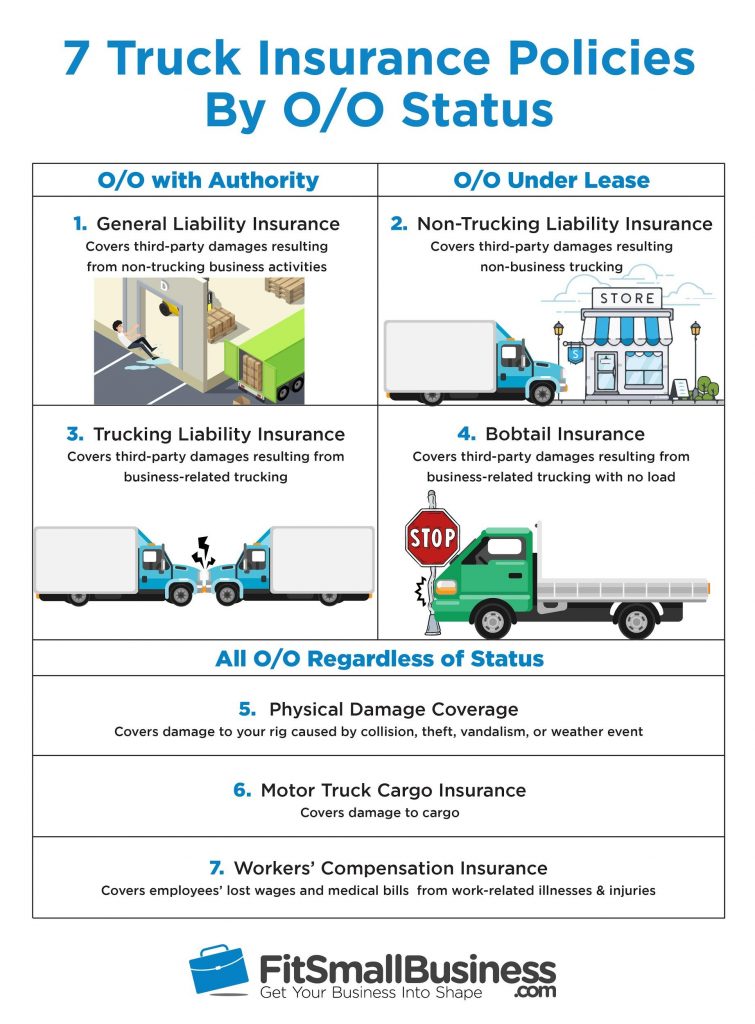 Additional Semi Truck Insurance Coverages
In addition to the primary policies for owner-operator truck drivers, there are several supplemental coverages you may want to add to your policy for your specific circumstances. Some of these coverages can be added to your primary policies through riders.
Some other types of semi truck insurance coverage you may need include:
Trailer Interchange Endorsement
Trailer interchange insurance pays for physical damage you cause to another person's trailer. It is important for truckers and motor carriers that regularly enter trailer interchange agreements. This endorsement is usually added to a liability policy to cover damage caused by fire, theft, explosion, collision, or vandalism.
Hazmat Truck Insurance
Hazmat truck insurance isn't always a separate policy or endorsement, but it's worth noting that hauling hazardous materials is strictly regulated. Federal law increases the mandatory minimum liability coverage to $1 million for any trucker hauling hazardous materials such as fuels, chemicals, or fertilizers.
Livestock Cargo Insurance
Hauling live animals creates a unique set of risks, including the possibility that your cargo suffers an injury, escapes confinement, or dies en route. These risks are typically excluded from standard truck insurance policies and make a specific livestock cargo policy necessary for drivers who transport animals. Policies typically pay for dead and injured livestock as well as carcass removal.
Trucking Umbrella Insurance
The amount of damage a semi can cause means claims often exceed your truck liability limits, and this makes trucking umbrella insurance a valuable coverage. Like other commercial umbrella policies, this policy extends the limits of underlying liability policies. If a claim costs more than what your other insurance covers, umbrella liability pays the rest.
Uninsured & Underinsured Coverage
Uninsured and underinsured motorist insurance covers your costs after an accident with another driver who is either uninsured or whose limits aren't high enough to cover your damages. It's also the least expensive coverage but well worth the cost if you end up needing it.
Semi Truck Insurance Costs
Commercial truck insurance average costs vary widely because there are several different coverages truckers may need. Truck drivers' insurance costs can also vary due to ownership status. For leased owner-operators, annual semi truck insurance costs from $1,500 to $2,000. Owner-operators with authority pay between $8,000 and $12,500 each year.
Semi Truck Insurance Costs by Insurance Type
| Insurance Type | Typical Coverage Limits | Typical Annual Premium Range |
| --- | --- | --- |
| General Liability | $1 million | $750 - $7,000 |
| Trucking Liability | $750,000 minimum for interstate truckers | $2,500 - $4,000 per tractor |
| Non-trucking Liability | $250,000 | $450 - $5,000 per tractor |
| Bobtail | $1 million | $350 - $450 |
| Physical Samage | Actual or stated value of the truck | 2.5% to 5% of truck's value |
| Motor Truck Cargo | $5,000 | $500 - $1,000 |
Unless otherwise stated, premiums are for a one-year policy term but can be broken into monthly payments. Owner-operators working under their own authority are responsible for all insurance coverage, making their annual cost higher than owner-operators under permanent lease to a motor carrier.
Factors That Affect Semi Truck Insurance Cost
Semi truck insurance costs can vary widely because insurers evaluate many factors when they determine premiums. As with all small business insurance, how much your truck insurance costs depends on how your insurer weighs these factors.
Here are a few of the factors insurers consider when determining semi truck insurance costs:
Ownership status: If you are an owner-operator on a permanent lease, the motor carrier generally covers your public liability, which greatly reduces your overall insurance costs. However, owner-operators with their own authority pay for their general liability.
Cargo type: Risks, and therefore premiums, are typically much lower if you're hauling hay compared to hauling a hazardous material like fuel.
Weight of freight: Heavier loads usually translate into higher premiums.
Driving distance: The farther you travel, the greater the risk of an accident, and that impacts your premium.
Truck value: Physical damage premiums are a percentage of the truck's value, so more valuable trucks cost more to insure.
Type of physical damage coverage: Insuring for your truck's actual cash value (ACM) results in a higher premium, but stated amount coverage is based upon your estimated value. This option typically costs less.
Credit history: Insurers check credit scores and history to help determine if you're a good risk. They see a poor credit report as an indication you may cost them money and adjust your premium accordingly.
Loss history: Insurance companies often decrease premiums for truckers who file few claims.
CDL experience: The more experience you acquire after obtaining your commercial driver's license (CDL), the less risk you present to an insurance company. This is typically reflected in low premiums.
Deductible amount: Higher deductibles mean lower premiums. If you can afford to pay more out of pocket on a claim, then you might want to raise your deductible.
Coverage limits: Policy limits are the amount the insurer pays for claims. Opting for high limits translates into higher premiums because the insurance company wants to cover the potential cost to them.
Every small business insurance company rates each factor differently, and that means premiums can vary. It can be worth your time to get estimates from multiple insurers for your specific needs. If you don't want to spend time comparing individual carriers, you can work with a broker to compare quotes quickly. To learn more, be sure to check out our ultimate guide to the best business insurance brokers.
Tips on Getting Semi Truck Insurance
Truck insurance is a major investment for motor carriers and owner-operators. While you want to get affordable coverage, you also need insurance that protects your assets.
Here are three tips to help you get the semi truck insurance you need while keeping costs down.
1. Keep Your Record Clean
Your driving record is a major factor in determining your truck insurance cost, so it's important to always follow best practices on the road. For example, follow the speed limit, don't use your phone, and maintain a proper stopping distance.
"When I talk to truckers about buying insurance, the first tip that I give them is to monitor your SAFER information. Knowing your safety rating and remaining proactive to pass safety inspections will keep your insurance rates low. Also, be sure to religiously maintain your log. A good way to do this, and to possibly get a discount on your insurance, is to use an electronic log device (ELD)."

– Rosty Gerbilskiy, Commercial Insurance Advisor, CoverWallet
2. Consider Restricting Your Radius
New ventures often struggle to afford truck insurance because they represent a higher risk to insurance companies. This can cause new owner-operators to rely on risk retention groups, or RRGs. RRGs often offer assessable policies that can lead to surprise expenses at the end of your policy term.
"Assessable policies allow the insurance provider to impose a surcharge on the premium. Unlike a premium increase, which represents payments for future coverage and can be rejected by the insured, these premium increases are for prior coverage, and the insured is legally liable to make payment. In the event of a bad underwriting year, you may find yourself paying additional premium. Startups that are willing to restrict their radius of operations will find more coverage options and less burdensome premiums. A radius of 500 to 600 miles will normally open many more doors for the newly-formed trucking company."

– Brad Smith, Managing Director, True Point Insurance Group
3. Match Your Limits to Your Value
Semi trucks aren't cheap, and they can cause damage that reaches into the hundreds of thousands of dollars, so it's easy to understand why owner-operators may want to avoid being underinsured. However, you don't want to pay for more than you need.
"Liability coverage needs to match the value of the company. So a very small operation does not need to be overinsured with multiple millions in coverage. But a large operation cannot expect to carry only a $1 million policy, which is typically the smallest written, yet be immune from exposing its assets in the event of a catastrophic or even serious accident."

– Richie Foster, Partner, Swift Currie
Bottom Line: Semi Truck Insurance
Getting the best semi truck insurance for your business requires focusing on value, not price. The cheapest policies are not often the best. Plus, insurance coverage that is too low can hurt your business if you're driving under your own authority because it can prevent you from getting jobs with freight brokers. Owner-operators who want the appropriate coverage should work with an agent with experience in truck insurance.
For more guidance on finding the right semi truck insurance, contact the experts at Progressive Commercial. Their team takes the time necessary to analyze your business needs and make sure you find an affordable coverage option. It even offers discounts so you can save money without sacrificing value and provides proof of insurance within minutes of completing a policy application. Visit and get a free, no-obligation quote in just a few seconds.