Sports and swim instructor insurance cover individuals who directly oversee the teaching and training of individuals and teams. Policies for up to $1 million in general liability coverage can cost as little as $120 per year. Sports instructor insurance has unique industry policies that cover both general and professional liability in some cases.
Sports instructors cover a wide range of athletic activities, thus carrier options vary widely. It's important to find the right insurance plan with a provider you can count on. AP Intego's nationally licensed agents shop and compare your needs to get you the right coverage at an affordable price, fast. Reach out for a free, no-obligation quote.
Visit AP Intego
Top Sports Instructor Insurance Providers
AP Intego
AP Intego is a reputable insurance broker that shops your exact coverage needs with their market of over 10 carriers to get you properly covered. They offer you the opportunity to work with licensed agents and compare multiple sports and swim instructor quotes from industry leading providers such as Travelers. This ensures that you will have reliable and complete coverage, no matter the specifics of your business.
If you aren't sure what insurance provider you want to use, AP Intego will help you find the right coverage for an affordable price. Get multiple quotes online in minutes and choose the policy that's right for you.
Sports Fitness Insurance Corporation
Sports Fitness Insurance Corporation is a specialty insurance company with a streamlined application process with simple and easy to understand choices including business equipment. The company specializes in sports and fitness companies exclusively. All liabilities include professional liability as well as limited cybersecurity liability coverage, protecting you if your computer is hacked and client data is exposed.
A sports instructor with no employees and teaches in small facilities with less than 1,000 participants is an ideal customer for Sports and Fitness Insurance Corporation. Instructors who teach at facilities can obtain certificates of insurance or place additional insured people on policies for proper coverage quickly.
Sadler Sports and Recreation Insurance
Sadler Sports and Recreation Insurance focuses on sports and fitness instructor programs for sports and swim instructor general liability. With policies starting at $500,000 and going up to $5 million for liability coverage, Sadler Sports and Recreation make it easy to customize policies. They work with large and small sports instructor businesses.
Sadler Insurance is the right choice for a sports or swim instructor that works at multiple locations and facilities where he needs numerous certificates of insurance. These include public pools, fitness facilities, and even private homes and venues. Most companies charge $25 per COI; Sadler provides these to sports instructors for free. This makes Sadler Sports and
K&K Insurance
K&K Insurance specializes in commercial insurance for companies considered higher risk than others. As their tagline says, "We Take Fun Seriously," the company offers a wide variety of sports instructors. K&K Insurance insures for the specific risks sports and swim instructors face at a reasonable price.
The K&K Insurance process is streamlined for sports and swim instructors operating as a sole proprietor. The company covers a broad range of instructors for both private and group lessons Sports including swimming, football, cheerleading, wrestling, and road running. K&K Insurance requires all instructors to be at least 18 years of age.
The Hartford
The Hartford is one of the largest business insurers in the nation covering a wide range of industries with a multitude of policies. Policies often include additional coverage for no extra cost compared to other companies where coverage is parsed down. Coverage is offered for small companies like sole proprietors to large organizations with hundreds of employees.
Sports instructors who need coverage for equipment and business property separately should use The Hartford. The carrier can write standalone business property policies to cover equipment owned by the sports or swim instructor. This carrier is limited with general liability policies for sports and swim instructors.
What Sports Instructor Insurance Is
Sports instructor insurance and swim instructor insurance are the same general liability policy category just for specific activities. The liability policy for sports and swimming instructor insurance is more than general liability. It covers professional and a multitude of liabilities that other industries need additional policies for proper coverage.
Here is what to look for in your sports and swim instructor liability insurance policy:
General liability insurance for sports and swim instructors is an indemnity policy; indemnity policies protect the sports and swim instructor from alleged negligent actions that result in bodily injury, property damage and personal injury to a client or another third party
Personal injury for the sports and swim instructor is different than bodily injury covered in general liability but often combined in one policy; this insurance coverage defends the sports and swim instructor against lawsuit claims of libel, slander, or invasion of privacy; an example is a swim instructor posting a picture in social media of a lesson at a high-profile client's home leading to an invasion of privacy claim
Professional liability for the sports and swim instructor covers accusations of bodily injury because the coach failed to "render professional services"; an example of how accusations and claims may arise is if the instructor fails to do a health intake that leads to a coronary arrest during or after the workout
Advertising injury coverage for the sports and swim instructor cover claims against the unauthorized or misappropriated use of copyrighted and trademarked intellectual property; instructors using a Nike or Adidas logo on advertising without sponsorship or consent may receive a cease-and-desist letter at the very least
Medical payments coverage for sports and swim instructors cover medical expenses resulting from participation in the sport; a tennis player who sprains his or her ankle during a training session and goes to the emergency room could claim the tennis instructor is responsible and demand restitution
Sport and swim instructor liability policies often cover more than just general liability and are more robust than policies for other industries covering both general and professional liability. Most sports and swim instructors are sole proprietors working at a client or third-party location with higher liability exposure. Risk exposure is immediately before, during, and after instruction lessons — essentially anytime you are on the property or interacting with students.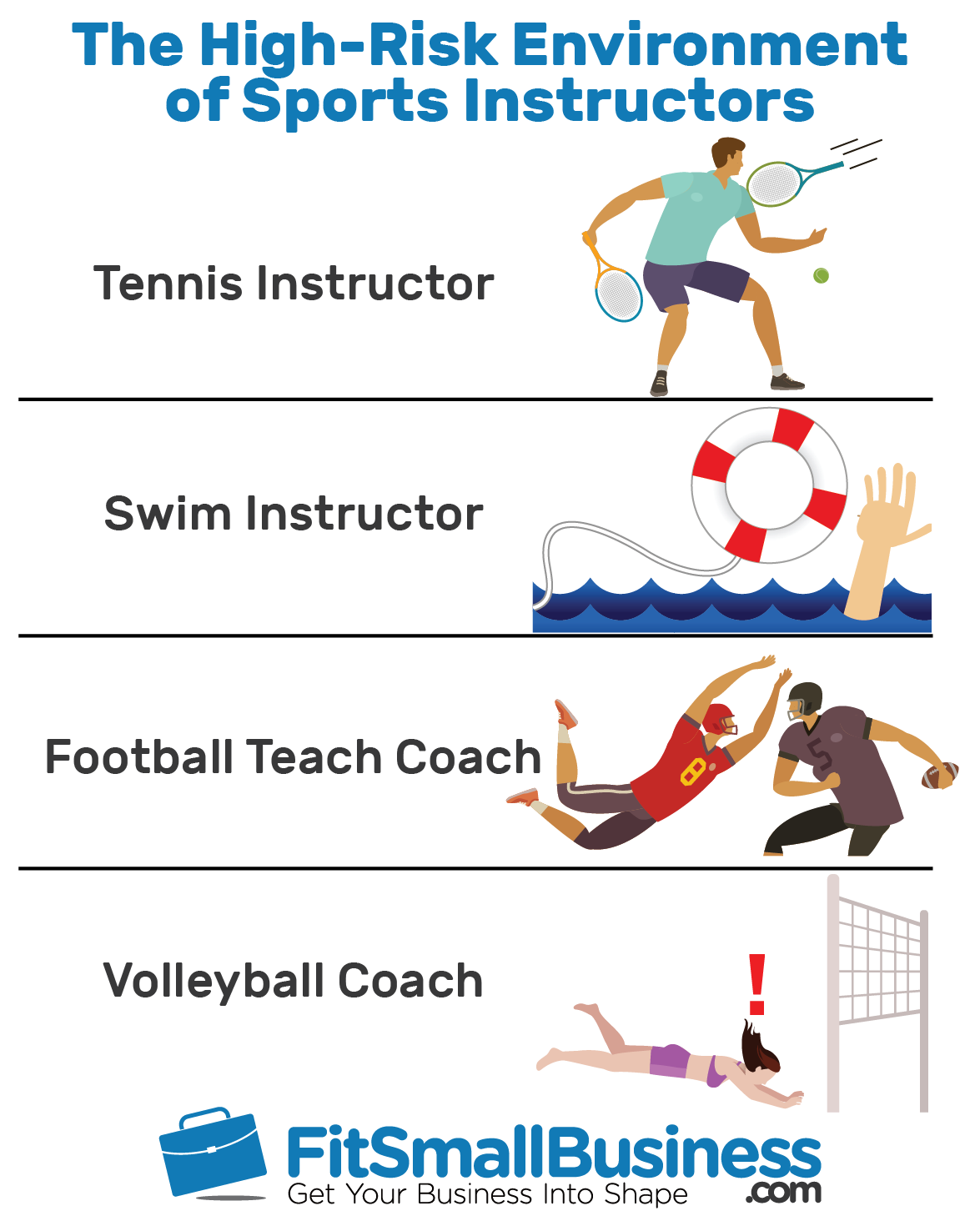 What Sport and Swim Instructor Insurance Covers
Sport and swim instructor insurance covers general liability, professional liability, personal injury, and medical payments. Most providers that offer sports and swim instructor insurance that combines general liability and professional liability. Business property can be added to some policies through a business property policy may be required.
The combination of policies a sports and fitness instructor should consider include:
General liability for sports instructors covers bodily injuries and/or damage to third parties like clients, observers, and bystanders; for example, a parent trips over a bag of soccer balls gets hurt and demands payment
Personal property insurance covers someone if their car, home, or other property is damaged by you in the course of instruction; a common example is a baseball hitting coach working with a student who foul tips the ball that goes through the windshield of a car at the park
Medical payments are paid via the general liability policy and cover client injuries during instruction; this could be as minor as a sprained ankle or become more serious as in a concussion; more serious injuries could overlap into the bodily injury portion of the coverage
Professional liability insurance covers claims about results or professional capabilities to deliver results; if a football quarterback coach tells a parent that their child will get a scholarship to an NCAA Division I school and he or she doesn't receive one, the parent may sue for a misleading statement
An important point on bodily injury and medical payments is that it isn't always the person who gets hurt that demands payment. Assume the parent went to the hospital on their own and tried to claim the injury on their personal health insurance plan; the health insurance carrier might demand payment from the sports instructor.
What Sports and Swim Instructor Insurance Doesn't Cover
Sports and swim instructor insurance has many exclusions. Be sure to ask your agent and read through the policy to understand fully what is covered and not covered. Policies don't cover coaching professional athletes or organized teams, instructors and coaches.
Sports and swim instructors are not covered:
Accusations of criminal behavior
Instruction in open water like lakes, rivers, and the ocean
Physical therapy sessions
Cycling other than stationary bikes
Use of amusement devices like bungees, climbing walls, and dunk tanks
Professional athletes and organized team sports
Illegal actions and intentional acts are not covered by insurance policies. Sports instructors need to be aware of how language and physical contact can be interpreted or misinterpreted. There may be riders a sports instructor can purchase to help in defense of false accusations.
Sports and Swim Instructor Insurance Costs
An individual sports and swim instructor insurance policy can cost as little as $120 annually for $1 million in liability coverage. Because professional liability coverage is usually combined, there is no additional cost. A business owner's policy to protect the instructor's sports equipment is an additional $500 on average.
Sports and Swim Instructor Insurance Costs & Deductible
| | Coverage Amount | Premium Cost | Deductible |
| --- | --- | --- | --- |
| General Liability | $1 million | $120-$200 | $0 |
| Professional Liability | $1 million | Included with general liability | $0 |
| Business Equipment | $20,000 | $500 | $500 |
Costs go up as you increase the liability coverage. Cost increases are nominal, and sports and swim instructors should consider the price difference. For example. The difference between $1 million in coverage with a $2 million annual aggregate through Sports & Fitness Insurance Corporation is $120. Doubling the coverage only adds $15 to the annual premium.
Tips on Getting & Applying Sports and Swim Instructor Insurance
Gather Information on Third Parties Needing Certificate of Insurance
If you know you will need a certificate of insurance (COI) for certain places where you instruct, ask them exactly how they need to be listed on the COI. Public parks, swimming pools, YMCA, and tennis centers need to be listed in a specific way to have the COI accepted.
Calculate Total Equipment Value
Calculate the value of your sports equipment that you use to teach. Include training aids as well as actual equipment that is used in your swim instructor lessons. If you draw things up on a whiteboard, this is part of your business property along with balls, bats, and automatic ball machines.
Check With Professional Organizations
Many professional organizations offer limited general and professional liability policies directly. This is often a good start but may not be able to offer COI or business property coverage. Check with your organization and ask what exactly is covered.
Associated Sports Instructor Insurance Types
Sports instructors often find themselves falling into a couple of different fitness insurance categories. They might be a sports instructor, team coach, or own a facility. These are different types of insurance policies that insurance for sports instructors won't always cover. Consider all aspects of your business to get the right insurance policy.
Here are other policies for those in the health and fitness industries:
Nonprofit and organized team sports need coverage for the team that includes sports general liability, team equipment, player injury, and coaching personal injury; instructors who provide individual instruction and also coaches for a team are not covered by the team for personal business endeavors and vice versa
Professional coaches are in a different classification as sports and swim instructors; the insurance reflects the higher risk of bodily and personal injury from working with professional athletes in the public eye; if the coach's student is making money, sports instructor liability insurance may not be sufficient
Gym insurance covers the costs of insurance to cover the location and employed fitness instructors; gym insurance goes beyond liability and covers the facility, the equipment, and everyone working inside or using the facility; it combines liability, workers' compensation, business property, and equipment insurance
Dance studio insurance is less comprehensive and less expensive than gym insurance because activities are limited with less equipment that could lead to injuries; however. like a gym insurance policy, the dance studio policy covers the building, students, and instructors employed; independent contractors need sports or fitness instructor insurance
Some health and fitness facilities fall directly in line with one carrier's definition while others may have several categories. The tennis instructor may also coach a United States Tennis Association team. This requires additional coverage to the sports instructor insurance policy with one of the other options.
Sport and Swim Instructor Insurance Frequently Asked Questions (FAQ)
Looking for sports and swim instructor insurance means you have specific needs. If you have a question that hasn't been answered here, please visit our forum to get it answered. Making sure you have the right tools to get the right coverage is our top priority.
1. What Is a Certificate of Insurance for Sports and Swim Instructors?
A COI for sports and swim instructors is a certificate issued by the insurance company that lists policy liability coverage limits, coverage dates, and lists a relevant third party. A public facility like a tennis court, YMCA, or swimming pool often requires a COI to protect themselves against your business activities.
2. How Do I Purchase Insurance as a Swim Instructor?
Purchase insurance as a swim instructor through a commercial lines insurance agent or broker. Many offer general liability policies for swim instructors. Be prepared to answer questions regarding your swim instructor business that includes where you teach, the age range of students, and annual revenue.
3. Do You Need Insurance as a Private Swim Instructor?
Private swim instructors work at clients' homes and public facilities. Working with students in the water has a high degree of risk where people may get hurt or have medical issues arise. Many swim lesson clients won't work with swim instructors who don't have general liability insurance.
4. What Are the Legal Duties of a Coach?
Individual sports instructors and coaches are required to plan activities properly in a way to mitigate the risk of injury or property damage. Proper equipment must be provided, risks and dangers must be disclosed, and the instructor must supervise the activity.
"As much as you strive to keep everyone safe in a lesson, you can't control everything. A tennis student who confuses his left from his right can lead to a collision and serious injury. The liability insurance covers this."
— Stacey Cohen, Tennis Instructor
The Bottom Line
Sports and swim instructors need to be covered from the many potential injuries that can happen when teaching students. General and professional liability are critical to preventing claims and settlements on personal and professional assets.
Protecting yourself against the biggest financial risk requires sports and swim instructor liability insurance. AP Intego will help make sure you're covered. Get connected with a nationally licensed agent online today.
Visit AP Intego