What Is a Stay Interview? A Guide for Small Businesses
This article is part of a larger series on Hiring.
A stay interview—or retention interview—is a one-on-one discussion between an employer and an employee to determine what makes the employee stay in their job or with the company. Unlike exit interviews, which focus on departing employees, stay interviews seek information from current employees (generally high-performers but sometimes disengaged workers) on overall job satisfaction and engagement.
Stay interviews can add significant value to your company's employee management process, allowing you to identify the qualities of your business that positively or negatively impact overall employee satisfaction, productivity, and turnover.
We have created a customizable stay interview evaluation template to help you keep track of notes and comments from each interview.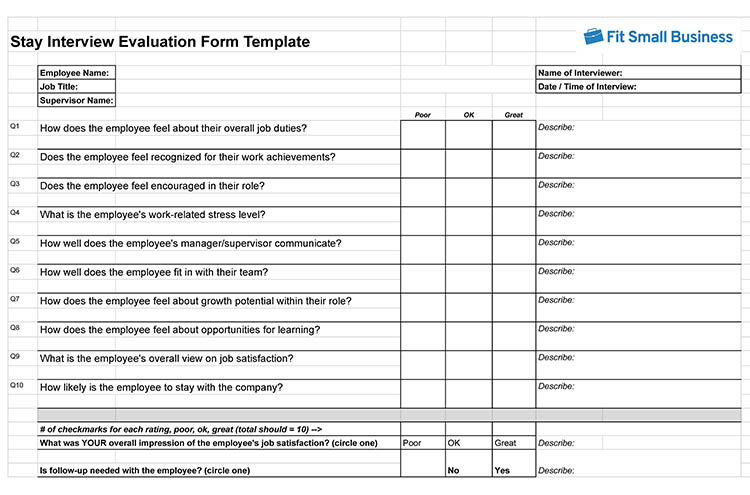 Thank you for downloading!
How to Give a Stay Interview
A stay interview should be straightforward and informal—don't overcomplicate it. Your goal is to get honest feedback from your team members and strengthen employee engagement by acting on what employees tell you. If they open up to you but don't see results, that can harm engagement and, ultimately, increase turnover. Just as you would with a traditional job interview, have a structured interview process to ensure you get the necessary information.
Step 1: Open the Stay Interview
You want to set a casual (or informal) tone to put your employee at ease, making it more likely for you to get honest feedback. This isn't a discussion with difficult information to deliver, such as putting someone on a performance improvement plan. You should tell your employee that you are simply looking for feedback to strengthen employee engagement and determine why they want to stay with the company—or even what might make them leave.
Example: "The purpose of today's meeting is to discuss your job satisfaction and engagement with the company. This is an opportunity to freely express your opinions and explain why you choose to stay with the company or what may tempt you to leave."
Although some companies prefer their HR team conduct stay interviews, the best approach is to have direct supervisors handle them. Managers are more aware of what employees deal with daily and are better equipped to communicate transparently with their team members.
Step 2: Ask Open-ended Questions
Stay interviews shouldn't take as long as traditional interviews—try to keep them to around 30 to 45 minutes—so don't plan more than half a dozen questions. Here are some examples:
If I were a friend asking you about your job and company, what would you tell me are the three best and worst things about working here?
What are your thoughts on how employees are recognized? How can I better support you?
What would make your daily work more satisfying?
What causes you the most work-related stress, anxiety, or frustration?
What would make you leave for another company?
Make sure you actively listen to the answers and ask follow-up questions. You're unlikely to get extensive answers without some prodding, so you must be alert and look for opportunities to dig deeper.
Step 3: Close the Stay Interview
Here's where you show you were listening—summarize the key points made by the employee. Show that you heard what they said about the highlights and drawbacks of the company. Also note that you will work with them to make improvements to the organization, giving them a better employee experience.
Example: "Thank you for sharing your company experience with me today. I understand you are happy in your position because [state reasons given by employee]. I also understand you have some concerns about the company's structure, including [state reasons given by employee]. I will address your concerns with our leadership team and follow up with you on the results."
Above all, end the stay interview on a positive note. Thank the employee for their honesty and feedback. However, that can't be just words; genuine action must follow.
Step 4: Follow Up
Once the interview is completed, fill out your stay interview evaluation form and discuss it with your leadership team or HR. Then follow up with the employee and take any needed actionable steps. While you can't please every employee all of the time, if your employees take the time to give you feedback and you do nothing with it, it will negatively affect engagement.
When to Give a Stay Interview
While regular check-ins and performance reviews are necessary for every employee, especially new hires, wait at least six months post-hire before doing a stay interview. Employees need to be settled in their roles, absorb the company culture, and feel comfortable in the environment. Otherwise, a stay interview will not have the desired effect.
Stay interviews can be done with any employee; however, they are best conducted with
Tenured employees
High-performing employees
Disengaged employees
Don't combine stay interview questions with a performance review. Employees are in a different frame of mind during performance reviews, expecting to speak very little and not engage in an open discussion. You're attempting to achieve different outcomes with each of these employee management tools, so don't try to combine them—you won't get the outcome you need from either.
Why Companies Use Stay Interviews
Ultimately, the purpose of stay interviews is to reduce turnover, which has never been more important. According to a 2023 poll of jobseekers by Monster, 40% were considering leaving their current role for a higher salary, and 34% were considering leaving their current role for more growth opportunities.
But even if you have low turnover, stay interviews allow you to effectively take action at the first sign of problems. Expect to gain insight into:
Employee happiness
Job satisfaction
Work/life balance concerns
Management issues
Raise/promotion concerns
Professional development wishes
Company culture changes
Relationships with colleagues and managers
Stay interviews also allow managers and employees to build better relationships. When employees have these honest and transparent discussions with their manager, they build rapport, trust, and companionship.
Additionally, stay interviews are generally more effective than employee surveys—too many employees rush through surveys, simply looking to finish and return to work. With stay interviews, employees and managers dedicate time to a full discussion. Investing this time leads to better conversations that can reveal unpleasant issues.
Bottom Line
Stay interviews can increase your company's employee retention rate. The key is to use the information from these discussions with your employees and take actionable steps to improve their experience. You can learn if your team is happy overall or if specific issues need to be addressed. Take proactive steps and show them you hear them. Ultimately, this will improve your company's retention rate, employee engagement, and productivity.