A performance improvement plan is an HR-term for a development plan that usually is given to underperforming employees as a form of probation. Akin to a written warning, a performance improvement plan, or PIP, is being used by more companies who realize that showing a path to success and setting goals for underperforming employees is more helpful than just "writing someone up". More importantly, it can save the employment relationship and, in theory, turn the employee into a top performer.
Note: Some companies also use the term performance development plan, or PDP, in place of the PIP. They are usually very similar.
Free Performance Improvement Plan Template
Click below to download our free performance improvement plan template: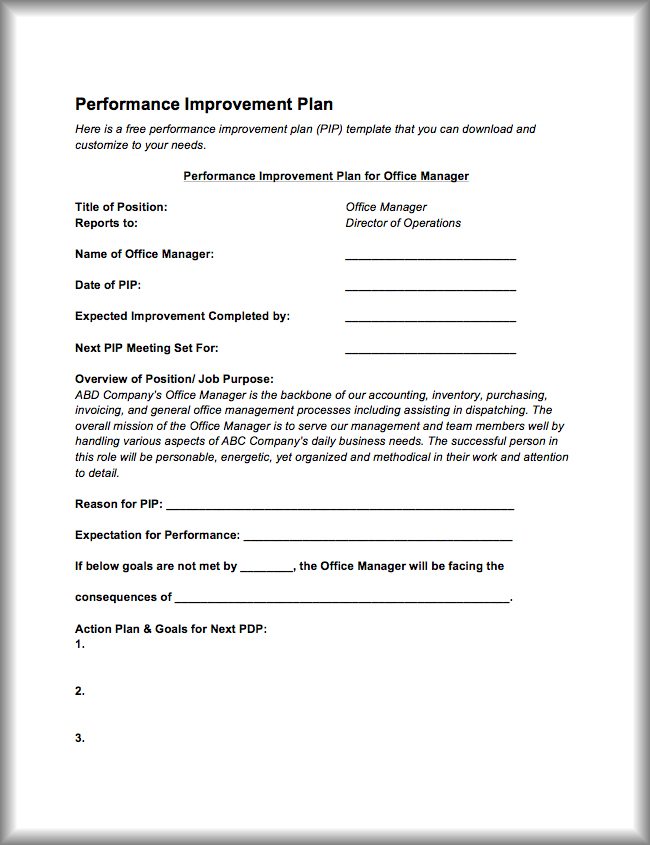 We recommend customizing the template in your preferred word processor before printing it out.
SHRM points out that, The format of the performance improvement plan will vary by employer and should include the following components:
Employee information.
Relevant dates.
Description of performance discrepancy or gap.
Description of expected performance.
Description of actual performance.
Description of consequences.
Plan of action.
Signatures of the manager and the employee.
Evaluation of the plan of action and overall performance improvement plan.
We also recommend including any supplementary documents, like a job description or training materials that can further help the employee understand their responsibilities, to the employee's PIP.
What is a Performance Improvement Plan
A performance improvement plan, also known as a PIP, is a tool commonly used in lieu of or in addition to performance reviews to provide an employee insight into noticed changes in their performance. PIPs are usually executed when an employee's performance has slipped, like a salesperson who is no longer meeting quotas or a customer service rep who is no longer meeting the ticket resolution goals. They are also usually executed during the middle of the performance review period or at companies that do not have performance reviews in order to give an employee an official warning that their performance is decreased.
While some companies still do things like written warnings in performance situations, a PIP has a bit of an edge in that the ideal goal and the path set by it is to get the employee to success, which can benefit you as the business owner and them.
The Difference between a PIP and a Performance Development Plan (PDP)
Some companies prefer the term performance development plan in lieu of the word "improvement" in the middle in order to sound less harsh. Alternatively, PDPs can also apply to every employee, even the top performers, as companies also use this phrase as more of an all-encompassing development plan that every employee gets annually, or every 6 months.
However, a PIP is generally limited to bottom performers only or those who fall below some sort of achievement mark, like a quota. In addition, a PIP is rarely used for employees on probation as they're still learning. A PDP does not usually have a specific performance parameter and is a tool more likely used to lift already good performance higher.
So what is the motivation behind a performance improvement plan? This is where some people disagree, which we discuss next.
The 3 Uses of a Performance Improvement Plan
PIPs are used in a few different ways at companies. The 3 main uses of PIPs are:
1. To Convey a Serious Wake Up Call to an Employee
As Liz Ryan of Forbes says, "A manager only puts you on a Performance Improvement Plan when they want to get rid of you. Instead of a Performance Improvement Plan, it should be called This is the First Step Toward Firing You Plan, because that is what's happening."
While I think that is a little harsh on the meaning behind a PIP, it is commonly used as a way to give an employee a good shake in-between performance reviews that their performance has been in the toilet and it's time to improve. If you have a progressive discipline policy, you could look at a PIP as the equivalent of a written warning and it should have the same qualities of a written warning — a specific issue pointed out, the resolution expected, and the timeline for next steps.
2. To Start a Dialogue of Improvement
SHRM makes some excellent points on performance improvement plans, including that they should beg the questions of:
Did the employee not receive appropriate training?
Does the employee not understand the expectations of the job?
Are there unforeseen roadblocks in the way?
SHRM continues to point out that a good PIP will allow for an open dialog and feedback from the employee to help determine whether the employee has been provided all the tools and resources necessary for him or her to be successful.
So, while Forbes views PIPs as a negative tool, SHRM makes a valid point that they can also be used as insight for the company to figure out where they have failed their employee and create a feedback process from both sides.
3. To Document Performance
A PIP is an excellent tool to document performance gaps and the markers an employee misses. While not the most glorious part of a performance improvement plan, this is a necessary aspect for you as a business owner so that you can defend a wrongful termination lawsuit or prepare for a fire someone. A PIP can be a good solution if you don't currently have a performance review system in place (and it can spur you into action into creating one to compliment your PIPs).
Let's now figure out how you can execute them at your business.
How to Execute PIPs in Your Workplace
If you are wondering how you can put PIPs into place in your business, you should follow the next 7 steps:
Step 1: Prior to giving a PIP, performance issues & incidents should be documented
Before you put performance improvement plans in place, you need to be documenting performance in some form, be it set metrics, goals, probationary objectives, job descriptions, or against performance reviews.
Step 2: Decide what the boundary is for when an employee should be on a PIP
What will be the point for an employee going on a PIP? Will it just be performance-related or will you add in elements of behavior or cultural fit?
For example, one company I worked with put people on a PIP when they were below their weekly quota for more than 2 weeks in a row. They chose that because they recognize that everyone has a bad week every now and then, but 2 weeks in a row is when it's becoming a pattern. This same company also put people on a PIP is they failed 2 quality checks in a row (it was a call center). So they had 2 kinds of PIPs going, and someone could be put on both at the same time.
Step 3: Create an individualized performance improvement plan for each employee needing one
A blanket PIP doesn't usually work. You need to include an element of why the performance gap is happening. Going with my example in the step prior, it was found that reps missed their quotas for a few different reasons, including:
Excessive break time
Excessive personal time between calls
Not following the answer flow chart correctly
Other miscellaneous reasons
Note that someone missing a quota for excessive break time and someone who isn't following the workflow chart are two very different situations. Thus, they call for very different PIPs.
Step 4: Hold a meeting with each individual employee
You need to then talk to the employee about what is happening, why, and the consequences if performance isn't improved by a certain date. This meeting should include goal setting, as well as an opportunity for them to provide some feedback on why this has happened. Is there a training gap or something else going on? Dig into the why and set some goals and accountability metrics for the employee to succeed.
Some ideas for helpful options for PIPs:
Assign the employee a mentor or buddy who is a top performer to spend time with
Have training materials available for the employee, like manuals or videos
Make an effort for managers to check in with the employee and check on their progress
Step 5: Execute the next steps of the PIP
Get to work on what you said the PIP would include and get the employee going. Encourage the employee along the way and encourage good behaviors in them with verbal and informal feedback.
Step 6: Determine one of 3 outcomes
You need to then figure out what the next step is for the employee after reviewing their performance over the set period of time. There are 3 options:
Employee remains on PIP
Employee needs to be terminated
Employee moves off of PIP with congratulations
You also will want to set parameters around how many PIPs an employee can have, as well as how long they can endure, without a higher level consequence. For example, the business I've been using as an example said you could not have more than 2 30-day PIPs in a row and no more than 3 in 1 year before termination.
Step 7: Hold the follow up PIP meeting with the employee
The final step of holding the follow up PIP meeting is nearly as important as the first. Why? Because you need to follow through with the whole process. When I was working at the example business, management struggled to follow through with the next steps of a PIP, which then lead us to lose credibility among the employee base. "Oh, a PIP doesn't matter- they forget about it" is something I heard on the floor.
You want your system to be respected in order for it to work, and to do that you'll need to follow through with the process you set.
Benefits of Using Performance Improvement Plans
Using PIPs to help your employees back to a path of performance can be very useful to a small business. Here are the top 5 benefits to implementing PIPs:
1. When they work, they save you money
Performance improvement plans can save you money in:
Recruiting costs: Because you don't need to replace or hire more people.
Termination costs: Because you don't need to fire someone and provide severance or pay out other costs.
Overtime costs: If you ended up short staffed, you don't need to have other people logging hours to pick up the slack.
2. When they work, they save you time
When successful, using PIPs can save you time as a business owner. Specifically, they can help you save time in dealing with recruiting since you are setting up current employees for success. Performance improvement plans can also help save time by making it crystal clear on when someone should be let go (and how to document it). Don't forget all of those company meetings and announcements whenever there are personnel changes… those take up time too
3. They provide clear documentation to an outside party
If you're an attorney and you see a lineage of failed PIPs, a termination for performance is a no brainer. Even if you don't do performance reviews, PIPs can be good documentation to an outside party for hiring/firing decisions.
4. They are the "norm" for quota-carrying or goal-based jobs
While not completely a benefit, your employees might be looking for you to have a boundary for PIPs and a boundary for their performance in general. It's a form of feedback that millennials are desperately looking for in many ways, and it's also the norm for quota-style roles and keeps employees motivated!
5. They show employees that you care (when done correctly)
Having an improvement plan system, and especially once you find a training or improvement system that works, shows your employees that you care about them. You're not just going to be a business owner who writes them up, leaves them out to dry, and then fires them. This shows that you are invested in them as well.
Let's also discuss the drawbacks of performance improvement plans.
Drawbacks to Using PIPs
Like all things HR, there are some drawbacks to using performance improvement plans as well. The top 3 include:
1. You Need to Use Them Equally
Really, really dislike an employee? Well, guess what. So what? You need to treat everyone equally and go by the PIP process. If other people get PIPs and someone else doesn't, you can't just chalk it up to at-will employment — it will look fishy.
2. Is It Postponing the Inevitable?
Some might argue that, if someone is on a PIP, are you really just postponing their firing? My response is that's a very cynical view to a PIP. When done right, a PIP should work, meaning that the employee's performance improves.
3. Management's Time
A performance improvement plan requires effort on behalf of a manager, be it yourself or someone else, to help an employee to succeed. Like other performance management components, it will take up management's time… but it can be well worth it!
We have a number of other performance-related resources for small business owners, especially if performance improvement plans don't sound like what you need.
Other Performance Management Resources
PIPs aren't the only things you can do to manage your talent at your business. We have a number of articles and resources on performance management and successful hiring, including many with free templates for you to customize:
The Bottom Line
Performance improvement plans are a great way to get employees back on track to being successful with your small business. We recommend putting them into place as an effort to set your team up for success, as well as to save you on employee turnover costs. When PIPs work, they are a great add-on to a  performance and talent management program.