A SWOT (strengths, weaknesses, opportunities, threats) analysis is an exercise to help you make a business decision. The decision could be for a simple endeavor: adding a new product—or more complex like starting a business. You may choose to do a SWOT analysis on your own. However, we recommend doing it with others to get an additional perspective.
The most common use of a SWOT analysis is to evaluate a significant business decision, such as changing marketing strategies, adding a new product, or starting a new business. You may want to include the analysis in a business plan, but it works best for internal use.
Tip: Begin your SWOT analysis by placing your objective at the top of your page: What do you want to accomplish with the exercise? As you start to list your strengths, weaknesses, opportunities, and threats, refer back to it. Only list information that will affect your objective.
1. List Your Strengths (Internal)
Strengths, quite simply, are what your company is good at, right now, that will make the project a success. You also need to consider if the strength is unique to your industry or if you do it better than your competitors. For example, offering takeout is not a strength if every competitor offers takeout.
Consider the following when listing your business's strengths:
What makes your company stand out?
What does your company excel at?
What do customers love about your product or company?
What internal resources (skilled staff, new software) do you have that make the project more likely to succeed?
What tangible assets (intellectual property, capital, proprietary technology) make it easier to complete the project successfully?
Example of small business strengths:
Domino's Pizza used to have a strength of delivery in 30 minutes or less until that became the industry norm.
The funds from the sale of PayPal allowed Elon Musk to fund SpaceX.
Wendy's hilarious and engaging Twitter team led to a huge following.
2. List Your Weaknesses (Internal)
Weaknesses are areas internal to your business that make it hard to complete the objective. If you can't change them, it's a weakness. Think about your internal processes as well as how you compare to your competitors.
Also, think longer term. For example, it's not a weakness that customers don't know about the product you want to make. But, it is a weakness if the marketing team was laid off.
Consider the following when listing your business's weaknesses:
What does your company lack that makes it hard to achieve the goal?
What do your competitors do better than you?
What are your resource limitations?
Is this idea/project already being done well by others?
What causes your customers to leave?
Examples of small business weaknesses:
Kodak developed the first digital camera but could not get approval to sell it.
Tie Rack was too specialized in neckwear alone to capture a broad audience that also wanted shirts.
Commodore computers lacked resources to keep up with PC advancements.
3. List Your Opportunities (External)
Opportunities are advantages that lie outside your business operations. Generally, you cannot control the opportunities, but you can capitalize on them. This opportunity could be the inspiration for the project, but think beyond that. Examine the market, competition, and outside forces.
Consider the following when listing your project's opportunities:
Is there a rising need in the market?
Is there little competition?
Do you have a ready-made audience?
Is there an outside event or press coverage that you can piggyback onto?
Example of opportunities for projects:
COVID-19 increased the demand for hand sanitizer and face masks.
3D printing opened up opportunities for custom-made items.
Amazon, eBay, and ecommerce made it possible for specialty stores to reach broader markets.
4. List Your Threats (External)
Like opportunities, threats lie outside your business and influence. You may not be able to plan for threats, but you need to consider and prepare for them. Don't skimp on this section, as it could uncover the issue that saves you from putting money and effort into a project doomed to fail.
Consider the following when listing your project's threats:
Government regulations
Emerging competitors
Negative press about your business or idea
Customer attitudes changing for the worst about your product or business
Specific examples of possible threats:
Government restrictions on store openings and diner limits due to the pandemic hurt small businesses and restaurants.
Internet rumors (true and false) have led to boycotts of companies such as Starbucks and Hobby Lobby.
The rise of digital streaming killed video stores like Blockbusters.
5. Clean up Your Analysis
Once you have all your ideas down, go back through them and evaluate each. Does it apply to the question, project, or goal? Is it in its proper place, or should it be examined differently?
After your review, rearrange the points in order of importance. This process will help you evaluate the impact of each section.
Deciding Where To Put an Issue
You may find that items may apply to more than one section. For example, a weakness could be seen as an opportunity. However, for a SWOT analysis, separate them by internal (something you can control) versus external (something you cannot control).
Alternatively, an issue might be a threat to one kind of project while an opportunity for another. For example, the recent social distancing rules would have been considered a threat if expanding your restaurant's dining area but an opportunity if adding a drive-thru.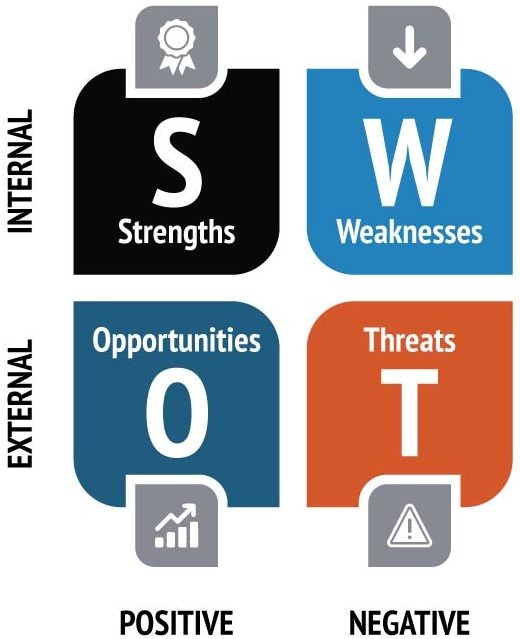 Get Feedback on Your SWOT Analysis
Once you have your analysis complete, it's time to get feedback. First, have anyone involved with creating the analysis check it for accuracy. Then, get others to look it over who can give you an outside perspective, poke holes in your logic, or suggest additional considerations.
Run it past co-workers involved in the project, and share it with friends or family. Take it to your business mentor if you have one. If you don't have one, consider contacting your local Small Business Development Center (SBDC) or SCORE office — they provide no-cost advisers to help you evaluate your analysis.
Update Your SWOT as Needed
A SWOT can be a living document, evolving with a project. Therefore, consider keeping it nearby to update as events change, weaknesses are tackled, or new strengths arise.
This strategy can help you stay on track and identify new opportunities or needs as they arise. Alternately, schedule a quarterly or annual review of your SWOT to gauge your progress.
Implement Your SWOT
The first objective of a SWOT for your small business is to decide whether a goal is worth pursuing. Therefore, if after the SWOT you decide against the project, congratulate yourself! Your work just saved you a lot of time and money and may have uncovered a different angle or project to pursue.
If you are moving forward with a project, use your SWOT analysis for convincing others, mapping strategies, or generating ideas. It can also help you organize the overall project.
Turning Your SWOT Into Actions and Objectives
To turn your SWOT into objectives, you need to examine your strengths and weaknesses against your opportunities and threats. Say, for example, your software development team excels in quick turnaround of new features. If an opportunity is a rising need for a particular tool, an actionable item would be to develop that feature.
You can also create objectives by addressing weaknesses. These may be long-term strategies as opposed to action items.
Adding Your SWOT To Your Business Plan
A SWOT analysis can be an essential part of your business plan. It provides a strategic component to the plan and guides execution. It helps your co-workers understand the reasoning behind goals and policies. Further, it reassures potential investors that you have thoroughly thought through your project or business.
While a SWOT should inform your business plan, you don't necessarily need to include it in the business plan or presentation you provide investors. It may make you look like an amateur and won't add value. With investors, you should be talking about what you will do as a result of your SWOT, not the analysis itself.
Why Do a SWOT Analysis?
Ultimately, you'll want to do a SWOT analysis to determine if you should move forward on a project. A SWOT analysis helps you objectively examine:
Internal advantages (strengths)
Internal disadvantages (weaknesses)
External advantages (opportunities)
External disadvantages (threats)
Once you've completed the analysis, you'll be able to see the pros and cons of your venture. You'll identify specific areas you need to address. If you're using SWOT to test a business idea, you can decide if the idea is worth pursuing. You can also use this to develop and prepare for arguments when presenting the project with investors, partners, or loan officers.
Bottom Line
A SWOT analysis provides a good foundation for taking on a new business endeavor. Use it to objectively evaluate your objective. At the end of the analysis, don't just throw it in a drawer, never to be seen again. Pull out strategies from the exercise and implement them to improve your business. If you'd like no-cost SWOT feedback or assistance, contact your local SBDC or SCORE office.