Vacation Rental Insurance: Cost, Coverage & Quotes
Vacation rental insurance covers your risks associated with short-term vacation properties you rent out. Your policy should include coverage for the structure and contents of your vacation rental property and loss of income as well as your liability for other people's damages. Typical policies cost around $2,000 to $3,000 per year.
Vacation Rental Insurance Providers
You want to find an insurance carrier that specializes in short-term rental insurance. Many homeowners insurance providers have policies tailored for real estate investors who have one or two small properties. If you have a larger portfolio of vacation rentals, look for a carrier with a bigger commercial insurance appetite.
Top Vacation Rental Insurance Providers
| Provider | Best For |
| --- | --- |
| | Condo owners with master association policies but who need specific loss assessment coverage |
| | Homeowners using and rent the property seeking to have a homeowners endorsement |
| | Beach rentals in frequent hurricane and flooding communities where policies are hard to get |
| | Property owner seeking a customized policy with an agreed upon loss settlement provision to save on cost. |
| | Short-term vacation rental property managers with over 10 different bookings each year |
Here are great five vacation rental home insurance providers.
Nationwide Insurance
Nationwide Insurance provides personal and business insurance coverage in all 50 states and offers several discounts, including multipolicy discounts. Vacation rental property owners can get all personal lines of insurance, including home, auto, and umbrella policies in one location while also getting a commercial vacation rental property policy.
Nationwide Insurance is right for short-term rental property insurance where owners have a condominium with common grounds and a master association policy. Nationwide offers comprehensive condo rental policies with reasonable loss assessment pricing. Loss assessment is the amount a condo owner owed for homeowners association (HOA) master policy deductibles.
Allstate is a national, reputable insurance provider that offers the most policy discounts. The insurer offers all lines of personal insurance, including auto and homeowners insurance where discounts are offered for bundling. It also was one of the first companies to offer an endorsement for homeowner sharing where the owner both uses and rents their home.
Allstate is the right choice for homeowners who have secondary residences they rent in their off-season. Allstate Host Advantage is an affordable way to add coverage for short-term rentals to existing homeowner's policies. The endorsement is around $50 for limited coverage up to $10,000 for personal belongings when renting and extends liability coverage to the policy limits for the rental.
Farmers Insurance is a reputable, nationwide provider of personal and business lines of insurance, including vacation rental insurance. It offers two different types of vacation rental insurance policies: one that is customized and one that is a prepackaged policy called Seasonal and Vacation Property Insurance.
Farmers is the right choice for property owners in disaster-prone areas such as Florida where policies are expensive, and some insurance carriers are still not writing a lot of or any, for that matter. Farmers' prepackaged policy includes options like liability insurance and comprehensive property coverage as well as partial and total loss coverage, and you can add coverage to customize your policy. Homeowners can also get flood insurance go through Farmers to access the National Flood Insurance Program (NFIP) to protect coastal properties.
Foremost Insurance may be a lesser-known vacation rental insurance company, but it offers a wide variety of specialty policies. Its vacation rental home insurance policies include property protection, liability coverage, and any potential lost income coverage.
Foremost Insurance is right for a vacation rental property owner looking to customize a policy based on use, location, and coverage needs. Foremost also offers actual cash value coverage that covers the cost to replace your home minus depreciation for those seeking cheaper coverage and an agreed loss-settlement policy for no-hassle total loss coverage.
Proper Insurance is another lesser-known insurance provider that specializes in short-term vacation rental insurance. It's the industry leader in this space and can give you an online quote in five minutes. This is unique because most other vacation rental home insurance providers won't give you a quote online. Those that do can seldom return quotes that quickly.
Proper Insurance is the right choice for investors with more than 10 short-term rentals per year. The company's policies don't have any vacancy restrictions and include building, contents, liability, and business income coverage. It also includes personal liability insurance when the property is also being used as your residence or vacation home.
How Vacation Rental Insurance Works
Vacation rental insurance covers losses that happen while the home is in between occupancy periods or for things that happen when it is vacant. You need short-term rental home insurance, which is quite different than homeowners insurance. Insurance providers generally treat vacation rental homes as businesses if they're owner-occupied 14 days or fewer per year or rented 90 percent or more of the time. However, this varies among insurance providers.
Vacation rental insurance is appropriate if you:
Don't live in your vacation rental property year-round, but also you rent it out
Lease property, even a home you periodically occupy, making it a "business activity" by an insurance provider's standards
"Homeowner's insurance is purchased by the property owner and covers the dwelling, other structures, personal property, loss of use, liability, and so on. For homeowners who rent out their property, there are other insurance considerations too, depending on how frequently the owner rents the property."

—Todd Kozikowski, Co-founder, Clearsurance
Homeowner's insurance policies are very similar, regardless of the type of provider you choose. However, providers offer a variety of vacation rental insurance plans. Some providers consider how frequently you rent out the property. If the provider considers frequency low, then they allow you to add a rider to your homeowners' policy. Unfortunately, this isn't a rule of thumb, and options can vary widely between providers.
More commonly, vacation rental home insurance providers require a separate policy, which includes business liability insurance. Regardless of the type of vacation rental insurance policy you choose, it should include a few important things.
A vacation rental home insurance policy should include:
Liability coverage: This covers personal injury by your renters, their guests and anyone else at your property
Contents and structure coverage: The building and its contents are covered in the event of a fire, damage, theft, and other events; amenities like a swimming pool or hot tub may also be covered
Lost income: If your property is damaged and you lose potential rental income, the policy will reimburse you for the lost income
Additional coverage: You may need to add flood or earthquake coverage onto your policy if you live in an area where it's needed
Vacation rental insurance coverage can be complex because different providers have different guidelines, so it's best to speak to an insurance agent and be upfront that your vacation property is for rent and not your primary residence. Homeowners may end up not being covered or having a claim denied if they tell the insurance agent that the property is a primary residence when it's not. Instead, they need to have short-term rental insurance.
Condo Owner's Special Considerations With Vacation Rental Insurance
A condo on the beach that you rent out is going to need all the same coverage as any other free-standing structure. The difference is condos may have an HOA or general management association. While the HOA typically covers things deemed common areas, they may also come with a separate deductible-like clause called loss assessment that you need to cover.
Loss assessment is the amount every property owner in the association is assigned by the HOA if there is a claim to the entire community. For example, if an elderly visitor is injured in a fall along the beach path, the claim may go against the entire association for not maintaining the path properly and is paid through the loss assessment. Loss assessment varies from association to association and may be as high as $50,000 for property owners in earthquake areas.
You can find a vacation rental property insurance that has coverage to pay this loss assessment if the HOA master policy has a claim against it.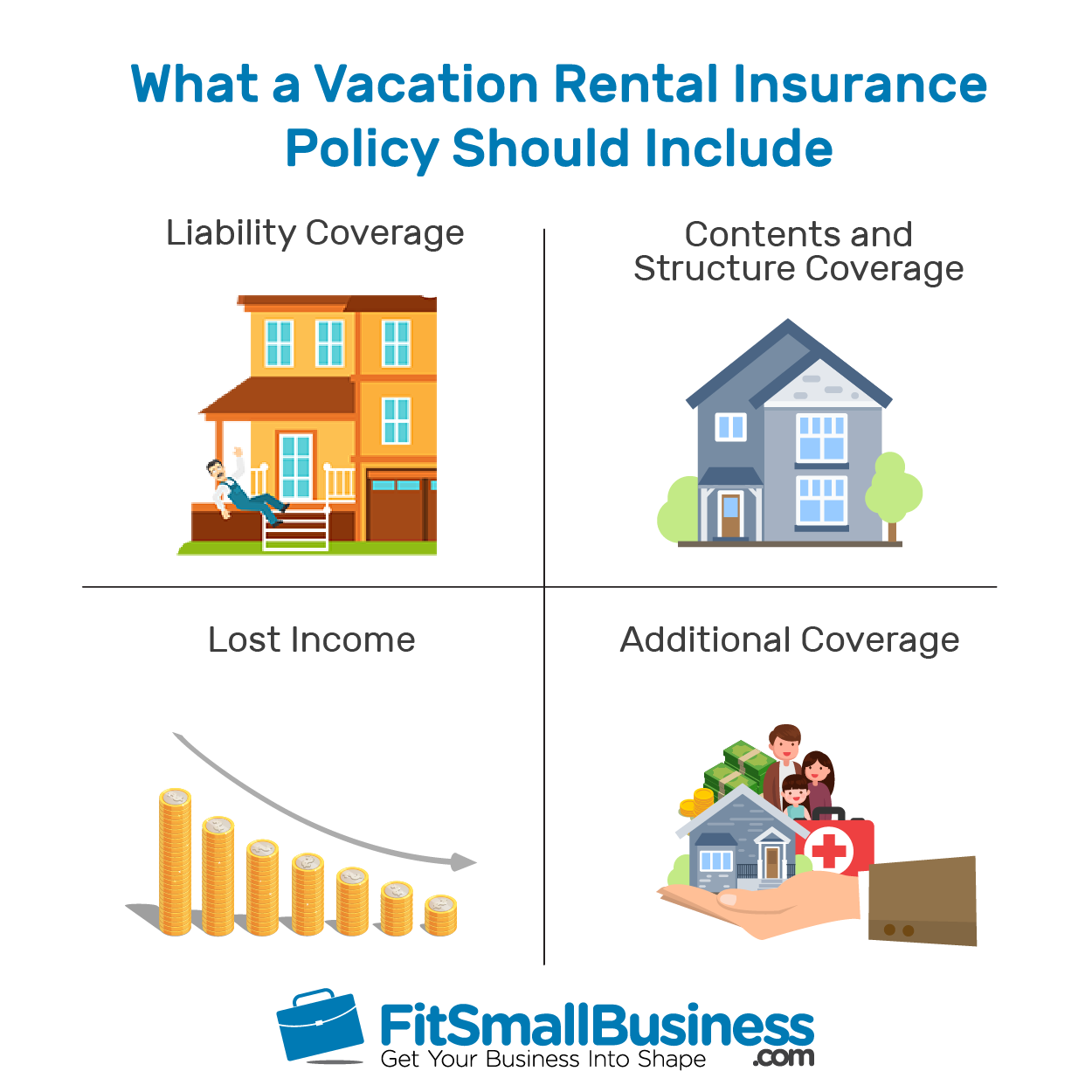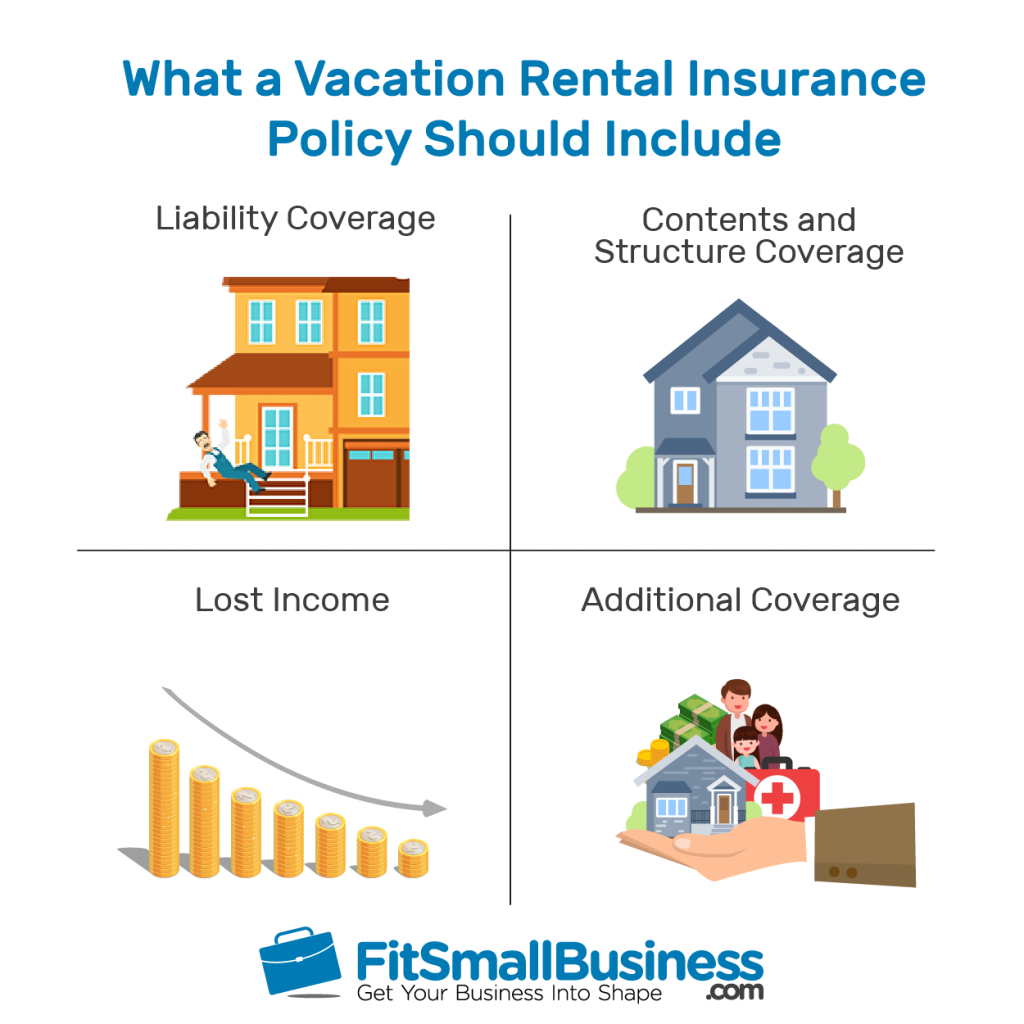 Vacation Rental Home vs Second Home
People usually purchase a vacation rental home for two purposes: to use for their own vacations and to rent out to others—often to offset some of the costs of homeownership and vacation expenses. However, a second home is not normally rented out and is just used as a second primary residence. This makes a difference when it comes to insurance.
For example, if the owners use a vacation rental home for 14 days or fewer per year or 10% or less of the time it's rented, vacation rental insurance providers generally consider it a business.
However, this is a general rule of thumb and varies among providers. Insurance providers also want to know how often the property is visited by owners or a property manager.
In contrast, a second home isn't rented, and coverage is generally similar to a typical homeowners' policy. Insurance providers consider a second home to be less risky than a vacation rental home because it doesn't have the liability associated with renters. Some home policies cover a second home while other providers require separate second home insurance.
Vacation Home vs Vacant Home Insurance
A vacation home is a secondary property used for family trips, rentals to vacationers, and temporary housing for short-term corporate visitors. The last two of these uses require business insurance. A vacant home is an empty home that is in transition either because it is on the market for sale, in probate, or is otherwise unoccupied and needs a form of a personal homeowners insurance policy.
For more information on vacant property insurance, check out our in-depth guide on vacant and unoccupied home insurance, including providers and costs.
Examples of Vacation Home Insurance Claims
Let's look at an example of a mountain lake cabin purchased by a family as a vacation rental for summer fishing and winter skiing. The family uses the property for a week during the summer and a week in the winter but rents it out the remainder of the year. They have a hard time renting in the fall before the ski season begins and kids are in school.
Here are some potential risks that the insurance company must consider:
Mountain wildfire zone: Homes in the mountains often have special underwriting risks due to the potential for wildfires and difficulty fire crews have navigating narrow or unpaved mountain streets. Ingress and egress are a significant factor in getting and pricing these policies.
Lake flooding: Heavy rains can cause the lake levels to rise, or snowdrift melts leading to significant flooding. Flood is not a covered claim on homeowners or vacation rental property insurance and requires a separate flood insurance policy.
Unoccupied vandalism and burglary: Empty properties in remote locations are targets for vandalism or burglary. Even if there are neighbors, they are accustomed to different people being at the rental and may not alert the police.
Squatters: Someone taking over the vacation rental as their own property because it was unoccupied usually requires evictions proceedings that take time. This could adversely affect rental occupancy and income, plus potential damage by squatters.
Abnormal wear and tear due to frequent use: Heavy use to things like plumbing or appliances with periods of non-use can lead to an increase in claims due to pipe bursts or appliance failure.
Renter negligence: Non-owners very rarely treat a property the way an owner would. For example, a family with five kids might let everyone jump in and out of the bathtub, splashing water everywhere and perhaps allowing it to overflow.
Renter theft: Most vacation rentals come furnished with everything a renter needs, including cookware. It isn't uncommon for things like artwork, books, or sports equipment to disappear.
Injured guests: If a renter trips on a cracked yard paver and is injured, they may sue for medical costs and potentially lost wages and a refund of vacation expenses.
Many properties like this are far from neighbors or are in communities where other homes may be unoccupied because they are vacation homes too. This means that it could be weeks, if not months before someone realizes that an issue has come up and needs attention. A small pipe burst that goes unnoticed for a week could lead to ten times more damage because the homeowner could not mitigate the problem in a timely fashion.
Vacation Rental Insurance Costs
The average vacation rental insurance cost is $2,000 to $3,000 per year or about two to three times the cost of a typical homeowners' policy. How the home is used most often is factored into the vacation rental premium. Generally, if you're going to use your property for yourself more than for short-term renters, the cost is lower.
The cost of the average homeowners' policy is $1,228 nationally but varies greatly by state.
Example of Vacation Rental Costs Based on Homeowners Averages
| State | Average Homeowners Policy Premium | Vacation Policy Premium Range |
| --- | --- | --- |
| Nevada | $703 | $1,406-$2,109 |
| Florida | $3,575 | $7,150-$10,725 |
Unfortunately, there aren't many cost standards across the industry and what one insurance provider considers a second home or vacation home another considers a vacation rental property.
Factors That Affect Vacation Rental Insurance Cost
Many factors affect vacation rental insurance cost. Insurance providers charge more for a vacation rental property than a primary residence because it's vacant for extended periods, increasing chances of vandalism and burglary. Additionally, guests seldom take care of the property like a homeowner, which can lead to claims over things like such as fire or injury.
Factors that affect vacation rental insurance cost include:
Deductible: The higher the deductible, the lower the cost of your policy and vice-versa
Replacement costs: The more expensive the property is to rebuild, the more expensive it will be to insure
Property location: Vacation rental insurance cost varies greatly by location
Amenities: A swimming pool, hot tub, fireplace, and wood-burning stove all increase the policy cost because of the added risk
Rental frequency: If you primarily use the property as a second home or vacation home, the cost is generally less than if you use it primarily as a short-term rental
Average rental term: Generally, short-term rentals have a higher policy cost than long-term rentals
Keep in mind that if your vacation rental property is going to be vacant for 30 or more days, you may need to add a vacant property endorsement to your property to maintain coverage.
How to Apply for Vacation Rental Insurance
Typically, applying for vacation rental insurance is similar to applying for homeowners' insurance or even auto insurance. Choose a provider that offers the type of coverage you need, serves your geographic area, and offers the best price for that coverage. Allow 20 to 30 minutes over the phone for the agent to get the full application details to properly insurance the policy.
The application questions include things like the type of roof, any pre-existing leaks, if you have a garage or home alarm, and other factors. Normally, you can apply over the phone or online, sign the documents via email or fax, and then pay the premium for the policy to go into effect immediately.
Typically, you need the following documents when applying for vacation rental home insurance:
Proof of ownership: Deed or settlement sheet
Identification: Driver's license or passport
Insurance policy: Past policies if you insured this property with another provider previously
Property replacement value: While the insurance company has its own replacement cost calculators for the area, it helps to have an idea of what the value of all contents and structure is to ensure you are getting the right amount of coverage
Property manager contracts: Having a property manager usually means there are less unoccupied weeks and someone legally responsible for the upkeep and oversight of the property. This can reduce insurance costs
Security system documentation: Proof of security monitoring often gets property owners a discount with vacation rental property insurance
Copies of ads: Some insurance companies may want to see how the property is marketed to understand the types of vacationers who rent the property fully. College students on spring break is a different risk than a young family
Most insurance providers can provide a conditional receipt immediately upon taking the application and payment. The application is then submitted to an underwriter who confirms all data and finalizes the premium.
Other Vacation Rental Property Insurance Needs
Many natural disasters are not covered by a standard homeowner's or vacation rental property insurance policy. These include earthquakes, hurricanes, and flood insurance.
Earthquake Insurance
While most people associate California with earthquakes, any property owner up and down the West Coast and into Las Vegas and Arizona may want to consider getting earthquake insurance. Standard vacation rental insurance policies do not cover "earth movement," which is the primary cause of damage and loss in an earthquake.
In California, you can purchase an earthquake insurance policy at the same time that you get the vacation rental insurance policy through the California Earthquake Authority (CEA). In other states, talk to your insurance agent about the real risk of damage and what you can do to protect your property.
Hurricane Insurance
In the same way that earth movement isn't covered, most standard policies exclude windstorm damage that results from a hurricane. Coastal towns in places like Florida, Texas, Louisiana, and Hawaii will require a secondary policy specific for hurricanes.
While hurricane season is only for a specific part of the year, don't wait until an impending hurricane is coming to get coverage. There is usually a moratorium on new policies and changes to policies when hurricanes are determined to be a threat.
Flood Insurance
Oddly, the flooding that can happen during a hurricane is not covered by hurricane insurance. Neither are other types of floods such as rising waters due to storm surge or lake and river overflow, or levee breaks. Double-check this. My understanding is earthquake insurance covers most earth movement. These losses are covered by flood insurance. Most flood insurance in the nation is priced based on proximity to water sources and the frequency of floods.
It's important to keep in mind that if you do need flood insurance, it usually takes 30 days from the date of application and payment until it goes into effect. The biggest issuer of flood insurance is FEMA, but there are some private flood insurance providers such as Hiscox that has excellent pricing and broader coverage than FEMAs policies.
Vacation Rental Insurance Frequently Asked Questions (FAQs)
What is considered a vacation rental property?
A vacation rental property is typically a home that the homeowner uses for vacations and also rents out to help offset some of the costs of vacationing and homeownership. Generally, a vacation rental property has amenities and is located near some kind of tourist attraction like beaches, landmarks, or mountains.
For more information on a vacation rental property, including how to buy one, check out our in-depth guide to buying a vacation rental property.
Why is vacation rental property insurance more expensive than homeowners insurance?
Vacation homes are considered higher-risk properties for several reasons and, therefore, have higher rates. Risks include being vacant and subject to vandalism or burglary, tenants who don't care for the property leading to a major loss, or tenant claims of injury or property damage. Vacation properties rented out are considered business issues and thus have a higher risk in general.
Does Airbnb provide vacation rental insurance?
Airbnb offers host protection insurance on its site, which is a short-term vacation rental insurance policy, but it's a secondary policy. This means that hosts are required to have their own homeowners' or rental property insurance. The Airbnb coverage is in addition to the existing policy. It isn't intended to replace the policy.
Is insurance required if you own a vacation rental property?
Getting a loan on any real estate, even vacation rental property, typically requires property insurance. That's true whether you use a private money lender or a conventional lender will both. However, if you purchased the property with cash, insurance isn't required but is highly recommended.
Does a vacation rental home insurance policy cover renters?
Vacation rental insurance protects the property owners from liability and covers damage to the property. Someone who is renting a property for more than 30 days should purchase a renters' insurance policy. If their lease is only for a couple of days or weeks, they should get travelers' insurance.
What is vacation rental home insurance for travelers?
Individuals renting vacation homes should consider insurance as well. Many may already have coverage through their homeowner's or renter's insurance policies that protect personal belongings lost or stolen when traveling, minus your deductible. Most credit cards offer some form of travelers insurance to take care of deposits or cancelation fees.
If you don't have either, you can look for specific short-term travelers' insurance policies through companies such as Policygenius.
Bottom Line
Typical homeowners insurance policy won't cover your vacation rental property because vacation rentals are considered a business activity. It's important to purchase a vacation rental insurance policy that includes perils, liability, and theft coverage. Most insurance providers offer vacation rental insurance in addition to their other types of insurance.