Vacation rental insurance covers your risks associated with potential damage to the short-term vacation property you rent out. Your policy should include coverage for the structure and contents of your vacation rental property as well as potential liability and loss of income. Typical policies cost $2,000 to $3,000, on average, per year.
Top Vacation Rental Insurance Providers
| Provider | Best For |
| --- | --- |
| Nationwide Insurance | The convenience of insurance and financial planning at one company |
| Allstate Insurance | Multiple discounts, separate short-term rental policy and offers flood insurance with your vacation rental insurance |
| Farmers Insurance | Offers a custom vacation rental insurance policy that lets you add on personal belongings coverage |
| Foremost Insurance | Specialty insurance coverage designed just for your property or business so the policy is tailored to your vacation rental property |
| Proper Insurance | Short-term rentals and landlord insurance so you can have multiple policies with one provider |
Vacation Rental Insurance Costs
The average vacation rental insurance cost is $2,000 to $3,000 per year or about two to three times the cost of a typical homeowners' policy. The usage is factored into the vacation rental cost. Generally, if you're going to use your property for yourself more than for short-term renters, the cost is lower.
The cost of the average homeowners' policy varies greatly by state. For example, the average homeowners' policy in Nevada is $703, which would make the vacation rental insurance cost $1,406 to $2,109 for a $200,000 dwelling with $1,000 deductible and $100,000 liability. This is in contrast to another popular vacation property state, Florida, where the average homeowners' insurance policy with the same limits is $3,575 and the average vacation rental insurance policy is between $7,150 and $10,725.
Unfortunately, there aren't many cost standards across the industry and what one insurance provider considers a second home or vacation home another considers a vacation rental property.
Factors That Affect Vacation Rental Insurance Cost
There are many factors that affect vacation rental insurance cost. The insurance provider generally charges more for a vacation rental property than a primary residence because they know it will be vacant for periods of time and to them that is a risk.
Factors that affect vacation rental insurance cost include:
Your deductible: Generally, the higher the deductible, the lower the cost of your policy and vice-versa
Replacement cost value: The more expensive the property value, the more expensive your policy will be
Property location: Vacation rental insurance cost varies greatly by location
Amenities: A swimming pool, hot tub, fireplace and wood-burning stove all increase the policy cost
Rental frequency: If you primarily use the property as a second home or vacation home, the cost is generally less than if you use it primarily as a short-term rental
Average rental term: Generally, short-term rentals have a higher policy cost than long-term rentals
Keep in mind that if your vacation rental property is going to be vacant for 30 or more days, you may need to add a vacant property endorsement to your property so your property stays covered. For more information on vacant property insurance, check out our in-depth guide on vacant and unoccupied home insurance including providers and costs.
Vacation Rental Insurance Providers
We chose five top vacation rental insurance providers based on their reputation and mostly nationwide coverage. There aren't too many differences between providers, so choose the provider that offers coverage in your area and has the best price for the specific coverage you need. A good place to start is by choosing the provider where you already have other insurance policies.
The top five vacation rental home insurance providers are: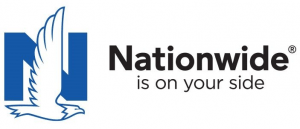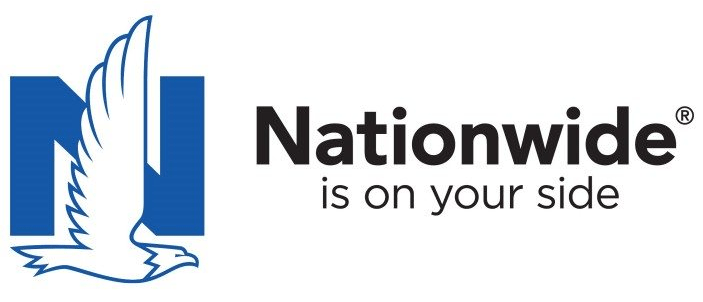 Nationwide Insurance provides coverage in all 50 states and offers several discounts, including multipolicy discounts. Nationwide has several different policy options but, generally, recommends its business liability policy, which replaces your homeowners' policy and is used for a property that is producing rental income. It also offers something called a rider or endorsement, which is an addition to your current homeowners' policy. However, this can only be used if they decide that the property is mostly used as a second home and is only rented out occasionally.
Nationwide Insurance is right for a vacation rental property owner who wants to have some options for policies to choose from and add onto. They're also right if you want to have your insurance and financial planning in one place since they offer both services and you can pay for your policy online.


Allstate is also a nationwide, reputable insurance provider that offers the most policy discounts.
It has a business liability policy similar to Nationwide that can be used for your vacation rental insurance. However, it has an alternative policy tailored toward short-term rental owners called Allstate Host Advantage. It protects the personal belongings you leave in your vacation property from possible theft or damage by your guests. This isn't a separate policy and, instead, is an addition to your current homeowners' policy. It also offers flood insurance for vacation rental properties in coastal areas.
Allstate may be right for investors with vacation rental properties because many of these properties are on the water, and it offers comprehensive flood insurance. It is also right for you if you like the individual attention of an assigned agent. You work with one agent from the time you apply and all the way throughout the claims process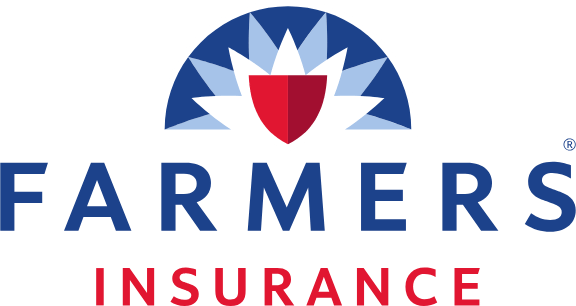 Farmers Insurance is another reputable and nationwide vacation rental insurance provider.
It offers two different types of vacation rental insurance policies: one that is customized and one that is a prepackaged policy that is already put together. It calls that policy Seasonal and Vacation Property Insurance. The prepackaged policy includes options like liability insurance, peril coverage, comprehensive property coverage as well as partial and total loss coverage, and you can add coverage to customize your policy.
Farmers Insurance is right for property owners who want to design their own policy and include things like personal belongings, which may not be included in other vacation rental home insurance policies.

Foremost Insurance may be a lesser-known vacation rental insurance company, but it offers a wide variety of specialty policies. It provides similar options to Farmers Insurance because you can choose a prepackaged policy or customize it for yourself. Its vacation rental home insurance policies include property and peril coverage as well as liability coverage. It also offers actual cash value coverage, which covers the cost to replace your home and an agreed loss-settlement policy for no-hassle total loss coverage.
Foremost Insurance is right for a vacation rental property owner who wants to work with a specialty company that thinks outside the box and can put a policy together for them based on their specific needs. It also offers flood insurance so it is right for investors with property in coastal areas.

Proper Insurance is another lesser-known insurance provider but it specializes in short-term vacation rental insurance. It's the industry leader in this space and can give you a five-minute online quote. This is unique because most other vacation rental home insurance providers won't give you a quote online or that quickly. Its policies don't include any vacancy restriction and include building, contents, liability and business income coverage. It also includes personal liability insurance when the property is also being used as your residence or vacation home.
Proper Insurance is right for you if you want one policy that covers personal and commercial use of your vacation rental property. It also offers specialized landlord insurance policies so if you own other rental properties, it's a convenient option because you can have all of your policies with the same provider.
How to Apply for Vacation Rental Insurance
Typically, applying for vacation rental insurance is similar to applying for homeowners' insurance or even auto insurance. You want to choose a provider that offers the type of coverage you need, serves your geographic area and offers the best price for that coverage.
Steps for applying for vacation rental insurance include:
1. Research Vacation Rental Home Insurance Providers
Typically, you should first research two to three reputable providers like the ones we mentioned above and get comparable quotes from all of them. During the research phase, you should compare types of coverage, costs and confirm that it covers your vacation rental property's location.
2. Decide on a Vacation Rental Home Insurance Provider
After you've researched the vacation rental insurance providers and done your price comparison, you can decide on the company that offers the best coverage for the best price in your area. You can review the company's site and reviews online to help with your decision.
3. Apply for Vacation Rental Insurance
Once you've chosen your provider, the application process is fairly simple. It's recommended to apply over the phone so you can chat with the insurance agent about the type of coverage you need, the property use, frequency of rentals and so on.
The agent will ask you questions about the property, which can take about 20 to 30 minutes, and include things like the type of roof, any pre-existing leaks, if you have a garage or home alarm, and other factors. Normally, you can apply over the phone, sign the documents via email or fax and then pay the premium and the policy will go into effect immediately.
It's important to keep in mind that if you do need flood insurance, it usually takes 30 days from the date of application and payment until it goes into effect.
Typically, you need the following documents when applying for vacation rental home insurance:
Proof of ownership: Deed or settlement sheet
Identification: Driver's license or passport
Insurance policy: Past policies if you insured this property with another provider previously
Property value: This can be from an appraisal or an estimate from Zillow
Providers may ask for additional information but, generally, after the agent asks you about the home and you submit your documents, he or she will be able to look up any additional information the insurer needs.
How Vacation Rental Insurance Works
A typical homeowners' policy won't cover a vacation rental property. Instead, you need vacation rental insurance, which is quite different than homeowners' insurance. An insurance provider generally treats a vacation rental home as a business if it's owner-occupied 14 days or less per year or rented 90 percent or more of the time. However, this varies among insurance providers.
Most typical homeowners' insurance policies only cover your primary residence and not a vacation rental property because you don't live in your vacation rental property year round and because you rent it out, which is considered "business activity" by an insurance provider.
"Homeowners insurance is purchased by the property owner and covers the dwelling, other structures, personal property, loss of use, liability and so on. For homeowners who rent out their property, there are other insurance considerations too, depending on how frequently the owner rents the property." — Todd Kozikowski, Co-Founder, Clearsurance
Homeowners' insurance is very similar, regardless of the type of provider you choose. However, vacation rental insurance providers offer a variety of different plans. Some providers consider the frequency that you rent out the vacation rental property and, if it considers it to be infrequent, then you can add a rider to your current homeowners' policy. Unfortunately, there isn't a rule of thumb on this, and it can vary widely between providers.
More commonly, vacation rental home insurance providers require a separate policy, which includes business liability insurance. Regardless, of the type of vacation rental insurance policy you choose, it should include a few important things.
A vacation rental insurance policy should include:
Liability coverage: This covers personal injury by your renters, their guests and anyone else at your property
Contents and structure coverage: The building and its contents are covered in the event of a fire, damage, theft and other events. Amenities like a swimming pool or hot tub may also be covered
Lost income: If your property is damaged and you lose potential rental income, the policy will reimburse you for the lost income
Additional coverage: You may need to add flood or earthquake coverage onto your policy if you live in an area where it's needed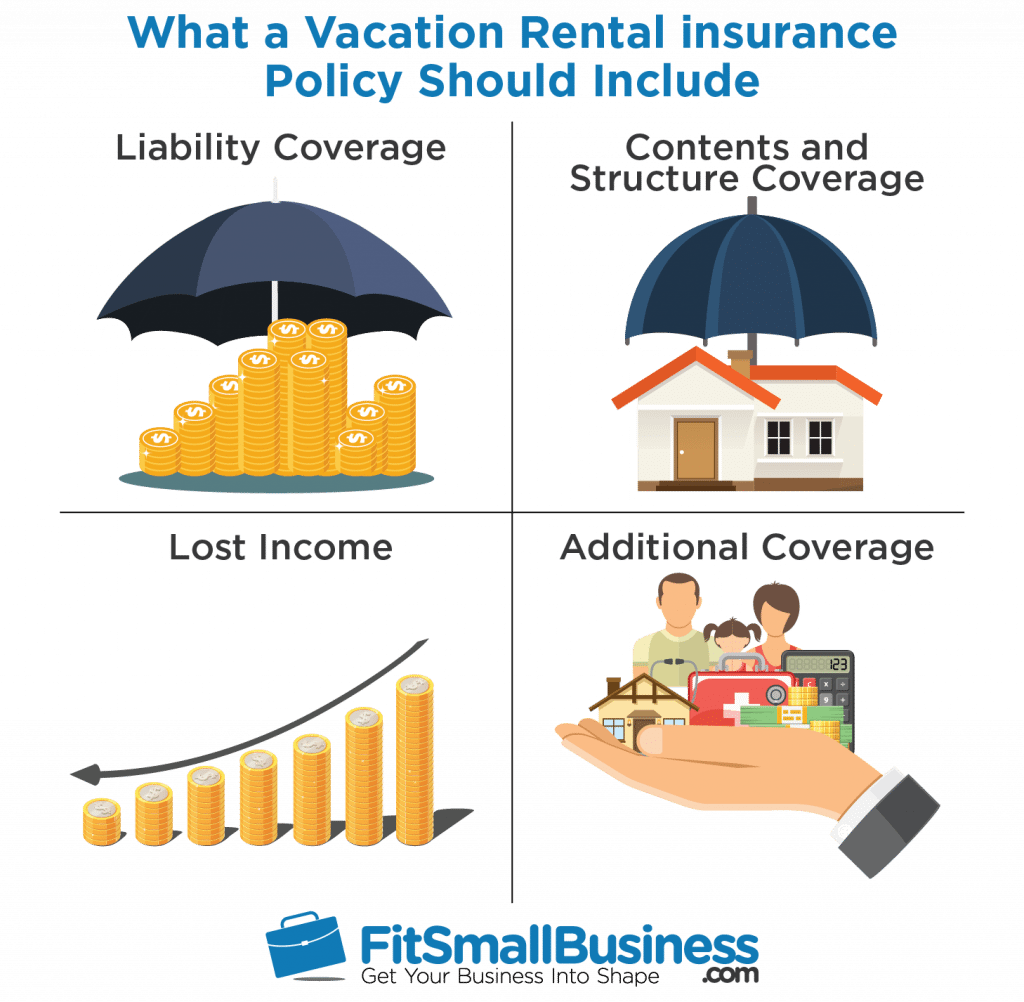 Vacation rental insurance coverage can be complex because different providers have different guidelines, so it's best to speak to an insurance agent and be upfront that your property is a vacation rental property and not your primary residence. Homeowners may end up not being covered or having a claim denied if they tell the insurance agent that the property is a primary residence when it's not.
Vacation Rental Home vs. Second Home
A vacation rental home is a property that homeowners purchase for two purposes: to use for vacations and to rent out to offset some of the costs of homeownership and vacation expenses. However, a second home is not normally rented and is just used as a second primary residence.
For example, if you use a vacation rental home for 14 days or less per year or 10 percent or less of the time it's rented, vacation rental insurance providers generally consider it a business.
However, this is a general rule of thumb and varies among providers.
In contrast, a second home isn't rented and second home insurance is generally similar to a typical homeowners' policy. Second home insurance providers consider a second home less risky than a vacation rental home because it doesn't have the liability associated with renters. Some homeowners policies will cover a second home and some providers require separate second home insurance.
Frequently Asked Questions (FAQs)
What is Considered a Vacation Rental Property?
A vacation rental property is a secondary home that the homeowner uses for vacations and also rents out to help offset some of the costs of vacationing and homeownership. Generally, a vacation rental property has amenities and is located near some kind of tourist attraction like the beach, landmark or the mountains.
For more information on a vacation rental property including how to buy one, check out our in-depth guide to buying a vacation rental property.
Why is Vacation Rental Property Insurance More Expensive Than Homeowners' Insurance?
Generally, vacation rental damage insurance is more expensive than homeowners' insurance because the insurance provider sees more risks with vacation rental property. These risks translate into higher costs for the homeowner. Risks include high-traffic properties, opportunity for theft and property damage and an unoccupied property in between vacations and renters.
Does Airbnb Provide Vacation Rental Insurance?
Airbnb offers host protection insurance on its site, which is a short-term vacation rental insurance policy, but it's a secondary policy. This means that hosts are required to have their own homeowners' or rental property insurance. The Airbnb coverage is in addition to the existing policy. It isn't intended to replace the policy.
Is Insurance Required If You Own a Vacation Rental Property?
The answer is it really depends on the type of financing you used to purchase the property. Generally, a private money lender and a conventional lender will both require vacation rental home insurance. However, if you purchased the property using all cash, insurance isn't required but is highly recommended.
Does a Vacation Rental Home Insurance Policy Cover Renters?
The vacation rental home insurance policy is to protect the property owners from liability and to protect the property itself from things like wind and fire damage. A renter who is renting a property for more than 30 days should purchase a renters' insurance policy. If the renters are renting the property for a couple of days or weeks, they should get travelers' insurance.
The Bottom Line
Your typical homeowners' insurance policy won't cover your vacation rental property because vacation rentals are considered a business activity. It's important to purchase a vacation rental insurance policy that includes perils, liability and theft coverage. Most insurance providers offer vacation rental insurance in addition to their other types of insurance.