Facebook is one of the most powerful marketing tools for real estate professionals, allowing them to connect with leads, promote their services, and establish an online presence. It also provides multiple methods of generating real estate leads with some of the most advanced targeting tools available online. By combining organic and paid marketing strategies, start generating Facebook real estate leads and building a strong reputation as an agent today.
1. Build an Active Facebook Business Page
The first step to getting leads from Facebook is setting up a realtor business page, which will serve as your home base on Facebook. Every element of your Facebook page should be carefully considered to help you build a strong and accurate brand presence, from your cover photo and title to your posts. This is where you'll share vital information about yourself and your real estate business and add videos, photos, and interesting content to build an audience.
Studies have shown that 91% of people believe social media has the power to connect people. Plus, 76% of customers who feel connected to brands will choose them over competitors. Your Facebook page is an ideal place to not only reach more people, but also to build a connection with your existing audience and sphere of influence. With a strong real estate social media strategy, generating Facebook real estate leads can be simple and positively transform your business.
2. Target Your Audience
Many agents mistakenly attempt to attract leads of any kind with over-generalized real estate content. However, when learning how to generate leads through Facebook, you need to pinpoint a specific audience to create content that resonates with their needs and helps you stand out from the crowd.
By selecting a real estate niche, you can quickly become an expert on a specific subset or niche client type. A few examples of real estate niches that you can effectively target on Facebook include:
Specific property types, like single-family homes, condos, or lakehouses
Foreclosures or preforeclosures
Homebuyers or specific types, like first-time homebuyers, luxury buyers, or investors
Homesellers or specific types, like FSBOs or expired listings
Here are a few examples of how other real estate agents use Facebook to target a niche audience: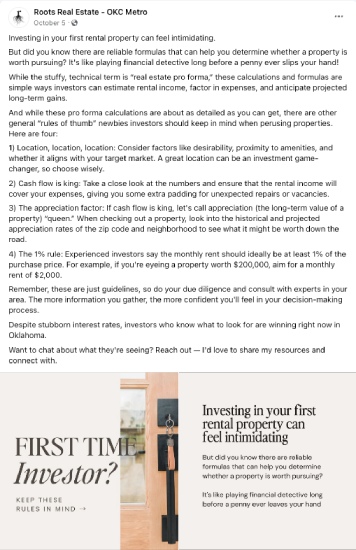 ---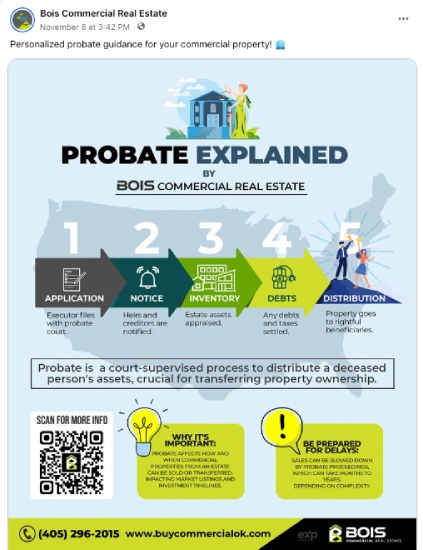 ---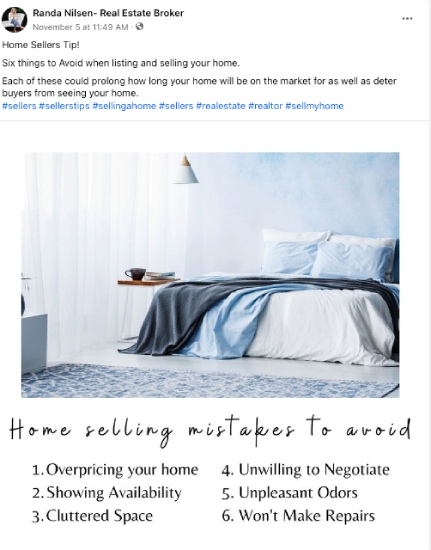 ---
3. Publish Content That Builds Your Brand
Building a connection with your audience is the most important part of learning how to get real estate leads on Facebook. This means that you should be posting a variety of content that consistently communicates your real estate brand and generates engagement.
Keep in mind that not all social media content needs to be heavily real estate-focused. In fact, content that creates an emotional response will naturally increase your leads' and followers' familiarity with and trust in you. In addition to sharing your real estate listings and successes, here are a few common ways to appeal to your followers' emotions on Facebook:
If the idea of curating and creating social media marketing content every day fills you with dread, consider using the social media publisher from Constant Contact. It allows you to create social media posts within the platform that are automatically optimized and shared to multiple social media sites, including Facebook, Instagram, Twitter, and LinkedIn. It also provides a centralized dashboard to manage and respond to comments and messages on Facebook and Instagram, saving you time and effort. Learn more about how Constant Contact can help you generate real estate leads on Facebook.
4. Get Active in Facebook Groups
When you're considering how to get free leads on Facebook, Facebook groups should be a crucial piece of your plan. Groups are already comprised of a targeted audience, like people who live in specific neighborhoods, work in a certain city or region, or share similar interests or experiences. Look for local groups tied to specific cities, neighborhoods, or niche interests, such as pets, parenting, business owners, and other local groups.
Another reason groups are so important for Facebook real estate lead generation is their high engagement rate. Recent research shows that the median engagement rate for Facebook posts is only 0.07%. On the other hand, about 1.8 billion people interact on Facebook groups every month, providing agents with a large audience of engaged potential leads.
For example, one real estate agent created a group specifically for mothers in her town and called it Leesburg Moms. It has over 6,000 members who discuss a wide variety of topics and frequently ask for real estate agent recommendations or other real estate-related questions. Since Vicky Noufal, the agent who hosts the group, is so active in the group and in her community, she is frequently recommended as the best agent in the area by many members of the group.
5. Create Facebook Advertising Campaigns
Once you have an established presence and are already generating leads on Facebook, consider amplifying your reach. Facebook ads for real estate agents can be incredibly powerful and offer a relatively low cost per lead. There are two different strategies for getting leads through Facebook ads: boosting posts or running paid advertising campaigns.
Boosting Facebook Posts
When you boost (or promote) a Facebook post, you're paying to amplify an existing post from your business page. One of the benefits of promoting a post instead of creating an ad campaign is that it generally feels more organic to viewers. It's also a direct and simple way to get the word out about a specific announcement, post, or listing.
On the other hand, when you boost a post, you don't receive access to nearly as many placement or targeting capabilities as you do with Facebook ads. Although boosting is generally less expensive, it may not be quite as powerful as the real estate lead generation from Facebook ads.
Paid Advertising
Facebook ads have proven to be a revolutionary tool for real estate marketing. The platform provides extremely comprehensive targeting options that can completely transform your lead generation and audience-building efforts. Very few, if any, advertising strategies compare to Facebook ads for real estate. Learn more about ads in our article How to Create Real Estate Facebook Ads in 7 Steps (+ Examples).
However, the power of Facebook ads is limited by your budget, expertise, and available time to learn and use them. Since so many real estate businesses use Facebook ads, it's a saturated and competitive market requiring extensive testing and financial investment. If it's your first time creating a Facebook ad, allow yourself some time to find your footing. Learning how to get real estate leads from Facebook ads requires you to determine a strategy, identify an objective, and optimize your target audience by location, interests, behaviors, age, job types, and other demographics.
Luckily, tools like Real Geeks can help you create and manage Facebook ads that are specific to the goals of real estate agents. It integrates directly with Facebook and provides a built-in Facebook ad creation tool to simplify the process. Real Geeks also provides robust reporting in easy-to-understand analytics, so you can always make sure you're getting the maximum results from your ad campaigns.
6. Connect With & Convert Leads Using a CRM
Unfortunately, even the best strategies on how to use Facebook for real estate leads won't equate to instant success in real estate. While Facebook can be an incredible tool for generating highly qualified and targeted leads, it's up to you to learn how to connect with these leads and ultimately convert them into clients.
If you don't have a plan to connect with your new leads from Facebook, you will inevitably have potential clients who fall through the cracks. Don't leave money on the table—stay organized and on top of all your leads using a customer relationship management (CRM) tool. Many real estate-specific CRMs are designed to make it extremely easy for you to track and engage potential clients to maximize your opportunities.
For a powerful yet affordable CRM that integrates directly with Facebook, try Pipedrive. It lets you track all your communications with Facebook leads and view a visual history of your conversations with each contact. You can also automate email and text marketing campaigns and set reminders to personally reach out to each contact, and artificial intelligence (AI) helps you prioritize prospects. Try Pipedrive for free today!
Facebook Real Estate Statistics
Even if you don't use Facebook as a social media user, it's an important tool for your real estate business. In fact, a recent study found that 98% of consumers look online to learn more about a business before making contact. When you consider all the ways to create leads on Facebook, remember that building trust is particularly important for real estate buyers and sellers who are preparing to make the largest transactions of their lives.
Here are a few important statistics on Facebook marketing:
Whether potential leads find you through an organic Facebook post, an advertising campaign, or when they Google your name, knowing how to get real estate leads on Facebook is key for your business. These combined statistics demonstrate why Facebook is a necessary piece of your real estate lead generation strategy. If you want to reach as many people as possible, Facebook should be an integral part of your marketing strategy.
Frequently Asked Questions (FAQs)
Yes, Facebook can be an incredibly powerful platform to get real estate clients. It is the most popular social platform in the world and is used by 89% of real estate agents. By creating a strong Facebook marketing strategy with targeted content, calls to action, an optimized profile, and advertising campaigns, real estate agents can leverage the platform to massively grow their business.
---
Both Facebook and Instagram have advantages for real estate agents. Instagram's visual nature and variety of content types (feed, Stories, Reels, live videos, and broadcast channels) make it great for communicating with followers and building authentic connections. Facebook, on the other hand, is used by a broader audience and offers more diverse advertising options with detailed targeting. It's ideal to use both platforms to market your business.
Learn more about using Instagram to generate leads in our complete guide with 16 Tips to Use Instagram for Real Estate Lead Generation.
---
Calculating the average cost of Facebook advertising is complex because the numbers and results rely on many factors, like your location, the real estate market, and the quality of your ads. One study found that the average cost per lead from Facebook ads for real estate agents was around $9.76, although other estimations range from $10 to $75 per lead.
For more details, read our complete breakdown of Facebook Ads Cost in 2023: Stats, Trends & Return on Spend.
---
Bottom Line
Facebook is a powerful platform for finding and connecting with leads to grow your business. To generate Facebook real estate leads, start by creating a professional real estate business page. Then, choose some of the strategies above to target homebuyers on Facebook or your niche audience, like posting content, running an ad campaign, or creating or joining Facebook groups.