6 Most Effective Ways to Generate Facebook Real Estate Leads
Facebook is one of the most powerful marketing tools for real estate professionals—enabling them to connect with leads, promote their services, and establish an online presence. This social media platform provides multiple methods of generating real estate leads with some of the most advanced targeting tools in existence. Through organic and paid marketing strategies, Facebook can be one of the most lucrative channels for generating real estate leads.
If creating engaging content is a challenge for you, Sprout Social might be the key you need to use Facebook for real estate leads. It helps you generate content ideas through listening features that identify popular topics and keywords, and its planning and publishing tools allow you to schedule content weeks in advance. In addition, the detailed visual analytics dashboard helps you clearly identify how your audience interacts with your content and how you can improve your Facebook strategy. Try Sprout Social's free 30-day trial today.
Here are the top six ways to generate quality Facebook real estate leads:
1. Build an Active Facebook Business Page
The most basic method of using Facebook for real estate leads is by setting up a realtor Facebook page. This will serve as your home base on Facebook. Every element of your Facebook page should be carefully considered to help you build a strong and accurate brand presence, from your cover photo and title to your posts. This is where you'll share vital information about yourself and your real estate business and add videos, photos, and interesting content to build an audience.
Studies have shown that 70% of people prefer to get information about a business from online content instead of traditional advertisements. Your Facebook page is an ideal place to reach your audience, and creating content is an incredibly effective method of building an audience and generating leads when it's done within a strong real estate social media strategy.
2. Target Your Audience
One of the main struggles for real estate professionals new to the industry or new to creating online content is targeting their audience. Many agents who are in need of leads and clients mistakenly try to attract anyone and everyone with over-generalized real estate content. However, this strategy ultimately falls flat because it doesn't resonate specifically with any audience and doesn't stand out from the crowd.
To start learning how to get real estate leads on Facebook, be sure to define your audience. This may include choosing a real estate niche, which can help you quickly become an expert on a specific subset or niche client type. Alternatively, you may simply narrow your audience by location, stage of life, income, or job titles.
For example, you may want to work with first-time homebuyers looking for a property in a specific town. Figuring out how to get buyer leads on Facebook means creating targeted content that answers the questions and concerns of first-time homebuyers, like this example:
On the other hand, you should share different information if you want to attract new listing clients. A great way to attract listing clients is by sharing your listing successes, such as properties that sold incredibly fast or for over asking, like these two agents: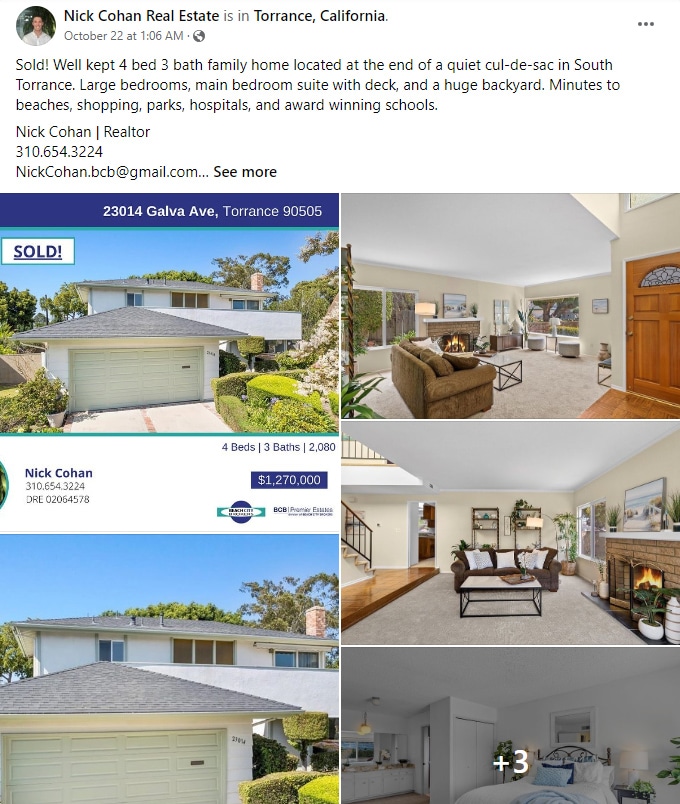 ---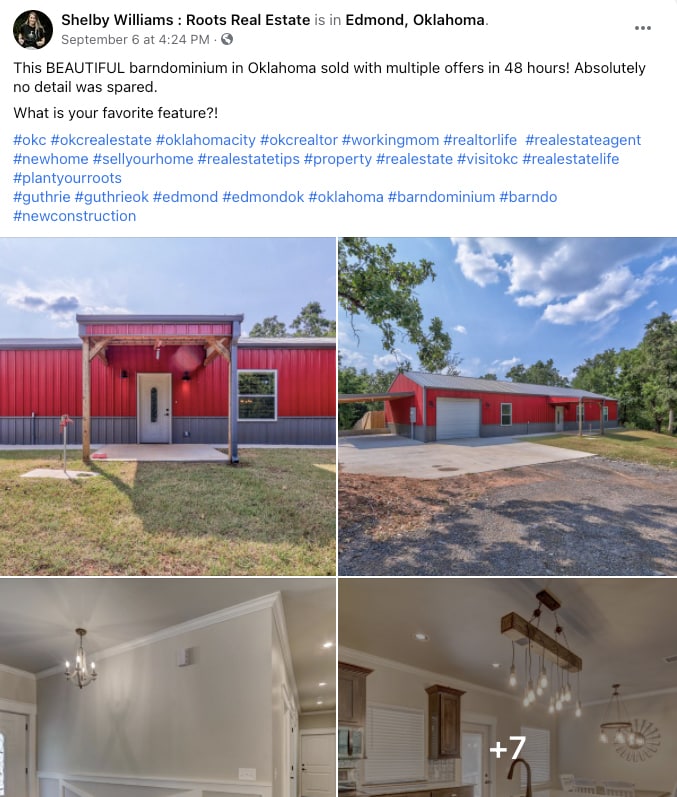 ---
If you are ready to invest in a specific audience, consider using a company like Market Leader to target your real estate leads with professional and automated content. Market Leader provides real estate agents with marketing through automated ads, single property websites, and campaigns, all strategically targeted to your specific audience.
3. Use a Consistent Tone of Voice & Appeal to Emotion
Another important factor in your plan for generating Facebook real estate leads is your tone of voice. The way you relate to your audience is part of your real estate brand and is important to clarify as you build an audience online. Your social media content should be unique, memorable, and friendly, and ideally evoke some kind of emotion—whether it's laughing, learning something new, or provoking their thoughts. Ultimately, content that creates an emotional response will naturally increase your leads' and followers' familiarity with and trust in you.
Here are three common ways to stimulate your social media followers' emotions on Facebook:
People often come to social media to unwind, so sharing lighthearted content can earn more engagement. In fact, laughter biologically creates trust. After all, people generally don't laugh with someone they're uncomfortable with or skeptical of.
Plus, funny content is more shareable and increases engagement. Eighty percent of professional marketers believe that funny content is the most effective type of content on social media. In a 2022 study, 28% of social media users said they preferred funny content over inspiring, relatable, or even informative content. When you're figuring out how to get real estate leads from Facebook, don't underestimate the power of humor.
For some ready-to-use ideas, check out some of our favorite real estate memes, like this one:
---
Instead of touting your skills and knowledge, show your expertise by sharing uncommon tips about homebuying or selling. People may believe you when you say you're a real estate expert, but they won't necessarily remember or want to work with you. On the other hand, they will remember when you share content that specifically helps them answer a question or solve a problem they have.
In the examples below, one real estate agent writes a detailed post that directly answers a common obstacle for homebuyers, saving money for a down payment. She breaks up the information by using numbers, which makes the post engaging and easy to read. Another agent shares a Facebook post with an update on the local housing market. She keeps her paragraphs brief and uses emojis to break them up, but includes valuable and interesting information for local buyers and sellers.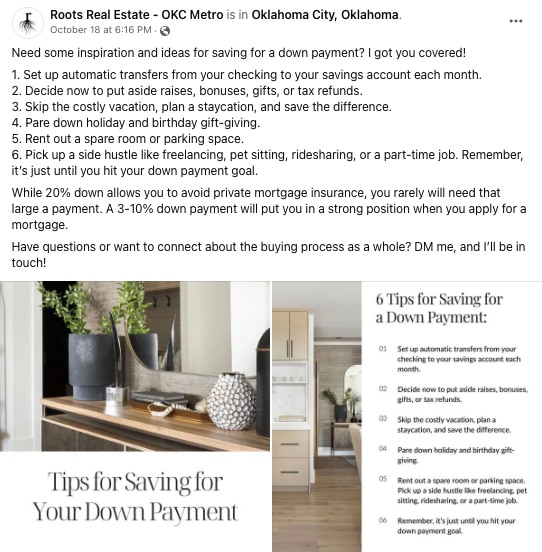 ---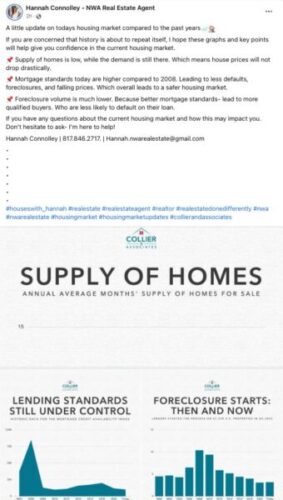 ---
---
In between laugh-out-loud and informative posts, appeal to a different side of your audience with thought-provoking content. To do this, share content that inspires or intrigues your clients and followers, on both personal and professional topics. For example, share articles or ask questions about goals, leadership, personal growth, relationships, and even mental and emotional health. Consider sharing personal stories of experiences you or a friend has had, describing what you've learned or how you've grown.
While these types of social media posts won't create a laugh-out-loud reaction, they can be a powerful tool for building trust. When you post authentic content and are willing to be vulnerable, other people can connect to you emotionally.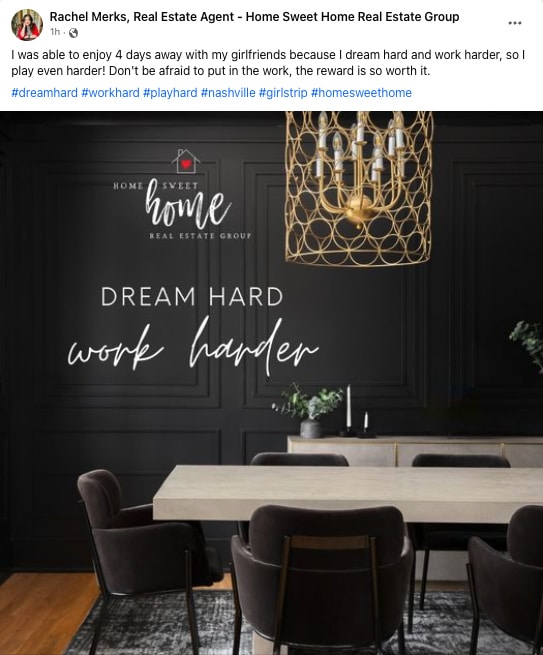 ---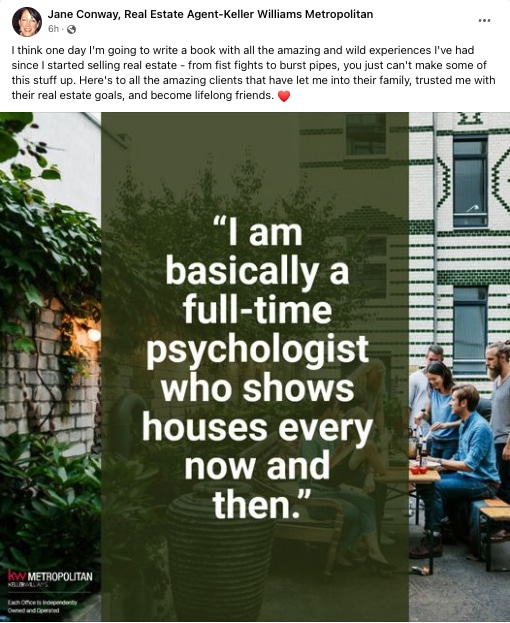 ---
If the idea of curating and creating social media marketing content every day fills you with dread, or you simply don't have time, consider using the social media publisher from Constant Contact. It allows you to create social media posts within the platform that are automatically optimized and shared to multiple social media sites, including Facebook, Instagram, Twitter, and LinkedIn. It also provides a centralized dashboard to manage and respond to comments and messages on Facebook and Instagram, saving you time and effort. Learn more about how Constant Contact can help you generate real estate leads on Facebook.
---
4. Join Facebook Groups
Facebook groups should be a vital element of any real estate agent's social media plan. According to Hootsuite, an average post from a Facebook page gets 0.07% engagement, while other studies show that most active groups on Facebook have an engagement rate of over 80%. Groups are the most powerful organic tool to take advantage of the Facebook algorithm and reach the highest number of people within your target audience.
Facebook groups are usually full of highly targeted groups of people, such as people who live in specific neighborhoods or work in a certain city or region. There are most likely many fantastic and relevant Facebook groups in your area. Look for local groups tied to specific cities or neighborhoods or niche interests, such as pets, parenting, business owners, and other local groups.
The Facebook group shown above has only 8,700 members, but a quick search for the keyword "real estate agent" shows a number of posts from members looking intentionally for a real estate agent. With this many members actively making a post for agent recommendations, consider how many more members within this single group are looking for a local agent.
5. Promote Posts & Create Advertising Campaigns
Once you have an established presence and have already generated a few Facebook real estate leads, consider amplifying your reach. There are essentially two different ways to do this: boosting your posts and running paid advertising campaigns.
Boosting individual Facebook posts is a more affordable and simpler option. You can pay as little as $1 per day to boost a post and increase its views to a highly targeted audience. On the other hand, real estate ads on Facebook have been known to produce a massive return on investment (ROI), but it does require an investment of time, money, and trial and error.
When you boost (or promote) a Facebook post, you're paying to amplify an existing post. One of the benefits of promoting a post instead of creating an ad campaign is that it generally feels more organic to viewers. It's also a direct and simple way to get the word out about a specific announcement, post, or listing in a short period of time.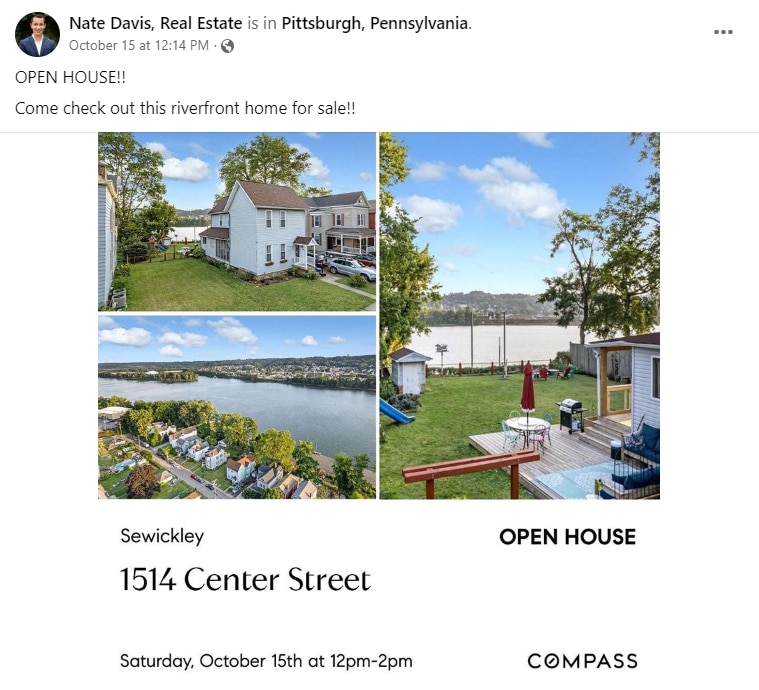 ---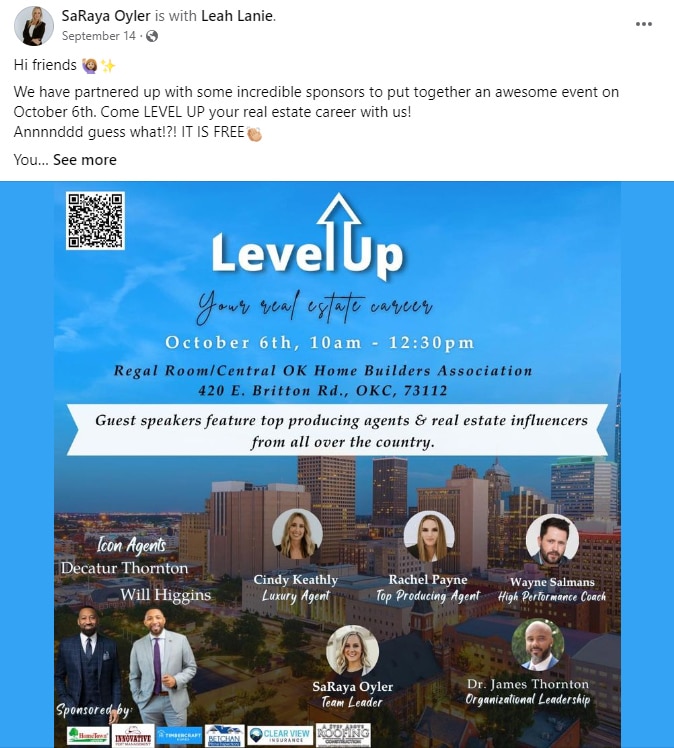 ---
On the other hand, when you boost a post, you don't receive access to nearly as many placement or targeting capabilities as you do with Facebook ads. Though generally less expensive, they may not be as effective in helping you reach, attract, and convert your desired audience.
---
Facebook ads have proven to be a revolutionary tool in real estate marketing. Facebook provides extremely comprehensive targeting capabilities that can completely transform your lead generation and audience-building efforts. There are very few, if any, advertising strategies that compare to Facebook ads for real estate.
The power of Facebook ads is, however, limited by your budget, expertise, and available time to learn and use them. Since so many real estate businesses are using Facebook ads, it's a saturated and competitive market that requires extensive testing and financial investment.
If it's your first time creating a Facebook ad, allow yourself some time to find your footing. Learning how to get real estate leads through Facebook ads requires you to determine a strategy, identify an objective, and optimize your target audience by location, interests, behaviors, age, job types, and other demographics.
Luckily, tools like Sprout Social can help you create and manage your Facebook ads. Its analytics tools make it easy to see and understand how your ads are performing and even compare them with your competitors. See how Sprout Social can help you generate more leads with a free 30-day trial.
---
6. Connect With & Convert Leads Using a CRM
Unfortunately, even the best Facebook marketing strategies don't equate to instant success in real estate. While Facebook can be an incredible tool for generating highly qualified and targeted leads, you need to know how to connect with these leads and ultimately convert them into clients.
If you don't have a plan to connect with each new lead that comes through Facebook, leads may fall through the cracks. Don't leave that money on the table—stay organized and on top of all your leads using a customer relationship management (CRM) tool. There are many real estate-specific CRMs designed to make it extremely easy for you to track and engage potential clients to make the most of your opportunities.
For a powerful yet affordable CRM that integrates directly with Facebook, try Pipedrive. It enables you to track all your communications with a lead and view a visual history of your conversations with each contact. You can also automate email and text marketing campaigns and set reminders to personally reach out to each contact, and artificial intelligence (AI) helps you prioritize prospects. Try Pipedrive for free today!
Is Facebook Necessary for Real Estate Agents?
Even if you don't use Facebook personally, it's a necessary tool for your real estate business. A recent study found that 76% of consumers view and evaluate a brand's online presence before working with them. This is particularly important for real estate buyers and sellers who are preparing to make the largest transactions of their lives. Building trust through your online presence is absolutely essential when you're learning how to get real estate leads on Facebook.
In addition, Facebook is still the number 1 most popular social media platform, with 2.91 billion active users. Other studies say that people spend an average of 33 minutes per day on Facebook. Plus, an estimated 84% of millennials in the U.S. (which make up the largest percentage of homebuyers and sellers, according to the National Association of Realtors) actively use this platform.
These combined statistics demonstrate why Facebook is a lucrative source of lead generation for real estate agents. If you want to reach as many people as possible, Facebook should be an integral part of your marketing strategy.
Bottom Line
Facebook is a powerful platform for finding and connecting with leads and potential clients. To generate Facebook real estate leads, start by creating a professional real estate business page. Then consistently post engaging content, participate in relevant groups, use paid ads and boosted posts to amplify your page's reach, and track and convert your Facebook-generated leads using a real estate CRM.