Comparative Market Analysis (CMA): Definition & How to Create (+ Examples)
A comparative market analysis (CMA) is a report that uses sales and property data from similar homes (also known as "comps") to estimate a home's current value. Real estate agents develop CMAs to provide property analyses for sellers, buyers, and investors. Hence, it's important to know how to research and create a proper CMA report. A detailed and well-organized CMA is a valuable tool to gain clients, provide insight to current clients, and prove your authority and expertise in the real estate industry.
Start reading to learn what a CMA is and when to use it, how to create one with the right tools and evaluation criteria, and review examples from other real estate professionals.
What Is a Comparative Market Analysis (CMA) in Real Estate?
Many people confuse CMAs with appraisals, but the main difference between the two is the person responsible for conducting the review. A CMA is based on sales data and prepared by a real estate agent, and an appraisal is performed by a certified real estate appraiser. Another key difference is that appraisals occur after a home is under contract and are a legally required part of the transaction.
To make a CMA with accurate results, you must consider the prices of recently sold, active, and expired listings as well as features like square footage, number of bedrooms and bathrooms, and the condition of the home. These comps will ensure that you are comparing the property you're evaluating, or subject property, against the current market values.
7 Steps to Create Your Own CMA Report
Even if you are an expert on the local real estate market, most of your clients are not. When you're learning how to do a comparative market analysis, remember that you are not creating it solely for yourself. It's intended to help your clients understand the market and how to make the right decisions for their property. Plus, CMAs can and should be used to nurture and convert potential leads and get more listings.
1. Determine the Resources You'll Use to Research
Because your comparative market analysis is designed to provide value to potential clients, a quick estimate of the home off the top of your head is not adequate for this report. You'll need to use the right tools to gather and compile data that makes sense to your clients and gives them clear evidence about your valuation of their home.
A few of the best options are:
Local MLS: The local MLS is the most reliable source of property information.
Zillow or Realtor.com: See the homes that are currently on the market or have sold recently and fill any gaps of information that were missing from the local MLS listings. You will also be able to see data on the subject property and the previous agent's marketing strategy.
Google Street View: Learn more about the neighborhood before visiting in person.
HouseCanary: Automate more accurate home valuations and value forecasts, especially for investors.
Cloud CMA: Create interactive comparative market analysis presentations.
Zillow famously provides "Zestimates," which are general estimates of a home's value, based on Zillow's property and market data. Many homeowners are well-aware of what Zillow estimates their home's value to be, so it's important to take these into consideration.
However, these estimates have an average error rate of 6.9% and don't give agents or homeowners a complete understanding of the local market. The best strategy is to use the Zestimate as a starting point and be prepared to explain what a CMA in real estate means and why your estimate is more accurate.
2. Develop a Spreadsheet to Gather & Organize Property Data
Depending on which tools you use and the amount of data you gathered, all of your information may be jumbled on multiple platforms and documents. Since the purpose of your CMA is to help clients better understand their home's value, you need to compile all property data and calculations into an organized document.
Download our free CMA spreadsheet so you can gather and organize your data in one place:
3. Record All Data About the Subject Property
While you can gather past information about the subject property through the local MLS or real estate listing websites, it's important to get the most up-to-date information by visiting the property in person and speaking with the current homeowners. Record all the information you can find about the property, like the number of bedrooms and bathrooms, square footage, age and type of property, and parking.
Also, look for any hidden issues or features that will affect the sales price and ask the current homeowners about dates of past renovations, average utility prices, homeowners association (HOA) fees, and taxes. Not only can you add this information to the CMA report, but you'll also find it helpful when answering buyer questions during open houses or showings.
Other factors to consider when touring a property are the following:
Condition: Is the home in very poor condition or very good condition?
Additions and upgrades: Has the homeowner added a swimming pool? Central A/C? Skylights? All new features and amenities can affect value.
Necessary upgrades: When touring the property, consider whether a new owner will need to make any major improvements like a new roof, electric, plumbing, or other expensive upgrades.
Exterior and landscaping: Has the landscaping been recently upgraded? This can increase value as well. Look for major issues, such as old siding, cracks in the foundation, or other exterior issues, that can affect property value.
Amenities: Consider whether the property is in a gated neighborhood, a golf community with a clubhouse and fitness facilities, within walking distance of shopping, dining, or has other desirable amenities.
It's wise to create a checklist that you can carry with you during your property walk-throughs. This ensures that you get all the necessary information during your visit and don't have to waste time later asking questions, confirming with the homeowners, or questioning if your final CMA is accurate. Start with the list above and include it in your real estate listing checklist.
4. Compile Comparable Properties & Data
After you've gathered all of the details and data about the subject property, you'll need to find a collection of similar homes to compare, evaluate, and compile your real estate CMA. Although comparable properties won't be identical, it's helpful to find properties with as many similarities as possible.
Look for properties that are similar in these ways:
Location and neighborhood (comps are ideally in the same neighborhood, but you may also compare properties in other neighborhoods with similar features like walkability, community events, and transportation)
Listing age (use properties that are currently on market, just sold, or sold within the last one to two months)
Age of property
Bedrooms
Bathrooms (include both full and a half-bathrooms)
Square footage (look for homes within 300 square feet)
Layout
Lot size
Condition of property
Exterior and landscaping
Amenities (for example, in-ground pool, gated neighborhood, or fenced yard)
Building type (this is particularly important for rentals or homeowners associations)
Recent renovations or updates
Pro tip: Start by looking for close similarities, but widen your search as needed. It may be difficult or impossible to find homes that are the same size, same number of bedrooms, in the same neighborhood, and sold within the last few months, depending on your location and the state of the real estate market. Start by expanding the listing age and looking for similar homes sold within the last three to six months. If you still can't find a good selection of comps, expand other searches to find more options.
5. Calculate an Estimated Price From Comparable Listings
With a collection of about five to seven comparable properties, the next step is to calculate each property's price per square foot. You can use simple equations to determine the average price per square foot for each comparable property to calculate an estimated cost for your subject property.
As an example, this is how to do a price analysis on a 3,000-square-foot ranch with five comparable homes. First, you need to determine the price per square foot of each comparable property using this equation:
Sales Price ➗ Square Feet = Price per Square Foot
House one: $500,000 price ➗ 2,700 square feet = $185
House two: $525,000 price ➗ 3,200 square feet = $164
House three: $510,000 price ➗ 3,300 square feet = $154
House four: $495,000 price ➗ 2,650 square feet = $187
House five: $515,000 price ➗ 3,100 square feet = $166
Then, find the average price per square foot by adding each comparable property's price per square foot and dividing by the total number of comparables:
185+$164+$154+$187+$166 ➗ 5 = $171.20 average price per square foot of comparable properties
Finally, to find the subject property's approximate value, multiply your listing's square footage by the average price per square foot of comparable properties:
3,000 square feet ✖ $171.20 = $513,600 approximate subject property value
This may be a fairly accurate estimate of your client's home sale price, but it's important to keep all unique home features in mind. Many scenarios will impact the home's value, so this is especially important if there are a limited number of comparable properties, or if the home is in a new development with no recent sales data. However, this calculation is a valuable and helpful piece of your comparative market analysis.
6. Prepare Final CMA for Your Potential Client
After gathering, evaluating, and organizing your data, it's time to finalize it by creating a CMA package. Instead of handing potential clients a basic, boring spreadsheet with property details that may not make sense to them, it's important to design a CMA report that includes descriptions and key takeaways.
There are a variety of ways to create and customize your comparative market analysis, including:
Putting together a digital presentation on PowerPoint or Keynote
Printing or sending a PDF
Using Cloud CMA to create an interactive CMA presentation
Purchasing a CMA template online
Designing or customizing a template from Canva
There is a large amount of information you are displaying to clients, so the best rule is to keep it simple. More data isn't always better. If the CMA report confuses you, it is guaranteed to confuse the seller. Make sure your real estate CMA is easy to understand by highlighting important information, including descriptions, and choosing a scannable format.
You don't have to be a professional graphic designer to make a comparative market analysis report that's beautiful and easy to navigate. Canva is a graphic design platform with thousands of templates for documents, presentations, infographics, and flyers, and a huge variety of branding elements like colors, fonts, and images. You can even save customized templates for each different marketing material, which makes it easy to keep your branding consistent. Start using Canva for free.
7. Schedule an Appointment to Review the CMA
Make an appointment with new leads as quickly as possible. Although it may seem easiest to simply email over your finalized CMA, you'd be missing an extremely valuable opportunity. The information included in the CMA report could be unfamiliar to your clients without having you there to walk them through it.
Even if your leads decide to interview or listen to pitches from multiple agents, you will stand out simply by being the first. Setting up a time to meet and do a listing presentation is one of the best ways to convert them into clients and build a long-term relationship.
If the CMA is for existing clients who already want to work with you, the presentation is still key to giving them the right tools for selling their homes. Plus, it ensures that you and the homesellers start the real estate transaction on the same page, with open communication and clear expectations.
Pro tip: Once you complete a CMA, don't throw it away or forget about it. Hold onto the data for future listings, sales, and marketing. You may get a new lead with similar property, and reusing data from your CMA will make the process faster and more efficient.
Plus, using a comparative market analysis is a fantastic way to generate new real estate leads from your website. With a landing page like Real Geeks' Home Valuation Tool, you will drive traffic to your landing page and attract new seller leads easily. Then, you can bring them further into your funnel by offering a free CMA and an even more accurate way to determine their home value. Learn more about how Real Geeks will grow your business.
Real Estate CMA Examples
The first time you create a comparative market analysis, it will be more time-consuming to find the right format and information. As you get more real estate listings and do more presentations, you'll start seeing patterns or common questions from homeowners. Over time, your CMA report should change to include answers and explanations for common questions and ultimately improve your presentation and rapport with clients.
To start getting inspiration for your analysis, here are four CMA real estate examples:
1. Simple Comparative Market Analysis PDF
This CMA report example has a relatively simple format and design but includes an extensive amount of resources and easy-to-understand charts and data. The comparable properties are shown on a map and in multiple easy-to-read charts to make the information as clear as possible. It even includes a QR code, allowing sellers to instantly download the physical report to their devices. This is a great option if you can't decide between providing a printed or digital version of your CMA.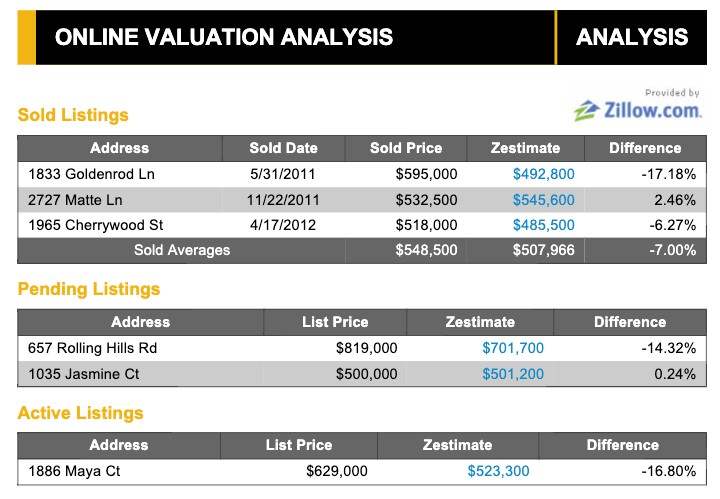 ---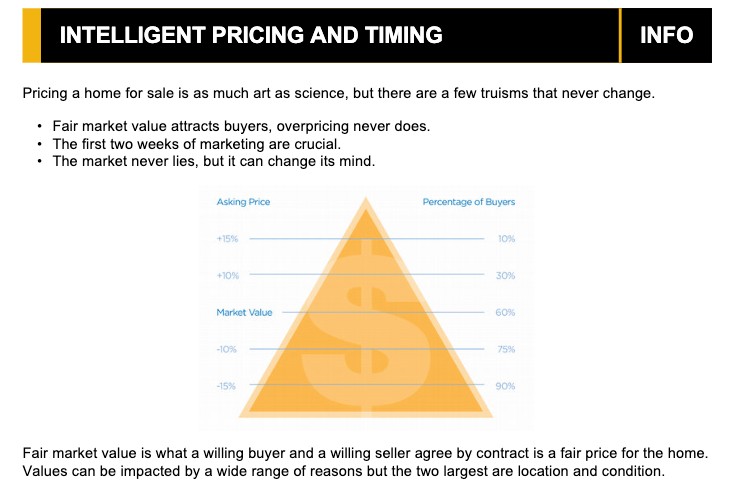 ---
2. Sample Report From Cloud CMA
This CMA is an example report from Cloud CMA, and it is very user-friendly and easy to read because of its images, well-organized charts, and clear headings. This analysis could easily be printed, but Cloud CMA also has the ability to generate interactive reports that you can walk through with your clients online. If you want to make your comparative market analysis and presentation more dynamic and memorable, this is an ideal strategy.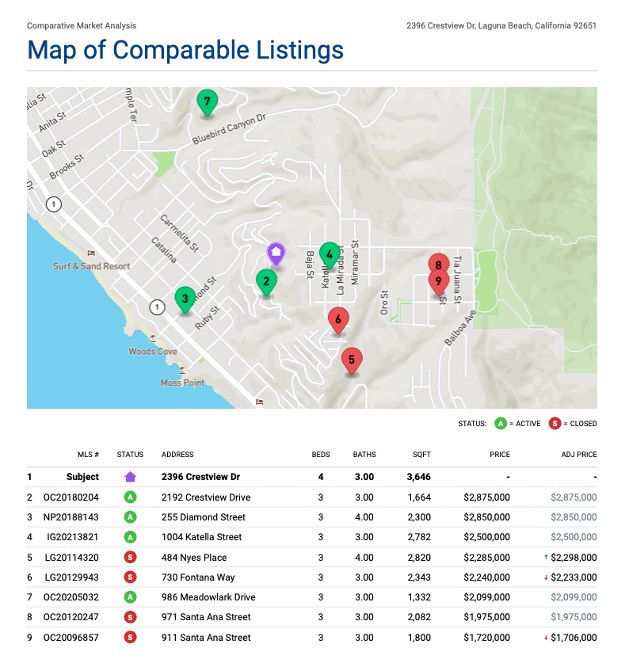 ---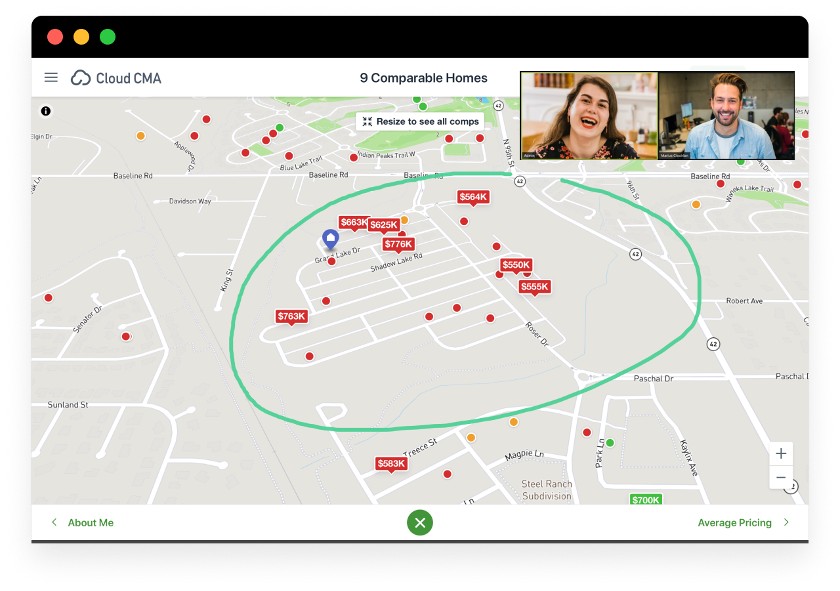 ---
3. Comparative Market Analysis With Charts & Graphs
One of the best ways to make your CMA easy to digest for non-real estate professionals is by using graphs. This CMA example includes typical charts with property details and comparisons, but also adds unique graphs to visually describe important details, like list price vs selling price or days the property spent on the market.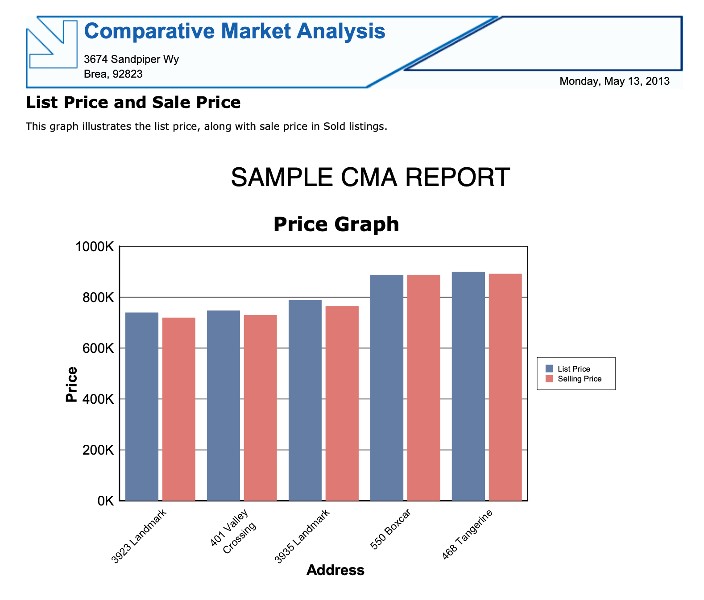 ---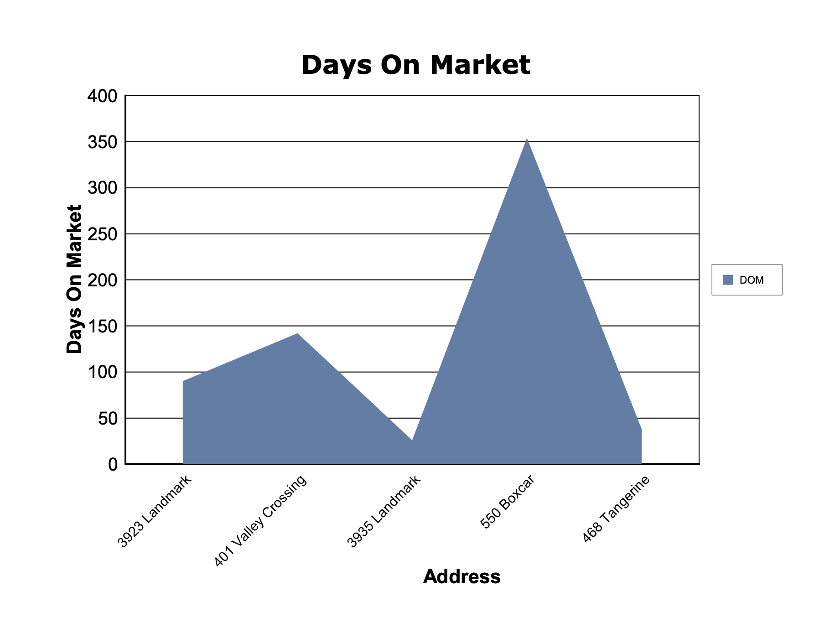 ---
4. CMA Real Estate Flyer
Repurpose the data from your CMA to grow your business by turning the information into a flyer and sending it as direct mail to similar properties in the neighborhood. Since this CMA template is only two pages, it may not be the best choice for a listing presentation where your goal is to build a deeper sense of trust and familiarity. However, sending property information to homeowners in the neighborhood will pique their interest and could help you generate new listing leads.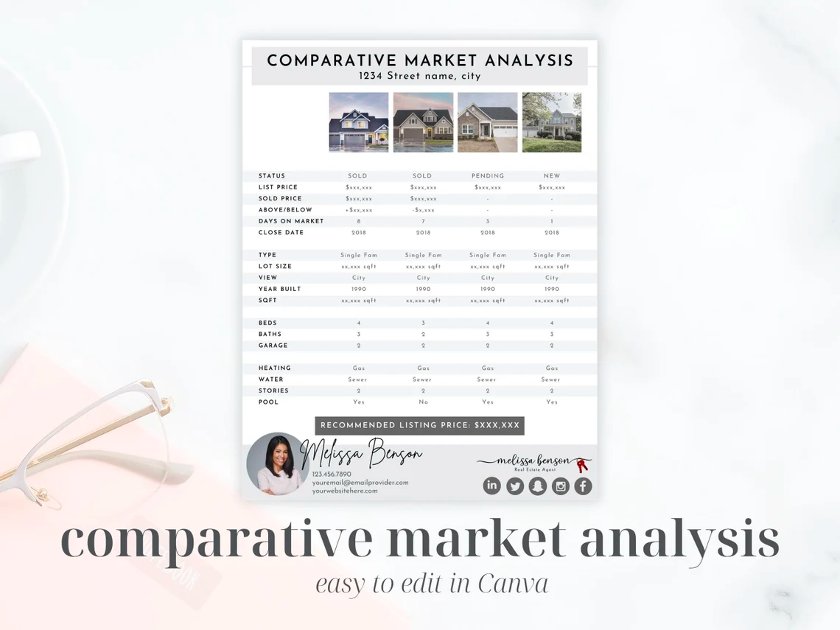 ---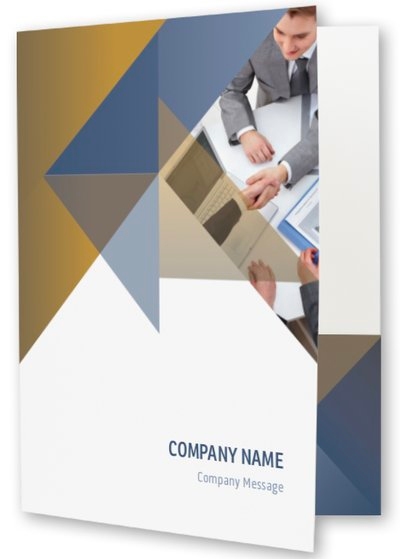 ---
Stand out even more at your listing presentations by delivering your CMA report in a branded presentation folder. Not only does this make your physical report easier for sellers to keep track of, it makes you appear much more professional. Customized folders are available from VistaPrint, along with hundreds of other customizable gifts and marketing materials.
How & When to Use a Real Estate CMA
A comparative market analysis is primarily used to provide a listing price estimate for sellers. As a seller's agent, you should be able to explain to potential sellers what a CMA is and what it consists of in a prelisting package or during a listing presentation. After you've been hired as a listing agent, then you must provide a CMA report to help them determine the listing price for their property.
While CMAs are most often used for sellers, creating a CMA in real estate can also be done for:
FSBO (For sale by owner) homesellers: Including a CMA in a listing presentation for FSBO homeowners can show them how they can actually make more money by working with a real estate agent instead of attempting the process on their own.
Homebuyers: Gathering the data about the values of similar properties in the neighborhood can help potential buyers determine if a home is a good deal and submit a strong offer.
Landlords: It's helpful for real estate investors to know the true value of their rental properties when listing them for sale or determining a rental price.
Commercial properties: Real estate CMAs are often associated with residential properties, but it's just as necessary for commercial buyers and sellers to understand the value of comparable properties.
Tools to Create a Real Estate CMA Report
It can take hours to create a real estate CMA manually. On the other hand, there are a variety of different tools that can make the process easier and more efficient. Most local MLS systems have CMA capabilities but are usually generic and difficult to customize. There are a number of companies that you can use to create a CMA report for your clients that you can customize to your brand and style.
Consider the following CMA real estate tools to start simplifying the process:
Providers

Starting Price

$45 per month

$35 per user, per month

$10 per report

Key Features

CMA templates
Interactive and digital CMA presentations
Presentation tools

All-in-one appointment scheduling
Branded and automated texts and emails
Activity reports

Accurate property value insights
Interactive tools to find and select comparable properties
Value forecasts for up to three years

Read More
Bottom Line
A comparative market analysis (CMA) is a tool that helps agents demonstrate the value of a potential listing to homesellers. It's done by using the right tools, finding similar properties, gathering data, and compiling it into a beautiful and easy-to-understand CMA report. With the right marketing strategies, the listing and real estate market data can be used to convert listing leads and generate new ones.