Accepting credit card payments from your clients has proven to increase average order sizes by as much as 40%. If you want to know how to accept credit cards in your business, you are in the right place.
For most small businesses, we recommend Square as a fast and easy way to accept credit card payments. It's free and you can get set up in minutes, making it the perfect solution for new and small businesses. Click here to get started today.
Table of Contents:
Terms You Need To Know
What you need to have: Brick and Mortar, Online, Mobile
Credit Cards vs. Debit Cards: Which is better for merchants?
Processing Credit Cards: Rates, Fees and What you Should Know
How Access To Funds Works
How Refunds and Disputes Work
Protecting Yourself From Fraud
Contract or No Contract
Credit Card Processing Terms You Need To Know
There are some terms you will need to be familiar with in order to make an informed decision about implementing your credit card processing solution.  They are:
Merchant Account – A merchant account is what allows you to accept and process credit card payments.  It allows the credit card companies to easily take back fraudulent or disputed transactions before they hit your bank account. You generally get your merchant account through a merchant account provider.  Our recommended merchant account provider is Payline.
Point of Sale (POS) System – Generally includes an iPad, iPad stand, cash box, credit card reader, and receipt printer. Many POS systems also help track inventory and manage employees, making it much easier to run a retail business. Square, a free POS, handles merchant accounts for you, even further simplifying life for small retailers.
Shopping Cart – Part of an online store that allows customers to select items for purchase.
Payment Gateway – The form that your customers will use to enter in their payment information when making payments online, and the back end technology that processes those payments.
Do you want to know how to accept credit cards in-store, online, remotely via smartphone or over the phone?
The type of credit card processing solution you decide to implement, will depend on how and where you want the ability to accept credit cards. Some solutions are designed specifically for accepting credit cards in store.  Others focus on online credit card processing, and still others focus on giving you mobile credit card processing capabilities via a smartphone or tablet.
The costs will also vary.  The risk of fraud is higher for online transactions versus in-store transactions, where the cardholder is present and their identity can be verified by the person processing the transaction. Because of the higher risk, processing Internet based credit card transactions tends to cost more.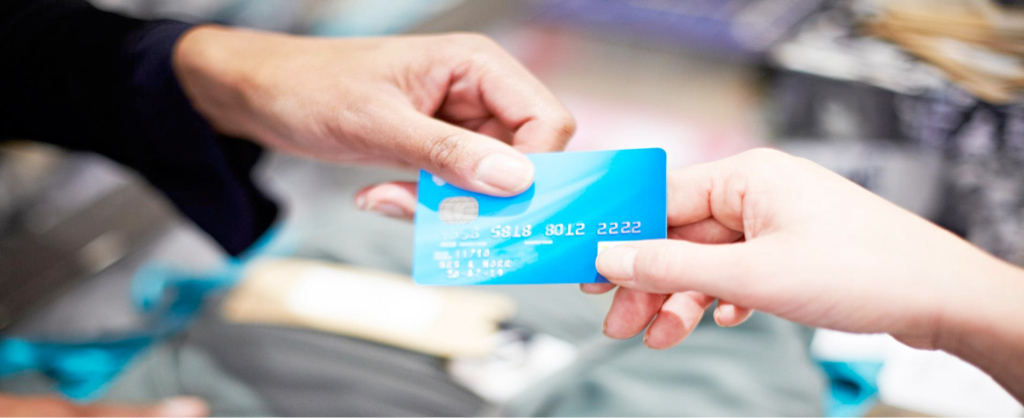 Credit Card Processing Solutions – What  will you need?
Brick and Mortar Store
What You Will Need: POS System and Merchant Account
A credit card reader (which can easily be rented or bought) will hook into your store's POS system or directly into your Internet and submit information to the credit card company. You will get back a confirmation that the transaction went through or was declined. The money is then processed by your merchant account provider and sent to your bank account.
For most small businesses, we recommend Square POS, an excellent free POS that can accept credit cards and help manage your inventory and sales. Click here to get started today.
Online Payments
What You Will Need: Payment Gateway + Internet Merchant Account.  (If you sell lots of items you will also need a shopping cart)
Just because you have a merchant account doesn't mean you are set-up or allowed to take online transactions through the merchant account. It's also very likely the fees for online transactions will be quite different. You need to ask specifically about an Internet merchant account.
For online transactions, the payment gateway (you can think of it as the form in which a person inputs their credit cards data) replaces the credit card reader. After the transaction is successfully processed, the money is processed by your merchant account provider and then sent on to your bank account. If you have a lot of items, you will want to have an online shopping cart which integrates well with your payment gateway.
If you are going to be processing less than 50 online transactions a month, then we recommend Paypal who will provide both your payment gateway and merchant account.  If you are going to be doing more than 50 transactions a month or want a service that can handle both in store and online transactions, then we recommend Payline.  They also provide both the gateway and the merchant account.
Mobile
What You Need: Card Reader + Merchant Account
With mobile, your smartphone becomes the credit card reader. A small attachment is provided for your smartphone which enables you to swipe the credit card's magnetic strip. After the transaction is successfully processed, the money is sent to a merchant account and then to your bank account.
If you are going to be accepting less than 50 mobile payments per month, then we recommend using Paypal here.  If you are going to be doing more than 50 mobile payments per month, or if you want the ability to accept payments in store, via mobile and online then we recommend going with Payline.  For more on how to accept credit card online see our guide here.
Credit Cards vs. Debit Cards: Which is better for merchants?
As a merchant, it's a lot cheaper to process debit cards than it is to process credit cards. If the debit card comes from a big bank (with $10 billion dollars or more in assets) you'll pay an average of $0.24 per transaction, according to a Federal Reserve report. If the card comes from a smaller bank, like a city-based bank (with less than $10 billion in assets) then your processing fee will be, on average, $0.43.
When you accept credit cards, you pay more for processing fees. You have to pay the interchange rate set out by card companies (here are MasterCard's interchange rates for 2014-2015) plus the company that provides your merchant account or processes credit cards for you.
Taking cash and debit payments is always going to cost you less as a merchant.
Processing Credit Cards: Rates, Fees and What you Should Know
The fees for processing credit cards can get very complicated very quickly.  To try and keep things simple, remember that you are going to be paying three types of fees.  These are:
A percentage of the transaction.
A fixed amount per transaction.
Setup and service fees which are not based on the volume or number of transactions.
Your focus in terms of which set of fees you want to minimize, is going to depend on the number of transactions that you are doing, and the size of those transactions.  Here's what you need to know:
If most of your business comes in transaction sizes of less than $25, the fixed amount per transaction is what you want to try and minimize.
If most of your business comes in large transaction sizes of more than $25, then the percentage you are charged per transaction is going to be more important.
The smaller the total amount of transactions you do each month is, the more important any upfront setup and ongoing fees that the merchant service provider charges are going to be.
With most merchant account service providers, all the rates are negotiable based on your volume so it's important to speak with several to understand which is offering you the best rate.
Here are the questions you want to ask:
If you want a more specific breakdown, check out our credit card processing fees article (we compare the rates and fees for 3 of the top providers).
Do you use a tiered or interchange plus pricing model?
There are two basic ways in which the transaction percentage can be charged. One is a fixed percentage based on the type of credit card, which includes bank fees, credit card company fees, and merchant account fees. Typically this is called a tiered pricing system.
The other is the "interchange +" model, where the merchant account fee is set (and not dependent on the credit card) but all of the other costs, including bank and credit card charges, are passed on to the merchant.
Credit card companies will charge more if you make a rewards card transaction but your processor may also charge extra in a tiered system. In an interchange plus system, the processor cut remains the same and is a set percentage no matter what kind of card you process.
We recommend sticking with providers that offer the interchange + pricing model.  With this model it's easy to see exactly how much you are going to be paying.   Just make sure you understand how often and when the interchange plus pricing model can be raised by your merchant account service provider.
What are your fees for debit cards?
Accepting Debit Cards can cost from 0.2% – 2.0% of the transaction, plus a fee from $0.11 to $0.25 per transaction.
Keep in mind that fees will vary depending on whether the card is taken in store, via a mobile device or over the internet.  Internet transactions are considered the riskiest and therefore generally have the highest costs.
What are your fees for credit cards?
Accepting Credit Cards can cost from 1.5% – 4.0% of the transaction, plus a fee from $0.20 to $0.30 cent per transaction.
Make sure you get these fees listed for all the different cards you plan to accept.  For example American Express and International Cards always costs more, and many rewards cards do as well.
Payline Data uses an interchange plus system. Here is an example chart for Payline Data that shows your costs and the cuts for each party involved in a transaction:

Keep in mind that fees will vary depending on whether the card is taken in store, via a mobile device or over the internet.  Internet transactions are considered the riskiest and therefore generally have the highest costs.
What upfront/setup fees are there?
Some merchant account companies will charge you fees when you sign up, which are monthly or in bulk. This may or may not include hardware, training, customization, integrating a new system with your current existing software and hardware.
What ongoing monthly and/or annual fees are there?
All merchant account service providers charge Payment Card Industry (PCI) compliance fees for security.  This is generally somewhere around $100 a year.  Some bill this separately on an annual basis and some roll it into their monthly fee.
Many also charge a monthly fee for things like customer service.  If the merchant service provider charges a monthly fee often times they will include everything including the PCI fee in this monthly fee.
Are there any hardware purchasing or leasing fees?
This is for things like card readers, terminals, cash drawers, bar scanners and printers. While some hardware is free, (many mobile credit card processing providers, including Bluepay and Paypal Here offer one free card reader), others will cost you. Merchant Warehouse sells iPhone 4 and iPad card readers for $129.00 and PIN Pads for $69.00 to $105.00.
Are there any fees for payment gateways and POS systems?
While some firms like Bluepay provide a complimentary payment gateway for online transactions, some do not.   A merchant is also expected to purchase their own shopping cart and point of sale system independently.
Access to Funds
How fast can you access your money? It depends.  If you go with Bluepay they guarantee that you will have your funds within 2 business days for in store, mobile, and online transactions.
Most other credit card processors, such as Merchant Warehouse state that you'll have your money within one to two business days for in store payments made with major credit cards only. American Express credit cards will take longer, typically 3 to 5 business days.
For mobile payments, you often have to wait longer. PayPal Here can take up to 7 days, but funds can also be held for up to 30 days.
Online payments usually have the longest wait period before you can access funds. They are riskier, as cards and card holders are not present and there is a greater risk of fraud. If you use PayPal, for example, funds will be available in 3 to 5 business days, though you may have to wait up to 30 business days.
Refunds
Part of offering great customer service is offering refunds. A refund will probably cost you, however. How much it will cost depends and you should make sure you understand this clearly before your choose a processing company. Some companies will charge you a small fee but will refund the interchange fee. Others will not only hang on to the interchange fee but also charge you a transaction fee and a processing fee.
There is also a time limit on refunds. The range varies but is often between 60 days to 120 days.
It can take three to five business days for a refund to process, though they are online complaints of refunds taking up to six weeks.
How do disputes work?
How a dispute is resolved depends. For Merchant Warehouse, merchants must refute a claim in writing that includes the time of the chargeback notification. Merchants can also appeal chargebacks that were not due to their own errors. Some will settle the dispute on your behalf, and other refer you to your financial institution or credit card processor.
Usually, a customer will open a dispute.They may or may not contact you and just deal directly with the credit card processor, which will notify you.
Many companies try and help you and your customer come to an agreement. Usually, the funds in question are frozen. There may be a processing fee for settling the dispute, and you may have to pay a chargeback fee, which ranges but is often around $25.00. If you did  not operate with due diligence to confirm the identity and authorization of the payment, you may also be charged a fee.
Protect Yourself from Fraud
Not interested in being burned by a credit card user posing as a friendly customer? To avoid costly and time consuming fraudulent activity, be sure to:
request identification with a photo id for in person transactions
visually check the signature and card number
ask for the three digit code on the back of all Visas and MasterCards (and require this in online purchases)
require contact information for phone or email (in online purchases)
don't hold data on your own computer
use the Address Verification Service (AVS)  for all online and phone purchases (ZIP code and street address) and be sure they match up with the credit card
refund cards, versus cash
No one likes to be a victim of fraud, but taking steps to protect yourself and your customers can help shield you should it take place. Be sure to report any suspicious or fraudulent activity immediately.
Integration
A lot of credit card processors integrate with QuickBooks. Many also integrate with POS systems, though it may depend on the brand. This is the same with hardware. Many companies will work with major brands, but also sell or lease equipment that is guaranteed to work.
To Contact or not to Contract
Before, you often had to sign a one to multi year contract. Today, many of the younger companies offer month to month service without a contract.
Service providers that do require a contract often require a commitment of three months to  up to five years, if you've taken advantage of pairing services, and gotten for example, a free POS system.
Keep in Mind…
Swiping cards is usually the cheapest way to process. It is also less risky as the card and card holder are usually present. Swiped card rates have a range of fees. The very lowest swiped rate is what most companies highlight in  advertising.
Keying in card information is another way to take payments. It takes longer and often comes with a higher rate than swiped cards. There is a higher risk associated with keying in as the card and cardholder do not need to be present.
Want to Reduce Retail Theft and Better Manage Your Inventory? Click Here to find out how.
Debit Cards: Domestic vs. International
If most of your customers are using American cards, you will probably be charged a lower domestic card rate. Occasionally, Canadian cards are also considered domestic but they're often not. If you rely heavily on international customers, such as hordes of Canadian cross-border shoppers, summer tourists from overseas or online sales abroad than you may be charged significantly more. International cards are often processed at the highest rate.

At the End of the Day
Accepting credit cards boosts small business. A lot of companies would love to serve you, so shop around for a solution that fits your needs. Don't get bedazzled by the advertised rates. Clearly identify and understand the fees you'll be paying and you'll be on your way to ringing up more sales and building more success.
Ready to start processing credit cards?  Get a free quote from our recommended credit card processor here.