In a retail business, the ability to accept credit and debit card payments can increase your revenue by as much as 40 percent. If you want to learn how to accept credit cards in your business, this article will show you exactly what you need. (Note: In this article we focus on how to accept credit cards in person. If you want to learn how to accept credit cards online, go here.)
For most small businesses, we recommend Square as a fast and easy way to accept credit card payments. It's free and you can get set up in minutes, making it the perfect solution for new and small businesses. Click here to get started today.
How Credit Card Processing Works
The swipe of a credit card begins a complex payment process. In the few seconds it takes for "approved" or "declined" to pop up on the screen, the credit card network communicates with the customer's card issuing bank to determine whether or not they can afford the purchase.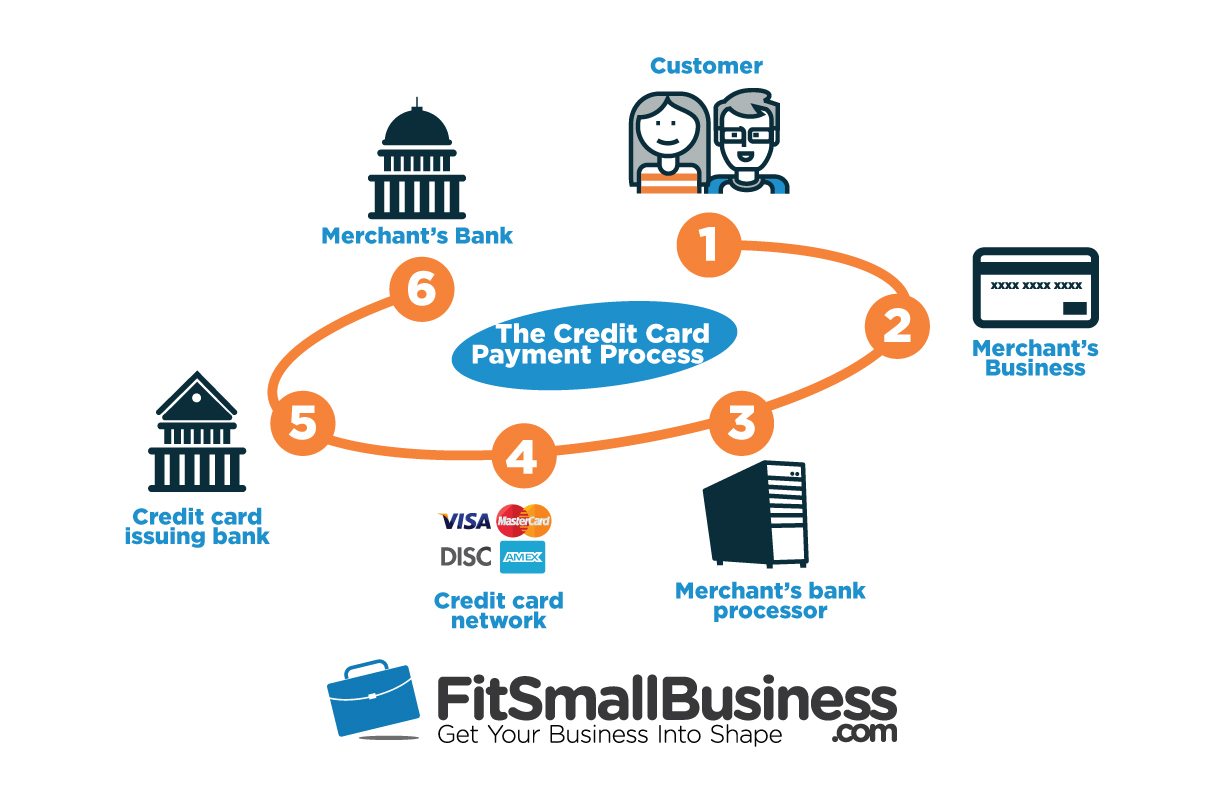 Now, as a small business owner, you do not need to worry about anything beyond steps 2 and 3. As we'll explain throughout this guide, all you need is the hardware that swipes the customer's credit card and a merchant account provider that connects you to the payment network.
How to Accept Credit Cards in Your Store
Since much of the credit card payment process happens behind the scenes, you only have to focus on two things to start accepting credit cards:
A card reader – This includes both the physical credit card swiper (and keypad) as well as the software that manages orders. Also referred to as your point of sale (POS) system.
A merchant account provider – This is the service that connects you to the credit card network. For a small fee per transaction, they handle all the behind-the-scenes work required to process credit cards.
Some companies, like Square, wrap both of these services into one package. This makes it a lot easier and cheaper to set up, since Square also includes powerful point of sale (POS) tools like digital receipts, tipping, inventory management, and customer purchase history at no additional cost.
On the flipside, if you shop around for a separate merchant account provider, you can sometimes find one with lower transaction fees. For example, Square charges a flat 2.75% per transaction, whereas Payline charges around 1% less. However, keep in mind, this is more complicated to setup and will require you to purchase a separate POS system. Generally speaking, the savings only really kick in when you're processing more than $17.5k/month in sales (more on this below).
The 3 Primary Types of Merchant Account Providers
As we hinted above, there's basically two different routes you can take to start accepting credit cards: You can go with an all-in-one provider like Square, or setup your POS and merchant account separately for potentially lower transaction fees.
The reason why there's different transaction fees is because of the different pricing models used by merchant account providers. In all, there's 3 different pricing model, which are:
Flat Rate Pricing Providers – With this pricing model, your business pays a flat percentage rate for every retail card swipe in your store. For example, our recommended flat rate pricing provider Square charges 2.75% for all swiped transactions regardless of the type of card.
Interchange Plus Pricing Providers – The fees your customer's bank charges and the processing fees charged by Visa, MasterCard and Discover are known as the Interchange Rate. Interchange plus providers charge a fixed markup above the interchange rate. For example, our recommended interchange plus provider Payline charges 0.2% + $0.10 above interchange, making the total cost for a retail Visa swipe 1.71% + $0.20.
Tiered Pricing Providers – Tiered pricing providers charge a different markup for every single type of card you process. This makes it very hard to understand how much you are paying to process credit cards, and very easy for the merchant account provider to overcharge your business. That's the reason we do not recommend working with tiered pricing providers.
How to Know Which Merchant Provider is Right For You
Since tiered pricing is not a very practical solution for small businesses, there's two main options for small business owners to begin accepting credit cards: flat rate merchant account providers (like Square), or interchange plus merchant account providers (like Payline).
In order to decide which you need, you need to look at 2 factors:
What is your average monthly credit card revenue?
What is your average purchase value?
Generally speaking, if your average monthly credit card revenue is below $17,500 and/or if your customers generally make lower-value purchases (under $50), then a flat rate provider like Square is the best choice. If you sell over $17,500/month and/or you sell expensive items, then an interchange plus provider like Payline can be more economical.
Here's why:
How Merchant Account Providers Compare By Revenue
The table below shows the price difference between Square and Payline at two different revenue points: $12,500 and $25,000 in monthly credit card sales.
Merchant Account Provider
Processing Fees per month*
Service Fees per month
Cost of POS Software per month
Total Annual Cost
$12,500/mo in credit card revenue



www.squareup.com

$343.75
None
None
$4,125



www.payline.com

$285.18
$15
$69 (Shopkeep)
$4,430
$25,000/mo in credit card revenue



www.squareup.com

$687.50
None
None
$8,250



www.payline.com

$570.36
$15
$69 (Shopkeep)
$7,852
*The example uses a Visa retail card swipe with an average order value of $35.
As you can see above, Square is more economical if you're earning $12,500/mo in credit card revenue, whereas Payline is more economical at $25,000.
This is because Square charges slightly higher processing fees (2.75%), but doesn't have any monthly charges. Payline has lower rates (1.71% + $0.20 for Visa) but charges a service fee. Plus, you'll need to pay extra for a POS system, which Square provides for free. At a lower revenue point, the extra costs associated with Payline outweigh their savings.
Based on our calculations, the exact cut-off of when Payline becomes more economical is around $17,500 in monthly credit card revenue.
Average Purchase Value Comparison
Next we'll compare merchant account providers based on average purchase value: The average amount customers spend when they visit your business.
As you can see above, Square charges the same rate regardless of the purchase value. This is because they charge of a fixed percentage of 2.75%.
Payline charges both a fixed percentage and a fixed fee of at least $0.10 per transaction. For Visa swipes, the fee is $0.20 in addition to 1.71%. This makes Payline far more expensive for low-cost items. As you can see in the table above, you'll pay a nearly 10 cents higher than Square on a $10 purchase, which can add up tremendously over time.
On the other hand, Payline can be significantly cheaper for high value purchases. The fee was 84 cents lower than Square on a $100 purchase, and this becomes even more pronounced as the order value increases.
How to Setup Flat-Rate Credit Card Processing
At this point you should have a good idea whether flat rate (Square) or interchange plus (Payline) is better for your business. Next we'll describe how to set up each of these merchant accounts, starting with flat rate credit card processing:
Step1: Choose your Merchant Account Provider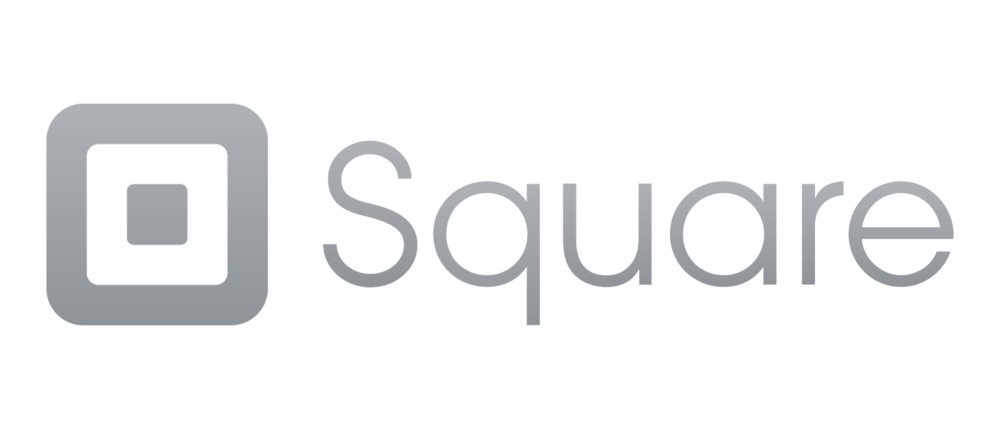 As we've mentioned throughout this guide, we generally recommend Square as the best flat rate merchant account provider because it's so easy to get started. Their free software is as powerful as paid POS software solutions costing $30-$40 per month, and their add-on services and hardware are very reasonably priced.
Square charges a flat rate of 2.75% for all swipedtransactions in your store, 3.5% + $0.15 for keyed-in transactions (for example sales taken over the telephone), and 2.9% + $0.30 for online transactions.
Other providers in this category include PayPal Here and Intuit GoPayment. While PayPal here has similar rates as Square, they lack the POS features like inventory management. Meanwhile, Intuit charges significantly higher rates with a fixed fee of $0.25 per transaction plus a percentage ranging from 1.6 – 3.4%.
You can also check out our guide to compare the top flat rate providers in further detail.
Step 2: Software Setup
The whole set-up process with Square takes most people less than 30 minutes. You simply download the software, put in your general business information, link a bank account, and you are ready to start accepting payments.
There are two ways to ring up sales; either by adding each product amount in manually, or by selecting inventory items that you have already configured. The checkout screen for Square is very intuitive and you'll be able to master it after just a couple sales.
The Square POS software is in our opinion still the best free POS software. In addition to being powerful and very easy to use there are also modules that allow you to do much more than manage the cash register, such as basic inventory management.
There are also paid add-on modules for other key functions. For example, employee management costs $5 per employee per month. This will allow you to report of sales performance by employee and also to track any payment / stock discrepancies back to the employee responsible for completing the transaction.
Step 3: Hardware Setup
One of the other great things about Square is that they provide very reasonably priced hardware. You just need a smartphone or a tablet to get up and running. You'll probably want an EMV chip card reader too; Square EMV card readers start at $29.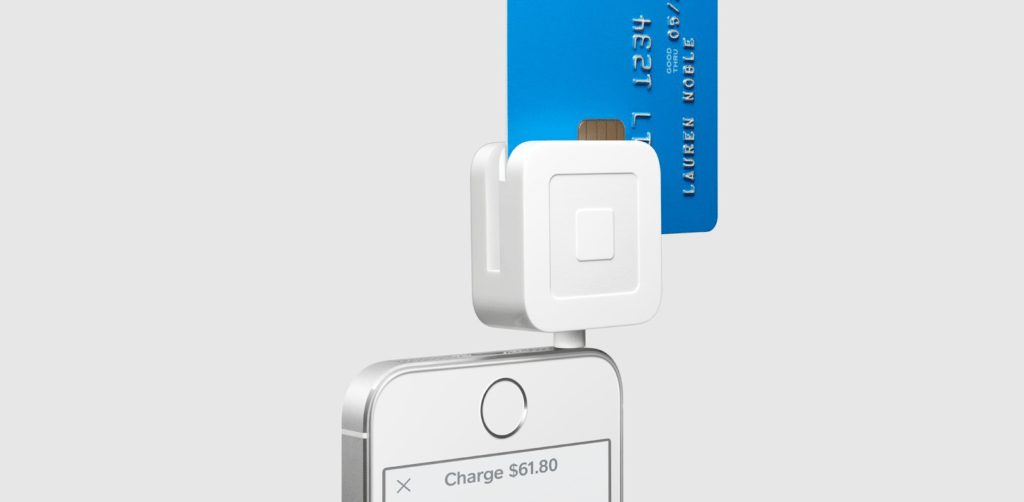 If you are looking for a more permanent solution, you can purchase a Square Stand and Contactless Chip reader for $169, and you can also get a cash drawer, receipt printer and barcode scanner for around $400. Most bricks and mortar stores put the following POS tools in place:
Receipt printer – Customers expect a sales receipt what shopping in your store. The most popular brands are Star Micronics and Epson.
Bar-code scanner – This will let you scan a barcode at any point where a stock code is required.
Cash-drawer – Some POS hardware vendors like Amazon offer bundled packages of a cash-drawer, receipt printer and barcode scanner at a good price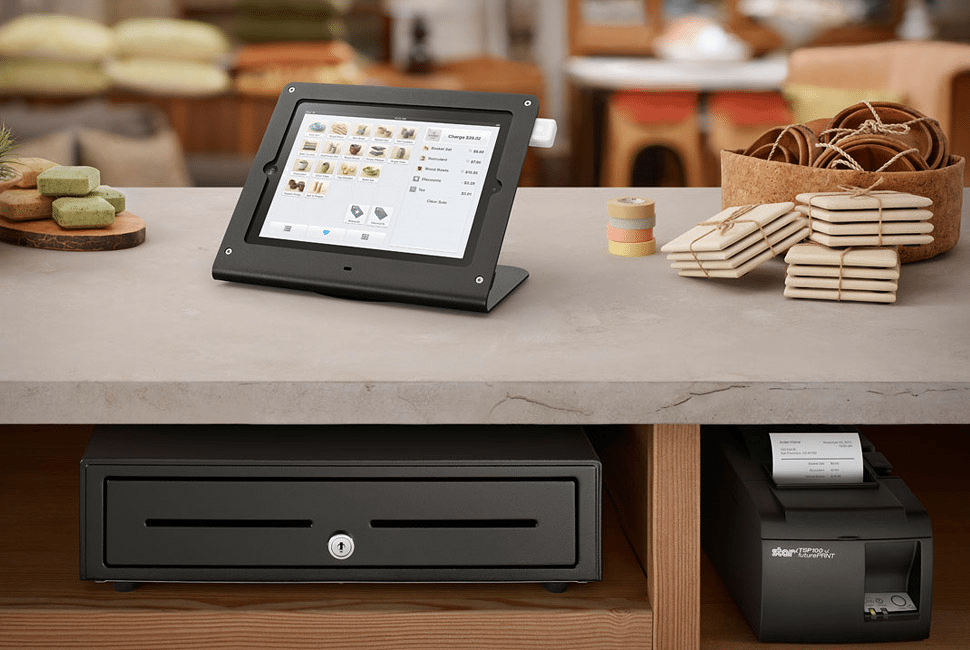 How to Setup Interchange Plus Credit Card Processing
Interchange plus is more difficult to set-up, but is often more economical for businesses with a high volume of sales. Consider an interchange plus merchant account provider if you're making more than $17,500/month in credit card sales and/or sell a lot of high value purchases.
Here are the steps that you need to take:
Step 1: Choose your Merchant Account Provider

There are many good merchant account providers who can provide you with an interchange plus pricing model. We recommend Payline as the best merchant services provider for small businesses because they are an honest player in an industry renowned for shady operators. Payline provides one of the lowest processing rates in the industry, a transparent payment structure, no monthly minimum charge and a reputation for excellent customer service.
Payline currently charge Interchange + 0.2% + $0.10 per transaction. This rate is negotiable if you are processing more than $80K in card sales per year.
Step 2: Choose your software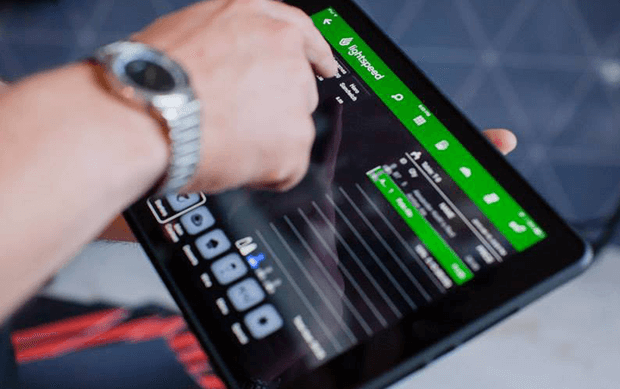 Modern POS software allows you not only to complete your cash and credit card transactions, but also to manage many other aspects of your business. For example:
Inventory management – After you have activated your POS software to manage transactions, setting-up inventory management should be your very next priority. Whether you are using free software like Square with basic inventory management software or paid software like Lightspeed with more advanced features, the good news is that this is easy to setup and manage thereafter.
Employee management – If you have more than one person receiving customer payments, you will want to be able to set them up with their own unique login so that you can analyse how each employee performs.
Customer management – All POS software allows you to create a customer database. Some are very basic and just allow you to store name, contact details and birthday and others are much more useful allowing you to store information about a range of other things like buying preferences, frequency of visits and average spend per visit. The database then allows you to segment your customers in different ways, for example to implement marketing promotions.
It's crucial to choose the right POS software, because this system sits right at the heart of your business. We recommend Lightspeed Retail as the best POS software solution for small business owners, because it's very user-friendly and you get everything you need in one system at an affordable price.
To learn more about best POS software we have created a separate article which will tell you everything that you need to know.
Step 3: Hardware Setup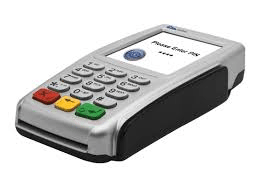 At a minimum you'll need a credit card reader linked to your PC or tablet. Though we would recommend a full POS set-up if you will be accepting credit cards on a regular basis. Your choice of merchant service provider may influence the hardware choices that you make. For a store, this usually includes:
Receipt printer – Essential in any store operation where customers expect a sales receipt. The most popular brands are Star Micronics and Epson. We recommend you buy a thermal printer because they are smaller, faster and quieter. Plus they do not need ink cartridges. Your POS cash-box will connect to the back of your receipt printer. Make sure to ask the supplier to give you the right cable to connect it to your printer type and model.
Barcode scanner – This will let you scan a barcode at any point where a stock code is required. Any USB scanner will work, just plug it into your computer and away you go.
Cash drawer – Some POS hardware vendors offer bundled packages usually consisting of a receipt printer, barcode scanner and cash drawer.
Most POS software providers can also get you hardware. Otherwise you can shop around online at sites like Amazon to find the best deals.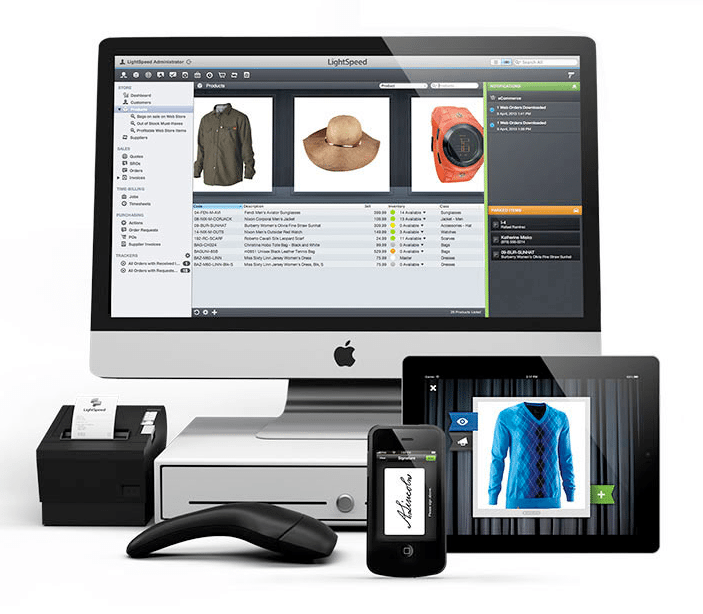 When choosing your software, make sure that it is enabled for your preferred set-up. For instance, will the software work with Windows and/or iOS? Can you deploy the software on a desktop computer and/or a mobile device like a tablet or a smartphone?
Whatever you decide, you will need; a computer and monitor (or a tablet). We recommend getting a touch screen monitor if you want to reduce customer checkout time. You can use any monitor you wish so long as it has a minimum screen resolution of 1024 X 768.
Bottom Line
Most people find the subject of credit card processing complicated and difficult to understand. However, it's essential that you understand the basics to avoid putting the wrong solution in place and paying a lot more than you need to start accepting customer credit cards.
If you are just starting-up, your monthly card sales are less than $17.5K per month, or most of your purchases are low-value (below $25), then we recommend using Square. You can set-up in minutes, download their free POS software and buy reasonably priced hardware add-ons like an EMV reader for chip cards for as little as little as $29.
When your monthly card sales exceed $17.5K per month we recommend you move to an interchange plus model. We recommend Payline because they provide one of the lowest processing rates in the industry. At this point, we also suggest trading-up from free to paid POS software, since you will benefit from more advanced inventory, employee management and CRM modules.