When you offer customer financing to your customers it can boost your sales, improve customer loyalty and build repeat clientele. In fact, the average order size of a small business that offers in house financing can increase as much as 120%. Plus, nearly two-thirds of customers make a future purchase of $500+ in stores that offer customer financing.
Our thanks to Blispay for sponsoring this article. Blispay offers customer financing that can be used by any merchant who accepts Visa payments and it's free to offer. Well qualified borrowers can get approved in minutes for up to $10K and use the financing for in-store or online purchases. Merchants can get up and running with Blispay within 1 day.
How Customer Financing Works
Customer financing is designed to convert a browser into a buyer. It is targeted at potential customers who are on the fence about buying goods or services from your business because they are deterred by the upfront payment.
Customer financing allows customers to enroll in an affordable monthly payment plan so they don't have to pay all at once. Offering customer financing can help you make larger sales, make sales more often, and increase customer loyalty.
Here's how customer financing works in 6 steps: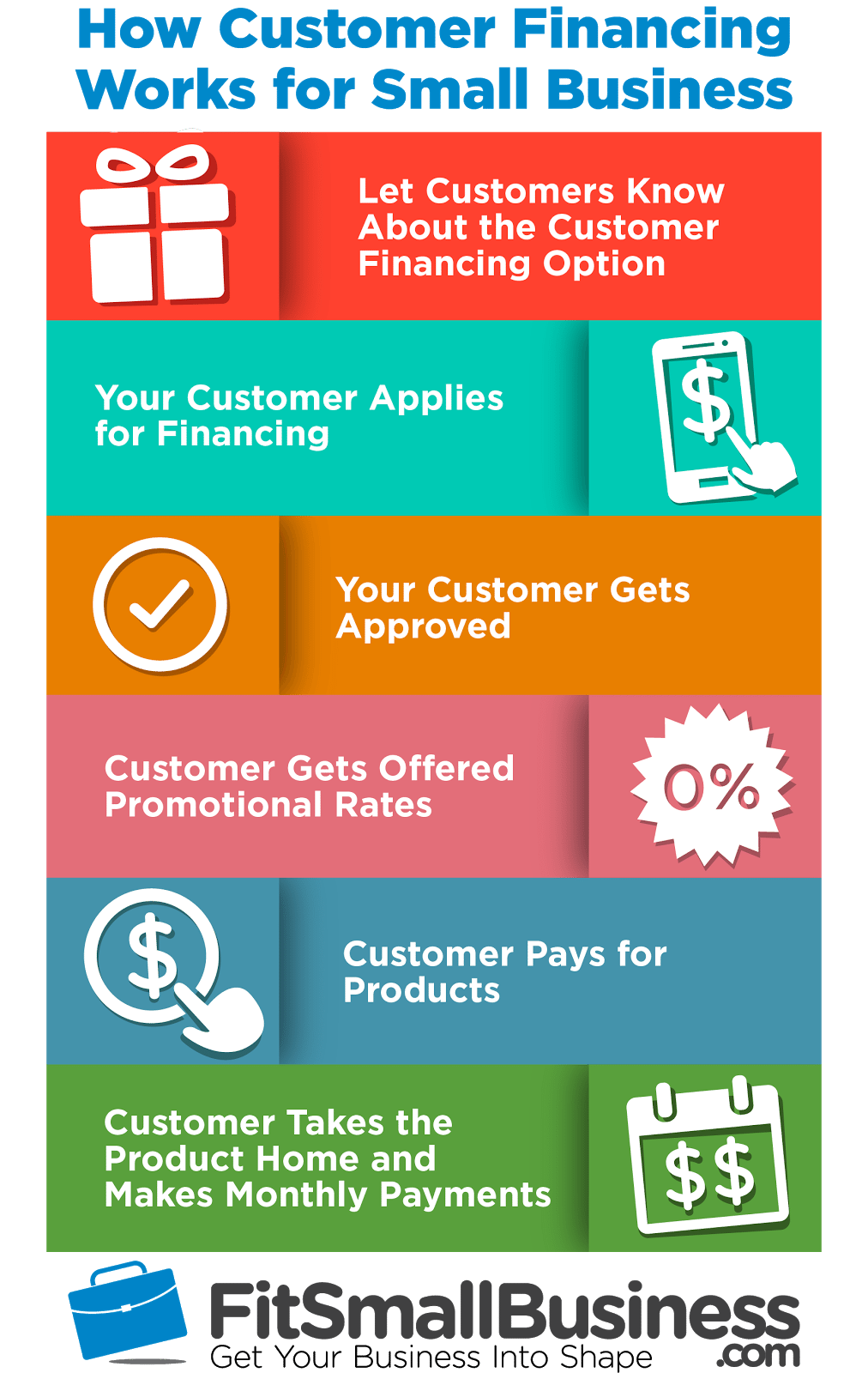 1. Let Customers Know About The Customer Financing Offer
Before your customer applies for financing, they'll typically already have a specific product or service they're purchasing. This is usually an expensive product a collection of products or accessories, or a product upgrade. Once they have one, you can inform them of the customer financing program you have available.
2. Your Customer Applies For Financing
Your customer doesn't apply for financing directly through you. Instead, they use their smartphone, tablet, or computer to apply directly on the financing company's website.
3. You Customer Gets Approved
Within a few minutes your customer will know if they've been approved and for how much they've been approved. They'll receive this information on the device they applied with immediately following their application submission.
4. Customer Gets Offered Promotional Rates
If your customer qualifies, they'll immediately receive special offers or promotional rates to encourage them to use their new credit immediately to make purchases in your store. For example, on purchases over $199 Blispay offers a no payments no interest if paid in full in 6 months promotion.
5. Customer Pays for Products
One of the nice features for you as a merchant is that you'll receive full payment for the items you sell up front. Once your customer has been approved, they'll use a unique identification number or barcode to pay for their products. The financing company will pay you the same way you get paid with any other credit card purchase.
6. Customer Takes the Product Home and Makes Monthly Payments
Products purchased with customer financing take the same time to process as other payments. They'll be rung up at your register the same way as any other credit or debit card purchase.
Once payment is complete, the customer will take home the products they've purchased and will start making monthly payments, unless they've been offered promotional repayment terms like the no payments no interest if paid in full in 6 months offer from Blispay mentioned in step 4.
With Blispay your customers can quickly get approved for up to $10k in financing to be used on anything in your store. If they spend $199+, they can take advantage of no payments, no interest as long as they're paid in full within 6 months. Plus, it's there's no additional cost for you to offer.
How to Determine if Customer Financing is Right for You
As a merchant, you're being hit by competitors from every direction. All of them want to take sales from you, whether it's online or in your store. Offering programs like customer financing is one way big box retailers like Best Buy and Home Depot stand out from small businesses like yours.
While offering a customer financing program might be a no brainer to compete with these stores, you need to make sure it's the right thing to do for your business. Plus, you need to make sure you're implementing something you can afford.
Here are 4 things to consider when determining if a new customer financing program is right for you:
1. How Much In House Financing Costs You
The costs of any customer financing program is the most important factor when choosing your partner. If the margins don't make sense because the financing product is too expensive for your business, there's little point in offering it to your customers.
There are 3 different ways that the financing company typically charges merchants:
No Charge
There are limited financing solutions that are completely free for the merchant, but this is the best case scenario option. To be completely free, the program would need to use your current point of sale system, and the fees on each transaction can't be higher than what you normally are charged to process a customer payment.
Blispay is a great option that doesn't charge the merchant anything more than you're already charged for processing a Visa card payment. You can offer Blispay for your customers within 1 day.
Discount Rate
Many financing companies charge small business owners a percentage (1% – 5% is typical, but it can be higher) of each financed transaction. For example, if a customer receives financing to purchase a $5,000 sofa from your shop, a discount rate of 3% is applied and $150 is deducted from the purchase. You would receive $4,850 but your customer owes $5K, plus interest.
Flat Rate
Some firms charge a flat monthly rate which covers an unlimited number of customer applications for financing. The average is around $40-50 per month. There may also be a one-time initial setup fee.
While a flat rate may be acceptable to your business, a discount rate might be tough depending on your margins. An option that doesn't add any other costs beyond what merchants currently pay to accept VISA, like Blispay, is the best choice when offering a financing program that helps your customers.
2. Whether Your Customers & Products Qualify for Financing
Financing companies have slightly different qualification requirements. These qualifications extend to both your customer (their credit profile, employment status, etc) and to the products and services your small business offers (type of product/service, cost of product/service, etc).
Here are some questions you should ask when deciding which financing company is right for you:
Can Your Customers Qualify?
Many financing companies are going to require your customers to be a prime or a prime-plus borrower. This typically means having a credit score above 650 with no recent negative credit events like bankruptcy or foreclosure. There are also low credit customer financing and no credit check customer financing options available, but they will be more expensive for both the merchant and the customer.
What are the Spending Requirements?
Is the required purchase amount on a single transaction going to work with your products? Some finance companies will set a minimum purchase of $1,000, while others will be much lower. For example, Blispay does not have a minimum purchase amount, but purchases of $199+ qualify for a promotion of no payments, no interest if paid in full in 6 months.
Can the Financing be Used to Purchase My Products or Services?
Some financing is restricted to specific products, services, or industries. Blispay is one option that can be used to purchase just about any product or service you offer, as long as you accept Visa card payments. Other financing programs may restrict customers from buying some or all of your products or services with their financing.
3. Whether Your Customers Will Use the Financing
There is no point to offer a customer financing solution if your customers don't like or use it. Keeping in mind what your customers' value is important in the process of picking your provider.
The 2 main things that your customers are likely to find valuable are:
Cost of Financing to Your Customers
Offering financing is most valuable for your business if it's affordable for your customers. Although it's the financing company that is actually lending the money, your customers may have your business in mind every month when they pay the bill. To ensure your customers continue to see your business in a good light, finding the customer financing option with the best possible rates is essential.
Most customer financing firms offer customers APRs ranging from 5% – 20%, but some are as high as 29%. The exact interest rate that your customers will qualify for depends on the company that you're using and the customer's credit score. For eligible borrowers, the financing firm will also offer promotional incentives, such as 0% interest for 6 months.
Is the Customer Financing Flexible?
Many businesses that offer customer financing do it to keep business in their store. While that may be a good strategy there are also benefits to offering financing options that are more flexible.
For example, customer financing that can be offered in your store but used anywhere that credit cards are accepted makes it a much more valuable consumer financing tool. If your customer financing offer can provide a potential benefit for every purchase (not just yours), your salespeople will have an easier time promoting the product.
4. Whether the Program is Easy to Implement & Scale
Small businesses want a customer financing solution that is easy to implement, doesn't require a lot of training and doesn't require you to spend money on new technology. This makes it more affordable to get up and running, and as your business grows, the minor point of sale and training requirements will make it much easier to scale.
The best customer financing solutions will also work no matter how or where your business grows. Ideally, customer financing should help you increase sales across all platforms, including at your brick and mortar store, ecommerce store, mobile, and any popup locations or conventions. Blispay is a great example of how easy a customer financing solution can be for your business.
"We understand how tough it is for a small business owner these days," said Greg Lisiewski, the Founder and CEO at Blispay. "Every dollar matters and so does every minute of effort. By building Blispay as a Visa product, we instantly empower millions of merchants to improve sales with minimal effort and no additional cost. They get to keep running their business as they do today."
Using Blispay to Offer Customer Financing
Blispay's customer financing program is a great option for a wide range of merchants. They work with small, single-store businesses, ecommerce-only sites, and large retail chains. They work best for B2C businesses with customers who are prime or prime plus borrowers and are primarily based in the U.S.
Blispay Customer Financing Program at a Glance
Time for Merchants to Qualify
As quick as 1 day
Merchant Fees
No additional fees ?(beyond your normal merchant fees to accept Visa cards)
Technology Required by Merchant
No additional technology if you accept Visa cards already
Employee Training Required
Minimal
Typical Type of Approved Borrower
Prime and Prime Plus
Credit Line Amounts
$1,000 - $10,000
Card APR
19.99%
Promotional Details
No Payments, No Interest on all purchases over $199 if paid in full in 6 months
Time for Customers to Qualify
A few minutes (it can be done from their phone right in the store)
Customer Application Process
Customer fills out an application and receives approval decision within minutes. If approved, customer immediately uses their digital card

Visit Blispay
Blispay Customer Financing for Merchants
Blispay is one of the easiest customer financing solutions for merchants to implement. You can be up and running within 1 day and start marketing the option to your customers. In fact, since there are no point of sale upgrades needed, you may have already processed a Blispay transaction in the past.
Here are additional details on Blispay's customer financing program:
Blispay Application Process for Merchants
To get started, you will fill out a short online form and a Blispay representative will get back to you with the details of the program and help answer any questions you have. Then you'll sign a simple merchant agreement and review the guidelines of the program. Merchants have launched Blispay in as fast as 1 hour.
How Merchants Accept Payments from Blispay
Once a customer is approved for Blispay financing (which takes minutes), the merchant can process payments through their own point of sale (POS) in 3 different ways:
The merchant can manually type in the customer's new card information that they receive on their mobile phone (see below).
The merchant can take a mobile wallet payment if the customer has added their Blispay card to their Apple Pay, Google Wallet, Android Pay, or Samsung Pay app.
The merchant can swipe Blispay's physical card like a normal Visa card after the customer has received it, but this could take a few days to receive in the mail.
Since it's just like processing any other credit card payment, there are no new, complicated processes that employees must learn. When the customer is approved for financing they will receive a temporary card on their phone or mobile device that looks like this: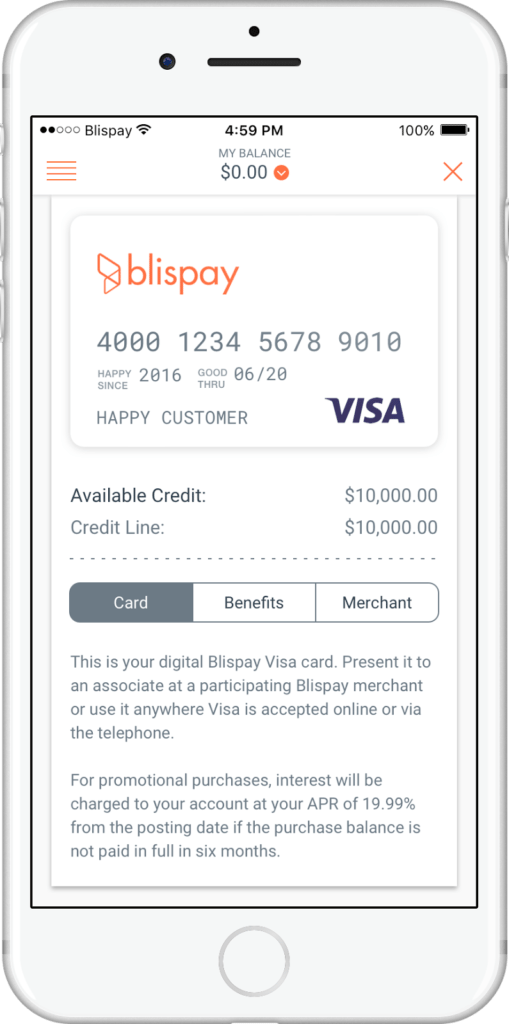 Blispay Works with Businesses of All Sizes
Blispay is extremely flexible and works with merchants of all sizes. Blispay works for businesses with a single location and limited sales and businesses that run a regional or nationwide chain of stores. It even works for your online and mobile sales. All you need is the ability to accept Visa payments.
"Blispay enables merchants of all sizes, across various industries to provide their consumers with financing at no additional cost," said Greg Lisiewski, the Founder and CEO at Blispay. "It doesn't matter if you're a bike shop doing $300K in sales a year or an 8 store furniture chain with $75 million in annual sales. Blispay is the simplest solution for everyone."
Blispay Customer Financing for Your Customers
Blispay's customer financing makes it easy for customers to apply. Your customer just needs to fill out a simple online application with their basic personal information that would be needed on any credit card application. Here is what the Blispay application looks like on a smartphone: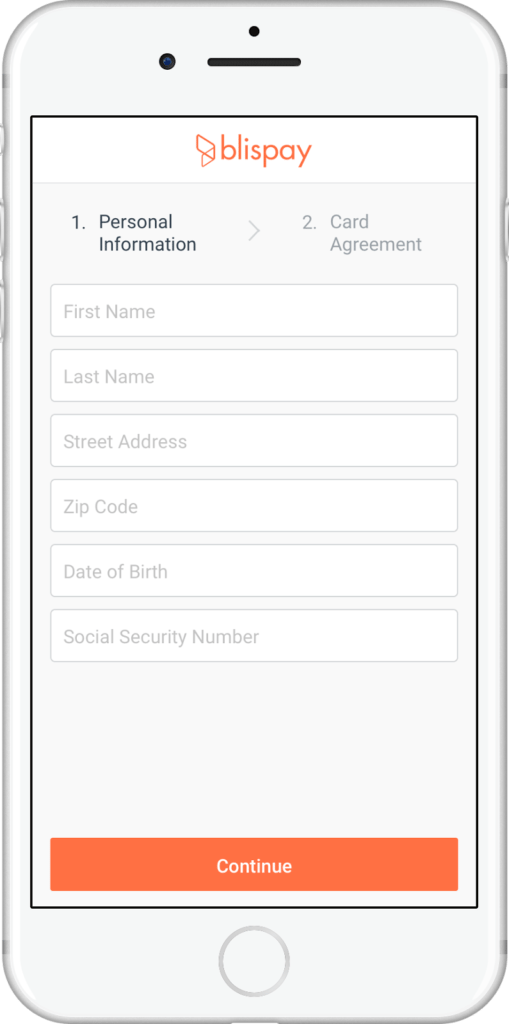 Once the application is completed and the card agreement is accepted, the customer will immediately know if they have been approved. Here is what their welcome screen looks like with their new account details when they have been approved: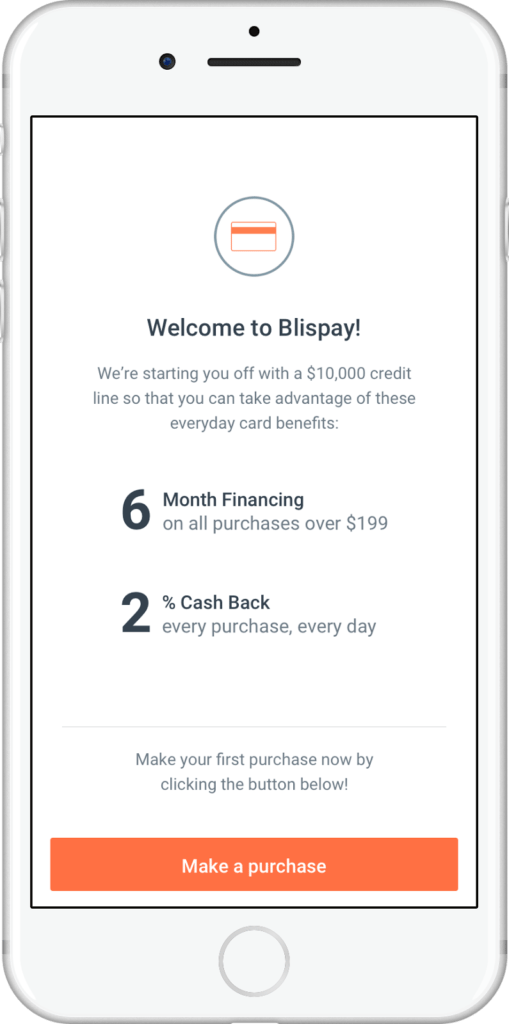 From here, all the customer has to do to start using their financing account is click the "make a purchase" button to get their virtual card. The virtual card will have the payment information the merchant needs to complete the sale.
All customers who make purchases with Blispay currently get no payments and no interest on all purchases over $199, if paid in full in 6 months. Also, customers will get 2% cash back on all purchases, regardless of the purchase amount. Cash back comes in the form of an automatic statement credit. They can get the same 2% cash back on their coffee as they get on the sofa they just bought in your store.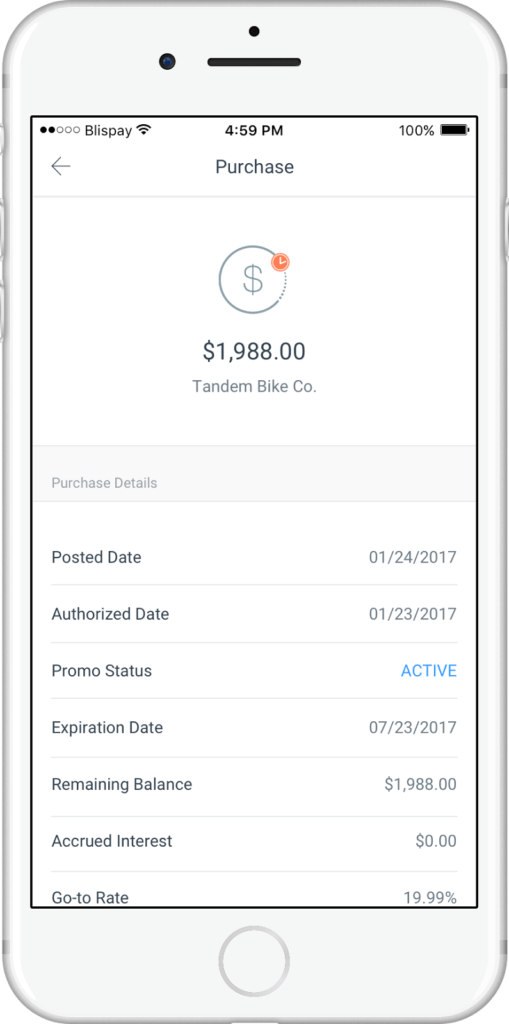 Blispay Customer Financing Details
Blispay is a great option for customers because they can use the card in your store, or anywhere else Visa payments are accepted. They can use it to spread out payments on a large purchase or upgraded purchase over a period of time.
Let's look at a breakdown of the details of Blispay's financing for the customer:
Blispay is for prime or prime-plus borrowers
Customers can be approved for credit lines between $1,000 – $10,000
Customers get no payments & no interest on all purchases over $199 if paid in full in 6 months
Customers will get 2% cash back on all Blispay purchases
The APR is 19.99%
Customers can qualify in minutes and start using it immediately
Customer can use Blispay anywhere Visa payments are accepted
Blispay offers a flexible financing option with many benefits that your customers will love. It is easy to apply for, and even easier to use. Customers can be approved within a few minutes and make purchases in your store immediately. Visit Blispay to get setup and start offering customer financing as quick as today.
Other In House Financing Options
While Blispay will be a great fit for most merchants that are ready to offer customer financing, there are certain situations that will require other financing tools.
If a large share of your customer base is made up of subprime borrowers (those with a credit score below 650) you may want to look into low-credit customer financing options or even no credit check customer financing options. In general, these options will be more expensive for both the merchant and the consumer, and may have greater limits on the products or services that can qualify for financing.
Also, certain industries lend themselves well to special customer financing solutions. For example, the home improvement industry (like solar panel installation) often has industry-specific customer financing options. If you'd like to find out which financing solution is popular in your sector, a good place to start is by asking other small business owners in your industry.
Another option could also be better if you process a significant portion of your sales through PayPal. Paypal offers a customer financing program that may be more convenient for your customer base.
Benefits of Offering Consumer Financing
As a merchant, customer financing offers you many benefits, from giving you the ability to compete with larger retailers to increasing customer satisfaction and retention. If you can afford the right customer financing solution then the benefits make it a no-brainer to offer to your customers.
The 3 biggest benefits to merchants who offer customer financing are:
1. Increases Average Order Value
Consumer financing is often successful at getting customers to make add-on purchases, which increases the customer's average order value (AOV). It also encourages customers to upgrade to expensive versions of products rather than settling for the more affordable product they can pay off immediately. A study from Retail Customer Experience paints this picture with actual data.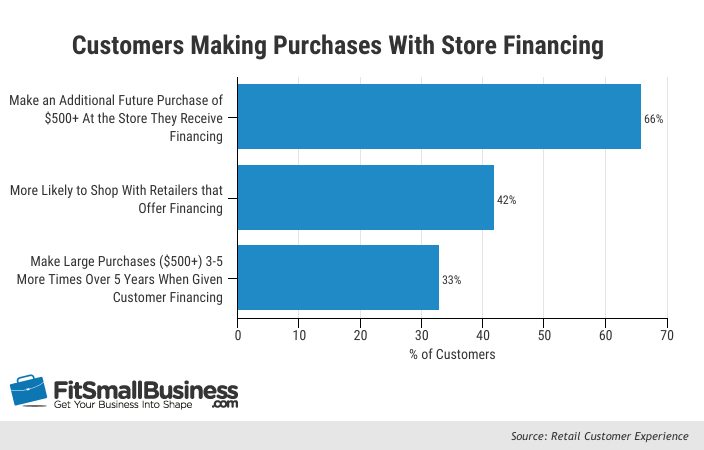 The majority of customers (66%) using financing that you offer them in your store are going to come back and make an additional purchase of at least $500. That's a benefit of current and future revenue that you wouldn't have received otherwise, and it increases your average order size.
In fact, Greg Lisiewski, the Founder and CEO at Blispay had this to say about how stores using their program are benefiting with increased order sizes:
"Results vary across industries, but our merchants are reporting AOV lifts as high as 120%. Some are also seeing reuse rates upwards of 30% within the first 90 days"
2. Free For You to Offer
If the program works with your current point of sales system, then it's likely free for you to offer it. Not only does that mean you can be competitive by having a financing option for your customers, but it's actually a competitive advantage over other stores who have money tied up in their program.
3. Helps You Compete With Big Box Retailers
Offering a customer financing option for expensive products is almost a must in today's market. Big box retailers all seem to offer a financing option with beneficial promotional offers. If you don't offer customer financing to your customers then you could be losing countless revenue dollars directly to these big box retailers.
How to Maximize In House Consumer Financing
Customers respond very well to being offered incentives. However, if your customers don't know about your financing program or don't apply for it, then you won't see the same results. You need to find ways to make your customers aware of the financing option while increasing the number of them that apply.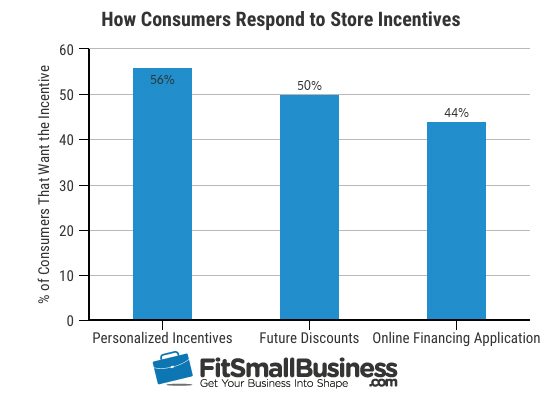 Here are 5 ways to get the most out of your customer financing program:
1. Advertise It
If your customers don't know that you're offering financing, they won't be able to take advantage of it and you'll lose out. Research shows that 68% of purchasing decisions are unplanned.
"Customers typically do not respond well to high priced items if they are not first aware that they have payment options," said Jocelyn Caster who offers customer financing at her small business, Wyncode. "Making it clear in your marketing materials, in-store advertisements, and online through social media is important for customers to be more open to making these purchases. Make sure your offer is written in plain language and that it can't be missed."
Putting prominent signage about your financing options in your store windows, on the sales floor, and at the point of sale can convert a browser into a buyer. You should especially emphasize if customers can qualify for a promotion.
2. Change Your Price Tags
Your ultimate goal is to show the customer that your good or service fits their budget. In addition to having the full price of an item on the price tag, such as $1,000, show the lowest installment payment on the price tag (e.g. payments as low as $30/month). That way, your customers can see just how affordable the financing might be.
3. Train Your Staff
Your employees are the most important asset in promoting any customer financing offer. Your employees should be trained on how to initiate the topic with customers, how to submit an application for approval, and how to answer customer questions and concerns. When choosing a company to work with, make sure that the application process is convenient for both your customers and your employees.
4. Incentivize Your Employees
You know from the information above that you're going to get larger sales when customers sign up for financing. It's a good idea to find ways to incentivize your employees because you know your business will benefit from the financing they're pushing to your customers. Giving any incentive, no matter how little, can go a long way in making your customer financing program more successful.
5. Add it to Your Website
If you sell your products online, then you need to make sure your customer financing offer is built into your ecommerce site and store cart. Before your customers check out, your site should automatically show the customer what their payments could be if they used customer financing. Better yet, you should show them what the payments would look like for an upgraded model of the product they're buying.
Bottom Line
In today's economic climate, many customers do not have the available funds to make large purchases and may need some help to pay them off over time. Small business owners can see their sales increase substantially just by offering this solution to their customers, if what you offer matches the needs of your customers.
Blispay offers customer financing to any type of company. It doesn't matter whether you are a small brick and mortar shop or a multi-million dollar ecommerce store. Merchants can accept payments through Blispay just like they do any other Visa credit card, and can be set up as quickly as today. Visit Blispay and see how much your AOV goes up.