Point-of-sale (POS) systems handle the entire checkout process, from bar code scanning to payment processing. They also include backend management features, such as inventory and analytics. Restaurants and retailers can manage all aspects of their business through their POS systems. POS software typically costs $0 to $300 per month per register.
What Is a POS?
POS is the point of purchase in a retail store. It's when and where a monetary transaction takes place. The POS is typically the register, checkout counter, or cash wrap. POS systems are software programs that manage purchases, returns, and exchanges.
The terminology is confusing because essentially the same phrase can refer to two different things. In this article, POS systems refer to the software programs that enable the sale.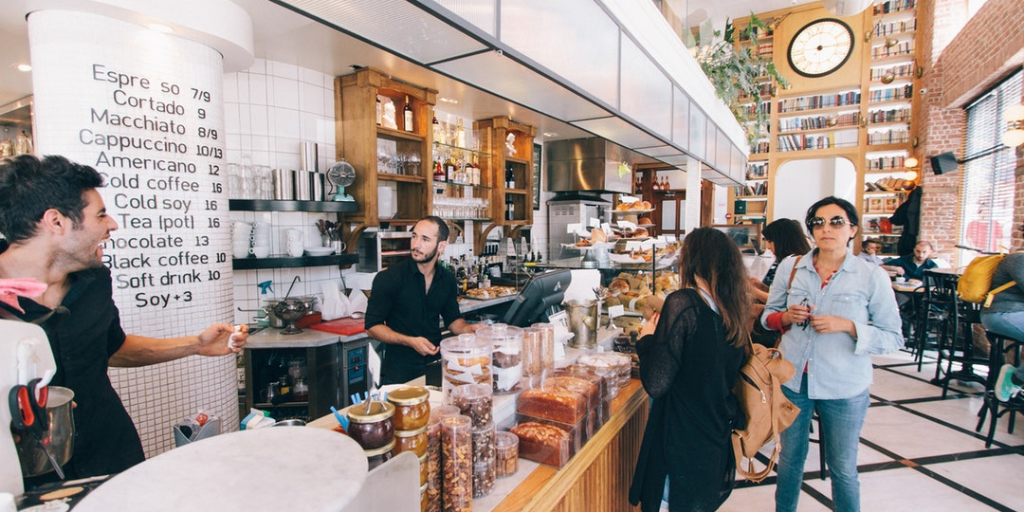 How a POS System Works
Modern POS systems take the place of cash registers. They are cloud-based software programs that operate on tablets, desktop computers, or smartphones. They have a connected card reader for accepting credit card payments. Retailers can add on extra hardware as needed, such as cash drawers, bar code scanners, and thermal receipt printers, which are typically sold separately.
Although POS systems take the place of traditional cash registers, they have much greater functionality and are generally easy to set up.
Sales & Checkout
A POS system creates a quick and seamless checkout experience for your customers and store associates. At checkout, staff can add items easily to a sale via bar code scan or touchscreen entry. Totaling the sale happens instantly and coupons, loyalty points, or other discounts can be applied at the touch of a button.
During the checkout process, POS systems can also be used to collect customer contact information, create profiles to store purchase history, sign up for email marketing, or enroll in loyalty programs. POS systems allow retailers to easily use the checkout process to gather contact and sales data to serve customers better.
Credit Card Processing
POS systems automatically connect credit card transactions to your checkout process. This simplifies and speeds up your checkout procedures and end-of-day reconciliation tasks. Unlike a typical credit card terminal and cash register setup, with a POS system, you don't run a separate end-of-day charge report and reconcile tickets to sales. It's already done for you.
POS systems like Square also make it easy to accept credit cards wherever you make a sale. Encryption methods lets you securely connect card readers to smartphones and tablets for mobile sales, accept online payments via your website or enter phoned-in payments using your POS system's virtual terminal. All of this is above and beyond what you can do with a basic credit card terminal and cash register setup.
Inventory Management
Inventory features are one of the top reasons that businesses adopt a POS system. Virtually every POS system on the market lets you create SKU numbers and store key product data such as supplier information and wholesale cost; regular, sale and discount prices for items; variables, such as size or color; and current stock quantities. Retail POS systems often have features to create bar codes and connect a bar code label printer.
Some systems also include features to manage online orders such as creating shipping labels or tracking orders for curbside pickup. The best POS systems also offer advanced inventory features that help you manage purchase orders and forecast product demands. If you need to track inventory anywhere, a POS will improve the process.
Centralized Multichannel Sales
A POS that offers multichannel sales can connect your in-store and online sales activities in one convenient, centralized system. Many POS systems integrate with a number of online sales platforms and sync your sales, payments, customers and even inventory counts between your in-store system and online sales channels. Some POS systems, like Lightspeed, offer dedicated ecommerce solutions.
Customer Management
POS systems let you record customer contact information and track every purchase down to the fine details. You'll know what items each customer purchased, how much they paid, what payment method they used, and even if the items were returned at a later date.
Customer data is immensely helpful in overall sales management, but it also plays another important role by helping you fine-tune marketing efforts. Knowing who purchases what, who your most frequent shoppers are, and who the biggest spenders are, helping you craft targeted marketing campaigns. Without a POS system, targeting buyers based on their purchasing history is nearly impossible.
Sales Data Tracking
POS systems track every sale in detail, which gives you a wealth of data. Even the most basic sales reports tell you which items are your top sellers and slowest movers. These retail data analytics help you make informed purchasing decisions.
Sales tracking also helps you pinpoint and predict seasonal upticks in certain categories or overall sales so you can plan your inventory and staffing to meet your busy cycles. Many POS systems let you track sales by employee for commissions or internal rewards programs.
Lightspeed has one of the most sophisticated reporting tools on the market. Lightspeed Analytics breaks down data into three categories: Sales and Inventory, Employees and Performance, and Customers and Marketing. Each of these categories has a dashboard with visuals to offer high-level insights at a glance and tools for breaking down or organizing data any way you want.
Employee Management
POS systems offer a variety of employee management tools. Almost every POS system includes features to setup multiple employee logins to track activity and set permission levels. Some POS systems also include features for time tracking, scheduling, and commission tracking.
For added fees, you can access or integrate a complete payroll management within your POS so that your time tracking and payroll tools are all in one automated system. Some POS systems like Square offer this feature directly, while other POS systems offer this solution through third-party integrations, such as Lightspeed and Push Operations.
Marketing Integrations
Many POS systems offer marketing solutions to put your customer data into action. Email marketing campaigns are the most popular marketing tool, but some POS systems also offer solutions for selling on social media platforms like Facebook and Instagram.
Using a POS system makes building an email list and keeping it updated a breeze. No more managing contact lists or spreadsheets manually. When you're ready to send marketing emails with promotions, you can use your customers' order histories to target customers most likely to respond. Tying your order history to email campaigns helps you create far more effective campaigns.
"POSs can make or break a business. We have had great experiences, and we have had less than favorable ones. Be sure you ask about loyalty, rewards, and gift cards upfront. Otherwise, having a gift card service can cost you an arm and a leg. Every business should have gift cards. We only see about a 60% claim rate of our gift cards. While we will always accept a gift card with a balance (no expiration), we do find this is a great way to help with cash flow."
— Ryan Vet, co-founder, The Oak House
Loyalty Programs
Customer loyalty programs take marketing a step further than email marketing by giving your customers an ongoing reason to frequent your store. Loyalty programs work a number of ways. You can use one to build points toward free gifts or discounts or to offer members special treats like early-buy events, coupons or appreciation days. However you set yours up, it's all managed easily in most POS systems.
Lightspeed offers a proprietary solution called Lightspeed Loyalty, which connects directly with Lightspeed POS. Lightspeed Loyalty is a targeted rewards program that includes a branded customer-facing app to track points and rewards. Retailers can create custom automated short message service (SMS) and email campaigns, and then track customer spending as a result of the promotion.
POS System Providers & Costs
There are many POS systems on the market. Most POS systems have the same basic features: inventory management, customer tracking, and sales data. However, there are POS systems designed for just about every type of retail and restaurant business. Some POS systems are free while others cost more than $100 per month. Learn more about how much a POS system cost by checking out this article.
Types of POS Systems
There are POS systems specifically designed for every type of retail and restaurant business, such as boutiques, specialty shops, sit down restaurants, and cafes. Here are some of the types of POS systems and their unique features:
Here is a quick look at 10 popular small business POS system providers, their basic costs and the types of companies they're best-suited for. Below, we examine other considerations like hardware costs and credit card processing fees.
Popular Small Business POS System Monthly Costs
| POS System | Best For | Monthly Cost |
| --- | --- | --- |
| | Specialty retailers | From $99 |
| | Cafes, coffee shops & mobile vendors | From $0 |
| | Sit-down restaurants | From $79 |
| | Multichannel retailers | From $29 |
| | Boutique & specialty retailers | Call for pricing |
| | Brick-and-mortar retailers | From $99 |
| | Restaurants that want menu-costing features | From $69 |
| | Small businesses that want a free loyalty program | From $0 |
| | QuickBooks users who want a simple way to accept payments | From $0 |
| | Mobile vendors who want to accept PayPal payments | From $0 |
There are dozens, if not hundreds, of POS systems on the market. If you're a mobile vendor or starting up a small retail operation, a free mobile POS may be all you need. However, most brick-and-mortar shops would benefit from a paid POS that comes equipped with more sophisticated inventory and data management features.
"The POS system you choose depends on your business and the details that you need to know to run your business effectively. An entry-level POS system might be enough for some retailers but not enough for others. The system you choose should cover what you need today but have additional capability for what you'll need tomorrow. Think frequent shopper programs, inventory management, purchasing histories, and the ability to collect email addresses — the list is endless because it builds as your store grows and changes. You want a POS partner that understands the expanse knowledge you need now and in the future."
— Rich Kizer & Georganne Bender, Retail Store Design Consultants, Kizer & Bender
POS Systems & Payment Processing
Many POS systems come with built-in credit card processing capabilities. Those that don't typically partner with other payment processors or merchant service providers to offer integrated payment processing. Using a POS system doesn't necessarily increase your cost of accepting credit cards. However, it does make the process easier compared to using a cash register and standalone credit card terminal because the entire system will be automated — no manual entry or room for human error.
Plus, connecting POS with payment processing gives retailers the option to store credit card data for future or recurring purchases. Some POS systems also can recognize a shopper based on their payment information, which is useful for sending digital receipts and tracking sales.
POS System Payment Processing Costs
Most POS systems offer flat-rate processing rates, which are ideal for most small businesses. Some POS systems also offer discounted payment processing fees for larger businesses or businesses that splurge for a more expensive POS plan.
Here's a comparison of the payment processing rates for 10 popular POS systems.
Small Business POS System Transaction Fees
| POS System | Built-in Payment Processing | Transaction Fee |
| --- | --- | --- |
| | ✔ | 2.6% + 10 cents |
| | ✔ | 0.0275 |
| | ✔ | Call for pricing |
| | ✔ | 2.7% or less with certain POS plans |
| | ✔ | Call for pricing |
| | | Varies based on provider |
| | | Varies based on provider |
| | | Varies based on provider |
| | ✔ | 2.4% + 24 cents |
| | ✔ | 0.027 of a cent |
POS Hardware Costs
Most POS systems work on iPad, iPhone, and some Android devices. If you already own one of these, you can start out with just a free or low-cost credit card reader and few, if any, added hardware costs. However, if you need cash drawers, receipt printers, or bar code scanners, those hardware costs can add up to a few hundred dollars. If you do not have a tablet or computer to operate your POS software on, you can purchase a full POS station for a few thousand dollars or less, depending on if you prefer a computer or tablet.
Once you have the necessary hardware, most POS systems are free to set up. Just create your account on the chosen POS system's website. Then, access the POS software through your browser or by downloading the app. However, there are a few POS companies that charge a mandatory installation fee to help you set up your POS and all of the different components.
What Is a POS System Frequently Asked Questions (FAQs)
The benefits of using a POS system are astounding. Choosing which one is right for your business, however, is no easy task. Here are some commonly asked questions around POS systems.
What are the most important features to consider when choosing a POS system?
For small businesses, price is always an important consideration. Look at monthly fees, payment processing fees, and setup fees. Also, consider the needs of your specific business. If you're a boutique store, you may want detailed inventory management and customer tracking features whereas a restaurant would want menu and table management features.
Also, consider your future business plans to make sure your POS can grow with your business. For example, if you have a retail store, but also plan to sell online, make sure your POS has an integrated ecommerce solution so that you can manage all of your inventory and customer data in one place. If you plan on opening additional stores, make sure your POS can manage multiple locations centrally.
Can I test out different POS systems before purchasing?
Most POS systems offer a free trial ranging anywhere from seven days up to a month. POS systems also typically offer demos or tours where an account representative will walk you through the software and answer any questions you have before you start the free trial, which will help lessen the learning curve.
Do POS systems offer technical support?
It varies depending on the provider, but most POS providers offer some level of customer support. Some solutions offer free 24/7 phone and email support while others have limited hours. There are a few companies that require business owners to pay extra for live support. We recommend looking for a POS that offers free 24/7 support in case your system has problems you need to address immediately during busy nighttime or weekend retail hours.
What is a POS system compared to a cash register?
A cash register is a standalone analog machine with price and category buttons to manually ring up sales. A POS system is a digital solution that rings up transactions with a bar code scanner or touchscreen. In addition to ringing sales, POS systems offer a suite of business management tools like inventory management and marketing solutions that are not possible on a cash register.
Are POS systems expensive?
They are more expensive than a cash register. A cash register is a one-time purchase of around $120 while a POS system will cost around $100 per month. However, the truth is it costs your business more not to have a POS. POS systems provide you with crucial data to inform product purchases, staffing needs, and effective marketing campaigns. If a retailer utilizes all of the data and features a POS solution has to offer, the system will more than pay for itself with increased sales and higher profit margins.
Bottom Line
POS systems make it easy to accept payments anywhere and connect your sales data and marketing efforts directly so that you can create very targeted marketing emails and loyalty programs to keep customers coming back for more. Inventory and staff management tools help you minimize shrinkage, spot errors and control costs across the board.