COVID-19 changed the way people shop, with a new emphasis on curbside payments and handling transactions individually as opposed to waiting in lines. Mobile POS systems allow businesses to attend to customers wherever they are—in-store or off-site. In most cases, mobile apps let you process payments using a tablet or smartphone as well as view reports and do back-end work with inventory or marketing.
We narrowed our list of over 40 POS systems to the best six for mobile. Here's what we found:
How We Chose the Best Mobile POS Apps
We pulled from decades of experience by our researchers, both in personal use and from studying and testing these systems. Then we combined the feedback of long-term, real-world users who have posted reviews on trusted third-party sites. We considered the features and ease of use of both the countertop system and the mobile applications or devices.
As often happens when evaluating POS software, Square tops the list. In addition to being the best POS system for small businesses, it's also on lists for POS for restaurants, payment processing, and more. Square was built for mobile, and its POS application reflects that focus even as it has grown to encompass brick-and-mortar applications.
Click through the tabs below for our full evaluation criteria:
20% of Overall Score
These are the basics any strong POS system should have: processing multiple payment types, managing customers, tracking inventory, integrating with third-party software, and having strong reports. We gave extra credit for loyalty programs. Vend got a perfect score, followed closely by Shopify.
20% of Overall Score
To make it onto our list, products needed a handheld device that processed payments and synced with a web-based device. We also considered operating systems, offline mode, and digital receipts. All the options on our final list did well, but Clover and Square each earned 5 out of 5 stars.
15% of Overall Score
For this, we relied heavily on the reviews of real-world users who use the system day by day. We considered the performance of mobile apps as well as the POS system. We also looked for 24/7 customer support, since businesses may need help anytime. Clover and Square topped this list, with Lightspeed far last for its complex features.
20% of Overall Score
This is a value score based on our expert opinion, popularity, feature set, and how easily you can learn (or teach your employees) the device. All the mobile POS systems on the list scored highly, but Square and Shopify got perfect scores.
*Percentages of overall score
Square: Best Overall Mobile POS Software
Square

Overall Score:
4.74

OUT OF

5
i
Our score is based on a weighted evaluation of dozens of similar products and services conducted by our experts.
What We Like
Easy to use
Multiple integrations and native business add-ons to expand your business
Specific versions for restaurant, retail, and service/appointment-based industries
What's Missing
Limited support hours
Limited to Square for payment processing
Restaurant version iOS only
Square Pricing
Free basic POS system
Advanced POS system: $60/month
Card-present processing fee: 2.6% + 10¢ per transaction
Keyed-in processing fee: 3.5% + 15¢ per transaction
Card readers: From $49
Terminals: From $299
30-day free trial for Plus plans
Add Ons:
Team Plus: $35 per month
Payroll: $34 per month plus $5 per employee
Marketing: Starts at $15 per month
Loyalty program: Starts at $45 per month
Square POS always ranks high on our lists for best POS software because of its versatility and quality of features. It offers free POS solutions for retail, restaurants, and appointment-based services, and has a free online store. It works for the solopreneur who just sells at farmers markets or trade shows, or the busy store with multiple locations. With the add-ons, it can even tackle payroll. Plus, it's one of the few that works with both Android and iOS. (Square for Restaurants is iOS only, but there are restaurant features in the Android version for retail.)
We gave Square 4.74 out of 5. It aced the ratings for price, mobile features, and expert evaluation. It took hits for its limited service hours and because the loyalty program is an add-on. Its inventory management is not as in-depth as others on our list, like Lightspeed or Shopify.
Square Pricing
POS: Square offers a free POS system, something only PayPal Zettle on our list offers. In addition, its POS Pro plan, at $60 per month, is cheaper than most for the features it offers.
Payment Processing: The transaction fees are competitive, although PayPal Zettle is far better. Square offers discounts for businesses doing over $250,000 a year in credit card processing. You may find cheaper rates with the other POS services that let you choose your own payment processor. If you are a restaurant, consider Lightspeed, which offers interchange-plus that is usually cheaper than Square.
Hardware: Square charges $49 for a chip reader. This is the least expensive card reader on our list, although it is the simplest. Square's complete POS systems run from $299 to $799. These prices compare well to most of the software on our list.
Square Features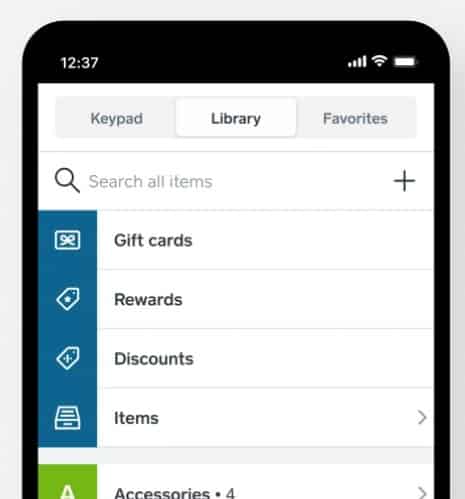 Free plan: It's hard to beat Square's free plan, although Zettle comes close. As opposed to most POS systems that have limited features in their free plan, Square's free POS can handle checkout, inventory, online sales, and more.
Ease of use: Square is extremely popular because it's such an easy program to use. The design is intuitive, the hardware durable, and users say it's incredibly easy for customers as well as cashiers. They rate it an average of 4.68 out of 5 stars over multiple review sites.
Mobile: Square POS ranks No. 30 for Business in the Apple App store, with a 4.8 out of 5 based on over 270,000 reviews. For Android, it has 4.4 stars and over 134,000 reviews. It's the best-ranked mobile POS application among users. Square tops our list of best free iPhone credit card readers.
Scalability: Square works for the solopreneur who sells a few items now and then to the busy store with in-person and online sales. While the flat payment processing rates are higher than if you used Clover or Vend partnered with a merchant account, Square does offer reduced rates for high-volume sellers.
Versatility: Run a restaurant? Square has a specialty POS for that. Need something for your beauty salon? Try Square Appointments. In addition, Square has a free online store. It has add-ons for loyalty, employee scheduling, and even payroll, all of which integrate natively into Square POS.
Integrations: If you need different software, Square integrates with accounting software like QuickBooks, scheduling software like Intake, or time trackers like Homebase. It has apps for ecommerce, delivery services, invoicing, analytics, events, and more.
Offline mode: Like Vend, Square works offline. It can record and store transactions to sync with the cloud later.
Social selling: Square lets you sell on Facebook, Pinterest, or Instagram, and can create shoppable links for Twitter as well. PayPal can also do this but not necessarily with Zettle, while Lightspeed lets you add Facebook Like and Add This buttons to your shop pages.
What Square Is Missing
Age verification: If you sell age-restricted items, then consider Clover or Vend.
Loyalty program: Square charges extra for this program. Zettle, Clover, and Vend have at least some tools, like loyalty points, included in the base tier.
Scheduling: To create employee schedules or have clock-in/out or time-tracking capability, you need Square Teams, which costs extra. If time tracking is important to you, consider Clover and Lightspeed which both have clock-in capability.
Shopify: Best for Combination Online/In-Person Sellers
Shopify

Overall Score:
4.48

OUT OF

5
i
Our score is based on a weighted evaluation of dozens of similar products and services conducted by our experts.
What We Like
Designed for ecommerce
Reliable platform
Full inventory tools
What's Missing
Requires ecommerce subscription
Online sales-focused
Charges if you do not use its payment processor
Shopify Pricing
POS system: $0 – $89/month
Ecommerce (required): $29-$299/month
Card-present processing fee: 2.4%-2.7%
Keyed-in processing fee: starting at 2.4% + 30¢ per transaction
Card readers: From $29
Terminals: From $179
14-day free trial
Shopify is one of the top ecommerce solutions today, and also has great tools for in-person sales. We've rated it highly on our list of virtual terminals, as well as for the best POS system for multichannel retailers. Businesses that do heavy online sales and need an excellent ecommerce solution and in-store POS system will appreciate the strong inventory and customer management tools. However, if you already have an ecommerce solution and are not willing to give it up, look into PayPal Zettle or Square, which have free POS systems that integrate with popular online stores.
Shopify earned 4.48 out of 5 on our evaluation. It took a hit because it does not offer a free card reader for the phone—for that, check Square—and does not have an offline mode. Nonetheless, it maxed out our expert score for value for the dollar.
Shopify Pricing
POS: Shopify's in-store POS system does not have its own plan. You need to purchase an online store. Those plans run from $29 to $299 per month, depending on the features you want. The two integrate seamlessly, but if you prefer POS upfront, look at the other systems on the list.
Payment Processing: The transaction fees are based on the plan you have (with more expensive plans having lower rates) and whether or not you use Shopify's payment processor. There are also discounts in shipping, a great asset for mail order businesses and stores that do dropshipping on the side. This chart explains the pricing.
Shopify Pricing Plans
| Plan | Monthly Fee | Online Transaction Fee | In-person Transaction Fee | Fee for non-Shopify Payments | Shipping Discount |
| --- | --- | --- | --- | --- | --- |
| Basic Shopify | $29 | 2.9% + 30¢ | 2.7% | 2% | Up to 77% |
| Shopify | $79 | 2.6% + 30¢ | 2.5% | 1% | Up to 88% |
| Advanced Shopify | $299 | 2.4% + 30¢ | 2.4% | 0.5% | Up to 88% |
See our full guide to Shopify pricing.
Hardware: Shopify has hardware, from touch-screen terminals with card readers to iPad stands with accessories, plus barcode scanners and more. Prices start at $179 for a retail kit of touch screen and simple card reader. These are some of the best prices we've seen for POS hardware, although some Clover resellers give you free hardware with a contract.
Shopify Features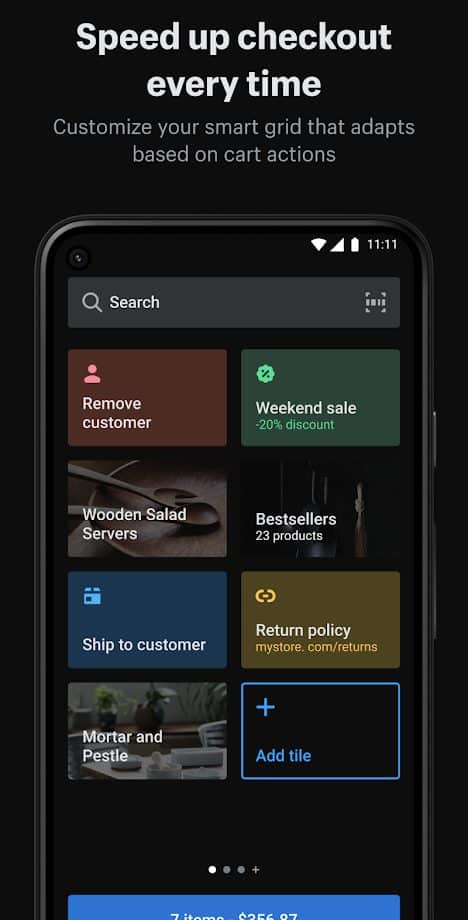 Online sales, mail order/telephone order (MOTO), and dropshipping: Shopify gives you shipping discounts, a great asset for mail-order companies. No other mobile POS on our lists offers this. Plus, if you'd like to add dropshipping to your offerings, you can connect Shopify to one of hundreds of dropshipping companies or use Shopify's Oberlo.
Mobile: Shopify is far better on iOS than Android, with 4.4 stars and some 4,500 reviews on the Apple App store, but 2.8 out of 5 stars and 1,300+ reviews on Google Play. It stands out from all the other POS software on our list in that you can remind shoppers of the items they liked or purchased in the store so they can purchase them online. This is great for stores that sell supply items, for example.
Fraud protection: Payment fraud and chargebacks—both friendly and criminal—are a concern for online sales. Shopify provides transaction analysis to spot suspicious charges and bring them to your attention, as well as other fraud prevention tools. Most POS systems have some of this, but Shopify uses machine learning so it can adapt to the changing approaches of criminals. (Square has better chargeback protection in that it waives up to $250 in chargeback fees.)
Customer satisfaction: Shopify has the second-highest user scores among third-party review sites: an average of 4.4 out of 5, with nearly twice the user reviews of Square.
What Shopify Is Missing
Age verification: If you sell age-restricted items, you need a third-party application like Age Check. Vend and Clover, on the other hand, have this in their systems.
Free use of other merchant accounts: While Lightspeed, Clover, and Vend let you use third-party merchant accounts without charge, Shopify adds a 0.5% to 2% fee. This could negate any advantage of using an interchange-plus payment processor.
Clover: Best for Connecting Third-Party Merchant Accounts
Clover

Overall Score:
4.36

OUT OF

5
i
Our score is based on a weighted evaluation of dozens of similar products and services conducted by our experts.
What We Like
Choice of payment providers
Offline processing
Used globally
What's Missing
Many payment providers lock you into contracts, have hidden fees
No low-inventory alerts
No invoicing or vendor management
Clover Pricing (through Fiserv)
POS system: $9.95-$39.95/month for first device ($69.95/month for first device for Table Service)
Card-present processing fee: 2.7% + 10¢ per transaction
Keyed-in processing fee: 3.5% + 10¢ per transaction
Card readers: From $99
Terminals: From $499
30-day free trial
Prices may vary by reseller.
Clover's POS system is a combination of software/hardware that is highly popular with businesses because it allows hundreds of merchant accounts to use and sell it. This is a great advantage if you want to choose your own payment provider, but you can also get it from Fiserv with a flat transaction fee and plans. The software is integrated into the hardware, but there are versions for Android and iOS smartphones and tablets.
Clover earns 4.36 out of 5. We used Fiserv for the pricing and found it highly competitive, but third-party retailers may be able to get you an even better deal. It has strong POS features, including an offline mode that many lack. Its drawbacks come from the inability to reprogram the hardware to a new merchant service. (Do not buy used!)
Fiserv is not one of our recommended merchant services, as it does not have a good reputation for working with small businesses. Read our full Fiserv review for details.
Clover Pricing
POS: Clover's POS pricing will depend on your payment processor. Fiserv charges $9.95 per register. This is the cheapest of the paid plans on our list, beat only by Square's and Zettle's free plans.
Payment Processing: If you purchase through Fiserv, you'll find its rates comparable to those of Square or Shopify. However, Clover works with hundreds of resellers, most of which are merchant services that offer Clover along with payment processing. You can get better rates than, say, with Square, as they offer interchange-plus pricing. However, you may be asked to sign a contract with extra fees, including one for early termination.
Hardware: Clover is unique in that it lets its resellers charge as much or as little as they want for Clover hardware. As a result, you may find a merchant service that offers a Clover system for free … with a multiyear contract. Despite being available from so many sellers, once you have Clover programmed to a merchant service, you cannot change it. Vend, on the other hand, works with many providers and lets you switch.
If purchasing hardware from Fiserv, you'll find prices ranging from $499 for the Clover Flex handheld to $1,649 for the complete Clover station that includes a touch screen, customer-facing display, and receipt printer. A portable card reader is $99. All told, these are some of the highest prices for hardware.
Clover Features
Customizable receipts: Several of the systems on our list let you customize receipts with general store information, but Clover lets you create coupons for feedback as well. Square can also do this, but only if you also purchase Square Marketing.
Customer engagement: Clover includes both loyalty programs and customer engagement features. You can create real-time promotions via email, text, or social media; start a rewards program; and create profiles that automatically update credit card sales and contact info.
Clock in/out: Clover includes the ability to clock employees in and out of shifts and track their time worked and how much they earned in tips. This is a big help for establishing payroll. Lightspeed and Vend also have this capability.
Mobile: Clover has two POS systems: Clover Go G1 and Clover Go G2, which includes a dashboard as well as POS. Clover Go G2 does better on Apple, with 4.6 out of 5 and some 11,000 ratings. If you have Android and just need the POS part of the software, we recommend Clover Go G1, which has 4.5 out of 5 and 2,000+ reviews vs 3.4 and more than 425 reviews for G2. Clover is on our list of best free iPhone credit card readers.
What Clover Is Missing
Microbusiness capability: The price and hardware make Clover a poor choice for hobbyists or solopreneurs who do limited sales. Consider Square or Zettle instead.
Flexibility: Once you have your merchant provider, your hardware is locked to them. Be completely sure of your contracts before purchasing Clover.
PayPal Zettle: Best for Microbusinesses and International Sales
PayPal Zettle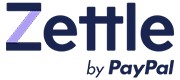 Overall Score:
4.33

OUT OF

5
i
Our score is based on a weighted evaluation of dozens of similar products and services conducted by our experts.
What We Like
Updated design from PayPal Here
International payment processing
Easy to use
What's Missing
No age verification
No offline mode
Zettle Pricing
Free basic POS system
Card-present processing fee: 2.29% + 9¢
Keyed-in processing fee: 3.49% + 9¢ per transaction
Card readers: From $29
Terminals: From $249
Like Square, PayPal is highly versatile and scalable. With free POS and reasonable payment processing fees, it's good for the solopreneur who only does occasional sales. However, PayPal's international scope and custom pricing for large businesses make it a strong choice for international companies.
In the news: In July 2021, PayPal brought Zettle (formerly iZettle) to the American market. It continues to support PayPal Here but directs new users to Zettle.
PayPal Zettle is replacing PayPal Here, which made the list for best mobile POS system last year and would have this year. Because Zettle is new to the US, it lacks user reviews, which hurt its score, as did the lack of offline processing capability. Nonetheless, with 4.33 out of 5, it's a strong choice.
PayPal Zettle Pricing
In the News: PayPal is changing its fees Aug. 2, 2021. Learn more on the PayPal website.
POS: You can't get better than free. Zettle's entire POS system is free with the use of PayPal's payment processing. There are no premium plans like Square and no limited trials like the other software on our list.
Payment Processing: PayPal Zettle rates are 2.29% + 9 cents for card-present transactions, and 3.49% + 9 cents for keyed-in transactions. The rates are overall cheaper than most of those on our list. There are different rates for online sales, virtual terminal sales, and donations. The international rates are complex but listed clearly on its pricing page. In addition, it lets you accept cryptocurrency (several other systems on our list can do this as well) and offers discounts for nonprofits.
Hardware: Zettle offers four hardware POS kits with a combination of touch screen, receipt printer, barcode scanner, or handheld devices. Prices run $249-$399, which makes them one of the least expensive POS systems on our list. Card readers are $79, with the first one only $29. It's a handheld, rather than one that attaches to your phone.
PayPal Zettle Features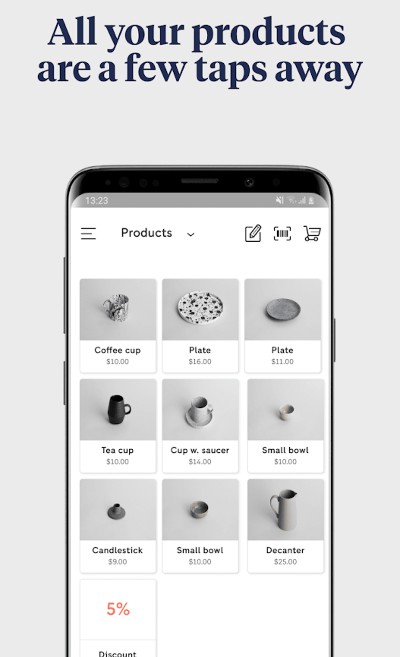 Versatility and Scalability: Zettle is a close competitor to Square in that it serves a wide range of use cases. Hobbyists and large corporations use the PayPal app, although Zettle is more suited for small businesses and solopreneurs. While it lacks some of the specializations of Square, it still rates highly in this area.
International Payment Processing: Zettle originally served the European market; plus, PayPal works in over 200 markets and 100 currencies. The POS software can handle sales in-store, across borders, and in different currencies.
Online sales: Zettle integrates with Shopify, BigCommerce, and WooCommerce for online sales. However, you can use the PayPal app just about anywhere, from social media to eBay.
What PayPal Zettle Is Missing
Offline processing: If you need this feature and still want free POS, consider Square. If you need an international payment processor that also has offline mode, look at Clover.
Live support: Zettle has guides and 24/7 support, but no live support. If you prefer the security of having a person to consult with for problems, consider Lightspeed.
Age verification: Like Square, Zettle does not include age verification, and we did not find an established third-party integration for this. Consider Vend, Clover, or Square with Age Checker if you sell age-restricted items.
Lightspeed: Best for Restaurants and Inventory Management
Lightspeed

Overall Score:
4.21

OUT OF

5
i
Our score is based on a weighted evaluation of dozens of similar products and services conducted by our experts.
What We Like
Extensive inventory processing functions
24/7 phone service and free onboarding
Age verification
What's Missing
Hardware is custom quoted, more expensive
Plans are expensive
iOS only
Lightspeed Pricing
POS system: $79-$239/month
Card-present processing fee: 2.6% + 10¢ per transaction
Keyed-in processing fee: 2.6% + 30¢ per transaction
Terminals: From $500
14-day free trial
Lightspeed is an iOS-based POS system with excellent capabilities. It made our list of best POS systems for restaurants and best inventory POS because of its extensive toolset. Lightspeed's restaurant version works great for full-service restaurants or small eateries. However, it's not the easiest to learn (Square, which makes both lists, is easier, but not as feature-rich.)
Lightspeed earned 4.21 out of 5 in our evaluation. The biggest hits were for the smartphone app ratings. However, Lightspeed does offer handheld devices, so you do not need to use a smartphone. It has a separate loyalty program, like Square, which also lowered its score. Nonetheless, it also has a place in our best POS systems of 2021.
In the News: At the end of 2020, Lightspeed acquired ShopKeep, which has been on several of our POS lists, including previous versions of this one.
Lightspeed Pricing
POS: Lightspeed's pricing starts at $79 per month, per register and runs to $239 per month, per register. Additional registers cost $29 per month. Compare this to Square and Zettle, which are free, and Vend, the most expensive at $99 per month + $49 per additional register.
Payment Processing: If you use Lightspeed as your payment processor, you will pay 2.6% + 10 cents per in-person transaction or 2.6% + 30 cents per keyed-in transaction. However, Lightspeed also integrates with third-party merchant accounts. You may find a better deal with these, but be aware that you may have to sign a contract. Lightspeed's monthly software fee also increases if you choose to use a separate payment processor.
Hardware: Lightspeed's hardware is custom quoted, but we've received estimates of $500 and up for basic systems. The prices rival Clover's; compare it to Shopify, which starts at $179 for a POS touch screen and card reader.
Lightspeed Features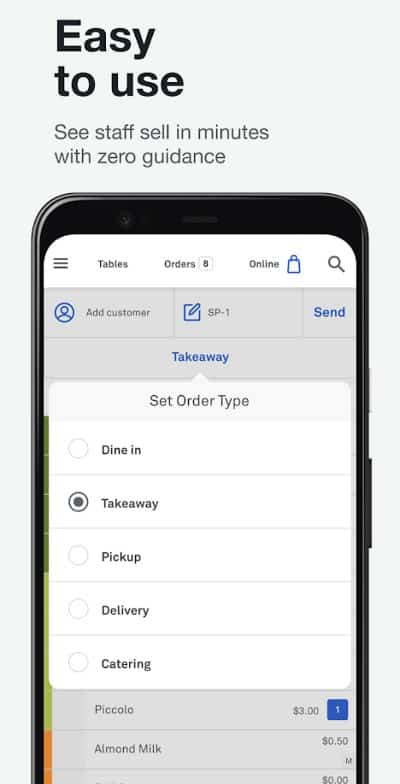 Inventory: Lightspeed earned 4.43 out of 5 on our list of best POS for inventory, making it No. 1. (You'll find Square and Shopify on this list too.) It offers multiple variants, sophisticated analysis, a supplier network, smart pricing, and more. It also syncs with its online store, Lightspeed eCom. Shopify comes close to Lightspeed for inventory features.
Restaurant tools: Lightspeed earned 3.32 in our restaurant evaluation, just edging out Square for Restaurants, which had 3.21 out of 5. Lightspeed has a menu-based POS system, ingredient tracking, employee time-tracking, and more. Plus, it integrates with delivery services, kitchen display systems, quick-service kiosks, and even hotel property management systems for hotels with an attached restaurant.
Age verification: Like Vend, Lightspeed has age verification. This makes it a great choice for restaurants selling alcohol, or stores that sell age-restricted items. (This is in beta at the time of this article.)
Mobile: Lightspeed is available for both iOS and Android, but neither version has great reviews. Lightspeed on Android (formerly Kounta) earned 3.3 out of 5 stars with 72 reviews. It fared even worse on Apple, with 2.6 out of 5 and 94 reviews. Nonetheless, the mobile app does integrate with the POS system, including reports and online order management.
24/7 support: Lightspeed offers 24/7 live phone support as well as chat support during extended hours.
What Lightspeed Is Missing
Free plan: Lightspeed has a 14-day free trial, but no free version. Look to Square or Zettle for these. (Square for Restaurants and Retail also has a free version.)
Loyalty program: Unless you get the Enterprise plan, you need to pay extra for the omnichannel loyalty program. Call sales for pricing. (Square is similar, but posts its price at $45 per month.)
Vend: Best for Liquor Stores, Smoke Shops, and CBD Sales
Vend

Overall Score:
3.96

OUT OF

5
i
Our score is based on a weighted evaluation of dozens of similar products and services conducted by our experts.
What We Like
Great offline mode
Layaway functions
Built-in customer loyalty program
What's Missing
More expensive
No ecommerce tools
Need third-party payment processor
Vend Pricing
POS system: starts at $99/month
Card-present processing fee: varies (third party)
Keyed-in processing fee: varies (third party)
Hardware: varies (third party)
Free 14-day trial
Vend offers built-in age-verification tools that make it a good choice if you sell age-restricted items. Further, it works with multiple payment processors, which comes in handy if you need a high-risk merchant account. Vend's POS plans are more expensive than most on the list, but it maxed out the score for general features and scored highly for popularity and ease of use.
Vend earned 3.96 out of 5 on our evaluation. It earned top marks for features but took hits on user reviews for the mobile applications. Its starter plan is also the most expensive of the POS systems on our list. It's app is also only available for iOS (sorry, Android users), although you can use Vend as a browser-based system on any device. We rated it highly in our best POS systems of 2021, specifically for growing brick-and-mortar stores.
Vend Pricing
POS: Vend's plans start at $99 per month for a single register and a single location. There's a 14-day free trial. Extra registers cost $49 per month, and for ecommerce, you need the higher-tier plan. This makes it the most expensive POS system on our list.
Payment Processing: You have your choice of third-party merchant services, and Vend does not charge any additional processing fees for using them. This is typical for POS systems that don't have their own payment processors. Like Clover, Vend also has reseller programs.
Hardware: Vend does not produce its own hardware. You can download the system onto an iPad, and it's compatible with most POS hardware. Since it works with resellers, some may be willing to sell or rent you hardware. Unlike Clover, which has proprietary hardware, you may be able to purchase reprogrammable hardware in case your merchant account or Vend do not meet your needs.
Vend Features
Age verification: If you sell age-restricted items like alcohol or cigarettes, then Vend is a good choice. Its age-verification app is certified for the Retail Access Control Standard. Cashiers get reminders to verify IDs and can scan and validate a customer's driver's license during a sale. Lightspeed is in beta testing for this feature, and Clover also has age-verification tools.
Hold transaction: Ever had a customer get to the checkout and then need one more thing? Vend offers a "park" feature that lets the cashier put the transaction on hold. Then, they can ring up other customers until the first customer is ready to pay. This function can also be used when giving quotes. Square has something similar with Open Tickets, but it's more involved than Vend's system.
Partial stock inventory counts: Vend's Scanner by Vend mobile app makes it easy to conduct inventory when receiving shipments. It lets you record full or partial inventory counts, something many POS systems cannot do.
Mobile: Vend's mobile app includes everything from checkout to inventory to back office. More than two dozen user reviews in the Apple App Store give it an average of 3.6 out of 5 stars.
What Vend Is Missing
Ecommerce: Unlike most of the POS systems on our list, you need a third-party application for an online store, although many ecommerce programs integrate with Vend. If you prefer an all-in-one, look at Square or Shopify.
Android App: Vend's POS system is only available for iOS. If you need Android, look at Square or PayPal Zettle for a highly-regarded POS app.
Bottom Line
There's no reason to be tied to the counter. Many POS systems have a mobile component, either as a handheld device or with a downloadable application. The best mobile POS applications sync with the main program, handle offline transactions and let you access the backend.
Overall, Square has the best features for the best price while being the easiest to use. Even better, its POS system is free with a competitive flat-rate payment processing fee. Go to Square and download the POS today.