7 Best Mobile POS Apps for 2023
This article is part of a larger series on POS Systems.
Customers want a checkout experience that is convenient, quick, and contactless. Mobile point-of-sale (mPOS) apps meet that need, allowing you to take sales to the floor, tableside, or off-site. Global Market Insights projects that by 2027, the mPOS terminals market will hit $70 billion worldwide.
In our evaluation, we looked at over 15 of the top mobile POS options on the market and narrowed them down to our top seven.
The best mobile POS apps are:
Best Mobile POS Apps Compared
Our Rating

User Review Scores

Offline Mode

Full Review

4.66 out of 5

Google Play:

4.8

(162k reviews)

Apple Store:

4.8

(332k reviews)

✓

4.55 out of 5

Google Play:

4.5

(11k reviews)

Apple Store:

4.6

(264 reviews)

✓

4.24 out of 5

Google Play:

4.1

(41.5k reviews)

Apple Store:

3.3

(346 reviews)

✕

4.02 out of 5

Google Play:

2.5

(10 reviews)

Apple Store:

2.3

(128 reviews)*

✓

3.94 out of 5

Google Play:

4.7

(1.28k reviews)

Apple Store:

4.7

(18k reviews)

✓

3.77 out of 5

Google Play:

2.4

(77 reviews)

Apple Store:

3.5

(23 ratings)

✓

3.76 out of 5

Google Play:

3.3

(1.7k reviews)

Apple Store:

4.5

(7.3k reviews)

✕
*Lightspeed offers handheld POS devices for mobile operations, so you do not need to use a smartphone or the app to run your POS. To get Lightspeed mobile hardware, however, you will need to contact sales and get a custom quote
Processing Fee

Monthly Fees

Mobile Hardware

Free Plan Option

In-person payments: 2.6% + 10 cents

Manual entry: 3.5% + 15 cents

$0–$60

$10–$299 (one free mobile magstripe reader with every account)

✓ (free for any single user)

Varies based on payment processor

$0

None

✓ (forever-free POS; only pay monthly for add-ons)

In-person payments: 2.29% + 9 cents

Manual entry: 3.49% + 9 cents

$0

$29–$150

✓ (only pay transaction fees)

In-person payments: 2.6% + 10 cents

Manual entry: 2.6% + 30 cents

$89–$269

Quote-based (starting at $500)

✕

In-person payments: 2.3%–2.6% + 10 cents

Manual entry: 3.5% + 10 cents

$15–$290

$45 or monthly plans ranging from $29-$90 for other hardware

✕

In-person payments: 2.6% + 10 cents

Manual entry: 2.6% + 30 cents

$69–$399

Quote-based (starting at $500)

✕

In-person payments: 2.7%

Manual entry: 2.9% + 30 cent

$39-$399

$39–$429

✕
Square: Best Overall Mobile POS App

Pros
Easy to use and incorporate Square's tools as you grow
Square-branded mobile hardware at affordable prices (financing available)
Specific POS systems for restaurant, retail, and service/appointment-based industries
Works for solopreneurs with enough tools for small businesses
Cons
Limited support hours
Must use Square payments
Restaurant version iOS only
Square Pricing Breakdown
Plans:
Free basic POS system
Advanced POS system: $29–$60 per month
30-day free trial for Advanced plans
Hardware:
Free magstripe reader with every account ($10 for additional readers)
Chip and tap readers: From $49
Terminals: From $299 (financing available)
Add-Ons:
Team Plus: $35 per month
Payroll: $35 per month plus $5 per employee
Marketing: $15–$35 per month
Loyalty program: $45–$105 per month
Square POS is not only our top choice for mobile POS apps, it is also our pick for the best POS software and the top free POS solution because it's compatible with many business types and offers high-quality features at a low price.
It features a free POS account that comes fully kitted with all the basic tools, including an ecommerce site and payment processing. Square also has advanced POS options with tools specifically for retailers, restaurants, or appointment-based businesses.
The best part? With the free Square POS app, you can log in to your POS account on any mobile device and take your business operations on the go. Note, however, that Square for Restaurants is iOS-only, and there are limited-restaurant features in the Android retail POS app. If you need a full restaurant POS app, check out Lightspeed.
In our evaluation, Square earned a 4.66 out of 5. It aced the ratings for price and expert evaluation, but took hits for its limited service hours, limitations on the free account, and loyalty program (which is an add-on, unlike with Loyverse). Additionally, its inventory management tools do not have the in-depth reporting or product details that you find with Lightspeed or Shopify.
Square Features
Scalability: Square works for the solopreneur who sells a few items now and then, and for the busy store owner with in-person and online sales. While the competitive payment processing rates are the second-highest on our list after Shopify, Square does offer reduced rates for high-volume sellers.
Versatility: Run a restaurant? Square has a specialty POS for that. Need something for your beauty salon? Try Square Appointments, which is also free. In addition, Square has a free online store. It has add-ons for loyalty, employee scheduling, and even payroll, all of which integrate natively into Square POS. In addition, Square has branched into banking with checking and savings accounts and loans.
Integrations: If you need different software, Square integrates with accounting software like QuickBooks, scheduling software like Intake, or time trackers like Homebase. It also has in-house apps for ecommerce, delivery services, invoicing, analytics, events, and loyalty that you can integrate seamlessly.
Offline mode: Like most of the systems on our list, Square works offline. It can record and store transactions to sync with the cloud later.
Social selling: Square POS not only lets you sell on Facebook, Pinterest, or Instagram, but it allows you to create shoppable links for Twitter too. It also integrates those sales onto your POS system and inventory levels. Only Shopify rivals Square for social selling features.
Payment processing: Every Square account comes ready to process payments via Square Payments. Unlike with Clover or Loyverse, you have to use Square Payments and cannot opt for a different processor.
---
What Square Is Missing
Age verification: If you sell age-restricted items, consider Clover.
Loyalty program: Square charges extra for this program. Zettle and Clover have at least some tools, like loyalty points, included in the base tier, and Loyverse has a complete loyalty program for free.
Scheduling: To create employee schedules or have advanced clock-in/out or time-tracking capability, you need Square Teams, which costs extra. If time tracking is important to you, consider Loyverse, Clover, and Lightspeed.
---
Loyverse: Best Free POS Option

Pros
Choice of merchant processors
Offline mode
Employee clock in/clock out
Free loyalty program with every account
Cons
Integrations incur monthly fees
Limited payment integrations; only integrates with Zettle by PayPal and WorldPay for North American users
Limited inventory management and reporting tools in free plan
Loyverse Pricing Breakdown
Plans:
POS account and dashboard: Free
POS customer display (CDS): Free
POS kitchen display (KDS): Free
Hardware:
No Loyverse hardware available; third-party prices will vary
Add-ons:
Employee Management: $25 per month
Advanced Inventory: $25 per month
Integrations: $9 per month
14-day free trial for add-ons
Loyverse is an extremely popular free POS app offering a completely free POS system that works with a variety of payment processors worldwide. The app includes loyalty, inventory, and even employee management features. Notably, Loyverse can also work offline.
It came a close second to Square, with 4.55 out of 5 on our evaluation. In fact, Loyverse was the only provider that scored 5 out of 5 on mobile-specific features. It also scored well for its 24/7 customer service and ease of use.
Its range of features rivals Square, and with a choice of payment processors, you can find rates that suit you. Note, however, that unlike Square, Loyverse charges extra for integrations and does not include an ecommerce platform.
Loyverse also lost points for its limited payment integration options, lack of custom reports, and having no ecommerce platform. The app also had lower-than-average ratings from users on third-party software review sites.
Loyverse Features
Loyalty: This is where Loyverse gets its name (an abbreviation of Loyalty Universe) and where it stands out. Its customer relationship and loyalty program has a customer database for keeping information like contact information, purchase history, and customer notes. The built-in program also offers scannable loyalty cards to reward customers. Square charges extra for its loyalty program.
POS: Like most of the software on our list, you can ring up items, include discounts, send receipts, and offer refunds. Loyverse lets you use your phone's camera as a barcode scanner. (Shopify and Zettle also do this.) Plus, it has extra features like open tickets and weight barcodes. You can also set up options for takeout or delivery. Finally, it works offline, something Shopify and Zettle can't do.
Inventory management: Loyverse boasts a strong inventory management system with item variants and modifiers, bulk upload, low-stock alerts, and inventory tracking. However, if you want purchase orders, the ability to transfer items between stores, inventory counting, and ingredient tracking, you need the advanced inventory program. For the best inventory system, look at Lightspeed or Shopify.
Employee features: Loyverse has a free time clock for employees to clock in and out. If you purchase the employee management system, you also get time cards and access restriction capabilities and employee analytics. Compare this to Square's free plan, which lets you create schedules, clock employees in and out, and track breaks; its paid plan has analytics and advanced time clock functions.
Payment processing: Like with Clover, you can choose your payment provider, although its choices are more limited. It works with SumUp, Zettle, Worldpay, CardConnect, Tyro, Smartpay, Yoco, STORES Payment, PAYGATE, SB payments, KICC, and NICE. Many of these are only available for iOS, and some are limited to specific countries.
---
What Loyverse Is Missing
Hardware options: Unlike the other software on our list, Loyverse does provide any in-house hardware options and only links to compatible third-party options. Additionally, its compatible products have a higher price point, ranging from $100 to $600, more than any of the other POS providers on this list.
Integrations: While Loyverse can integrate with ecommerce and accounting software, you need to pay an additional $9 per store per month for this. The other POS systems on our list offer integrations for free. Additionally, there are limited payment processing integrations, with only PayPal and WorldPay as the only options in North America.
---
PayPal Zettle: Best for PayPal Payments & Selling Internationally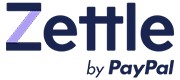 Pros
Free POS
International payment processing
Easy to use; high user reviews
Hundreds of integrations ecommerce and social media integrations
Cons
No custom reports
No offline mode
No time clock
PayPal Zettle Pricing Breakdown
Plans:
Basic POS system and payment processing: Free
Hardware:
Card Reader: $79
Terminal: $199–$239
Zettle by PayPal is a free POS system brought to you by PayPal. With tools like inventory controls, staff management, and reporting, Zettle has similar tools in its free plan as Square or Loyverse.
With Zettle, you also get access to PayPal payment processing, which allows you to process payments all over the world—perfect for international sellers. The Zettle by PayPal mobile app is also highly rated and user-friendly.
In the news:
Last month, PayPal announced the rollout of PayPal Zettle Terminal to US small businesses. It is an all-in-one POS solution offering increased mobility in-store. Terminal features a touch screen and sleek design and is easy to set up and use. It is ready right out of the box and doesn't need a second device to pair with. Terminal offers small businesses "simplicity, speed, and mobility."
With 4.24 out of 5, PayPal Zettle earned a perfect score for pricing and high scores in the general features and expert score categories. Where Zettle lost points was for lacking offline mode, a time clock feature, and tools for specific industries like restaurants.
PayPal Zettle Features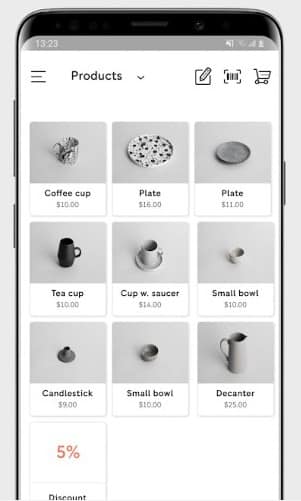 Versatility and scalability: Zettle is a close competitor to Square in that it serves a wide range of use cases. The PayPal app is widely used—from hobbyists to large corporations—as the app and payment processor provide a wide enough host of services. While it lacks some of the specializations of Square, it still rates highly in this area.
International payment processing: Zettle originally served the European market; plus, PayPal works in over 200 markets and 100 currencies. The POS software can handle sales in-store, across borders, and in different currencies. Clover also has international processing, and many Pacific nations, like Japan and Korea, use Loyverse.
Online sales: Zettle integrates with Shopify, BigCommerce, and WooCommerce for online sales. However, PayPal integrates just about anywhere, from social media to eBay. Square and Shopify, of course, have their own online stores included in your POS account.
---
What PayPal Zettle Is Missing
Offline processing: If you need this feature and still want a free POS, consider Square or Loyverse. If you need an international payment processor that also has an offline mode, look at Clover.
Age verification: Like Square, Zettle does not include age verification, and we did not find an established third-party integration for this. Consider Clover or Shopify with Age Checker if you sell age-restricted items.
Online ordering or takeout: While you can integrate PayPal into online ordering sites, Zettle itself does not have these options. Consider Square instead.
---
Lightspeed Retail: Best for Businesses Managing Complex Inventories

Pros
Extensive inventory processing functions (granular and custom reports, matrixes, supplier network)
24/7 phone service and free onboarding
Age verification
Cons
Hardware is custom-quoted, more expensive
Plans are the most expensive on this list
Must use Lightspeed Payments for lowest monthly rates
Lightspeed Retail Pricing Breakdown
Plans:
Retail POS: $89–$269 per month
14-day free trial for all accounts
Lower prices available if paid annually
Hardware: Quote-based (starting at $500)
Lightspeed Retail's POS system made our list as the leading inventory POS because of its extensive toolset for managing your inventory, including granular and customer reports, inventory matrixes, and vendor management. Not only that, but Lightspeed Retail has a preloaded catalog of vendors, where you can shop and place orders right from its POS dashboard.
Lightspeed Retail also features integrated purchase ordering, the ability to place special orders, low stock alerts, inventory counting tools, and more.
While Lightspeed Retail has a lot to offer when it comes to inventory management, it does have some drawbacks. To start, Lightspeed Retail's mobile app and POS dashboard are not the easiest to learn (especially when compared to Square or Shopify). This yields lower user reviews. A more complex interface along with limited mobile app functionality and a paid loyalty program earned Lightspeed a 4.02 out of 5 in our evaluation.
Lightspeed Retail Features
Inventory: Lightspeed is No. 1 on our list of best inventory POS (you'll find Square and Shopify on this list, too). It offers multiple variants, sophisticated analytics, a supplier network, and smart pricing. It also syncs with its online store, Lightspeed eCom. Shopify comes close to Lightspeed for inventory features, but Lightspeed has more granular details and customization options.
Age verification: Lightspeed has age verification features in the register app. This makes it a great choice for stores that sell age-restricted items.
Customer support: It offers 24/7 live phone support and chat support during extended hours.
Payment processing: Every Lightspeed account holder is automatically enrolled in Lightspeed Payments for processing transactions through your POS. Lightspeed Payments offers competitive processing rates and is conveniently pre-integrated into your account. The biggest drawback here is that if you do want to use a third-party processor, your monthly POS fees will increase—unlike with Clover, which lets you choose your own processor for free.
---
What Lightspeed Is Missing
Free plan: Lightspeed has a 14-day free trial, but no free version and relatively high monthly fees. Look to Square, Loyverse, or Zettle if you want a free POS.
Loyalty program: Unless you get the Enterprise plan, you need to pay extra for the omnichannel loyalty program; call sales for pricing. (Square is similar, but posts its price at $45 per month.)
---
Clover POS: Best for Choosing Your Own Merchant Account

Pros
Choice of payment processor
Offline processing
Can be used internationally
Cons
Contracts and fees vary depending on processor
No low-stock alerts
No invoicing or vendor management
Clover Pricing Breakdown
Plans:
Retail POS: $60–$175/month
Restaurant POS: $90–$290/month
Service POS: $15–$130/month
30-day free trial
Hardware:
CloverGo Card Reader: $45
Terminal and other hardware: Monthly plans ranging from $29–$90
Clover's POS app is a combination of software/hardware that is popular with businesses because it lets them purchase Clover systems through authorized payment processors or banks. This means that Clover is good for people that already have a merchant account but want to upgrade to a POS system or those looking to work with a specific processor.
While you can use nearly any merchant account, unless otherwise specified, Clover will default and automatically enroll its new members into Fiserv upon sign-up if you purchase directly through the Clover website. This means you can start accepting payments as soon as you have a Clover account with Fiserv.
Clover terminals can't be reprogrammed for different payment processors once you have opted in, so businesses are stuck with the processor they purchased it from.
Clover earns 3.94 out of 5 in our evaluation. It has high marks for mobile, but its general user ratings are not as good. There are a lot of complaints about third-party resellers trapping retailers with hidden fees. Clover also does not let you use your phone as a barcode scanner, like you find with Lightspeed, Square, and Shopify. However, it does have strong customer and loyalty tools and integrations.
Clover POS Features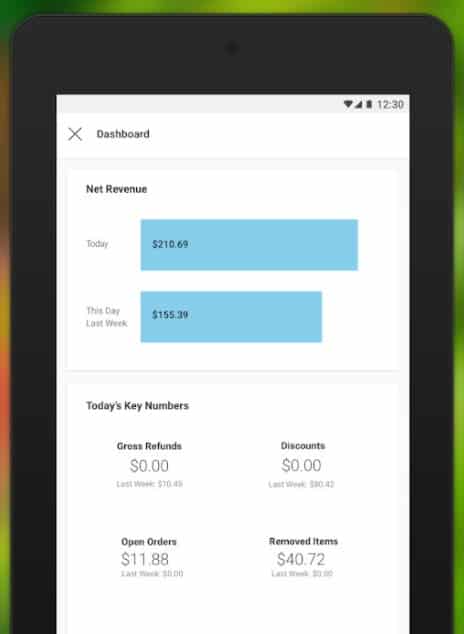 POS: Clover has a hearty POS system that accepts all types of payments, lets you set up discounts, and processes refunds. You can set up a virtual terminal and take online orders from your website or delivery services. It also has an offline mode.
Customizable receipts: Several of the systems on our list let you customize receipts with general store information, but Clover lets you create coupons for feedback as well. Square can also create coupons, but only if you also purchase Square Marketing.
Customer engagement: Clover includes both loyalty programs and customer engagement features. You can create real-time promotions via email, text, or social media; start a rewards program; and create profiles that automatically update credit card sales and contact info.
Clock in/out: With Clover, you have the ability to clock employees in and out of shifts and track their time worked and how much they earned in tips. This is a big help for establishing payroll. Loyverse and Lightspeed also have this capability.
Hardware: Clover has proprietary hardware that you can purchase from Clover directly or from authorized resellers. The Clover Mini and tablet devices are paid via monthly financing, billed with your software subscription. Or, you can get a CloverGo card reader for only $49, which you can pair with your smartphone. Note that you cannot use your smartphone as a barcode scanner on the app, you must use proprietary hardware for a mobile scanner function.
---
What Clover POS Is Missing
Microbusiness capability: The monthly price and hardware make Clover a poor choice for hobbyists or solopreneurs with limited sales. Consider Square or Zettle instead.
Flexibility: Once you have your merchant provider, your hardware is locked to them. Be completely sure of your contracts before purchasing Clover.
---
Lightspeed Restaurant: Best for Full-service Restaurants

Cons
Advanced reporting not included in base plan
No driver management in delivery tools
Advanced inventory tools not included in base plan
Lightspeed Restaurant Pricing Breakdown
Plans:
Restaurant POS: $69–$399 per month
14-day free trial for all accounts
Lower prices available if paid annually
Hardware: Quote-based (starting at $500)
Lightspeed Restaurant's POS is a great choice for full-service restaurants that want to run operations via iPads or cellular devices. The POS system comes equipped with user-friendly order taking, robust and dynamic KDS, table mapping and adjustments, integrated delivery management, tableside payment processing, tons of payment options, ingredient-level inventory management, and much more.
Lightspeed Restaurant has a lot to offer, but it does have some drawbacks that kept it at 3.77 out of 5 in our overall scoring. First, while it has delivery tools, there are no driver management or tracking tools. Additionally, compared to the other options on our list, especially Square and Loyverse, Lightspeed Restaurant's POS is quite expensive and locks many features—like advanced reporting, floor controls, CRM, loyalty, and other advanced tools—behind high plans.
Take a look at some of our other top restaurant POS picks with our guide to the Best Restaurant POS Systems.
Lightspeed Restaurant Features
Delivery: WIth integrated delivery and online ordering tools, you can expand your restaurant's offerings and start selling on UberEats, Skip the Dishes, and DoorDash. All online orders integrate seamlessly with your kitchen as they come in alongside your other orders.
Inventory management: Lightspeed has inventory tools that let you easily complete inventory counts with barcode scanners, reporting on stock including freshness reports and expiration tracking, as well as ingredient level tracking that updates as items are ordered from your menu.
Mobile capabilities: Lightspeed Restaurant is one of our top picks for iPad Restaurant POS systems. It has a user-friendly interface, mobile payment processing, tableside order placing, and restaurant management tools all from its mobile app.
Payment processing: Every Lightspeed account holder is automatically enrolled in Lightspeed Payments for processing transactions through your POS. Lightspeed Payments offers competitive processing rates and is conveniently pre-integrated into your account.
---
What Lightspeed Restaurants Is Missing
Flexible payments: Every Lightspeed Restaurant POS account comes pre-integrated with Lightspeed Payments. While you can opt to use a different merchant account, you will incur a higher monthly fee and lose access to certain advanced features.
Paywall for Advanced Features: While Lightspeed has a lot of great features, many are locked behind high plans with bigger price tags. Consider Square for a mobile POS app that includes a lot more in its base plan.
---
Shopify POS: Best for Omnichannel Sellers

Pros
Great ecommerce platform included in all plans
Reliable platform
Full inventory tools
Highly-rated mobile app
Cons
Requires ecommerce subscription
No offline-payment processing
Reports of downtime and disconnecting card readers
Shopify POS Pricing Breakdown
Plans:
POS system: $0–$89 per month
Ecommerce (required): $39–$399/month
14-day free trial
Hardware:
Card readers: $49
Terminals: $219
Shopify is one of the top ecommerce solutions today and also has great tools for in-person sales, social media selling, and click-and-collect orders. In fact, it's our most recommended multichannel POS system for retailers.
Businesses that do heavy online sales and need an excellent ecommerce solution and in-store POS application will appreciate the strong inventory and customer management tools. However, if you already have an ecommerce solution and are not willing to give it up, look into PayPal Zettle or Square, which have free POS apps that integrate with popular online stores.
Shopify earned 3.76 out of 5 on our evaluation. It took a hit because it does not offer a time clock or restaurant features, does not have an offline mode, and you must use Shopify payment processing. Nonetheless, it had one of the highest scores for general POS features and maxed out our expert score for value for the dollar.
Shopify POS Features
Online sales, mail order/telephone order (MOTO), and dropshipping: Shopify gives you shipping discounts—a great asset for mail order companies. Except for Square, no other mobile POS on our lists offers this. Plus, if you'd like to add dropshipping to your offerings, you can connect Shopify to one of hundreds of dropshipping companies.
Fraud protection: Payment fraud and chargebacks—both friendly and criminal—are a concern for online sales. Shopify provides transaction analysis to spot suspicious charges and bring them to your attention, plus other fraud prevention tools. Most POS apps have some of this, but Shopify uses machine learning so it can adapt to the changing approaches of criminals. (Square has better chargeback protection in that it waives up to $250 in chargeback fees.)
POS features: Shopify, like most of the mPOS on our list, handles sales with taxes and discounts, collects customer information, and sends receipts. Like Loyverse, you can use your phone's camera to scan barcodes. It ties seamlessly to Shopify's online store, so you get all the advantages of Shopify as well.
Payment processing: All Shopify users use Shopify Payments to process their transactions. The processing rates for Shopify Payments are low, but you cannot integrate other processors into your Shopify POS if you have other preferences.
---
What Shopify POS Is Missing
Age verification: If you sell age-restricted items, you need a third-party application like Age Check. Clover, on the other hand, has this in their systems.
Free use of other merchant accounts: While Loyverse and Clover let you use third-party merchant accounts without charge, Shopify adds a 0.5% to 2% fee. And, while you can use other payment processors for online orders, you're locked into using Shopify Payments for POS sales.
---
How We Evaluated Mobile POS Apps
We pulled from decades of experience by our researchers, personal use, operating POS systems in retail settings, and studying and testing these systems. Then, we combined this with feedback from long-term, real-world users who have posted reviews on trusted third-party sites.
The best mobile POS apps optimize the balance of hardware, software, and payment processors. We started by selecting only those with a mobile app. This ensures you can run the program on a smartphone or tablet. However, many, like Square or Clover, had their own hardware as well.
Then, we looked for software features that not only let you ring up sales but track inventory and manage customers (such as Loyverse's loyalty program). For payment processing, we selected a mix of those with proprietary merchant services and those that offer you a choice.
As often happens when evaluating POS software, Square tops the list. In addition to being the best POS app for small businesses, it's also on lists for POS for restaurants, payment processing, and more. Square was built for mobile, and its POS application reflects that focus even as it has grown to encompass brick-and-mortar applications.
Click through the tabs below for our full evaluation criteria:
25% of Overall Score
Pricing involves more than subscription fees. There are also transaction fees, with some providers allowing you to shop providers and others locking you into a set-payment processor. And finally, there are hardware costs. Square, Lightspeed, and Zettle earned 5 out of 5 stars in this category.
20% of Overall Score
These are the basics any strong POS system should have: processing multiple payment types, managing customers, tracking inventory, integrating with third-party software, and having strong reports. We gave extra credit for loyalty programs. Shopify got the highest score in this category.
20% of Overall Score
To make it onto our list, products needed a handheld device that processed payments and synced with a web-based device. We also considered operating systems, offline mode, and digital receipts. Loyverse earned 5 out of 5 stars in this category.
20% of Overall Score
This is a value score based on our expert opinion, popularity, feature set, and how easily you can learn (or teach your employees) the device. All the mobile POS systems on the list scored highly, but Square, Shopify, and Loyverse got perfect scores.
15% of Overall Score
For this, we relied heavily on the reviews of real-world users who use the system daily. We considered the performance of mobile apps as well as the POS app. We also looked for 24/7 customer support since businesses may need help anytime. Square earned the highest score with 4.38.
*Percentages of overall score
Bottom Line
There's no reason to be tied to the counter. Many POS apps have a mobile component, either as a handheld device or with a downloadable application. The best mobile POS systems sync with the main program, handle offline transactions, and let you access the backend.
Overall, Square has the best features for the best price while being the easiest to use. Even better, its POS system is free with a competitive payment processing fee. Go to Square and download the POS today.
You May Also Like…