7 Best POS Apps & Mobile POS Systems for 2023
This article is part of a larger series on POS Systems.
Mobile point-of-sale (mPOS) apps allow businesses to take payments and complete sales on the floor, tableside, curbside, and on the go. The best mobile POS apps include card-present and keyed-in payment processing and offline functionality and operate as part of a complete POS system with tools like inventory tracking, CRM, loyalty, and ecommerce integrations—all at an affordable price.
We looked at over 15 of the top mobile POS systems on the market and selected our top seven based on pricing, POS features, mobile tools, ease of use, and our expert evaluation.
Based on these criteria, the best mobile POS are:
Best Mobile POS Apps Compared
Our Rating

User Review Scores

Offline Mode

Full Review

4.51 out of 5

Google Play:

4.8

(186k reviews)

 

Apple Store:

4.8

(370k reviews)

✓

4.38 out of 5

Google Play:

4.3

(12k reviews)

 

Apple Store:

4.6

(270+ reviews)

✓

3.99 out of 5

Google Play:

3.8

(42k reviews)

 

Apple Store:

3.0

(550+ reviews)

✕

3.96 out of 5

Google Play:

2.9

(11 reviews)

 

Apple Store:

2.4

(140 reviews)*

✓

3.84 out of 5

Google Play:

4.3

(3.05k reviews)

 

Apple Store:

4.8

(24.2k reviews)

✓

3.62 out of 5

Google Play:

2.4

(77 reviews)

 

Apple Store:

3.5

(22 ratings)

✓

3.50 out of 5

Google Play:

3.5

(1.85k reviews)

 

Apple Store:

4.5

(7.3k reviews)

✕
*Lightspeed offers handheld POS devices for mobile operations, so you do not need to use a smartphone to run your POS. To get Lightspeed mobile hardware, however, you will need to contact sales and get a custom quote.
Processing Fee

Monthly POS Fees*

Mobile Hardware

Free Plan Option

In-person payments: 2.6% + 10 cents

 

Manual entry: 3.5% + 15 cents

$0–$60

Add-ons: $0–$35/mont

$10–$299 (monthly financing available)

 

Free magstripe reader with every account

✓

Varies based on payment processor

$0

Add-ons: $9–$25/month

None

✓

In-person payments: 2.29% + 9 cents

 

Manual entry: 3.49% + 9 cents

$0

$29–$239

✓

In-person payments: 2.6% + 10 cents

 

Manual entry: 2.6% + 30 cents

$89–$269

Quote-based (starting at $299)

✕

In-person payments: 2.3%–2.6% + 10 cents

 

Manual entry: 3.5% + 10 cents

$15–$290

$49–$799 (monthly financing available)

✕

In-person payments: 2.6% + 10 cents

 

Manual entry: 2.6% + 30 cents

$69–$399

Quote-based (starting at $299)

✕

In-person payments: 2.7%

 

Manual entry: 2.9% + 30 cents

$39–$399

$39–$429 (monthly financing available)

✕
*POS apps are included free with your POS software subscription. Simply sign in to your account on the app.
Square: Best Overall Mobile POS App
Loyverse: Best for a Free Loyalty Program

Pros
Choice of merchant processors
Offline mode for both transactions and inventory/sales syncing
Employee clock in/clock out
Free loyalty program with every account
Cons
Monthly integration fee if using third-party service
Limited payment integrations; only integrates with Zettle by PayPal and WorldPay for North American users
Limited inventory management and reporting tools in free plan
Loyverse Pricing
Plans:
POS account and dashboard: Free
POS customer display (CDS): Free
POS kitchen display (KDS): Free
Hardware:
No Loyverse hardware available; third-party prices will vary
Add-ons:
Employee Management: $25 per month
Advanced Inventory: $25 per month
Integrations: $9 per month
14-day free trial for add-ons
Loyverse is an extremely popular free POS software and mobile app and works with a variety of payment processors worldwide. The app includes loyalty, inventory, and even employee management features. Notably, Loyverse can also work offline for both transactions and sales/inventory syncing—not even Square can do that.
It came a close second to Square, with 4.38 out of 5 on our evaluation. In fact, Loyverse was the only provider that scored 5 out of 5 on mobile-specific features. It also scored well for its 24/7 customer service and ease of use.
Its range of features rivals Square, and with a choice of payment processors, you can find rates that suit you. However, unlike Square, Loyverse charges extra for integrations and does not include an ecommerce platform.
Loyverse also lost points for its limited payment integration options, lack of custom reports, and lower-than-average user ratings for its app on third-party software review sites.
---
Loyalty: This is where Loyverse gets its name (an abbreviation of Loyalty Universe) and where it stands out. Its customer relationship and loyalty program has a database for keeping information like contact information, purchase history, customer notes, and points tracking. The built-in program also offers scannable loyalty cards where customers can keep their rewards. Square charges extra for its loyalty program.
POS: Like most of the software on our list, you can ring up items, include discounts, send receipts, and offer refunds. Loyverse lets you use your phone's camera as a barcode scanner. (Shopify and Zettle also do this.) Plus, it has extra features like open tickets and weight barcodes. You can also set up options for takeout or delivery. Finally, it works offline, something Shopify and Zettle can't do.
Inventory management: Loyverse boasts a strong inventory management system with item variants and modifiers, bulk upload, low-stock alerts, and inventory tracking. However, if you want purchase orders, the ability to transfer items between stores, inventory counting, and ingredient tracking, you need the advanced inventory program. For the best inventory system, look at Lightspeed or Shopify.
Employee features: Loyverse has a free time clock for employees to clock in and out. If you purchase the employee management system, you also get time cards, access restriction capabilities, and employee analytics. Compare this to Square's free plan, which lets you create schedules, clock employees in and out, and track breaks; its paid plan has analytics and advanced time clock functions.
Payment processing: Like with Clover, you can choose your payment provider, although its choices are more limited. It works with SumUp, Zettle, Worldpay, CardConnect, Tyro, Smartpay, Yoco, STORES Payment, PAYGATE, SB payments, KICC, and NICE. Many of these are only available for iOS, and some are limited to specific countries. However, note that if you integrate a third-party service, you will have to pay a $9 monthly integration fee.
---
Hardware options: Unlike the other software on our list, Loyverse does not offer any in-house hardware. Additionally, its compatible products have a higher price point, ranging from $100 to $600, which is high compared to other providers on this list.
Integrations: While Loyverse can integrate with ecommerce and accounting software, you need to pay an additional $9 per store per month for this. The other mobile POS solutions on our list offer integrations for free. Additionally, there are limited payment processing integrations, with only PayPal and Worldpay as the only options in North America.
Growth: While Loyverse does have add-ons, there are not many, and there are no advanced POS plans. As your business grows, Loyverse might not be able to support it, and you will need to switch providers rather than upgrade your plan. We recommend Square, Lightspeed, or Shopify for POS options with many plans to support your needs now and in the future.
---
PayPal Zettle: Best for Selling Internationally
Lightspeed Retail: Best for Managing Complex Inventories
Clover POS: Best for Choosing Your Own Merchant Account

Pros
Choice of payment processor
Offline payment processing
Can be used internationally
Lots of add-ons and integration options
Cons
Contracts and fees vary depending on processor
No low-stock alerts
No invoicing or vendor management
Clover Pricing
Plans:
Retail POS: $60–$175/month
Restaurant POS: $90–$290/month
Service POS: $15–$130/month
30-day free trial
Hardware:
CloverGo Card Reader: $45
Terminal and other hardware: $29–$90/month
Clover's POS system is a combination of software and hardware popular with larger businesses because it lets them purchase Clover systems through authorized payment processors or banks. This means that Clover is good for people that already have a merchant account and want the ability to use that account to process transactions through their POS. This is true for high-volume and high-risk businesses especially, as you can get volume discounts from certain merchants or use high-risk processors if needed.
While you can use nearly any merchant account, unless otherwise specified, Clover will default and automatically enroll its new members into Fiserv upon sign-up if you purchase directly through the Clover website. This means you can start accepting payments as soon as you have a Clover account with Fiserv.
Clover terminals can't be reprogrammed for different payment processors once you have opted in, so businesses are stuck with the processor they purchased it from.
Clover earns 3.84 out of 5 in our evaluation. It has high marks for mobile, but its general user ratings are not as good. There are a lot of complaints about third-party resellers trapping retailers with hidden fees. Clover also does not let you use your phone as a barcode scanner like you find with Lightspeed, Square, and Shopify. However, it does have strong customer and loyalty tools and integrations.
---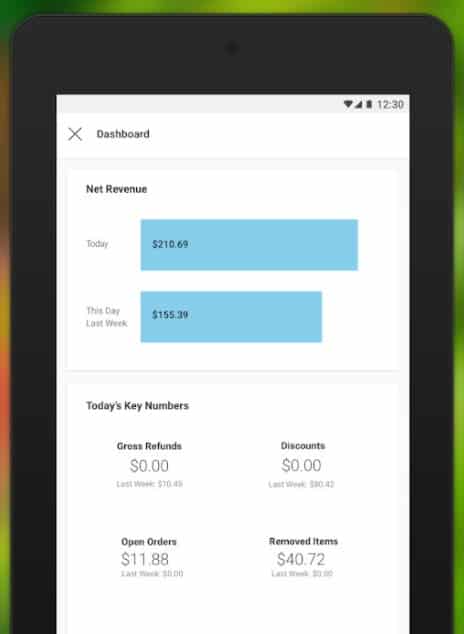 POS: Clover has a hearty POS system that accepts all types of payments, lets you set up discounts, and processes refunds. You can set up a virtual terminal and take online orders from your website or delivery services. It also has an offline mode.
Customizable receipts: Several of the systems on our list let you customize receipts with general store information, but Clover also lets you create coupons for feedback. Square can also create coupons, but only if you purchase Square Marketing.
Customer engagement: Clover includes both loyalty programs and customer engagement features. You can create real-time promotions via email, text, or social media; start a rewards program; and create profiles that automatically update credit card sales and contact info.
Clock in/out: With Clover, you have the ability to clock employees in and out of shifts and track their time worked and how much they earned in tips. This is a big help for establishing payroll. Loyverse and Lightspeed also have this capability.
Hardware: Clover has proprietary hardware that you can purchase from Clover directly or from authorized resellers. The Clover Mini and tablet devices are paid via monthly financing, billed with your software subscription. Or, you can get a CloverGo card reader for only $49, which you can pair with your smartphone. Note that you cannot use your smartphone as a barcode scanner on the app, you must use proprietary hardware for a mobile scanner function.
Customization options: Clover prides itself on being a highly customizable POS option. Not only can you use the merchant account of your choosing to process transactions, but Clover also has a massive suite of app integrations for any tools or features you need to run your business at no cost.
---
Microbusiness capability: The monthly price and hardware make Clover a poor choice for hobbyists or solopreneurs with limited sales. Consider Square or Zettle instead.
Flexibility: Once you have your merchant provider, your hardware is locked to them. Be completely sure of your contracts before purchasing Clover.
---
Lightspeed Restaurant: Best for Full-service Restaurants
Shopify POS: Best for Omnichannel Sellers
Methodology: How We Evaluated Mobile POS Systems
We pulled from decades of experience by our researchers, personal use, operating POS systems in retail settings, and studying and testing these systems. Then, we combined this with feedback from long-term, real-world users who have posted reviews on trusted third-party sites.
The best mobile POS apps optimize the balance of hardware, software, and payment processors. We started by selecting only those with a mobile app. This ensures you can run the program on a smartphone or tablet. However, many, like Square or Clover, had their own hardware as well.
Then, we looked for software features that not only let you ring up sales but track inventory and manage customers (such as Loyverse's loyalty program). For payment processing, we selected a mix of those with proprietary merchant services and those that offer you a choice.
As often happens when evaluating POS software, Square tops the list. In addition to being the best POS app for small businesses, it's also on lists for POS for restaurants, payment processing, and more. Square was built for mobile, and its POS application reflects that focus even as it has grown to encompass brick-and-mortar applications.
Click through the tabs below for our full evaluation criteria:
25% of Overall Score
Pricing involves more than subscription fees. There are also transaction fees, with some providers allowing you to shop providers and others locking you into a set-payment processor. And finally, there are hardware costs. Square, Lightspeed, and Zettle earned 5 out of 5 stars in this category.
20% of Overall Score
These are the basics any strong POS system should have: processing multiple payment types, managing customers, tracking inventory, integrating with third-party software, and having strong reports. We gave extra credit for loyalty programs. Shopify got the highest score in this category.
20% of Overall Score
To make it onto our list, products needed a handheld device that processed payments and synced with a web-based device. We also considered operating systems, offline mode, and digital receipts. Loyverse earned 5 out of 5 stars in this category.
20% of Overall Score
This is a value score based on our expert opinion, popularity, feature set, and how easily you can learn (or teach your employees) the device. All the mobile POS systems on the list scored highly, but Square, Shopify, and Loyverse got perfect scores.
15% of Overall Score
For this, we relied heavily on the reviews of real-world users who use the system daily. We considered the performance of mobile apps as well as the POS app. We also looked for 24/7 customer support since businesses may need help anytime. Square earned the highest score with 4.38.
*Percentages of overall score
Bottom Line
There's no reason to be tied to the counter. Many POS apps have a mobile component, either as a handheld device or with a downloadable application. The best mobile POS systems sync with the main program, handle offline transactions, and let you access the backend.
Overall, Square has the best features for the best price while being the easiest to use. Even better, its POS system is free with a competitive payment processing fee. Go to Square and download the POS today.