5 Best Multichannel POS Systems for 2022
This article is part of a larger series on POS Systems.
A multichannel POS system enables businesses to sell in-store, online, and on the go—all from a centralized program. Each of the multichannel POS software mentioned in this guide offers unified inventory, customer, and order management tools. The best systems are those that connect to several online sales channels and other business management software for under $100 per month.
The top multichannel POS systems for 2022 are:
Top Multichannel POS Systems Compared
Monthly Software Fee

$29–$299

$79–$239

$0–$272

$99

$0–$60

Built-in Payment Processor

Shopify Payments

Lightspeed Payments

Toast Payments

Revel Advantage

Square Payments

Processing Rates

From 2.4%

From 2.6% + 10 cents

From 2.49% + 15 cents

Custom quote

From 2.6% + 10 cents

Ecommerce Feature in Baseline Plan?

✔

✕

✕

Unspecified

✔

Available Online Store Builder

Shopify in-house

Lightspeed in-house

Toast in-house

Revel in-house,

Online Ordering XT

Square in-house

Integrated Sales Channels

Amazon,

Facebook,

Instagram,

eBay

Amazon,

Facebook

Facebook,

Instagram

Facebook,

Instagram,

Amazon,

eBay

Facebook,

Instagram,

Pinterest
Looking for something different? Find more options in our roundup of the best POS systems.
Shopify: Best Overall Multichannel POS for Small Businesses
Shopify

Overall Score:
4.80
OUT OF
5
RATING CRITERIA

Pricing
4.00
OUT OF
5
General Features
4.50
OUT OF
5
Multichannel Features
5.00
OUT OF
5
Ease of Use
5.00
OUT OF
5
Expert Score
5.00
OUT OF
5
What We Like
Robust, user-friendly ecommerce platform for online sales
Has a free POS option
Sophisticated omnichannel sales features
Integrates with many sales channels (e.g., Amazon, Facebook, and Instagram)
What's Missing
Complicated pricing scheme (POS and ecommerce apps are purchased separately)
Limited functionality on its free POS app
Cash tracking is available only with a Shopify POS Pro plan
Additional registers are expensive (more than $50)
Shopify Pricing
Ecommerce software monthly subscriptions:* Basic Shopify ($29), Shopify ($79), and Advanced Shopify ($299)
Hardware costs: Startup Bundle from $839 (comes with an iPad stand, card reader, receipt printer, cash drawer, and barcode scanner), Retail Bundle from $219, Mobile card readers from $49
Processing fees:

Basic Shopify plan: 2.9% + 30 cents for online transactions and 2.7% for in-person transactions
Shopify plan: 2.6% + 30 cents for online transactions and 2.5% for in-person transactions
Advanced Shopify plan: 2.4% + 30 cents for online transactions and 2.4% for in-person transactions
*Shopify Ecommerce subscriptions include POS Lite, while POS Pro is $89 per month or free for enterprise users under the Shopify Plus plan ($2,000 per month).
Shopify POS is the best overall multichannel POS for small businesses because it marries a robust online selling platform with a user-friendly and affordable POS system. The software enables you to perform all the essential tasks that an online and brick-and-mortar seller would need, including retail and ecommerce transactions, inventory management, payment processing, employee management, marketing and promotions, cloud reporting, and customer relationship management.
Shopify's integrated sales channels, shipping tools, and online store builder earned it perfect scores in our evaluation of its multichannel features. It even includes marketing tools for growing your customer base in its basic subscription, which you won't see from top competitors like Square, Lightspeed, and Toast. Shopify also earned points for its ease of use, contactless payments feature, and online ordering and delivery capabilities. However, the lack of customizable reporting tools and the high costs of adding additional registers under Shopify Pro prevented Shopify from earning a perfect score.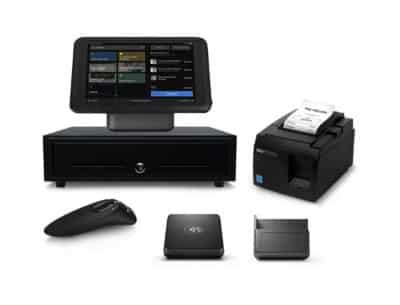 ---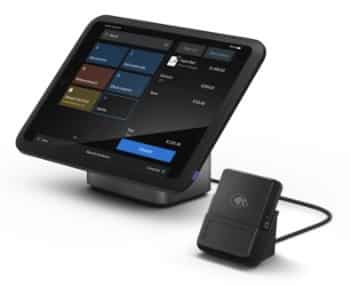 ---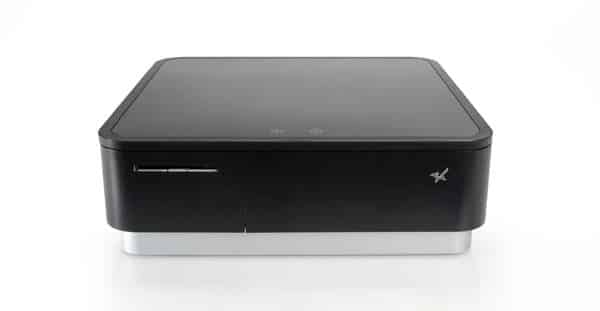 ---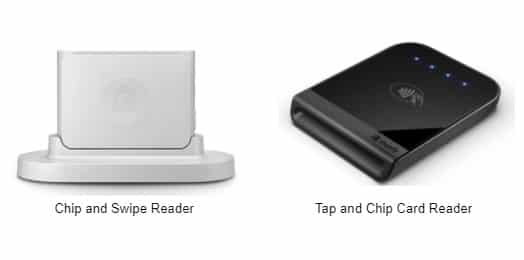 ---
For a complete list of hardware options and peripherals, explore Shopify's hardware shop.
Shopify Standout Features
Shopify POS: It is a user-friendly, touch-screen app that syncs with ecommerce and has a centralized back office solution. You can create custom payment types, sell and redeem gift cards, manage store credit, and toggle between multiple live checkout screens all at once.
Shopify POS Pro: Pro has omnichannel selling features, smart inventory management (demand forecasting, sale suggestions, and inventory analysis), and cash tracking and sales reports, plus unlimited staff logins with custom permission settings and commission tracking.
Ecommerce platform: Create an online store with a drag-and-drop store builder with mobile-responsive themes and HTML and CSS edit access, SEO tools, and built-in secure payment processing.
Inventory and order management: Shopify POS syncs all order, customer, inventory, and sales data across channels. Use built-in shipping tools and order management workflows. However, reporting options are limited.
Multiple online sales channels: Sell on Amazon, eBay, Facebook, Facebook Messenger, and Instagram. The app also allows you to ship and deliver locally.
Marketing and customer management: Build customer profiles with purchase histories, automate abandoned cart recovery and other email campaigns, and create targeted Instagram, Facebook, and Google Shopping ads.
Customer support: Shopify POS provides 24/7 customer support via email, chat, and phone.
What Shopify Is Missing
Shopify POS does not have native employee management tools for scheduling, and it has limited staff management capabilities outside of individual PIN logins. The other POS systems we evaluated have staff reports and time-tracking available in all of their plans. Shopify's checkout page isn't adjustable, which makes it challenging to set custom messages.
At the time of this writing, Shopify has yet to launch a native feature for setting up online orders that can be picked up in-store, though it does allow integrations with many store pickup apps. If this feature is essential to your business, consider using Square.
Lightspeed Retail: Best for Retailers With Multiple Locations & Robust Inventories
Lightspeed Retail

Overall Score:
4.55
OUT OF
5
RATING CRITERIA

Pricing
5.00
OUT OF
5
General Features
4.25
OUT OF
5
Multichannel Features
4.00
OUT OF
5
Ease of Use
5.00
OUT OF
5
Expert Score
5.00
OUT OF
5
What We Like
Robust centralized management tools
Flexible payment processing with built-in and integrated options
Native ecommerce platform
Granular matrix inventory management
What's Missing
Expensive for small businesses
Complex system; steep learning curve
No built-in local delivery tool (only via third-party integration)
No Instagram selling integration
Lightspeed Retail Pricing
Software monthly subscription plans:* Basic ($79), Standard ($139), Advanced ($239), Enterprise for high-volume merchants (quote-based)
Hardware cost: Request a quote for its iPad or desktop hardware kit. Third-party sellers have Lightspeed's retail hardware kits from $500. Card readers and other peripherals are bought separately.
Processing fees:

Chip, tap, and swipe payments: 2.6% + 10 cents per transaction
Keyed-in payments: 2.6% + 30 cents per transaction
Volume discount: Available for businesses processing over $250,000
*Subscription pricing is based on monthly payment option and sign-up to Lightspeed Payments.
Lightspeed Retail is a cloud-based POS system that's functional across multiple retail locations and online. It is recommended for large businesses that have several brick-and-mortar locations and high inventory volumes, as well as specialty shops and boutiques that require detailed inventory tracking solutions. It also has an ecommerce platform that allows you to sell your products across your website and social media.
Moreover, it sets itself apart from the other multichannel POS systems in our list because it provides a variety of integrated payment options, so you can shop around for the best rates and save on transaction fees. This flexibility also means Lightspeed is suitable for high-risk businesses like CBD retailers.
Lightspeed Retail's web store builder and online ordering tools are what earned it a high score in our evaluation of multichannel features. However, unlike Shopify, it fell short on the number of integrated sales channels and shipping tools. You'll also need to upgrade to a standard plan to use Lightspeed's marketing tools. On the upside, Lightspeed Retail earned a perfect score for its inventory management, employee management, and cloud reporting capabilities, which is why it is second to Shopify in this review.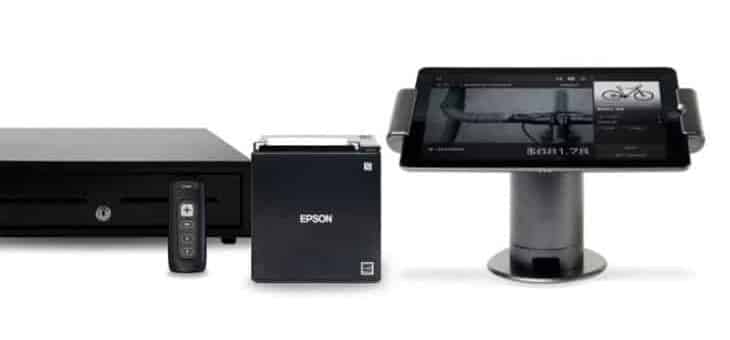 ---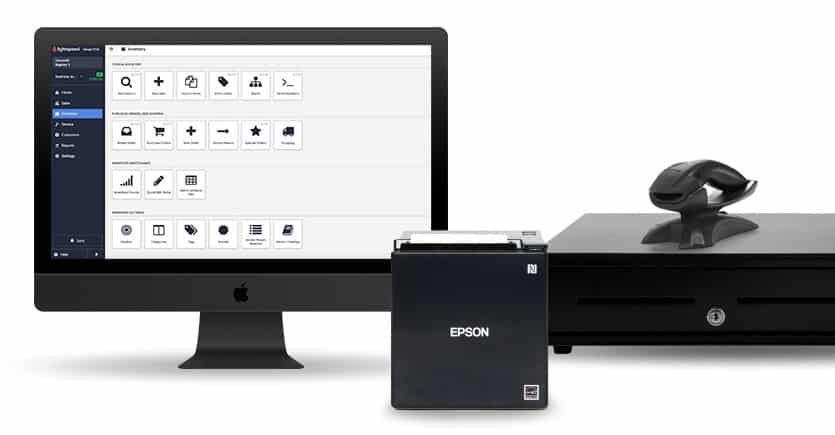 ---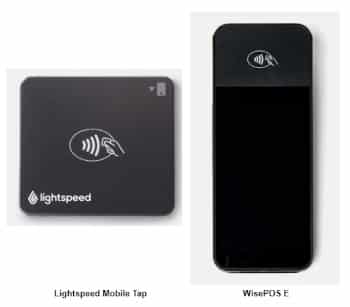 ---
Lightspeed Retail Standout Features
Web and app-based POS: Lightspeed is the only POS on this list that offers a browser-based register and checkout interface. You also have the option of using Lightspeed's iPad app. The cloud-based system updates in real time, so reports and data are accessible from anywhere.
Ecommerce: Lightspeed Ecommerce syncs with the POS data for centralized reporting. It also comes with over 50 themes; marketing, CRM, and SEO features; and integrated shipping and order management tools. It does not offer local delivery, but this can easily be addressed by integrating with a third-party app.
Inventory management: Lightspeed's inventory management is high-end—with options to bulk upload up to 10,000 SKUs at once. You can also manage purchase orders with an integrated product catalog (Lightspeed has over 3,000 built in), set low stock alerts, and account for product variants, bundles, and unit costs.
Analytics: Lightspeed Analytics is a powerful yet user-friendly reporting platform with over 40 built-in reports. It also offers customized report builders, options to view data in graphs and other visualization styles, and guides on how to use each report to grow your business.
Management tools: Lightspeed Accounting integrates with QuickBooks, Xero, and Sage with automatic updates. The software also tracks employee performance KPIs and integrates with over 45 other third-party programs, including solutions for scheduling, customer service, and subscription management.
Online sales channels: Lightspeed allows you to sell on Amazon and Facebook. You can only post your listings on Instagram.
Customer support: 24/7 support is available via phone, chat, and email.
What Lightspeed Retail Is Missing
The most glaring omission in Lightspeed is its inability to sell products on Instagram via Lightspeed Ecommerce. This is odd because you can sell your wares on Facebook and list them on Instagram—just not sell them. If you need this feature, consider Shopify.
Otherwise, the software's biggest flaw is that it can be a pricey solution if you opt for the plans that have the analytics add-on (which is one of its best features). Finally, because Lightspeed Retail offers highly granular control options, it's also much more complicated to use than a straightforward inventory solution. Square offers the simplest POS interface on this list.
Toast: Best for Full-service Restaurants Needing Integrated Online Ordering & Delivery
Toast

Overall Score:
4.25
OUT OF
5
RATING CRITERIA

Pricing
4.00
OUT OF
5
General Features
4.00
OUT OF
5
Multichannel Features
3.50
OUT OF
5
Ease of Use
5.00
OUT OF
5
Expert Score
5.00
OUT OF
5
What We Like
Detailed restaurant-specific features
Built-in online ordering and delivery
Centralized payroll, reporting, and inventory management
Customizable and easy to use
Hybrid setup for strong offline functionality
What's Missing
Pricey add-ons—digital ordering software costs $75 to $175 per month
Software is bundled with hardware, so adding more terminals is expensive
Pay-as-you-go plan ties you to a long-term contract
Charges a mandatory remote installation fee for Loyalty and Gift Card add-ons
Limited store builder tools
Toast Pricing
POS software monthly subscription plans:* Starter ($0 to pay as you go), Essentials ($165), Growth ($272)
Toast Now add-on: Digital Ordering software ($75 per month), E-Gift Cards ($25 per month)
Hardware cost: Pay-as-you-go Starter kit ($0), Standard paid plan Starter kit (from $799), additional terminals ($599 + $45 per month), ToastGo mobile handheld POS ($389 + $50 per month)
Processing fees:

Pay-as-you-go plan platform rate: 2.99% + 15 cents per transaction for card-present and card-not-present transactions. Additional 0.40% per transaction for plans with add-ons
Standard paid plans: 3.5% + 15 cents for card-not-present transactions, 2.49% + 15 cents for card-present transactions
*POS subscription is $69/month when purchasing a starter kit with a standard paid plan.
Toast is a cloud-based restaurant POS system that offers online ordering and delivery tools, self-order kiosk options, traditional POS terminals, and handheld mobile terminals for tableside ordering. Its baseline subscription also packs an inventory and menu management system on par with other restaurant POS giants like Lightspeed. Toast software is customizable, and clients agree that the system is very easy to use. It also offers robust back-office and team management tools.
Although still packed with solid POS features, Toast POS ranks third in this evaluation because of its limited integrated sales channels and store builder tools. Other areas where it fell short include CRM (which is offered as a paid add-on), marketing, and employee management (basic settings only). Proprietary hardware included in every subscription can quickly increase your upfront cost, and while it offers a pay-as-you-go plan, it also ties you to a long-term contract. On the upside, Toast POS scored well for its inventory management, cloud reporting, and online ordering features, which are most important to restaurants.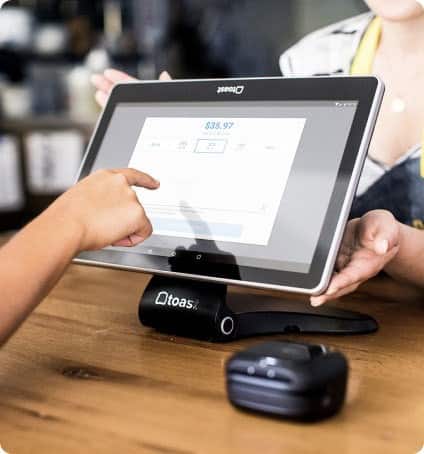 ---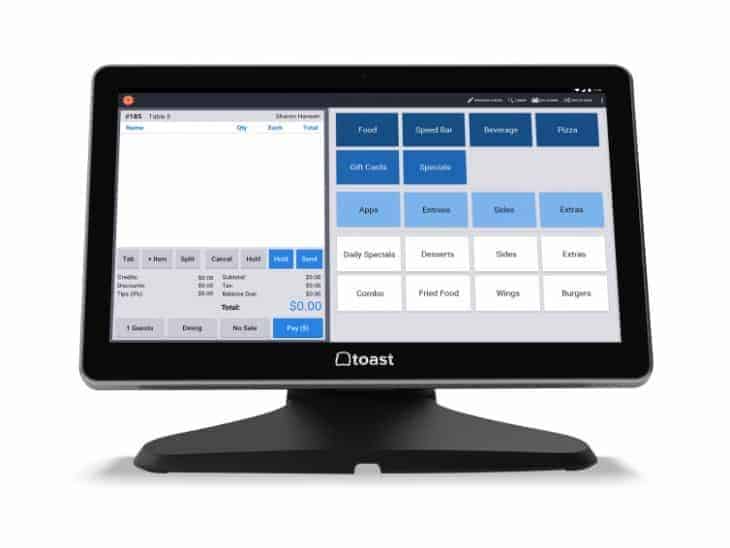 ---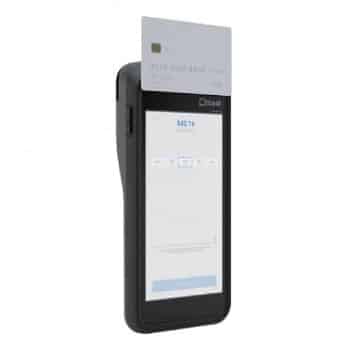 ---
Toast Standout Features
All-in-one software: Toast bundles POS, payment processing, payroll, team management, online ordering and delivery, and restaurant management tools (like menu creating and recipe costing) all under one system.
Restaurant POS: Handle front-of-house operations with menu management, table mapping and order tracking, tableside ordering, and payment and customer feedback collection tools. Back-of-house management tools include digital kitchen displays that automatically show dine-in, takeout, and delivery orders.
Digital ordering solution: ToastNow is Toast's software solution for expanding your business into multichannel sales. You can set up an online ordering page, integrate with Toast TakeOut mobile ordering app, and manage local or third-party delivery. You can also use its built-in email marketing tools to boost your online presence.
Delivery management: Most restaurant POS systems connect with third-party delivery services, but Toast has a native system that includes options for managing your own local delivery system. This way, you can avoid the fees associated with delivery apps.
Restaurant-ready hardware: Toast's spill-proof rated hardware is guaranteed to withstand the rigors of a busy restaurant environment. It is also designed to accept all types of payments, including tap, dip, and swipe.
Payroll and team management: Although offered as a paid add-on, Toast has its own payroll and staff tracking tool that syncs with your POS system. This tool can perform time and attendance tracking, overtime monitoring, and compliance and labor reporting and insights.
Online sales channels: Toast POS lets you sell on Facebook and Instagram.
Customer support: 24/7 support is offered via phone, chat, and email.
What Toast Is Missing
Toast POS does not offer a free trial, though it provides a demo. You also have to purchase its proprietary Android-based hardware and use its built-in payment processing tools. While this makes Toast a convenient, all-in-one package, it also means that you can't save on costs by shopping around for better pricing options.
Setting up additional registers, for instance, costs hundreds of dollars with Toast—a huge difference when compared to Square and Shopify, which only charge for the software. In addition, if you prefer iOS operating systems, then you're out of luck with Toast, as it only supports Android devices.
If you want payment processing flexibility, consider Lightspeed (which also has a restaurant POS) or Revel Systems. If you want an iOS-compatible solution, consider Square or Revel.
For more information on the platform's restaurant POS features, read our detailed Toast review.
Revel Systems: Best for Busy Restaurants & High-volume Food-based Retailers
Revel Systems

Overall Score:
4.13
OUT OF
5
RATING CRITERIA

Pricing
2.00
OUT OF
5
General Features
5.00
OUT OF
5
Multichannel Features
3.50
OUT OF
5
Ease of Use
5.00
OUT OF
5
Expert Score
4.38
OUT OF
5
What We Like
Excellent online ordering and delivery function
Robust inventory management features
Loyalty and marketing included in baseline subscription
Flexible payment processing options built-in (Revel Advantage) and integrations
Hybrid setup with strong offline function
What's Missing
Locked into a three-year contract
Requires a minimum purchase of two terminals
One of the priciest cloud-based restaurant POS
Requires additional software integration to access social media selling tools and site builders.
Revel Systems Pricing
POS software monthly subscription plan: Custom quote from $99. Requires a 3-year contract and minimum purchase of two terminals
Hardware cost: Custom quote with in-person installation ($674)
Flat-rate transaction fee: Custom rate based on card mix and sales volume
Revel Systems is one of the most feature-packed iPad POS systems in the market today but is also among the most expensive. This software's massive functionality includes detailed ingredient-level inventory management with multiple modification tools, digital ordering, and delivery management. It also provides a customizable system for self-service kiosks, hardware setups, and scale and scanner integrations. All these standout features give you the ability to easily manage high-volume and complex inventory, which makes Revel perfect for businesses like pizzerias and grocery stores.
It edges out Square by a slim margin, landing fourth in our list for including full inventory and marketing features in its baseline software subscription. However, Revel lost points for the limited flexibility of its online ordering platform and the need for additional software integration to access other sales channels. This drives up the cost further on an already expensive POS system. On the other hand, Revel earned perfect scores in our general features and ease of use categories and is one of two POS systems in our list that provides flexible payment options.

---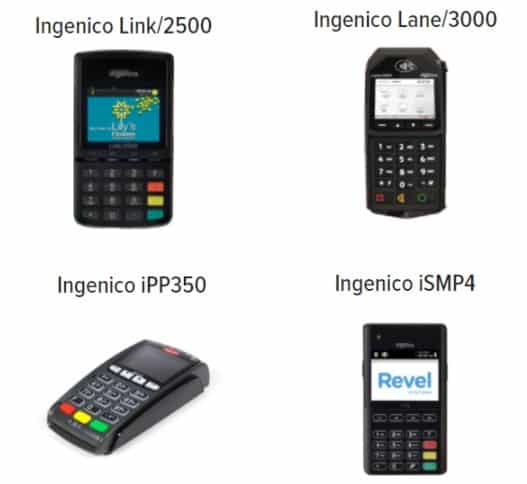 ---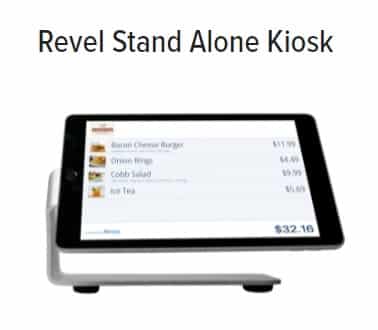 ---
Revel Standout Features
Flexible payment processing options: Aside from Revel Advantage, you can also choose among Revel's integrated third-party processors: Worldpay, First Data, TSYS, Chase Paymentech, Heartland, and Elavon.
Expanded payment solutions: Revel now has SmartPay, which allows you to offer customers SMS text-to-pay and QR code scan-to-pay for in-store or phone purchases. You can also open a bar tab for customers without a card through pre-authorization, issue store credits for returns, and offer invoicing options for large orders.
Order and delivery management: Revel has a built-in Delivery XT platform that helps you manage order flow, driver agents, dispatch, tracking, and delivery.
Inventory management: Revel provides ingredient-level inventory management features with multiple modifier capabilities in its baseline subscription.
Customer relationship management (CRM) and loyalty: Aside from customer data, Revel also includes basic loyalty and rewards features in its base subscription. You can store customer information and track purchase history and rewards.
Online site builder: Revel has a built-in online ordering platform that you can customize to display your menu and accept orders. Online Ordering XT helps boost Revel's ordering platform with full POS integration, so you can sync your customer data and inventory in real time. Revel also allows you to access Shopify, BigCommerce, WooCommerce, Magento, and X-Cart shopping carts through a Kosmos integration.
Online sales channels: Revel lets you sell on Facebook and Instagram through integration with Joyapp. You can also list and sell your products on Amazon by adding integration with Kosmos.
Reporting: Revel offers a highly detailed and customizable suite of reports and analytics.
Customer support: 24/7 customer support via the web, phone, and email.
What Revel Is Missing
Revel's not-so transparent pricing is one of the key concerns while evaluating this system. And while it has a suite of impressive features in its back pocket, it will take you a while to determine if Revel is the most cost-effective option for your business, including considering if the system has more features than you will ever need. It doesn't help that at a $99 monthly baseline subscription, Revel is quite pricey compared to our top-ranking option, Shopify, and still requires you to purchase integrations if you want to grow your multichannel sales.
Square: Best Free Multichannel POS for Small Businesses
Square

Overall Score:
3.90
OUT OF
5
RATING CRITERIA

Pricing
5.00
OUT OF
5
General Features
3.00
OUT OF
5
Multichannel Features
3.50
OUT OF
5
Ease of Use
3.75
OUT OF
5
Expert Score
5.00
OUT OF
5
What We Like
Free POS and online store
User-friendly interface
Accept payments anywhere
Native scheduling and time-tracking features
Flexible payment options: online ordering, contactless, curbside, and on-the-go mobile sales
What's Missing
Limited native CRM and inventory management features
Large companies could outgrow the platform
Account stability issues
No purchase and vendor management tools in free plan
Customer support limited to business hours
Square Pricing
POS software monthly subscription plans:* Free ($0), Plus ($60), Premium (custom pricing)
Ecommerce monthly subscription plans*: Free ($0), Professional ($12), Performance ($26), Premium ($72)
Hardware cost:

Card Readers: Magstripe card reader (First free, additional $10), Contactless and Chip ($49)
Point-of-Sale from $169 to $799
Hardware kits from $526 to $1,489

Processing fees:

Flat-rate fee: 2.6% + 10 cents per transaction
Ecommerce sales: 2.9% + 30 cents per transaction
Keyed-in payments: 3.5% + 15 cents per transaction
Volume discounts: For business processing over $250,000 in credit card sales
*Custom domain starts at $12/month for Square Online Professional plan.
Square is arguably the biggest name in mobile payment processing. Square POS is free to use and packs sophisticated features into a very sleek and user-friendly interface. In addition, the app lets users create an online store for free to sell items for shipping, pickup, or local delivery.
All data from in-person and online orders sync in Square's Dashboard.
As a free POS, Square gives small multichannel businesses all the key features they need to grow their customer base (inventory sync, pickup, delivery and shipping options, and social media integration) without having to pay extra like with Lightspeed and Toast.
Square POS trails Revel, but it's certainly not the least in our multichannel POS roundup because it remains the most cost-effective choice for small and startup businesses. However, while it earned a perfect score for pricing, its multichannel features—specifically integrated sales channels and online store building tools—are not as expansive as those of Shopify and Lightspeed Retail. Revel edged out Square by scoring better with its inventory management and marketing features. Square also does not offer 24/7 customer support, which is crucial for small and growing businesses.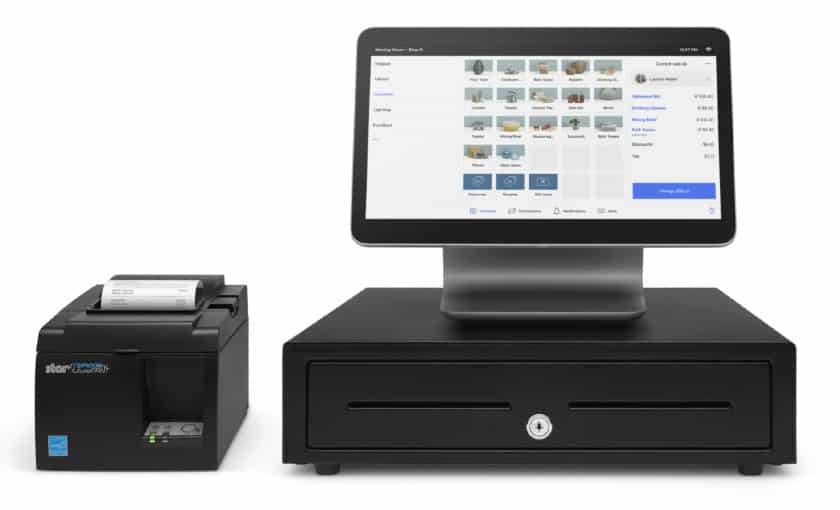 ---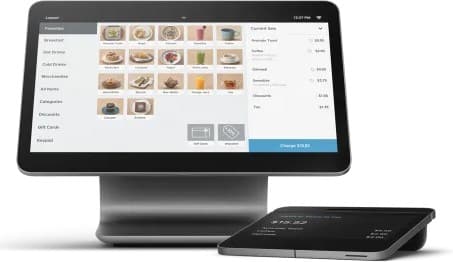 ---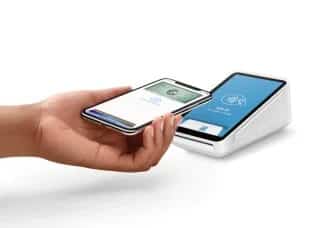 ---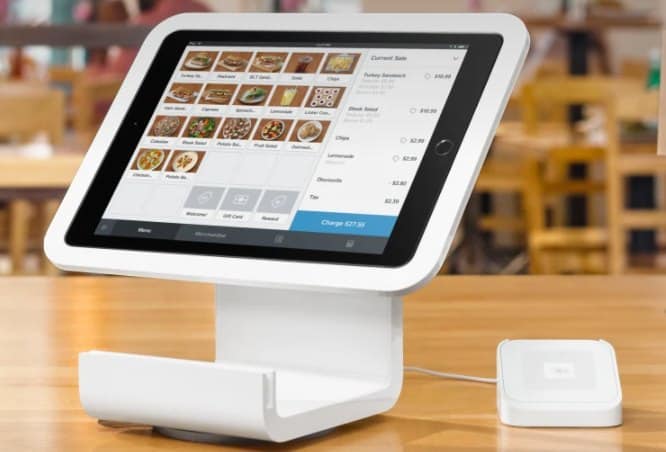 ---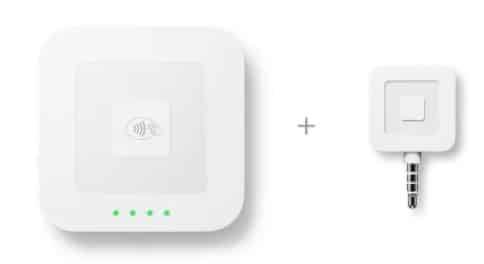 ---
Square Standout Features
Square POS: Free POS app with built-in payment processing, inventory tracking, offline mode, reports, and customer management, including feedback collection.
Square Online: Your account comes with free Square Online access, which lets you create an online store or set up a checkout page. This account auto-syncs with Square POS, so you are always updated with counts and never over-sell. Square Online includes a drag-and-drop online store builder, flexible integrated delivery and pickup settings, detailed product pages, and connected shoppable Instagram posts.
Square Dashboard: View sales, inventory, and customer data; access your online store; manage orders; and manage add-ons/upgrades.
Order management: Easily enable and configure built-in shipping, pickup, and local delivery fulfillment options.
Inventory management: Add items to your inventory one at a time or import all data in one go using a CSV file. You can also monitor your stock via your mobile device while connected to the internet, and the app can be configured to send you daily alerts whenever an item starts to run low or is already out of stock.
Customer relationship management (CRM): Square POS gives you access to a customer directory, where you can save data and payment information for further purchases. You can also add new clients directly from the POS screen and input their phone numbers, email addresses, payment methods used, and other data.
Online sales channels: Square POS lets you sell on Facebook, Instagram, and Pinterest.
Reporting: Square's data analytics feature lets you view a wide range of templated reports on your sales, inventory, and customers. You can easily see your average sales for a certain period, which hours are the busiest, how many of your customers are new or repeat visitors, and more.
Customer support: You can speak to a live customer service representative from Monday to Friday during business hours.
What Square Is Missing
Because Square POS is free, the app is missing certain features that other multichannel POS systems provide—like robust inventory management. Square POS' free version also does not cover barcode generation, profitability reports, and purchase order management—you will likely find these apps in the Square App Marketplace as paid add-ons. Square for Retail Pro POS has some more advanced features. However, even Square's Pro plan is not as advanced as Shopify and Lightspeed.
If customer service is crucial for you, then Square might not be your best fit. Square's customer service hours are limited, and a majority of poor client reviews are due to unsatisfactory customer service. Lightspeed offers 24/7 phone support.
Find out if the free platform is the right solution for your business with our in-depth Square POS review.
How We Chose the Top Multichannel POS Systems
We compared the most popular multichannel POS systems based on what's important to small businesses, including pricing, general features, multichannel tools, and ease of use. We also took into account our retail and restaurant POS expert's personal evaluations of each software.
We only considered systems that are affordable for small businesses and extremely easy to use—requiring no technical expertise to set up and no taxing maintenance processes. Because a multichannel system is a specific type of POS meant for selling online and in-person, all of the software in this list also have native ecommerce or online ordering platforms.
Based on our criteria, Shopify is the best multichannel POS. The software received the highest overall score according to our grading system for multichannel software (4.8 out of 5). Click through the tabs in the box below to view our full evaluation criteria.
10% of Overall Score
First, we looked at whether or not the software offers multiple plan options, and if additional POS registers cost under $50. Small businesses are typically looking for an affordable plan that scales as their needs change and grow. We also checked if the plans allowed unlimited numbers of users, products, and sales turnovers, and whether or not it has an integrated payment processing function (and if it is offered for free or for a fee). Another criterion considered was if it provided discounted packages for volume processing.
*Percentages of overall score
Bottom Line
Of all the multichannel POS systems we evaluated, Shopify offers the most robust features at an affordable price. It combines a popular, top-rated ecommerce platform with a user-friendly and free POS app, as well as native integrations to social media and online marketplaces. That's on top of a centralized dashboard to manage orders and inventories small and large, all in real time. Shopify also offers a 90-day free trial, so you can explore whether it's the right POS system for you.