4 Best Retail POS Systems for Small Businesses in 2022
This article is part of a larger series on POS Systems.
Retailers need functionality beyond simply processing payments in today's competitive landscape. Retail POS systems must also have robust inventory control, multichannel sales tools, streamlined customer relationship management (CRM) features, and insights into which products and employees perform the best.
The best retail POS systems offer all these functions, plus contactless payments and mobile sales features in an affordable, easy-to-use package. Based on our evaluation, our top recommendations are:
Looking for something different? Check out our top POS system picks for convenience stores, liquor stores, grocery stores, gas stations, and specialty stores like vape shops.
Best Retail POS Systems Compared
| | | | | |
| --- | --- | --- | --- | --- |
| | | | | |
| | | | | |
| Free Plan | Yes | Yes* | N/A | N/A |
| Minimum Monthly Fee | $0 | $0* | $79 | $119 |
| Payment Processing Fee | 2.6% + 10 cents per card present transaction (2.5% for Plus members); 2.9% and 30 cents per online transaction | 2.4%–2.7% per transaction based on ecommerce plan | 2.6% + 10 cents per card present transaction | Varies** |
| Hardware Compatibility | | | | |
| Inventory Management | Good | Great | Excellent | Excellent |
| Dropshipping Capabilities | No | Yes | No | No |
| Built-in Ecommerce/ Online Ordering | Yes | Yes | Yes | Higher tiers only and separate software required |
| Employee Management | Yes | Only available at higher tiers | Yes | Only available at higher tiers |
| Customer Service | Limited support hours: Mondays through Fridays, from 6 a.m. to 6 p.m., Pacific time | 24/7 customer support | 24/7 weekday support, extended weekend support. | 24/7 customer support |
| | | | | |
*To use Shopify POS, you need to purchase a Shopify ecommerce plan, which ranges from $9–$299 per month.
**Vend does not have a native payment processor but can integrate with Square, PayPal, and other payment partners.
Not sure which retail POS is best for you? Take our quick four-question quiz for a personalized recommendation (without being redirected to another page):
What is the best POS system for your business?
Answer a few questions about your business, and we'll give you a personalized product match.
Square for Retail: Best Overall Retail POS System
Square for Retail

Overall Score:
4.54
OUT OF
5
RATING CRITERIA

Pricing
5.00
OUT OF
5
Register Features
3.94
OUT OF
5
Management Features
4.69
OUT OF
5
Ease of Use
4.39
OUT OF
5
Expert Score
4.69
OUT OF
5
What We Like
Forever free plan
Plus plan offers incredible value—advanced reporting tools and inventory features
Ability to scale with your business
Works on iOS devices—iPads and iPhones
What's Missing
Free plan has limited inventory functions and higher processing fee
Register screen is not customizable
Unavailable on Android
Limited customer support hours
Best for:
New retailers with growth plans: Its forever free plan is practical for retailers just starting out, while its advanced plans are perfect for scaling businesses.
Businesses on a small budget: Square is our top pick for a free POS system.
Businesses switching over from cash registers: Square's user-friendly interface and overall simplicity make it a great option for those upgrading from a cash register.
Overall, Square offers some of the best POS systems for all small businesses, but it is our top pick for retail businesses. The basic plan is free to use, with the Plus tier offering more sophisticated features and the Premium option providing access to almost all products in the Square ecosystem. The system is cloud-based, runs on iPads or Square Register, and is incredibly easy to use.
Every plan comes with built-in payments, a free online store for ecommerce and curbside pickup, digital receipts and customer feedback collection, a barcode-based user interface, and customer profiles with marketing insights.
In my experience, the free plan offers more than enough tools to run a business smoothly and efficiently. The biggest difference between the free and paid plans are the inventory forecasting features, bulk ordering tools, and order management features.
In our evaluation, Square for Retail earned a 4.54 out of 5. It is the only system on our list to earn a perfect score for pricing due to the rich offerings of its forever free plan. Square also stands out for its user-friendly system, unbeatable value, and plans that can scale with your business. The POS software lost points for a lack of customization options, limited free inventory reporting, and restricted support hours.
Square for Retail Pricing Plans
| | Free | Plus |
| --- | --- | --- |
| Monthly fee | $0 | $60 per location |
| Inventory tools | Basic | Advanced |
| Reporting | Basic | Advanced |
| Team management | Standard | Plus |
Processing rate: 2.5%–2.6% + 10 cents for card-present and 2.9% + 30 cents for online and invoice transactions
Hardware options: Magnetic strip readers starting at $49.00; interest-free payment plans are available for qualifying hardware purchases
Square for Retail Features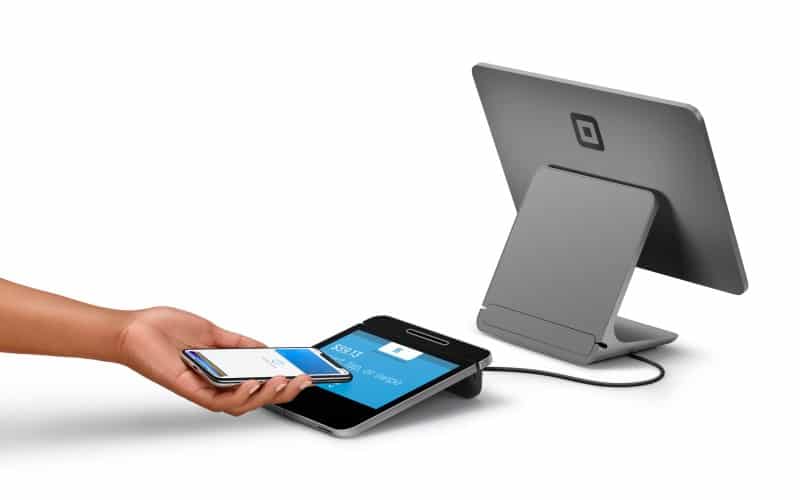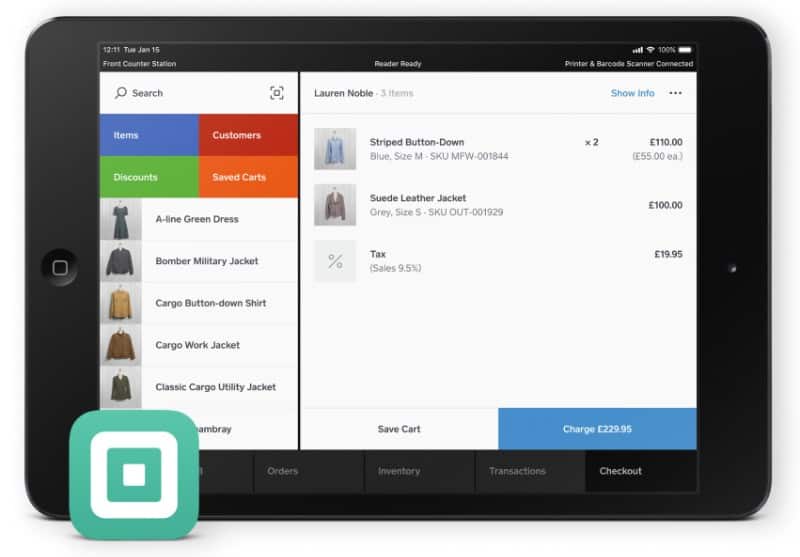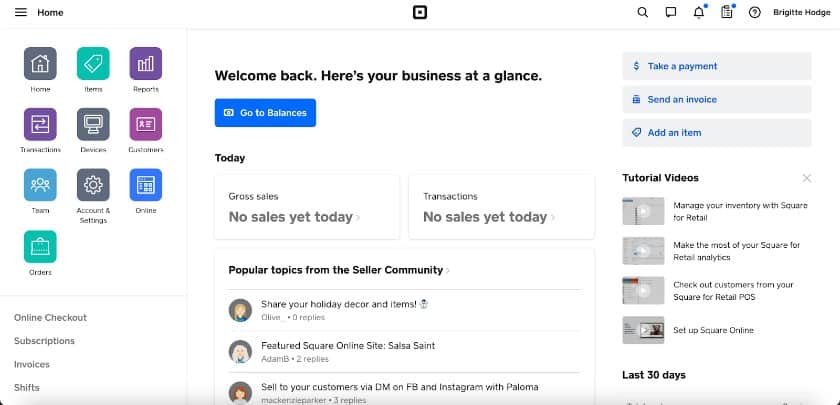 Checkout tools: To get started, you can either pair your Square for Retail POS account with a Square Hardware Device or a checkout terminal you already own. From there, checkout tools include a barcode-based user interface with advanced product search, return and exchange processing, and options for mobile, contactless, QR codes, gift cards, and invoicing. Not only that, but once Square is integrated with your site, all online orders will also automatically appear on your dashboard.
Inventory management: Perform variant tracking and control, set up low stock alerts, create and print barcodes, receive stock from the app in bulk, create and track purchase orders as they come in, manage vendors, and perform stock counts and COGS tracking. Square's user interface for adding inventory is super intuitive, and you can even import existing inventory records if you are switching systems. Additionally, you can view transactions and inventory reports to help better optimize your business.
Sophisticated hardware: In addition to running on iPads, Square for Retail operates on Square Register, a countertop POS with a detachable customer-facing display with built-in chip, swipe, and contactless payments. It also has a number of other hardware options for you to shop.
Omnichannel features: Every account comes with a free online store, features to sell on Instagram, an innovative website builder, automatic inventory sync, and omnichannel tools like in-store pickup and local delivery. It's easy to set up your online store with square. There are guiding videos, tutorials, and lots of resources to walk you through each step and help you set up an appealing (and sale-driving) ecommerce store that will sync with your POS.
CRM tools: Automatically generate customer profiles based on the payment method, create and segment customer groups, add shopper details, and send custom digital receipts with feedback surveys.
Square ecosystem: One of the most significant benefits of using Square is having a seamless integration with all of its additional business tools like payroll, team management, appointments, loyalty, and an online store. You can add and remove software at any time to build a solution customized for your business. Not to fear, however, most software integrates with Square POS, so you are not limited to Square products.
Employee management: Square for Retail Plus includes advanced team management features like shift scheduling and swapping, custom permission settings, activity logs, and advanced reporting. You can set employee permissions, manage timecards, and view individual employee performances all from your Square POS dashboard.
What Square for Retail Is Missing
Square for Retail provides almost all the essential POS features you need in starting and scaling a retail store. However, advanced features such as COGS reporting and return management are only available under its Plus plan. It is still a more cost-efficient choice at $60 per month, per location, compared to our other top picks with starter plans starting at $79 per month (Lightspeed).
It doesn't provide a customizable mobile checkout, though Shopify delivers this option. It also lacks specialty/custom orders (something that Lightspeed Retail provides) and layaway payment methods—a feature present in Vend's POS system.
Shopify POS: Best for Omnichannel Sales
Shopify POS

Overall Score:
4.43
OUT OF
5
RATING CRITERIA

Pricing
3.75
OUT OF
5
Register Features
4.88
OUT OF
5
Management Features
4.25
OUT OF
5
Ease of Use
4.68
OUT OF
5
Expert Score
4.69
OUT OF
5
What We Like
Best-in-class omnichannel features
Intuitive mobile app interface
Customizable mobile checkout
Accept many payment types
What's Missing
POS available only with ecommerce plan
Limited inventory features in the free plan
Minimal offline payment options
Paid subscriptions are pricey
Best for:
Retail businesses that primarily sell online: Shopify is our top pick for best ecommerce platforms, and Shopify POS comes for free in any of its ecommerce subscription plans.
Multichannel retailers: Shopify tops our list of best multichannel POS systems. It lets you sync online and in-person sales, process curbside and pickup orders, start sales in-store, and finish them online.
Shopify POS is an add-on to Shopify's industry-leading ecommerce platform. It's only available to Shopify ecommerce sellers, so it's best for online stores looking to expand to in-person sales or small businesses looking to sell online and upgrade their in-store software program.
However, it offers powerful, comprehensive omnichannel selling features that make it the best option for retailers wanting to grow online sales or emphasize curbside pickup—a necessity for retailers today. The software makes it easy to keep all your brick-and-mortar and ecommerce sales and activities organized by placing them on one dashboard and syncing them together.
Not only that, but Shopify helps you to add your shop to your social pages and Google listings during POS signup and includes those storefronts on your main screen for easy management.
In our evaluation, Shopify earned a 4.43 out of 5 with near-perfect marks for ease of use and register features. It offers sophisticated sales tools in a customizable, user-friendly package that can grow with your business. Ecommerce subscription requirements, along with limited functionality in the free POS plan, prevented Shopify from earning a higher score.
Shopify POS Pricing Plans
| | Shopify POS Lite | Shopify POS Pro |
| --- | --- | --- |
| Monthly fee* | $0 | $89 |
| Customizable checkout screen | ✔ | ✔ |
| Shop in-store, buy online | ✔ | ✔ |
| Buy online, pickup in-store | N/A | ✔ |
| In-store shipping options | N/A | ✔ |
| Gift cards and custom payment types | ✔ | ✔ |
| Team management, inventory tracking, and reporting | Basic | Advanced |
*In addition to a Shopify ecommerce plan, which ranges from $9–$299 per month.
Processing fees: Rates range from 2.4%–2.7% based on ecommerce plan (all types of card transactions)
Hardware options: Bundles start at $229, not including the iPad; installment plans are available for hardware purchases
Shopify POS Features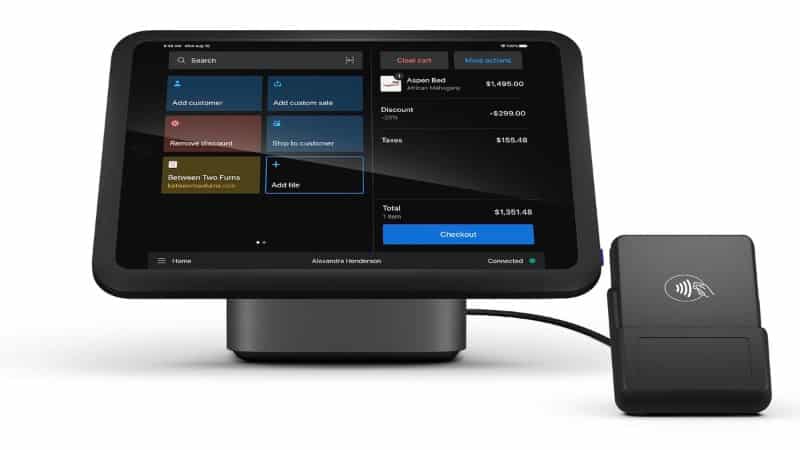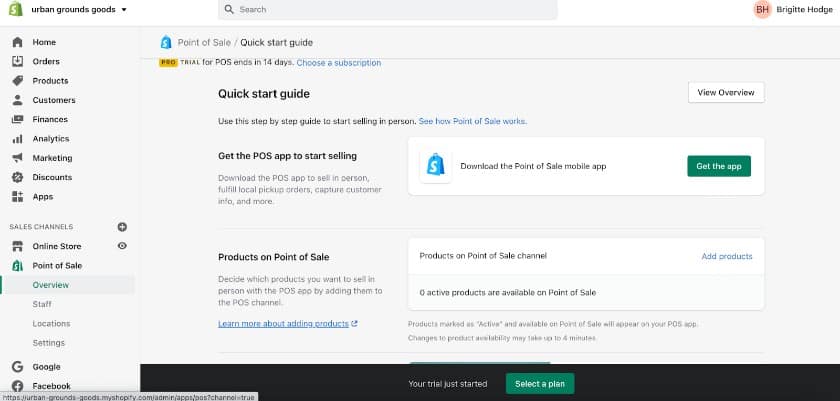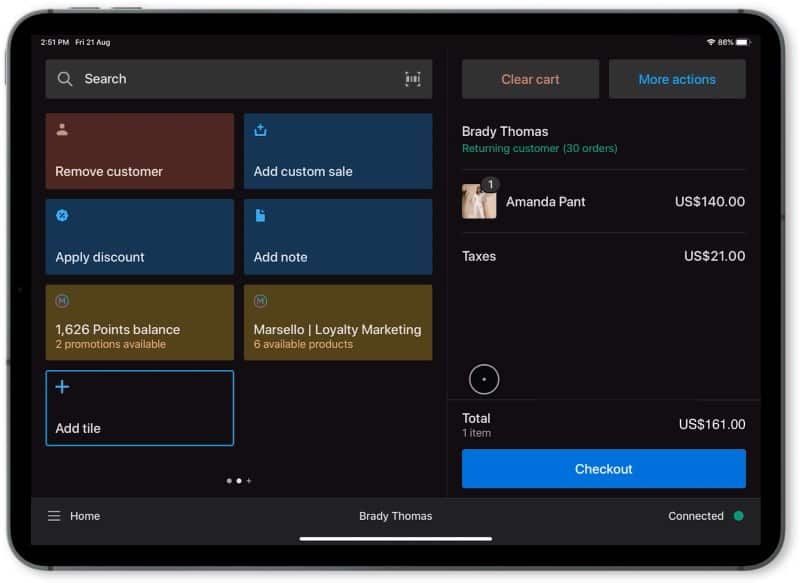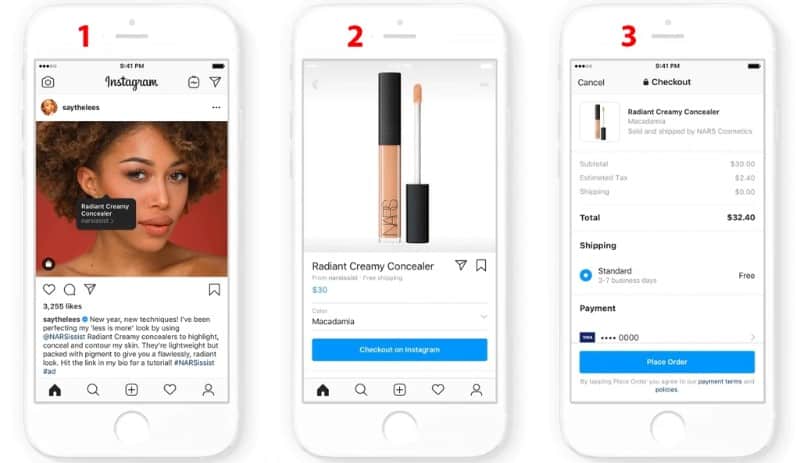 Omnichannel sales: Customers can browse in-store and have item information emailed to them, scan QR codes to open product pages on your website, and get real-time shipping updates. You can offer curbside pickup, accept returns and exchanges for online purchases in-store, and ship in-store purchases to customers' homes. All data seamlessly syncs between ecommerce and your physical store.
Checkout: Customize the register screen, add shortcuts, sell on mobile, customize receipts, and save carts. The Shopify app also lets you scan barcodes directly with your device camera.
Products and inventory management: Create collections and item variants, manage multiple locations, track stock levels, manage purchase orders, receive vendor shipments, set up low stock alerts, forecast product demands, and get suggestions for items to discount. Shopify keeps all of your inventory in an easy-to-manage directory, and adding products is as easy as a few clicks.
Reporting: View stats at-a-glance, see cash flows, review finance reports, and track cash and daily sales.
Staff management: Assign individual PINs, set custom permissions, and attribute sales to award commissions.
Customer management: Create customer profiles, segment customers, add notes to profiles and individual orders, set marketing preferences, and build loyalty programs. You can use customer profiles to track points and purchase histories and to build customer loyalty.
Marketing: Collect product reviews, create email marketing campaigns, integrate social media accounts, add Shopify to your Google listing, and create Google Ad campaigns. Shopify sets you up with an entire marketing profile when you sign up for its program. Here, you can see what you have spent on marketing, assess the effectiveness of your campaigns, and easily integrate your store with marketing apps like Pinterest and email campaign platforms.
What Shopify POS Is Missing
If you plan to use a POS mainly for brick-and-mortar operations for your store, Shopify would not be a good option. It only comes free if you subscribe to Shopify's ecommerce solution, and if you need to use its POS offline, an $89 fee per location is added to your billing. Square for Retail remains to be a better fit for brick-and-mortar operations; it has a free plan (and a free ecommerce solution called Square Online).
Shopify also lacks some basic employee management features like individual sales tracking and timecard reporting in its free plan. Additionally, multiple user permissions are only available under the Pro plan. Most POS systems such as Square for Retail and Vend, have this in their primary offerings. Further, in my experience, while Shopify provides a lot of helpful setup tools, I thought it had a less user-friendly interface and setup was more cumbersome than with Square.
If you're looking to sell online or need a multichannel sales tool for online and in-person sales, you might be choosing between Shopify and Square. Check our Shopify vs Square review for an in-depth comparison.
Lightspeed Retail: Best for Inventory Management & Custom Orders
Lightspeed Retail

Overall Score:
4.38
OUT OF
5
RATING CRITERIA

Pricing
3.50
OUT OF
5
Register Features
3.94
OUT OF
5
Management Features
4.88
OUT OF
5
Ease of Use
4.69
OUT OF
5
Expert Score
4.38
OUT OF
5
What We Like
Detailed, actionable analytics
Granular inventory management, including matrices
Built-in RACS compliance
Strong native ecommerce platform
What's Missing
Complex interface
No built-in local delivery tool
Unavailable on Android
Pricey
Best for:
Businesses that need an advanced inventory management system: Storefronts with high SKU counts can be easily managed by Lightspeed Retail's product tracking and customizable matrix inventory. It's the best POS for inventory.
Specialty retailers—bike shops, repair businesses, and electronic shops: Lightspeed Retail's detailed inventory and work-order management tools make it a great fit for more specialized and niche shops.
Lightspeed Retail is a robust retail POS system that includes more than 40 sales and inventory reports, analytics tools, and detailed inventory management features. Lightspeed also has top-of-the-line ecommerce and loyalty program add-ons.
Overall, Lightspeed Retail is one of the best retail POS systems because of its sophisticated inventory and analytics tools. It makes it easy to add products and include tons of information like custom product codes and automatically generated barcodes. It can also run the most high-level inventory reports of all of our POS options, including segmented tracking, demand forecasting, and inventory counts.
In addition to its inventory management features, Lightspeed is also unique for its ability to process custom and work orders. This makes the software especially great for specialty shops, like bike stores or jewelers, that need to process repairs or order individual parts.
In our evaluation, the platform earned a 4.38 out of 5 with a nearly perfect score for ease of use and its advanced inventory management features. It's our top-recommended POS for inventory management. Expensive subscriptions and a complex checkout screen prevented Lightspeed Retail from earning a higher score. Square is a better option for those looking to avoid paying monthly fees.
Lightspeed Retail Pricing Plans
Lean

Standard

Advanced

Monthly price (monthly billing)

$79

$139

$239

Monthly price

(annual billing)

$69

$119

$169

POS and Payments

✔

✔

✔

Ecommerce

N/A

✔

✔

Accounting

N/A

✔

✔

Loyalty

N/A

N/A

✔

Advanced Analytics

N/A

N/A

✔
Processing rate: 2.6% + 10 cents for card-present payments
Hardware options: Every account includes POS and payment processing with a free payment terminal. (Additional registers are $29 each.) Startup hardware bundles start around $699.
Lightspeed Retail Features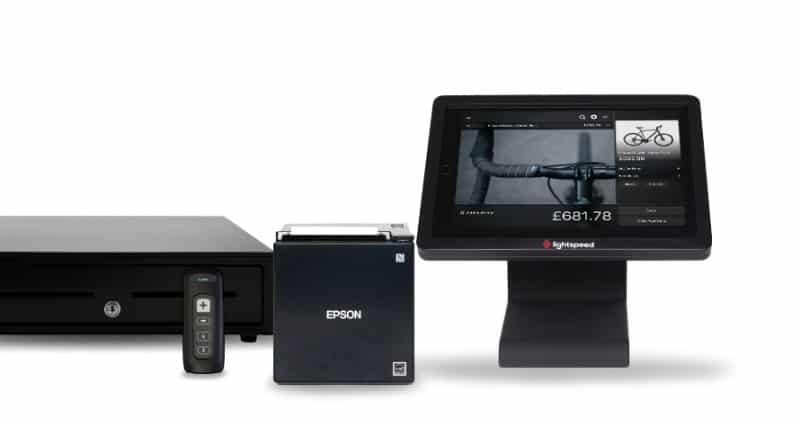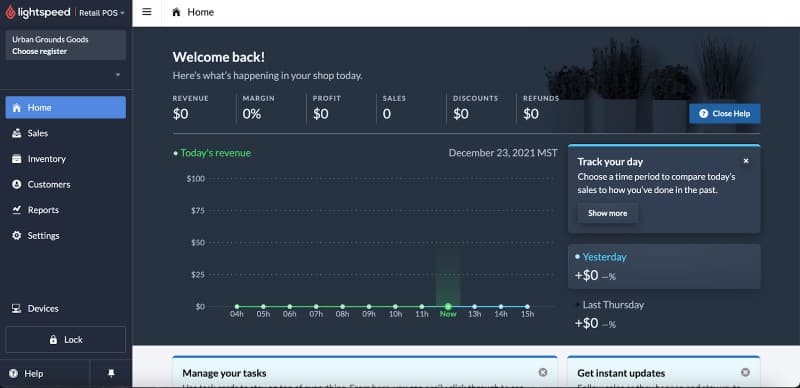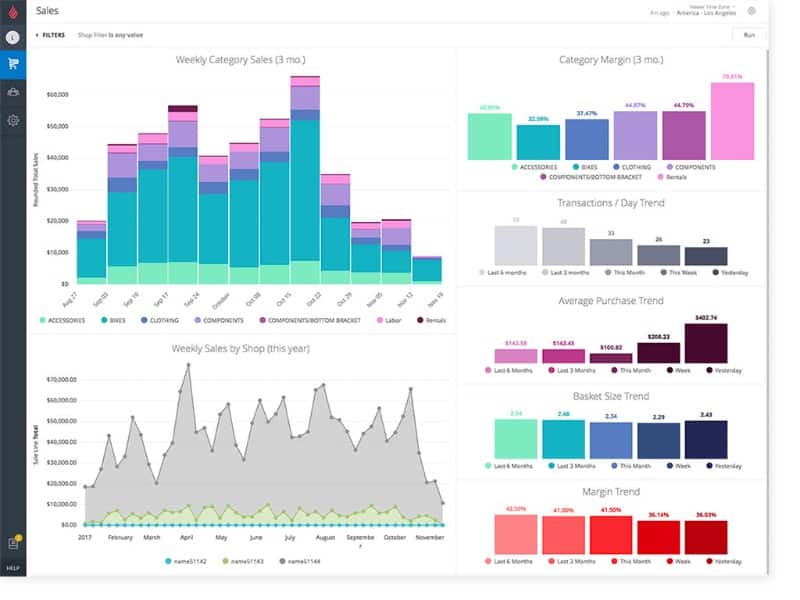 Inventory management: Manage custom orders from shoppers, bundle items for gift baskets, run segmented reports, and anticipate inventory needs. This forecasting tool and ability to predict shopping trends are part of what sets Lightspeed apart from the competition.
Supplier market: Lightspeed POS comes with over 8 million products loaded into its system from the supplier directory. This means that you can create, manage, and submit purchase orders from within the system and easily import accurate product information. You can also add products from this catalog directly to your inventory list so you don't have to enter everything manually.
Customer management: Create customer profiles, track transactions, assign VIP status, manage promo codes, and sell and redeem gift cards. Automated loyalty program available with Standard and Advanced plans.
Reporting and analytics: Lightspeed includes more than 40 built-in reports that cover inventory, sales, employee performance, and more in one analytics dashboard. What sets Lightspeed apart is that this system translates data into actionable business tips. For example, it can take sales and traffic data and translate that into staffing and inventory reports to help you prepare for peak hours. It also automatically sends daily sales reports to your email each night, so you can stay on top of things day-to-day.
Ecommerce and omnichannel tools: Lightspeed eCom integrates seamlessly with the POS software. Choose from several mobile-responsive and customizable online store templates and manage inventory, product pages, shipping, returns and exchanges, marketing, and reports. Lightspeed eCom is available in multiple languages and currencies, with international shipping options. Boost traffic by connecting your social accounts, utilizing Lightspeed's SEO tools, and sending newsletters and notification emails.
What Lightspeed Retail Is Missing
The main drawback of Lightspeed Retail is that all of its inventory and reporting tools come with a high price tag—one of the most expensive options on this list. If you are looking for an affordable option, then consider Square for Retail. Additionally, unlike Square and Shopify, where your online sales channels are included in your POS interface, this is not the case with Lightspeed, making it less convenient to manage multiple sales channels from its system.
Vend by Lightspeed: Best for Flexible Payments
Vend

Overall Score:
3.66
OUT OF
5
RATING CRITERIA

Pricing
1.00
OUT OF
5
Register Features
4.00
OUT OF
5
Management Features
4.25
OUT OF
5
Ease of Use
3.75
OUT OF
5
Expert Score
4.38
OUT OF
5
What We Like
User-friendly interface
No additional fees for third-party payment processors
Custom payment options
Free apps for inventory scanning and customer-facing display
What's Missing
High price point
Transaction volume limit on its basic plan
No native ecommerce functions
Basic reporting tools
Best for:
High-volume or multilocation retailers such as gift shops, homeware stores, fashion boutiques, and health and supplement retailers: Vend by Lightspeed offers sophisticated multilocation inventory tracking, including centralized warehouses management.
Vend by Lightspeed is an intuitive POS system built specifically for retailers, with key features such as built-in loyalty programs, mobile checkout, a customer-facing display app, and a mobile scanner app for quick inventory counts. Vend also stands out for its flexible payment options—you can choose your own merchant account and set up custom payment types like layaway, store credit, and on-account sales. Some providers even offer special processing rate discounts for retailers working through Vend.
The platform's checkout screen is also one of the easiest to navigate in terms of in-store checkout process, including ringing up returns and exchanges. While many POS systems try to offer every feature for every business, Vend focuses on providing fantastic in-store retail functions and lets third-party apps handle everything else, including payments, website, and employee management tools.
In our evaluation, Vend earned a 3.66 out of 5. It has exceptional functionality, but its steep price point prevented it from earning a higher score. It is especially pricey when you consider that you will need a separate merchant account, ecommerce software, and employee management tools. While this design does lend to flexibility, it also comes at a steep cumulative price.
If you want to read more about what we think of Vend, check out our full Vend review.
Vend by Lighting Pricing Plans
| | Vend Lite | Vend Pro |
| --- | --- | --- |
| Monthly fee (annual billing) | $99 | $129 |
| Monthly fee (monthly billing) | $119 | $159 |
| Monthly turnover limit | $20,000 | Unlimited |
| Inventory management | ✔ | ✔ |
| Customer-facing display | ✔ | ✔ |
| Barcode scanning app | ✔ | ✔ |
| Loyalty | N/A | ✔ |
| Reporting | Basic | Advanced |
| Add-ons and ecommerce integrations | N/A | ✔ |
| Customer support | 24/7 | 24/7 with a dedicated account manager |
Hardware options: Vend offers POS hardware bundles starting at $600
Vend by Lightspeed Features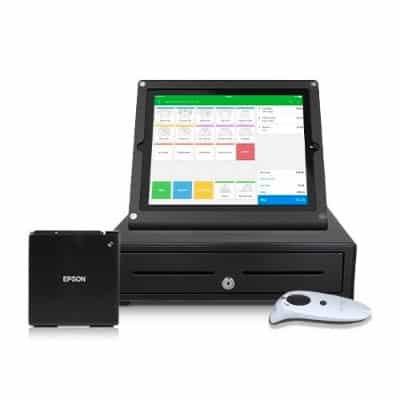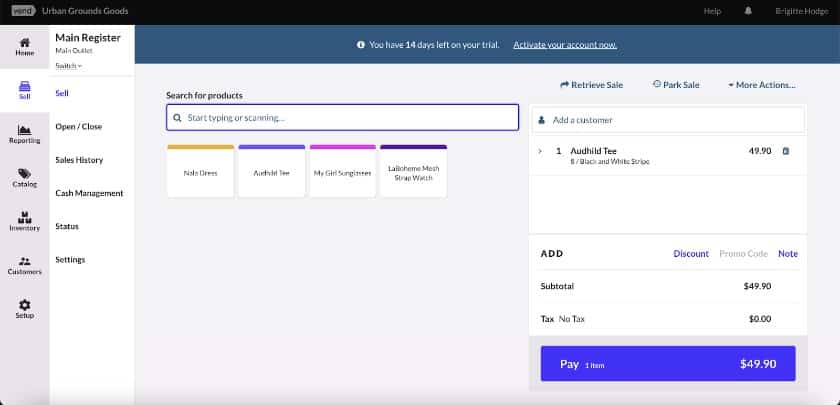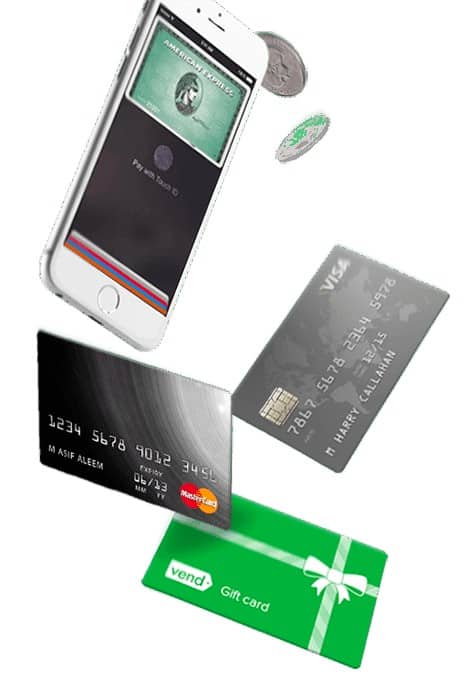 Checkout: Customize the POS app with shortcuts, add notes and line items to transactions and customer receipts, save transactions to complete later, manage gift cards, and set up layaway and on-account payments. The interface is intuitive and easy to use, walking you through the checkout steps so you can't make a mistake.
Payment processing: Vend by Lightspeed integrates with CardConnect (First Data), Chase, Elavon, Klarna, PayPal, Square, Worldpay, and others, so you can shop around for the lowest rates. Vend also offers lots of flexibility with features like store credit and layaway payments.
Inventory: Track inventory across multiple stores, create a centralized product catalog, edit products in bulk, automate purchase orders, create variants and composites, and print labels and barcodes. Vend has a unique scanner mobile app to look up products by barcode, perform inventory counts, update stock counts, and add new products to the catalog.
Customer management: Create customer profiles, import existing customer lists, sell and redeem gift cards, segment customer groups, export customers to email marketing software, issue store credit, and create a custom loyalty program. Unlike with Square, there is no purchase history information.
Add-ons and integrations: MailSync syncs Vend POS data to Mailchimp, Constant Contact, and other email software. Connect with other marketing tools like Yotpo and Perkville, inventory tools like Orderhive and SkuIQ, accounting tools like QuickBooks and Gusto, ecommerce platforms BigCommerce and Shopify, and more.
Employee management: Create customized user logins and permissions for staff, require employee passwords for each sale to track performance, and get register and shift reports. One unique feature of Vend is setting individual employee and team sales goals and average basket sizes.
Reporting: Vend lets you customize reports and adjust filters and variables to view data on customers, inventory, and employees. Vend's reporting capabilities, however, are much more limited than Lightspeed's, lacking segmentation or advanced CRM functions.
What Vend by Lightspeed Is Missing
Vend has the most expensive basic plan among our top picks. In addition, the need for a separate merchant account, ecommerce software, and employee management tools make this POS option not-so-ideal for businesses on a budget. For a free option, consider going with Square for Retail and sign up for its free plan.
How We Evaluated Retail POS Systems
We prioritized POS systems that are affordable, reliable, and easy to use. We also considered inventory management tools, online store and multichannel selling features, customer and employee management, payment processing options, reporting and accounting tools, customer support hours and quality, and third-party integrations. Not only that, but we put every one of these products' claims to the test by using the software ourselves, assessing its performance based on our real-life experiences.
While every system on this list is cloud-based (you can use them with equipment that you already have), all offer multiple hardware options, like iPad tablets and card readers. Each POS system on this list also offers mobile iPad apps for sales on the go, tools for selling online, and multiple plans so the software can grow with your business. Based on our evaluation, Square for Retail is the best overall retail POS system, earning it a 4.54 out of 5.
Click through the tabs below for our in-depth evaluation criteria:
15% of Overall Score
We prioritized systems with a starter plan with monthly fees less than $75, awarding extra points to systems that offer a free plan. We also considered payment processing fees and whether each system offers negotiable or volume discount rates. Finally, we penalized systems that cap the number of users, products, transactions, or sales you can process without upgrading plans. Square for Retail is the only provider that got a perfect score in this criteria.
20% of Overall Score
Retailers need speedy checkout tools like customizable hotkeys and easy product lookup, return management, and mobility to ring sales curbside or on the sales floor. We also prioritized systems with flexible payment tools like contactless, gift card, store credit, layaway, and order-ahead options. Finally, we considered whether each system could process custom, work, or service orders such as repairs. Shopify POS was the runaway winner in this category with its customizable mobile checkout feature.
35% of Overall Score
The most important consideration was inventory management—low-stock alerts, matrix inventory, and purchase orders, plus easy stock counts and shipment receiving. We also looked into CRM tools like directories, loyalty programs, marketing, and customer feedback collection.
Additional points were given for employee management features, including logins, scheduling, and commission reporting. Seamless omnichannel management for creating an online store and processing ecommerce orders and detailed reporting for products, sales, customers, and employees were also considered. Lightspeed Retail won this category with its standout inventory and analytics tools.
15% of Overall Score
For this section, we looked for easy installation, detailed training materials, and 24/7 customer support. We also prioritized systems that are a hybrid installation or otherwise offer an offline mode so you can still operate if the internet goes down.
We also awarded points to software that can run on various hardware so retailers can choose their preferred devices. Finally, we took our own experience using the software into account, examining how features performed in practice. Lightspeed Retail, Shopify POS, and Vend by Lightspeed all got perfect scores in this criteria. Square for Retail's only minus was limited customer support hours.
15% of Overall Score
In this section, we evaluated each system by its comprehensive feature set (including any standout tools), the value it offers for the price, popularity and user reviews, whether or not the system experiences a lot of downtime, and the overall experience of navigating the system's interface. Square for Retail and Shopify POS got our top votes.
*Percentages of overall score
Bottom Line
A retail POS system is a crucial tool that serves as the central hub for your retail business. In addition to processing sales, retail POS systems collect and analyze data to help inform purchasing and staffing decisions, manage employees and inventory, and help build your customer base with loyalty and marketing efforts.
Square for Retail is our top pick because it has a free plan to help new businesses (or businesses new to using a point of sale) get started, with plans and add-ons to grow with your operations. The platform also makes it easy to set up a basic online store with in-store pickup options, manage customers, and track sales. Create a free Square account today.