Best Mobile Credit Card Processors of 2023
This article is part of a larger series on Payments.
Mobile credit card processing allows merchants to sell products and accept card payments from almost anywhere with a smartphone or tablet. The best mobile credit card processor should be reliable, have affordable transaction fees, come with a free business management app, and function offline.
Based on our evaluation, the best mobile credit card processors are:
Best Mobile Payment Processors Compared
Monthly Fees

Card-present Rates

Card-not- Present Rates

Chargeback Fees

Card Reader

$0

2.6% + 10 cents

3.5% + 15 cents

Waived $200 per month

Free magstripe; $49 for chip and tap

$0–$14.95

Depends on payment processor

 $49

$0

2.75%

3.25% + 15 cents

$0

$39 to $129

$0–$89 + $39–$399 (Ecommerce account)

2.4% to 2.7%

2.4% plus 30 cents to 2.9% plus 30 cents

$15

$49

$0

2.29% plus 9 cents

3.49% plus 9 cents

$20

$29 for first; $79 after

$79

Interchange plus 8 cents

Interchange plus 18 cents

$25

$49
Card-reader Type

Offline Payments

Same-day Deposit

Apple Store Reviews

Google Play Store Reviews

Tap and dip (additional reader for swipe)

✓

Available for a fee (1.75% per transfer)

Tap, dip, and swipe

✓

Depends on payment processor

Tap, dip, and swipe with PIN pad

✓

N/A

(1–3 business days)

Tap and dip

Limited

Apple Store:

Google Play:

Tap and dip with PIN pad

✕

Available for a fee (1.5% per transfer)

Apple Store:

Google Play:

Tap, dip, and swipe

✓

N/A

(Next business day)

 

Apple Store:

Google Play:
Every merchant should be familiar with the ins and outs of accepting card payments. Read our guide on how to accept credit card payments in six steps.
Get a Personalized Recommendation
Unsure which credit card processor is best for you? Take this four-question quiz to find out. You'll get a recommendation without being redirected to another page.
Square: Best All-purpose Mobile Credit Card Processor

Pros
Mobile, in-store, and online sales channels
Free top-rated POS
Instant signup—no application or approval required
Grows with you—business tools, banking, and payroll add-ons possible
Cons
Expensive for large businesses
Account instability
Not suitable for high-risk or high-volume businesses
It can be difficult to reach customer service
Square is the best mobile credit card processor for small businesses. The mobile payment processing option has no monthly or startup fees, and the application is easy. You can get up and running in no time with the free POS app while you wait for the free magstripe credit card reader to arrive. The app works offline, is compatible with Android and iOS, and has an excellent inventory program.
Square's transaction fees are the most expensive on our list. However, it offers the most features, with specialty POS software for restaurants and appointment-based businesses, plus a free online store. Square does offer custom volume discounts for businesses processing over $250,000 annually with average transactions over $15. It also has checking and savings, payroll, and other plans you can add as your needs grow.
When You'll Outgrow Square
Square is geared toward small businesses and individuals. Once your business grows and is consistently processing more than $10,000 monthly, you can get lower fees and a better overall value by switching to solutions like Payment Depot, which offers interchange-plus pricing.
If your business is ecommerce, you'll likely want a mobile payment processor that's connected to your online store. In this case, Shopify offers a much more robust online selling solution, and its mobile POS app is the best for multichannel sales.
If you already have a merchant account and need a mobile card reader, Clover is a popular mobile POS and hardware solution that works with many merchant accounts.
---
Square Pricing
Monthly fee: $0
Card reader: Free magstripe, $49 chip and tap
Card-present transactions: 2.6% plus 10 cents
Keyed-in transactions: 3.5% plus 15 cents
Ecommerce transactions: 2.9% plus 30 cents
Invoices: 3.3% + 30 cents per transaction (free plan), 2.9% + 30 cents (paid invoice plan)
Chargeback fee: Waived up to $250
Square Features
Next-day deposits
Instant payouts for a 1.75% fee
Free invoicing
Free online ordering page
QR code payments
Offline processing
---
Square Card Readers
| | |
| --- | --- |
| | |
| First free, additional $10 | $49 |
Square Mobile App
| | |
| --- | --- |
| | |
| 4.8 out of 5, 382,000-plus reviews | 4.7 out of 5, 199,000-plus reviews |
---
Square Offers the Best All-around Payment Solution
In general, we recommend Square as the best all-around mobile payment processor for its free iPhone and Android processing solutions, affordable and high-tech mobile card readers, and feature-rich payment app.
Square rated best overall in:
Clover Go: Best for Compatibility With Most Business Types

Pros
Works with a variety of merchant accounts
Supports barcode scanning
Robust smartphone POS
Easy to use
Cons
Pricing and contract varies depending on who you sign up with
Monthly fee
Poor customer service
Hardware cannot be reprogrammed
Clover offers everything a standard mobile processor does, including payment processing, inventory management, and analytics reporting. After Square, Clover has the most feature-packed point-of-sale (POS) app on this list, but what makes Clover interesting is that it can be programmed to work with almost any traditional merchant account (however, it cannot be reprogrammed if you decide to switch payment processors).
You can either set up your account through Fiserv, which owns Clover, or one of its authorized resellers. However, while Clover provides more variety than any other app on our list, the pricing and support you receive can vary greatly depending on which merchant account provider you choose.
---
Clover Fees*
Monthly fee: $0 to $14.95
Card reader: $49
Card-present transactions: 2.6% plus 10 cents
Keyed-in transactions: 3.5% plus 10 cents
Chargeback fees: $25
Clover Features
Proprietary 3-in-1 card reader
Add multiple employees and permission levels
Extensive app market
Offline processing
*Pricing from Clover website for Clover Go product. Available at different rates through resellers and other merchant service providers.
---
Clover Mobile Card Readers
Clover Mobile App
| | |
| --- | --- |
| | |
| 4.8 out of 5, 30,000-plus reviews | 4.6 out of 5, 4,200-plus reviews |
---
SumUp: Best for Small, Mobile Businesses With Low-ticket Sales

Pros
Includes a virtual terminal
Pay-as-you-go subscription
Free payment app
Cons
Poor user reviews for mobile app
Does not support high-risk merchants
Limited ecommerce integrations
SumUp offers a unique line of advanced yet cost-effective mobile card reader solutions. Its card readers are some of the most advanced in the industry, supporting both mobile-device-compatible and standalone card readers. Options include basic 3-in-1 (swipe, chip, and tap) readers and touchscreen keypads. Price starts at $39.
Mobile credit card payments with SumUp costs 2.75%—most economical for small ticket sales. Other options on this list charge a 10- to 30-cent transaction fee, which can be expensive for businesses selling $5 to $20 items. SumUp is a great alternative to Square if you have a mobile business and with ticket items averaging anywhere between $20–$50.
SumUp appears on several of our "best of" lists, including:
---
SumUp Pricing
Monthly fee: $0
In-person transaction: 2.75%
Online transaction: 3.25% plus 15 cents
Invoicing: 2.9% + 15 cents
Virtual terminal processing: 3.25% plus 15 cents
Card reader: $39 to $199
Chargeback fee: $0
SumUp Features
Supports 3-in-1 mobile device-based and standalone card readers
Easy two-step setup
Inventory management tools
One to three business days' deposit speed
---
SumUp Card Readers
| | |
| --- | --- |
| | |
| $39 ($49 with dock) | $129 ($199 with printer) |
SumUp Mobile App
| | |
| --- | --- |
| | |
| 3.2 out of 5, 200-plus reviews | 3.1 out of 5, 69,000-plus reviews |
The SumUp mobile app is getting better reviews with every update for this guide. However, it doesn't seem to be as popular with merchants using iPhones (based on number of reviews) compared to those using Android smartphones.
---
Shopify: Best for Online Businesses Needing a Mobile App for In-person Sales

Pros
User-friendly and intuitive interface
24/7 support
Powerful reporting tells you which items are most likely to sell
Integrates multichannel selling
Cons
Costs at least $39/month for a full ecommerce store
No low-stock alerts without upgrade
3-in-1 card reader only for iOS
Can't process credit cards offline
If you want to sell primarily online but need a mobile app for in-person sales, then Shopify could fit the bill. It's our top pick for best mobile credit card processing for Shopify merchants and our top-recommended ecommerce platform. Other apps on our list, like Square, come with online stores but none have the power of Shopify. It ties your online store to your mobile POS so that as you sell items, inventory stays up-to-date in both applications.
Like PayPal, Shopify has a wide international reach with transaction fees similar to Square's. It also offers some business services, such as marketing and shipping tools.
Learn more about Shopify:
---
Shopify Pricing
Monthly fee: $0 to $89
Card reader:

Basic Shopify card reader: $49 chip and tap
Stand-alone mobile POS w/ card reader: $99.75 x4 ($399)

Card-present transactions: 2.4% to 2.7%
Keyed-in transactions: 2.4% plus 30 cents to 2.9% plus 30 cents
Online transactions: 2.4% plus 30 cents to 2.9% plus 30 cents
Additional fee if not using Shopify Payments: 0.5%–2%
Chargeback fee: $15
Shopify Features
Supports 3-in-1 and 2-in-1 card readers
International sales
Includes online store
Gift card processing
Multichannel sales
Marketing and shipping tools
Dropshipping functions
---
Shopify Mobile Card Readers
| | |
| --- | --- |
| | |
| (iOS and Android) $49 | $399 or $99.75 x4 through Shop Pay |
Shopify Mobile App
| | |
| --- | --- |
| | |
| 4.5 out of 5, 7,300+ Reviews | 3.2 out of 5, 1,900-plus reviews |
User reviews for the Shopify POS app for Android has been on a downward trend and there have only been 200 additional reviews since the last update.
---
PayPal Zettle: Best for Occasional Payments & PayPal Users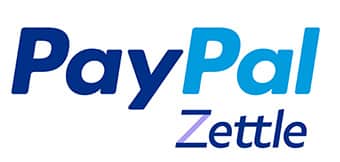 Pros
Easy to set up and use
Affordable for small, occasional transactions
Instant payout to your PayPal account
Trusted by consumers
Pros
Account stability issues
Limited inventory management features
Weekly limit for swiped and keyed-in payments
May freeze funds at any time; 30-day hold on funds over weekly limit
PayPal is a popular and versatile mobile credit card payment processor. It works online and in person, with other payment processors or on its own. PayPal also does not charge monthly fees for inactivity, making it great for the solopreneur and hobbyist needing only occasional payment processing. Like Square, PayPal can deposit sales instantly, but fees are slightly better.
Zettle's mobile card reader comes with a PIN pad at a significantly affordable price when compared to Helcim (offering a similarly built card reader that cost $109 and did not make it to our list). It also recently launched a standalone mobile POS with built-in card reader that cost $199–$269.
---
PayPal Zettle Pricing
Monthly fee: $0
Card reader:

Basic card reader: $29 for the first; $79 after
Stand-alone mobile POS w/ card reader: $199–$269

Card-present transactions: 2.29% plus 9 cents
Keyed-in transactions: 3.49% plus 9 cents
Quick response (QR) code transactions: 2.4% plus 5 cents to 1.9% plus 10 cents
Invoices and other commercial transactions: 3.49% plus 15 cents
Chargeback fee: $20
PayPal Zettle Features
Accept PayPal and Venmo payments
Proprietary 2-in-1 card reader with PIN pad
Payouts in one to two business days
Instant access to funds with PayPal balance
Simple product catalog
Configure tax and tip settings
---
PayPal Zettle Card Reader
PayPal Zettle Mobile App
| | |
| --- | --- |
| | |
| 3.0 out of 5, 640-plus reviews | 3.8 out of 5, 42,400-plus reviews |
Unfortunately PayPal also continues its downward trend in user review ratings for its mobile app. This is from both iOS and Android mobile users. It's important to note that most of the negative reviews stem from former PayPal Here users switching to PayPal Zettle.
---
Payment Depot: Best Mobile Credit Card Processing for Small, Established Businesses

Pros
No mark-up transaction fee
90-day money-back guarantee
Free equipment and equipment programming
Cons
Low processing limits
Lacks native recurring payments processing
US merchants only
Payment Depot offers all-in-one subscription-based plans, wholesale transaction rates, and Stax payment processing tools at a more affordable price range. Because it is a dedicated payment processor, Payment Depot can offer secure payment processing and reliable software to small, growing businesses processing up to $250,000 per year.
As for mobile payments, Payment Depot partners with SwipeSimple for credit card processing. You can add tips, save payment information, use a product catalog, and process returns. Note that Payment Depot also offers free equipment reprogramming and free equipment to qualified merchants.
Payment Depot frequently makes our "best of" lists, including:
---
Payment Depot Pricing
Monthly fee: $79
Card reader: $49
Card-present transactions: Interchange plus 8 cents
Keyed-in transactions: Interchange plus 18 cents
Chargeback fee: Varies, from acquiring banks and passed on to merchants
Payment Depot Features
Mobile powered by SwipeSimple
Supported by Stax payment processing tools
Wholesale interchange-plus pricing
Free equipment reprogramming available
---
Payment Depot Card Readers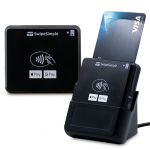 (Usually $49) Contact Payment Depot for pricing
Payment Depot Mobile App
| | |
| --- | --- |
| | |
| 4.8 out of 5, 4,800-plus reviews | 4.5 out of 5, 1,500-plus reviews |
SwipeSimple's Android payment app gained significant improvement in users review, from 3.3 to 4.5 out of 5. This comes with just 400 more user reviews since our last update, which clearly shows that the majority of merchants like the app.
---
Compare Your Processing Fees
Compare your estimated monthly fees when using our recommended mobile credit card processors.
How We Evaluated the Best Mobile Credit Card Processors
For this update, we prioritized affordability and value-for-money when evaluating each mobile credit card processor. Our goal is to offer the best recommendations for small merchants—from startups to growing businesses. We made sure each provider is convenient, flexible, and reliable and has low or no upfront costs and competitive processing rates.
We evaluated over a dozen mobile credit card processors based on price, ease of use, the mobile app, reliability, and web-based and general account features, then narrowed the list down to the six best solutions. Click through the tabs below for our full evaluation criteria:
20% of Overall Score
To receive a perfect score, mobile processors need to offer month-to-month billing with no contracts, cancellation fees, chargeback fees, monthly minimums, or strict application processes.
20% of Overall Score
We awarded points for each type of payment each mobile processor can handle, including point-of-sale, invoice, virtual terminal, and contactless payments. We also awarded points for mobile apps with split tender options and flexible tipping solutions.
20% of Overall Score
The best mobile processors can accept payments offline, operate on iOS and Android devices, issue SMS and email receipts, and be used to manage a product catalog. The best systems also have a free POS app with business management functions like reporting.
20% of Overall Score
We prioritized mobile processors with free 24/7 customer support, fast deposit times (next day or sooner), multiple card reader options, and robust sales tax management.
*Percentages of overall score
Mobile Payment Processing Considerations
Whether you run a primarily mobile business, or just expanding sales by adding a mobile payment method, there are a number of factors to consider before choosing a mobile credit card processor:
Card-reader compatibility: So many poor reviews for mobile apps involve problems with connecting (and keeping) mobile devices connected to a card reader. It's important to check your smartphone's software compatibility to make sure that your mobile device specs match that of the mobile app requirements.
Internet connectivity: While you can use your smartphone's data to keep connected to the internet, experiencing downtime can be expected while on the move. Losing internet connection while processing a payment is a bad experience for both you and your customer.
Payment methods: Convenience is what makes mobile payment processing popular with both merchants and customers. Be sure that you choose a provider that offers a wide range of payment method options like digital wallets, Buy-now-pay-later (BNPL), and tap to pay.
How to Choose Mobile Credit Card Processors
When choosing the best mobile credit card processors, it's important to look at both the mobile app and the card reader and review its overall reliability, security, and value-for-money.
1. Identify your business needs
Mobile credit card processing needs differ from one business model to another. For example: restaurants and service professionals may need a mobile app that can handle tips or keep open tabs. Other businesses may need a full stand-alone mobile POS device instead of a simple credit card reader attached to a smartphone.
2. Evaluate hardware reliability
Evaluate a hardware's reliability before jumping at the opportunity to grab free credit card readers. Make sure that the provider offers ample warranty, accessible technical support, and does not charge a pretty penny for replacement or repairs. You should also read the latest real-life user reviews of both the hardware and payment app.
3. Consider value-for-money features
You should not have to spend so much in monthly fees for a mobile payment processing service with features that your small business currently doesn't need. Conversely, there's also no sense in getting a credit card reader for free if it doesn't come with the payment methods and features you often use, or requires you to pay additional fees for access. Look for a merchant processor that gives you free access to your preferred payment tools while also having advanced features that can grow with your business.
Mobile Credit Card Processing Frequently Asked Questions (FAQs)
For small businesses, the best app for credit card processing is Square. Not only does Square offer the most reliable set of mobile credit card readers but it also provides merchants with free POS software with built-in online store, invoicing, and employee management tools—all of which you can access from the Square mobile app.
Square does not require an application process so you can start accepting mobile credit card payments in minutes. Transaction rates are competitive and there are no monthly fees, making Square the best value-for-money credit card processing app in the industry. Read more about Square.
---
Square is the overall cheapest when it comes to credit card processing for small businesses, which includes mobile payments and other payment methods. However, there are other affordable credit card payment processors depending on your business size and type. Square and most of the providers in our list can be found in our rundown of the cheapest credit card processing companies.
---
You can always key in your customer's credit card information to process payments if you don't have a credit card reader. This feature comes free with any mobile credit card processor but note, however, that transaction rates for this method are slightly higher (keyed-in or card-not-present fees start at 3.5%) compared to swiped, tapped, or chip payments (from 2.29%). Learn more in our guide to credit card processing fees.
---
---
Bottom Line
Whether you're a brand-new business that is starting out with cellphone credit card processing or an established store looking to take your business on the go, the best mobile credit card readers would be ones that are cost-effective, reliable, and easy to use. It'd be even better if you didn't have to deal with monthly transaction minimums, fees, or contracts.
Square is a great mobile credit card processing company for small businesses. It is easy to use, has a full POS, and lets you accept payments anywhere, even offline. No applications, startup fees, or hardware costs mean it's a risk-free investment. Plus, the Square app comes with the POS features you need to manage a business on the go. Visit Square to get started with a free account and mobile card reader.