Credit card readers for Android phones and tablets make it easy for merchants to process sales and accept credit cards anywhere, from food trucks to trade shows. With advanced point-of-sale (POS) technology and smartphone apps, you can even use Android card readers in your brick-and-mortar store.
Based on my evaluation of over a dozen options, the best credit card readers for Android are:
Accept payments anywhere customers are; In-person, Online, Remote, Buy Now Pay Later

---

Free suite of software, including POS and invoicing
Instant signup, no application or approval required
Predictable, flat-rate fees
Accept payments anywhere customers are; In-person, Online, Remote, Buy Now Pay Later
---

Free suite of software, including POS and invoicing
Instant signup, no application or approval required
Predictable, flat-rate fees
Best Credit Card Readers for Android Compared
 

Mobile Card Reader Cost

Monthly Fee

Card-present Rate

Payment Method

Offline Mode

Payment User App review

$49;

First magstripe reader free

$0

2.6% + 10 cents

2-in-1 (Tap, Dip)

✓

$49

$0–$14.95

2.6% + 10 cents*

3-in-1 (Tap, Dip, Swipe)

✓

$79;

First reader discounted to $29

$0

2.29% + 9 cents

2-in-1 (Tap, Dip)

✕

$49.95

$0–$15

2.6% + 10 cents

3-in-1 (Tap, Dip, Swipe)

✕

$39–$129

$0

2.75%

3-in-1 (Tap, Dip, Swipe)

✓

$49

$0–$89

2.4%–2.7%

2-in-1 (Tap, Dip)

Limited
*Based on Fiserv rates, fee will depend on your preferred payment processor
If you prefer a hardware-free mobile payment processing solution, check out our list of top credit card payment apps. On top of a credit card reader option, these apps also allow you to process payments using QR codes, card scanners, and even cryptocurrencies straight from your smartphone.
Get a Personalized Card Reader Recommendation
Square: Best Overall Credit Card Reader for Android

Pros
Free powerful POS system
Affordable 3-in-1 mobile card reader setup with the free magstripe reader
Free dispute management, active fraud monitoring, and notifications
Cons
Locked into Square Payments
Customer service is only available during weekdays
Common customer complaints on lengthy holding of funds
What We Like:
Square is a terrific card reader for the Android phone—plus, it includes a POS system and other options that can work for a range of businesses. It does not charge monthly fees and has no minimums, making it a great choice for the casual user. Meanwhile, its excellent chargeback policy and full-featured POS program are suitable for full-time businesses, whether a retail store, service business, or restaurant.
The mobile app itself is among the most popular and highest-ranking among our list of providers for this roundup. Users rate it highly for ease of use and features.
Magstripe Reader

First free, additional $10

Available with lightning or audio jack input. Accepts payments via magstripe (swiped).

Chip + Contactless Reader

$49

Connects via Bluetooth. Accepts payments via EMV (chip) or NFC (Apple Pay, Google Pay).
Monthly processing fee: $0
Transaction fees:

Card present: 2.6% + 10 cents
Keyed-in: 3.5% + 15 cents
Online, Recurring, and Paid Invoicing plan: 2.9% + 30 cents
Free invoicing plan: 3.3% + 30 cents

Chargeback fee: Waived up to $250 per month
Free POS software
Next-day funding, same-day with fee
Card reader: $0–$49 for chip and tap (one free swipe reader)

Accepts tap, dip, Apple Pay, Google Pay, and other NFC payments
Offline payment processing
Best feature: Square's free online POS system is great for sellers that do the occasional weekend fair. It is also powerful enough for restaurants or brick-and-mortar stores. If you need scheduling, appointment booking, and customer management, you can get these features at an additional price.
mPOS app: In addition to taking payments, Square's mobile app lets you manage inventory, issue and track invoices, and analyze trends. The app consistently receives nearly perfect ratings and currently averaging 4.8 stars on Google Play, with over 200,000 reviews. Users especially praise its reliability and convenience. The few one-star reviews were mostly about customer service issues or closed accounts.
Payment types: Credit cards, touchless, online, gift cards, and international cards—but not cross-border (i.e., you must be in the country where you activated your Square account). Echecks are possible with an extra charge.
Business management tools: You can make customer lists with contact information and notes, and message customers through the app. The POS system is robust enough for restaurants and service industries, with categories, photos, and appointment tools.
Fraud protection: Square offers free dispute management, active fraud prevention, and notification of suspicious activity. You can add risk management for 6 cents per transaction.
When you choose to use Square's POS software, you are also locked into Square's native payment processor, Square Payments. And while it offers very competitive transaction rates, some businesses might prefer an alternative such as Clover, where merchants can program the hardware with their preferred payment processor.
Clover: Best for Merchants With a Preferred Payment Processor

Pros
Can be programmed to work with most popular payment processors
Can accept payments while offline
Highly rated mobile app
Cons
Cannot be reprogrammed
User complaints over app upgrades
Limited POS features using the mobile credit card reader
What We Like:
Clover is the best choice if you want reliable POS software and hardware while still keeping your preferred payment processor.
What's also interesting is that the range of Clover's POS features and subscription plans depends on the type of Clover hardware you purchase.
This may be good or bad depending on who you talk to, but for small merchants and startups, this setup allows them to start running a business with a simple mobile card reader. And as the business grows, it can upgrade the hardware to access more POS features.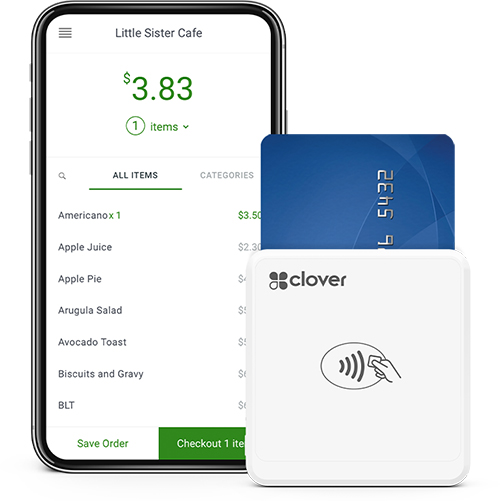 Clover Go
($49)
3-in-1 Bluetooth-enabled mobile card reader
Monthly fee: For Clover POS available to the mobile credit card reader

Starter: $0
Standard: $14.95

Transaction fees*:

In-person transaction fee: 2.6% plus 10 cents
Keyed-in transaction fee: 3.5% + 10 cents

Chargeback fee: $25
Card reader: $49
*Based on Fiserv rates
Best feature: Flexibility is Clover's biggest selling point. Unlike Square, merchants can program Clover POS and hardware to work with a payment processor of their choice. Clover also offers scalability as merchants only have to pay for (or even get for free) features they need based on their business size.
mPOS app: The Clover GO Dashboard and POS app is rated 4.7 out of 5 by more than 4,800 users. While a popular app, merchants using Clover GO, like Chase Mobile Checkout users, have recently been struggling with login issues, crashes, and freezing apps.
Clover GO Starter: This plan is free to use and comes with basic features such as invoicing, bookkeeping integrations, omnichannel sales, and basic customer management.
Clover GO Standard: This service offers everything in the Starter plan plus real-time sales tracking and reporting, inventory management, advanced customer management tools, and employee management tools.
Clover is considered one of the best alternatives to Square for those who want more freedom with their payment processor. However, not all merchants with growing businesses might appreciate how Clover payments and POS functions are limited to the hardware option. If this is the case, consider Chase Mobile Checkout or Chase Quick Accept for better POS hardware and software flexibility.
PayPal Zettle: Best for Occasional Sellers & PayPal Users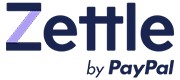 Pros
Free POS with no minimum use
Very easy-to-use interface
Pays immediately into PayPal
Cons
No offline mode
No free mobile card reader
Does not integrate with PayPal's online store and virtual terminal
What We Like:
PayPal Zettle's mobile card reader offers more functions compared to other readers on our list—even Square. It features a PIN pad for processing chip or tap transactions at a discounted price of $29 for your first device. Zettle's simple POS solution and zero monthly fees make it the perfect solution for occasional sellers, such as crafters who participate in trade fairs and sell in farmers' markets.
Zettle Reader 2

$79 (first one $29)

Accepts payments via magstripe (swipe), EMV (chip) and NFC contactless payments (Apple Pay, Android Pay).

Zettle Dock 2

$49

Charging and holding dock for countertop use

 
Monthly fee: $0
Transaction fees:

Card present: 2.29% + 9 cents
Keyed-in: 3.49% + 9 cents
QR code payments: 2.29% + 9 cents

Chargeback fee: $20
Free POS Software
Next-day funding, same-day with fee
Card reader: $79 (first one, $29)

One-year limited warranty
Accepts debit and credit EMV cards, NFC payments, gift cards, and Venmo payments
Best feature: Zettle gives you same-day deposit options either to your PayPal balance (without fee) or your bank (1.5% fee) so you get the fastest access to your funds. Note that you can only get a same-day deposit to your bank account with Square for a 1.5% additional fee to your deposited amount.
POS register: You can track cash receipts and accept other forms of payments like gift cards and bitcoin or even get paid through QR codes. You can also generate order tickets, allow customers to include tips, print receipts, and issue full or partial refunds. It is one of the best mobile credit card processors in the market.
mPOS app: Zettle user review score continue to decrease from 3.8 (since our last update) to 3.5 out of 5 stars on Google Play store from around 42,600 user reviews. Some customers say that the platform is easy to use, while complaints include problems using the reader after a mobile app update and unscheduled updates during business operations.
Unfortunately, PayPal Zettle does not support offline payment processing, which can slow down your business if you sell in remote locations for trade shows and fairs. Consider Square as an alternative if you need this feature.
Chase Payment Solutions: Best for Free & Fast Access to Funds

Pros
Free traditional merchant account
Comes with a proprietary mobile POS app but also works with some POS systems
Free same-day funding
Cons
Imposes chargeback fee
Lacks offline credit card processing
Low mobile app user review
What We Like:
It's rare to find large financial institutions like Chase that can offer affordable pricing plans for small merchants. Using Chase's merchant services is free regardless if you own a Chase bank account, but you'll need one if you want a free same-day deposit of your funds.
Chase offers a 3-in-1 mobile card reader with the same transaction rates as Square. The mobile app is simple but easy to use and comes with an image-based catalog ideal for retailers selling on-the-go.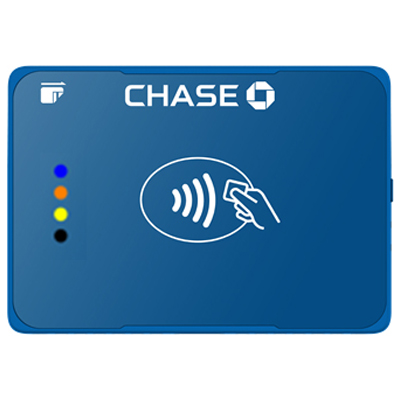 Chase Blue Mobile 3-in-1 Card Reader
($49.95)
Bluetooth mobile card reader that accepts swiped, EMV chip, and tap payments.
Monthly fee:

Mobile Checkout (without a Chase bank account): $0
Quick Accept (with a Chase bank account): $0 or $15 if your bank balance falls below $2,000 for the month

Transaction fees:

In-person transaction fee: 2.6% plus 10 cents
Online transaction fee: 2.9% plus 25 cents
Keyed-in transaction fee: 3.5% + 10 cents

Chargeback fee: $25
Card reader: $49.95
Best feature: Chase offers a free same-day deposit of your sales proceeds with a Chase bank account. This means faster access to funds and better control of finances. This feature is not often seen in other traditional merchant account providers, and if it is, it will most likely require an additional fee. Chase is also our most recommended bank for startups with full service banking. Read our review of best banks for startups to learn more.
mPOS app: The Chase Mobile Checkout app on Google Play earned a score of 3.5 out of 5 with just over 4,000 reviews. While there are no complaints around failed payments, users are unanimously struggling with login issues and app crashes (likely) due to software security updates.
Mobile Checkout: Merchants can apply for this service for those who prefer or already have a different bank. It features an image-based product catalog, the ability to customize (and even suggest) taxes and tips, and free next-day funding.
Quick Accept: This mobile payment service is available for merchants with a Chase bank account. It uses the same mobile card reader and app but with access to additional features such as hardware-free payment processing options and same-day deposits.
While Chase does a great job of providing a simple mobile payment solution for small merchants, its POS functions are still basic compared to most of the providers in our list. It can, however, work with other POS systems that have a partnership with Chase—an advantage over Square. But if you need a more robust POS feature set, Square's free industry-specific native POS tools will still be the best option.
SumUp: Cheapest 3-in-1 Mobile Credit Card Reader

Pros
No monthly fees
Free payment processing app and virtual terminal
Proprietary card readers with built-in payment processing features
Cons
Limited multichannel sales/ecommerce integration
Account stability issues with holds, freezes, and closures
Does not support high-risk merchants
What We Like:
SumUp is an end-to-end mobile payment processing solution, with invoicing, virtual terminal, and basic point-of-sale tools. There are no monthly fees or long-term contracts—only flat-rate transaction fees.
SumUp also offers the cheapest mobile credit card reader for Android on our list.
You can accept credit and debit card payments, gift cards, and invoice payments in person and on the go, which works great for home cleaning, pet grooming, gardening, and other service-type businesses. It's also great for retailers that sell in person with or without a storefront.
SumUp Plus

$39 ($49 with dock)

Bluetooth connectivity and comes with charging dock, LED screen, tipping function

SumUp Solo

$129

Standalone card reader, touch-screen panel, refund and dynamic tipping tools, invoicing
Monthly fee: $0
Transaction fees:

In-person transaction: 2.75%
Online transaction: 3.25% + 15 cents
Virtual terminal processing: 3.25% + 15 cents

Chargeback fee: $0
Funding: 1–2 business days
Card reader:

$39–$129
Accepts EMV chip, contactless (NFC), Apple and Android Pay
1-year warranty

A Pro Plan is available at $199 per month for merchants that prefer a full POS solution
Best feature: SumUp stands out as a mobile-first payment processing provider in the market. Like Clover, the POS software features available are based on the type of SumUp card reader being used, so you only pay for tools you actually need.
Easy setup: Like Square, it's easy to sign up for a SumUp merchant account. You can use the SumUp dashboard to process payments while waiting for your card reader to arrive.
Virtual terminal: SumUp's virtual terminal can be accessed on your mobile device, which lets you accept keyed-in credit card payments if a card reader is unavailable. It is also available on the SumUp dashboard.
Inventory management: SumUp's mobile app features a product catalog tool for basic inventory management. It lets you add products, categories, and variants, and assign sales tax rates.
Invoicing: SumUp's invoicing feature can be accessed from the mobile app and on your SumUp dashboard. It allows you to create, manage, and track invoices from a single platform. You can also add a payment link before sending out invoices for a frictionless payment solution.
mPOS app: User ratings for SumUp's Android payment app continue to decrease from 3.1 in our previous update down to a score of 3.0 out of 5, from over 77,000 reviews. At this point, SumUp has been around for quite some time and there is clear interest from merchants to use the service. However, while there are a number of satisfied users that praise SumUp for its ease of use, majority of user feedback from this year are complaints of persistent disconnection of card readers, slow transfer of funds, and other unresolved technical issues.
One downside of SumUp is its limited ecommerce integration options. While it does support WooCommerce and Wix to work with its invoicing feature, you can readily find a wider range and flexibility from other providers in our list. If you require multichannel sales, look for alternatives offering built-in ecommerce tools like Square or Shopify.
Shopify: Best When Starting an Online Businesses

Pros
Industry-leading omnichannel features
Customizable mobile checkout
Easy-to-use mobile app
Cons
Needs a Shopify ecommerce account subscription
Requires Shopify Payments to use the mobile card reader
Limited offline functionality
What We Like:
Shopify is a leading ecommerce platform with plans that start at just $39/month. It comes with omnichannel features and a free mobile POS system, so if you are just starting a small online business this provider can give you lots of room to grow.
There are a variety of mobile card readers that can be used with Shopify. However, only the proprietary 2-in-1 Shopify card reader is compatible with Android devices. All online and in-person sales sync to your Shopify dashboard⁠—perfect for brick-and-mortar retailers that also sell online.
Shopify Tap & Chip Card Reader

$49

Bluetooth-enabled, 2-in-1 EMV certified mobile card reader

Shopify Go

$399

All-in-one mobile POS device that can accept chip, swipe, and contactless payments.

Connects to Wi-Fi or cellular data. Built-in barcode scanner.
Monthly fee: $0–$89 (plus Shopify ecommerce plan*)
Transaction fees:

In-person: 2.4%–2.7%
Online: 2.4%–2.9% + 30 cents

Chargeback fee: $15
Card reader: $29–$49

Tap, dip, Apple Pay, Google Pay, and other NFC payments
One-year limited warranty (minimum)
*Will require a subscription to a Shopify ecommerce account ($39–$399 per month) to access the free POS
Best feature: Shopify is our choice for the best ecommerce platform. In addition to a fully featured POS system, it offers other sales avenues and processes payments from cash to bitcoin. Even though Shopify is known for ecommerce, it has a robust POS platform for mobile and in-store sales, making it an ideal solution for multichannel sellers. Shopify integrates with over 2,000 different apps and programs.
mPOS app: Shopify's Android payment app score further decreased from 3.0 to 2.9 stars still with just over 2,000 reviews. That said, in addition to running your online store (with some limitations), Shopify's mobile POS app lets you take payments, including cards or cash. Users loved the convenience, but some complained it looked more dated on Android than on iPhone and had connection issues.
Payment types: Credit cards, contactless, online, gift card, international, bitcoin, and more. Shopify deposits funds into your bank account in one to three days. Note that it cannot accept card payments without an internet connection.
Business management tools: Shipping management, inventory management, sync with Shopify POS, Facebook store, analytics, and reporting.
Fraud protection: EMV- and PCI-certified readers, fraud analysis, and fraud prevention recommendations.
If your business regularly accepts credit card payments on the go, not having access to a reliable internet connection can become a problem. Aside from the lack of a swipe payment method for its Android-compatible card reader, Shopify can only process cash and digital wallet transactions while offline. If you need full offline payment functionality, consider Square or SumUp.
Compare Your Fees
Enter your monthly card-present sales information and your total monthly sales (card-present and card-not-present) to get an estimate of your credit card processing fees for accepting in-person payments with our recommended Android credit card readers.
Don't have an Android? Check out our recommended credit card readers for iPhones.
How To Choose the Best Android Credit Card Reader
When choosing the best Android credit card reader for your business, your first priority should be the reliability and durability of your device. It needs to be constantly connected to your mobile payment app to minimize failed transactions while on the go. Android card readers should also be compatible with most version of the operating software.
Afterwards, the next consideration is to ensure that the tools and features available from both the mobile card reader and the payment app are useful to your business type. Value-for-money is also a priority, making sure that you are only paying for card reader functions that your business needs.
Android credit card reader features to consider should therefore include:
Reliable and compatible connectivity: Bluetooth is the most commonly used connectivity feature but make sure the card reader specs matches that of your Android phone.
Variety of payment methods: If you are looking to use a mobile credit card reader, you likely intend to accept a wide variety of credit card payment methods. EMV (chip) and NFC (contactless) payments are the most popular way of accepting card payments and you want to make sure that your choice of Android credit card reader supports these methods.
Useful mobile payment app features: Most mobile credit card readers are linked to your payment processor's mobile payment app. Be sure to evaluate the payment app features (you can download them for free) for functions that your business needs before purchasing the mobile credit card reader.
Affordable hardware pricing: Most mobile credit card readers for Android and iOS are very affordable. You can find top payment processors that offer their mobile card readers for less than $50 while others can go as high as $130 with more sophisticated functions. Make sure that you invest on a mobile credit card reader and app that's most useful to you business type.
On top of these Android mobile credit card reader-specific criteria, you also need to consider your overall choice for a payment processor. Monthly account fee and credit card processing rates will make up most of your cost of accepting payments. Contract terms will determine how easy it will be for your business type and size to work with a provider.
How We Evaluated Credit Card Readers for Android
For this update I evaluated more reputable payment processors with mobile payment apps that rank highly in the Google Play store for consideration. I compared each payment processor's transaction rates, card reader cost and reliability, as well as security measures in place to protect merchants from failed payments and fraud. I also evaluated for overall pricing structure, flexible and scalable features, and how quickly you could get your payments to determine the best options.
As with the best card readers for iOS, Square ranked as our No. 1 for Android systems. Square's credit and debit card reader performed well on all the criteria we set, providing the best overall value-for-money features.
Click through the box below for our full evaluation criteria:
25% of Overall Score
We favored payment processors that don't require contracts, have monthly or cancellation fees, or require a monthly fee. We also gave premium points to those that offer the most competitive transaction rates and free or discounted mobile credit card readers.
20% of Overall Score
All processors should take swipe payments and have the ability to handle NFC (touchless) payments, even if you need to purchase a different reader. We also considered invoice capability, virtual terminals, e-checks, and stored payments for repeat customers.
25% of Overall Score
We gave points to readers with an offline mode and the ability to save credit card data and send invoices. Premium points were awarded for providers that have minimal user complaints of failed payments, and those that include a PIN pad security feature on their credit card readers. Also, we wanted to highlight providers that offer the most affordable and easiest access to a complete range of card reader payment processing methods (Swipe, chip, and NFC).
20% of Overall Score
We updated this criteria to heavily consider reviews from actual Android POS app users. We also looked for 24/7 support, quick deposit times, as well as range and flexibility of omnichannel features.
10% of Overall Score
This score combines our overall judgment of price and ease-of-use with ratings from real-world users on trusted third-party review sites.
*Percentages of overall score
Credit Card Readers for Android Frequently Asked Questions (FAQs)
Popular payment service providers often support both iOS and Android credit card readers. Square, for example, can work for both and offers the most reliable payment processing—meaning you don't have to worry too much about failed transactions while accepting payments with your mobile device. Read our Square POS review.
---
There are a number of options available for an affordable magstripe credit card reader:
Square: Offers a free card swipe/magstripe reader for every Square account. Additional magstripe readers cost $10 each.
PayPal Zettle: Offers the first purchase of its pin pad-enabled 3-in-1 credit card reader discounted at $29. Additional readers cost $79 each.
SumUp: Also offers a pin pad-enabled 3-in-1 card reader at $35 each.
Browse our list of top mobile card readers for more card swipe/magstripe card reader options.
---
Square, PayPal Zettle, and SumUp are the most affordable hardware for merchants with low-volume sales. For larger, more established businesses, Payment Depot offers the cheapest card reader at $49. To help you decide, you also need to consider reliable mobile payment apps and the most affordable transaction fees.
---
Mobile credit card readers are generally secure. It employs encryption features such as EMV (chip) and PIN pad security, which means hackers will only get random letters and numbers instead of your customer's actual credit card information.
---
Bottom Line
Most people think of iPads when they think of mobile POS systems, but many payment processors offer great options for Android too. Some also have their own merchant accounts.
Each provider in our list has features and pricing structures that make it better for specific business types and sizes. However, with the wide variety of Android devices, it's also important to make sure that the credit card reader you prefer is compatible with your smartphone.
Lastly, consider user reviews to get a concrete idea from merchants with actual experience running their businesses with the mobile app.
All things considered, Square topped our evaluation as the best credit card reader for Android, earning the best scores for pricing and features, including outstanding user reviews. Sign up for a free Square POS account.