Square Online offers a free ecommerce website for retailers, restaurants, service businesses, and nonprofits. Any seller, from mobile businesses to multi-store operations, can easily open a Square Online store, list products for sale, process payments, and deliver orders via traditional shipping methods, curbside pickup, or local delivery. Best of all, the data from your online store syncs with Square's backend reporting for accurate data management between online and in-person sales.
Square Online's free store is remarkably simple to set up, and we'll walk you through it in 10 simple steps. We'll also show you how to set up a Square Checkout page for pickup orders, and how Square Online works for restaurants. If you want to follow along, sign up for your free Square account now. It takes just minutes, is completely risk-free, and you can build your store as quickly as you can read this guide.
1. Create a Free Square Account
The first step in creating a Square Online store is opening a free Square account. This account gives you access to the Square dashboard, which is where the online store controls reside, along with other business tools such as order management, marketing, and reporting.
The only information required to set up a Square account is your email address and a password. You can choose to enter optional information like your business name and type.
In order to accept payments, you'll also need to provide your legal name, last four digits of your Social Security or individual taxpayer identification number, and a phone number so Square can confirm your identity. Finally, you will need to link a bank account so Square can deposit funds you receive from your online store's sales.
2. Choose Initial Store Settings
Once you have your free account set up, get started with building your online store. Square guides users through the whole process with automated prompts, so there is no guesswork or technical skills required. At this point, you have the option to choose from retail, restaurant, service, or nonprofit templates. From there, the automated prompt will ask how you want to fulfill orders (don't worry, this can be changed later if needed).
Finally, choose whether you want a simple one-page site for quick orders or a multi-page site for more detailed product and business information. If you already have a website and just want to add the ability to process orders online, choose the single page option. If your business does not currently have a website, choose the multi-page option so you can add more details.
3. Design Your Square Website
After you choose the order fulfillment options and whether you want a single or multi-page website, the automated prompts will lead you to the Square Dashboard. This dashboard is where you can choose to watch video tutorials, or dive right into the Setup Guide for building your store. For this example, we chose a multi-page retail store.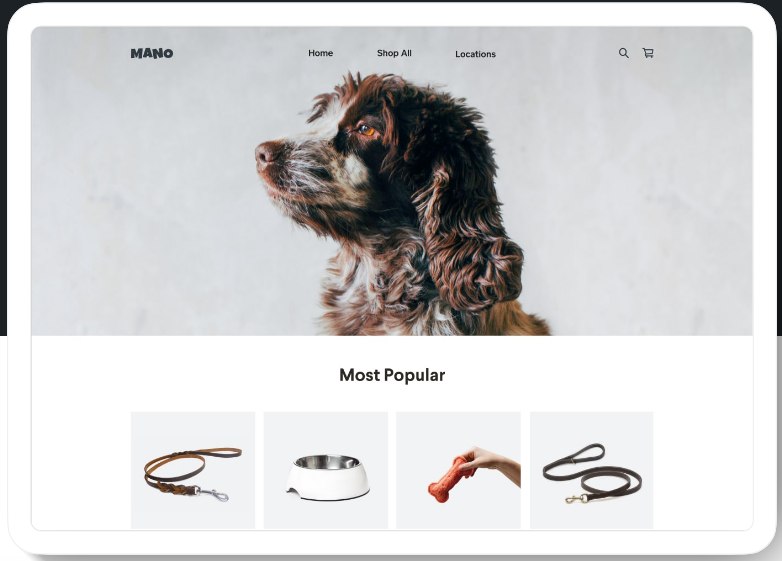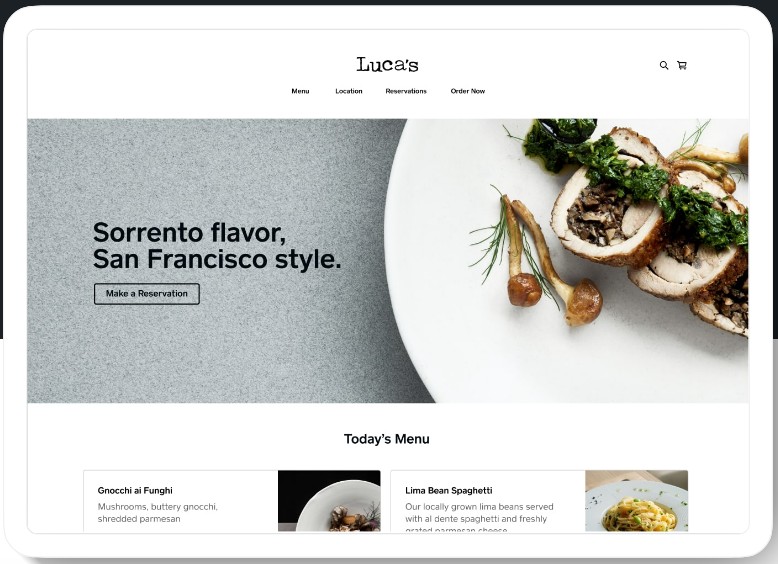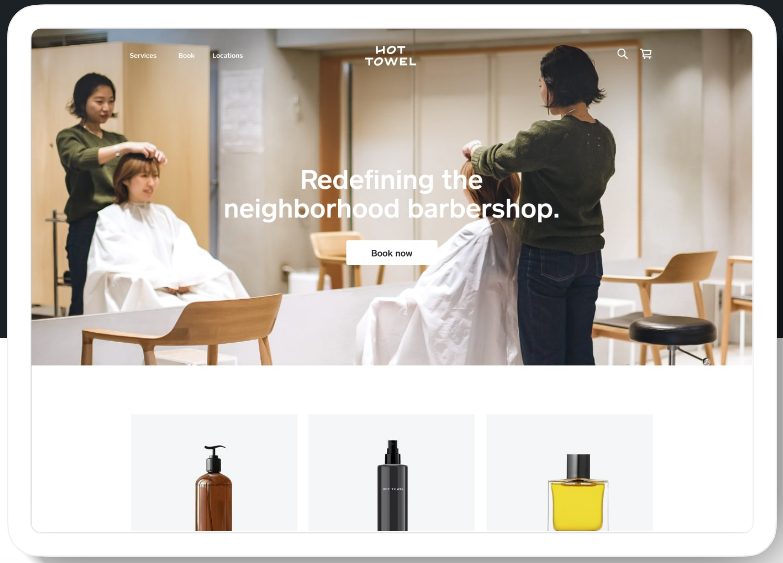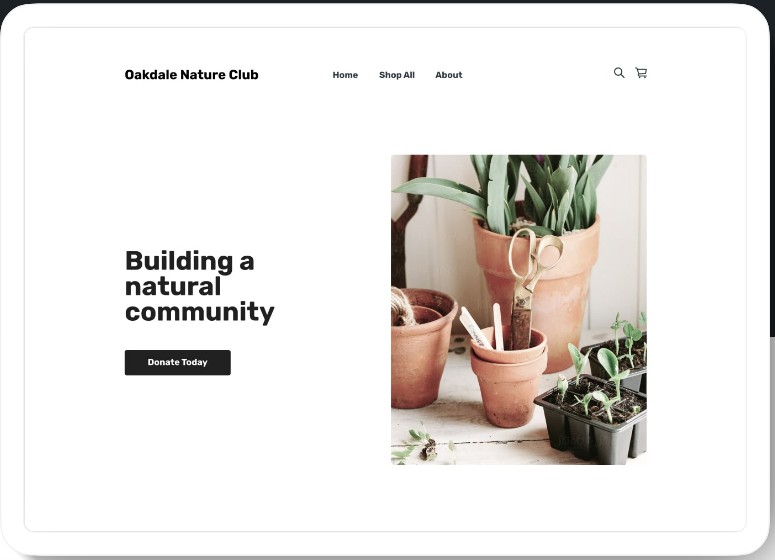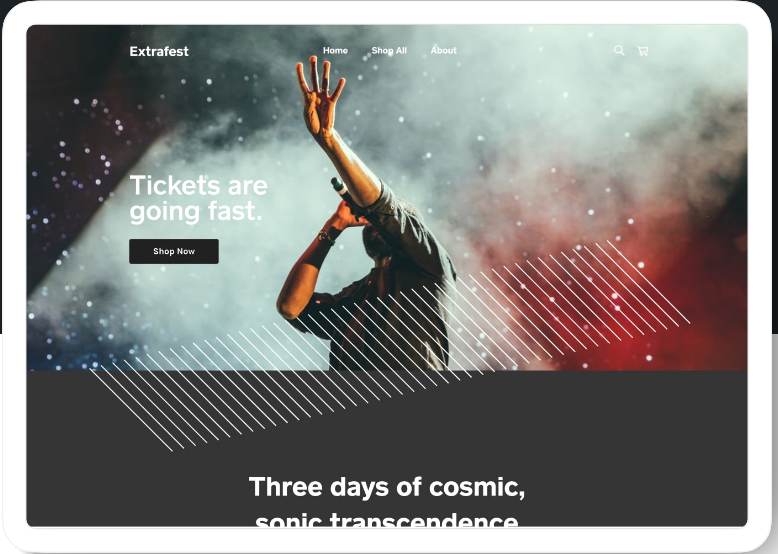 After clicking on "Design your website" under Setup Guides on the Square Dashboard, it directs you to choose all of the features you need right away such as pickup orders, shipping products, collecting emails, or displaying a contact form. As you select or deselect features, the store mock-up will automatically adjust to reflect those changes.
After choosing the features, click "Next" to move on to adding your store logo. This step is optional—if you don't have a file with your logo at the ready, skip this step for now. It can always be added or changed later. Finally, choose your font style and the main color for your site, and the "Design your website" step is complete. These settings can also be adjusted later.
Square Online's store offers very little flexibility with customizing the appearance of your website, especially compared to drag-and-drop web builders like Wix or Weebly. However, what it lacks in customization, Square Online makes up for in terms of speed.
4. Set up the URL for Your Online Store
Once you choose the design settings for your site, Square will prompt you to set up a domain or URL for your website and online store. There are three options:
Purchase a domain through Square for $12 per year: This option also requires upgrading to a paid Square Online plan.
Connect an existing domain: You can purchase a domain from another service like GoDaddy or Bluehost and connect it to your Square Online store. Note, this option also requires upgrading to a paid plan.
Use a free Square subdomain: For example, if you have a pet store named after your dog, Andy, you can set your domain as https://andythepitbull.square.site for free.
5. Fill in Homepage Details
Once you have chosen the basic style settings and features of your website, you can start entering information into each section of your homepage. Use the navigation bar on the left-hand side to work your way through the Header, Main Banner, Featured Products, Contact, and Footer elements. For each page section, you can add or change text and set the font style.
This setup is simple, and Square prompts you through most of this process, so building the main page of your website is as fast and painless as it seems. There are also limited options in terms of customizing individual elements. For example, you can't choose a different template, free-range resize elements, or drag text boxes to place them in a different spot.
If you want to take your online store up a notch, connect your Instagram account, and add an email collection box. Make sure to add your store hours, and contact information in the Location section of the page.
6. Add Items to Sell
Through your Square store, you can sell physical and digital products, as well as food and beverages, memberships, services, event tickets, or collect donations. No matter what type of store you choose at the beginning of your setup process (retail, restaurant, service, or nonprofit), all of these options will be available to you.
You can add products individually, or you can upload products in bulk using an Excel or CSV file. If you have more than a handful of products, use this method to save a lot of time. If you already use Square POS, your items will automatically be transferred over to your Online Store, though you'll be able to select whether or not you want to offer each item for online sales.
To upload in bulk:
Go to the main Square Dashboard
Click on "Items" (not Online Store)
Download Square's Excel or CSV template
Fill out the spreadsheet with your current inventory and save the file
Upload the Excel or CSV file to Square to import your library
Include Item Details
Whether you upload your products in bulk or add them individually, you will need an item name, product description, price, and quantity. You can add additional information, including SKU numbers, weight, tax information, permalinks, SEO descriptions, custom modifiers, and product variants. You can also set pickup and delivery prep time for each item, and designate whether it is available for shipping, pickup, delivery, or all three.
Upload Product Photos
When building an online store, product photos can often make or break the sale, so it is important to add at least one photo for every product you sell. If you are a retailer building an online store for the first time, you can take high-quality product photos at home using your smartphone. You can also contact your product suppliers—many wholesalers, manufacturers, and distributors will offer high-quality product photos for free.
Square also offers a product photography service. You can mail in your products, and Square will send you high-quality digital photos, including options for a 360-degree image.
7. Set Shipping Rates
To ship products, you'll need to enter the address you're shipping from, choose your destination regions, and set shipping rates.
Shipping From: Square will automatically populate this field with your store's address, but you can change this if needed.
Destination Regions: Add the regions you ship to (such as the United States or the United States and Territories) and exclude any areas that don't fit with your business.
Shipping Rates: To get up and running quickly, set one flat shipping rate. You can always add promotional shipping options or customized rates later. Your flat shipping rate should be competitive, but make sure they don't cut into your profit margins.
8. Add Pickup and Delivery Options
After adding your products and setting shipping prices, you can enable curbside or in-store pickup and order delivery. To enable order pickup, you'll need to confirm your store's time zone, set specific hours where customers can place online orders for pickup and delivery, and set estimated prep times. Setting an accurate prep time is important because that's what Square uses to show customers a pickup time when they place an order. Retailers can allow customers to schedule a specific pickup time.
When you turn on order delivery, Square automatically enables text message alerts, so customers can opt-in to get updates via SMS. You can turn this off in Checkout advanced settings if you want to allow buyers to receive email updates.
9. Set up Checkout Policies
Square Online store is automatically set up to accept online payments through Square, including credit cards, debit cards, Square gift cards, and Apple Pay. You can also use Square to create and send invoices for custom orders. Square's standard transaction fee for online payments is 2.9% + 30 cents. If you upgrade to a paid plan, you'll receive lower processing rates and can set up PayPal payments.
Add Shipping and Return Policies
Below the payment processing settings, there are options to add store policies for shipping and returns. In these fields, indicate how long it takes to process orders, how much time customers should allow for standard shipping, and what your return policy is.
Collecting Tax for Online Orders
Like most popular ecommerce platforms and web builders, Square has an automatic US tax calculator that charges US sales tax based on your store address and customer shipping location. This removes the guesswork and manual calculations, so you can be sure you are charging customers the correct tax amount.
10. Preview and Publish Your Site
Now your Square store is ready to launch. Give everything a final check by clicking on "Preview" on the top right corner of the site editor. Be sure to toggle back and forth between the desktop and mobile versions to make sure they both look good. Before publishing, you can also share the preview via a link. Once you are satisfied, click "Publish" on the top right corner to take your site live.
Even once your site is published, you can adjust any element of the site, including design product pages, inventory, store policies, and shipping or delivery details. You can also continue to add on additional features and pages to your website such as an About Us page, customer testimonials, social media channels. Other features include collecting customer emails and building a newsletter as well as selling tickets to events or starting a membership program.
Ready to get started? Visit Square to create a free account and start selling online today.
How to Use Square Online Checkout
Square Online Checkout is an easy, single-page site any business or organization can use as a simplified ordering or payment option. A Square Checkout page has a single item (physical or digital product, food or beverage, donation request, or subscription) along with payment buttons.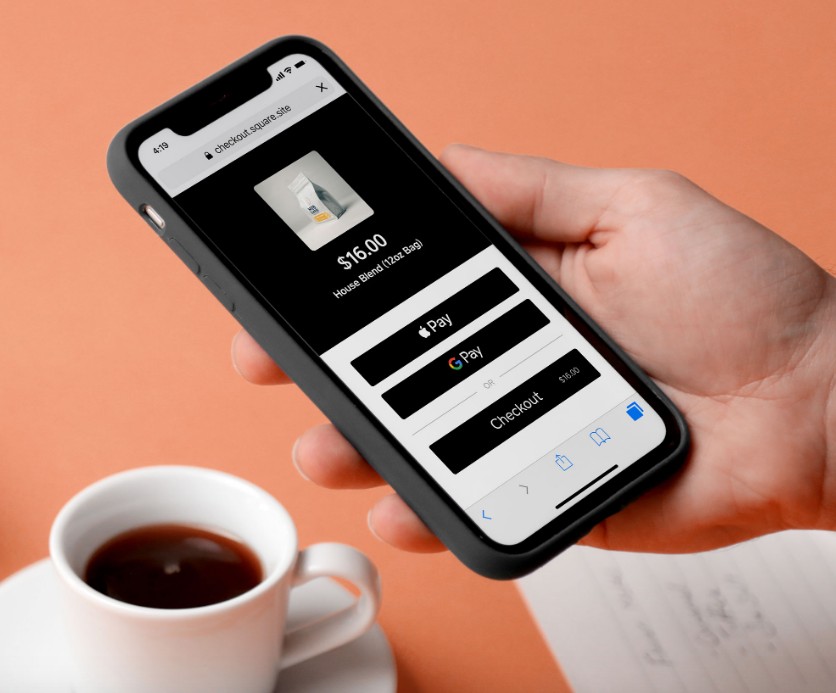 Square Checkout pages are ideal for:
Product launches or preorders
Service payments
Subscriptions
Book and digital products
Adding checkout functionality to existing websites
Contactless shopping with QR code checkout
Like Square Online's store, Checkout requires no coding and even less designing. Creating a Checkout page is more like filling out a form. Then, it can be shared with customers with a link, buy button, or QR code.
Here's how to create a Square Online Checkout page in three steps:
1. Create a Free Square Account
Same as if you were creating a full Square Online store, the first step is to set up a free Square account. To create an account, you'll need an email address, password, name, last four digits of your Social Security or individual taxpayer identification number, and a phone number. In order to receive payments, Square will use that information to confirm your identity (though there's no application or approval process).
Once you have an account, it will take you to Square Dashboard, which serves as the command center.
2. Add Product or Service Details
When you're logged in to your Square account, you can create an Online Checkout page by either creating a product library then pulling that information to create a checkout page. Or, if you just need a few checkout pages, you can skip building a product library and create individual pages by typing in product information and pricing.
3. Share the Link
Email or text the link to customers personally or as part of a campaign. Add the link to social posts or advertisements to promote a specific product or service. If you already have an existing website, make it shoppable by adding buy buttons that link over to your Square Checkout pages.
Businesses can also use Square Checkout for contactless in-store shopping. Print out the corresponding QR code and display it with the item in-store.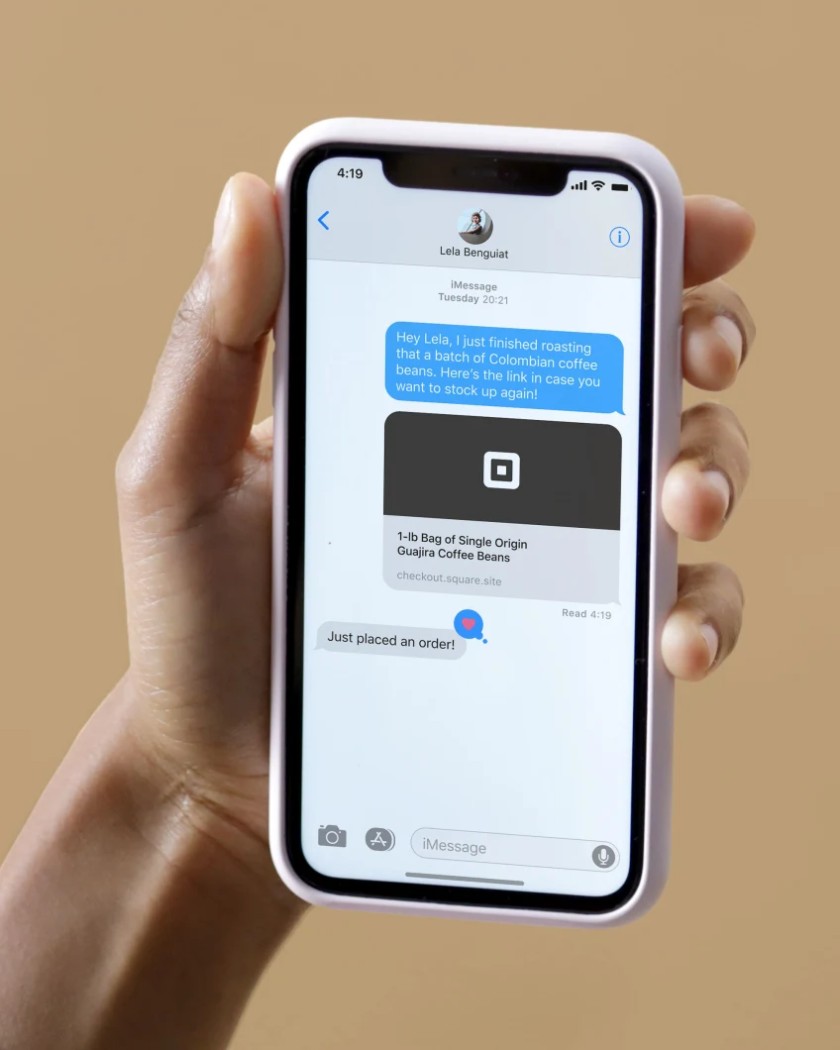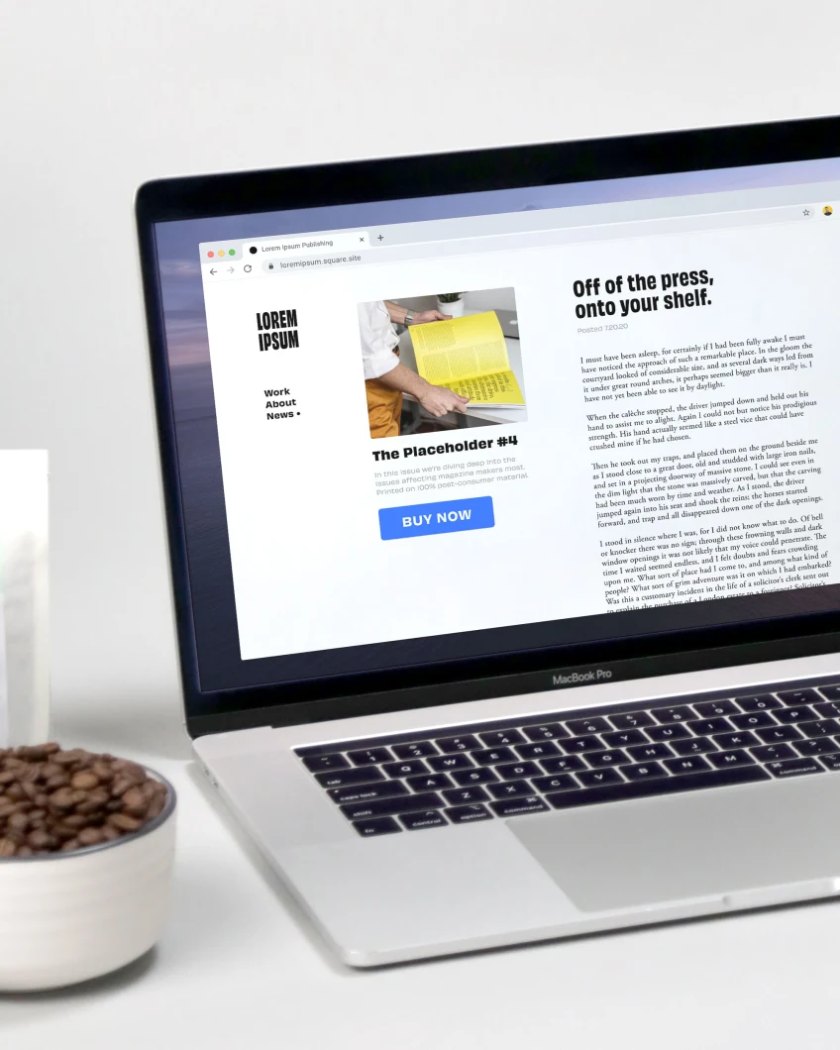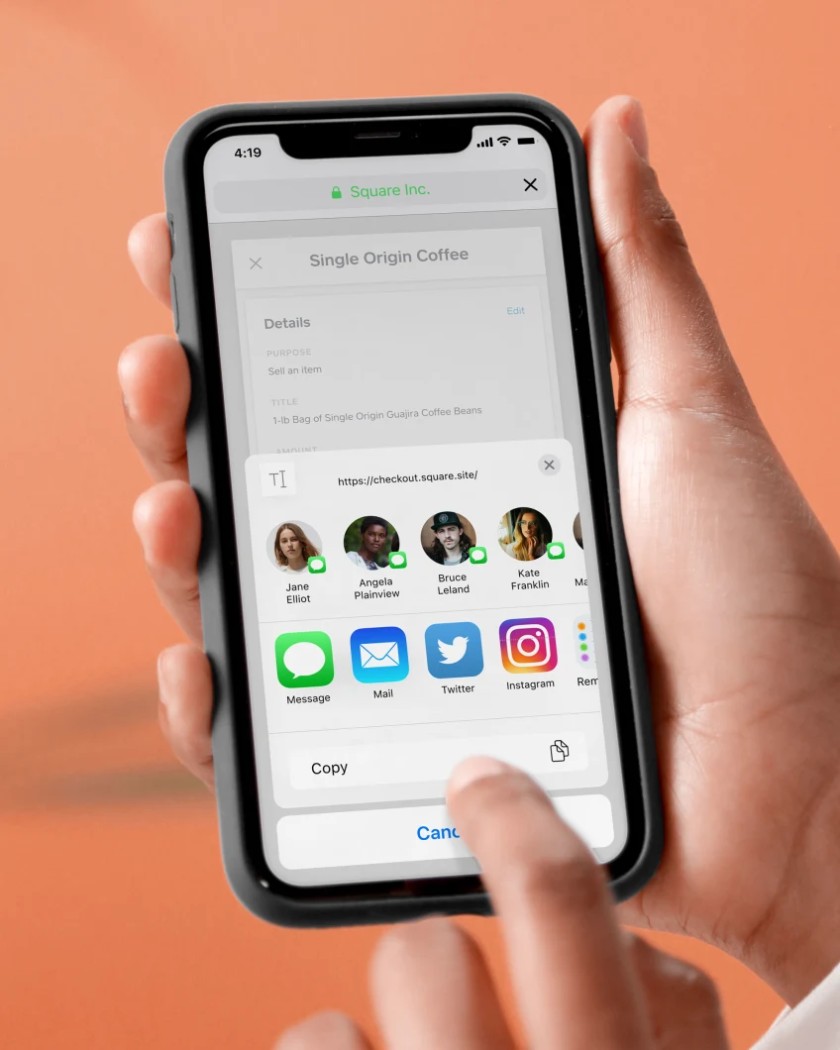 Create a Restaurant Website With Square Online
Restaurants can use Square Online to set up an ordering page. This solution works for delivery orders, pickup, and as a contactless menu option. Square Online syncs with other Square products, including Square for Restaurants and the kitchen display system, so all orders are in one place. Read our full guide to Square for Restaurants for more details.
Is Square Online Right for You?
| Square Online Pros | Square Online Cons |
| --- | --- |
| Free | Not suited for ecommerce-only businesses |
| Easy to setup and maintain | Templated setup - not very customizable |
| Built-in payment processing | Not ideal for large businesses |
| Native delivery platform | |
| Syncs with Square POS | |
Square Online is a unique product because it offers online sales tools for small businesses of all types (retail, restaurant, cafe, service, and more) for completely free. Plus, it syncs with Square's POS products, which are also free to use.
As your business grows, Square has paid plans you can upgrade to. While Square Online is not as robust as other popular ecommerce platforms like Shopify (read our Shopify vs Square breakdown), it offers an unbeatable value for brick and mortar businesses that need an online presence.
Bottom Line
Creating a free Square Online account is an excellent way for small businesses to take their operations online quickly. Setup is swift, product entry is seamless, and it is easy to track inventory and orders once your store takes off. Plus, as your business grows, you can take advantage of Square's free POS app for in-person sales, and add on additional ecommerce and marketing tools to scale your business. Open your free Square account and launch your online store today.