5 Best Free POS Software for Small Businesses in 2023
This article is part of a larger series on POS Systems.
There are dozens of free point-of-sale (POS) software on the market. Most free POS systems at least include checkout and basic inventory management functions, while the best ones also feature built-in payment processing, ecommerce tools, customer relationship management (CRM), team management, and reporting.
We tested over a dozen of the best free POS systems, evaluating them on the quality of their free features, ease of use, and our expert assessment. According to our evaluation, the five best free POS software for small businesses include:
Best Free POS Software Compared
Upfront Cost

Software Upgrade

Free Hardware

Hardware Cost

Payment Processing

$0

$15–$79

1st magstripe card reader

From $49 (contactless/chip reader)

Flat rate

$0

$5–$25

None

From $20 (card reader)

Integrated third party

$0

From $69

Full starter kit*

From $609 (handheld kit)

Flat rate

$29 (discounted card reader)

Third-party Integrations

None

From $79 (card reader)

Flat rate

$109 (card reader)

Third-party Integrations

None

From $109 (card reader)

Interchange plus
*Requires a two-year contract and higher payment processing fees.
Inventory Management

CRM and Loyalty

Employee Management

Ecommerce Tools

Offline Mode

Variant tracking

CRM only

Basic permissions

✓

✓

Variant tracking

✓

✕

✕

✓

w/ XtraChef add-on

CRM only

✕

✕

✓

Variant tracking

CRM only

Basic permissions

✓

✕

Variant tracking

CRM only

Basic permissions

✓

✓
There are many low-cost POS systems available with advanced features for less than $100 per month. See our guide to the best POS systems for a peek at the top competitively priced POS systems on the market.
Free POS Software Quiz
Find the Best Free POS System for Your Small Business
Square: Best Overall Free POS System for Small Business
Loyverse: Best for Quick-service Restaurants
Toast: Best for Full-service Restaurants

Pros
Zero upfront cost for pay-as-you-go plan
Menu management in basic subscription
Intuitive interface
Cons
Locked into Toast's payment processor
Requires Toast proprietary hardware
Expensive upgrades (mandatory installation fee for certain add-ons)
Two-year contract length
Toast Free Features
Platform rate: 2.99% plus 15 cents
Add-ons priced as a percentage on top of payment processing fee
Includes hardware, software, and payment processing
Inventory and menu management
Order and table management
Invoicing
Digital menus
Reporting and analytics
24/7 customer support
Toast has an impressive pay-as-you-go plan for one terminal, which includes its POS software, Toast payment processing, and proprietary hardware solutions without an upfront cost or monthly software fee—you simply pay the processing fees. This payment option makes Toast a great solution for full-service restaurant owners who love Toast software and hardware but find it too expensive to pay upfront.
Menu and inventory management tools, real-time ingredient tracking, vendor management, purchase orders (POs), and accounts payable automation are all available with Toast via their paid XtraChef add-on, making Toast a great option for sit-down restaurants.
Toast earned an overall score of 3.97 out of 5 overall in our evaluation. You would not find another zero upfront cost option with industry-grade hardware and full-featured software anywhere else. However, the processing fee is considerably higher, and the free plan is only meant for single-user access, so you can't add team management tools. Software and hardware upgrades are also quite expensive.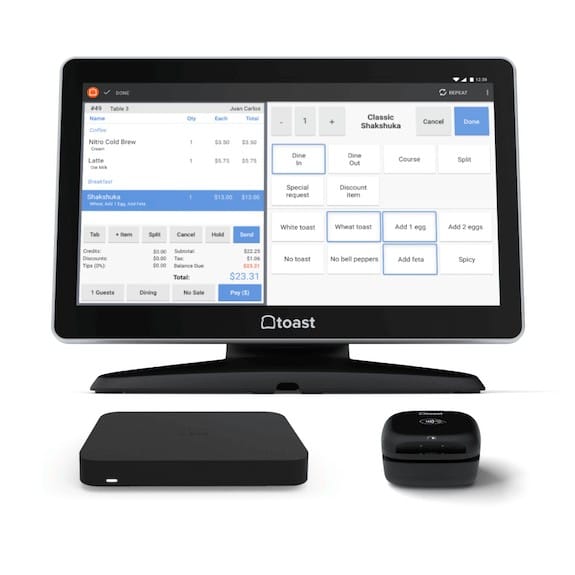 ---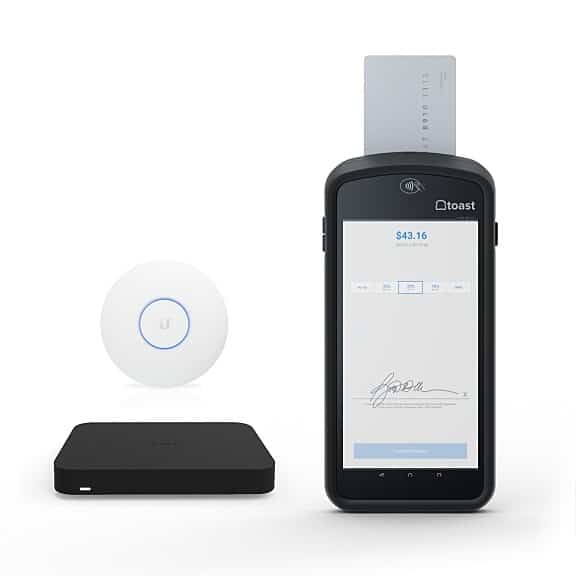 ---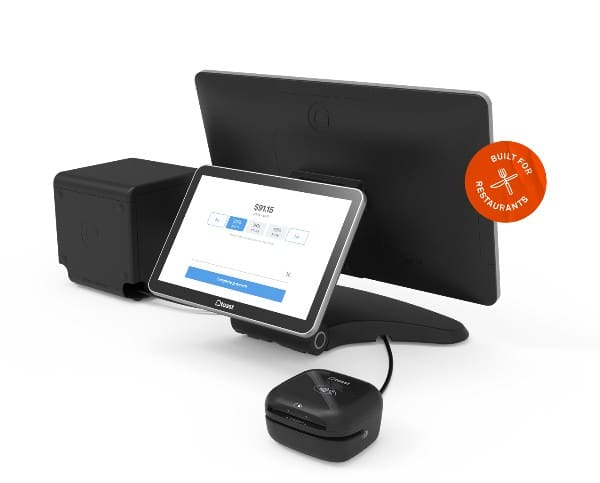 ---
---
Pay-as-You-Go Starter Kit
Upfront cost: $0 (advanced POS plans for $69–$272/month)
Monthly software cost: $0
Card-present transaction fee: 2.99% plus 15 cents (platform rate)
Keyed-in transaction fee: 2.99% plus 15 cents (platform rate)
Add-on software cost (Growth Plan): 0.4% per transaction (includes online ordering, email marketing, loyalty management and gift card management)
Contract length: Two years
Inactivity fee: $85 per month; fee waived if at least one credit card transaction is processed in the preceding 90-day period
Hardware
The Toast hardware kit comes with three free plan options: A countertop kit, a handheld kit, and a self-service kiosk kit. With the pay-as-you-go plan, there is no upfront or monthly subscription cost, but the processing fees are significantly higher.
The standard plan countertop hardware kit has an upfront cost of $799, which consists of a Toast Flex POS terminal, router, and tap payment device. The standard handheld kit cost starts at $609 and includes a Toast Go 2, wireless access point, and router. You can also get a self-service kiosk kit for $999, including a Tap payment device, router, and Toast 22" kiosk.
---
Toast's free plan is perfect for small, full-service restaurants, but you will have to consider upgrading to a paid plan if you find that your business is expanding quickly or you wish to add mobile, online, and delivery to your source of revenue. Additionally, you might want to upgrade if you see a steady increase in your monthly sales from both online and dine-in customers to save on transaction fees.
Cost to upgrade: From $69 for add-on software
---
PayPal Zettle: Best for Solopreneurs & PayPal Users
Helcim: Best for Interchange-plus Transaction Fees
How We Chose the Best Free POS Software
We wanted to give our readers a list of reliable and truly free POS software, so we focused on providers that offer zero upfront costs and no monthly fees. We then compared the quality of features included in each free plan. Five out of a dozen POS systems for a variety of industries stood out as reliable, well-featured systems with strong user approval.
Of these, Square ranks No. 1. This isn't a surprise—Square also ranks on our lists of best POS software, top-recommended POS systems for restaurants, leading payment gateways, best mobile card readers, and more.
Click through the tabs below for our full evaluation criteria:
30% of Overall Score
Free plans do not mean free everything. We looked at the limitations of the free plan, the cost to upgrade, any upfront costs, and hardware. Square topped the list, Loyverse came in second while Toast ranked third.
20% of Overall Score
This score addressed the tools in the free plan for sales, inventory, customer management, employee management, and loyalty. Only PayPal Zettle scored 4 stars in this category while Toast and Helcim ranked the lowest with 3.5 out of 5 stars.
15% of Overall Score
This section considered added value in the free plan, such as features specific to restaurants or retail, the ability to manage more than one store, and integrations. Square leads in this category far and away, scoring 3.81 stars.
20% of Overall Score
Free is no good unless it's easy. Here, we considered customer support, storage, if it worked on desktop and mobile, and other features that make the system easy to implement. All the providers in our list did well here, with Helcim earning a perfect score.
15% of Overall Score
Here we considered the experience of our team, who has decades of personal use and research, and the reviews of current users of the system. Toast received a perfect score but all the products did well.
*Percentages of overall score
Free POS Software Frequently Asked Questions (FAQs)
Click through the questions below to get answers to some of your most frequently asked free POS software questions.
Depending on your business type, many options allow you to set up a POS system for free without any upfront cost. Most free POS systems can allow you to download a mobile POS software for free and start selling from your available mobile device. Other providers offer a free card reader (like Square) or an all-in-one zero monthly subscription (like Toast).
---
The best POS software typically includes a mobile POS app that you can download and install on your mobile device for free. However, you will need to consider the hardware and software compatibility as well as the card reader options. Read our list of best mobile POS apps.
---
While there are lots of free POS system options, Square is the best in terms of overall value for money. Its free plans come with industry-specific features and free built-in tools like a website builder, payment processing, and a mobile POS app.
---
There are quite a few free POS systems available. All you need to do is research the options so you find one that will suit your needs, confirm that the free plan is forever-free (not just a trial), and then sign up! It's as simple as that.
---
Bottom Line
If you need a basic POS system, there are free ones that do the job. Those listed above are our top picks for POS systems and are great to get you started—and they may be all you need. If not, most offer reasonable upgrades in plans or add-ons.
We recommend Square as the best free POS software for small businesses because it offers a free version with unlimited uses and an extensive register and inventory feature set for practically all business types. It even has a free online store, so you are not tied to physical sales. The processing fees are reasonable, especially for the occasional user.