A recurring payment, also referred to as a subscription, recurring billing, or automatic payment, is an electronically processed payment that repeats according to a preset schedule. Businesses often set up recurring payments to collect fees for memberships, subscriptions, lessons, and services. Recurring payments require customers to sign a one-time authorization form.
The easiest way to accept recurring payments is with an all-in-one payment processor or merchant account that handles the payments but also has software to manage the billing process and security features to protect your customers' information.
The best payment processors for recurring payments are:
Click through the tabs below to learn more about how recurring payments work generally, or continue below to learn how to set up recurring payments with your preferred processor.
How Do Recurring Payments Work?
No matter which processor or invoicing solution you choose to manage recurring payments, the basic steps are the same: Customers enroll in a subscription or recurring billing invoice, and you bill them at designated intervals. Ideally, you will save the customer's payment information on file so that the charges are automated.
---
How Your Business Benefits from Recurring Payments
There are two huge benefits to setting up a recurring payment model for your business:
Saves time: Instead of manually setting up invoices or calling customers for payment, automatic billing can save hours of your or your employees' time every billing cycle.
Offers predictable revenue: Membership and subscription models offer businesses a more stable revenue stream than ad-hoc billing, as it's easier to predict revenue when you know how much customers will pay in advance.
All the benefits are not just for businesses. Customers enjoy the convenience of a set-it-and-forget-it payment option, which is especially ideal for necessities or services they use consistently and would not want interrupted service on.
---
Select a payment processor below to see more about who it's right for and how to set up recurring payments using that specific solution:

Best Overall Solution for Accepting Recurring Payments

PROS
Free iOS and Android app
Automated payment reminders
See when an invoice has been viewed
Custom rates available

CONS
High card-on-file processing fees
No ACH or PayPal payment options
Not suitable for high-risk businesses
RATING CRITERIA

Pricing & contract
5.00
OUT OF
5
Recurring Payment Types
4.50
OUT OF
5
General Features
3.75
OUT OF
5
Expert Score
4.69
OUT OF
5
Square is a top-rated retail point-of-sale (POS) system that covers every base when it comes to accepting credit cards—including recurring payments. Like everything else with Square, recurring payments are simple to set up and easy to manage long term.
Square offers affordable pricing (including no chargeback fees), free software for billing, invoicing, virtual terminal, stored payments, and an online store. This makes Square our top pick with a score of 4.35 out of 5. It also provides a free payment authorization template, which businesses need to have customers sign before implementing recurring payments.
Square Recurring Payments Features
Startup and monthly fees: $0
Card-on-file processing fee: 3.5% plus 15 cents per transaction
Invoice and ecommerce transaction fee: 2.9% + 30 cents per transaction
Payments accepted: Credit and debit cards and eWallet payments including Apple Pay, Google Pay, and Square Pay.
Mobile app: Manage invoices, recurring billing, and reports from a free mobile app in addition to Square's web-based dashboard.
Multiple invoice types: Create estimates, recurring invoices, card-on-file recurring billing, progress-based invoices, and multi-package invoices.
Automated reminders: For upcoming and overdue payments.
How to Set up Recurring Payments With Square
Square's PCI-compliant payment system allows your customers to store their credit card information as a card-on-file in Square's secure payments vault. Customers can enter this information via a link from your emailed invoice, or you can enter this on their behalf using your Square POS system or the virtual terminal in your online dashboard.
Recurring payments are triggered by Square's invoicing function. When invoices are run—either individually or in a batch—any card-on-file customer payments are automatically charged. Customers are then notified of the payment via email with a "paid" invoice receipt.
Scroll through the images below for more details: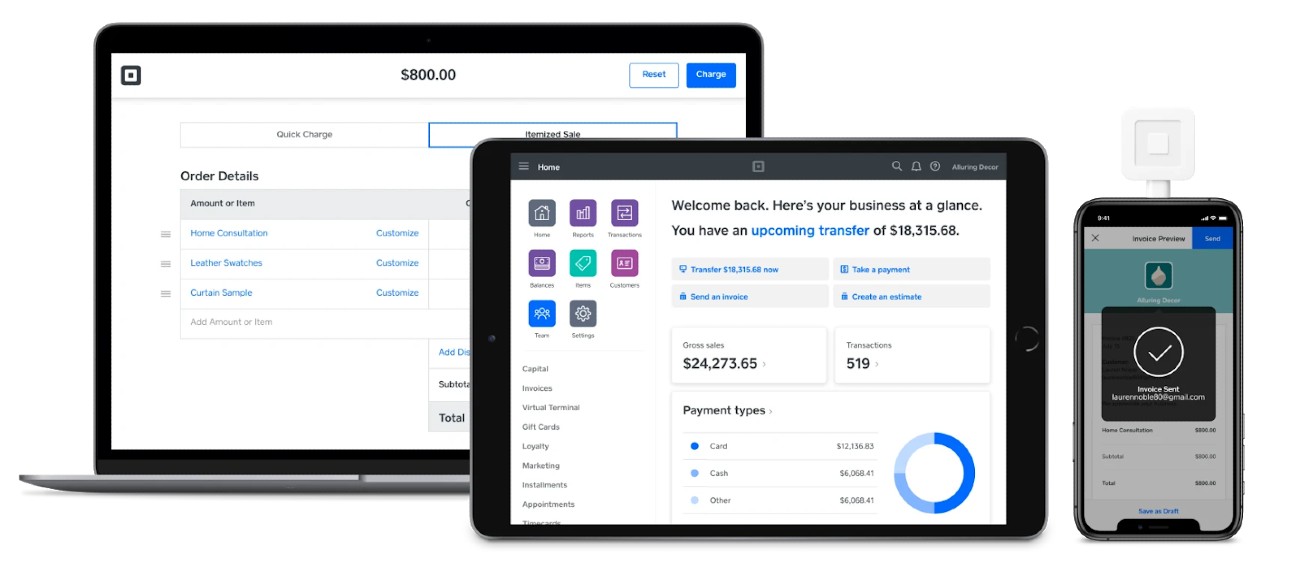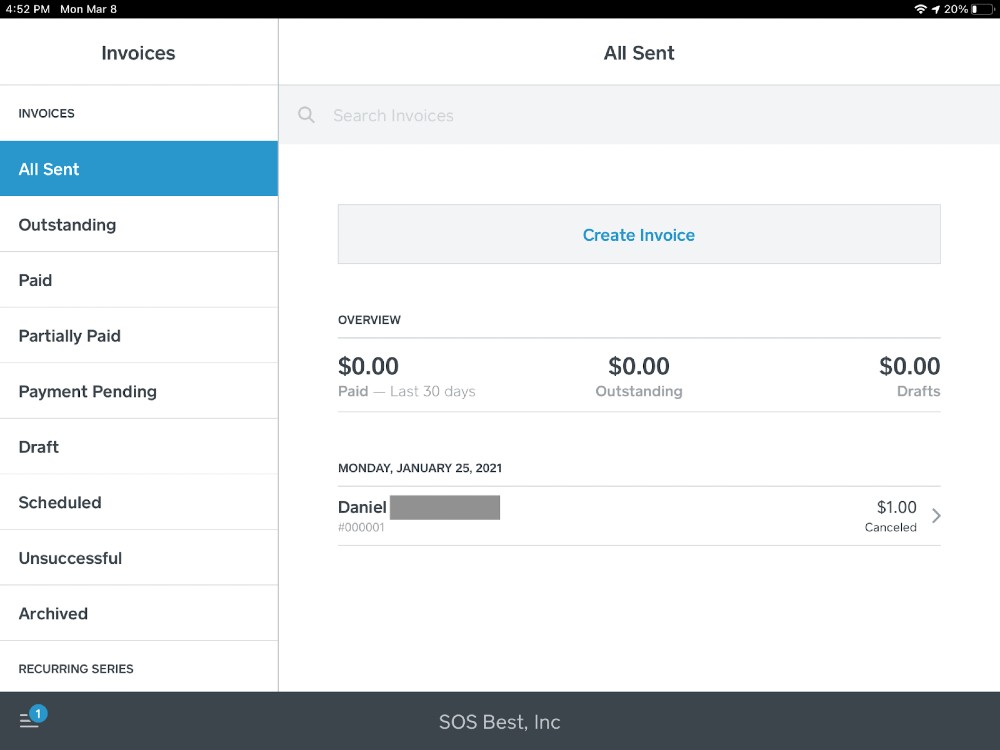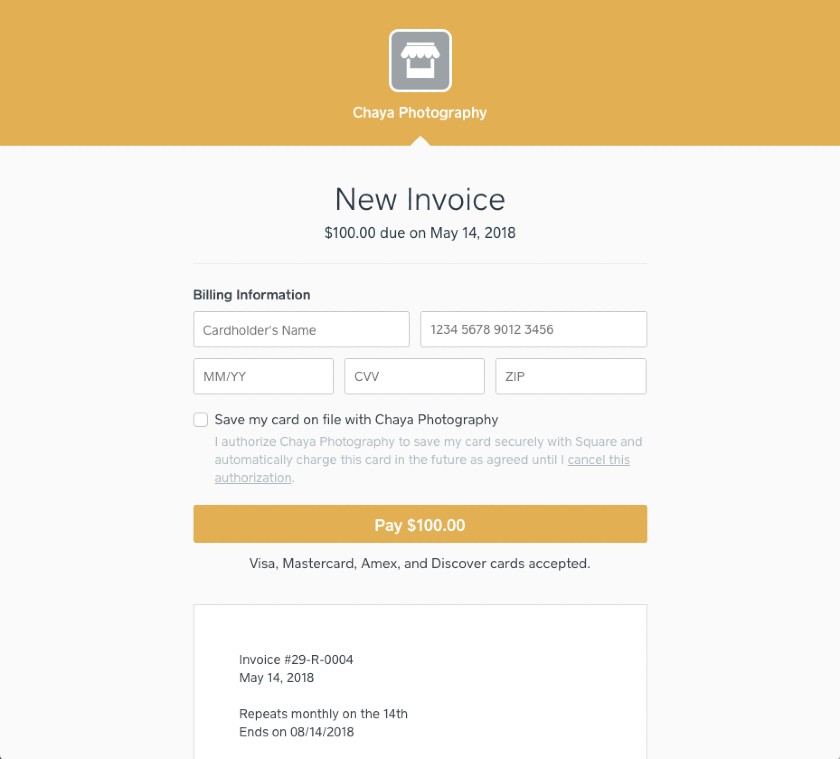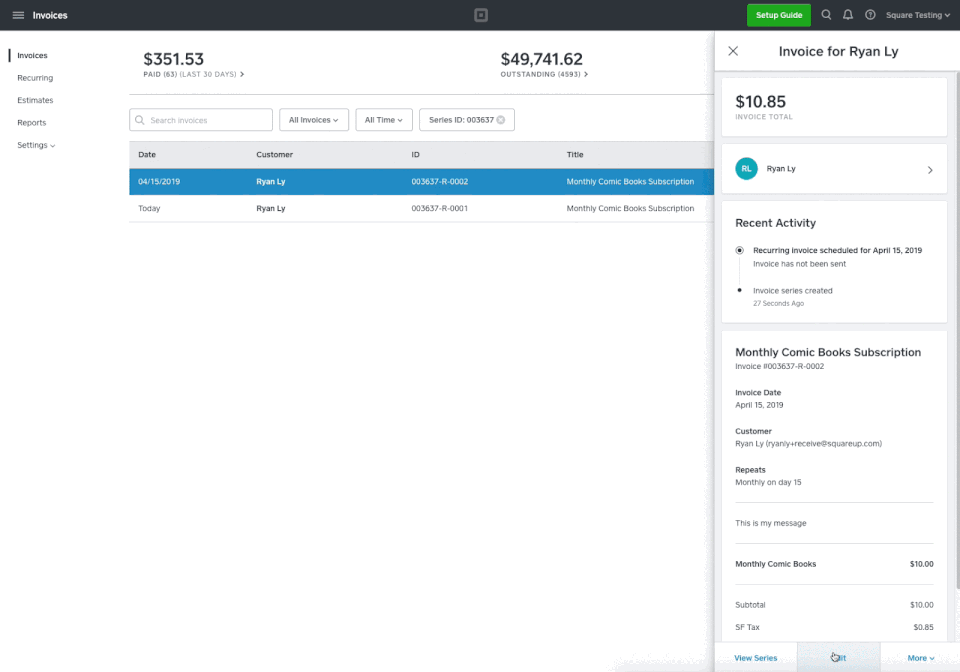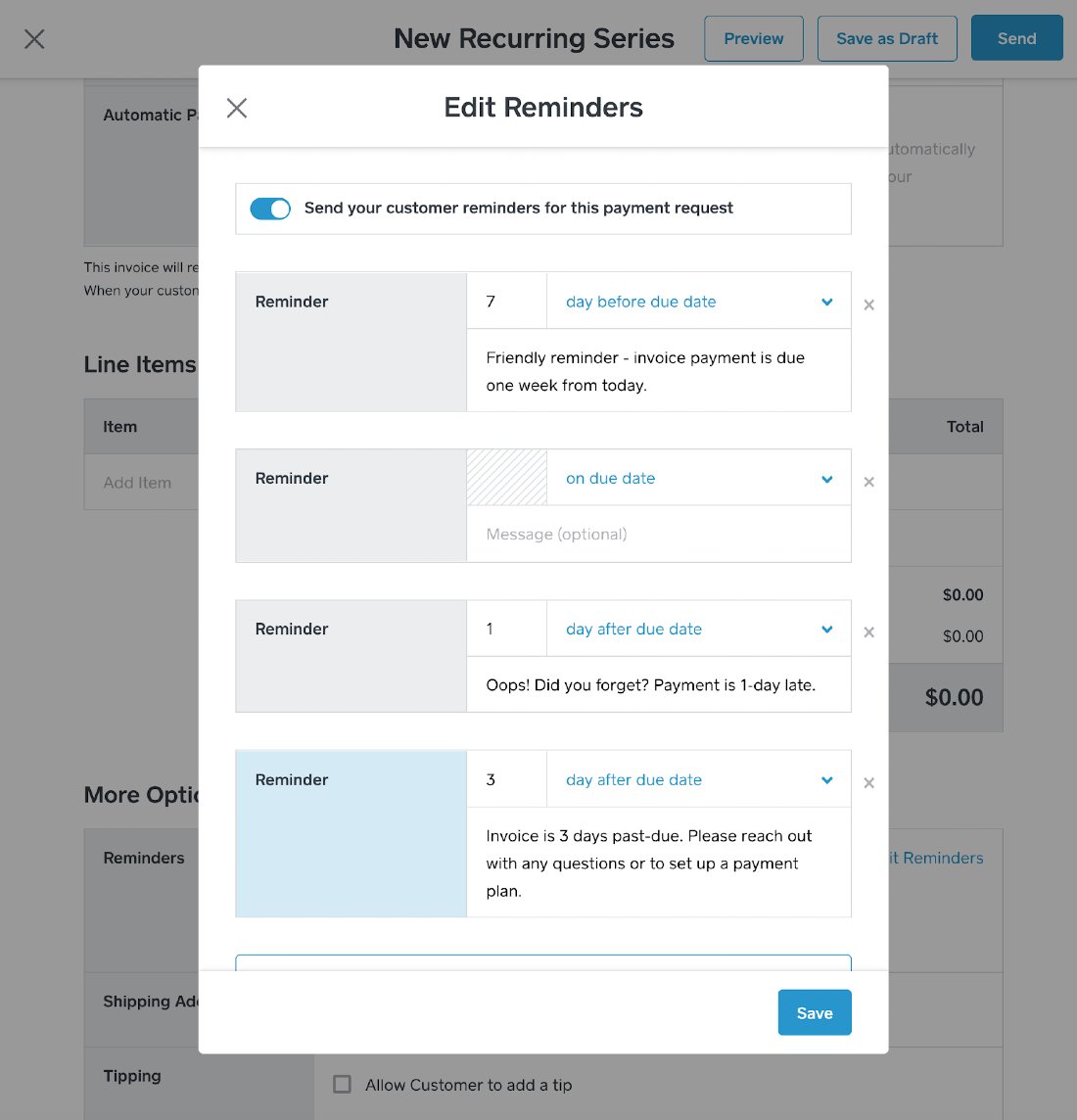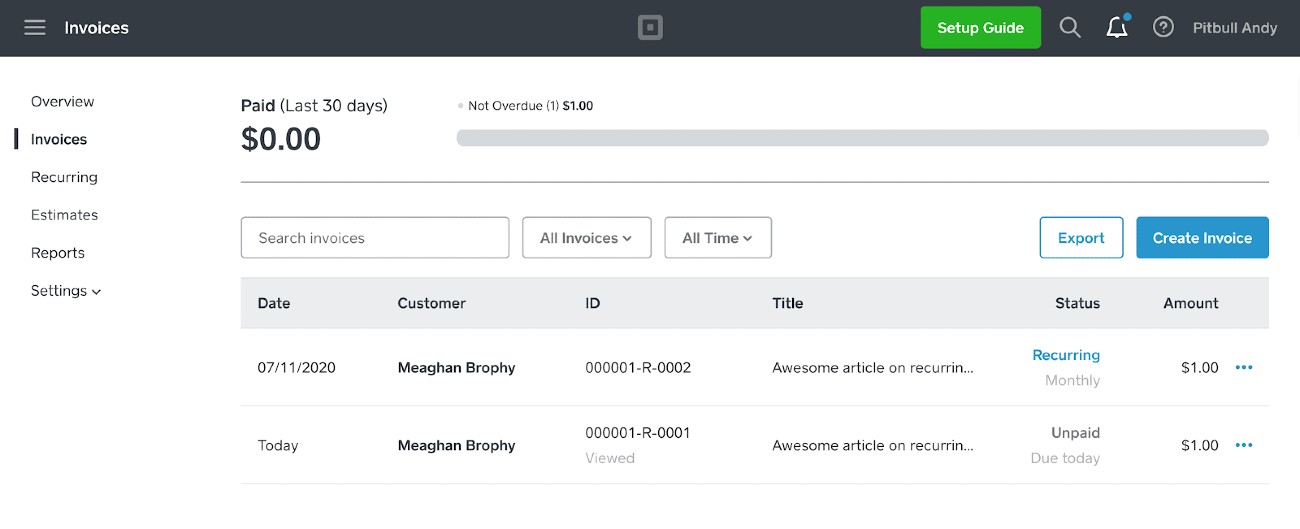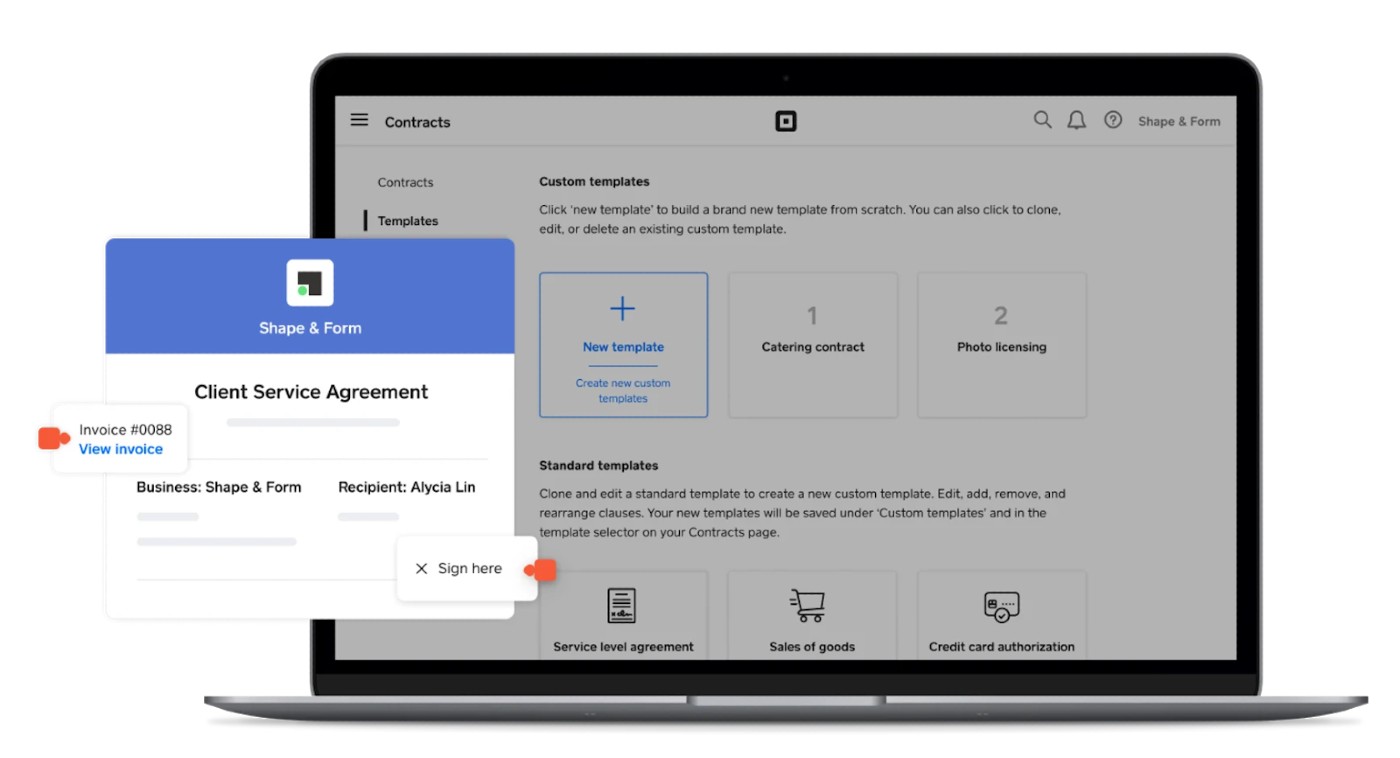 The entire process is quick and requires very little setup or ongoing management. Being invoice-based, Square recurring payments make it easy to process regular payments plus add-on charges as needed. Added fees can be entered as a separate invoice or added to regular recurring charges—whatever fits the billing need.
Read our step-by-step guide to sending Square invoices for more information.

Best for Online Businesses

PROS
Accept PayPal payments
Accept partial payments
Mobile app

CONS
Monthly fee for subscriptions
ACH and card-on-file payments only available through Braintree
RATING CRITERIA

Pricing & contract
4.25
OUT OF
5
Recurring Payment Types
3.75
OUT OF
5
General Features
3.25
OUT OF
5
Expert Score
4.69
OUT OF
5
PayPal is one of the best ways to accept credit card payments online, and it's easy to manage online automatic repeat payments via online invoicing, email marketing, and website sales. PayPal recurring payment is an ideal solution for online-based businesses that need to bill customers for online memberships, repeat services, and subscriptions.
Affordable pay-as-you-go pricing, user-friendly invoicing tools, virtual terminal, fast payouts, and the ability to accept PayPal and PayPal Credit payments earned PayPal a 3.95 out of 5 in our evaluation. However, ACH and card-on-file processing are only available through PayPal's Braintree, which requires a different account and application.
PayPal Recurring Payment Features
Monthly fees: $0–$40 ($10 plus $30 for the needed Virtual Terminal feature)
Recurring payment processing fee: 2.9% plus 30 cents per transaction
Payments accepted: PayPal payments, PayPal Credit, Venmo, credit and debit cards, eWallet payments
Customer portal: Customers can manage their own subscriptions, including options to upgrade, pause, or cancel. Options to set free or discounted trial periods.
Automated tools: PayPal will send reminders and payment notifications and automatically retry failed transactions
Global features: Over 100 currencies
How to Accept Recurring Payments With PayPal
There are two main ways to accept recurring payments with PayPal: invoices and subscriptions. Either way, the first step in accepting recurring payments is by opening a free PayPal business account. PayPal also offers other features like tidy online shopping cart integrations. Plus, your per-transaction fee is lower than Square's and a few others on our list—just 2.9% plus 30 cents per sale. PayPal also provides lower fees for nonprofits, which can be helpful for nonprofits setting up a subscription donation program.
Creating a Subscription in PayPal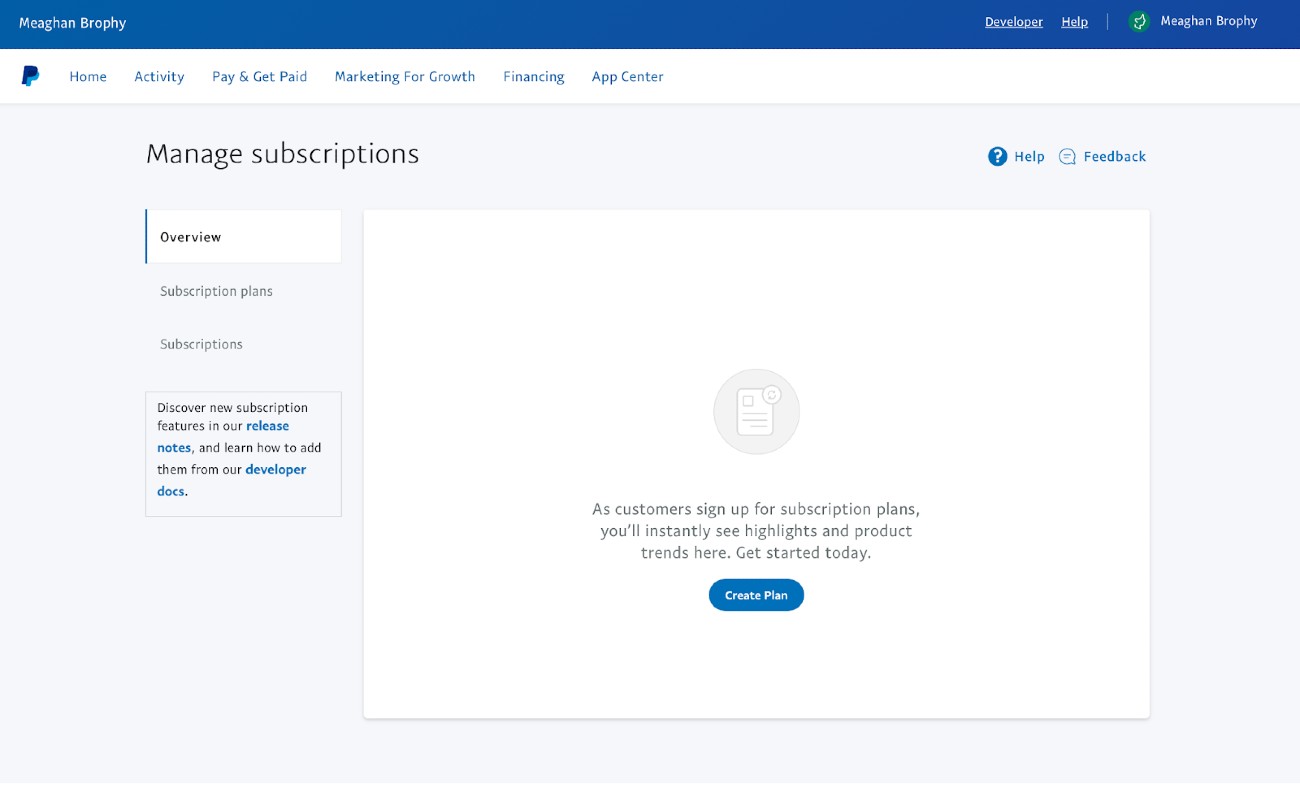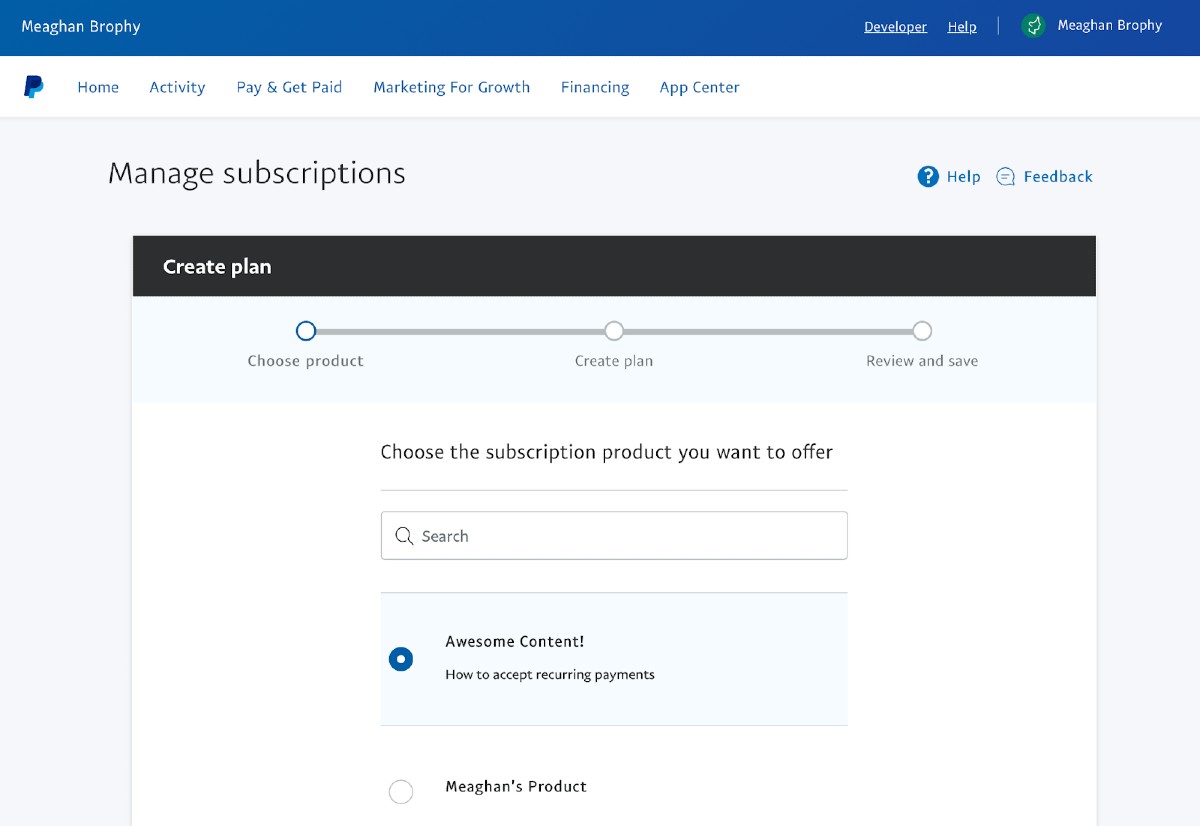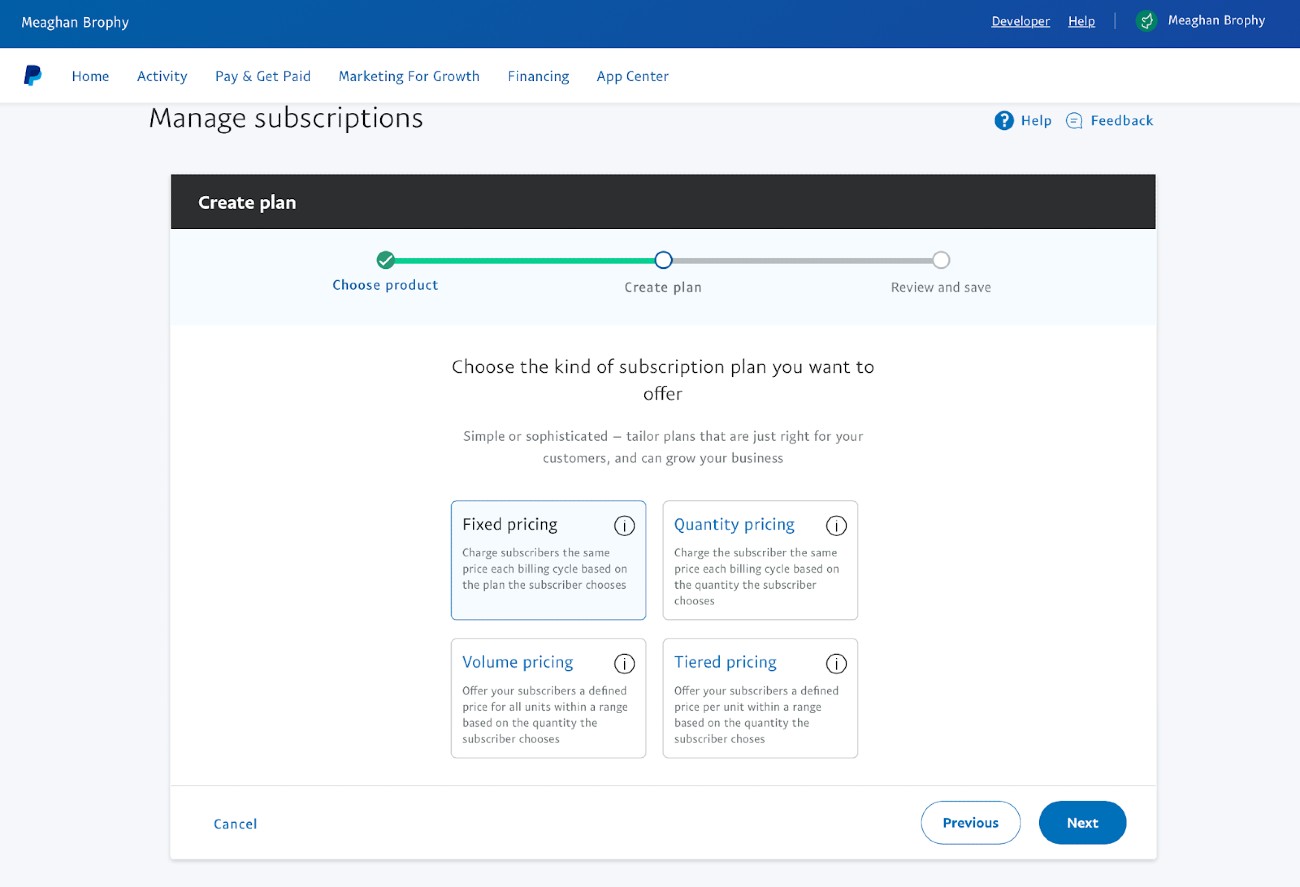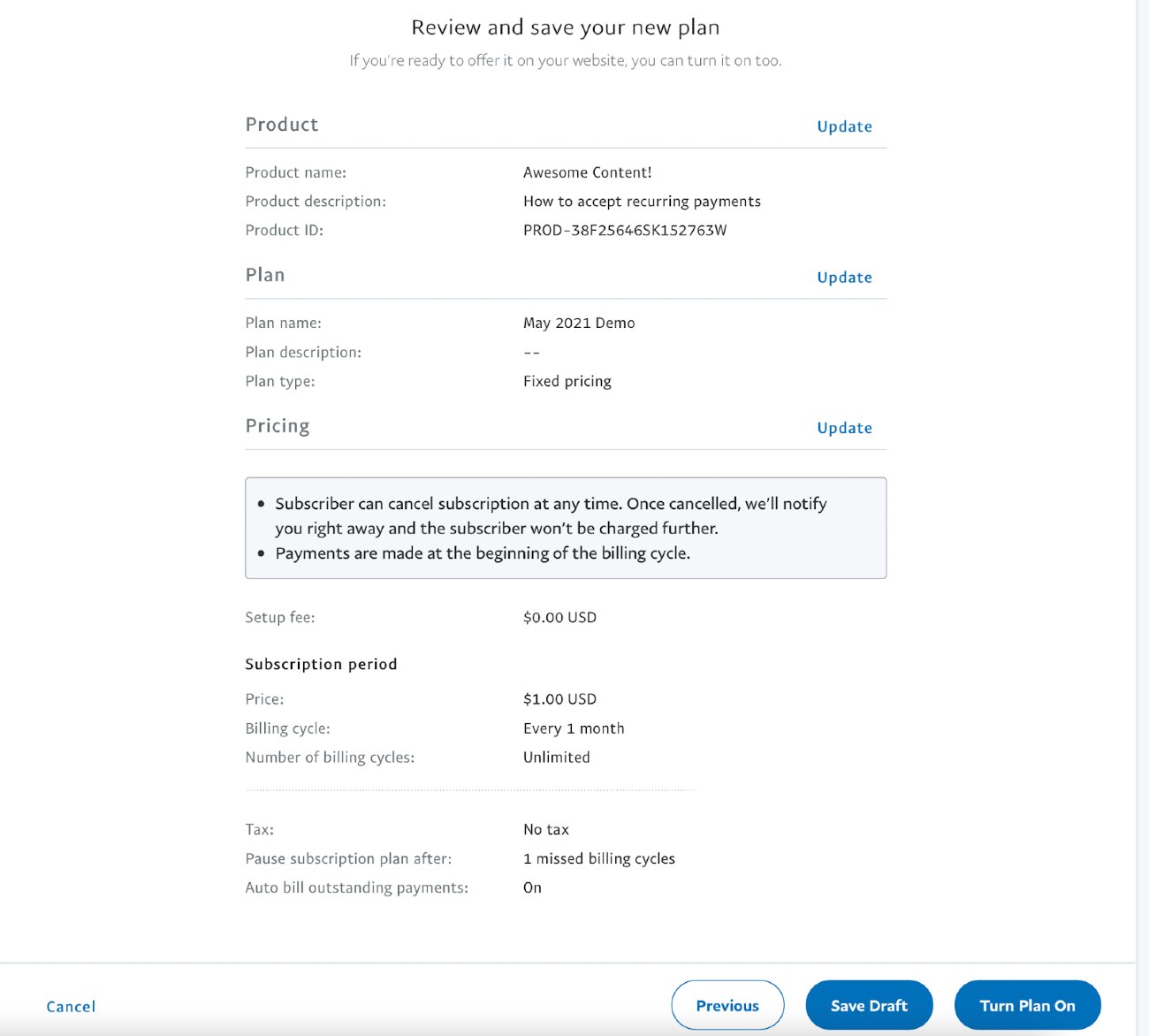 To create a subscription, click on "Pay and Get Paid" in your PayPal dashboard. Then, click "Manage Subscriptions."
First, you'll need to enter the physical product, digital product, or service you want to create a subscription for. Then, choose how you want the subscription billing cycle to work—subscribers can pay the same rate each cycle or a variable rate based on the quantity of a product.
Next, you'll create a subscription plan description and then set pricing and tax settings. You can also choose to add on a setup fee. Then, choose how you'll bill customers, pick payment frequency, and set free trials. After you're done setting up the product and pricing information, you can add "Subscribe" buttons to product pages, blog posts, and marketing emails.
Setting up PayPal Recurring Invoices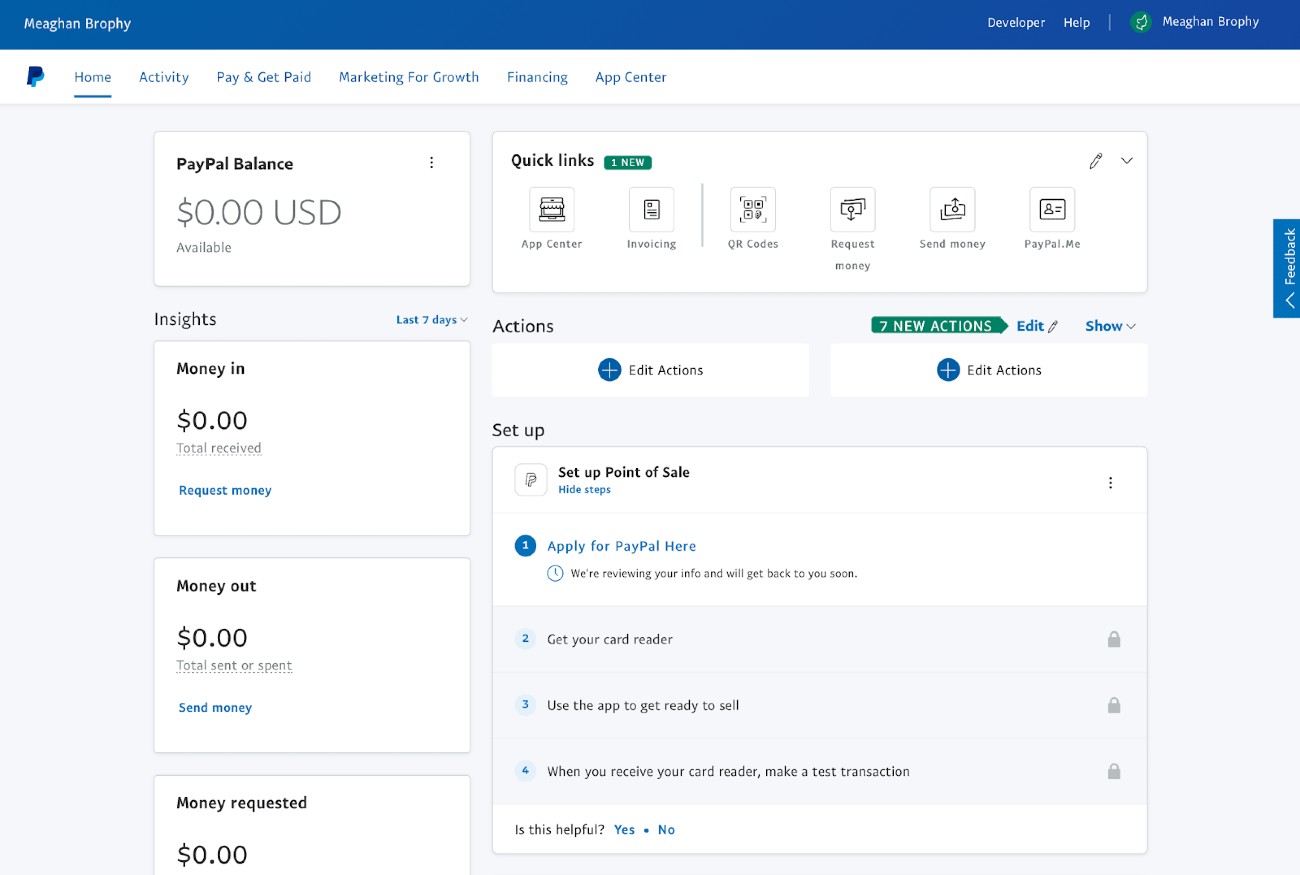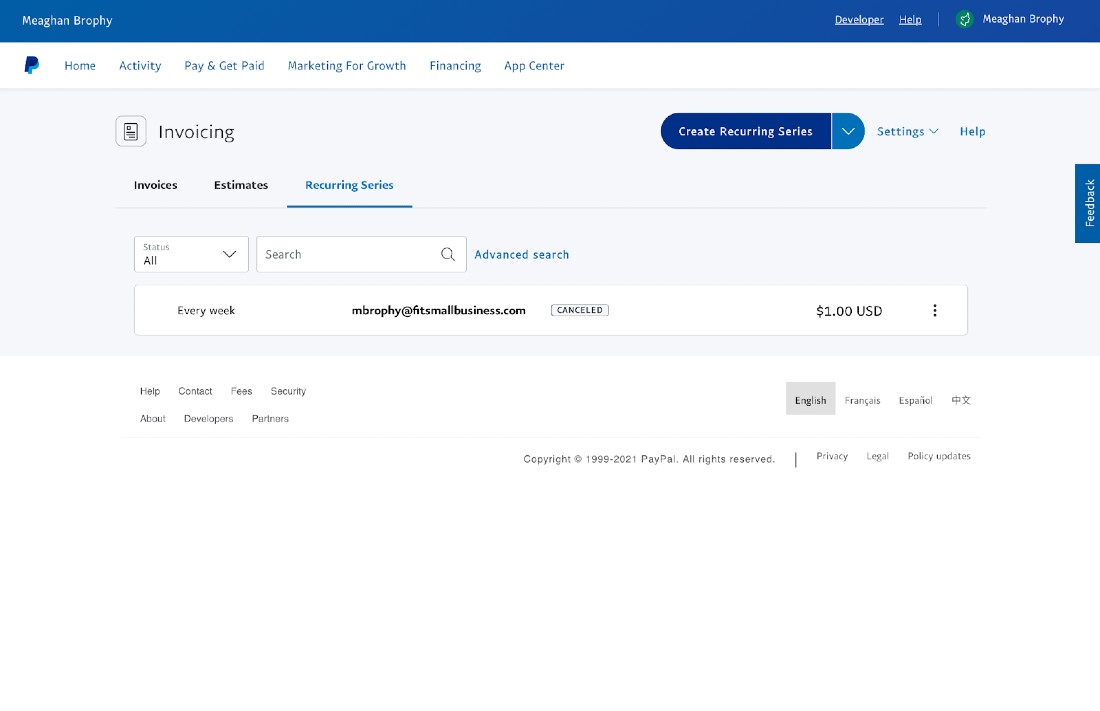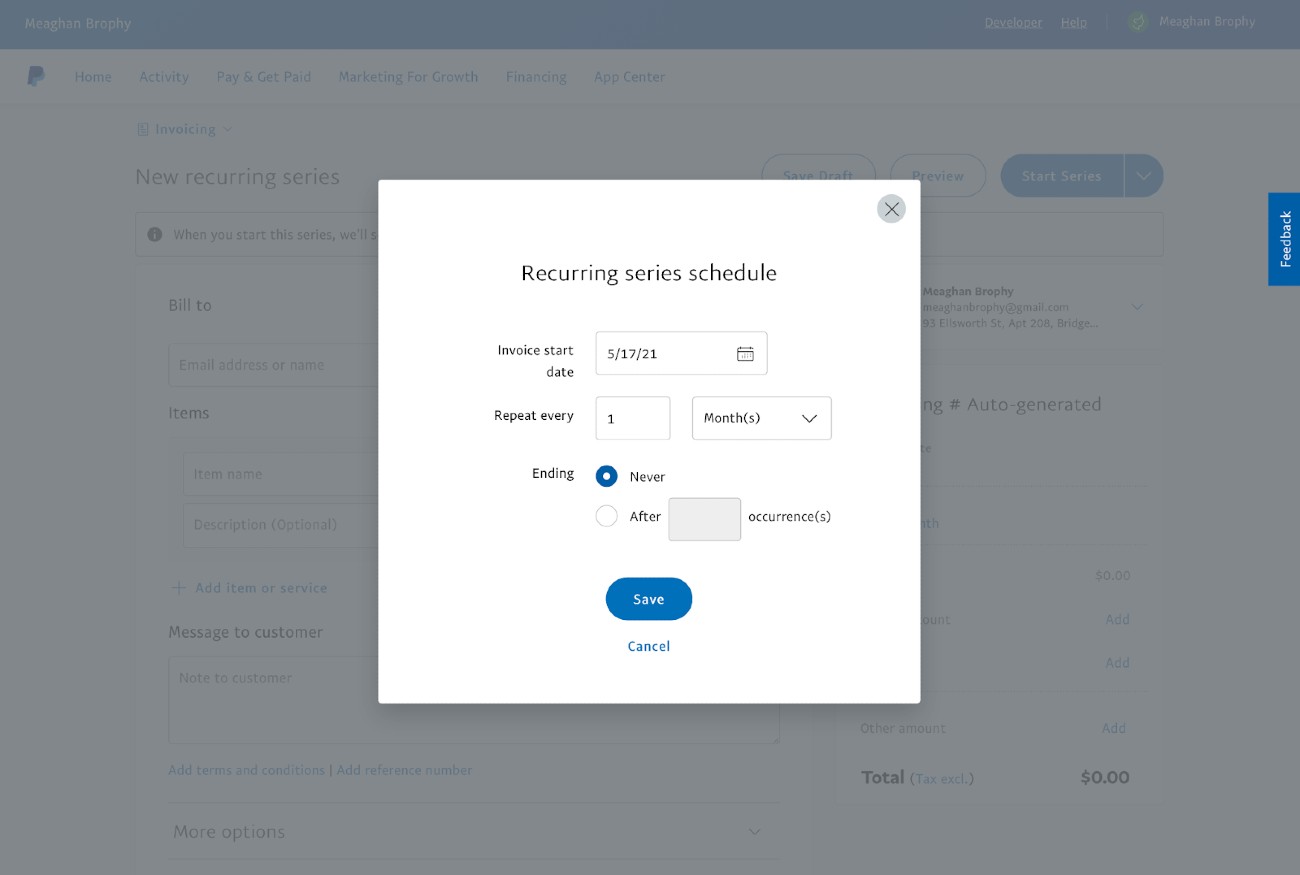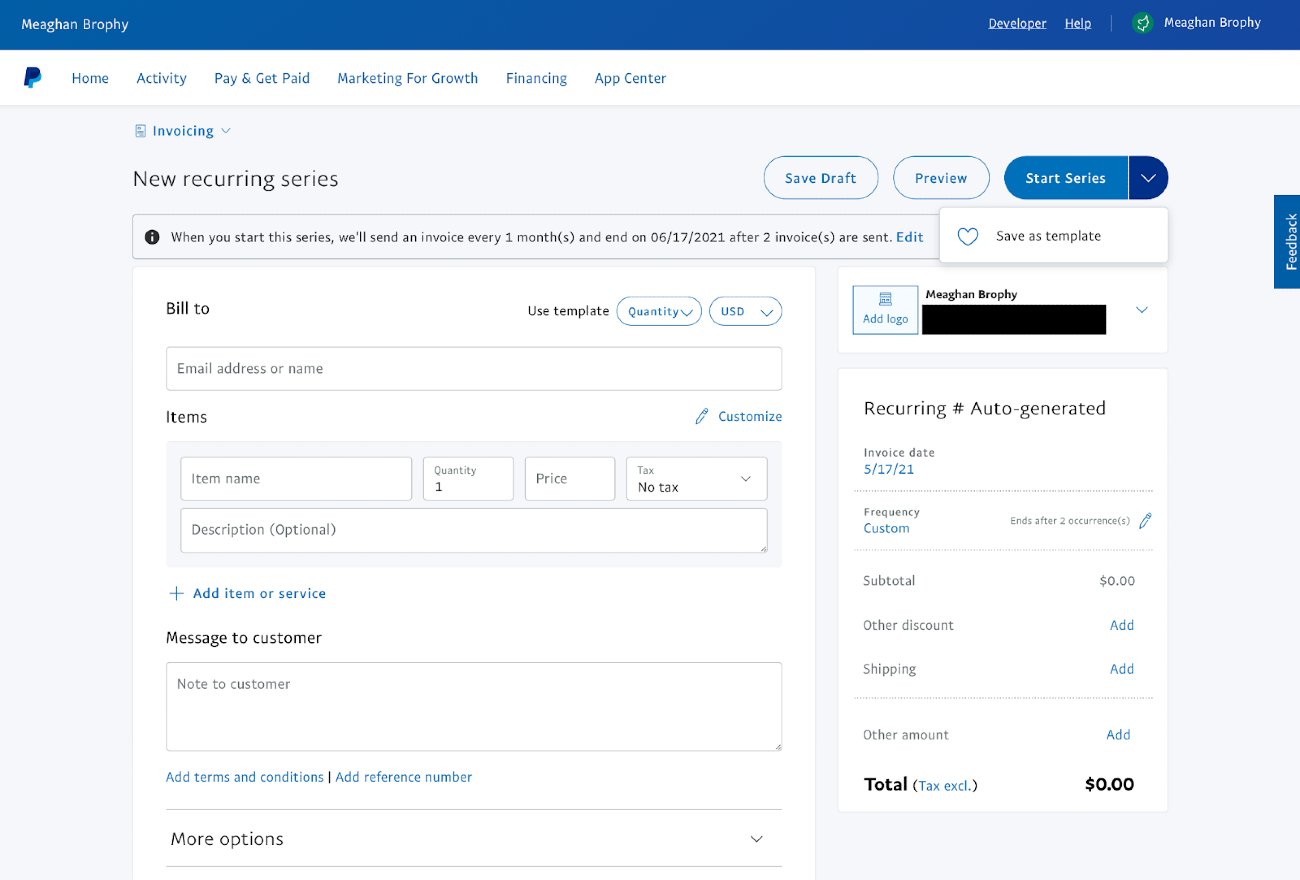 You can create, send, and manage recurring invoices with a PayPal Business account. From the user dashboard, create a new invoice and select a recurring option under the "Frequency" dropdown. You can create and save contacts, products, and services. Plus, you can add your business logo and information for a more professional look.
After adding recipients and products, choose tether to allow partial payments and tips. Add any relevant notes (like shipping or return information) and attach files, such as work orders or estimates.

Best for QuickBooks Accounting Users

PROS
Affordable ACH processing
Invoice billable hours with QuickBooks
Google Calendar integrations
Automated reminders and real-time alerts

CONS
Not ideal for ecommerce or product sales
Requires QuickBooks Online account
RATING CRITERIA

Pricing & contract
4.25
OUT OF
5
Recurring Payment Types
5.00
OUT OF
5
General Features
2.25
OUT OF
5
Expert Score
4.38
OUT OF
5
QuickBooks Online users can use QuickBooks Payments' automatic payments feature to process payments seamlessly within QuickBooks. This feature lets you offer your customers the convenience of automated payments for whatever type of repeat service or purchase you provide—from dance lessons to donation collections to beer-of-the-month club payments.
QuickBooks' robust recurring billing and invoicing tools, along with affordable ACH and stored payment processing earned it a 4.09 out of 5. However, QuickBooks Payments requires a QuickBooks Online subscription and is best suited for individuals and small businesses like service providers, not storefronts or anyone selling products.
QuickBooks Online Recurring Payment Features
Payments accepted: Credit and debit cards, ACH, and e-check payments
Cannot accept: PayPal payments
Monthly fees: $25+
Invoiced transaction fees: 2.9% + 25 cents per transaction
ACH payments: 1% (max $10)
Merchant service center: Access and manage your recurring payments outside QuickBooks with your Merchant Service Center account
Mobile app: Use QuickBooks' mobile app to create and send out invoices on-the-go
How to Accept Recurring Payments With QuickBooks
Like the other automatic repeat payment solutions on our list, QuickBooks Payments saves your customers' payment data in a secure vault. To enable recurring payments in QuickBooks, simply click a button when you create a sales receipt. QuickBooks has a handy tutorial that walks you through the process step by step for both the QuickBooks Online and Desktop versions.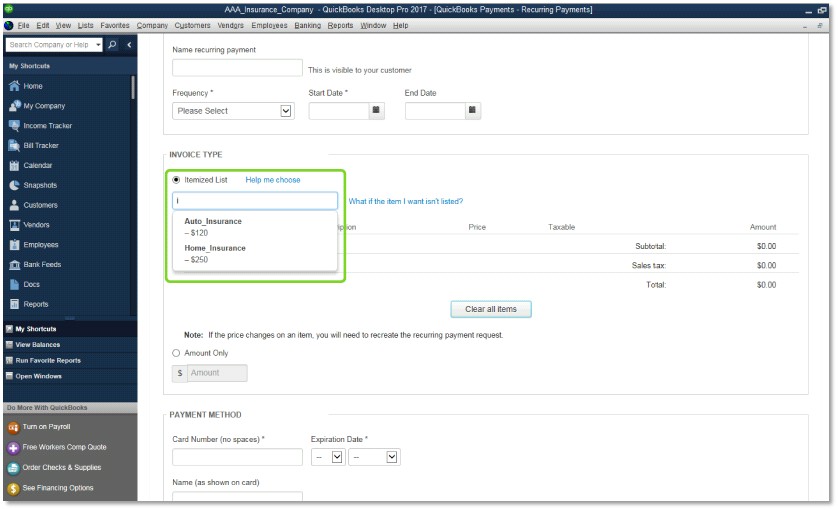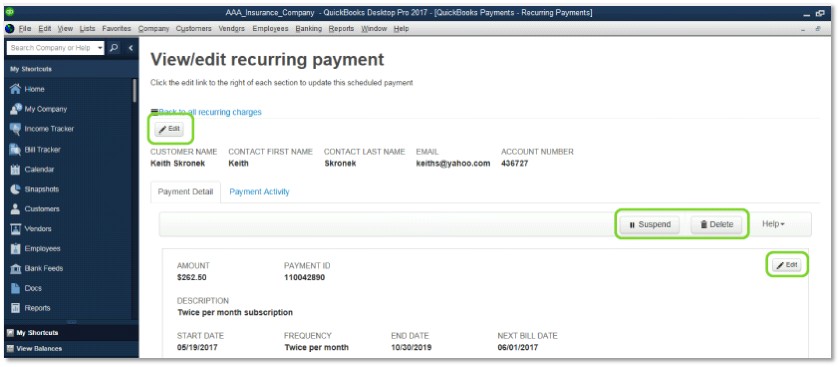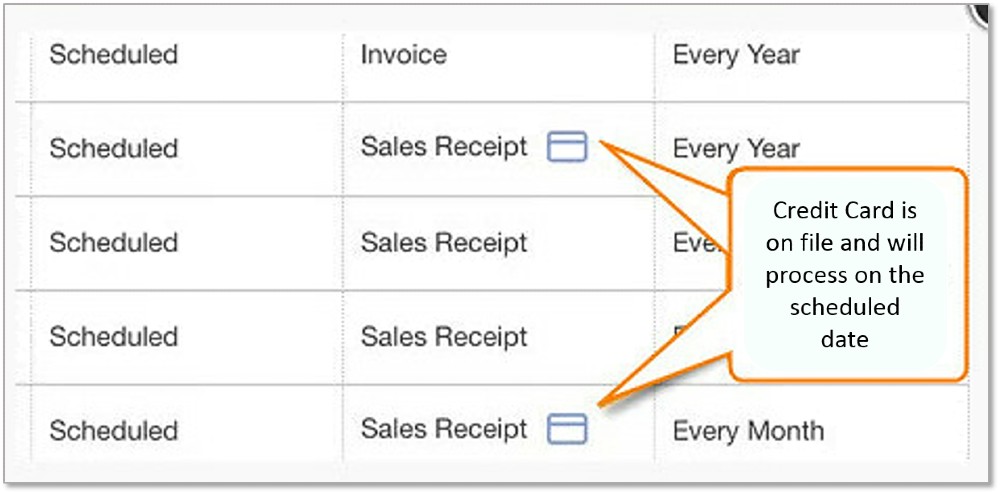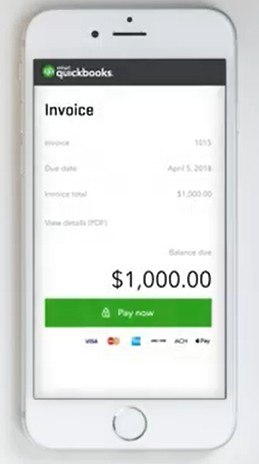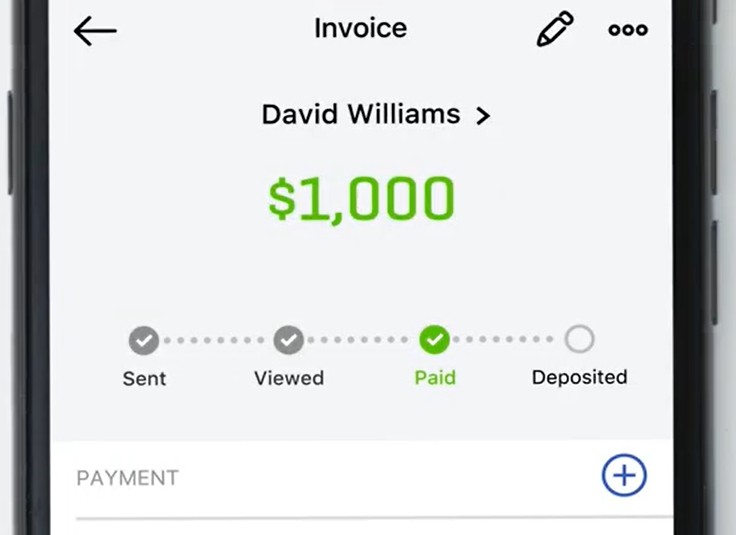 After you create and schedule the initial recurring payment for your customer, QuickBooks has a final step: It prints a customer authorization form for your client to sign. This keeps everything nice and tidy—and keeps the lawyers happy too. Other providers, like Square, PayPal, and Stripe, record authorizations electronically, but QuickBooks also provides a hard copy for your files.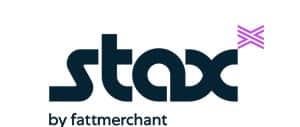 Best Traditional Merchant Account

PROS
Customers can pay invoices via email and SMS text
Automatically update customers' expired and changed card numbers
Wholesale payment processing rates
User-friendly software

CONS
High monthly fees
Not ideal for product-based subscription businesses
Not a good fit for small or occasional sales
RATING CRITERIA

Pricing & contract
3.25
OUT OF
5
Recurring Payment Types
5.00
OUT OF
5
General Features
2.50
OUT OF
5
Expert Score
4.63
OUT OF
5
Stax by Fattmerchant is different from the other payment processing providers on this list in that it offers subscription-style payment processing services. With Stax, you pay more upfront, but if you are a high-volume business, you'll pay less overall per transaction.
With other payment processing companies, total processing expenses are less predictable because fees are mostly tied to transaction size. With Stax, you have a good handle on the total you'll pay for payment processing upfront, and hence, you can predict your expenses more accurately month over month.
In our evaluation, Stax by Fattmerchant scored a 3.79 out of 5. It can accept a lot of payment types, and has excellent software solutions for managing recurring payments including billing, subscriptions, and invoicing. However, monthly fees for merchant services and software prevented Stax from earning a higher score.
Stax by Fattmerchant Recurring Payment Features
Monthly fee: $99–$199
Payment processing fee: 12–15 cents plus interchange fees
Payments accepted: Credit and debit cards, ACH and e-check
Cannot accept: PayPal payments
Omni software: Send email and text invoices, store payment information, manage customers, view reports.
Automated features: Automatically charge customer payment information stored on-file according to pre-set schedules, send payment reminders, update expired card information, and sync with QuickBooks accounting.
How to Accept Recurring Payments With Stax by Fattmerchant
When setting up an invoice in Stax, you have the option to create a single invoice or a recurring invoice. If you want to set up a recurring payment or invoice, simply navigate to the Advanced Payment option in Fattmerchant's Omni dashboard. From there, you can enter the price you want to charge and the invoicing frequency schedule.
You have the option of sending recurring invoices that customers will need to click to pay, or storing payment information on file and automatically charging customers according to the set schedule.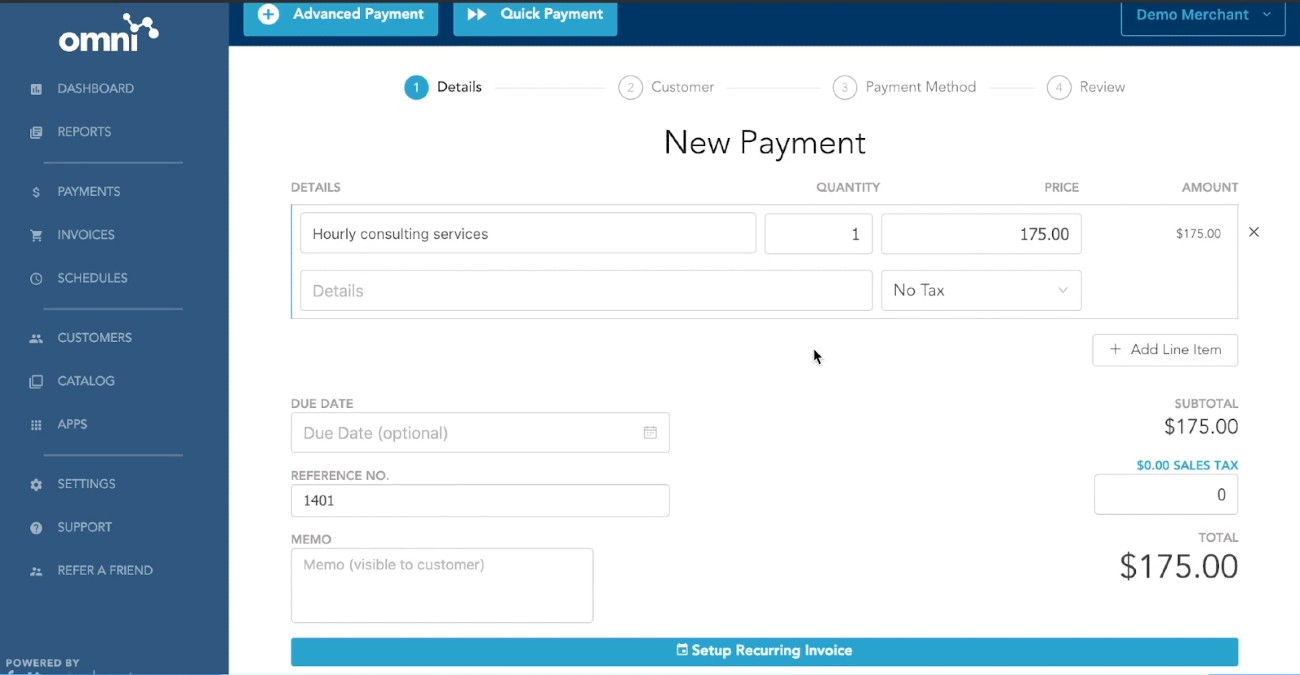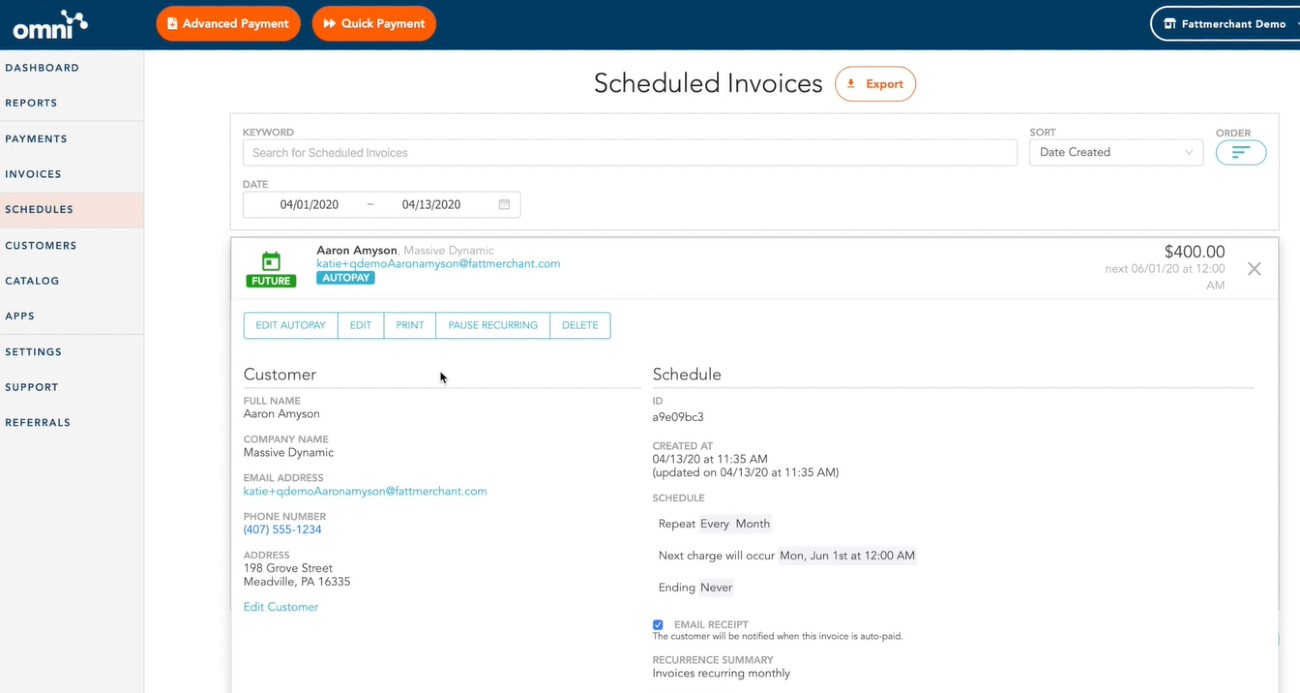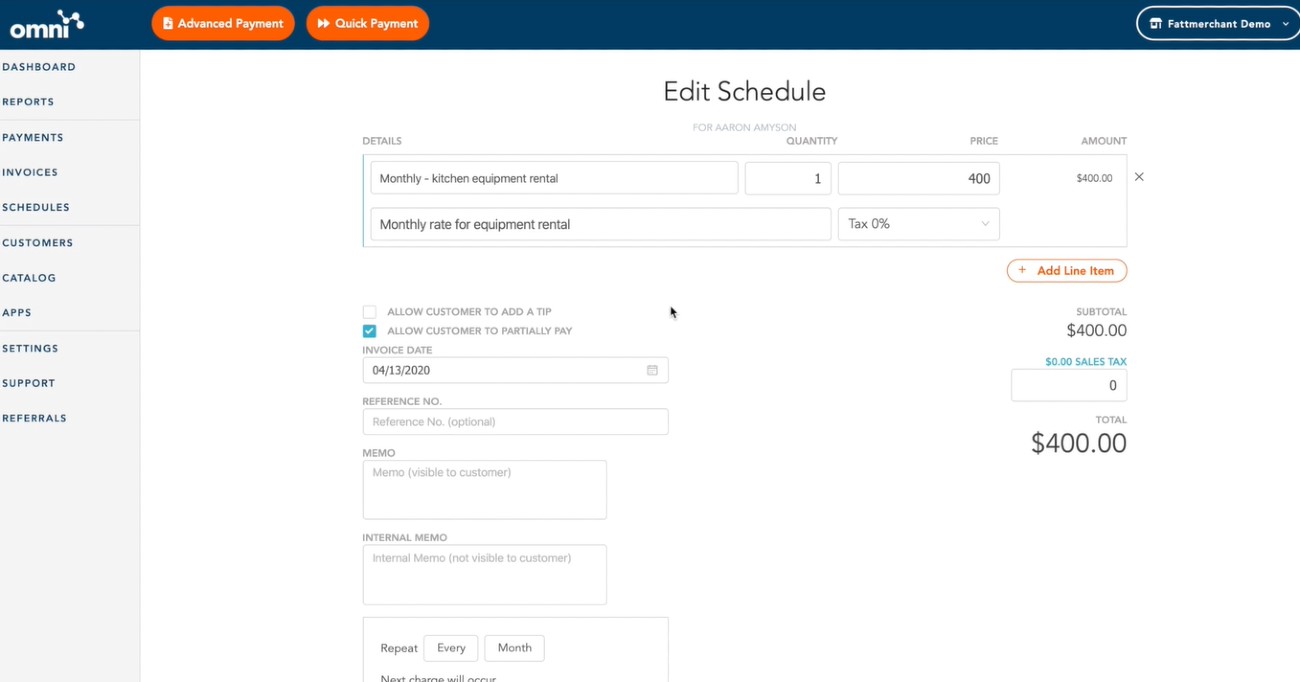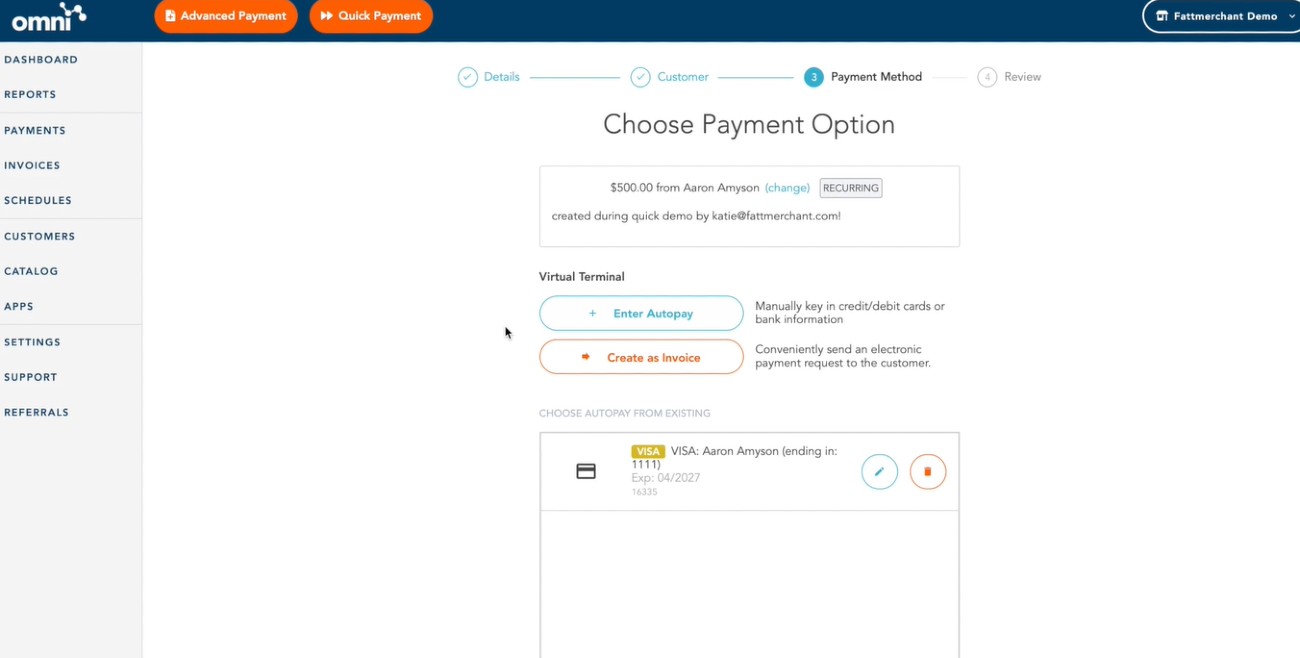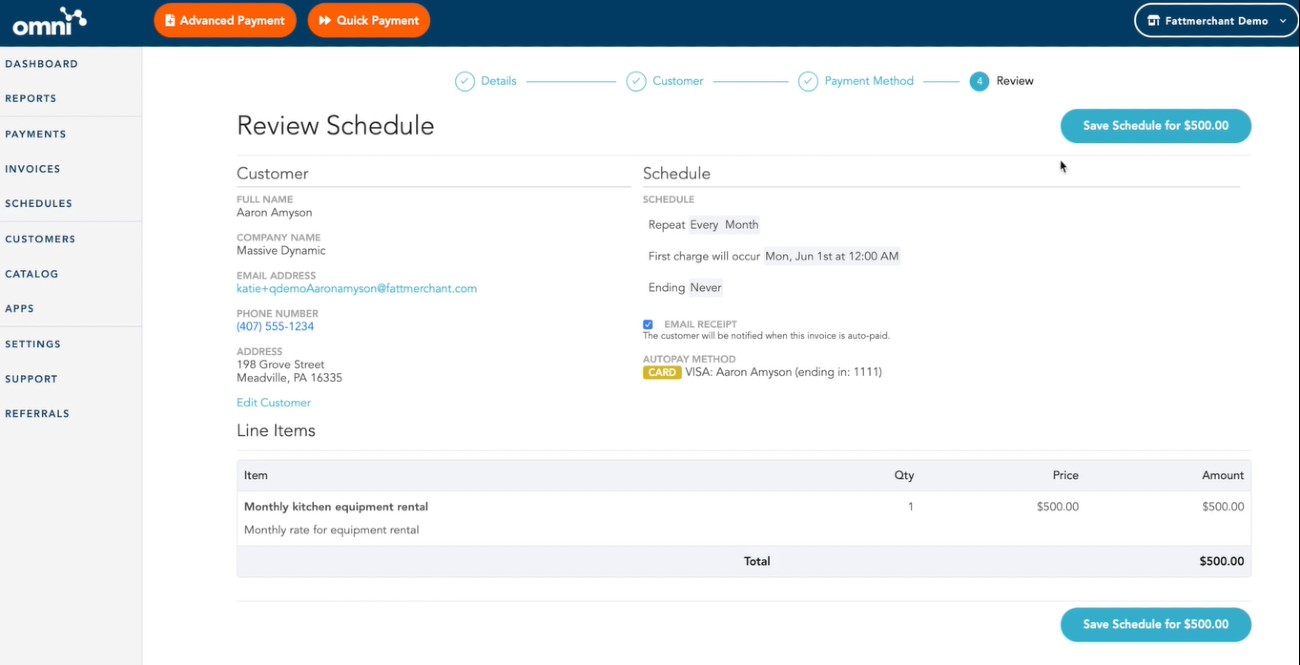 PROS
Membership and other automation features
Customize secure online sign-up forms
Good customer support

CONS
Tiered (unpredictable) processing fees
Monthly subscription fee
RATING CRITERIA

Pricing & contract
4.25
OUT OF
5
Recurring Payment Types
5.00
OUT OF
5
General Features
2.25
OUT OF
5
Expert Score
2.94
OUT OF
5
PaySimple is more than a payment processor. It's a full-service platform with a particularly strong membership, subscription, order, event, and booking management features. With PaySimple, you can create your own secure online sign-up forms or standalone membership site, accept one-time and recurring payments, and manage it all within PaySimple's tidy package.
In our evaluation, PaySimple earned a 3.76 out of 5 for recurring payment services. PaySimple follows a tiered pricing model, which means the transaction rates you pay will vary based on the transaction and customer payment type. In general, we recommend businesses opt for merchant services with a flat-rate or interchange-plus pricing model. However, PaySimple's subscription and membership features make it a viable option for this particular use case.
PaySimple's recurring payment features include:
Monthly fees: $59.95
Recurring payment processing fee: Starting at 2.49% per transaction (rates will vary)
ACH and e-check processing fee: 0.2% + 65 cents per transaction
Payments accepted: Credit and debit cards, e-wallet payments, ACH, e-check
Cannot accept: PayPal payments
How to Accept Recurring Payments With PaySimple
Recurring payments are a built-in feature of PaySimple's online sales platform. With PaySimple, you get an array of online tools that let you accept and manage all sorts of customer registrations, memberships, and subscriptions. It also provides robust booking management tools, complete with prepayments and deposits.
In PaySimple, recurring payments can be initiated by your customer via online forms on your PaySimple registration or membership website. Or, you can create them yourself in the PaySimple dashboard on a customer's behalf using the Manage Recurring Payments tab.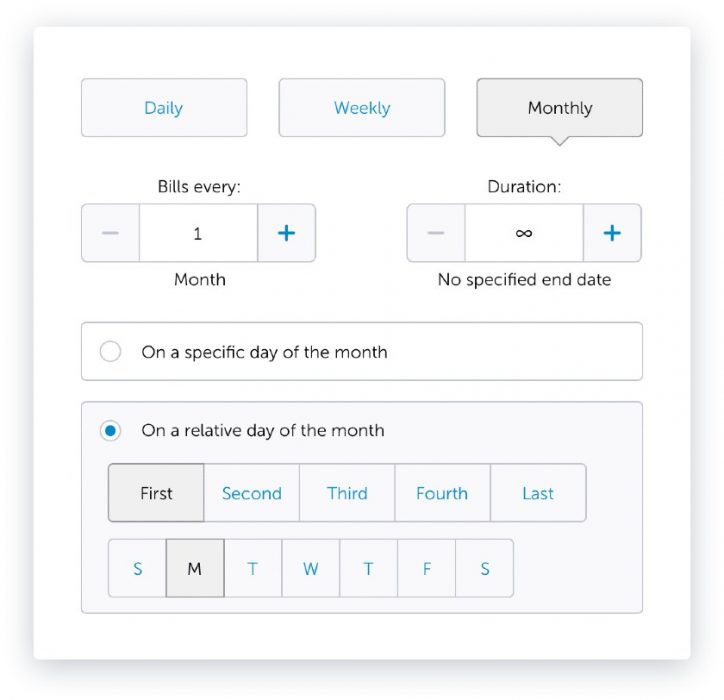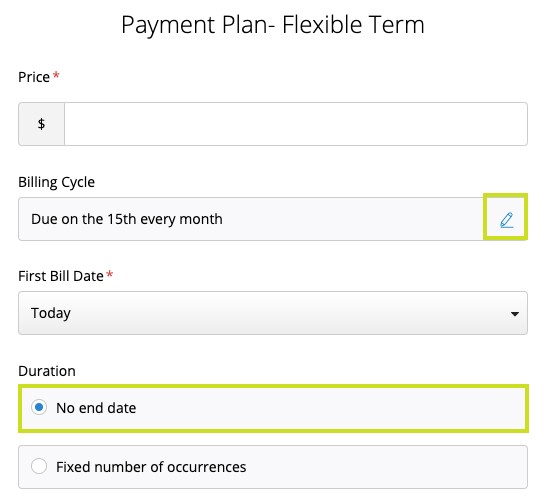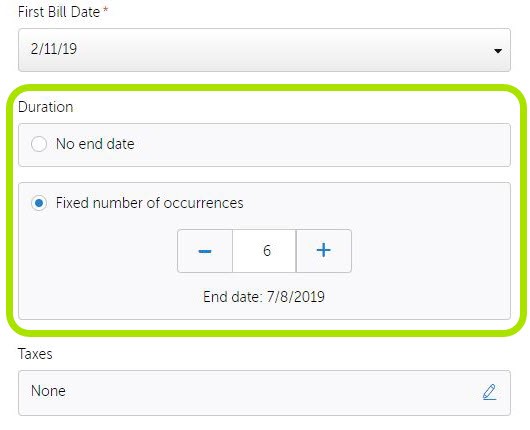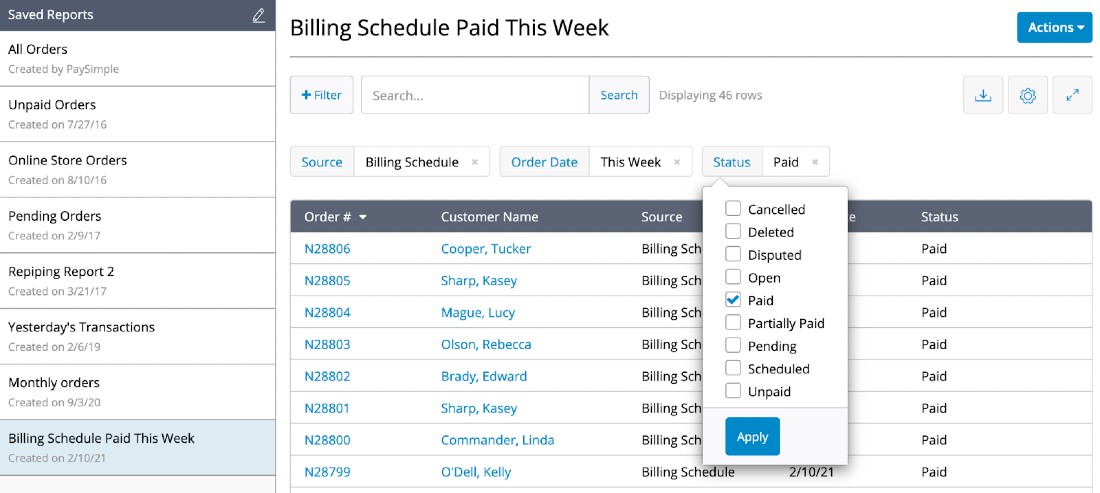 In the PaySimple dashboard, you can set up repeat billing schedules, manually process or refund payments, and manually initiate or cancel subscriber accounts. PaySimple will even prorate monthly billing amounts automatically.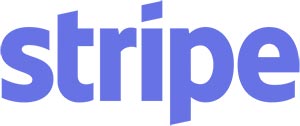 Best for International and In-App Payments

PROS
Excellent developer tools
International payment options
Sophisticated billing logic
ACH payments and local currency options
Automatic card updater

CONS
Takes longer to set up and requires technical skill to maintain
In-app payment features require coding
Not suitable for high-risk
RATING CRITERIA

Pricing & contract
4.25
OUT OF
5
Recurring Payment Types
4.50
OUT OF
5
General Features
1.25
OUT OF
5
Expert Score
4.69
OUT OF
5
Stripe is a leading online payment processing solution and a major competitor of PayPal in general. Like PayPal, Stripe delivers excellent recurring payment options for online subscription sales, online blogs, e-learning memberships, and online invoicing. It even supports mobile app-based services that handle in-app subscription services payments.
Stripe is a developer-friendly solution with open-source code and plenty of toolkits and APIs. This flexibility, combined with an impressive array of language and currency options, and plug-and-play solutions that can work with any website earned Stripe a 3.71 out of 5 in our evaluation. However, Stripe is trickier to set up and maintain than the other solutions on our list, and in some cases, will require technical skill.
Stripe Recurring Payment Features
Monthly fee: $0
Payment processing fee: 2.9% + 30 cents per transaction
ACH credit payments: $1
Recurring payments: Additional from 0.5%
Payments accepted: Credit and debit cards, e-wallet, ACH, e-check, and over 135 currencies.
Cannot accept: PayPal payments
Flexible billing logic: Charge per-seat, metered pricing based on use, multiple membership options, pricing tiers, flat rate, and flat rate plus overage charges.
Automated tools: Payment and past-due reminders, card updater for new numbers and expiry dates, retry failed payments, membership renewals, and prorated billing when customers change plans.
How to Accept Recurring Payments With Stripe
Stripe recurring payments can work with most ecommerce platforms and blog sites. In fact, many online subscription box marketplaces like Cratejoy seamlessly integrate with Stripe as their primary payment solution.
Using Stripe, you can quickly attach subscription payments to most ecommerce platforms using Stripe's automated integrations. Or, you can create pop-up membership or subscription forms that easily embed in your blog or website pages, and even in emails and online apps.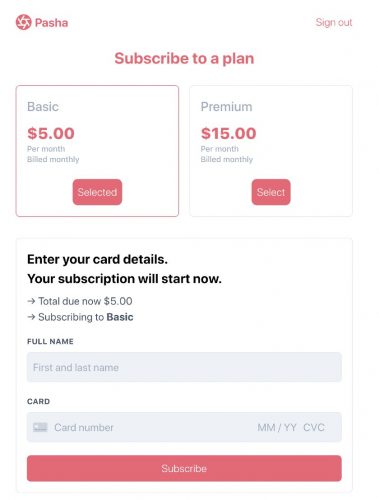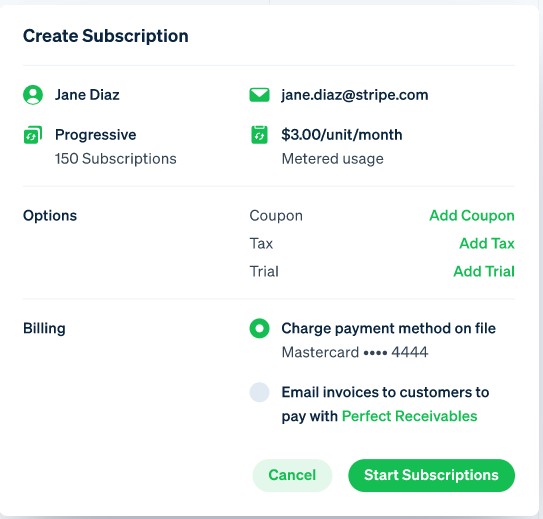 Like the other online recurring payment solutions on our list, Stripe saves your customer's payment data in their PCI-compliant virtual vault to ensure security. Plus, Stripe can send e-receipts to notify customers that their automated payment has been successfully processed.

Best Recurring Invoicing for Individuals

PROS
No monthly fee, free invoicing and accounting software
Low-cost ACH processing
No additional fees for card-on-file or recurring payment transactions

CONS
No phone support
Slower, 2-day payout time
Higher fees for American Express transactions
RATING CRITERIA

Pricing & contract
4.25
OUT OF
5
Recurring Payment Types
4.00
OUT OF
5
General Features
2.25
OUT OF
5
Expert Score
3.50
OUT OF
5
Wave is a free, user-friendly invoicing and accounting software that can also be used to set up recurring invoices and payments. Switch between card-on-file payments to automatically charge customers and send a receipt based on whatever billing cycle you choose, or opt to send automated invoices that customers can pay manually. Invoices can be customized to match your branding.
Wave's free invoicing tools, plus free accounting software with reporting for payments, payroll, taxes, cash flow, and more earned it a score of 3.56 out of 5. While these tools are a great resource for individuals, small businesses could quickly outgrow the limited-feature platform.
Wave's recurring billing features include:
Monthly fee: $0
Credit card processing fee: 2.9% + 30 cents
American Express processing fee: 3.4% + 30 cents
ACH / bank payment fee: 1% ($1 minimum)
Automated tools: Payment receipts, past-due reminders, send out recurring invoices, charge clients based on a set schedule, and invoices sync with accounting.
Mobile app: Invoicing and receipt scanning app for iOS and Android.
How to Accept Recurring Payments With Wave
The first step for accepting payments with Wave is to create a free Wave account. Once you're signed up, you can choose to create individual invoices, or set up a recurring invoice, including options to save your customers' payment information. There are also options to build payment plans.
From the dashboard, you can see at-a-glance invoices that are past-due, outstanding, unsent, or upcoming invoices, and when your next payout is. Like Square and PayPal, Wave can also be used to create and send estimates that can then be converted into invoices.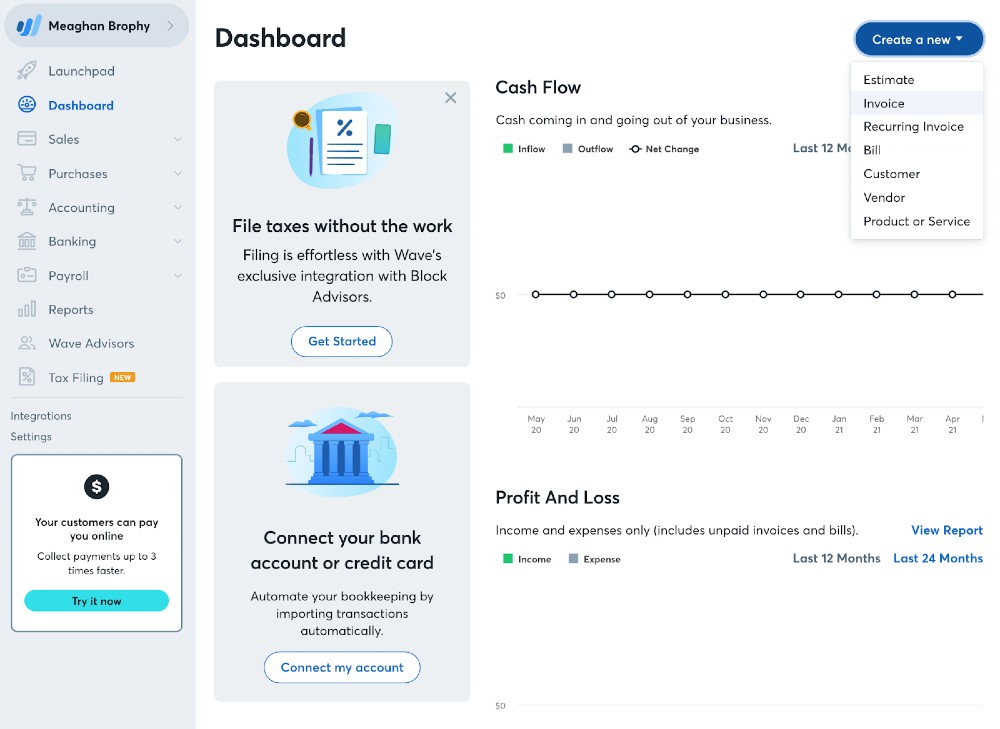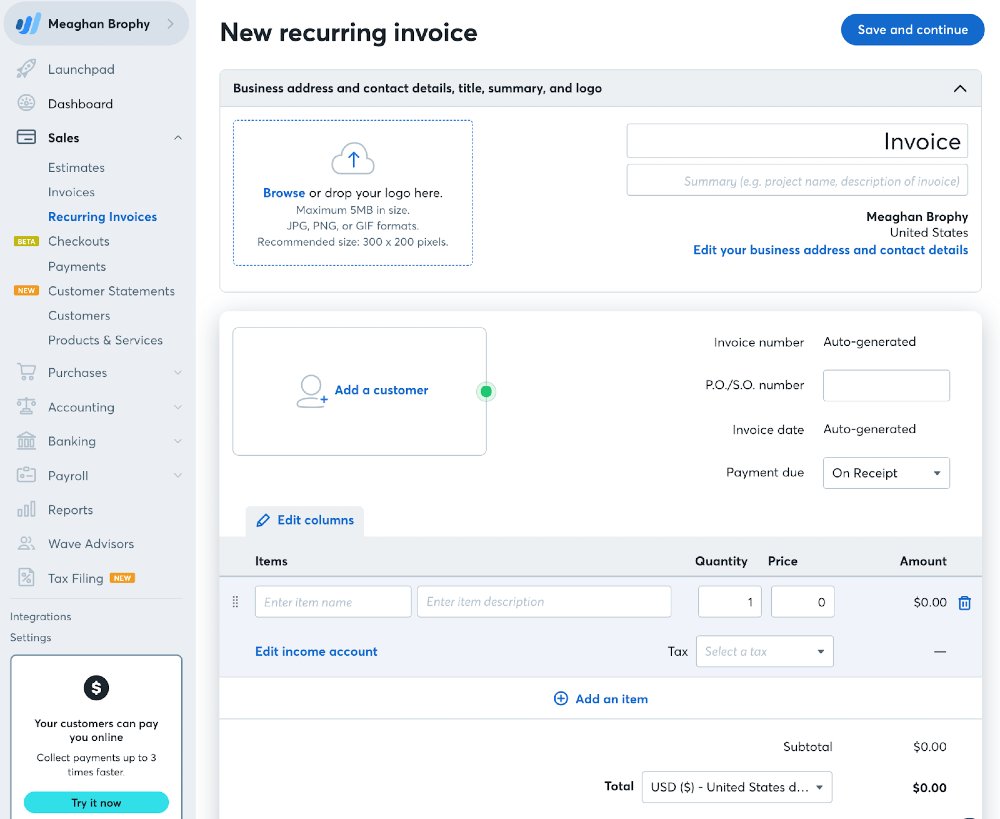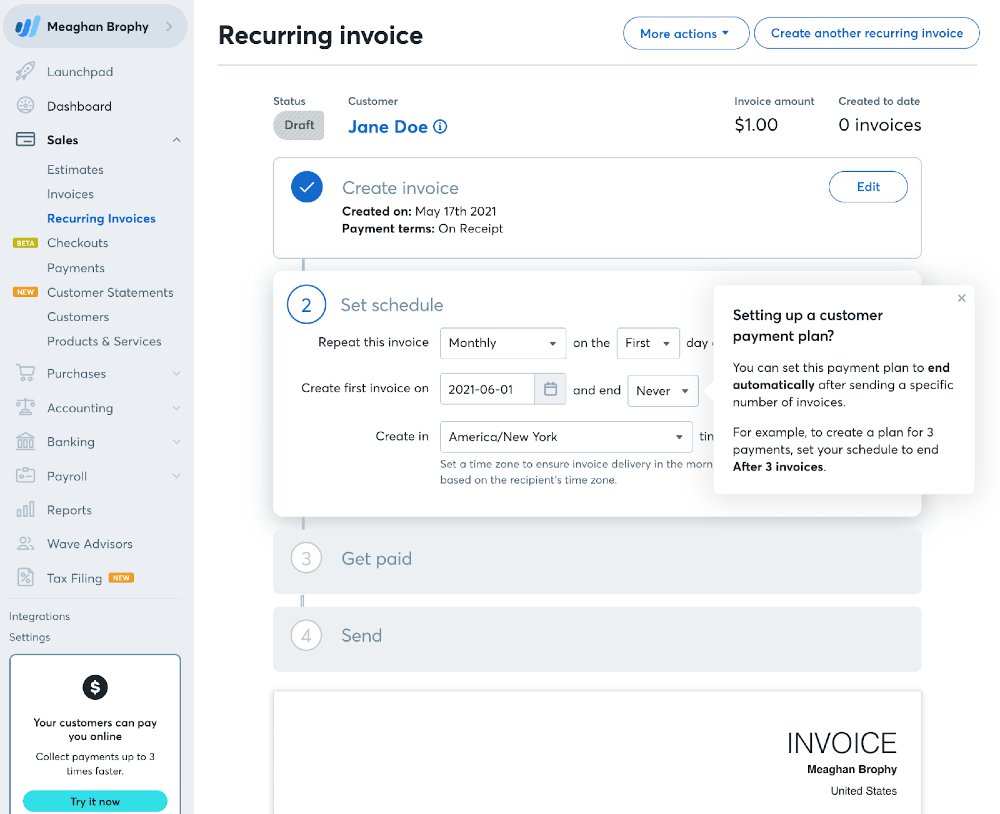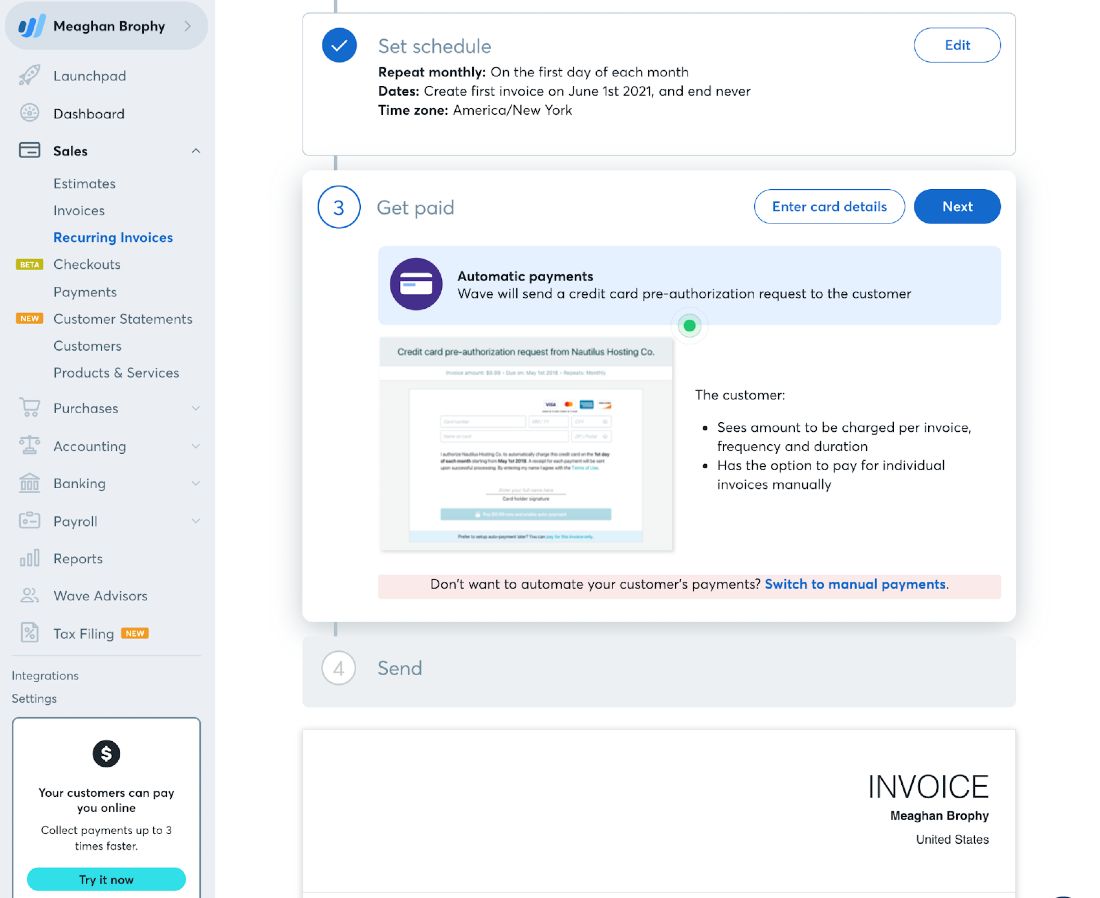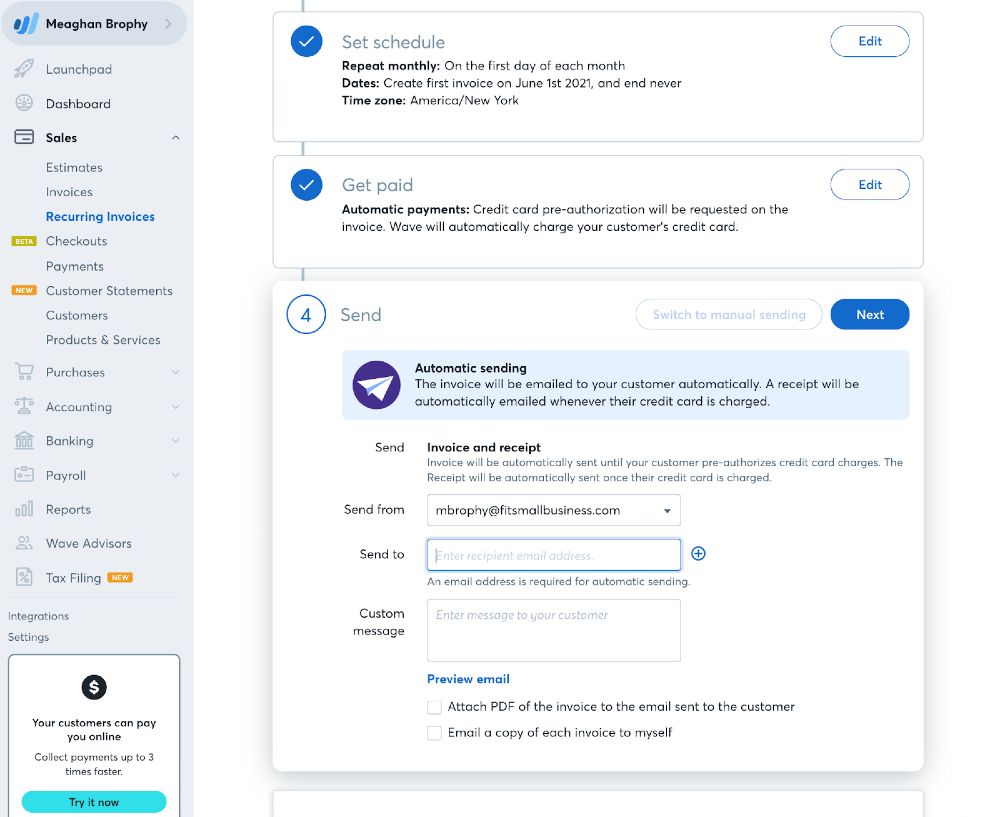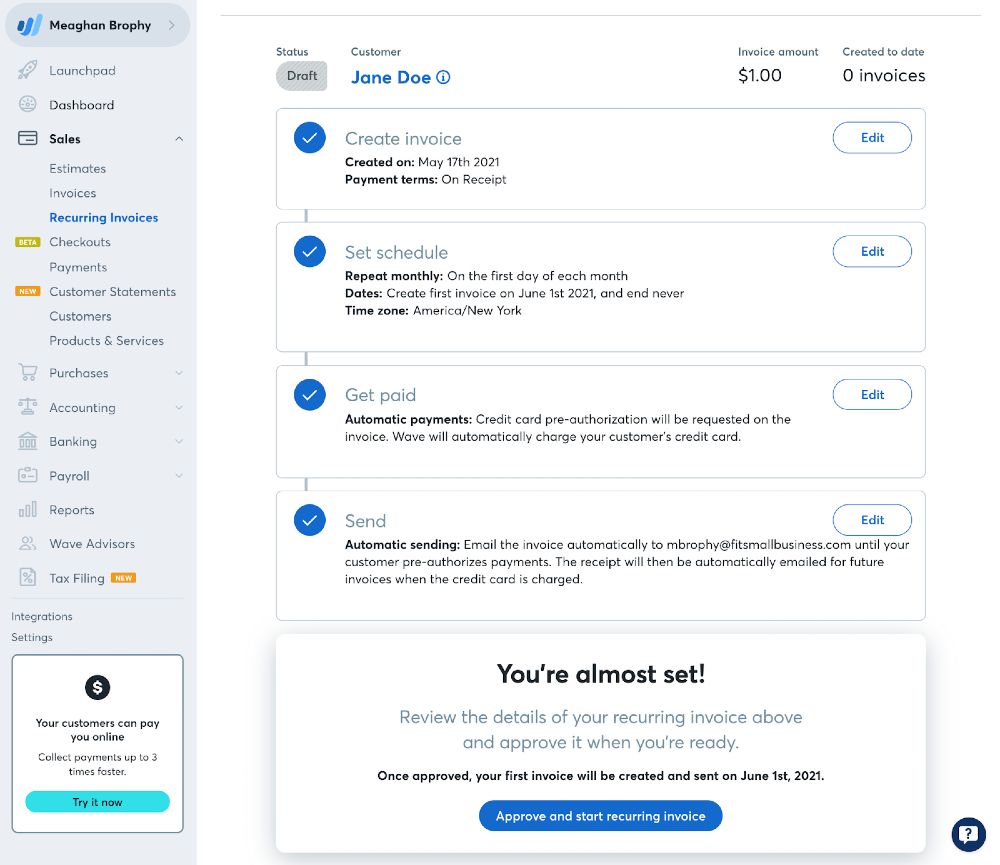 How We Evaluated Recurring Payment Processors
The best recurring payment processor for you will really depend on the size of your business and the type of products or services you sell and whether they require invoicing, subscriptions, memberships, or something in between. However, we evaluated recurring payment processors based on general pricing, including transaction fees and overall pricing transparency, the types of recurring payments they can handle, and general features like customer support and payout times. Plus, we considered the overall value each system offers, how easy it is to use, and took into account customer reviews along with our personal experience interacting with the product and customer support teams.
Click through the tabs below for our detailed evaluation criteria.
20%
Pricing & Contract Terms
35%
Recurring Payment Types
20% of Overall Score
We prioritized payment processors that don't require monthly minimums, contracts or have monthly fees. We also awarded points to solutions that have no or minimal chargeback fees, which can be especially important for subscription and membership-based businesses.
Square performed the best here, earning a perfect score because of its no monthly, cancellation, or chargeback fees. PayPal, QuickBooks, Stripe, and Wave all tied with no monthly or cancellation fees, but they do have chargeback fees ranging from $15 – $25. Fattmerchant does not have cancellation fees but does have chargeback and monthly fees.
35% of Overall Score
While all the solutions on our list process recurring invoices, we awarded extra points to ones that offer low-cost ACH processing (which can greatly reduce business expenses), card-on-file payments (which guarantee on-time payments), and virtual terminals (which are helpful for accepting payments over the phone).
Fattmerchant, QuickBooks, and PaySimple all earned a perfect score here. Square fell slightly behind, as it can only accept ACH payments through invoicing. Stripe also was slightly behind, as its virtual terminal solution is meant to be used only in case of emergency. Wave came in third because it does not offer a virtual terminal. PayPal came in last here because recurring ACH payments and card-on-file transactions are only available through its Braintree solution.
25% of Overall Score
Cash flow is important to small businesses, so we awarded points to solutions with same- or next-day payouts. We also prioritized 24/7 phone support and tools for managing customer accounts. Recurring card-on-file payments also require customers to sign a payment authorization form, so we looked at whether each processor offers a template or has this feature included.
20% of Overall Score
In general, payment processors should offer transparent, predictable pricing. We also considered any stand-out features and the overall value each system offers for its price. Finally, we considered general account stability, ease of use, and user reviews.
All companies performed well here, with the exceptions of PaySimple, which earned a 2.94 because of its complicated and opaque pricing structure. Wave also only earned a 3.5 in this section because its feature set is rather basic, though the company is regularly adding new tools, so this evaluation may change.
*Percentages of overall score
Who Should Use Recurring Payments
Invoice-based recurring payments are ideal for:
Service providers: Lawn care, house cleaning, personal training, and childcare can process automatic repeat payments via single or batch invoices.
Monthly tuition or lesson fees: Fitness clubs, music lesson providers, dance studios, and tutoring businesses can run invoices and automated payments on a monthly basis.
Subscription services or club sales: Wine-of-the-month clubs and store loyalty programs can use recurring payments to automate monthly club sales or fees.
Online recurring payment solutions are ideal for:
Subscription box businesses: Subscription box sellers use online websites and marketplaces to sell subscriptions, then automatically run recurring charges for subscribers before shipping scheduled boxes.
E-learning academies: E-learning businesses make online course content and instruction accessible on an ongoing basis via an online checkout with scheduled recurring payments.
Membership blogs with restricted content: Informational bloggers can manage access to members-only content using recurring membership payments.
Online services: Recurring payments are what make all types of online services possible, including software as a service (SaaS), online advertising, gaming products, virtual service providers, and mobile apps.
If you're selling anything online that auto-renews or requires periodic automatic payments, you'll need a payment processor that can handle the recurring transactions. The easier you make it for customers to pay you, the better.
Costs of Processing Recurring Payments
Recurring payment processing fees are typically a small percentage of the transaction total. Each payment provider sets its credit card processing fees and some tack on monthly account fees. For example, Square charges 3.5% plus 15 cents per recurring payment, so a $100 charge costs $3.65 in fees. With Square, that's all you'll pay because Square has no other account fees.
Some automatic payment solutions match Square's no-monthly-fee model such as Stripe and certain QuickBooks Payments plans. In contrast, Stax and PaySimple both charge monthly fees for recurring payments—but both providers have lower per-transaction fees.
You'll also want to consider other payment processing services or perks that these providers offer. Value-added benefits, such as Square's free business management suite or QuickBooks Payments' seamless integration with QuickBooks, might be the deciding factor.
Bottom Line
Based on our evaluation, we recommend Square as the best overall recurring payment processor for most small businesses. Affordability and flexibility are the key reasons Square tops our list for the best recurring invoice payment provider. A free Square account includes card-on-file payments, a virtual terminal, invoicing software with automation tools, plus a free website and mobile app to accept payments online or in-person.