1-800Accountant Review: Features & Pricing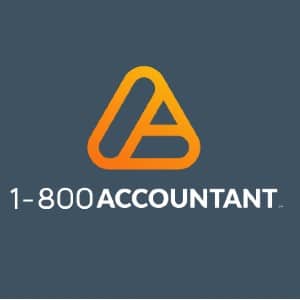 What We Recommend 1-800Accountant For
Small businesses that want a full-service accounting firm: If your business needs not only bookkeeping services but also tax filing and payroll processing, 1-800Accountant is a good option.
Small businesses that want access to year-round tax services: Available with the Business, Corporate, and Enterprise plans, 1-800Accountant can connect you with a dedicated accountant who will assist with proactive tax planning and quarterly reviews.
Small businesses working remotely: Its robust mobile app has all of the same features as the cloud-based version, and it also includes mileage tracking and the ability to upload documents with your phone.
New nonprofit organizations: It specializes in helping nonprofits with setup, compliance, bookkeeping, and more. Its certified public accountants (CPAs) will guide you through setup requirements and help you file your 501(c)(3) application. You'll be educated in compliance, allowing you to accept donations while your nonprofit status is pending.
Best 1-800Accountant Alternatives
Companies seeking chief financial officer (CFO) advisory services: If your business is seeking CFO advisory services, Pilot is a great option. Services include monthly engagement, annual budgeting and forecasting, and fundraising strategy and support. Pilot CFOs will review your financial health and processes, support vendor contract review and negotiations, and provide recommendations for benchmarking and sales efficiency.
Small businesses using QuickBooks Online: We selected QuickBooks Live as one of the best online bookkeeping services, specifically for companies wanting assistance with QuickBooks Online. Your bookkeeper will provide assistance with setup and training and meet with you on a monthly basis to review your financial reports and answer questions.
Small businesses using Xero: Bookkeeper360 is a Xero Platinum Partner and is ideal for small businesses using Xero and wanting both bookkeeping and business advisory services. Full-service payroll is integrated with your bookkeeping for an additional fee, and accrual-based accounting is also.
If you're unsure if assisted bookkeeping is right for your business, check out our guide to the best small business accounting software for great do-it-yourself accounting software options.
1-800Accountant Pros & Cons
PROS

CONS

Mobile app
Must commit to an annual subscription (no monthly option)
Dedicated accountants
Financial reports only with Enterprise plan
Can manage multiple business entities
Bookkeeping services only with the Enterprise plan
Integrates with your current accounting software
Multiple unresolved complaints filed with Better Business Bureau (BBB)
1-800Accountant Pricing
A free live bookkeeping consultation is required before signing up, and services are billed on an annual basis. You also have the option of customizing a package that's more specifically tailored to your business needs.
| | Business | Corporation | Enterprise |
| --- | --- | --- | --- |
| Monthly Fee Billed Annually | $125 | $225 | $375 |
| Access to Portal | ✓ | ✓ | ✓ |
| Dedicated Accountant | ✓ | ✓ | ✓ |
| Year-round Tax Advice | ✓ | ✓ | ✓ |
| Proactive Tax Planning | ✓ | ✓ | ✓ |
| Quarterly Reviews | ✓ | ✓ | ✓ |
| Personal & Business Tax Preparation | N/A | ✓ | ✓ |
| Bookkeeping Services | N/A | N/A | ✓ |
| Priority Support | N/A | N/A | ✓ |
| Financial Reports | N/A | N/A | ✓ |
1-800Accountant offers another plan called Startup, which provides services for startups, and prices start at $0 per month plus a state fee. This includes a verified name availability search, customized articles of organization, secure online access to incorporation documents, and unlimited phone and email support.
1-800Accountant Features
Secure online portal: 1-800Accountant's client portal provides secure online access to your documents and records and the ability to message directly with your accountant and schedule an appointment.
Dedicated accountant: With any plan, you'll be matched with a dedicated accountant who is knowledgeable in your industry and location. The Business and Corporation plans provide tax assistance only, but with the Enterprise plan, your accountant will categorize your transactions, reconcile accounts, run reports, make recommendations, and help you stay compliant.
Tax preparation and payroll: 1-800Accountant will file your business and personal taxes, provide tax consulting and planning, and even audit defense. It will also process payroll for your employees, and a payroll specialist will help ensure compliance with the IRS.
Entity formation: 1-800Accountant will prepare and file your articles of organization, file for your employer identification number (EIN), serve as your registered agent, and help you set up your business for maximized tax savings.
Catch-up bookkeeping: No matter how far behind you are, 1-800Accountant will help you get your financials up-to-date and IRS compliant in a quick and efficient manner.
1-800Accountant: Working With Your Bookkeeper
Once you enroll with 1-800Accountant, you will receive a welcome email with instructions to log in to your client portal. Before logging in, you can schedule a phone call with an expert bookkeeper based on your availability, and the appointment will run anywhere from 15 to 30 minutes. You will be matched with a bookkeeper who has experience in your industry and is knowledgeable about your location. They can answer your questions and provide assistance with logging into the portal if you haven't yet done so.
If you have fallen behind in your bookkeeping, 1-800Accountant can help you get caught up, as far back as needed. It uses the proprietary software ClientBooks, an all-in-one back office tool with advanced features to help you stay focused on growing your business. It allows you to create invoices, categorize your transactions, and access your financials, and its mobile app lets you track your mileage and upload receipts and business documents. You won't need any other software, but ClientBooks can integrate with whatever accounting software you already use.
1-800Accountant: Customer Service
If you're in need of customer support, you can contact 1-800Accountant via phone, chat, email, or secure messaging within the client portal.
It should be noted that 1-800Accountant has received 228 complaints that were filed with the Better Business Bureau since September 2019. Of those complaints, 35 were resolved satisfactorily and the rest are still open or cited as unresolved by the client. However, 1-800Accountant has an A- rating from the New York Better Business Bureau.
1-800Accountant Mobile App
Available for both iOS and Android users, 1-800Accountant's mobile app allows you to perform the same tasks as with your computer. These include creating and sending invoices, generating financial reports, creating journal entries, and syncing your bank accounts.
You can also track mileage and upload receipts, invoices, and other important documents into 1-800Accountant's secure document center from a saved file on your phone or by taking a photo in the app. If you need assistance, you can schedule an appointment or request a call from your dedicated accountant.
1-800Accountant Reporting
While 1-800Accountant does offer financial reports, there isn't much detailed information about the actual reports that are provided. However, you can also generate your own reports using ClientBooks, with the ability to customize them to obtain the data you're seeking.
What Users Say in 1-800Accountant Reviews
1-800Accountant reviews show that its dashboard is user-friendly and easy to navigate. Users also praised the virtual accounting firm's business formation services and the transparency of fees and services.
The firm has earned the following average scores on popular review sites:
The biggest drawbacks of 1-800Accountant are complaints about its lack of communication and follow-through. Customers also cited a long wait time before actually receiving a response when tax-related questions came up.
Bottom Line
The services of 1-800Accountant include advisory, tax, bookkeeping, payroll, and entity formation. The company combines personal support from a nationwide team of experts at an affordable flat rate that starts at $125 per month. You'll even have access to a full-featured mobile app when you're on the go. For $375 monthly, you'll receive industry-specific guidance from a local bookkeeper who will also manage your books. You can add entity formation, payroll, and tax preparation services for an additional fee.