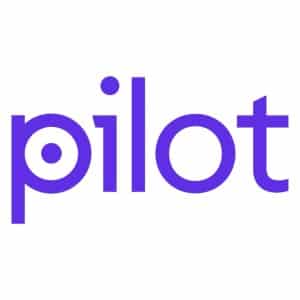 What We Recommend Pilot Bookkeeping For
Pilot Bookkeeping is a solid choice for ecommerce businesses and tech startups due to its understanding and experience with these niche businesses. It uses only the accrual-basis accounting method, which records income and expenses when the money was earned or owed vs cash received or spent. Because of this, businesses using cash-basis accounting will need to make a change in accounting method. We recommend Pilot as the best online bookkeeping service for startups because its bookkeeping, tax, and CFO services are built for venture capital (VC)-backed companies. Businesses that need CFO or tax services, or those that manage multiple entities, are also a good fit due to its ability to support these needs with the Plus plan.
Who Pilot Bookkeeping Is Best For
Rapidly growing businesses like high-growth technology startups: As your business grows and potentially takes on funding, it will be able to take advantage of the accrual-basis and advanced bookkeeping features that Pilot offers.
Businesses looking for CFO and/or tax services: With Pilot CFO and Pilot Tax, you can access its CFO consulting services and file business corporate taxes as well as 1099-MISC forms.
Businesses that need catch-up and/or clean-up bookkeeping: If you've fallen behind in your bookkeeping or if you need to ensure that your books are accurate, Pilot can help for an additional fee.
Multiple entities: Pilot offers support for multiple entities with its Plus plan, which has custom pricing.
Who Pilot Bookkeeping Is Not a Good Fit For
If you're not sure assisted bookkeeping is right for you, read our guide to the best small business accounting software for great do-it-yourself (DIY) accounting software options.
Pilot Bookkeeping Pros & Cons
PROS

CONS

Dedicated bookkeeper
No cash-basis accounting available
Unlimited connected bank and credit card accounts
Fees are on the higher end of the price spectrum
Catch-up and clean-up bookkeeping available
Payroll services are not available
Advanced services offered, such as tax filing and CFO consulting
Businesses must use QuickBooks Online
Pilot Bookkeeping Pricing
Pilot's bookkeeping services are based on an annual subscription model with pricing that scales with your expense rate and your business needs. Pilot also charges an onboarding fee that is equal to one month of bookkeeping. The services are billed on an annual basis.
| | Core | Select | Plus |
| --- | --- | --- | --- |
| Who It's Best For | Small businesses | Growing businesses that need more support | Larger businesses or those with complex needs |
| Cost (Less Than $30,000 in Monthly Expenses) | $599 per month | $849 per month | Custom pricing |
| Cost ($30,000 to $60,000 in Monthly Expenses) | $649 per month | $899 per month | Custom pricing |
| Cost ($60,000 to $100,000 in Monthly Expenses) | $719 per month | $969 per month | Custom pricing |
| Cost ($100,000 to $150,000 in Monthly Expenses) | $809 per month | $1,059 per month | Custom pricing |
| Cost ($150,000 to $200,000 in Monthly Expenses) | $899 per month | $1,149 per month | Custom pricing |
| Cost (More Than $200,000 in Monthly Expenses) | Only available with Plus plan | Only available with Plus plan | Custom pricing |
| Dedicated Bookkeeper | ✔ | ✔ | ✔ |
| Accrual Basis Bookkeeping | ✔ | ✔ | ✔ |
| Profit and Loss (P&L), Balance Sheet & Cash Flow Statements | ✔ | ✔ | ✔ |
| Customer Support & Advice | ✔ | ✔ | ✔ |
| Industry Standard Financial Ratios | N/A | ✔ | ✔ |
| Expedited Books Delivery | N/A | ✔ | ✔ |
| Monthly Phone Reviews | N/A | ✔ | ✔ |
| Priority Support | N/A | ✔ | ✔ |
| Support for Multiple | N/A | N/A | ✔ |
| Entities, Classes & Locations | N/A | N/A | ✔ |
| Accounts Receivable (A/R), Accounts Payable (A/P) & Inventory Tracking | N/A | N/A | ✔ |
| Billable Expenses | N/A | N/A | ✔ |
| Fully Customizable Chart of Accounts | N/A | N/A | ✔ |
Pilot offers other financial services for an additional fee. The following are the prices for each:
Pilot CFO: Starting at $900 per month, billed annually for monthly engagement and $1,500 per year for annual budgeting and forecasting
Pilot Tax: Starting at $1,950 per year for tax services, including federal corporate income tax and 1099-MISC filing
A/P and A/R: Starting at $125 per hour for support paying bills and creating and sending invoices
Controller Services: Starting at $200 per hour for assistance with building the right finance operations
Pilot Bookkeeping Features
A/R and A/P: Issuing invoices and paying bills are not included by default, but you can add them to any plan for an additional fee.
Accrual-basis accounting: Most larger companies use accrual-basis accounting as required by Generally Accepted Accounting Principles (GAAP) and preferred by banks and investors.
Bank reconciliation: Each month, your bookkeeper downloads your bank and credit card statements and reconciles them to ensure accuracy with your financial data.
Dedicated bookkeeper: Upon enrollment, you will be assigned your own dedicated bookkeeper, who will assist you with setting up your account and will be the person to contact with any questions.
Financial reports: Basic financial reports, such as P&L statements and balance sheets, are sent on a monthly basis. More customized reports are available with the Plus plan.
Integrations: Pilot has integrated its services with Stripe, Square, Shopify, Intuit QuickBooks, Bill.com, and more.
Tax management: Available as a separate package, Pilot Tax includes federal-, state-, and city-level income tax preparation as well as 1099-MISC filing. It also offers unlimited email support.
Pilot Bookkeeping: Working With Your Bookkeeper
When you sign up for Pilot, you will be assigned a dedicated bookkeeping expert who will serve as your point of contact. They will walk you through how to integrate your existing processes and software with QuickBooks. If you have any questions, you can speak with your account manager through the QuickBooks portal or by email at no additional cost.
What Are the Requirements to Start With Pilot Bookkeeping?
To get started, Pilot has three requirements to deliver the most accurate books for your business:
Electronic transaction access
Expense reporting software
No commingling of personal expenses
Is Support Included?
Yes, support is included with your plan. Your dedicated bookkeeper can answer any of your questions either through the QuickBooks portal or by email.
Is It Possible to Migrate My Books From Xero to QuickBooks?
Yes, Pilot can transition your books to QuickBooks Online. As part of your onboarding process, Pilot will enter summarized monthly information from Xero into QuickBooks going back to the beginning of the year.
Pilot Bookkeeping Reporting
Each month, you'll receive a detailed report package that contains your P&L, balance sheet, and cash flow statements for the prior month. Your monthly reports also include metrics that are specific to your industry. For startup businesses, Pilot will calculate your burn rate. For ecommerce stores, it will provide inventory updates.
In addition, Pilot's Plus plan offers these custom schedules and reports on an as-needed basis:
Reports by class, location, and department
Supporting schedules like prepaid expenses, amortization, and depreciation
Detailed A/P and A/R reporting
Multiple currency reports
Reports by entity
Pilot Bookkeeping Alternatives
| | | | |
| --- | --- | --- | --- |
| Best For | Businesses using QuickBooks Online or needing cash-basis accounting | Businesses on a budget looking for basic bookkeeping for a low, flat rate | Businesses with payroll |
| Service Fee | Starting at $200 per month | $190 per month | Starting at $19 per month for pay-as-you-go pricing and $45 per month for payroll |
Bottom Line
Pilot Bookkeeping is a financial service provider that is tailored for startups and large enterprises. Aside from its bookkeeping solutions, it also offers support for CFO services and tax services for growing businesses. Pilot connects your business with a dedicated account manager who will learn the ins and outs of your business quickly. Using a blend of custom software and expert bookkeepers, Pilot can deliver accurate bookkeeping at a price that can be customized based on the needs of your business.