Account managers and account executives are both essential to a sales operation for generating revenue. While their roles are different in scope with one handling current clients and the other new business, they can both be excellent careers with growth opportunities and high earning potential. In this article, we explore the difference between an account manager and account executive, and break down each position's role, salary, and qualifications.
Account Manager vs Account Executive: Roles & Responsibilities
An account manager and account executive are both revenue-generating positions within a sales team, but separate themselves by interacting with customers at different stages of their journey. Additionally, they work collaboratively to move a lead to a customer or client. Let's dive into the comparison of the roles and responsibilities of an account manager vs account executive.
Role of an Account Manager
An account manager represents the company and becomes the point of contact for the client and customer relationships. After the sale or deal is closed, they manage the client account relationship as delegated by the account executive. Some key responsibilities of an account manager include:
Client onboarding: Introducing the new client or customer to the products and services they will be using and any resources associated with that purchase. This takes place shortly after a deal is closed, allowing the client to meet their account manager and learn how the product works and the service process.
Service and retention: This involves being available to answer the client's questions, concerns, or account issues. They need to keep the client satisfied so they remain a loyal customer—which costs far less than bringing on new clients.
Managing renewals: Account managers handle the process of renewing a contract, account, or subscription for existing clients. Generally, the renewal process is far easier if the account manager has been in contact with their client throughout the contract duration rather than only checking in once a year for the renewal.
Upselling and cross-selling: In addition to keeping customers on board, account managers get their clients to upgrade to more premium solutions or purchase other complementary products and services through upselling and cross-selling.
Each of these responsibilities looks different depending on the industry and size of the accounts being managed. For example, in insurance, an account manager constantly contacts their larger business clients to keep sending certificates of insurance and upgrade the workers' compensation policies as new employees and contractors are added.
In contrast, an account manager for a software company spends a lot of time upselling or cross-selling native software products or add-ons. They also likely spend more time dealing with billing issues and managing a lengthy onboarding process. However, tasks related to technical support or engineering issues related to a software product would likely be handled by a different support specialist.
Role of an Account Executive
Account executives are the face of the company to leads and prospects before they are brought on as clients. Their main responsibility is to improve relationships with leads, close deals, and generate new business revenue. Most companies have the account executive manage at certain stages of the sales pipeline, such as:
Prospecting and introductions: Typically, account executives handle the research for prospective clients and their contact information to make individual introductions. Most businesses, however, have a sales development rep (SDR) to do the research and initial outreach to set up a presentation for the account executive.
Lead generation and qualification: Many sales organizations have account executives who generate leads through introduction calls, emails, or in-person events such as trade shows or networking events. They would also be responsible for seeing if a lead is a good fit for their business offerings by asking qualifying questions.
Sales presentations and product demos: Formally setting up a time to meet with the prospect and present information about their company, product, and services, as well as field any questions by the prospect.
Sending proposals or quotes: In response to a request for proposal (RFP) or per the prospect's interest, the account executive drafts a proposal with terms and pricing for review. This step is usually automated with the ability to plug in the lead's information and have the proposal generated for them. Sometimes, a sales assistant is responsible for this step.
Negotiating terms: Often in collaboration with a company's executives, owner, or legal counsel, the account executive handles any negotiation requirements for contract terms or pricing.
Closing deals: By going through the other steps and keeping a solid relationship with the prospect through follow-up emails and calls, they work to get the final sign-off on the deal so they can pass it along to the account manager.
Just like the account manager role, an account executive's day-to-day activities depend on the industry, the size of businesses they target, and how their operation is structured. For instance, certain businesses, such as insurance agencies, renovation companies, and consultants, spend more time creating and sending proposals due to the underwriting or quoting requirements.
This differs from account executives of software businesses or marketing services, who usually do outreach and sales presentations. Furthermore, businesses selling to enterprise-level companies find that their account executives spend much of their time in the negotiating process and working to close the deal with a longer sales cycle.
Account Manager vs Account Executive: Qualifications & Salary
Both jobs require prior experience in sales roles, customer-service positions, or both, and both have tremendous potential as career options. Here's a look at the salary comparisons of account manager vs account executive and what it takes to get there:
Account Manager Salary
Account manager jobs mostly have base salary with some bonus and/or commission compensation structure. According to data from Payscale, the average account manager base salary is $56,792 per year, with a typical range between $39,000 and $85,000.
Additionally, sales bonuses tend to be somewhere between $978 to $20,000 per year and annual commission payments range from $2,000 to $38,000. Some account managers also report profit-sharing compensation that ranges between $576 and $12,000 per year.
Becoming an Account Manager
An account manager requires certain attributes related to client interactions and customer service, such as the ability to empathize, collaboration skills, selling capabilities, and overall personability. On top of that, the technical knowledge to use a customer relationship management (CRM) system or other similar software is also necessary.
Account manager jobs can be entry-level for certain companies and industries. However, if the position requires prior experience, many account managers have previous sales roles, such as a sales development representative and business development representative (BDR). Others also have experience in customer service or customer support positions.
While there's no specific sales certification required for an account manager, picking the right one may give a better chance of getting a position and increasing your pay—particularly in ones related to using CRM software or specific to customer service and account management. HubSpot Academy is an excellent source for free sales courses and certifications to help give you a step up on the job market competition.
Account Executive Salary
Relative to an account manager, account executives often make around the same or even more money through performance compared to their base salary. Payscale data shows an average base salary of $57,055, which tends to range between $39,000 and $93,000.
Bonuses have an extremely high range of $998 to $41,000 per year, and commission compensation can be anywhere from $4,000 to $51,000. In addition, some companies that do profit sharing will also pay account executives an additional payment of $980 to $26,000 per year.
An account executive sees a far higher increase of pay for experience than an account manager. For example, a late-career or very experienced account executive can see 25% to 38% higher base salaries than average compared to only 13% to 16% for account managers.
Becoming an Account Executive
Account executives need to have fine-tuned interpersonal skills, especially when meeting new people such as leads and prospects. They should also be able to sell—or at least have a strong desire to learn about selling techniques and the sales process. Like account managers, account executives need to communicate properly, collaborate with others, and effectively use sales technology, such as CRM software.
One key difference between account managers and executives is that it's unlikely for an account executive job to be an entry-level position. Most companies require sales experience in an inside sales role as an SDR before getting into this outside sales position. Account executives, after some years of solid experience (and assuming they also carry leadership traits), tend to have a good chance of moving into a sales management position.
Certifications increase base pay for an account executive and up their chances of getting the position over others. Regardless of those benefits, the sales training involved helps drive individual performance by reinforcing knowledge or learning new sales methods and techniques. Individual performance directly yields higher compensation through bonuses and commission.
Pro tip: Invest in a CRM system with hierarchy management capabilities so your account managers and executives can decipher their department and its leadership. In addition to basic CRM capabilities like lead organization and deal management, Bitrix24 comes with human resources tools that include company hierarchy creation and display.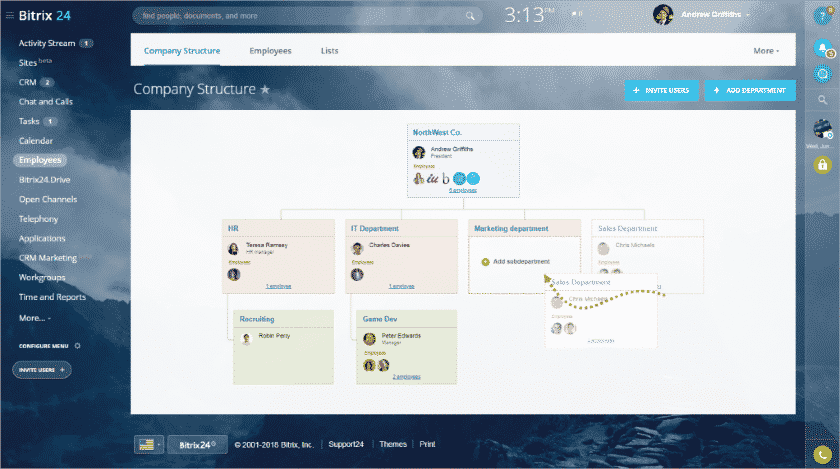 Bottom Line
When comparing account executive vs account manager, both offer solid compensation, the potential for professional growth, and are significant elements to consistent revenue growth. If you're choosing between the two, understand that an account executive requires more experience and skills related to direct sales, while an account manager needs to be more client-oriented with strong empathy skills.