9 Sales Pipeline Stages Every Team Should Create
Sales pipeline stages are the steps within a sales cycle that identify the internal activities needed to move a prospect from initial contact to buying your products or services. These include tasks like prospecting, lead qualification, and product delivery—all of which can be tracked using customer relationship management (CRM) software.
Centralize your sales operations and automate your sales process using Pipedrive.

---

AI-powered sales assistant

Sales automation tools

Visual sales pipelines

Robust CRM reporting
What is a sales pipeline? A sales pipeline represents the established flow of the customer's journey toward making a purchase. When done properly, it serves as a clear guide for sales reps to move deals through the various stages of their organization's sales process.
There are nine common stages of a pipeline, although each company will typically have a sales pipeline unique to their needs. Some might include all the common stages, while others might include lesser stages. Below we cover the most common stages of a sales pipeline and what each entails.
1. Researching Prospects
This is the beginning stage of the sales pipeline, where research is conducted to find potential businesses that may benefit from your products or services. The result of the research stage should yield a list with all the contact names for the company leads you want to sell to, depending on the business size and the industry you are targeting. You can do this by developing buyer personas and ideal client types before or as part of your research.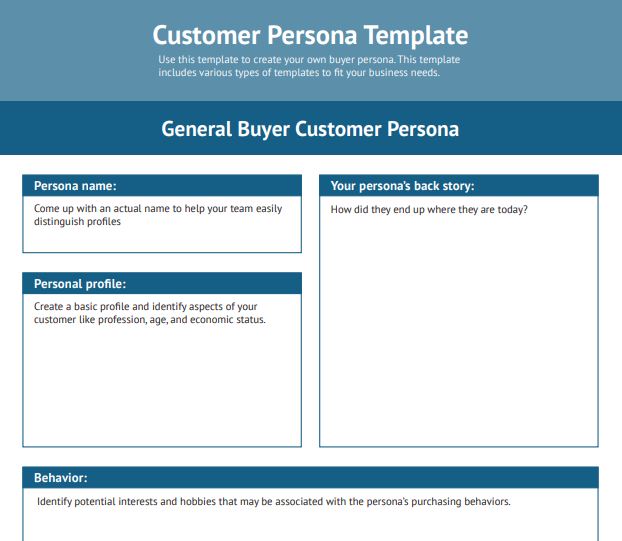 Thank you for downloading!
💡 Quick Tip:
Customer relationship systems like Zoho CRM allow you to store customer persona information and use tagging features to add traits to each prospect–making it easier to segment your customers into personas.
Visit Zoho CRM
Most research can be conducted online. However, there are data companies that offer lead lists and lead generation services. Providers like UpLead= can compile a list of potential customers to market your business to, including corresponding profiles and segmentations. In-depth research should be done before initially engaging with a lead to have the best chance of moving forward to the next sales opportunity stages.
2. Generating Online Leads
Some businesses prefer to generate leads online by attracting prospects using search optimized content or online advertising. They also acquire leads by requesting them to provide their contact information using web forms through landing pages, online advertisements, company websites, or social media pages.
This stage's workflow is made even easier when your online leads are automatically exported into a CRM system through integrations. Many CRMs also make it easy for you to set up automated workflows through Zapier, a tool that allows users to integrate various software. For example, you can integrate online forms to your email tools, and then automatically send a promotional email or add the contact into an email drip campaign when a form is submitted.
3. Introducing Products & Services
Introducing your products and services can be done either on a mass scale through marketing or personally through individual cold calling and introduction emails. Cold calling and introductory emails often require the delivery of a compelling elevator pitch, which is a brief summary of your offerings designed to spark interest.
Thank you for downloading!
💡 Quick Tip:
Make sure contacts included in your business email introductions are transferred to a powerful, dynamic CRM that can store email templates and track leads, allowing your team to engage leads and collaborate efficiently.
Consider a CRM like HubSpot that offers a free, scalable platform that allows you to track leads, documents, and collaborate with team members.
Visit HubSpot CRM
The purpose of the elevator pitch isn't to close the sale but to move the lead to the next sales pipeline stage and see if the lead is interested in further discussion. It's also important to note that the initial introduction may require a few attempts, especially if you couldn't get in touch with the contact, so following up consistently is paramount. You may also need to contact leads through other methods, such as LinkedIn messaging or direct mail.
4. Qualifying Leads
Lead qualification is the sales pipeline stage where you determine whether a prospect is interested in your products or services and to what degree. This can be assessed while on the phone with them during your introductory call if they indicate they'd like more information. It also can be determined if the lead agrees to schedule an appointment with you to learn more.
Lead scoring is a way to quantify the quality of your sales leads by assigning a score to each. It is based on a few factors, such as emails opened, previous communications, interactions with content, or whether they've explicitly stated interest. CRMs like Salesforce, through its artificial intelligence (AI) assistant, Einstein, can score leads automatically. This allows sales reps to prioritize leads who are ready to buy or move to the next stage of the sales pipeline.
Thank you for downloading!
💡 Quick Tip:
Use a CRM software like HubSpot to create lead scoring criteria, points, and weights within the platform to automate your lead scoring process.
Visit HubSpot CRM
Pro tip: Generating referrals is an effective sales management method, and it's one way to skip to the qualifying leads stage since the lead has already expressed interest in the referral source. Leads generated through advertisements can also skip to this step, since the lead is qualifying themselves by submitting a web form online, showing that they are interested.
5. Nurturing Leads
Nurturing leads is the next sales pipeline stage. This part of your sales plan involves following up and reminding the prospect of what you have to offer. Its main purpose is to reinforce the relationship with the potential customer. Whether you're delivering the sales presentation or negotiating terms, consistently communicating to nurture prospects to the next stage is crucial.
Some examples of lead nurturing include setting up drip campaigns to auto-send emails to leads in a series or based on their behaviors, or sales reps continually reaching out by phone. These nurturing methods can also be applied to existing customers by keeping in touch with them for potential product upgrades and reselling opportunities.
6. Delivering Sales Presentations
This step involves demonstrating a product, giving the prospect a free trial, or presenting various ways your business can help customers—or all of these. A less formal sales pitch could also be given during an introduction call and after the lead has expressed interest. Virtual sales pitches are often made as part of drip email campaigns and touch-base lead nurturing emails.
Below are some possible results of a sales presentation:
Business deal closed: The decision-maker agrees to do business and asks for a proposal, contract, or onboarding items needed to finalize the deal.
Proposal required: The customer likes what your business has to offer and requests a formal quote or proposal to be sent for review before making a final decision.
More information needed: The prospect wants more information or to schedule an additional meeting before requesting a formal quote or proposal.
Business lost: Based on the presentation, the customer determines they would not like to move forward.
7. Sending Proposals or Quotes
Writing a business proposal can be as informal as an email to the prospect stating how much your products or services cost or as formal as a detailed proposal or legal contract laying out the terms and conditions. Regardless of how a proposal is communicated, it's an essential stage in the selling process as no business will agree to purchase anything without knowing the cost and conditions.
Thank you for downloading!
💡 Quick Tip:
Make sure contacts included in your business proposal are transferred to a CRM system and entered into an email drip or a scheduled text outreach plan immediately.
Consider a CRM like HubSpot which helps you track the stages of your sales pipeline and alerts you when you need to send business proposals to your leads to successfully close deals.
Visit HubSpot CRM
8. Negotiating Terms
During this customer pipeline stage, depending on the size of the deal, there are instances where a customer can negotiate terms and prices. They may have the power to negotiate terms because of how large their company is or if your business is competing with other companies to win a deal. Additionally, the negotiation stage can take a long time to finalize if there are legal aspects involved.
One of the best ways to make this process smoother is by setting expectations early about which terms and conditions of the price can be altered, and which are set in stone. Negotiations can involve multiple parties, including the customer, sales team, finance, and legal department, so be sure to communicate constantly to keep everyone on the same page.
9. Closing the Deal
Once the prospect is ready to move forward, there are typically contracts to sign and onboarding items to address. This could also be the stage where a sales rep passes the new customer on to an account executive or customer service manager to be their new point of contact. For certain businesses, the deal closing stage of the sales pipeline may be when invoices are sent and payments are collected.
After You Close the Deal: Retaining & Selling to Existing Customers
Closing the deal is rarely the final stage of the sales process, even though it is seen as the last sales pipeline stage. Account management operations are often tasked with retaining customers by providing excellent service and fulfilling their product or service needs.
There should also be a plan for continuous marketing to existing customers to sell new products or services and/or upgrade them from what they already have purchased. Sales techniques like upselling and cross-selling can be incorporated when selling to existing customers.
CRMs can be used to retain current customers by actively assisting businesses in providing customer support and selling new products and services to existing customers. For more information on using CRMs for customer retention, check out our article on CRM customer retention strategies.
Benefits of Having an Established Sales Pipeline
Having an established sales pipeline is crucial because it standardizes the sales process of a business and helps sales representatives understand what is expected of them. It reduces guesswork among the team and helps manage and track the progress of their reps' ongoing deals and tasks. Below are some benefits of having a clear and established sales pipeline:
Having standard sales pipeline stages gives businesses better visibility on where each deal is currently in the process. By using a CRM tool, businesses can easily see where each deal is, how many deals are in each stage, and how long each deal has been in each stage.
By having established CRM pipeline stages, you can easily see the number of deals each rep has in the various stages of the pipeline. This helps you track how many active deals they have and in which pipeline stage they are, ultimately helping you assess the overall performance of your agents.
Having a standardized pipeline lets you conduct a sales pipeline analysis. This helps you to easily spot which deals are critical, which are usually those in the final stages like sending proposals or negotiating terms. You can also easily identify which ones are high-value deals—based on the deal amount and lead score—helping your team prioritize prospects.
Sales Pipeline vs Sales Funnel
A sales pipeline and a sales funnel are often interchanged. However, it is important to note that they are two different aspects of an organization's sales process. Sales funnel stages reflect the current statuses of prospects, while sales pipeline stages refer to the activities undertaken to turn a prospect into a customer. Below we show a visual differentiation of the two:
Understanding what a sales pipeline is and how the corresponding stages support the phases of the customer journey (or the sales funnel) can provide a strong framework for identifying new leads and ensuring prospects become more knowledgeable about your brand and offerings.
Bottom Line
Sales pipeline stages start with researching, prospecting, and qualifying leads that may be a good fit for your products and services. These activities continue until the last sales pipeline stage ends with finalizing the sale and delivering a product or service that meets your prospect's needs. Successful sales teams work together to develop a collaborative sales pipeline and use CRM software to ensure no deals fall through the cracks.