Sales management is the process of developing a sales team and training reps to maximize sales performance. This includes implementing sales operations that drive your business forward, developing sales techniques, using the right software and tools, and measuring sales performance.
Table of Contents
Building Effective Sales Teams
Whether you're just starting or already have a team in place, it's imperative to build an excellent sales team. Even if you have the best products and services in the market, it will be difficult (or impossible) to sell them to prospects without an effective and talented sales team.
Attract the Best Candidates
One of the best ways to attract quality candidates is to have thorough, engaging job descriptions and post them on a variety of job boards. These should include information about your company culture, mission and vision, and the products and services you provide.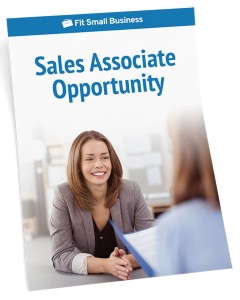 List the skills and experience a desirable candidate should have, such as the amount of time they've been working in the industry, education, and prior job experience. Include the key responsibilities of the job in clear detail.
I've seen companies include a video about what it's like to work at the organization to be even more engaging. Post job opportunities on a wide range of platforms, such as LinkedIn, Indeed, and Glassdoor. You can also buy radio ads if you're targeting a certain location.
We've created a sample sales job description that you can use to find your next sales professional. Use this template to create a variety of customizable job descriptions.
Download Free Sample Job Posting
Pay Attention to Job Applications
Once you've created and posted job opportunities, hopefully, those applications will come pouring in. Reviewing applications takes time and you'll find many that aren't a good fit—but it's important to review them all so the right candidate doesn't slip through the cracks.
One great way I've seen employers filter applicants when hiring sales team members is to include an eye-catching sentence at the end of the job posting. For example, you could write, "Include your favorite animal in the subject line of your email."
It injects a little bit of humor, but more importantly, helps filter out candidates who made sure to follow instructions and read the full job description in detail. Another great idea is to ask them to include a short video recorded on their cell phone telling you a little bit about themselves and why they are interested in the position.
Conduct Thorough Interviews With Potential Candidates
When interviewing sales candidates, be thorough—but don't intimidate them. Remember, it's a two-way street and you are both assessing one another for a mutual fit. Depending on the size and structure of your sales organization, your interview process can vary and may change over time.
In many cases, the process includes a phone screen to screen qualified candidates before an in-person interview human resources for the hiring manager. Then, many companies choose to do a panel interview with other members of the team or even a day of shadowing on the job.
Here is just a sample of some questions you could ask:
Why do you want to work here?
What skills do you bring that you think will be beneficial?
Tell me about a challenge in a sales role you experienced and how you solved it?
What do you perceive as your strengths and weaknesses?
What are some of your favorite closing techniques?
What are some of the best ways you've found to overcome objections?
What questions do you have for me regarding what you'd like to know about this position and our company?
Make a Compelling Offer
Finally, once you determine a candidate is a good fit and you want them to join your sales team, make a verbal offer followed by a written offer letter. The offer letter should include a proposed starting date, salary, benefits, and expected working hours and conditions. You should also express how excited you are for them to join your team and thank them for participating in the interview process.
To save you time, we have also created a customizable offer letter template that you can use when you are ready to extend an offer to a new sales team member. Simply click on the button and replace our placeholder text with the details relevant to your new hire.
Free download: Customizable offer letter in PDF, Word, or Google Doc
Onboarding & Training Your Sales Team
Once you have a sales team in place, an effective sales manager needs the tools, skills, and resources to onboard and train them to move the team forward as a whole. You'll want to include an emphasis on your company core values, mission, and work expectations throughout the onboarding process.
Onboarding new hires involves teaching team members about your mission, culture, expectations, and the normal working hours the sales team follows on a regular basis. You also want to thoroughly train new sales hires on your sales process, products and services, and the software and tools you use, such as a customer relationship management program (CRM), meeting software such as video conferencing tools, and task management programs.
Pro tip: When training new sales reps, use sales managers or experienced sales reps to engage new hires in role-playing where the experienced sales team member pretends to act as a prospect or customer. This helps prepare new hires for conversations with prospects, common questions they ask, and how to overcome objections.
Finally, consider using a professional development program from a third party to onboard and train new sales hires. There is no lack of sales training programs available to help set up your sales team for success and reach their goals.
Developing Sales Operations
An important part of sales management is creating and fostering a smooth sales operations process. Set your sales team up with an excellent operations plan by managing the day-to-day process of steering your sales team in the right direction and setting the stage for success.
Create a Lead Generation Strategy
Lead generation is a key component of your sales operations strategy because it involves the methods you use to attract customers and earn their business. Lead generation tactics include engaging customers with inbound marketing, cold calling, social media marketing, and email campaigns.
Lead generation has a predictable process that involves either the prospect searching for a business solution online or your sales team contacting them directly via a cold call or passively through marketing techniques such as social media or email campaigns. The lead is transferred into your CRM software and qualified by the sales and/or marketing team. From there, a customer expresses interest, and a conversation is started between them and a sales rep to move them toward a buying decision.
Establish Effective Sales Team Meetings
Many organizations suffer from having too many sales meetings and not enough time to get important work done. While meetings are important for collaboration and transparency, make sure each meeting has a clear agenda, start time, and end time.
It's also key to make sure each meeting has clear expectations of all team members. Showing up on time, participating, and ending on time are good examples of running an efficient meeting. Personally, I'm a fan of having a rule that no laptops or cell phones should be taken to meetings to avoid people getting distracted by what is on their screens rather than what their colleagues are saying.
For example, it's a good idea to have a weekly sales forecast meeting to take a look at which deals are likely to close and what new customers you might acquire. It's also a great time to talk about challenges you are having with certain prospects and brainstorm how to overcome objections.
Use Tools to Streamline Sales Operations
Most sales organizations use a variety of sales management tools to manage their day-to-day operations and streamline their sales process. This helps teams to stay organized, transparent, and manage communications internally and externally, so nothing falls through the cracks.
Just a few of the tools you may consider using include:
A customer relationship management (CRM) program to organize sales leads, opportunities, deals, and communications
Communications tools such as the Salesforce Essentials CRM plan that includes Salesforce Inbox, which helps sales reps manage, track, and collaborate on customer conversations
Video conferencing tools, such as Zoom, to communicate with prospects remotely as well as internal remote team members
Task management tools, such as Trello or Asana, to keep track of projects and due dates, and foster accountability among team members
Scheduling tools, such as Calendly, to make it easy to schedule meetings without the hassle and wasted time of emailing back and forth to find a mutually convenient meeting time
An internal communication program, such as Slack, to make it easy for team members to communicate via direct messages and in groups without filling up their email inbox
Want to learn more about the best sales management software? Read our article about the top 15 sales management tools for small businesses.
Utilize Sales Operations Best Practices
No two sales organizations are exactly alike, and will have different sales plans and sales operations practices. However, there are several best practices all sales teams can employ in their operations to foster success. These include:
Clear communication: This involves communicating regularly, mitigating conflict early on, and always being honest.
Clear expectations: There's little more frustrating for a salesperson to be told they missed the mark when they don't know exactly what is expected of them. Make expectations crystal clear, and ensure you agree on them.
Addressing challenges directly: Left alone, challenges can turn from a molehill into a mountain. When there's a problem, whether it's in the sales process or in training, address it promptly.
Transparency between sales team members and managers: It can be extremely frustrating for sales reps to have little insight into what managers and executives have planned. While not everything should always be an open book, transparency about what's happening in the company and what to expect fosters mutual trust and collaboration.
Learn more by reading our article on how to create a comprehensive, effective sales plan and download a free sales plan template.
Motivating Your Sales Team
Keeping your sales team motivated is one of the most critical ways to ensure high performance and a solid close rate. Most salespeople are highly competitive, so giving them opportunities to excel with rewards and recognition is a great way to incentivize high performance and going the extra mile.
Some of the best ways to motivate your sales team and keep them engaged are:
Set core values and expectations: This should be a critical part of your vision and mission as an organization.
Create a culture of teamwork and support: Everyone needs to feel supported regardless of their position.
Incentivize the results you want to see: Reward team members appropriately, such as with bonuses and extra perks.
Promote transparency: Explain the why behind your goals and processes and support team members with effective coaching.
Developing Sales Techniques & Strategies
Effective sales management involves creating sales techniques and strategies that are used over and over to close deals. The best strategies are thoughtfully curated so they are scalable across the entire sales team within a comprehensive sales cycle.

This is also known as the sales cycle, which includes:
Prospecting new leads
Making contact with leads via phone calls, emails, direct mail, and marketing strategies
Qualifying prospects with a key set of criteria that makes them good fit for your product or service
Nurturing your prospect with conversations that help them understand how your product or service can save them time, money, or make their business more efficient.
Overcoming any objections your prospect has, such as price or a change in businesses processes
Closing the sale by securing a signed contract with detailed expectations, terms, and conditions.
Managing Sales Performance
Managing sales performance is a critical component of sales management because it tells you how well you are doing as a sales team and how individual sales team members are performing. It's important to set goals and quotas and review them on a regular basis so you can address performance issues, reward high performance, and discover ways to improve your sales process.
Set Goals & Quotas
It's key to set high goals that are also realistic, so salespeople feel challenged but not overwhelmed. By nature, most salespeople are fairly competitive (with themselves and others), so it's a good idea to set a target goal and a stretch goal, with an extra incentive for hitting a stretch goal, such as increased commission.
There are different ways to measure sales goals, such as revenue won, prospects contacted, or deals won—they can vary depending on the type of salesperson and their specific role. For example, you may have a sales development rep who is tasked with making at least 60 cold calls per day or setting up at least four demos for sales reps. Or, a sales rep can have a goal of closing five deals per month or generating a set dollar amount of revenue each quarter.
Review Agreed-upon Progress & Goals
When reviewing performance for sales teams and individual sales reps, it's important to take many factors into account. For example, you shouldn't just look at the number of opportunities rep has closed or how many demos they have pitched.
Reviewing progress toward goals should include:
Revenue
Closed deals
Collaboration with team members
Progress toward quotas
Alignment with culture
Goals are easier to achieve when the entire team is aligned on what they are and how they will be monitored. Read our ultimate guide on creating sales reports that help you measure sales performance. This article also includes a free sales report template, which you can use to get started.
Measure & Review Sales Performance
How often you measure and review sales performance will depend on your company culture and preferences. Some organizations like to measure performance as often as weekly, while others prefer a monthly or quarterly review. However, we recommend you formally measure performance at least every year. Many companies also use sales performance management software, such as Hurrah!, to track performance.
Keep in mind that performance reviews should be a two-way street, in which sales team members aren't just talked at, but there is a conversation about how they feel about their strengths, opportunities for improvement, and long-term upward mobility in the company. Furthermore, don't just assess how each team member performs in terms of revenue, but also alignment to company culture, teamwork, attitude, and willingness to go the extra mile.
Bottom Line
Sales management is a critical part of creating any successful sales organization. It involves recruiting and getting the right sales team in place, robust training, support, and developing an excellent culture, operations, and sales process, as well as continually measuring performance.