Over half of American customers join new loyalty rewards programs each year, according to Colloquy. Additionally, about half agree that they spend more after joining than they did before, according to another survey from Bond Brand Loyalty. This shows how customers are openly seeking loyalty rewards programs AND are willing to spend more once they join. In this guide, we'll show you how to create a loyalty rewards program that increases sales and repeat visits.
Kris Spencer of Max Fit Sports Nutrition will provide expert tips along the way. Kris managed to grow his business from a single 1,500 square foot store to a sprawling business in 6 years. He owes the bulk of that success to his loyalty rewards program.
Looking for a great way to offer a customer loyalty program? CandyBar.co has created a small business friendly platform that is completely online. All you need to do is ask for your customer's phone number, they'll get a text to confirm, and they are signed up! You can choose your rewards, give "stamps," and can track the frequency of those visitors on your smartphone, computer, or tablet. With CandyBar, you can eliminate wallet congestion and make them come crawling back for more! Try it free for 30 days – no credit card required.
Loyalty Rewards: In a Nutshell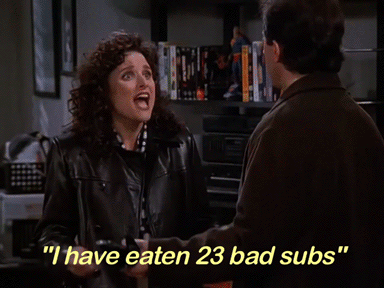 Cardboard punch cards are the original loyalty rewards. They've come a long way since then, however, shifting to web, mobile and card/scanner-based systems. Today, business owners get a lot more flexibility in how they reward points and what prizes they offer. You can easily setup sophisticated programs, suitable for retail shops, salons, gyms, restaurants and more.
What Is My Goal With a Loyalty Rewards Program?
The beauty of a digital rewards program is that you can reward points however you like. Whereas a punch card is fixed (1 point for each purchase) a digital loyalty program is flexible. You can setup your loyalty program to encourage a variety of actions, such as upsells or customer referrals. Here's a few examples:
Are you trying to encourage customers to spend more during a visit?

Reward 1 point for each $1 a customer spends

.

Are you trying to encourage repeat visits?

Reward a point each time a customer checks-in.

Are you trying to spread the word about your business?

Reward customers for posting about their visit on social media.
As a first step, start thinking about your own goals. Most businesses aim to increase sales from existing customers AND get a few new ones in the door. Thus, a combination of the 3 strategies above might be a good move.
What Type of Loyalty Program Do I Want?
Paper cards with punch holes, or a slick interactive mobile app? These are both examples of loyalty programs – albeit, on opposite ends of the spectrum. Deciding what medium you'll use is the next key step to starting your program. Here's the options that are available today:
App-based.

Customers download a smartphone app and register to join your program. To add points, they can scan a QR-code on the screen. Or, you can add/subtract points automatically by integrating your POS.

ShoutEm

, our recommended POS provider, lets you create a custom-branded app using simple online tools.

Swipe Cards.

Plastic credit card-shaped loyalty cards can be swiped or scanned to earn points. Examples include

Belly

and

SpotOn

. The advantage to cards is that you don't need a smartphone to join. The downside is you can't engage customers with reminders and notifications as you can with a smartphone app. Also, swipe cards are prone to getting lost.

Email-based.

Some loyalty programs are entirely hands-free. If you save customer email addresses in your POS, you can use them to automatically add points. The key advantage here is that customers never have to worry about bringing a card or opening an app. The downside, however, is that customers may be less engaged without a physical object on their hand.

Punchcards.

Good ol' fashioned punchcards are the original loyalty program. They're tried and true, but also very basic. You can't offer multi-tiered rewards, create a VIP club for your top spenders, or send push notifications that buzz their phones. If you just want to go the simple route, however, we recommend using

VistaPrint

to design and print your cards.
Which Do We Recommend?
A loyalty rewards program is only effective if it's engaging to customers. You can have a top-notch program with killer rewards, but unless customers are actively watching their progress, they won't necessarily keep coming back.
This is why we recommend using an app-based program. It tends to have the highest level of engagement from your customers for these reasons:
You can engage your customers by adding other features to the app, such as an events calendar, store updates, photos/videos, coupons, etc.

You can send "push notifications." Similar to SMS messages, push notifications use the app to buzz your customer's phone and display a message. This makes them extremely effective at broadcasting promotions, or updating customers on their point status. With great power comes great responsibility, however. You'll want to use push notifications sparingly, so as not to pester customers.
There are some exceptions to this rule. Kris Spencer, a business owner we interviewed, uses an email-based rewards program called FiveStars. While Kris is unable to send push notifications, FiveStars provides a feature to send mass SMS text messages. Kris says that using mass texting alongside his loyalty program is one of the most effective marketing tools he's ever used.
For additional help choosing your loyalty program provider, check out our comparison of ShoutEm, SpotOn and Perkville. These are the 3 top small business budget-friendly loyalty programs available.
How Many Points Should I Reward?
Once you have your loyalty provider selected, it's time to setup the nitty-gritty details: How many will you reward for each action? How much will it take to earn a prize?
Shortly after you begin setting your loyalty rewards program, you'll reach a screen like this: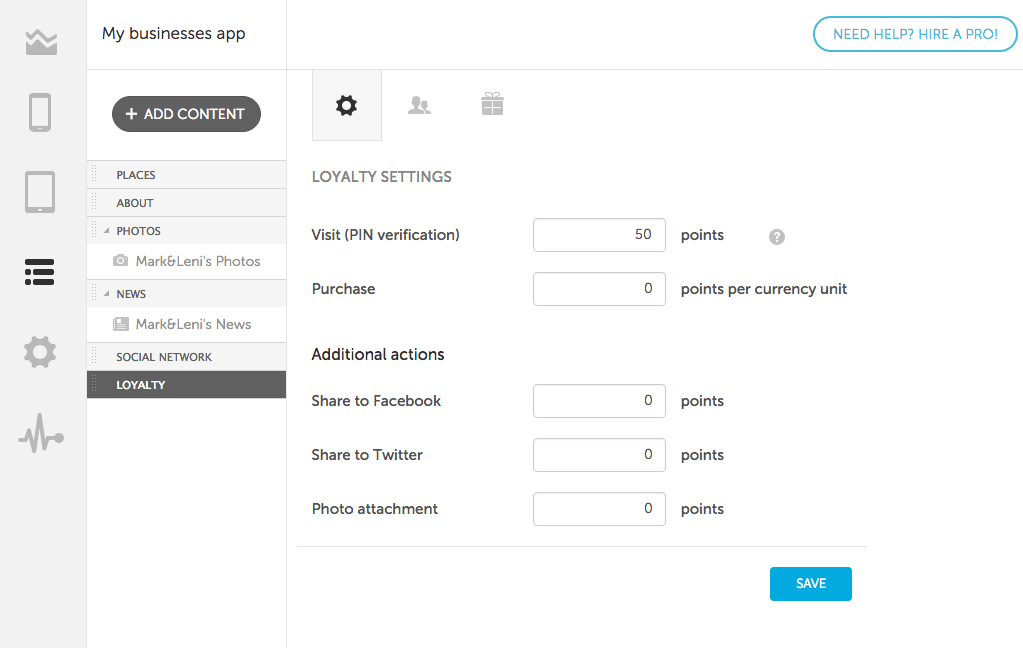 From ShoutEm, our recommended loyalty rewards program.
One of the first steps is to determine how many points each action is "worth." In other words, how many points will you reward for check-ins vs. purchases vs. other actions like sharing to Facebook and Twitter.
At this point, you'll have to make two important decisions:
1. Which actions do you want to encourage the most?
Offer the biggest rewards for the most important actions. If your number one goal is to encourage repeat customers, offer the largest sum for check-ins. If your priority is to get customers to spend more during visits, set a high point value for each dollar spent.
2. Set your point ratio
Does each dollar spent give you 1 point, or 100 points?
We've probably all experienced this before: Some rewards systems inflate the value of points as much as 1,000 for each dollar. Others use a simple 1 to 1 ratio.
Remember, until you decide what your rewards are and how many points it takes to get them, your points have no actual value. Nonetheless, using a high ratio (100 points for each $1) vs. a low ratio (1 point for each $1) has a psychological effect on customers.

To explain this effect, lets say your business has 2 kinds of customers: Casual customers and Power customers. Casual customers visit now and then and tend to make inexpensive purchases. Power customers visit frequently and tend to spend a lot of money.
If you want your loyalty rewards program to encourage casual customers, use a

high-point ratio

(i.e. 100 points for each $1)

If you want your program to encourage power customers, use a

low-point ratio

(i.e. 1 point for each $1).
The Science Behind It
Studies have shown that high-point ratios excite customers regardless of how close they are to a reward. In other words, 100 points feel like a lot, even if you're nowhere near the 10,000 points needed to redeem a prize.
On the flipside, high-point ratios are abstract and tougher to track. If you're at 8,800 points, you still feel pretty pretty far from the goal. Now let's say you're at 88 points and the prize was 100 – by contrast, this feels very close.
High-point ratios are a good idea if you have a niche-but-loyal customer-base. Customers who spend a lot will be more engaged by your campaign. Low-point ratios are good if your business has a wider-appeal, but more casual customers.
Kris Spencer from Max Fit Sports Nutrition, one of the business owners we interviewed, uses a 1 to 1 point ratio: For each $1 customers spend, they earn 1 point. Since the goal of his program was to encourage power customers to spend more, this was the correct choice for his loyalty program.
What Should My Rewards Be?
Next comes the big question: What prizes should I award my customer?
Whether you're going to give away physical goods, discounts or store-credit, the first step is to determine how much you can afford to give away.
5 to 10% is a good starting point – that's to say, for every $100 a customer spends, they earn $5 to $10 back in rewards. Your ideal percentage, however, ultimately depends on your profit margins: If your margins are low, for example, you'll need to keep your discount low enough to not wind up in the red.
Another important factor is your industry: If all of your competitors are offering 20% discounts, you may not have much of a choice.
Kris Spencer offers discounts between 7 and 10%. This is fairly high for a business like his that has slim margins. However, he set up the program in a way that minimizes the loss to his business.
Tiered Rewards
Kris' loyalty program works like this: For every $150 a customer spends, they earn $10 in store credit. For every $300 a customer spends, they earn $30 in credit.
A customer can only redeem their reward at 150 points or 300 points. If they're at 80 points, for example, they cannot cash in for a discount. This prevents low-spenders or one-time visitors from taking discounts.
The value also grows as customers build up more points. At 150 points, customers earn a 7% discount. At 300 points, however, they earn a 10% discount. This has two key benefits for Kris:
Most customers cash-out early, opting for the 7% discount instead of the waiting to reach 300 points. This helps Kris minimize his losses.

Customers will spend more to reach 300 points. Those who do pursue the top prize will make larger purchases and/or choose Kris' business over the competition in order to achieve it.
Merchandise vs. Discounts
The main takeaway from Kris' story is that you can setup your program to minimize losses and encourage more spending WITHOUT lowering its appeal. Another way to do this is to offer free merchandise instead of a cash award.
Merchandise rewards can work well if the item is inexpensive to make, yet has a high perceived value. Let's say there's a backpack that costs $5 to make, but sells for $30. You set the reward value at 100 points (or $100). For customers, this has the appeal of a 30% discount. For your business, however, it's only a 5% loss.
The main drawback to merchandise rewards is that the same products don't appeal to everyone. The number one reason customers stop participating in a loyalty program is because they're not interested in the rewards, according to Colloquy.
Discounts, on the other hand, tend to have a universal appeal, since they can be applied to many different products. If you want to offer merchandise rewards, consider offering discounts/store credit as well.
Branded Merchandise
Another option is to offer branded merchandise as a reward, such as hats, t-shirts, backpacks and water bottles.
Branded merchandise gives you the best of both worlds: They're relatively inexpensive to make, yet they have a high perceived value. PLUS, they help promote your business. The catch is that they don't work for every kind of business.
Does your business have "the IT factor"?
Do people love your brand to the point where it's an expression of their identity? Or do you provide a service that's necessary but less-than-glamorous?
Lifestyle businesses, including fitness, hobbies, sports, beauty and entertainment, can often fit into the first category. Kris Spencer's customer-base at Max Fit Sports Nutrition is an enthusiastic community of bodybuilders and fitness buffs. Customers are proud to wear his brand, as it signals their passion for fitness. They also make for convenient rewards, since his customers need t-shirts and water bottles to bring to the gym.
For Kris, offering branded merchandise as part of his rewards program was a no-brainer. He's even toying with designing exclusive merchandise for VIP members.
For non-lifestyle businesses, custom-branded merchandise can be hit-or-miss. For a coffee shop or restaurant, you might be able to pull off merchandise if you a strong enough niche, aesthetic and/or reputation. For more service-oriented businesses, however, like tutors, massage therapists, chiropractors, lawn-care, branded-merchandise probably isn't the most effective route.
The Bottom Line
Setting up your loyalty rewards program is all about deciding what will engage customers most without incurring a loss to your business. If you're ready for the next step, get a free trial of CandyBar and see how you can bring in more repeat customers.