A sales process is the sequential steps needed to acquire customers and close deals. It's created by documenting each step, commonly called pipeline stages, customizing each stage for your business, and mapping out the entire process. The sales process is important because it creates a roadmap for sales teams to consistently close deals.
Using a whiteboard to map out your process is a great way to start. However, to ensure your entire team follows the sales process, you'll need tools to guide them from the beginning to the end of the sales process. A CRM like Pipedrive can help, with Kanban style pipelines, activity reminders and alerts. Check out Pipedrive to see how it can work for your sales process.
Pipedrive CRM - FREE Trial!
Contact & pipeline management, interaction tracking & more
Free Sales Process Creation Checklist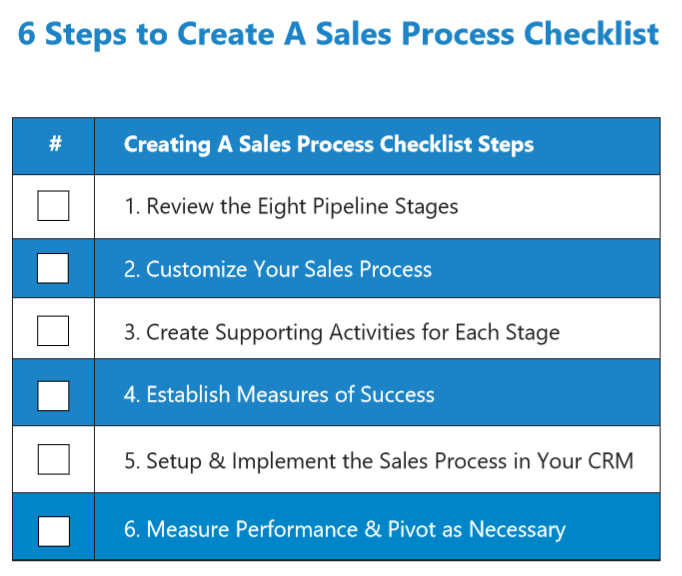 To guide you through creating your own sales process, we've created a checklist you can use as you're working. It will keep the six steps top of mind as you're putting together a sales process for your business. It also comes in handy as you read this article.
How a Sales Process Works
A sales process works by first mapping out how you will get prospects into your sales funnel, and then guiding them through the sales process steps until they become customers. Once your sales process steps are mapped out, you should create a systematic way for you and your team to use it consistently. This is usually done by putting your sales process steps into a customer relationship management (CRM) tool and creating pipeline stages.
A sales process can be made even more effective when you first take the time to identify your ideal customer and have a sales plan for reaching more contacts or accounts matching that profile. If you're already up and running, the easiest way to do this is to review your highest spending and most profitable long-term customers.
However, if you're a startup, then you'll have to make best guesses to define your ideal customer profile and refine this profile over time as you start to encounter more and more real customers.
A CRM like Pipedrive makes it easy to implement your sales process because it offers the ability to customize pipelines and to create and assign activities within each stage. Its visual Kanban-style pipelines keep your sales process steps and activities top of mind. Other features like email templates and reminders help make sure you get the right things done efficiently in each stage.
Here's a sales process mapped out using a specific example:
A potential customer for an IT security firm downloads an e-book on common security vulnerabilities in the financial industry.
Someone from your sales team follows-up with the prospect by phone and further qualifies them.
The salesperson schedules a one-hour conference call with your security engineer, during which the security engineer determines there is a need your company can meet.
The salesperson then schedules an in-person meeting to gather requirements for a proposal.
The meeting takes place and all the information is gathered to create the proposal.
The salesperson creates the proposal with the security engineer and sends it to the customer.
The customer reviews the proposal and approves it with changes.
Your company agrees to the changes.
The customer sends your salesperson a purchase order.
Work begins on the security project.
How to Prepare for Your Sales Process
Before creating your sales process, you must create a customer profile and a sales plan. A customer profile shows who you're targeting and what their needs are. The sales plan establishes success metrics and a blueprint for how you're going to sell them your company's products or services. These tools are critical if you want to ensure your sales team focuses on the right customer and has a roadmap for selling your products to them.
The sales plan and customer profile are defined as follows:
Create a Sales Plan
Your sales plan is a document that serves as a roadmap to establish sales objectives with strategies around how you will meet them. It highlights your revenue goals by product and details how you plan to meet these goals. To help you create a sales plan, we've written an article that includes a sales plan template with what to include.
Once you've created your customer profile and sales plan, you're ready to take the next step: developing your sales process. Knowing who your customer is, which products you plan to sell them, and how you plan to sell those products creates a solid foundation for your sales process.
Develop a Customer Profile
A customer profile creates a picture of your ideal customer. It shows who you're targeting by going into detail about their wants, needs, and desires. It also includes demographic information like age, income, gender, and geographic location. This helps with creating your sales process by helping to stay focused on customer needs. To assist with creating your customer profile, check out our article and customer profile template.
How to Create a Sales Process in 6 Steps
There are six steps needed to create a sales process. They start with reviewing the eight pipeline stages we recommend every sales team use and end with measuring performance and pivoting as necessary. Below are the six steps needed to create a sales process:
1. Review the 8 Pipeline Stages
The very first step you should take is to familiarize yourself with the eight pipeline stages every sales team should use. These stages are important because they tell you what to focus on in each stage so you can successfully move your prospect to the last step, where they become a loyal customer. It's important to review these stages because they are the foundation of your sales process and where you'll begin crafting your own.
Below are the eight pipeline stages every sales team should have:
Prospecting: This is the stage where your sales or your marketing team identifies potential clients. Your sales team goes out and finds them or your marketing team sets up lead generation campaigns so they contact your business.
Qualifying leads: Once you've gotten prospects, your sales team will qualify them to make sure they are the right fit for your product and they can afford to pay for it.
Initial meeting: When your leads are qualified, the next thing you must do is schedule an initial meeting to further qualify them, ensure they are the primary decision-makers, and discuss their needs.
Define prospect needs: At this stage, define your prospects' needs further by digging into their pain points with tools like needs assessments and surveys.
Make an offer: With their needs understood, it is at this stage you make an offer with a quote or proposal.
Negotiate and finalize proposal: Once you've made an offer, you'll need to negotiate the final terms and conditions.
Close the deal: When you and your prospect agree on the terms and conditions, it's time to close the deal. This includes signing the contract and securing purchase orders.
Deliver the product: In this last stage, you will deliver the product or service, ask for referrals, and seek upsells or cross-sells.
2. Define What the Stages Mean to You
After you've reviewed the eight pipeline stages, it's time to create your own sales process by determining what each pipeline stage means to your business. This is important because your sales process may not need some pipeline stages or may require different activities within each stage depending upon your industry, product, or customer type.
Below are ways businesses might deviate from the eight common pipeline stages:
Prospecting: If your sales team does not prospect and is provided leads from a third-party source, you can skip this stage; just acknowledge where your leads are coming from.
Qualifying leads: This step is not necessary in the sales process if leads are prequalified by another team. If this is your situation, you can add this step but make it clear who is responsible for qualifying leads.
Initial meeting: Depending on your industry or customer needs, you may require more than one meeting at this stage. For example, there may be a phone call, email exchange, or social media connection before the initial meeting.
Define prospect needs: If you have enough information to define your prospects' needs from a lead form, you may only need to confirm the form is correct rather than spend time uncovering additional ones.
Make an offer: It may be appropriate to offer a product demo or free trial before making an offer.
Negotiate and finalize proposal: If your pricing is non-negotiable, it may be more appropriate to discuss special promotions or special payment terms.
Close the deal: Closing the deal could mean signing a proposal or contract or simply paying for a service or product with a credit card.
Deliver the product: Product delivery could mean a variety of things, from gaining online access to physical product delivery. You could also begin a project in this stage or encourage referrals, upsells, and cross-sells.
Example customized sales process for teams that don't prospect or qualify leads:

3. Create Supporting Activities for Each Stage
Your sales process doesn't mean anything unless you have meaningful activities within each stage that guide prospects through the entire process. Meaningful activities are things your sales team does, like prospecting at trade shows where your target market will be or scheduling follow-up phone calls to make sure your prospects are qualified leads.
Below are examples of activities you or your sales team could perform in each stage:
Supporting Activities by Sales Process Stage
Pipeline/Sales Process Steps
Example Supporting Activities by Stage
Prospecting
●      Attend trade shows and networking events
●      Send outreach emails
●      Make initial LinkedIn requests

Qualifying Leads
●      Perform online and social media research
●      Conduct introduction/get to know you call
●      Schedule brief in-person meeting

Initial Meeting
●      Finalize meeting logistics (location, technology, etc.)
●      Identify key stakeholders and decision-makers who need to attend
●      Schedule meeting

Define Prospect Needs
●      Prepare questions based on the research you've already done
●      Interview specific stakeholders like managers or department heads
●      Interview specific decision-makers to determine their needs and goals

Make an Offer
●      Enter information into proposal software or a business proposal template
●      Visit Fiverr and work with a design freelancer to create a professional proposal
●      Present proposal to prospect and listen to and respond to objectives

Negotiate/Finalize Proposal
●      Set up a call or meeting to discuss concerns or questions about the proposal
●      During the meeting, document questions and concerns
●      Ensure questions, concerns, and verbal agreements are documented in your CRM

Close the Deal
●      Get approvals from all stakeholders
●      Get appropriate signatures from client
●      Secure purchase order or other form of payment


Deliver the Product
●      Schedule a call or meeting to ensure your client can accept delivery of the product
●      Conduct onboarding or customer success calls
●      Notify internal service operations manager of new client product delivery


The exact activities you specify for each stage will depend on your business needs, the products you're selling, and the industry you're in. To help stay on track with activities in each of your sales process steps, consider using a CRM like Pipedrive to schedule tasks and activities and set reminders that you can visualize in a Kanban-style pipeline. Visit Pipedrive for more information.
4. Establish Measures of Success
After creating your sales activities, the next thing you'll want to do is establish measures of success for all of your sales process steps. These measures of success should apply to individual salespeople as well as the entire team as a group. They should also be based on your sales plan, because it will help your team stay focused on what's really important while giving them specific goals or benchmarks to achieve.
The table below outlines example measures of success by sales process stage:
Measure of Success by Sales Process Stage
Pipeline/Sales Process Steps
Example Supporting Activities by Stage
Prospecting
●      Daily number of prospects per salesperson
●      Total Number of prospects by team per month
●      Number of networking events attended per month
●      Number of new social media connections made per month
Qualifying Leads
●      Amount or type of information gathered on an initial phone call like budget and decision-making power
●      Number of leads qualified per month
●      Number of prospecting follow-ups

Initial Meeting
●      Number of initial meetings held with qualified leads
●      Percentage of follow-up meetings scheduled
●      Total time spent with new prospects

Define Prospect Needs
●      Number of needs assessments completed
●      Types of needs uncovered

Make an Offer
●      Number of proposals presented
●      Number of product demos completed

Negotiate/Finalize Proposal
●      Length of time spent in negotiations (more time spent here could mean your sales team missed something in another stage)
Close the Deal
●      Percentage of proposals closed
●      Number of deals closed by salesperson

Deliver the Product
●      Number of products invoiced and delivered
●      Number of projects started
●      Amount of referrals, upsells, and cross-sells

The most efficient way to measure activities for success is to use a CRM. Using a CRM will track and measure your activities automatically, eliminating the need for manual tracking and constant manual updates. Pipedrive's reporting and analytics features help you track measures of success automatically and allow you to pull reports that let you know if you and your team are on track to closing deals and hitting your goals.
5. Set Up & Implement the Sales Process in Your CRM
You've done the work creating your sales process, and now it's time to set it all up in your CRM. Setting up the sales process in your CRM is important because it allows you and your sales team to implement the steps in your sales process and hold yourself accountable for activities required to close deals.
A CRM like Pipedrive is easy to set up and simple to use in your day-to-day activities. Using Pipedrive as an example, we will review the steps you can take to set up and implement your sales process in your CRM.
Create a CRM Sales Pipeline
The first step in setting up your sales process is to create a new sales pipeline in your CRM. In Pipedrive, for example, your pipeline is a Kanban board that represents the various stages in your sales process. Take the sales process you outlined in the earlier steps and enter them into your CRM.
We've decided to use Pipedrive in our example because it is easy to use and allows you to customize each pipeline stage. It's also a highly visual pipeline management tool using Kanban boards to illustrate each stage and their corresponding sales activities.
Enter Your Contacts, Accounts & Deals
Once your sales process is set up as your pipeline, enter your contacts, accounts, and deals. Contacts are individuals within the companies you're targeting, where you add information like first name, last name, and title. Account information includes details about the company your contacts work for. Most CRMs allow you to link multiple contacts with companies. Deals are specific sales opportunities you're working on.
Pipedrive makes it easy to enter contacts, accounts, and deals. Also, if you've been using spreadsheets or are using another CRM, Pipedrive allows you to easily import data from a CSV file.
Set Up Activities & Email Templates
After your contacts, deals, and accounts have been entered into your CRM, set up your activities, reminders, and, if offered, email templates. Doing this ahead of time will save you time from having to do these things as you are working on your deals. Templates and standardized activities will also help to ensure that your sales team is using uniformed messaging and responding in a timely fashion.
After you've completed these three steps, start using your CRM. It's important that you and your team begin using your system right away so you form the habit of working in the system and so that all of your sales data is in one place.
6. Measure Performance & Pivot as Necessary
Use the measures for success you established earlier to measure how you're performing. In your CRM, you'd do this by creating dashboards and reporting focused on your success metrics. CRMs like Pipedrive make it easy for you to measure and track your success with analytics tools and reports. You can track metrics like which salesperson has the highest sales revenue or the most deals.
After you've been using your sales process for a while, examine your sales process steps and activities to decide whether or not to make changes. For instance, if you notice that most of your sales are being lost in the negotiation stage, you may want to look at what the sales team is doing and implement best practices from high achievers who don't lose sales in this stage. Review all of your sales process steps and make changes as necessary.
Frequently Asked Questions (FAQs)
What is a sales process?
A sales process is the number of sequential steps needed to acquire customers and close deals.
What are the sales process steps?
The sales process steps represent each stage or step of your sales process. Often referred to as pipeline stages, sales process steps outline the areas you need to focus on in each phase of your relationship or interaction with your prospect to ultimately convert them into customers.
Do you have a sales process flowchart?
Yes. See the two examples below.
Here's an example of a sales process in Pipedrive created using pipeline stages.
Bottom Line
Creating a sales process requires you to understand what it takes to attract and convert customers into prospects and then creating a repeatable system that you and your sales team use consistently. This requires understanding each step and creating corresponding activities to move customers through the sales process.
Implementing your sales process is easier when using a CRM. Pipedrive makes it easy to create customized pipelines with your sales process. For more information on Pipedrive and to see it it's a good fit for your sales process, sign up for a free trial.
Pipedrive CRM - FREE Trial!
Contact & pipeline management, interaction tracking & more