A sales process is the cycle of recurring steps your business uses to obtain leads and make a sale. Your company's unique selling process should align with your sales pipeline and funnel, generating a roadmap for your sales team to follow. Here, we teach you how to create a sales process, provide a free downloadable template for creating one, detail its benefits, and explore best practices to improve your selling workflow.
Centralize your sales operations and automate your sales process using Pipedrive.

---

AI-powered sales assistant

Sales automation tools

Visual sales pipelines

Robust CRM reporting
Centralize your sales operations and automate your sales process using Pipedrive.
---

All-in-one business banking
Capture & save receipts
Built-in bookkeeping
Automate tax savings
Free Sales Process Template
We've created a free template you can customize to fit your internal business practices and sales creation process. Download this template and use it as you follow the four easy sales process steps below to create various selling cycle stages that work best for your business needs.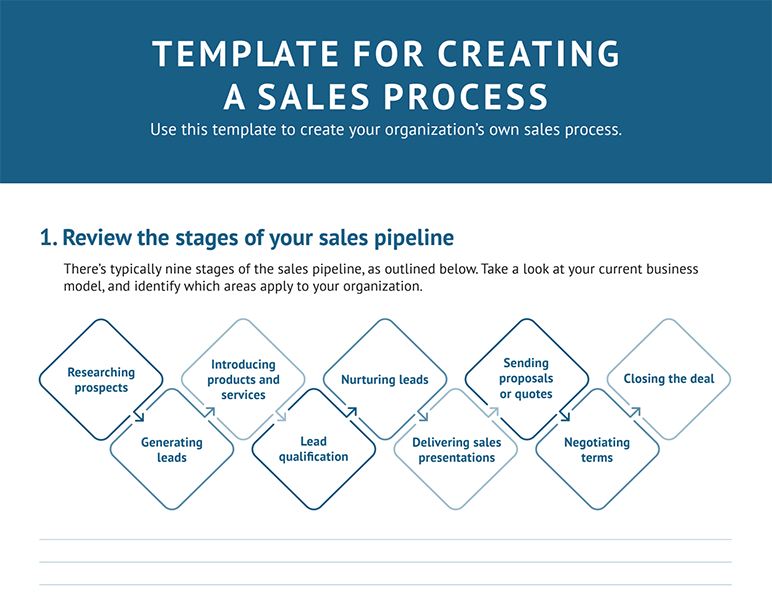 Thank you for downloading!
💡 Quick Tip:
Use a CRM tool with premade sales pipeline stages to help you monitor deals.
Consider CRM software like Freshsales. It has a Kanban-style sales pipeline board that allows you to monitor your deals easily.
Visit Freshsales
While building a sales cycle workflow may feel like a daunting task in the initial phases, doing so will streamline your sales activities in the long run and will reflect your sales performance. Follow our four steps to creating a selling workflow for your small business:
1. Review the Stages of Your Sales Pipeline
Before determining what your company's sales process stages look like, consider the customer's journey and the stages of the sales pipeline. Then consider how each stage relates to your business model. Alternatively, or in addition, use your sales funnel to help you identify the larger groupings of tasks your team will need to complete to nurture a lead through their customer journey.
Understanding how various tasks help move customers through your sales pipeline helps to standardize the selling workflow for both new and existing sales team members. Having a standard selling process also helps your agents familiarize themselves with the process, consequently improving the quality of their work and increasing the odds of closing deals.
2. Create a List of Internal Activities for Each Stage
The next step involves creating a process to define how each stage relates to your business objectives and identify the sales activities you will take during each stage. Some stages of your sales process may have many activities, while others have only one depending on what's needed to close a deal. It's also worth noting that some sales cycle stages might not have any internal activities if your business chooses to outsource activities in a stage.
While every organization has its own selling cycle workflow, there are steps in the sales pipeline that are applicable to most businesses, particularly generating leads, introducing products and services, and closing a sale. Most customer relationship management (CRM) software, such as Freshsales, have premade sales pipeline stages that companies can use monitor deals and shortcut this step.
If your CRM system or plan does not come with premade pipeline stages, you can create custom selling workflows. There are questions you need to ask yourself for each pipeline stage to develop the list of activities your business will use as part of its selling cycle workflow. You can also expand each pipeline stage below to see these questions and to view tips and activity suggestions.
How do you plan to find potential customers (consumers, businesses, or both) that could benefit from your product or service?
When defining the steps involved in this stage, any activities that lead to new or additional information about a lead or prospect count. There's also no limitation to how information is gathered—it could be from an online source, a cold call, a printed publication, meeting someone in person, or another tactic.
Here are some examples of selling cycle steps associated with this pipeline stage:
Collecting business cards during a networking event to input into your CRM
Finding and connecting with potential decision-makers on LinkedIn
Reviewing a company website for the CEO's phone number and email address
Compiling a list of email addresses and phone numbers from contacts met at a trade show
Pro tip:
Use your CRM's LinkedIn integration to easily find more leads. For instance, Copper CRM lets you create and enrich contacts, as well as find qualified leads on LinkedIn with just a single click. Read our article about how to improve sales targeting to learn how to improve sales performance by using targeted customer profiles in conjunction with CRM software.
Thoroughly researching prospects helps you create customer profiles to incorporate into your selling workflow. Customer profiles enable you to tailor your sales approach based on behaviors, interests, or demographic information. This helps you generate more qualified leads and gives you a higher likelihood of converting leads into closed business as well as turning a closed business into recurring revenue.
For example, if you are selling a subscription-based food delivery service, divide each customer type into a profile based on the type of food they like in their subscription package. Once divided, alter promotions based on interest types to create special offers more likely to appeal to a particular customer profile.
---
How will you create or obtain contact lists of potential customers?
When creating sales process steps in the generating online leads stage, consider activities that bring inbound leads or compile contact information for you. Some examples include using online advertising, buying lead lists, networking, or utilizing content marketing. Activities in this stage may also involve cross-team collaboration between sales and marketing departments, particularly when using search-optimized content or landing pages to produce website traffic.
Here are some examples of the steps in the sales process associated with this pipeline stage:
Creating a landing page with an online web form for inbound lead submissions
Auto-syncing online web form submissions to your CRM database for sales rep assignment and your email marketing platform for nurturing campaigns
Purchasing targeted contact lead lists from an online database and uploading them to your CRM
Pro tip:
Use an online database like UpLead as a source for generating lead contact lists. You can purchase accurate and up-to-date contact information for business-to-business (B2B) leads based on factors such as industry, job title, location, and company. Buying leads is just one of many strategies you can use in the lead generation process. Our ultimate guide to lead generation explains other methods you can use to keep your sales pipeline full.
---
How do you want to introduce your business and its products or services to leads?
Introducing your business' products or services involves different activities in your selling workflow, such as cold calling, mass or personalized email marketing, or even door-to-door selling. Techniques depend on your preference, customer types, and sales methodology.
A sales methodology is a set of principles for acting within a sales stage. For example, while introducing products or services, you may use the Situation, Problem, Implication, and Need-Payoff (SPIN) selling methodology, using questions to find pain points and solutions. This methodology works better in a cold calling environment with direct contact with a lead since it typically requires back-and-forth conversation.
Here are some examples of selling cycle steps associated with this pipeline stage:
Phone call introductions to set up product demos
Mass email introductions to contacts from a trade show to create awareness of your company's unique approach
Introducing a new product during an on-site appointment at the lead's office location or online
Pro tip:
Cold calling can be extremely effective when done at the right times, to the right people, and with effective techniques. Our small business guide to cold calling will help you understand this strategy and provide tips for kick-starting your cold calling campaigns.
---
How will you determine whether a prospect is qualified to purchase and to what degree they are interested in your offerings?
The step for qualifying leads includes any actions that help you determine whether a prospect is interested in what your business offers. It includes quantifying the prospect's interest level and knowing when a lead is ready to purchase using lead scoring.
A marketing qualified lead (MQL) means the lead is a general fit with your target audience, regardless of whether they expressed direct interest. Sales qualified leads (SQL) have gone through multiple stages in the pipeline and your selling workflow to the point where they may be (or will soon be) ready to purchase from your business.
Here are some examples of sales steps process associated with this pipeline stage:
A cold call to a lead to determine interest in receiving a product brochure
Emailing a marketing qualified lead to see if they want to schedule a product demo
Checking LinkedIn to ensure a lead's company fits your target profile of businesses with 25 to 50 employees
Pro tip:
Learn how to identify the best leads for your business, including qualifying, organizing, and scoring leads in our in-depth expert guide on lead qualification.
---
What will you do to follow up with leads over time and build relationships?
As part of a comprehensive sales plan, every selling process should include tactics to continuously nurture leads. Lead nurturing activities remind prospects about what your business offers based on where they are in the sales pipeline. Lead nurturing occurs during many stages of the sales pipeline since the goal is to advance the relationship to the next level.
Here are some examples of sales process steps associated with the lead nurturing stage:
Deploying drip email campaigns to update leads with current promotional offers
A follow-up call to the prospect after a series of drip emails to see if they are ready for a product demo or trial
Sending a personal email to build a relationship with a prospect citing a new study or statistics relevant to their business or to your product or service offerings
Pro tip: Emailing is an effective way to nurture leads through consistent follow-up. CRMs allow mass emails to be created and deployed on an automated basis while also being tracked for performance. To ensure you make the best decision for a solid email CRM system, check out our picks for the best CRM software for email marketing.
---
How will you demonstrate what your business offers and how will initial sales pitches be delivered?
Delivering a sales presentation can include anything that communicates how your business can help your customers. It ranges from product demonstrations and free trials to simply pitching a product or service while on the phone.
Here are some examples of the steps of the sales process associated with this pipeline stage:
Providing a sales presentation about the capabilities and advantages of your industrial printer products
Giving a demo of your software-as-a-service (SaaS) platform during a video call
Presenting insurance coverage options on a conference call with a prospect
Pro tip:
When doing a sales presentation, it's essential to have a ready-to-go sales pitch to point the conversation in the right direction. Our guide on how to make a sales pitch explains what goes into an effective sales pitch and provides examples for your business.
---
How will you communicate the cost of your products or services as well as your terms?
This stage in the pipeline involves activities needed to generate quotes and define terms and conditions, as well as sending them to the prospect for review. For certain businesses, activities for this stage may also involve steps in the background like submitting a formal business proposal, conducting a legal review for contract terms, or using an appraiser to finalize a quote.
Here are some examples of selling cycle steps associated with this pipeline stage:
Collecting underwriting information from prospects to input in your system for quotes
Sending a formal proposal for financial advising services to a prospect for signature
Determining the number of "seats" for a software package for a sales team purchase
Pro tip:
Sending professional-looking proposals helps you stand out from other competitive bids. CRM providers like Salesforce have tools that let you create professional-looking proposals, which you can either download or send directly within the software. Find more ways to improve your sales operation by reading our complete guide to sales operations.
---
What will you do when a prospect asks to customize terms or reduce costs?
More common in larger deals, there may be steps in your selling workflow associated with negotiating terms or the price of your products and services. This stage may also require coordinating with other departments like legal or accounting, as well as sending revisions to the prospect.
Here are some examples of selling workflow steps associated with this pipeline stage:
Having your legal department review prospect term change requests
Sending back revised proposal terms to a prospect
Updating a proposal with the new scope of work and pricing
---
How will you ensure you have contract signatures and payment, and onboard a customer?
In this stage of the pipeline, activities that involve finalizing the deal with a prospect or onboarding them as a customer can be viewed as selling cycle steps. For some organizations, closing a deal may involve collecting payment or sending a client a one-time invoice, while for others, several departments may be involved.
Here are some examples of selling cycle steps associated with this pipeline stage:
Uploading a signed proposal into your database and introducing the account manager to a new customer
Forwarding customer information to the accounting department for invoicing
Scheduling new clients for software training
---
3. Visualize Your Sales Cycle
Once you have created your master list of activities, determine which activities can be completed right away and which are dependent on a prior task. One way to do this is by visualizing the process using flowcharts differentiated with shapes and colors that guide the viewer down the path from start to finish. This will also make it easier to train new agents on your selling cycle as your team scales.
Below is a flowchart with a sales process example:
Pro tip: Make use of visualization tools from CRM software like Pipedrive. Not only can you see your sales process, but you can also identify bottlenecks based on data generated from reports.
4. Make Your Selling Workflow Measurable & Adjust as Needed
Once every stage in the pipeline and its required activities have been defined, the last step of learning how to create a sales process is finding ways to measure the success of each step. Metrics like total values, conversion rates, and averages can all be used to quantify your selling cycle.
Tracking sales performance metrics enables you to measure progress and identify areas for selling cycle improvement. Adjustments could entail tweaking selling cycle steps for efficiency, adding new tactics, or removing ineffective activities. You could also coach sales reps on techniques to improve their sales numbers in different aspects of the selling process.
Below are common examples of sales performance metrics that can be used for each step of your selling cycle: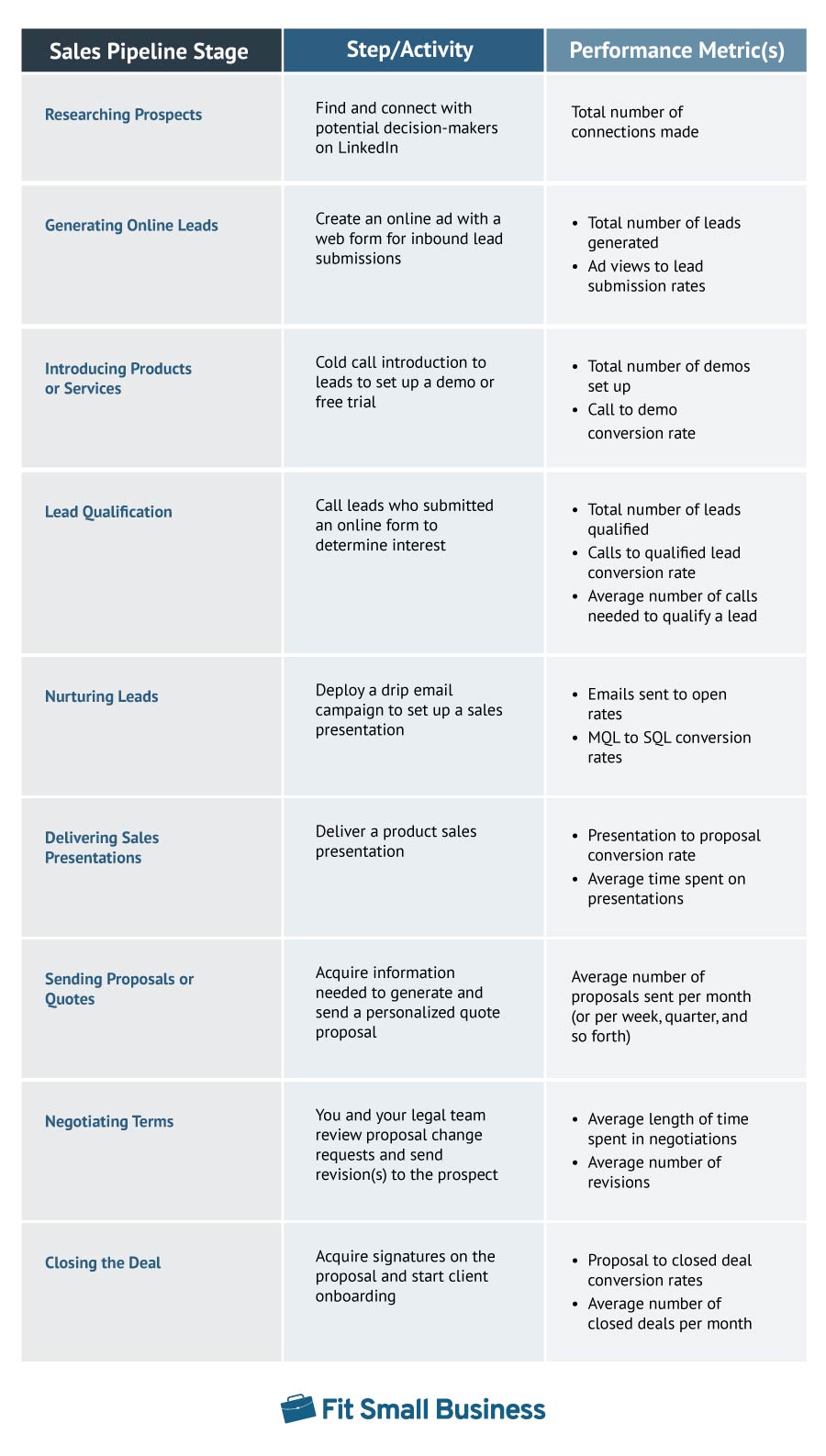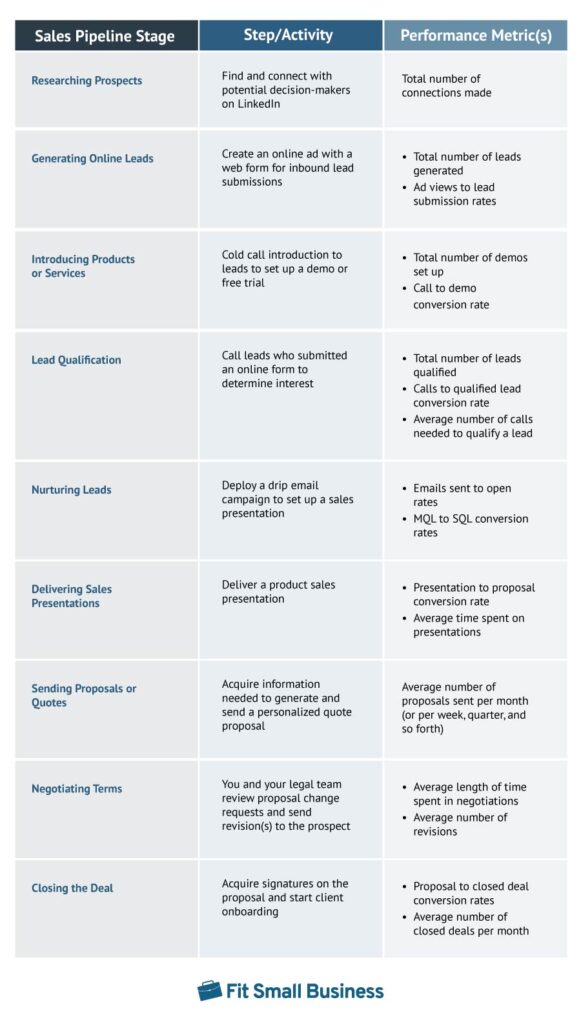 Imagine a sales team discovers they are not hitting sales goals because there aren't enough MQLs in the pipeline at a given time. When looking at the sales cycle metrics, they discover that inside sales reps only have time to do enough online research to create 15 marketing-qualified leads per day. This is much less than is needed to hit their sales targets.
The team's sales manager decides to remove the online research step of the selling cycle and generate MQLs by purchasing 300 targeted leads from an online database every week. This frees up much of the inside sales reps' time. The manager can now let them handle the introduction of services by cold calling new leads to set up sales presentations for outside sales reps.
---
Another example of how metrics can be used to improve sales operations can be seen in individual performance coaching. The sales manager determines that Charlie, a new sales development representative, has the lowest conversion rates of calls to qualified leads of anyone on the team.
The manager gives Charlie one-on-one coaching for an hour per day to go over sales methodologies and tips to improve conversion rates. Charlie begins implementing new techniques, like dialing cold calls during peak call times, using emotional selling language, and asking questions to handle objections from prospects. He and his manager begin to see his individual performance improve over time.
Pro tip:
Developing your sales operation by continuously using training and strategy adjustments is a huge part of a sales manager's job. With our ultimate guide to sales management, learn everything you need to know about onboarding sales reps, motivating sales teams, and managing your company's sales performance.
---
Sales Process vs Sales Methodology
Sales process and sales methodology are two terms that are used interchangeably, but they are different from each other. The sales process consists of the steps needed in order to close a deal and nurture client relationships. Sales methodology, on the other hand, is how a rep executes the steps involved in the process and engages with your customers.
Below are some of the most popular sales methodologies.
Challenger selling: This focuses on attracting prospects by identifying their pain points, offering product solutions, and encouraging them to make a purchase decision.
SPIN (Situation, Problem, Implication, and Need-payoff): This methodology developed by Neil Rackman helps reps uncover the root of their prospect's problem by asking four targeted questions based on the acronym SPIN. These questions are about the prospect's current situation, pain points, implications of not adopting a solution, and how a proposed solution could improve their situation.
Trigger selling: Also known as signal-based selling, this methodology involves studying data trends to spot customer needs and then offering a relevant product or service solution.
Value-based selling: This is a customer-centric approach that highlights the value of a product or service to a prospect.
Target account selling: Here, the rep targets the prospects that they engage with and continues to prioritize the quality of the leads throughout the process. It relies on sales automation technology to identify the most qualified leads.
Common Mistakes in Developing Sales Process Steps
In the process of developing your own selling workflow, there's a possibility of committing some mistakes that could derail the process. Let's discuss these common mistakes and the ways to prevent them.
The most common mistake when developing a selling process is leaving the steps open to interpretation. It is essential to clearly define these steps to avoid mistakes. You should clearly specify the actions required to move a prospect from one stage to the next. Otherwise, you run the risk of the steps being skipped. For example, website visitors should submit an online form before they are moved to the lead qualification stage.
If your steps are not clear-cut, sales reps might deliver pitches to leads who haven't been qualified. To prevent this common mistake, provide clear instructions to your team from the start. Document your clearly defined selling process, then share and practice it with your sales team. You can also do role-playing exercises to help your team remember the steps and develop useful techniques for executing said steps.
---
There is no one-size-fits-all approach when it comes to the selling workflow. Some teams prefer to study and combine several sales methodologies instead of sticking with one. Buyers' needs and wants change over time, so sales teams should also implement a dynamic approach to selling instead of rigidly practicing a single methodology.
For instance, a CRM sales rep realizes during an engagement that the prospect has not yet identified the existing problems of their company. Here, the SPIN method can be used to effectively uncover the prospect's pain points and to recommend an appropriate solution.
---
Build your process based on your target customer's purchasing journey. This is why researching prospects is part of the earlier steps in constructing a selling workflow. Find out what your target buyer wants and needs at specific points in their journey and offer relevant solutions to their concerns.
---
Sales and marketing teams should coordinate closely with each other. They ought to share information such as which prospects are most likely to make a purchase and which market segments hold more potential in sales.
Using a CRM system is a great way to ensure both teams have access to the same customer data and that they can support each other during each stage of the selling process. For example, the marketing team can create drip campaigns for sales reps during the nurturing phase.
---
The selling workflow is supposed to be dynamic and should always be evaluated. Regularly check in with your sales reps to inquire about any issues that impede your selling process. Your CRM's sales dashboard also allows you to measure sales metrics that indicate the health of your process, such as the total revenue and year-on-year revenue growth. When you constantly develop and improve your process, this will reflect on the quality of your customer interactions, experiences, and sales.
---
Benefits of Having a Proper Sales Workflow
A selling cycle or process standardizes your sales activities and helps your agents perform their sales workflow tasks more effectively—especially once they master the various stages of the sales process. Below, we outline some benefits of having a proper sales cycle:
Improves efficiency: Since agents are familiar with the various steps of the sales workflow, there's an increased possibility of deals moving along the various sales stages faster. Once they are familiar with the steps, moving deals along stages goes on autopilot for them.
Increases revenues: Increased efficiency means agents are quicker in performing their work and are able to do more—generate more leads, negotiate higher-cost deals, and close more sales. All of these ultimately contribute to higher revenue.
Eliminates guesswork: A fixed formula leaves little room for guesswork as agents know what is expected of them. This decreases instances of oversight since they are familiar with everything they need to do to close a deal or make a sale.
Best Practices to Improve Your Selling Workflow
Once you've established your organization's selling cycle, remember it's just the beginning of a sales cycle. A sales workflow should be flexible and open to adjustments if needed—this ensures you keep the process efficient and foolproof. Below are a few best practices to improve your sales cycle.
Adjust your sales cycle based on seasonal trends: Determine your business' peak and off-peak seasons so you can adjust your sales cycle accordingly. For example, you may need to be more aggressive in your lead nurturing tasks during off-peak seasons as customers are not as willing to purchase your products and services at that time compared to the peak season.
Regularly address selling process bottlenecks: Figure out the average time a deal spends in a certain sales pipeline stage and see if there are delays or bottlenecks causing it. For example, deals may be idling in the stage of sending a proposal due to your lengthy internal approval process.
Constantly review your business performance: An excellent benchmark to evaluate the effectiveness of your sales stages is its direct impact on your profits. Assess your business performance on a monthly basis to see if there are improvements you can make. For example, your sales workflow may be missing a stage for lead nurturing, which could have a direct impact on the number of sales that you are able to close.
Choose a CRM system that fits your business needs: A CRM system is an effective way to manage your sales workflow and ensure that nothing falls through the cracks. An effective CRM provides analytics tools that help you spot trends and automate sales workflows.
Bottom Line
When learning how to develop a sales process, review which sales pipeline stages are relevant to your business, and incorporate the tactics you want to use. Once your sales workflow is created, you'll have a recurring set of activities to complete in order to move a sales opportunity from a new lead to a closed deal.
Setting up a sales process can be further beneficial as an observable sales system with performance metrics at every step. These metrics can be used to make adjustments in the selling process and to coach individual members of sales teams.