Writing a collection letter requires you to follow the right step-by-step process and include the right language to give your customer official notice that a debt is owed and past due. You will typically send a total of four letters before hiring a collection agency or recording a bad debt expense.
Collection Letter Templates
There are four types of collection letters. Below, we have provided a free download to each collection letter template along with a brief explanation of when you should use it.
Here are four free downloadable sample collection letter templates:
How to Write a Collection Letter
Many small business owners dread the process of collecting payment on delinquent customer accounts. In addition to providing the free collection letter templates, we have also included best practices that you can implement to decrease the likelihood of having to do this too often.
Information to Include in a Collection Letter
When writing a collection letter, your intent should be to remain professional yet firm. You want to let your customer know that you are serious about collecting payment while, at the same time, preserve the relationship.
Below is information that you should include (or exclude) in a collection letter:
Keep it short and to the point; do not use complicated language
Type the letter; do not handwrite it
Use company letterhead
Include a copy of the invoice(s) or a summarized statement if multiple outstanding invoices
Include a specific date the account should be made current (such as "payment should be made no later than April 17" as opposed to "payment should be made within seven business days")
Include acceptable payment methods like check, credit card and debit card
Your contact information, including phone number, email address and mailing address
A postage-paid envelope so they can drop a check in the mail easily
Do's & Don'ts of Writing a Collection Letter
There are two primary goals that you want to achieve at the end of the collection process: get paid and maintain a good relationship with the customer. In order to meet both of these goals, here is a list of some of the do's and don'ts we recommend when attempting to collect on a debt:
Here is what we recommend you do in this situation:
Do keep it professional
Do assume that the customer will pay
Do attempt to call the customer before sending the first letter
Do send an email before you send the first letter
Here is what you don't want to do in this situation:
Don't use harsh words
Don't harass customers
Don't send text messages to customers
Don't communicate via social media links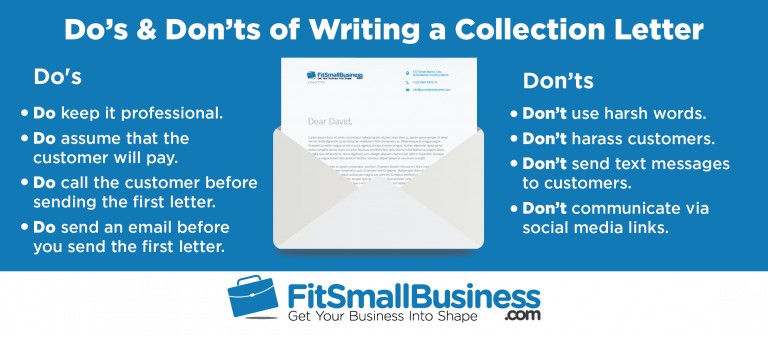 The 4 Types of Collection Letters
There are a total of four types of collection letters that you will send to your customer. Keep in mind that if your customer does respond to your phone calls or one of the letters, there is no need to send an additional letter unless the customer doesn't follow through with payment. The first couple of collection letter formats are pretty light and the last two have a bit more aggressive language.
The First Collection Letter
The first collection letter should be mailed only after you have tried to reach the customer by telephone and email. If you use a payment tool like Melio, you can email or text a direct link to your payments page to make paying your invoice even faster and easier.
If the customer has not made payment arrangements with you after contacting them via telephone and email, you should mail the first collection letter. In general, this should be no later than 14 days after the invoice due date.
Download our free first collection letter template and customize it to meet your specific needs. Make sure you use company letterhead that includes your company logo and business mailing address.
The Second Collection Letter
Before sending a second collection letter, a telephone call should be made to see if the first letter was received and to see if the customer would like to make payment arrangements. If your attempts to reach the customer by telephone are unsuccessful, it's time to send the second collection letter.
The primary difference between the first letter and the second is that you will include the fact that you did attempt to reach the customer in the first letter. Download our free second collection letter template and customize it to meet your specific needs. Make sure you print this on company letterhead that includes your company logo and mailing address.
The Third Collection Letter
After you send the second collection letter, you should attempt to reach the customer by telephone. If the customer has not made any kind of attempt to communicate within a couple of weeks, you need to send a third collection letter. Download our free third collection letter template and customize it.
Similar to the second letter, you will include language to inform the customer that previous attempts via letters and telephone calls have been futile which has resulted in this third attempt. I also recommend that you send this letter certified mail. This will require that someone signs for the letter, and it will provide you with proof that the letter was received. This kind of documentation will be important if you have to take legal action to collect this debt.
The Fourth & Final Collection Letter
While there may be some exceptions, by the time you get to a fourth collection letter, it should be painfully clear that your customer is either unwilling or unable to pay their debt. The language in this letter will be the most assertive that we have used but remains professional. Similar to the third letter, you need to send this final collection letter via certified mail.
Download our free fourth and final collection letter template and customize it to meet your specific needs.
When to Hire a Collection Agency
After multiple attempts to collect on a delinquent account with telephone calls and letters fail, you should consider hiring a collection agency. One thing to keep in mind is that, once you hire a collection agency, you will not receive the full amount that is owed to you. Collection agencies generally charge between 25 percent and 45 percent of the total amount to be collected. Depending on the amount of the outstanding debt, this may not be worth hiring a collection agency for.
Choosing to Write the Account Off as Bad Debt
If you decide to just cut your losses and not hire a collection agency, you should go ahead and write the account off as bad debt. This will at least allow you to claim a tax deduction for the amount owed to you.

Tips on How to Avoid Payment Collection Issues
If you're in business long enough, you will likely run across a client that you may have trouble collecting payment from. There are a few things that you can do to minimize this from happening in the future. For example, you can offer early payment discounts and run a business credit check to see what kind of payment history a potential client has.
Here are a few tips on how to avoid issues collecting payment from customers:
Review A/R Aging Report
The accounts receivable report is one of the top financial reports that you should review often. It includes the details of all unpaid customer invoices, including the invoice date, amount, invoice due date and number of days an invoice is past due.
Most accounting software like QuickBooks allows you to run an A/R aging report in just a few minutes. In our article on how to handle the A/R aging report, we show you how to read this report and what action you should take based on the age of an invoice.
Offer Early Discount Payment Terms
Consider offering customers an incentive to pay their invoices early. Early payment discounts can be anywhere between 1 percent and 5 percent and generally require payment within 10 days of the invoice date. A number of customers will jump at the chance to save a few bucks by sending in their payment early. Check out our Early Payment Discounts guide to see how this works.
Request Deposits Upfront
While it might feel a bit awkward at first, asking customers to put a deposit down before you provide goods and services is more common than you might think. For example, if a customer orders products, they usually must pay for their order in full (including shipping costs) before the product is delivered. In addition, most legal and accounting firms require a retainer before they will provide services to their clients.
I recommend that you always request a deposit if any (or all) of the following conditions exist:
Brand new clients
High-dollar projects (amount will vary depending on the type of business)
Projects that span more than 30 days
For example, let's say that a graphic designer has a new client who wants a new website and logo design. The graphic designer has estimated that this project will take about six weeks to complete. Because this project expands beyond one month and it could very well take much longer, I would recommend that a deposit of 50 percent is provided upfront. This ensures that if the customer changes his or her mind or refuses to pay once the project is complete, the graphic designer will only be out about half of what the job cost.
Be Proactive Before a Debt Becomes Past Due
One of the mistakes that is often made is following up on payment in a timely manner. Unfortunately, because asking for payment is such a difficult thing for many business owners to do, they simply put it off for too long. To help make accounts receivable easier, consider using Melio.
Melio lets you set up a simple payment page with a custom URL that you can share with customers. I recommend sending an email with a link to the URL at least two to three days prior to the due date. If you have multiple touchpoints with your client, you can even send the link via text or chat for faster payment.
Keep in mind that these reminders should not take the place of making telephone calls or sending collection letters. It is simply another way to try and collect payment before a customer's account becomes delinquent.
Run a Business Credit Check
Similar to your personal credit score, you can run a credit check to see what a potential client's business credit profile looks like, including payment history with trade partners. Access to how well a customer has met their payment obligations in the past is a pretty good indicator of whether or not you will get paid. Dun & Bradstreet is one reporting institute that compiles this data.
A Dun & Bradstreet credit report compiles available data on businesses to assess overall creditworthiness. You'll be able to see a full payment history of trade partners and financial institutions, including the number of late payments, of a client or potential client. You'll know right away how much of a risk that business is to give trade credit to or how aggressive you should be in collecting payments.
Frequently Asked Questions (FAQ) on Writing Collection Letters
1. If Your Customer Ends Up Paying You eventually, Should You Do Business with Them Again?
This is the million-dollar question and my answer is "it depends". In my opinion, if you are able to collect payment prior to sending the customer to an outside collection agency, then you should consider doing business with them again with the caveat that you will require a deposit upfront.
If the customer is unwilling to put a deposit down, then I would definitely part ways. If a customer ends up making their payment through the collection agency, I would close their account and no longer do business with them. It really boils down to your history with the customer and whether or not you want to continue the relationship.
2. How Do You Select the Right Collection Agency?
According to Rocket Lawyer, when hiring a collection agency small businesses should:
Verify the agency's legitimacy
Ask if the agency uses skip tracing
Make sure the agency has insurance
Compare fees and contingency costs
3. What Best Practices Do You Recommend for Managing A/R Balances?
We have discussed a number of best practices for managing accounts receivable balances; including using invoicing software and communicating with customers before their account becomes past due.
If this is an area that you avoid like the plague, you should consider hiring someone to manage this process for you.
4. How Much Does a Collection Agency Charge?
There are two primary ways collection agencies get paid: flat fee vs. a contingency fee. Most of them charge a contingency fee, which means that if the customer does not pay, they don't get paid. Contingency fees can run anywhere from 25 percent to 45 percent of the collection amount. It depends on a number of factors like how long the debt has been outstanding and how many attempts you have made to try and collect on the debt.
The Bottom Line
We hope this information has helped to simplify the process of writing collection letters. The primary goal is to minimize the need to do this by implementing some of the best practices that we shared with you.