BA in Writing and Anthropology from Washington University in St. Louis
IRB-Certified Research in Amsterdam
Retail Management, Merchandising, POS Software, Product Marketing, Customer Retention
Two years of retail management experience
Two years of project management experience
BA in writing from Washington University in St. Louis
Brigitte is a retail specialist and staff writer with brick-and-mortar management experience. Before joining FSB, she managed a storefront for several years, working in everything from merchandising, to buying, to sales analysis. Brigitte also has a background in writing, research, and publishing with an undergraduate degree in writing.
When Brigitte is not writing or learning about all things retail, you can find her running with her dog, playing tennis with her college teammates, or baking something delicious.
Retail is one of the most dynamic, challenging, and exciting industries for small businesses. I love being able to provide the best advice to business owners and to know that my articles are helping to solve real-world retail problems.
Favorite Retail Product or Service
Favorite POS system is Lightspeed
Favorite Customer Loyalty Program is Annex Cloud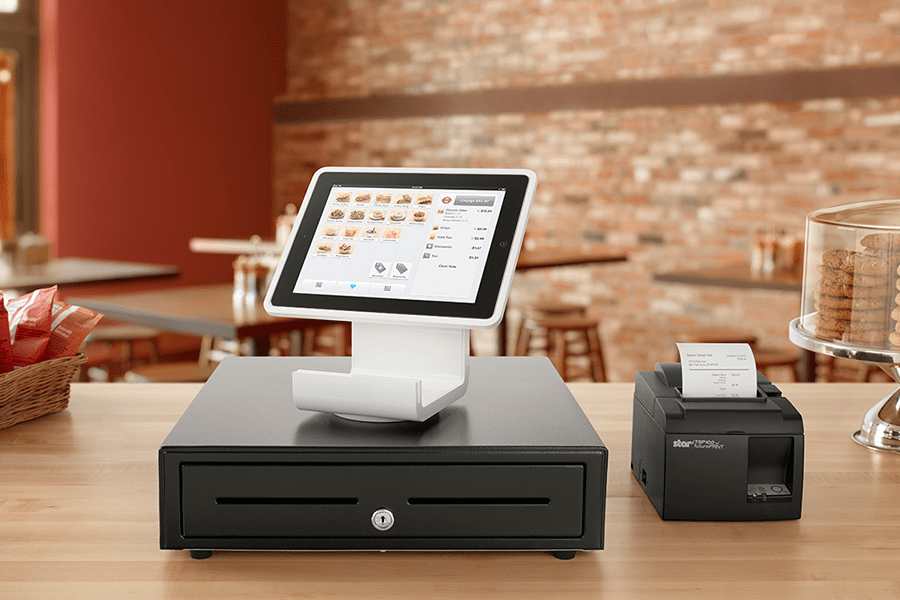 November 28, 2022
6 Best Mobile POS Apps for 2023
Customers want a checkout experience that is convenient, quick, and contactless. Mobile point-of-sale (mPOS) apps meet that need, allowing you to take sales to the floor, tableside, or off-site. Global Market Insights projects that by 2027, the mPOS terminals market will hit $70 billion worldwide. In our evaluation, we looked at over 15 of the top mobile POS options on the market and narrowed them down to our top six. The best mobile POS apps are: : Best overall : Best free with customer loyalty : Best for accepting PayPal : Best for inventory management and full-service restaurants : Best for choosing your own merchant account : Best for omnichannel sellers Best Mobile POS Apps Compared Square: Best Overall Mobile POS App is not only our top choice for mobile POS apps, it is also our pick for the best POS software and the top free POS solution because it's compatible with many business types and offers high-quality features at a low price. It features a free POS account that comes fully kitted with all the basic tools, including an ecommerce site and payment processing. Square also has advanced POS options with tools specifically for retailers, restaurants, or appointment-based businesses. The best part? With the free Square POS app, you can log in to your POS account on any mobile device and take your business operations on the go. Note, however, that Square for Restaurants is iOS-only, and there are limited-restaurant features in the Android retail POS app. If you need a full restaurant POS app, check out Lightspeed. In our evaluation, Square earned a 4.66 out of 5. It aced the ratings for price and expert evaluation, but took hits for its limited service hours, limitations on the free account, and loyalty program (which is an add-on, unlike with Loyverse). Additionally, its inventory management tools do not have the in-depth reporting or product details that you find with Lightspeed or Shopify. Loyverse: Best Free POS Option is an extremely popular free POS app offering a completely free POS system that works with a variety of payment processors worldwide. The app includes loyalty, inventory, and even employee management features. Notably, Loyverse can also work offline. It came a close second to Square, with 4.55 out of 5 on our evaluation. In fact, Loyverse was the only provider that scored 5 out of 5 on mobile-specific features. It also scored well for its 24/7 customer service and ease of use. Its range of features rivals Square, and with a choice of payment processors, you can find rates that suit you. Note, however, that unlike Square, Loyverse charges extra for integrations and does not include an ecommerce platform. Loyverse also lost points for its limited payment integration options, lack of custom reports, and having no ecommerce platform. The app also had lower-than-average ratings from users on third-party software review sites. PayPal Zettle: Best for PayPal Payments & Selling Internationally is a free POS system brought to you by PayPal. With tools like inventory controls, staff management, and reporting, Zettle has similar tools in its free plan as Square or Loyverse. With Zettle, you also get access to PayPal payment processing, which allows you to process payments all over the world—perfect for international sellers. The Zettle by PayPal mobile app is also highly rated and user-friendly. With 4.24 out of 5, PayPal Zettle earned a perfect score for pricing and high scores in the general features and expert score categories. Where Zettle lost points was for lacking offline mode, a time clock feature, and tools for specific industries like restaurants. Lightspeed: Best for Full-service Restaurants & Businesses Managing Complex Inventories POS system made our list of best POS systems for restaurants and leading inventory POS because of its extensive toolset for restaurant owners and its high level of inventory controls. With Lightspeed Restaurant, you have everything you need to run full-service restaurants or small eateries, including kitchen communication channels, ingredient-level inventory tracking, and perishables management. Meanwhile, Lightspeed Retail gives you access to tons of inventory controls, like granular and customer reports, inventory matrixes, and vendor management. It does have some drawbacks, however. To start, Lightspeed's mobile app and POS dashboard are not the easiest to learn (especially when compared to Square or Shopify). This yields lower user reviews. A more complex interface along with limited mobile app functionality and a paid loyalty program earned Lightspeed a 4.02 out of 5 in our evaluation. Clover POS: Best for Choosing Your Own Merchant Account POS app is a combination of software/hardware that is popular with businesses because it lets them purchase Clover systems through authorized payment processors or banks. This means that Clover is good for people that already have a merchant account but want to upgrade to a POS system or those looking to work with a specific processor. While you can use nearly any merchant account, unless otherwise specified, Clover will default and automatically enroll its new members into Fiserv upon sign-up if you purchase directly through the Clover website. This means you can start accepting payments as soon as you have a Clover account with Fiserv. Clover earns 3.94 out of 5 in our evaluation. It has high marks for mobile, but its general user ratings are not as good. There are a lot of complaints about third-party resellers trapping retailers with hidden fees. Clover also does not let you use your phone as a barcode scanner, like you find with Lightspeed, Square, and Shopify. However, it does have strong customer and loyalty tools and integrations. Shopify POS: Best for Omnichannel Sellers is one of the top ecommerce solutions today and also has great tools for in-person sales, social media selling, and click-and-collect orders. In fact, it's our most recommended multichannel POS system for retailers. Businesses that do heavy online sales and need an excellent ecommerce solution and in-store POS application will appreciate the strong inventory and customer management tools. However, if you already have an ecommerce solution and are not willing to give it up, look into PayPal Zettle or Square, which have free POS apps that integrate with popular online stores. Shopify earned 3.76 out of 5 on our evaluation. It took a hit because it does not offer a time clock or restaurant features, does not have an offline mode, and you must use Shopify payment processing. Nonetheless, it had one of the highest scores for general POS features and maxed out our expert score for value for the dollar. How We Evaluated Mobile POS Apps We pulled from decades of experience by our researchers, personal use, operating POS systems in retail settings, and studying and testing these systems. Then, we combined this with feedback from long-term, real-world users who have posted reviews on trusted third-party sites. The best mobile POS apps optimize the balance of hardware, software, and payment processors. We started by selecting only those with a mobile app. This ensures you can run the program on a smartphone or tablet. However, many, like Square or Clover, had their own hardware as well. Then, we looked for software features that not only let you ring up sales but track inventory and manage customers (such as Loyverse's loyalty program). For payment processing, we selected a mix of those with proprietary merchant services and those that offer you a choice. As often happens when evaluating POS software, tops the list. In addition to being the best POS app for small businesses, it's also on lists for POS for restaurants, payment processing, and more. Square was built for mobile, and its POS application reflects that focus even as it has grown to encompass brick-and-mortar applications. Click through the tabs below for our full evaluation criteria: Bottom Line There's no reason to be tied to the counter. Many POS apps have a mobile component, either as a handheld device or with a downloadable application. The best mobile POS systems sync with the main program, handle offline transactions, and let you access the backend. Overall, Square has the best features for the best price while being the easiest to use. Even better, its POS system is free with a competitive payment processing fee. Go to Square and download the POS today. You May Also Like… Learn more about POS systems and the different types of POS. If you just need to accept payments, and don't need the additional features that come with a POS system, consider using a mobile credit card processor.
Discover more resources
for your business
BA in Writing and Anthropology from Washington University in St. Louis
IRB-Certified Research in Amsterdam
Retail is one of the most dynamic, challenging, and exciting industries for small businesses. I love being able to provide the best advice to business owners and to know that my articles are helping to solve real-world retail problems.
Favorite Retail Product or Service
Favorite POS system is Lightspeed
Favorite Customer Loyalty Program is Annex Cloud