7 Creative Small Business Packaging Ideas + Examples
Custom packaging is a key way for small businesses to stand out in the highly saturated ecommerce market. To foster a memorable buying experience and help build brand loyalty, we recommend using branded or unique shipping materials.
In this article we'll look at how you can customize your external shipping boxes as well as your internal product packaging materials—along with average costs, helpful examples, and resources to get started.
External Packaging Customizations
For ecommerce businesses, think of your shipping container like a storefront. Similar to a stunning window display, a well-designed shipping box will leave a positive first impression on your customers and tell them how they should perceive your brand.
Here's a rundown of the top three types of shipping container customizations with options for any budget:
1. Fully Customized Packaging
Price: $5–$40 per custom box (depending on size and extent of customization)
Fully custom packages are boxes, mailers, or other types of shipping containers designed to represent your brand through custom features on the inside, outside, or both. These shipping materials go beyond just adding a logo, and they provide a more immersive experience.
This type of packaging is great for increasing brand awareness through shares on social media and unboxing videos.
Unboxing content—in which shoppers film or photograph the process of unpacking new products—often relies on fully customized packaging with unique features that convey a brand.
The hashtag #unboxing has nearly 3.5 million posts on Instagram
YouTube currently hosts over 7.9 million unboxing videos
Fully customized packaging is typically your most expensive option, but it will create the biggest impact. It's most often used for higher-end goods or subscription services.
Check out these successful examples of creative, fully custom packaging: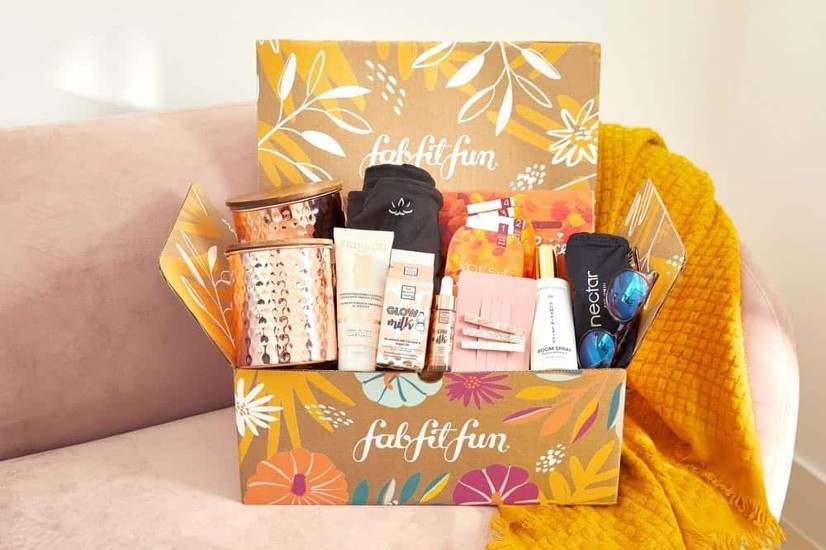 ---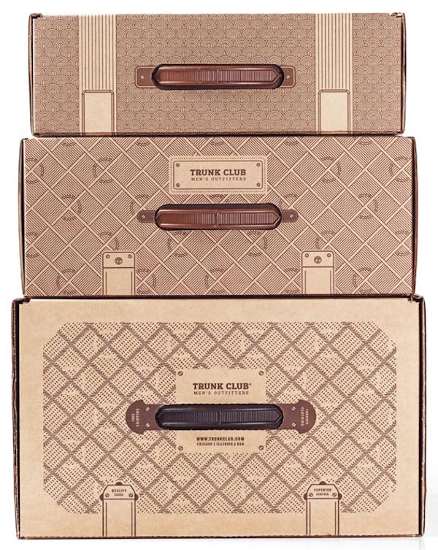 ---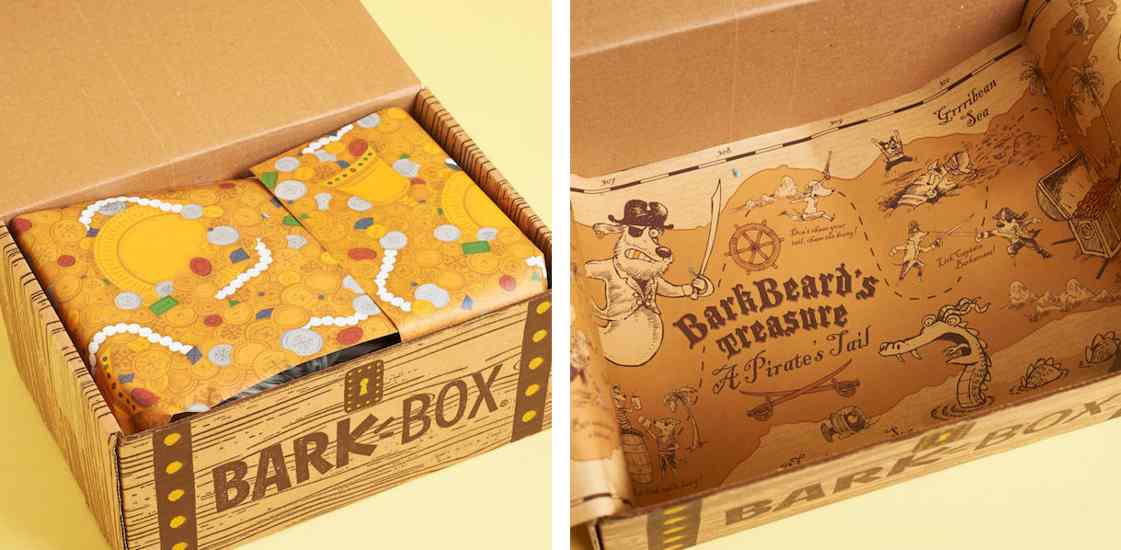 ---
2. Printed Stock Packaging
Price: $1.25–$20 per piece (depending on size and extent of customization)
Printed stock boxes are another small business packaging idea that features a custom touch. These boxes take a stock box (or other shipping container) and add your logo to the outside. This type of customization is a great way to drive your brand and increase recognition without adding much expense.
For this printed stock packaging, you'll want to ensure that the placement of your logo is prominent—right-side-up on the top or front of the box. Also be sure to use an ink that's dark enough to create contrast for the best visibility.
For inspiration, reference these creative examples of printed stock boxes: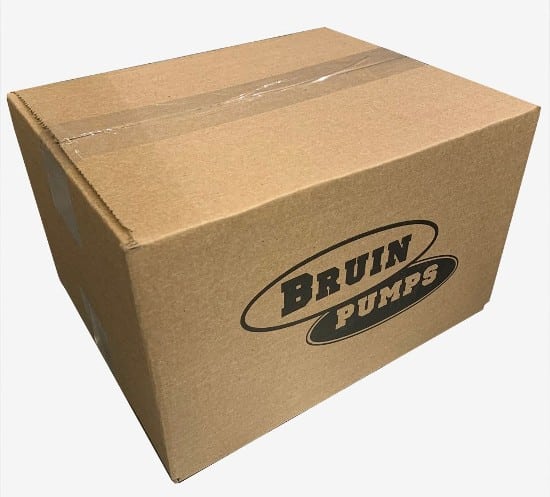 ---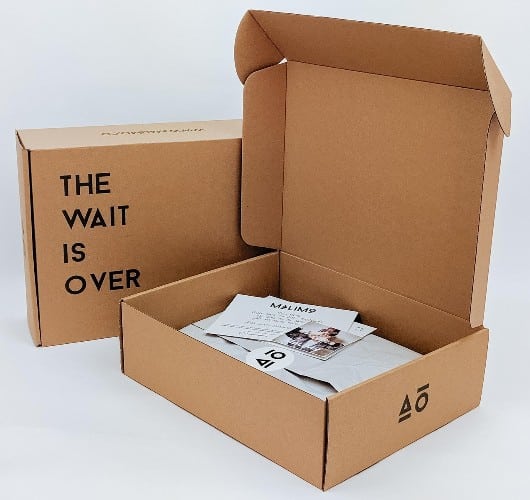 ---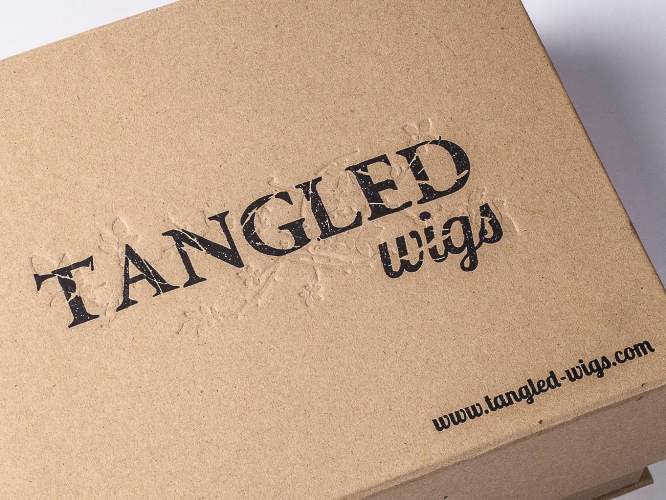 ---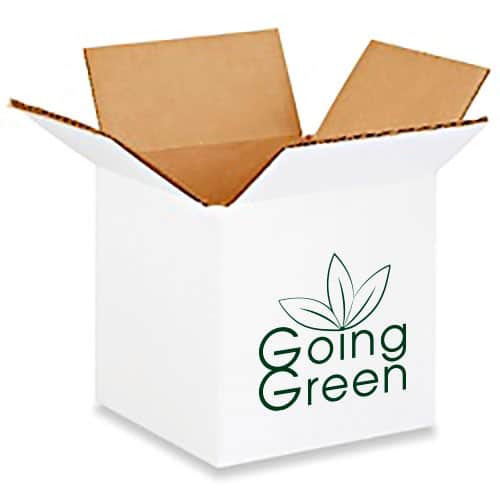 ---
Tip: The key to pulling off any kind of custom packaging is having a distinctive logo and strong brand identity that you can use across many applications.
If you're serious about building a recognizable brand, consider using a logo design platform for access to logo generators, logo templates, and editing tools—or affordable custom logo design by professionals. Read our guide to the 10 best free and paid sites for logo design.
3. Exterior Logo Stickers
Price: 6 cents–$7 per sticker (depending on size and extent of customization)
Logo stickers can be used on the exterior of your shipping materials to easily and affordably add a touch of customization.
This is the most cost-effective exterior branding option, and, once the stickers and boxes are ordered, assembly can quickly be performed in-house. Exterior logo stickers also allow you to easily add branding to any type of shipping container—making them perfect for businesses that use a variety of box sizes or multiple sources for their shipping supplies.
Here are some examples of effective packaging logo stickers: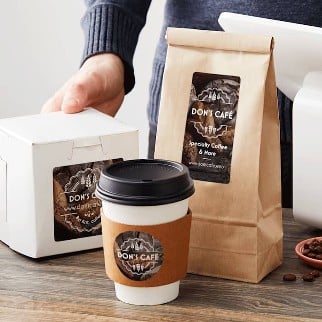 ---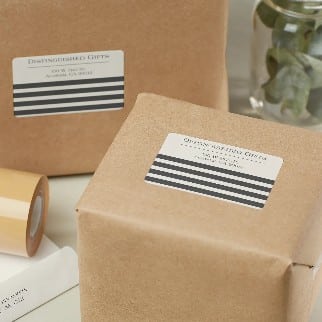 ---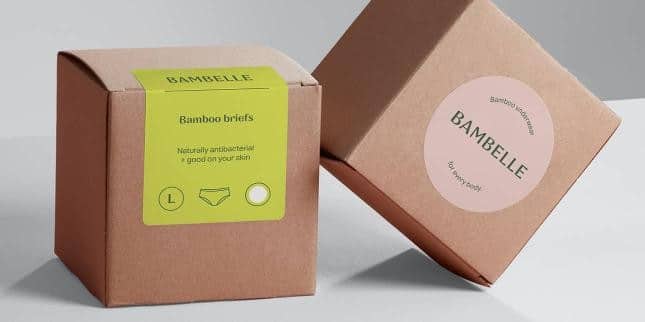 ---
Internal Packaging Customizations
Another small business packaging idea is to add creative custom touches to the inside of your packages. This can include using custom stickers or tags, branded void fill like tissue paper, or unique boxes for your products themselves. It's another opportunity to make your unboxing experience special, increase brand recognition, and elevate your offerings.
Here are some creative ways you can fill your packages and add a custom feature to your brand experience:
4. Cards or Thank-you Notes
Price: 5 cents–$1 per card (depending on customizations and stationary quality)
Adding a handwritten thank you note, signing your name on a preprinted card, or attaching a coupon voucher for your shopper's next purchase is an easy and cost-effective way to add a personal touch to your small business packaging.
Cards and notes offer another way for customers to engage with your business and help people remember your brand the next time they're shopping. They also give ecommerce orders a personal element that helps enforce an emotional connection.
In the clothing boutique managed by our retail expert Brigitte Hodge, she would add handwritten thank you notes for any purchase over $200. Her customers loved to receive these notes, and they helped the store earn repeat clients as well as shares on social media. Plus, they were easy to make—staff would keep blank stationary on hand and use any downtime to fill it out with customizable notes.
Tip: It's easy to find stationery on a creative marketplace like Etsy. With its extensive selection of retailers, you can find cards, custom stationery, and pre-printed notes in a variety of styles and price points. To order pre-printed custom cards in bulk, VistaPrint is the best option.
Check out these creative examples of businesses that have added notes and cards to their packaging: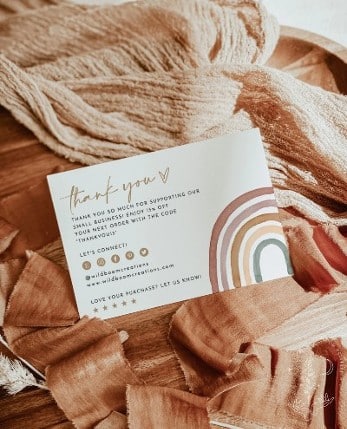 ---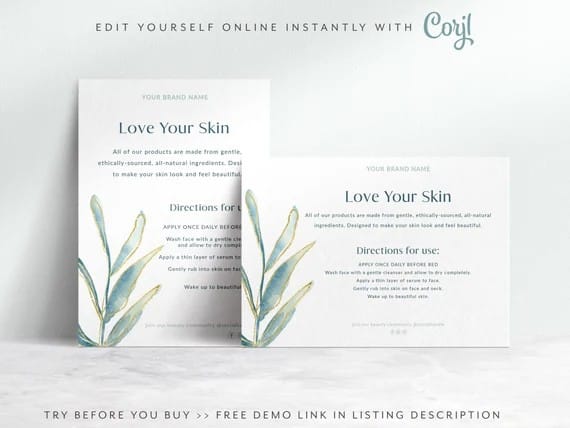 ---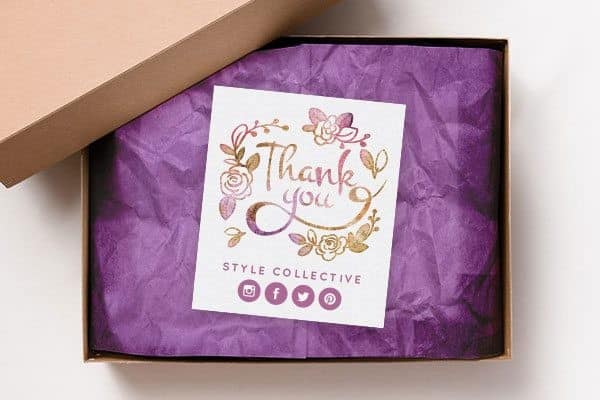 ---
5. Logo Tags or Stickers
Price: 10 cents–$2 per piece (depending on material and size)
Adding a custom logo tag or sticker to your orders is a great way to convey your brand without breaking the bank.
Typically, custom tags are attached to clothing and small items like inexpensive jewelry, whereas custom stickers are placed on the outside of generic product packaging. VistaPrint is a great resource for printing custom logo tags and stickers.
Here are a few examples of logo tags and stickers in action: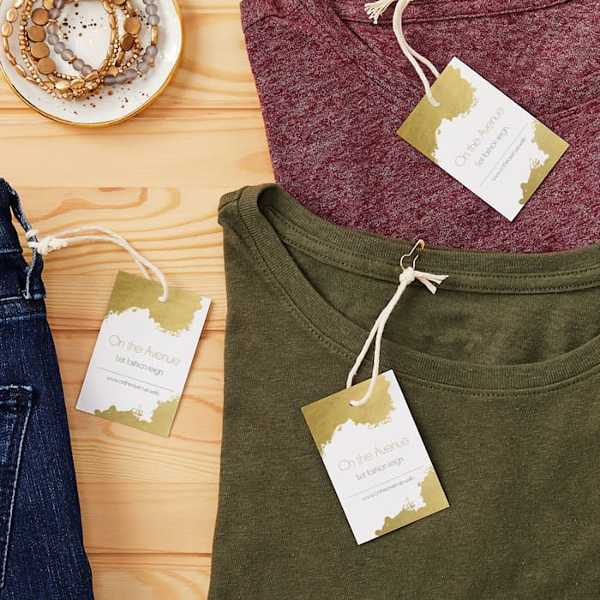 ---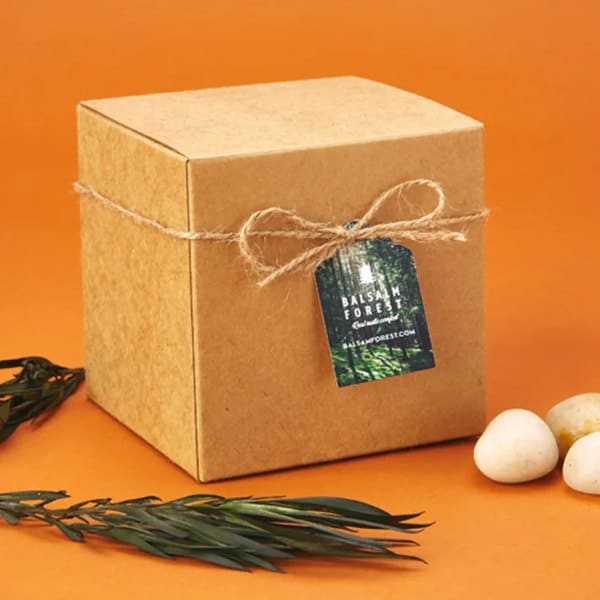 ---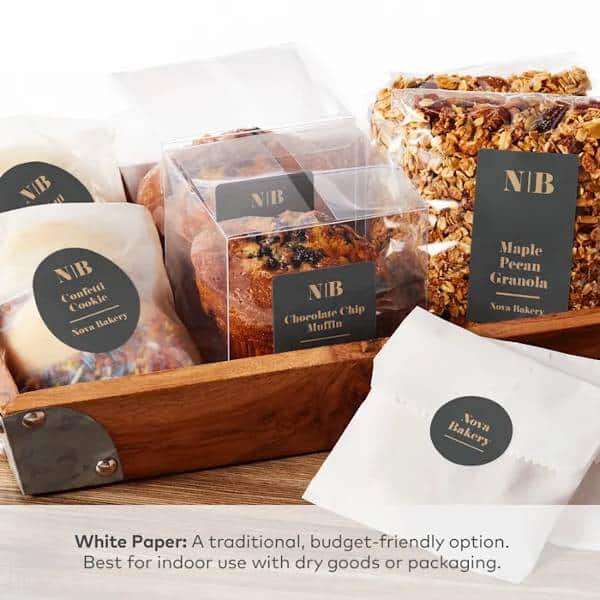 ---
6. Tissue Paper & Inner Packaging
Price: 2 cents–$4 per order (depending on material and size)
Another way to elevate your product packaging and add a personalized touch is to wrap the individual products within your packages. This shows customers that you took care with their order and that their goods are important and valuable. This level of detail helps your brand stand out and creates an additional opportunity to incorporate branding with customized materials.
Consider wrapping merchandise like clothing in tissue paper, glass goods in well-protected boxes, and jewelry in small, cushioned containers. Some goods will need extra protection, and others just look better when wrapped.
Here are a few strong examples of interior packaging that create a luxurious experience and reinforce branding: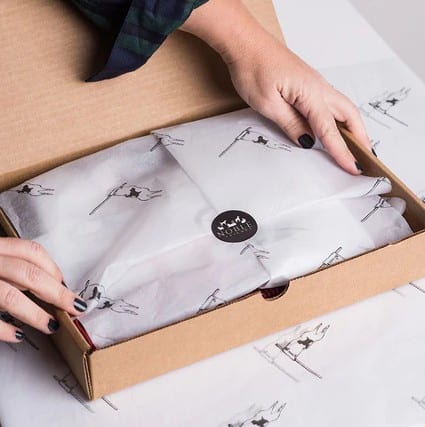 ---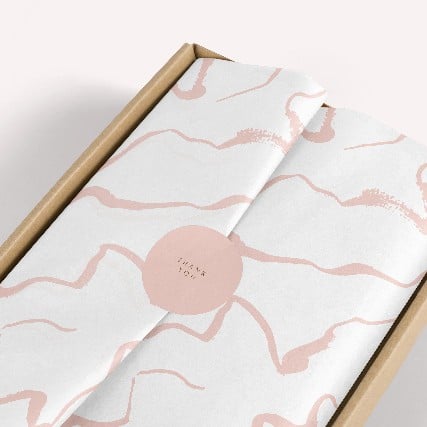 ---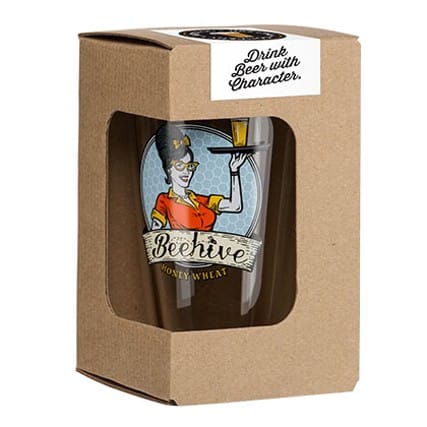 ---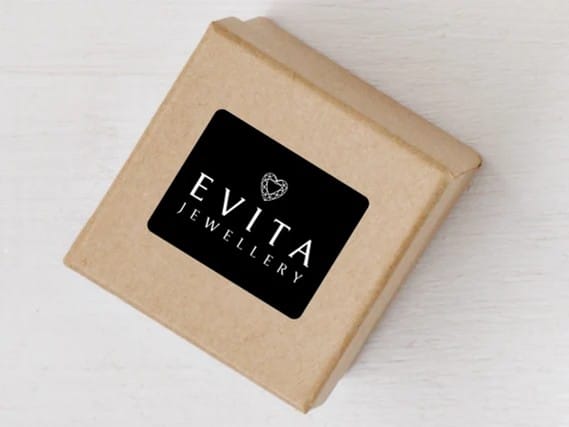 ---
7. Small Gifts or Samples
Nothing makes a bigger impact than free stuff. Including a product sample or small trinket as a gift to your customers can increase overall satisfaction—and it creates a great opportunity to drive further branding throughout your packages.
Product samples give shoppers the chance to explore your offerings and encourage retention as well as increased basket size. Simple gifts (like decals, koozies, or keychains) can be customized to display your logo, turning customers into brand ambassadors everywhere they go. Plus, bonuses like these promote a sense of good value and invite a brand connection.
Check out these examples of custom gifts and product samples in ecommerce packages: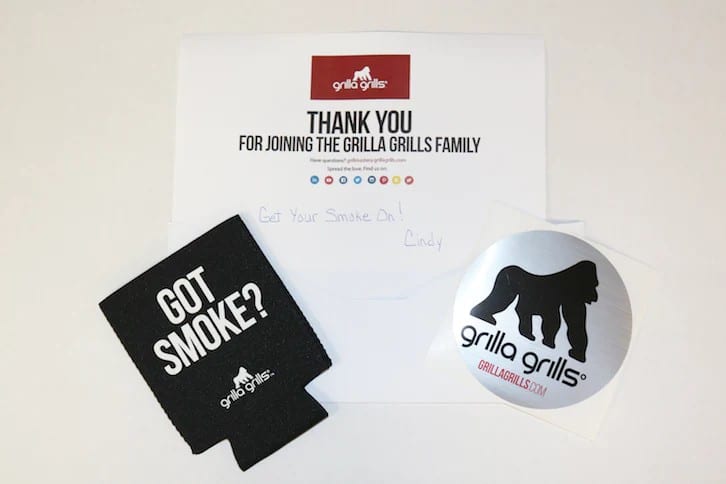 ---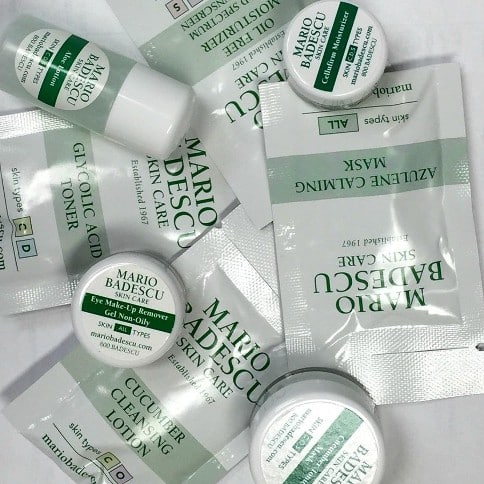 ---
Bottom Line
Creative packaging helps elevate your brand image and boost customer recognition. While custom small business packaging may be more expensive than your standard shipping materials, it's part of forging a sticky brand and creating a positive customer experience. It can also add a personal touch to the otherwise impersonal ecommerce buying experience. Thanks to the wide array of custom boxes and packaging materials available, you can give your orders a branded experience from the inside out—no matter your budget.
You May Also Like…