Creative packaging lets ecommerce sellers convey their brand to buyers in a share-worthy unboxing experience. Fully-customized packaging is pricey, but many creative packaging ideas are very economical. Logo stickers, printed inserts, paper sleeves, and tie-on tags are just a few creative packaging examples that deliver plenty of bang for just a few bucks.
Creative Packaging Ideas for Branded Shipments
Creative packaging comes in all sizes and shapes, but most of it centers on a few main factors: shipping boxes, internal packing or fill materials, and embellishments. We'll explore each of these important elements below and show you how to put it all together as a memorable whole.
Custom Shipping Boxes & Custom Packaging Programs At-a-Glance
Type of Box

Best For

Cost

A fully-customized creative packaging program can include:

Custom designed and printed shipping boxes
Fitted box dividers and inserts
Custom tissue paper or wrap
Custom inner boxes and bags
Coordinating thank you and promotional inserts

$3 to over $10 per order or shipment Costs vary with box sizes, printing colors, coverage, inserts, and inner full Find customized packaging from around $3 per shipment with

top custom box

suppliers Custom-printed tissue starts at 12¢ per sheet at

noissue

Branded packaging for lower costs than customized boxes Printed stock boxes can be used alone or paired with creative inner packaging and inserts for a branded look

Under $2 to over $10 per order or shipment Costs vary with box sizes, printing colors, and coverage Find budget-friendly

printed stock boxes

Adding a logo or brand identity to any type of box or mailer Add creative inner packaging and inserts for a branded look on a budget

50¢ to over $5 per order or shipment Find stock shipping boxes and mailers from

various sellers

Large box labels start at around 50¢ each at

Vistaprint
Inserts and filler materials complete the custom packaging look. You can combine printed boxes with any number of fill items, like insert cards, branded inner-packs, and logo-printed tissue. Even if you ship in plain boxes, a few custom fill elements can convey your brand to your buyers, whatever your budget.
Custom Inner Packaging Ideas At-a-Glance
Type of Packaging

Best For

Cost

Thank You & Offer Inserts

All shippers—great for thank you notes, coupons for next orders, or other promotions

6¢ to 20¢ per order or shipment Order custom printed postcards from

Vistaprint

for around 20¢ each

Tags & Embellishments

Goods that can be tie-tagged with decorative ribbon or cording

5¢ to 10¢ per order or shipment Business card or custom tags start at just 5¢ at

Vistaprint

Ribbons and ties come in all styles and colors and add flair for just pennies

Logo Labels & Bags

Items that can be grouped, bagged, or inner-packed

30¢ to over $1 per order or shipment Sticker-style labels start at around 49¢ each at

Vistaprint

Tissue Wrap & Inner Packaging

Wraps and inner boxes add a finishing touch to apparel, personal care sets, luxury goods, specialty foods, and more.

50¢ to over $3 per order or shipment Custom-printed tissue starts at 12¢ per sheet at

noissue
Custom tissue paper is an inexpensive way to convey your brand in a memorable way. With noissue tissue's simple online design tools, you can design tissue paper using your own logo or any custom design. Prices start at 12¢ per sheet, and shipping is free.
Creative Packaging Ideas Start with a Solid Brand Identity
A logo and brand identity that are designed to be used across many applications is the key to pulling off any kind of custom packaging. You can design one yourself, but too often, a do-it-yourself logo doesn't translate well across all mediums. If you're serious about building a distinctive brand, it's a good idea to go with a design pro from day one.
DesignBro has a stable of seasoned logo designers who know how to create an overall look that works across all types of print products, as well as your website, letterhead, and other marketing products.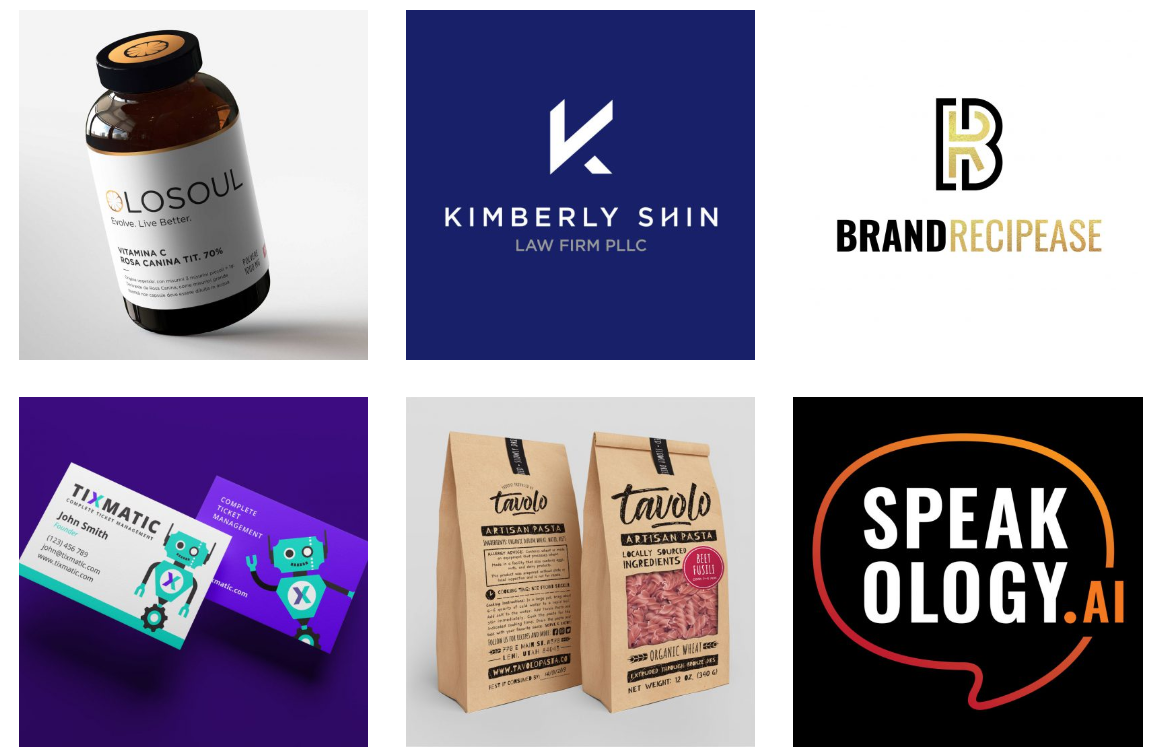 DesignBro gets right to the point, too, by walking you through a free online design brief to identify the brand image you want to achieve.
DesignBro offers three packages to meet every design need and budget. Custom logo packages start at just $199, or get a complete brand identity package from $399. If you need a fully-customized packaging solution, DesignBro delivers for $499. Complete your design brief to get started today.
Creative Packaging Ideas for Shipping Boxes & Mailers
Custom-designed shipping boxes, economical printed stock boxes, and budget-friendly box stickers provide a great starting point for branded packaging. Here's a look at the many ways you can brand your ecommerce shipments with both custom-printed and stock boxes—plus costs involved, where to get started, and some things to consider.
Custom-Designed Creative Packaging Programs
Online sellers like TrunkClub and BlueJeanBox pack and ship orders using printed custom boxes that instantly brand the unboxing experience. A fully-customized packaging program creates a memorable moment in the purchase experience, and is worth the cost for upscale items and specialty brands.
Customized boxes are the primary element in a brand-driven unboxing experience like this. Custom boxes are costlier than printed stock boxes, but for certain brands, are well worth the impression left on customers. Along with delivering a branded message every step of the way, custom box and packaging solutions are designed to fit your exact needs.
Here are the three elements that make up a fully-customized creative packaging program:
Creative Packaging with Printed Stock Boxes
If you ship in just a few box sizes, stock boxes printed with your logo can be cost-effective alternatives to fully-customized boxes. Budget-friendly stock boxes are printed only on the outside—and usually in just one color.
With printed boxes, you may not need many extra internal packaging embellishments like tissue, ribbons, and stickers to convey your brand. However, a few added elements can embellish the branded experience for pennies.
Here's how to use printed stock boxes for budget-friendly creative packaging:
Creative Packaging Ideas for Pennies
If you find printed boxes too costly, don't get frustrated. You still can deliver a memorable creative packaging experience to your customers. It all starts with inexpensive logo stickers. Adding these to plain stock boxes and mailers delivers plenty of bang for just a few pennies per box.
Here's how to combine sticker-embellished stock boxes with budget-friendly embellishments to get a branded look for pennies.
Here's how to use printed stock boxes for budget-friendly creative packaging:
Custom Packaging Design & Printing: Things to Know
Fully-customized boxes can be costly. Custom packaging companies tack on additional charges, including artwork setup and cutting dies, for specialty box sizes. Some of these, like artwork setup, are unavoidable on most any print job. But you should always ask if there is an existing stock box that's close to your needed size to help save on die charges.
To avoid unnecessary expenses, enlist the help of a packaging design pro, like those at DesignBro. Plus, always get a printed sample proof before approving the job for production.
Custom printing has minimums, too. Some can be as high as 1,000 units, but your per-piece cost drops with higher quantities. If your budget and sales forecasts can support a larger print run, it can drop your per-box price dramatically.
If you ship in a wide variety of boxes, printing boxes in all needed sizes can be cost-prohibitive. Printed stock boxes or logo stickers are more economical and flexible for these shipping needs.
Fulfillment Companies Can Help with Custom Packaging
Looking for a total turnkey solution that includes custom boxes plus fulfillment services for stock storage, order packing, and shipping? Fulfillment companies can help you develop a custom packaging program, store your products, and pack and ship your orders.
Outsourcing fulfillment leaves you free to build and market your company since you're not handling the daily shipping tasks. Outsourcing fulfillment has its costs, but compared to product storage, hiring employees, and the time spent managing it all, it can be a more cost-effective solution than running your own warehouse.
Plus, you'll benefit from the fulfillment company's expertise in developing custom box programs and possibly save on printing costs through their vendor relationships. Check out FulfillmentCompanies.net to find the best fulfillment company for your small business.
Visit FulfillmentCompanies.net
Creative Packaging Ideas for Fillers, Inserts, Bags, & Tags
Creative packaging ideas really come to life inside the shipping box. Below are some creative packaging examples that communicate your brand as soon as your customer opens their box. Try just one of these creative packaging ideas if you're on a tight budget, or combine several to deliver the total package.
Thank You Inserts: Personal Touches for Pennies per Order
Adding a handwritten thank you note or signing your name on a pre-printed card costs next to nothing and takes just seconds. But this personal touch can be just the thing to make your customer remember you the next time they're shopping. In this hectic, impersonal day and age, it might even impress them so much that they share their experience via social media.
Make your own handwritten or self-printed card inserts or order them in quantity:
Thank you note cards can do double-duty as care instructions, coupons, and special offers, too. Try printing a coupon or special offer on one side, then adding your personal thank you on the reverse. You can print postcards from your own printer using laser or inkjet postcard blanks, or try customized postcards, shown below.
Remember: Printing costs per piece drop dramatically when you print higher quantities. For example, at Vistaprint, you can typically print 50 postcards for about 20¢ each, but 500 of the same card cost just 12¢ each.
Consider this when you design your offer. If you can make it "evergreen," with no expiration and a year-round design, you can print more and save money. Good evergreen offers include Free Shipping at a certain order value, like "Free Shipping on Orders Over $75," or even "$5 Off" a certain order value.
Tag Embellishments: Tie One On for Budget-Friendly Branding
A finishing tag with a flourish of ribbon or cording adds a visual element that, quite literally, ties it all together. Attach a printed logo tag, a signed thank you, or special offer to complete a memorable look. You can print these yourself using your inkjet or laser printer, or have them printed.
Inexpensive business cards and postcards are ideal for this creative packaging look:
Remember: Printing costs drop dramatically when you print higher quantities. For example, at Vistaprint, you can typically print 100 business cards for about 16¢ each, but 500 of the same card cost just 4¢ each. You'll often find great deals on business cards.
Bags & Labels: Finish Grouped Sets or Small Items
Bagged items and sets are easily branded with inexpensive printed logo stickers and labels. And there are more bagging options than clear plastic. Try Kraft paper bags, frosted or colored plastic bags, and specialty gloss or metallic sacks to create a branded packaging experience.
Logo stickers let you create all types creative packaging ideas:
Remember: Sticker and label printing costs per piece drop dramatically when you print higher quantities. Other factors that can affect cost are label size, shape, and whether they're printed on rolls or sheets. Sheet labels offer more shapes and finishes than rolls, so they're typically more expensive.
For example, at StickerYou, both the type of label and the quantity affect pricing. Rolls labels offer some creative shape options, like the image above on the left. But fancier cuts like the label on the right usually require sheet labels.
Comparing Logo Sticker Costs: Roll vs. Sheet Labels
| Type of Label | Quantity | Price |
| --- | --- | --- |
| 2" Labels on Rolls | 250 | 30¢ each |
| 2" Labels on Rolls | 1,000 | 10¢ each |
| 2" Labels on Sheets | 250 | 49¢ each |
| 2" Labels on Sheets | 1,000 | 15¢ each |
Logo Stickers & Inner Packaging: Create an Impression That Sticks
Logo stickers paired with tissue wrap or inner boxes can add a finishing touch to your packed goods. Use inexpensive logo stickers to secure tissue paper over packed goods and to embellish plain product boxes. Or, use secure packing slips and inserts inside your box, so your logo is the first thing your customer sees.
Use logo stickers to create creative inner packaging for just pennies:
Remember:
Package size and weight impacts your shipping rates. Inner boxes are protective, but can add weight
—
but a few sheets of tissue paper won't tip the scales at all. If you splurge for custom-printed tissue, your per-sheet costs drop dramatically with larger quantities.
Bottom Line
Creative packaging ideas can drive a branded look on any budget. Eye-catching custom packaging delights—inside and out—but it's not right for every business. Economical custom packaging solutions just take a little time and planning—plus a few creative packaging ideas like those explored above.