Customer relationship management (CRM) certifications provide verified proof an individual has taken time to develop skills and experience with specific CRM software. Some involve courses and exams, while others are simply a status for consultants who setup software for clients. We looked at dozens of options to provide you with 2019's top six CRM certifications.
Top 6 CRM Certifications 2019
| CRM Certifications | Best For |
| --- | --- |
| | (Best Overall) Sales professionals looking for HubSpot specific and skills-specific credential. |
| | Enterprise sales professionals and consultants managing large sales teams that use Salesforce. |
| Dynamics 365 (Certified Associate) | Outside IT consultants and support professionals working with MRP and ERPs. |
| | Consultants who build customized enterprise software deployments using NetSuite. |
| | Small business sales and customer support administrators who use Zendesk. |
| | Agencies that resell Zoho sales and marketing software to small businesses. |
How We Evaluated CRM Certifications
CRM certifications provide sales and IT professionals with third-party validation that they have the skills and expertise to operate a specific software product, either for career advancement or for attracting clients. With that in mind, we looked for the certifications that added the most value and industry recognition at an affordable cost. We also looked at the time required to complete training and pass exams for each to compile this list of the top six CRM certifications.
We evaluated popular CRM certifications based on:
Industry Recognition: Most of the value in a CRM certification comes from its acceptance by businesses and organizations that the certification represents a validation of your expertise in that software.
CRM Market share: As CRM certifications are often sought by professionals who would like to advance their career within their existing organization or to become more marketable to other companies, the most useful certifications reflect experience with well-known CRM solutions.
Training Materials: We evaluated what certification training materials are available and whether they are proprietary to the software provider, or if there are alternatives available from third parties.
Cost: In order for a certification to be valuable it has to be affordable and offer a positive return in terms of increased opportunities either in employment or consulting.
Time to Complete: In addition to the cost of obtaining a certification we looked at the investment of time required and whether there are additional requirements involved that take extra time like serving a minimum number of customers or implementations.
We recommend HubSpot Academy as the best overall CRM certification because it offers a highly respected industry-recognized credential, extensive learning online learning materials, and a vast network of partner resources for generating new business. In addition, HubSpot Academy is a free certification, making it more accessible than other options on this list with upfront costs to complete training and examinations.
Best Overall CRM Training & Certification: HubSpot Academy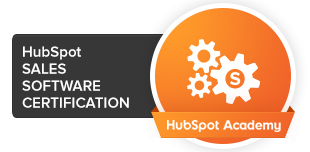 HubSpot Academy is the best overall set of training and CRM certifications, offering individuals and businesses the ability to demonstrate their expertise using HubSpot as well as generate new clients from the vast HubSpot customer base. HubSpot doesn't charge for Academy courses or exams, making it the most cost-effective CRM certification, especially for small agencies, solopreneurs, and freelance marketing consultants.
HubSpot Academy Pricing
HubSpot doesn't charge a fee for Academy. That's right, it's completely free. All of the courses, learning materials, and exams can be completed at no cost. Mastery of the Sales Hub and Marketing Hub software would benefit from a subscription to those software plans, though not required. In addition, HubSpot's CRM software is completely free.
HubSpot Academy Requirements
Each HubSpot Academy Certification requires the completion of an online video course and online exam. In addition, some certifications require completion of practical exercises to demonstrate hands-on knowledge of the skills and software involved.
HubSpot Academy Features & Benefits
HubSpot Academy Certification is focused on demonstrating a users' skills not only on a specific software product but on the inbound marketing and sales methodology. There are 18 total certifications that cover Inbound Marketing, Content Marketing, Selling Sales Services, Marketing Software, Agency Partners, and more.
HubSpot Academy certification courses include the following:
Online Learning
All of the courses for HubSpot Academy certifications can be completed online at your own pace. HubSpot offers a vast library of video training, practical exercises, and digital learning resources that prepare users to take the exams that provide certification. When users pass an exam (usually 75% is considered passing), they receive the certification. If they don't pass, they can retake the exam after 12 hours.
Partner Directory
HubSpot maintains an online directory of partners designed to help generate new customers for agencies and consultants that sell HubSpot products and provide inbound marketing services. Agency partners can additionally complete an Agency Certification recognizing the company as an expert in HubSpot software and inbound strategies.
LinkedIn Badges
HubSpot certifications can be displayed directly on your LinkedIn profile by linking it with your academy account. This makes it easy to share your expertise without needing to know how to add code or graphics to a webpage. In addition, users can embed their badges on their professional website to demonstrate their credentials to potential clients or employers.
What HubSpot Academy Is Missing
Unlike certifications like Dynamics 365, there are no recognized third-party courses that will allow you to learn the HubSpot Academy materials. Therefore, you have to take the courses through HubSpot. This is primarily due to the fact that the courses are free, leaving little reason for anyone else to offer an alternative here. HubSpot also does not offer on-site or in-person testing like Microsoft and Salesforce. All courses and exams are available online only.
What Users Think About HubSpot Academy
Users give HubSpot Academy positive reviews for both the content of the certifications, as well as the fact that they are free, which is uncommon for enterprise-level CRM certifications. Users also find the courses to be well-produced and easy to follow. Some users mentioned that some of the practical exercises were difficult to complete without a paid subscription to the software.
"When going about securing a CRM certification, HubSpot offers an easy-to-follow and inexpensive, yet high-quality program that has earned its reputation as one of the top global companies for inbound marketing and sales techniques. This makes HubSpot ideal for companies of any size or industry; you can create a free account within a few minutes, and begin your path toward CRM certification immediately without having to provide any invasive payment information."
— Chintan Shah, President, KNB Communications,
Best Certification For Enterprise Sales Professionals: Salesforce Administrator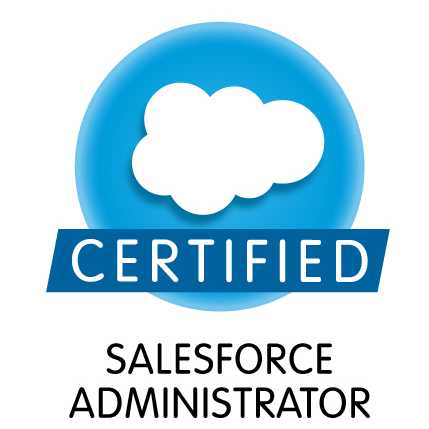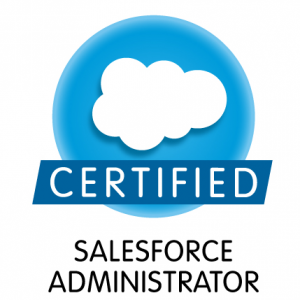 The Salesforce Certified Administrator (SCA) credential costs $200, and is one of the most popular CRM certifications available, primarily because Salesforce is one of the most popular providers for sales, marketing, and cloud-based business intelligence software. Salesforce offers a variety of certifications, though the SCA is the certification that is most relevant to sales administrators and individuals who want to market themselves as a Salesforce CRM expert.
Salesforce Administrator Certification Pricing
Becoming a Salesforce Certified Administrator (SCA) costs $200 for the proctored Salesforce Administrator exam. If users fail to pass the exam, there is a $100 retake fee each subsequent attempt. Salesforce also offers a Sales Professional Accreditation exam for free, however, this is not the same credential as the Administrator certification.
Salesforce Administrator Certification Requirements
Becoming an SCA requires taking a 60 question multiple-choice proctored exam either at a testing location or online. Examinees are given 105 minutes to complete the exam and a 65% score is required to pass. The course isn't required to take the exam but is highly recommended. In addition, certified administrators must complete three maintenance exams annually coinciding with Salesforce's product updates. There is no fee for maintenance exams.
Salesforce Certified Administrator Features & Benefits
Individuals who earn the SCA credential are often hired by companies to set up, manage, and maintain Salesforce implementations for large sales teams. They also commonly serve as outside consultants who provide help with automating processes, generating reporting, and configuring software features like territory management.
The SCA credential includes the following features:
Online CRM Training
The Salesforce Trailhead platform provides access to all the materials needed to learn the information and skills covered on the exam. Unlike HubSpot, most of these are not video courses, but written content and practice tests. Access to these materials is provided to individuals with a valid Salesforce subscription, meaning that you have to be a paying customer of one of the Salesforce software tools in order to access them.
Credential Verification
Salesforce provides an online searchable database that can be used to verify certifications, making sure that only users who have actually earned them can market themselves as Salesforce Certified Administrators. This increases the value of the certification as it offers a public way for customers to verify your credentials, and allows users to confirm that their status is up-to-date.
Admin Community
Salesforce facilitates a robust community for certified administrators including information about product releases, events, blog posts, local user groups, and an online community which includes user forums. This administrator community provides individuals with access to answers to common issues, conversations about ways to take advantage of Salesforce's many features, and support options for problems that arise.
What Salesforce Administrator Certification Is Missing
Unlike HubSpot's Academy program, the SCA is solely a software credential, as opposed to a certification focused on a methodology or strategy. It doesn't teach you to be a better sales professional, it designates you as an expert at managing and getting the most out of a specific database software product. In addition, it's geared for the enterprise edition of Salesforce. This means that for the small business user, Salesforce Essentials, and the Trailhead community are likely a better fit.
What Users Think About Salesforce Administrator Certification
Users who have completed the SCA credential give it high marks for being comprehensive and for having strong value for individuals looking for employment as an administrator. However, some users mention that it is an extremely difficult test and that it requires a proctored examination, which is less convenient than options like the HubSpot Academy.
Best For IT Consultants & Technical Professionals: Dynamics 365 Certification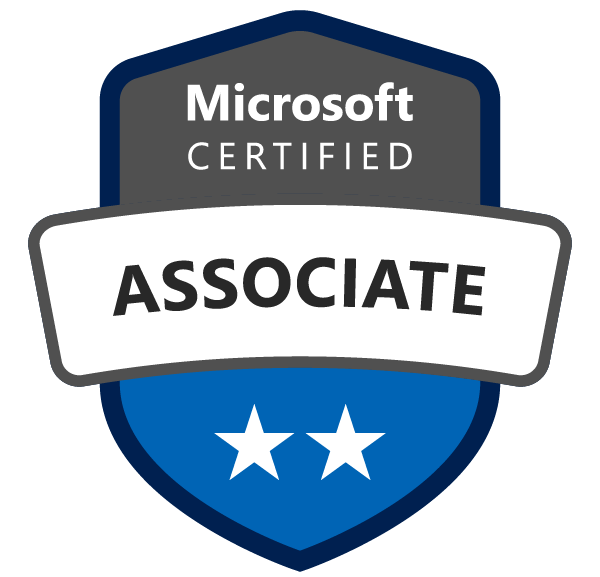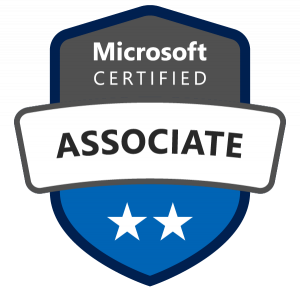 Since Microsoft has its business back-office applications into a cloud-based software suite called Dynamics 365, its CRM has become a strong competitor to Salesforce. Microsoft offers a range of Dynamics 365 certifications starting at $165, including a basic Fundamentals certification, as well as a more advanced 365 Dynamics for Sales Functional Consultant Associate making it the best choice for IT consultants who work with MRP and ERPs.
Dynamics 365 Certification Pricing
There are two exams for the Sales Functional Consultant Associate (SFCA) certification, each costing $165, bringing the total cost to $330 to earn this credential. In addition, many users choose to purchase third-party study guides at an additional cost ranging from $25 to $100 per guide.
Dynamics 365 Certification Requirements
To receive the Sales Functional Consultant Associate certification, users must pass exams MB-200 and MB-210, both of which can be taken through Microsoft's learning portal. The information necessary to prepare for these exams are available online or through third-party study prep guides. Microsoft also recommends completing the Dynamics 365 Fundamentals certification, though it is not required. That exam is an additional $99 fee.
Dynamics 365 Certification Features & Benefits
Microsoft Dynamics 365 is the cloud-based enterprise resource planning suite featuring sales, customer service, finance, and operations modules. Users can choose certifications in the overall fundamentals of the software suite, or individual tools like the CRM.
The Sales Functional Consultant Associate certification includes:
Online Learning Modules
Microsoft offers a series of modules through its online learning portal designed to help prepare individuals for the exams required to receive the SFCA certification. These modules are generally a combination of written material and embedded video demonstrations. HubSpot and Salesforce both offer more direction relating to specific certifications, while Microsoft is less organized, and can be overwhelming without knowledge of what information is included.
Industry Recognition
The Dynamics 365 certifications provide a widely accepted industry recognition of a user's skills and expertise. Since Microsoft is a leader in both enterprise and small business software, this credential is especially beneficial for IT consultants and technical professionals who provide implementation and administration services.
Certify With Confidence
Like Salesforce, Microsoft charges both for the initial exam, as well as retakes. Microsoft's certification program offers an innovative option called "Certify with Confidence," which includes both the exam and two retakes that can be attempted within six months, for one discounted price. This feature makes the Dynamics 365 certification more cost effective than the Salesforce Administrator Certification, though it still doesn't compete with the price of HubSpot Academy.
What Dynamics 365 Certification Is Missing
Microsoft's learning portal isn't organized particularly well and does not make it clear which courses are aligned with the specific certifications like offered by Salesforce and HubSpot. In addition, Dynamics doesn't have the same level of community support that is available in both of those options. While there are user groups and communities, they are affiliated with and run by third parties.
What Users Think About Dynamics 365 Certification
User reviews of the Dynamics 365 certifications are limited as the current offerings are relatively new. Generally, users find that the SFCA certification is valuable in increasing income potential and for generating new consulting clients. However, many users find that the learning portal is not well organized, the tests are expensive, and the examination process is exhaustive.
Best Certification for Custom Enterprise Deployment: NetSuite Administrator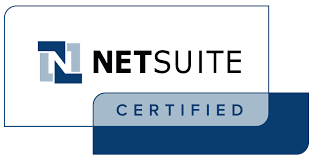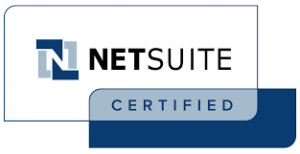 The NetSuite Administrator Certification is a demonstration of an individual's high level of expertise in configuring, implementing, and maintaining Oracle's NetSuite customer database and is best for consultants who build customized enterprise CRM and ERPs using NetSuite. While the certification exam is $250, which is comparable to other options, NetSuite is the most expensive in terms of courses, but is a good value for those who manage CRM customizations.
NetSuite Administrator Certification Pricing
The NetSuite Administrator Certification exam costs $250 to take. Individuals must also first complete the NetSuite Foundations Exam, which is also $250. Individuals must retake the exam every three years to maintain certification. Training courses to prepare for the exam range from $500 to $4,000, making this the most expensive certification option by far.
NetSuite Administrator Certification Requirements
In order to obtain the Administrator Certification, individuals must pass both the SuiteFoundations exam and the Administrator Certification Exam. Individuals who do not pass the exam can retake after 60 days. Both exams are multiple choice and are administered in-person at one of 600 testing locations nationwide. Users must retake the exam every three years and a yearly updates quiz is also administered online for certified individuals.
NetSuite Administrator Certification Features & Benefits
NetSuite is a cloud-based database software suite that provides large businesses with customizable customer relationship management, enterprise resource planning, financial management, and inventory management tools. The administrator certification is widely recognized by large corporations as being a valuable credential to identify expert-level NetSuite consultants and IT professionals.
A few of the features of the NetSuite Administrator Certification include:
Intensive Training Courses
While not specifically required for certification, it is recommended that individuals complete several NetSuite in-person training courses. These courses range from $1,600 to $4,000 and can span as many as five days of classroom training. There are no online training options for these courses, though exam prep materials are available for self-study.
Hands-On Experience
NetSuite Certified Administrators have at least one year of experience maintaining a client database, ensuring that those who receive the certification have real-world knowledge of what is involved in implementing and managing the software. While NetSuite does not require a specific amount of time, it recommends that it takes at least this long to become adequately familiar with the overall software suite.
Certification Verification
Individuals who receive certification can use the NetSuite Certification logo on their business cards, email signatures, resume, and individual social media profile. NetSuite does not certify businesses, however, companies can indicate that they have certified consultants or administrators. NetSuite maintains a certification status search tool that can be used by third-parties to verify the status of an individual's certification.
What NetSuite Administrator Certification Is Missing
Unlike HubSpot or Salesforce, NetSuite does not offer specific certifications for businesses or organizations, only individuals. NetSuite also does not provide online training materials or free exam prep materials, rather they only offer paid training courses that can be used to learn the software.
What Users Think About NetSuite Administrator Certification
While there are limited reviews of the NetSuite certifications, because of the extensive process and investment involved, as well as the widely-acknowledged reputation of NetSuite software, the Administrator Certification is recognized as a valuable credential for database administrators and consultants. Some users complain that the overall process to become certified is prohibitively expensive and time-consuming, requiring multiple courses and exams.
Best For Sales & Support Administrators: Zendesk Certified

Zendesk offers a variety of certifications for its suite of support and customer relationship management tools. The most common certification is the Zendesk Support Administrator credential which costs between $850 and $1,000. This certification is best for individuals who want to demonstrate expertise in setting up and managing the Zendesk suite of help desk and customer management software.
Zendesk Certification Pricing
The Zendesk Support Certification exam costs $350. There is no discount to retake the exam if you don't earn a passing score. Zendesk also charges up to $250 for online courses that prepare you to pass the exam, which makes the Zendesk Certification more expensive than any of the options we considered, except NetSuite.
Zendesk Certification Requirements
Certification requires passing an exam with 78 multiple-choice questions with a minimum score of 65%. Individuals must take the exam at a testing center, or in an online proctored environment. Those who wish to retake the exam must wait 15 days. While not required, Zendesk recommends completing two of its training courses before taking the exam. Recertification occurs every two years and requires retaking the master exam.
Zendesk Certification Features & Benefits
Zendesk is one of the most popular customer relationship and support software providers and differentiates itself from its competition by offering a certification program to identify an individual as having expertise in implementing and managing the help desk software. Since Zendesk is widely used at both large and small organizations, its certification is widely recognized and can be a valuable career advancement tool.
Some of the features of the certification include:
Training Courses
Zendesk offers a variety of paid learning courses online that help you learn about its software products, as well as a prep course designed to help you get ready for the certification exam. Zendesk also provides a variety of in-person training opportunities that can help prepare you for the exam. Unlike the other options on this list, Zendesk's training materials not available for free. Individuals must purchase the courses they wish to take to prepare for the exam.
Social Media Badges
Upon successful completion of the certification exam, users are able to identify themselves as certified administrators with the Zendesk Certified logo, either on their website or LinkedIn profile. This is similar to HubSpot or Salesforce, and this designation helps identify those who have demonstrated their skills and expertise in providing Zendesk-specific administrative support to an employer or consulting client.
Verification
While Zendesk does not maintain a searchable online database, it does provide an email address that individuals can contact to verify the credentials of a Zendesk Support Administrator. Zendesk generally responds with verification within a few business days.
What Zendesk Certification Is Missing
Zendesk does not offer the level of free training courses like HubSpot and Salesforce. In fact, the courses it recommends for successful completion of the certification exam can add as much as $600 to the cost of becoming certified. In addition, Zendesk does not have a searchable database like Zoho or HubSpot that can help certified administrators generate new consulting customers.
What Users Think About Zendesk Certification
While users believe that the Zendesk Certification is valuable in identifying an individual as having the skills and expertise to administer Zendesk software, most feel that the cost is prohibitive unless an employer is reimbursing or covering the expense. Users also note that it would be more valuable if there was a searchable database of certified support administrators.


Zoho CRM's Certified Consultant is different from the other options on this list in that it isn't a test of the skills and expertise with Zoho CRM. Instead, it is a free designation that Zoho provides to individuals and organizations who have demonstrated their capability in working with clients on their CRM project. While this model is different from the others, we felt it was a great option for those looking for a certification to generate more small business consulting clients.
Zoho Certified Consultant Pricing
Zoho CRM doesn't charge to become a certified consultant. Since there is no test, there are no test or course fees associated with the program. The primary investment is in having established yourself as able to handle paid client CRM consulting projects.
Zoho Certified Consultant Requirements
Becoming a certified consultant with Zoho is the easiest of the credentials on this list to obtain. Zoho simply requires that you submit proof that you have worked with at least three paid consulting clients on their CRM project. Individuals that meet that criteria can submit their information via Zoho's website to ask for consideration for the program.
Zoho Certified Consultant Features & Benefits
Zoho is a popular alternative to Salesforce and there are thousands of small businesses that use its CRM every day. The certified consultant credential is designed to help those customers better identify the individuals who have demonstrated their capabilities in real-world practice with actual clients.
Some of the features of the Zoho Certified Consultant include:
Certified Consultant Directory
Zoho maintains an online directory of CRM certified consultants that customers can sort by country and/or experience level. This directory is a valuable tool for customers to find help with their CRM project while providing consultants with a source of new leads for their services. Individuals who are listed in the directory can also identify themselves as certified consultants on their website and LinkedIn profile.
Expert Designation
Since Zoho only offers this certification to individuals and consultants who have a proven record of working with real-world clients, customers can be sure that they are being served by someone who has the experience necessary to meet their needs. For consultants who pursue this certification, they can be sure that they will be recognized as an expert in their field, making it easier to demonstrate credibility and win more consulting opportunities.
What The Zoho Certified Consultant Program Is Missing
Zoho does not provide training materials specifically for the certified consultant designation. It also does not provide any kind of testing to verify the skills or expertise involved with providing CRM consulting services. Finally, because it is not as rigorous a certification process, it lacks the industry recognition that comes with certifications from Salesforce, Microsoft, or HubSpot.
What Users Think About The Zoho Certified Consultant Program
Generally, individuals who have become certified consultants find that it is a valuable way to market their consulting business and attract new clients. They find the process simple and straightforward, and like that the designation does not expire after a period of time like most of the others on this list.
Bottom Line
CRM certifications are a great way to demonstrate that you have developed the expertise necessary to effectively implement and manage customer database software. Finding the right CRM training and certification for you depends on the software you use and your overall objectives. These six CRM certifications offer the best options for consultants and IT professionals looking to hone their skills and advance their skills.