6 Best CRM Certifications
This article is part of a larger series on CRM.
Customer relationship management (CRM) certifications provide clients with proof you have undergone skills training, establishing expertise on specific CRM tools. They also help consultants attract new clients and open new opportunities for career advancement. We looked at several options, including their pricing and features, to provide you with the top six CRM certifications.
The top CRM certifications and their best use cases include:
HubSpot Academy: Best Overall Free CRM Training & Certification
HubSpot Academy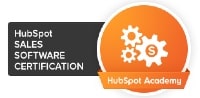 What We Like
All CRM courses are completely free
Self-paced courses are easy to understand
Lessons come with transcriptions
What's Missing
No third-party options for learning HubSpot Academy materials
Only available in English
Additional practical exams require Pro or Enterprise HubSpot subscription
Key Details
Free courses
Has Sales, Marketing, and Service Categories
Online lessons: Self-paced videos
Duration: 1 to 3.5 hours per lesson
Passing rate: 75%
HubSpot Academy nabbed the top spot in our list of CRM training and sales certification providers because of its free courses, rich content, and easy-to-follow self-paced video lessons. It offers certificate courses for Sales, Marketing, Service, Web Design, Web Development, and Data Privacy. These self-paced courses are broken down into digestible chunks of information, making them easy to understand, especially for beginners.
Unlike certifications provided by Microsoft Dynamics 365, HubSpot Academy's learning materials cannot be accessed via third-party courses. You also need to have a Pro or Enterprise account if you want to access additional practical exams. However, these disadvantages are balanced out by its cost-free certifications. Hence, it's an ideal choice for small agencies, solopreneurs, and freelance marketing consultants.
CRM Training Courses
Here are HubSpot Academy's certificate courses according to category:
Sales Enablement: 13 lessons (7 hours)
Frictionless Sales: 5 lessons (2 hours)
HubSpot Sales Software: 4 lessons (2 hours)
HubSpot Reporting: 9 lessons (5 hours)
Sales Management Training: 8 lessons (5 hours)
Inbound (Sales, Marketing, and Service): 7 lessons (3 hours)
Inbound Sales: 7 lessons (3 hours)
Digital Marketing: 10 lessons (5 hours)
HubSpot Marketing Software: 14 lessons (6 hours)
Content Marketing: 14 lessons (9 hours)
Email Marketing: 11 lessons (5 hours)
Contextual Marketing: 8 lessons (2 hours)
Digital Advertising: 11 lessons (4 hours)
SEO: 8 lessons (3 hours)
HubSpot Reporting: 9 lessons (5 hours)
HubSpot CMS for Marketers: 9 lessons (3 hours)
Growth-Driven Design: 7 lessons (5 hours)
Inbound Marketing: 11 lessons (6 hours)
Inbound (Sales, Marketing, and Service): 7 lessons (3 hours)
Social Media Marketing Certification Course: 11 lessons (6 hours)
Service Hub Software: 7 lessons (2 hours)
HubSpot Reporting: 9 lessons (5 hours)
Inbound (Sales, Marketing, and Service): 7 lessons (3 hours)
Features & Benefits
All courses and exams are online and free of charge
Access to HubSpot CRM's free tools
Content types include online videos, templates, worksheets, e-books, quizzes, and exams
Downloadable slides and transcripts
Sales certificate courses cover contact management, inbound sales, and sales enablement
Marketing certificate courses cover automation, contact management, content marketing, email marketing, inbound marketing, lead generation, reporting and performance, search engine optimization (SEO), social media, and web design
Service certificate courses cover contact management and inbound service
Duration of each course ranges from 0 to 3+ hours
Certifications are valid for 13 to 25 months; once they expire, you will need to be recertified by taking the most current version of your course and its respective exam
Learn more about how HubSpot's CRM can help your business manage sales deals and foster collaboration in our HubSpot CRM review.
Salesforce Administrator: Best for Enterprise-level Sales Professionals
Salesforce Administrator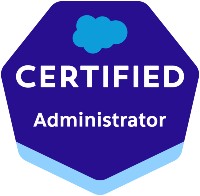 What We Like
Comprehensive lesson materials
Gamified and interactive module format
Well-suited for an administrative role
What's Missing
Does not offer free exams
Proctored exams are required
Exams are extremely challenging
Key Details
Free courses
Online lessons: Self-paced, text-based lessons
Exam registration fee: $200 + tax
Exam retake fee: $100 + tax
Duration: Approximately 68 hours (30 minutes to 6+ hours per module)
Passing rate: 65%
Validity: One year
The Salesforce Administrator certification is designed for individuals who have experience with Salesforce and want to get a deeper understanding of its features and capabilities. The interactive course allows you to accumulate points each time you complete a task, module, or test project. The text-based lessons are comprehensive and cover topics such as Salesforce customizations, lead management, campaign basics, and data management.
Salesforce Administrator's exam requires a registration fee of $200 and $100 for retakers (both exclusive of taxes). You need to complete a maintenance module each year to maintain your certification's validity. Its lessons and exams are much more advanced, making it ideal for those who aim to become a Salesforce CRM expert. Those who prefer a simpler learning program that is free of charge may find HubSpot Academy a better alternative.
CRM Training Courses
Here are the modules under the Salesforce Administrator exam prep course:
Salesforce Platform Basics
User Management
Identity Basics
Data Security
Permission Set Groups
Security Specialist
Data Modeling
Lightning Experience Customization
Lightning App Builder
Accounts & Contacts for Lighting Experience
Leads and Opportunities for Lighting Experience
Products, Quotes, and Contracts
Campaign Basics
Lightning Experience for Sales
Service Cloud for Lightning Experience
Chatter Administration for Lightning Experience
Salesforce Mobile App Customization
AppExchange Basics
Data Management
Duplicate Management
Reports and Dashboard for Lightning Experience
Lightning Experience Report and Dashboards Specialist
Salesforce Flow
Business Administration Specialist
Features & Benefits
Courses are free
Exam registration fee is $200 plus tax for first-timers and $100 plus tax for retakers
There's a free yearly maintenance module to maintain certification
Free certification prep webinar plus coupon code for $40 discount off any $200 exam for all webinar attendees
Trailhead Series: a gamified online tutorials for beginners and intermediate developers on how to code for the Salesforce platform
Combination of tasks, text-based modules, and hands-on projects
Interactive study tools and practice tests
Trailblazer Community connects you to other Trailblazers (learners), user forums, and groups
Verification of credentials and account linking status
Certification is valid for one year
Visit Salesforce Administrator
Microsoft Dynamics 365 Sales Functional Consultant Associate: Best for IT Consultants & Developers
Microsoft Dynamics 365 Sales Functional Consultant Associate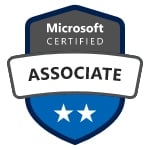 What We Like
Available in English and Japanese
Third-party study guides are available
Ideal for consultants with high-level expertise
What's Missing
Lesson format is confusing
Requires 2 proctored exams to be certified
No online community support
Key Details
Online: Free
Instructor-led: Starts at $595
Exam fee: $165 per exam
Exam retake package: $230 to $265
Third-party study guides: $25 to $100 per guide
Microsoft Power Platform Functional Consultant
Microsoft Dynamics 365 Sales
Duration: 47 minutes to 6+ hours per course
Passing rate: 70%
Validity: One year
Microsoft Dynamics 365 Sales Functional Consultant Associate (SFCA) certification is recommended for functional consultants, professionals using Microsoft Dynamics 365 Sales, and developers. Aside from Microsoft Power Platform configuration, it also covers the management of leads, opportunities, quotes, orders, product catalogs, and price lists. Like Salesforce Administrator, the self-paced modules are largely text-based, and the exams are also proctored.
This certification is more expensive than Salesforce Administrator since it requires two exams that cost a total of $330. It also does not offer community-based support like the Trailblazer Community for Salesforce users. While HubSpot Academy's content is only accessible via HubSpot, SFCA study guides are available from third-party providers at $25 to $100 each.
CRM Training Courses
These are the courses required for the Microsoft Dynamics 365 SFCA certification:
Get started using Dataverse (7 modules)
Manage permissions and administration (2 modules)
Create a canvas app in Power Apps (3 modules)
Create a model-driven application in Power Apps (4 modules)
Create a business process flow in Power Automate (4 modules)
Automate a business process using Power Automate (5 modules)
Get started with Power Automate buttons (5 modules)
Use best practices to secure and govern Microsoft Power Platform environments (8 modules)
Create and use analytics report with Power BI (6 modules)
Create relationships, business rules, calculations, and rollups in Dataverse (3 modules)
Create bots with Power Virtual Agents (4 modules)
Bring artificial intelligence (AI) to your business with AI Builder (2 modules)
Improve business performance with AI Builder (9 modules)
Working with Dynamics 365 Sales (7 modules)
Implement goal management in Dynamics 365 Sales and Customer Service (2 modules)
Here are the two exams you must pass to obtain this certification:
Perform configuration (25% to 30%)
Manage core sales entities (50% to 55%)
Configure additional tools and services (15% to 20%)
Configure Microsoft Dataverse (25% to 30%)
Create apps by using Power Apps (20% to 25%)
Create and manage Power Automate (15% to 20%)
Implement Power Virtual Agents chatbots (10% to 15%)
Integrate Power Apps with other apps and services (15% to 20%)
Features & Benefits
Online courses are free of charge
Instructor-led courses (starting at $595) include hands-on app experience
Offers up to 80% discount for verified students and beta exam participants
Mostly self-paced, text-based modules
Mini-quiz or knowledge check at the end of every section
Offers college credit for certification in American Council on Education (ACE) member schools in the U.S.
Certification is valid for one year and can be renewed online for free
Visit Microsoft Dynamics 365 SFCA
NetSuite Administrator: Best for Professional Seeking to Customize NetSuite
NetSuite Administrator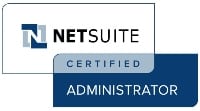 What We Like
Offers self-paced and live online options
Continuing Professional Education (CPE) credits
Certification is valid for 3 years
What's Missing
Exam preparation course is expensive
Requires two exams for certification
Related NetSuite training courses are a pre-requisite for the exam prep course
Key Details
NetSuite Administrator Exam Preparation Course: $1,600
Duration: Two days
Course formats: Online self-paced learning and group live sessions
SuiteFoundation exam: $250 registration fee; $150 retake fee
Administrator exam: $250 registration fee; $150 retake fee
Validity: Three years
Passing rate: Confidential
The NetSuite Administrator certification demonstrates a high level of expertise as an administrator, consultant, or business analyst, configuring, implementing, and maintaining Oracle's NetSuite CRM and ERP solutions. This is the most expensive certification on this list, but the steep price is a good value for its expert-level training and three-year certification. The exam prep course costs $1,600, while the total exam registration fee is $500.
Like the Microsoft Dynamic 365 SFCA certification, NetSuite Administrator also requires two separate exams (detailed below). It does not offer free online learning materials, which HubSpot Academy and Salesforce Administrator provide. It offers paid courses and certifications for individuals. Zoho CRM, on the other hand, caters to agencies.
CRM Training Course
Here are the topics included in the NetSuite Administrator Exam Preparation Course:
Setup tasks
Roles, permissions, and audits
Custom forms
Custom records
Advanced search capabilities
Formulas in search
Dashboards
CSV data import
Workflow process automation
Intranet
Below are the subject areas covered by the exam:
SuiteAnalytics: Saved search and dashboard
SuiteBuilder: Form customization, online forms, layout customization, custom fields, and custom records
SuiteCloud Platform: SuiteFlow, SuiteBundler, and extending NetSuite
Setup and Administration: Manage roles, supporting users worldwide, Sandbox refresh, and CSV import
Data Security: Data access, removing users, and general details
Working with NetSuite: Notifications, preparing for releases, and troubleshooting in NetSuite
These are the recommended prerequisites and courses for this certification:
Skill level: Six months' experience administering the NetSuite application or equivalent knowledge
ERP: Fundamentals
Marketing Automation Workshop
NetSuite: Administrator Fundamentals
NetSuite Certification: SuiteFoundation Exam Preparation
Sales Force Automation: Fundamentals
SuiteAnalytics: Financial Reports and Searches
Skill level: One year of experience configuring and managing a robust NetSuite implementation
ERP: Fundamentals
NetSuite: Administrator fundamentals
SuiteAnalytics: Reports and searches
SuiteAnalytics: Advanced searches
SuiteCloud: Exploring the NetSuite platform
SuiteFlow: Workflow fundamentals
NetSuite Certification: Administrator exam preparation
Features & Benefits
Online self-paced and live group sessions
Text-based study guide, sample test, and in-person training
NetSuite professional network and LinkedIn Community of NetSuite Certified individuals
NetSuite-certified logo and certificate of achievement
Earn Continuing Professional Education (CPE) credits for certification
Certification is valid for three years and can be renewed by taking the rewritten exam once it expires; the $150 exam retake fee applies
Zendesk Support Administrator Expert: Best for Support Administrators
Zendesk Support Administrator Expert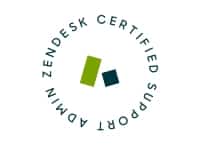 What We Like
Offers free exam prep course and a practice test
Certification is valid for two years
Training courses are available in English, French, German, and Spanish
What's Missing
Free learning materials are not comprehensive
Expensive exam fee
Requires online proctored exam
Key Details
Free practice test
Online On-Demand Prep Course: Free
Live Private Training: $1,000 to $1,600 per course
Exam registration fee: $350
Duration: 40 minutes to 4.5 hours per course
Validity: Two years
Passing rate: 65%
The Zendesk Support Administrator Expert certification is for individuals who want to demonstrate their expertise in managing and setting up Zendesk's help desk and CRM software. It offers an exam prep course and practice test free of charge. However, its private training courses are expensive and cost up to $1,600. As to the overall cost, including training and exam fee, it is still cheaper than NetSuite Administrator.
Zendesk Support Administrator Expert's two-year certification validity is longer than most of its competitors. One of the things that this provider is missing is the searchable database, which HubSpot Academy and Zoho CRM both have. Its free learning materials on customer support are also not as comprehensive as those offered by HubSpot and Salesforce, which cover sales, marketing, and service.
CRM Training Courses
Below are the on-demand courses under Zendesk Support Administrator Expert certification. These prerecorded videos can be accessed for free:
Zendesk Support Administrator Certification Practice Test (40 minutes)
Zendesk Support for Admins, I (90 minutes)
Zendesk Support for Admins, II (90 minutes)
There are also private company training sessions that are held live via Zoom by a Zendesk training specialist. These sessions can accommodate two to 12 participants:
Zendesk Support for Admins, I ($1,000): 2 hours training on ticketing support
Zendesk Support for Admins, II ($1,000): 2.5 hours training on features of Zendesk ticketing solution
Zendesk Support for Admins, I and II ($1,600): 4.5 hours training on Zendesk Support's key features
These are the recommended qualifications for the Zendesk Support Administrator Expert exam:
At least three months as a Zendesk Support Administrator
Successfully completed Zendesk Support Administrator Certification Practice Exam
Successfully completed Support for Admins, I and Support for Admins, II
Features & Benefits
Free on-demand video lessons feature subtitles in Spanish, Brazilian Portuguese, French, German, and Japanese
Private live training sessions include PDF copies of course slides and recordings upon request
Private training sessions can be delivered in English, Spanish, French, or German
Certification is valid for two years; the $350 exam registration fee applies in recertification
Read our review about Zendesk's CRM, Zendesk Sell, to discover how it can help your small business manage deals and grow revenue.
Visit Zendesk Support Administrator Expert
Zoho CRM Certified Consultant: Easiest Sales & Marketing Certification
Zoho CRM Certified Consultant

What We Like
Easiest CRM certification
No courses, tests, and registration fees
Certification does not expire
What's Missing
No training materials
Does not have tests to verify skills
Lacks industry recognition
Key Details
Free
Designated by Zoho
No test required
Requires proof of at least three paid CRM consulting projects
Certification has no expiry
Among all the options on this list, Zoho CRM Certified Consultant is the only one that does not require a course or test of skills. This title is freely designated by Zoho to individuals and organizations that have proven their capabilities in CRM management and implementation. There is also no cost attached to this designation. To become a consulting partner, you simply have to submit proof of at least three paid consulting clients to Zoho.
While this is the easiest CRM certification to obtain, it also has a lot of downsides. One is the absence of a way to measure or verify your skills because there are no lessons or tests required. It also lacks the industry recognition that HubSpot, Salesforce, and Microsoft 365's certifications have since it does not entail rigorous training.
Despite its weaknesses, Zoho CRM's Certified Consultant certification provides experienced CRM consultants a way to be recognized for their expertise and credibility. It also helps them gain more clients in their field by letting customers know that these consultants are capable of meeting their business needs.
Features & Benefits
Free of charge
No need for training, lessons, and exams
Certified Consultant Directory lets customers sort CRM-certified consultants according to country and experience level
Sales commissions
Access to Partner Portal and online forums
Invitation to Zoho events worldwide
Dedicated product support
Early updates on Zoho's new products and strategy
Access to online training and learning materials
Certification is valid for an indefinite period of time
Explore how Zoho CRM helps sales teams manage sales, marketing, and customer service functions in our full Zoho CRM review.
Visit Zoho CRM Certified Consultant
How We Evaluated the Best CRM Certification Options
CRM certifications serve as third-party validation tools for sales and IT professionals' skills and demonstrate expertise in operating a specific software product. The motivation for obtaining one includes career promotions or attracting new clients. When evaluating certifications, we looked for those that offer the best value for money in terms of content and features. We also examined their pricing, completion time frame, and industry recognition.
We recommend HubSpot Academy as the best overall choice for CRM certification because it offers highly recognized credentials, comprehensive online learning materials, and access to a vast network of business partner resources. Moreover, their certifications are free, making them more accessible to small businesses compared to options that offer paid training and exams.
Below are the criteria we used to evaluate the best CRM training and certifications:
Industry recognition: Most of the value in a CRM certification comes from its acceptance by businesses and organizations. The certification represents a validation of your expertise in that software.
CRM market share: CRM certifications are often sought by professionals who would like to advance their career within their existing organization or to become more marketable to other companies. The most useful certifications reflect experience with well-known CRM solutions.
Training materials: We evaluated what certification training materials are available and whether they are proprietary to the software provider, or if there are alternatives available from third parties.
Cost: For a certification to be valuable, it has to be affordable. Moreover, it should offer a positive return in terms of increased opportunities either in employment or consulting. We factored in the cost of training, lessons, and exams, as well as the availability of free options.
Time to complete: We looked at the investment of time needed to finish each course and whether there are additional requirements involved that take extra time, like serving a minimum number of customers or implementations.
Bottom Line
CRM certifications are a great portable proof of your expertise in managing and implementing CRM software. When looking for a training and certification provider, you must factor in the software you are using, your objectives for obtaining that designation, your budget, and the time to complete the course. Choose HubSpot Academy if you want a free certification with extensive learning materials and wide industry recognition.
You May Also Like…
Check out our articles on: