Customer relationship management (CRM) certifications help advance technical skills and user knowledge of the features through accredited training courses. CRM education allows businesses to maximize product value by better organizing data, generating more sales, optimizing marketing campaigns, and providing quality customer support. Individual users can also use certifications to boost their resumes for professional advancement. We evaluated dozens of programs to arrive at the six best CRM certifications to help get the most out of your CRM.
The top certifications, along with their most applicable use cases, include:
Best CRM Certifications Compared
Provider

Certification Name

Price

Duration

Key Topics

Course Level

HubSpot Marketing Software

Free (requires paid subscription)

4 hours

Automation and email and content marketing in HubSpot

Beginner

Zoho CRM Certified Administrator

Must contact for pricing

4 days and 6 hours

Zoho CRM integrations, system, settings, customization, and automation

Intermediate to expert

Freshdesk Product Expert for Admins

Free

60-minute test plus optional courses

Setting up and operating Freshdesk and scaling platform to operational needs

Intermediate to expert

Zendesk Omnichannel Agent Specialist

$199

225 minutes of courses plus 45-minute exam

Zendesk interface navigation and omnichannel ticket management

Intermediate

Salesforce Administrator Certification

$200

70+ hours of courses and exam prep

Salesforce CRM configuration, customization, and user management

Expert

Dynamics 365 Fundamentals (CRM)

Free for courses and $99 for exam

6+ hours of lessons

Microsoft Dynamics 365 sales, marketing, and service app features and automation capabilities

Beginner
Pro tip:
Did you know enrolling in specific CRM training courses for a certification could heavily influence which product your business chooses? If you or one of your users learned to operate a particular product, you may feel more inclined to invest in that same provider later. To understand all the factors that go into selecting a CRM system, check out our guide on how to choose a CRM system.
HubSpot Marketing Software Certification: Best for Entry-level Marketers Using HubSpot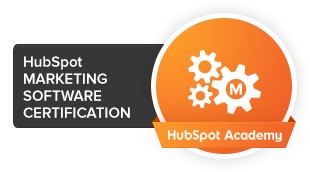 What We Like
Courses and educational modules are free
Curriculum is designed for beginner-level CRM users
HubSpot Academy also offers other free certifications in sales, marketing, content management, and operating the CRM
What's Missing
Users must subscribe to the Pro or Enterprise plan to receive the certification
Courses are specific only to using the HubSpot Marketing Hub
No third-party learning options for any HubSpot Academy courses
HubSpot Marketing Software Certification Summary at a Glance
Cost: Free for courses (certification requires a subscription to Pro or Enterprise plans)
Duration: 4 hours and 12 minutes
Course delivery: Lesson modules (13), videos (59), and quizzes (10)
Validity period: 13 months
Course Topics
Contact management
Content marketing
Email marketing
Lead generation
Automation
HubSpot Academy is an excellent online resource of courses for both HubSpot and non-HubSpot users. It includes various sales, marketing, and service management curriculum, many of which offer a 13- to 25-month certification upon completion. Some of the popular certifiable courses include inbound marketing, content marketing, social media, inbound sales, sales enablement, and developing a sales plan—just to name a few.
HubSpot Academy also provides CRM software training relevant to using HubSpot's CRM and marketing automation software—bringing us to the HubSpot Marketing Software certification. As HubSpot is highly acclaimed for its marketing capabilities, marketing professionals should take advantage of this course and certification option. It's specifically designed to help beginners operate the Marketing Hub platform's contact management, content marketing, lead generation, email marketing, and automation features.
Despite the HubSpot CRM certification cost being $0, one downside is that there isn't any way to obtain the certifications without going directly through HubSpot Academy. As some businesses and users prefer using a third-party course provider, we recommend pursuing Salesforce Trailhead or Microsoft Learn certifications that allow direct and third-party engagements to undergo the lessons and teaching modules.
Pro tip:
Certifiable or not, providing frequent product training to employees is one of the best ways to boost CRM adoption at an organization. Check out our guide on the six ways to increase CRM adoption to learn best practices that help get user acceptance and consistent product usage.
Zoho CRM Certified Administrator: Best for Customizing Zoho CRM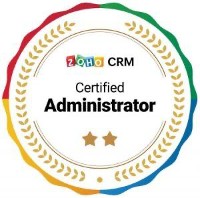 What We Like
Comprehensive curriculum with everything an admin needs to know to set up their CRM to meet their goals
Long certification validity period lasting two years upon completion
Users have the option to do courses online, at a Zoho site, or have Zoho Spark reps come to their office
What's Missing
No transparent pricing—dictated by the courses needed, number of users, and where the lessons take place
Takes a long time to finish courses and obtain certification
Lessons are specific to managing Zoho CRM
Zoho CRM Certified Administrator Summary at a Glance
Cost: Must contact for pricing
Duration: Four days and six hours of lessons, then 60 minutes to one day for examination
Course delivery: Online, onsite, and classroom options for 19 total lesson modules
Validity period: Two years
Course Topics
Setting up and using Zoho CRM integrations
Customizing the CRM system and managing business processes
Managing sales territories, targets, and performance in Zoho
Configuring CRM settings and managing data security, and hierarchies in Zoho
Implementing workflow automations
In addition to providing a CRM system and other native software tools for businesses, Zoho administers online training and certifications through its Zoho Spark service. Within Spark, users can enroll in online or in-person courses and become certified as a Zoho CRM administrator, developer, sales rep, or sales manager.
We consider Zoho one of the top CRMs in terms of customizing a system to meet all sales operations, creating workflow automations, and offering an endless supply of integration options. That said, for an organization to take advantage of these essential features, they need a CRM administrator who understands all the technical components. For example, how to customize the system, connect with external applications, manage users, create automations, and operate the modules.
The Zoho Certified Administrator accreditation and its courses enable businesses to do just that. After completion, participants will have gone through every module and individual tool Zoho CRM has available, as well as all the ways Zoho CRM can supplement organizational growth. It also covers the different system and platform customization options they can use to manage the features, data, and individual users.
One issue with the Zoho CRM Administrator certification is that it takes a long time to obtain—lasting over four days to complete the courses and examination. This is due to the detail each lesson goes into regarding each CRM module, customization options, and system settings component. The Freshdesk Product Expert Certification for Admins is an excellent alternative for a fast-track certification, requiring just a 60-minute exam.
Freshdesk Product Expert Certification: Best Fast-track Administrator Certification

What We Like
Free certification for administrators
Experienced users can get the certification by taking the test without taking any courses
Certification can be acquired quickly by just passing the exams
What's Missing
Freshworks Academy currently only offers three certifications
Unclear to how long the certification is valid for
Freshworks Product Expert Certification Summary at a Glance
Cost: Free
Duration: 60-minute test plus optional courses ranging from 15 to 60 minutes each
Course delivery: Online modules and test
Validity period: Not indicated
Course Topics
Setting up and managing Freshdesk
Scaling a customer support team using Freshdesk features
Creating workflows and automations in Freshdesk
Freshworks Academy is a relatively new education service that's slowly adding on new certification options as a way for users to solidify their knowledge of the Freshworks products. While there are only three current certifiable courses in Freshworks Academy, users can still get access to dozens of free courses that last up to 60 minutes max. These cover topics like customer success management, customer service, field service management, and much more.
The Freshdesk Product Expert Certification for Admins is great because of how quickly administrators or Freshdesk agents can get certified. The courses are optional, and the certification requires participants to pass a 60-minute test once they feel ready. Plus, the certification exam is free to take.
One issue with the Freshworks Product Expert certification is that it's unclear how long it stays active. If you are an administrator with no preferred CRM affiliation but want to obtain a certification with a long and clear validity period, we recommend the Zoho CRM Certified Administrator. Though it takes a little over four days to acquire, it goes in-depth into managing Zoho CRM, lasts up to two years, and is excellent to have on your resume.
Zendesk Omnichannel Specialist for Agents: Best for Service Reps Using Zendesk

What We Like
Certification is valid until new product version gets released
Lesson modules of videos and readings are entirely on-demand, allowing users to go at their own pace
Zendesk Training also offers courses and certifications for admins and developers
What's Missing
Relatively expensive to take the exam
Course is specialized primarily for customer service and support in Zendesk
Passing rate for exam is only 65%
Zendesk Omnichannel Specialist for Agents Summary at a Glance
Cost: $199
Duration: On-demand courses totaling 225 minutes plus a 45-minute exam
Course delivery: Online modules (7) for Zendesk omnichannel engagement and a certification preparation course
Validity period: Valid until product version changes
Course Topics
Zendesk interface navigation
Ticket management basics
Managing omnichannel tickets
Zendesk is a popular software provider that offers both a CRM system for sales and a robust customer support solution for managing tickets and communicating with customers. To help give users the most value, Zendesk supplements its software capabilities with the Zendesk Training service that provides CRM certification courses online. There are CRM training materials for Zendesk admins, developers, and agents to set up a CRM system and operate its sales and support features.
Because Zendesk is well known for its contact management, multi-channel communication, and customer ticket management modules, we recommend its Omnichannel Specialist Certification for Agents training. Upon completion, users become experts in how to operate and navigate the Zendesk customer service platform. It also details how to best handle inquiries and manage tickets from all channels, including email, live chat, and telephone.
One issue with Zendesk Training certifications is that it's relatively expensive to take the courses and exam—starting at $199, with other certifications going up to $899. For low-cost certification options in sales, marketing, and even some customer service, we recommend HubSpot Academy, in which many courses are free regardless of whether you're a HubSpot user or not.
Certified Salesforce Administrator: Best Resume Booster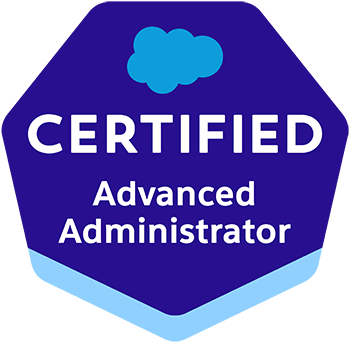 What We Like
Simple revalidation process that only requires one maintenance module per year
On-demand course modules and trailhead study guides that let users learn at their own pace
One of the most highly marketable CRM software certifications to help users get promotions, new jobs, or pay raises
Courses and practice exams can be taken through third-party providers
What's Missing
Fairly expensive certification to acquire
Lengthy process to take the courses and prepare for the exam
Certified Salesforce Administrator Summary at a Glance
Cost: $200
Duration: 68 hours and 25 minutes of courses and one hour and 40 minutes for the preparation course.
Course delivery: Online self-paced modules plus an exam preparation course
Validity period: One year, and revalidation requires one maintenance module per year
Course Topics
Customizing the Salesforce platform
Managing Salesforce users
Configuring Salesforce system settings
Operating Salesforce features and capabilities
Salesforce is one of the most popular CRM and business software providers globally. Many businesses, large and small, adopt Salesforce technology, which is why the provider offers tons of certifications and courses for Salesforce administrators, architects, developers, marketers, consultants, and designers. That said, it's the Certified Salesforce Administrator accreditation that stands out for CRM users.
For starters, this certification is valuable whether or not you actually manage a Salesforce CRM platform. Many recruiters within software deployment, sales enablement, or automation design industries see this certification as a standout job qualification. Additionally, if you were deploying and managing a Salesforce CRM for a small business or large sales team, being a certified administrator gives you expert knowledge on customizing the platform, using the features, and managing users.
While useful to have on a resume, the Salesforce Administrator certification is both expensive and takes a while to obtain. The best CRM admin accreditation for price, speed, and convenience is the Freshworks Product Expert Certification —requiring just an hour-long test users can take when they feel ready at no cost.
Dynamics 365 CRM Fundamentals: Best for Certification for Broad Product Knowledge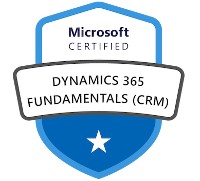 What We Like
Offers course flexibility through self-paced online, Microsoft instructor-led, and third-party-led options
Courses are available for free
Provide feature knowledge on Dynamics 365 sales, marketing, and service applications
Certification renewals are free and easy
What's Missing
Examination costs $99 to take the test
Courses and certifications are only applicable to Microsoft apps
Microsoft Dynamics 365 CRM Certification Summary at a Glance
Cost: Free for the online courses and $99 for the certification exam
Duration: 6+ hours of total lessons
Course delivery: Online (self-paced) modules (10) or instructor-led units (78)
Validity period: One year
Course Topics
Core capabilities of Microsoft Dynamics 365 apps including Dynamics 365 sales, marketing, customer service, and field service
Many organizations invest in popular Microsoft tools like Outlook, OneDrive, and Teams, and the lesser known ones including Microsoft Project and PowerBI. There's also the Dynamics 365 CRM solution, which encompasses the integrated business software organizations can use to complete workflows and manage their entire business. Some of the modular options include systems for sales, supply chain management, marketing, service, and finance.
These end-to-end, advanced software capabilities include product training and certifications offered by Microsoft Learn. While there are hundreds of certification options, depending on one's job title, skill level, and specific software, the Dynamics 365 Fundamentals (CRM) certification stood out the most. It's designed for beginners, and the courses explore and certify one's knowledge of a wide range of Microsoft product capabilities within sales, marketing, and service applications.
Those who enroll in the Dynamics 365 courses may not like that they need to spend $99 to take the exam for the certification. Though there is no way around this for the Microsoft-specific certification, employees new to the workforce should consider HubSpot Academy as an alternative. It offers free certifications great for entry-level employees in various business and CRM functions, including sales, marketing, and customer service management.
How We Evaluated the Top CRM Training Programs
To evaluate the best CRM certifications and training courses, we considered two specific value-based attributes of each certification. The first was the overall prestige of getting certified—in other words, whether it could help someone get a promotion, pay raise, or a new job position by having it on a resume. We also looked at each certification in terms of the most valuable features in the provider's CRM system.
For example, HubSpot is well-known for its marketing and automation features. Therefore, having Marketing Software certification by HubSpot helps users better operate its drip campaign, email, and content management features. Ultimately, the business using HubSpot can get more value from the system overall. Finally, we considered some roadblocks to obtaining and keeping certifications, such as training program price, course duration, and validity period.
CRM Certification Statistics
Not sure if CRM certifications can offer you or your business tangible benefits? These CRM certification statistics might change your mind:
Source: Pearson VUE
Bottom Line
A CRM certification helps individuals boost their employment qualifications for better job positions while allowing businesses to get more out of their CRM features through technical skill development. Each of the top CRM certifications on this list can be used to specialize in a particular CRM or one of its features or help a job candidate stand out in the employee recruitment process.