8 CRM Best Practices for Small Businesses
This article is part of a larger series on CRM.
Customer relationship management (CRM) software provides powerful tools for effectively organizing contacts, lead management and nurturing, and automating workflows. However, your business will only truly reap the full benefits and maximize its return on investment by following CRM best practices when choosing, setting up, and using your CRM system.
Here are eight best practices for using a CRM to help your small business get the most value out of your sales software:
1. Evaluate Multiple Options Before Choosing Your CRM
Before you can implement best practices in using a CRM, you have to choose the right CRM for your business. One of the first things to decide is whether your best option would be a CRM intended for general business use, which you may have to customize for your business, or an industry-specific CRM already tailored for use by businesses like yours.
It can be tempting to simply adopt the first option that fits your budget, or the one with the most brand recognition. However, by taking the time to schedule multiple demos or test driving more than one product, you will better understand what your business' must-have needs are and how the software will fit within your existing customer relationship management process.
Choosing the best product will ensure better user adoption and lead to improved organization, collaboration, and productivity, ultimately yielding higher sales numbers. The "right" CRM will need to take into account a set of business-specific factors, as detailed in the following sections.
Organizational CRM Goals
The most important thing to consider when comparing CRM software features in the decision-making process is knowing what your business needs and wants to get out of your CRM. Your business goals can be broadly attributed to your operation as a whole or for a specific function of your organization, such as sales or marketing.
Some common examples of CRM goal statements include:
"I would like to automate some of the repetitive, lead assignment tasks in my business."
"I would like to centralize my sales operation and project management processes."
"I would like to manage sales activities and payment processing through one platform."
"I would like to increase team communication efficiency within my operation."
"I would like to measure and report sales key performance indicators using real-time CRM data."
Budget & Billing Preferences
Your organization's budget and billing preferences are essential in ensuring a newly implemented CRM is more of an investment than an expense to the business. Aside from the monthly or annual subscription price, you'll also want to consider training costs, additional costs for features not included in the base plans, and system migration costs.
Desired Platform Features
Based on your CRM goals and operational needs, there may be specific features you are more interested in than others. Therefore, you should thoroughly review the built-in tools and third-party integrations of each CRM software product prior to selection.
Here are just a few examples of specific features that could be included within a CRM:
Integration with social media platforms such as LinkedIn, Facebook, or Twitter. Popular CRM examples that can offer these social media integrations include Zoho CRM, HubSpot, and Zendesk Sell.
Built-in artificial intelligence (AI) tools for sales insights. Solid examples of this feature in CRMs include the Freshsales, Freddy AI features, and Pipedrive's AI Sales Assistant.
Advanced data analytics tools. Salesforce is a prime example of a CRM with robust analytics reporting.
Built-in invoicing capabilities. A CRM example with built-in invoicing tools is Bitrix24.
Built-in phone capabilities, including a voice-over-internet-protocol (VoIP) integration. Agile CRM is a popular CRM that offers a robust VoIP integration.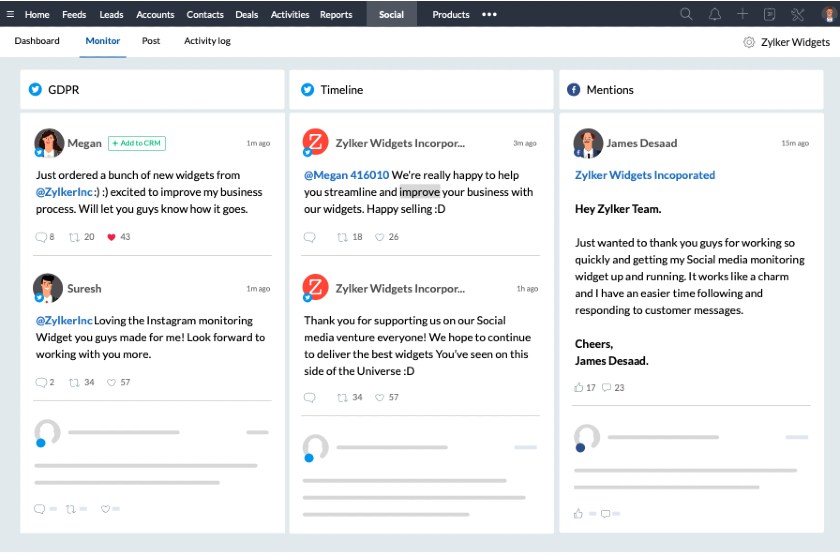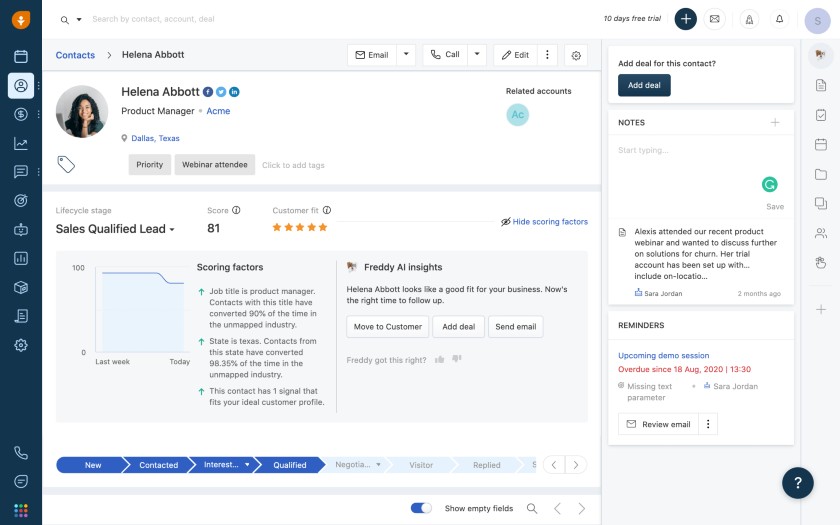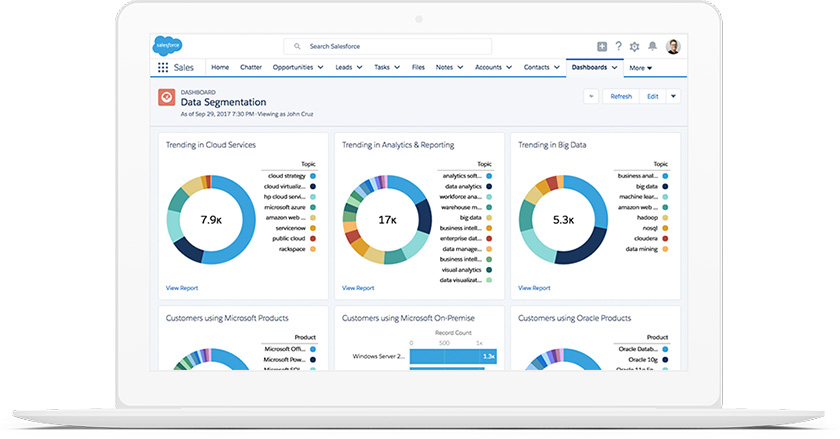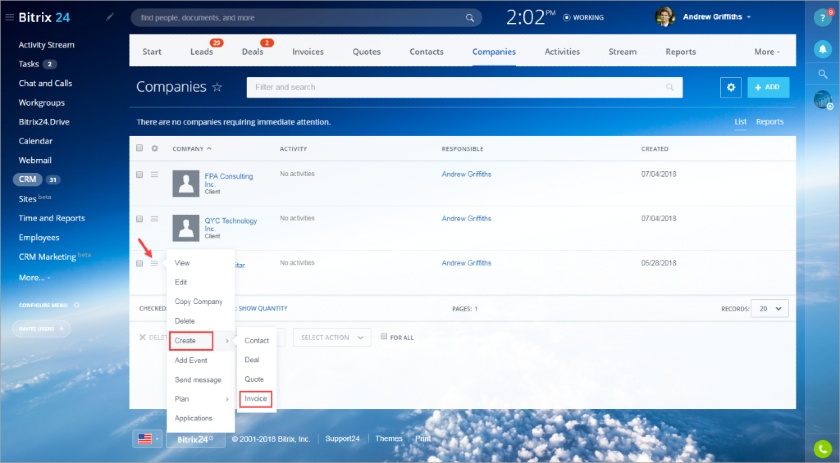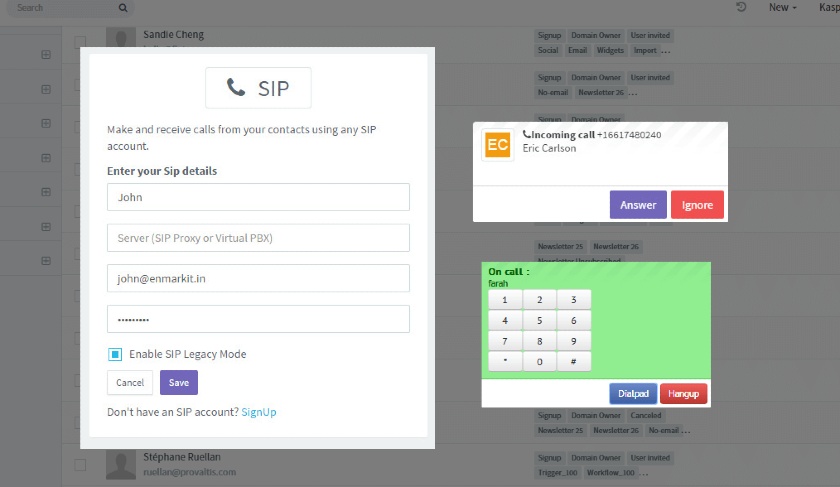 Technical Skill Required
No matter what features are included, they will be rendered useless if your users cannot operate them. Nearly 38% of businesses cite the lack of technical skills as a reason that adopting a new CRM fails. This is why some CRM providers invest more heavily than others in the development of a user-friendly interface.
The skill required to operate the products can be evaluated in terms of the experience your team members have using CRM software, their overall technical skills, and the amount of resources (time and money) you plan on putting toward their training.
Want more information about choosing the right CRM for your business? Check out our article on how to choose a CRM.
2. Plan a Detailed CRM Adoption Strategy
CRM adoption refers to the number of users who actually use your CRM system. It is essential to have a high adoption rate for your business to get the most out of your CRM. Unfortunately, only 47% of businesses have an adoption rate of over 90% of their users. Poor CRM adoption numbers can create incomplete data and miscommunication within an organization.
For that reason, a detailed CRM adoption strategy should be planned prior to implementation and followed throughout the entire process. Your plan should include how you envision your CRM will support the goals and strategies of your business, and include items like a data migration plan, adoption incentives, and a user training plan.
Don't let user adoption be the reason a CRM implementation project fails. Check out our article on ways to increase CRM adoption.
3. Offer Regular Training Sessions
An essential CRM best practice is offering training to your organization's users before, during, and after the implementation process. No matter how easy a platform is to use, ongoing training provides significant value to your business. It reinforces platform usability skills, offers opportunities to discover new tools, and trains users on new or updated features offered by the CRM software.
Training should be provided in a formalized way in which training goals are set by each user to track results and follow-up for additional training or coaching when needed. Training should also be a continual process where employees are encouraged to complete new modules or tutorials periodically, no matter how experienced they are with the platform.
You can also incentivize training to improve CRM adoption rates. For example, you can require users to complete a specified number of training modules each week until all of their initial training is complete. Upon completion, reward employees with gift cards, then begin a new incentive program for completing newly released training tutorials as additional features are added as well as modules for employee weak spots.
Many CRMs have training resources available through consultants, articles, and video tutorials that sales reps can easily access. Internally, your business can also encourage skilled users to assist new or struggling team members, and develop cheat sheets employees can use for reference when operating the CRM.
4. Take Advantage of Automation Whenever Possible
Workflow automation tools are secret weapons that save your small business time and money by preconfiguring and automating repetitive tasks. It is estimated that nearly $1 trillion a year is lost due to tasks being mismanaged or forgotten, much of which could be solved by automation.
Nearly every CRM offers the ability to automate workflows, and if it can't within the system, then it can through an integration with Zapier, which transfers information between various external web applications. For example, a user can create a "Zap" where a HubSpot account is connected to Google Sheets, so anytime a form is submitted through HubSpot, it triggers a new row to be created on a Google Sheet with the information.
One way workflow automation can be used is in the lead generation process. Let's say you configure a workflow where a lead generated through your Facebook ad will automatically be added as a contact in the CRM system to a lead list. Your workflow can then be expanded to assign the lead to a sales rep, automatically send an appointment scheduling link to the lead, and send promotional emails to the contact on an ongoing basis.
Agile CRM is an excellent example of a platform that assists in workflow automation. Through a point-and-click configuration style, users can set automated actions based on trigger rules such as adding a set number of lead score points after a lead visits a certain URL.
Another effective way automation can be used is for the deduplication of leads. For example, Zoho CRM has a built-in tool that can automatically detect and inform users of potential duplicate contacts in the database.
5. Leverage Third-party Integrations
Integrating with outside applications is one of the top CRM best practices because it improves results, streamlines workflows, increases productivity, and helps your business save money. Integrations enable your team to continue using software they are familiar with while consolidating data and improving collaboration for multiple departments in a single CRM system.
Although many CRMs allow businesses to centralize data and processes of multiple departments through built-in tools or native software, one of the best ways is through third-party integrations. Integrations also enable you to save money by going with a lower-cost CRM whose features don't fully fulfill your wish list when third-party integrations can fill in the gaps.
An excellent example and one of the most common CRM integrations used by small businesses for invoicing and accounting is QuickBooks to connect invoicing and accounting. Through the CRM portal, businesses can monitor outstanding balances and invoices on a contact-to-contact basis.
Other CRM integration examples include Slack for messaging with teams, Zapier for automating workflows, and Google Workplace for consolidating Google business applications. Likewise, social media integrations for LinkedIn, Twitter, and Facebook can help your business manage social media content and automate lead generation tasks in your CRM system.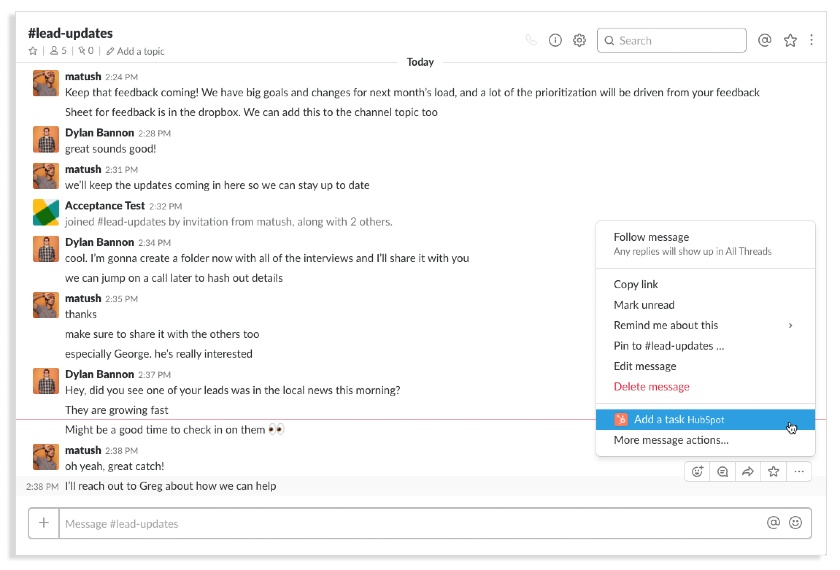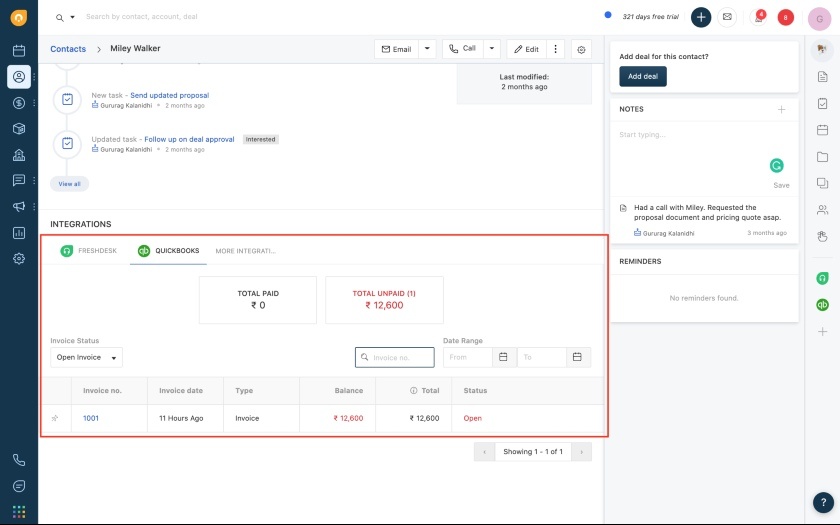 6. Customize Your CRM
Customizing your CRM to the unique needs and processes of your business increases satisfaction among your team while using the platform and simplifies using the system. Both of these benefits ultimately increase your CRM adoption rate. Examples of customizations include your interface's layout, custom reports, dashboards, data fields, and the specific CRM funnel your business follows for its sales process.
For example, Pipedrive allows businesses to have their deals customized with different stages and layouts, like Kanban or funnel style depending on how their sales operation operates. This customization is beneficial because every organization uses different deal stages depending on their products and services, team bandwidth, technology, resources, and sales culture.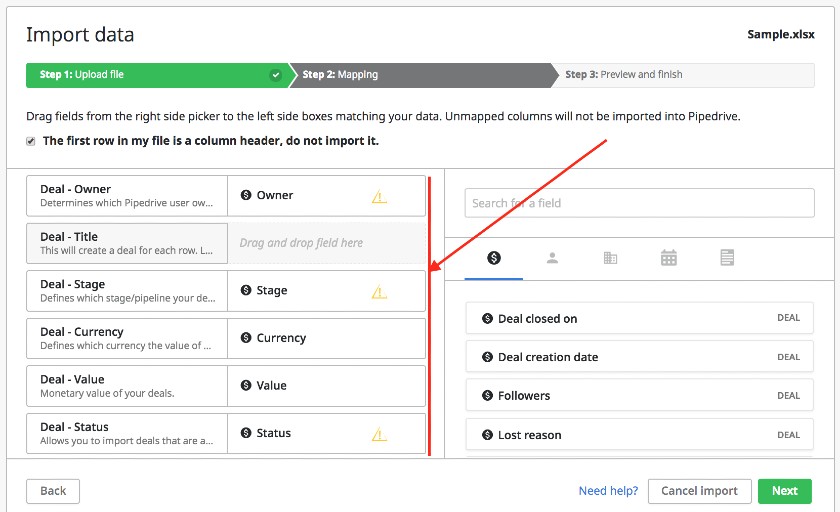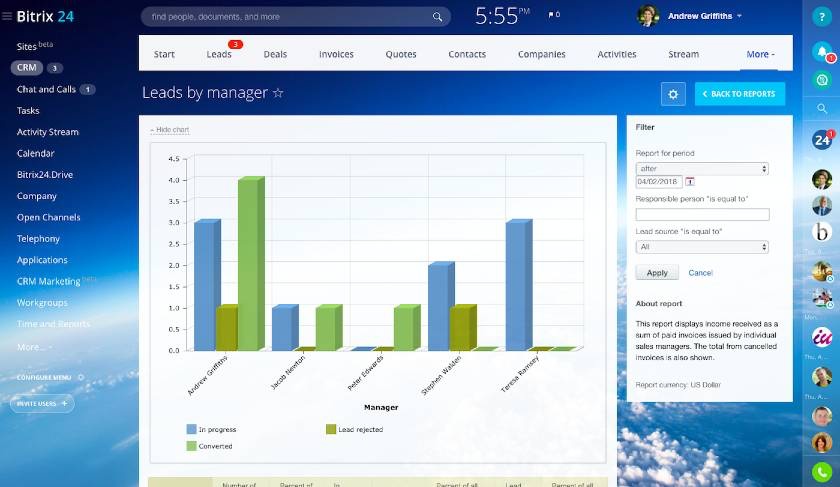 7. Conduct Periodic System Audits
Auditing your CRM system refers to both evaluating your database system as well as CRM usage. Furthermore, it is a great CRM best practice for monitoring whether or not your business is gaining value from your CRM in terms of productivity, organization, and sales growth.
Periodically inspecting and auditing your CRM's data to find inaccurate, obsolete, duplicated, or fragmented information is the first step for maintaining a clean CRM database. Data maintenance can then be done through either manual input, such as a user clicking on a record and deleting or adding data, as well as through automatic processes where AI tools find an incorrect or duplicate record and users can resolve it with one click.
When auditing your CRM's usage, evaluate things like user adoption, user satisfaction, and if there are underutilized CRM features that should be taken advantage of. You can gain these insights by surveying users and monitoring CRM activities such as calls placed, tasks completed, or emails sent.
Most CRM products allow you to view activity within the system for a specified period of time. For example, Zoho CRM gives system administrators permission to view access logs to see which users are using the CRM and view their activities.
8. Take Advantage of Data Analytics
Data analytics can be used to improve the overall efficiency of your business. In fact, surveys show that 55% of businesses using data analytics do so to identify operational improvements and better predict outcomes.
These analytics are especially useful in conjunction with a CRM for analytics pertaining to sales. Your business may find insights on things like lead conversion rates, most successful lead sources, top communication channels for closing deals, and highest-performing products or services.
Insights also show where your business should invest more resources. For example, let's say your data analytics indicate most of your leads are coming from online website forms—and that those leads are 60% more likely to convert during the winter months. You can then plan to invest more money on marketing and advertising intended to route web traffic to your online forms just before the winter months, and less money in other months.
For more information on analytics, check out our article on the small business guide to CRM analytics.
Bottom Line
A CRM is a tremendous resource for increasing collaborative sales efforts and revenue growth. It is also a substantial investment to your small business, so be certain both the right CRM is selected and is being used to the best of its ability. In addition to using the technology solutions within a CRM system, a series of best practices should be implemented and enforced so your business attains the most financial value for your CRM investment.
For more information about CRMs, check out what a CRM is and what it can do for your business.