8 CRM Best Practices for Small Business
This article is part of a larger series on CRM.
Customer relationship management (CRM) software is a powerful solution for organizing lead information, communicating with customers, and streamlining sales processes. However, you must incorporate specific actions during the adoption process and in your day-to-day use to reap its greatest benefits. We explore how to select the best CRM platform for your needs and discover CRM best practices to attain the most value.
Download our free CRM e-book to learn more about choosing and implementing CRM software for your small business.
1. Take Time to Choose Your CRM
Always take advantage of product demos and free trials before settling on a CRM system to ensure the software fits your business needs. As a baseline, it should fit your budget and essential usability requirements. Providers like HubSpot offer a free-forever plan with basic features such as contact management. HubSpot is also well-known for its clean and intuitive interface—requiring minimal technical skills to navigate.
You then need to consider the feature capabilities to ensure they meet your desired functionality goals. While our example, HubSpot, is regarded as a general-purpose CRM, your specific operation may require what's known as an industry-specific CRM. For instance, NexHealth is a CRM platform compliant with the Health Insurance Portability and Accountability Act (HIPAA) and has tools and integrations specific to health service providers.
Your desired platform features are determined by what you want to gain out of your CRM. The chart below offers examples of goal statements, their associated CRM features, and software providers highly acclaimed for those features:
| CRM Goal Statement | Relevant Feature(s) | Ideal CRM Option |
| --- | --- | --- |
| "I want a simple database system to organize contact and lead information" | Contact management features | |
| "Our goal is to centralize sales operations and project management processes" | Built-in or native project management modules within the CRM system | |
| "I would like a simple solution to automate some of my repetitive sales tasks" | Workflow and process automation | |
| "My team is looking for advanced insights and analytics about sales activities to make improvements" | Activity and production reporting with artificial intelligence (AI) analytics | |
| "I want to manage sales and marketing activities in one system" | Email automation plus social media, content, and ad management tools within the CRM | |
Once you're confident in the product you've chosen, the next seven CRM tips and tricks will help you obtain your desired return on investment (ROI) from your sales software:
2. Plan Your CRM Adoption Strategies
The next step also happens to be one of the most difficult initiatives businesses face today—software adoption. Adoption refers to the degree to which users consistently utilize the platform and features. For a frame of reference, the average adoption rate for a CRM across all industries is only 26%.
Without adequate adoption numbers, you risk running a sales operation with incomplete or missing data and wasting time completing tasks manually that could be automated. There's also the lost value of subscribing to software for unused features. Some CRM implementation best practices include clearly establishing CRM goals and benefits as well as getting an early commitment from employees and management.
Pro tip:
Don't fall into the trap of a failed CRM adoption project. Our guide on the six ways to increase CRM adoption allows your business to flourish, grow, and remain organized by staying committed to its new CRM product.
3. Provide Consistent Training
After the initial implementation, provide CRM training on an ongoing basis to keep your reps comfortable with the features they already use and to learn about capabilities new to them. Formal training demands a series of goal-setting, tracking, and following up by team leaders and sales managers. To keep it positive, offer incentives such as gift cards, cash prizes, or time off to increase training engagement.
The key is establishing a schedule for team members to complete new training modules, enforcing that regiment, and supplementing their knowledge with one-on-one coaching. Many CRM solutions offer online training videos and tutorials on their websites. For example, HubSpot has its own HubSpot Academy on its website. In addition to basic training on sales and marketing, they have specific modules dedicated to using their CRM software.
4. Customize Your CRM to Your Unique Needs
Regardless of which CRM you subscribe to, each product has a level of system customization. Users can design data fields, sales pipeline stages, tabs, pages, dashboards, and modules unique to their needs. The more relevant your CRM is to your sales process and operation, the more likely employees will continue using it.
HubSpot makes customization easy for teams to set up their CRM to their preferences. Within the settings system, users can create and tailor data fields (referred to as "properties") in records for leads, deals, or contacts and design association labels to tag a record with relevant information such as their lead source or customer persona.
Additionally, calculation properties within a record can be configured to set up equations based on numerical values such as dollars or time increments. There's even the option to create object pipelines—indicating a process toward an outcome such as all of the steps in your sales process needed to finalize a deal.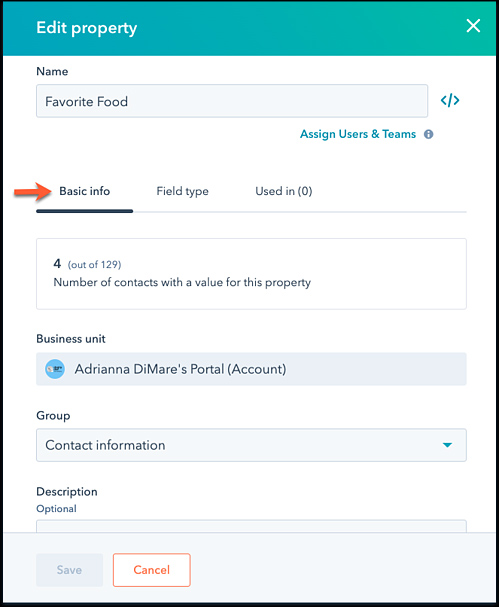 ---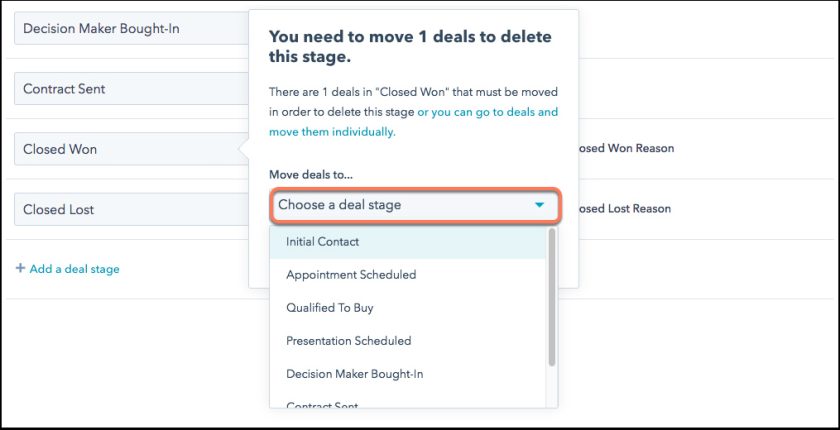 ---
5. Take Advantage of CRM Automation
Automation is somewhat of a hidden gem within CRM systems that gets overshadowed by lead, pipeline, and data management features. Businesses using a CRM with workflow automation capabilities can shorten their sales cycle. CRM workflow automation tools can also eliminate the need to manually complete repetitive activities such as data entry or task assignment, and engage leads without using actual personnel.
Most CRMs, including HubSpot, have built-in automation builders or integrate with Zapier, third-party software that transfers data across external applications. When taking the Zapier route, users can create "Zaps," which offer workflow automation. For example, you can design the process to create or update contacts in HubSpot CRM any time someone new is added to Google Contacts or they have new contact information.
Within the CRM system, HubSpot lets you design and deploy automated emails based on customer segments and how they interact with your campaigns. You can automate other activities as well, including lead rotation and assignment, data enrichment, and chatting with website visitors through an automated chatbot.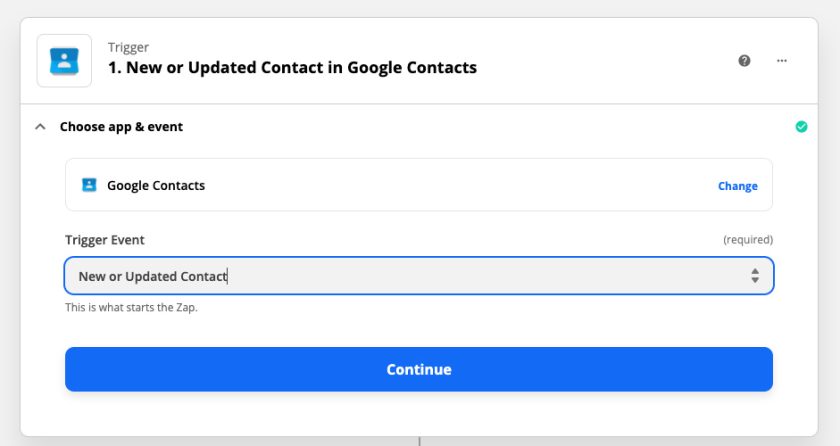 ---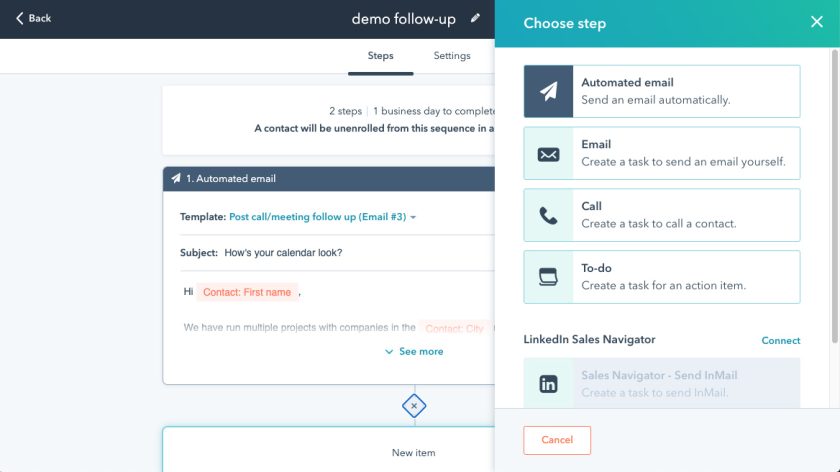 ---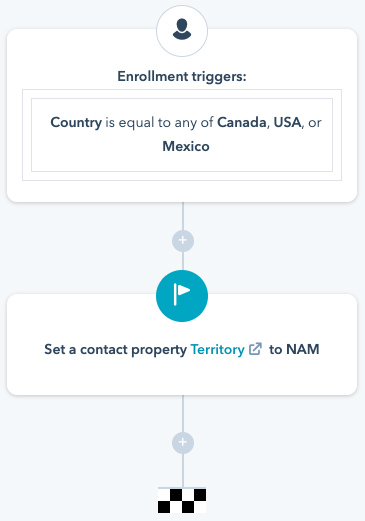 ---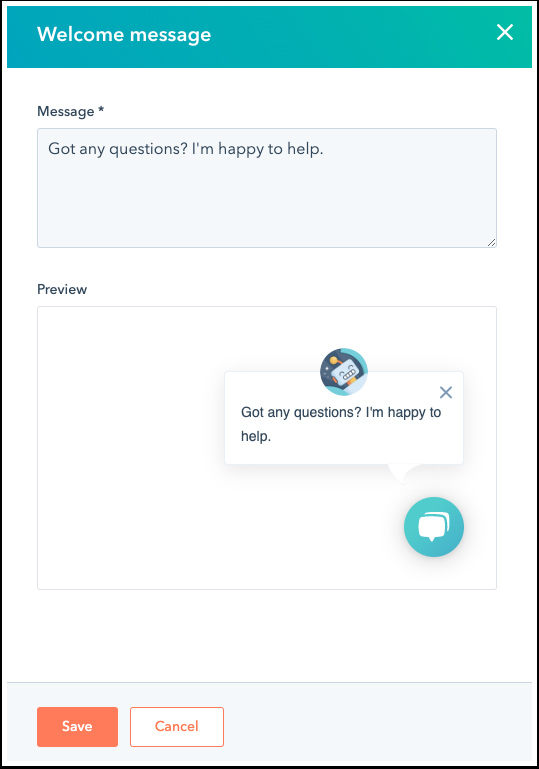 ---
Pro tip: Learn more about automation technology by checking out our ultimate guide to CRM automation. You'll gain insights on popular workflows you can automate through a CRM system as well as their underlying benefits.
6. Utilize Third-party Integrations
Getting the most out of your CRM means centralizing as many other business processes as possible into one platform. In other words, if you are using other popular third-party applications for small businesses such as Calendly, Trello, or Google Workspace, you should integrate them with your CRM to synchronize data across platforms. This helps eliminate the need for double data entry and allows more cross-departmental collaboration.
Some integrations even let you use some of its functionality with a CRM system. For instance, certain CRMs that integrate with Slack, such as HubSpot, let you add a task to the CRM database from a Slack messaging channel. Teams can also integrate accounting software like QuickBooks to track and send payable invoices from the CRM.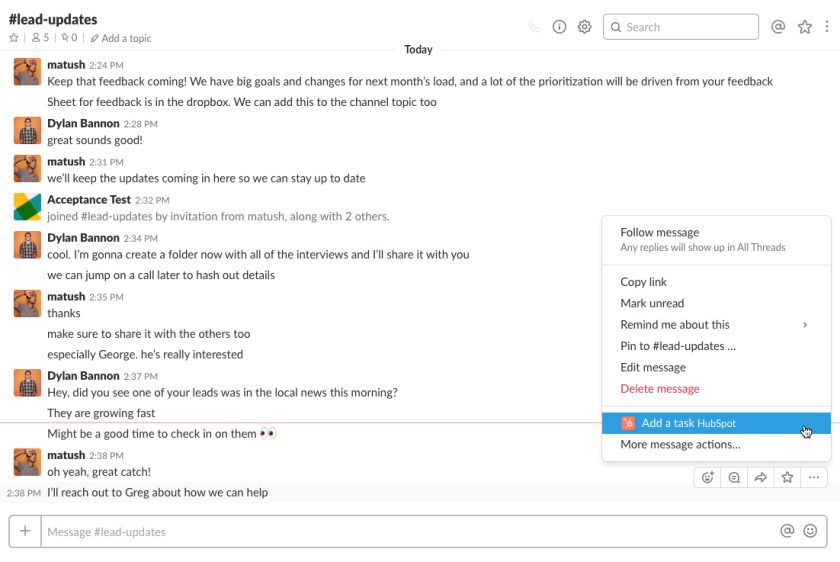 ---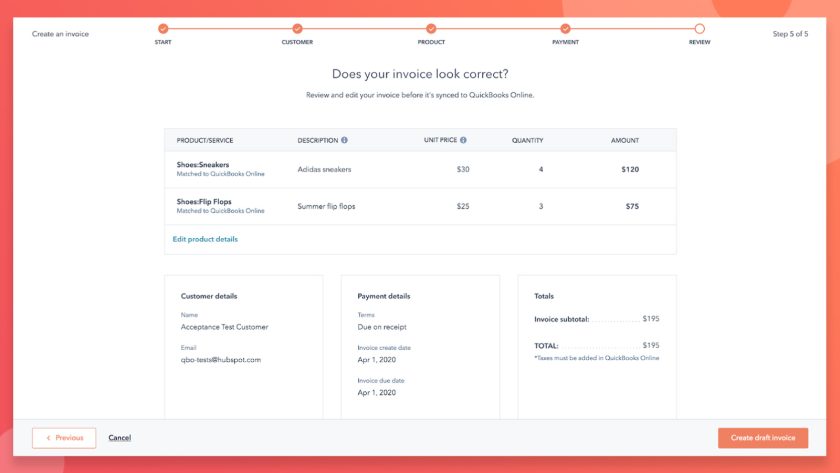 ---
Pro tip:
Interested in learning more about integrating third-party software with your CRM? Our guide to CRM integration helps you navigate this realm in terms of popular integrations and potential challenges that can arise during the synchronization process.
7. Run CRM System Audits
A great CRM data management best practice when using a platform and managing other users is periodically conducting system audits and viewing activity. This can be done through manual checks or by compiling information automatically on a report or system log—accomplishing the following key objectives:
Tracking sales performance: This evaluates whether investing in a CRM produces as much value as you hoped. Within HubSpot, you can pull custom reports on sales activity and production—giving management the ability to view metrics like calls placed, emails sent, or more concrete performance indicators such as revenue generated.
Ensuring data integrity: This ensures information security remains intact. HubSpot lets system administrators view all user activity like logins, data entries, the modules each user has access to, and whether they've downloaded anything from the CRM. Tracking lead or customer data exports from departing employees is vital to protect your sales opportunities.
Checking feature usage: This ensures all critical features, most notably the data management functions, are being used. If your CRM users aren't entering and updating sales data in the CRM, you need to address the issue so no one is working with inaccurate information. You can manually assess this by checking in on contact or opportunity records to make sure they contain up-to-date information.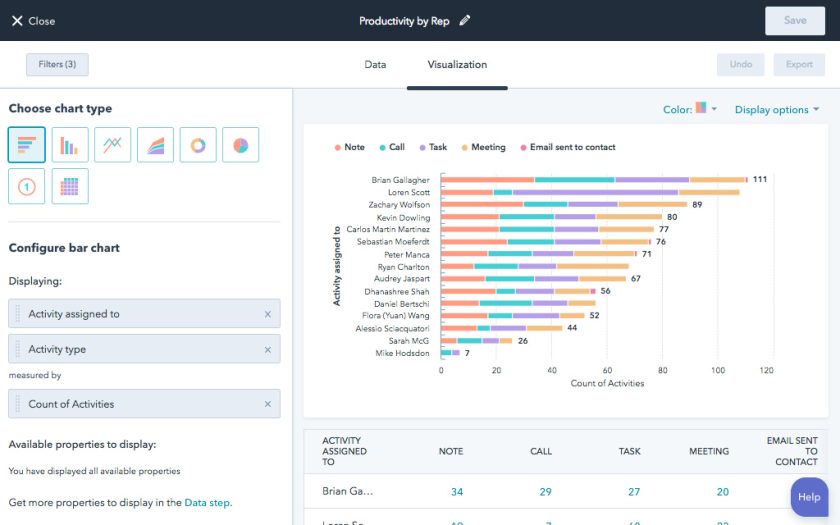 ---

---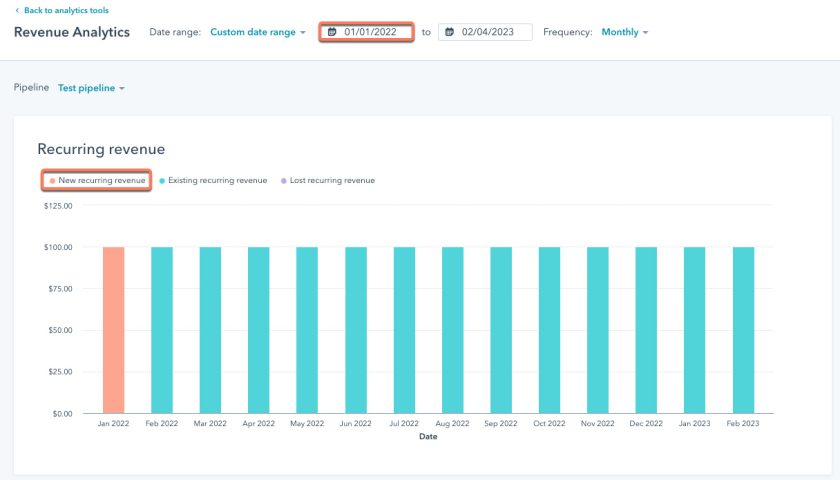 ---
8. Take Advantage of Data Analytics
Analytics tools in CRMs take stored data and turn it into valuable insights for critical decisions. Because CRMs store tons of information about leads and sales opportunities, you can use CRM analytics to find ways to improve conversion rates, make revenue predictions, identify top lead channels, and find ways to improve overall sales performance.
For instance, say you were using HubSpot to evaluate your team's deal funnel to see where the bottlenecks are. Using conversion analytics, you might find that one particular stage in the sales pipeline is losing the most leads. From there, you can attempt to improve that specific step by providing relevant sales training, investing in a software tool to streamline that stage's tasks, or assigning more personnel to assist there.
Bottom Line
CRMs offer the potential to help businesses achieve revenue growth due to the provided collaboration features, automation, and data organization tools. To fully reap its benefits, however, small business leaders must follow a proper framework that boosts CRM engagement and proficiency. These CRM tips should be used as a guiding resource for implementing and using your CRM system and managing other users.