Top 13 CRM Features & Functionality Small Businesses Need
This article is part of a larger series on CRM.
Customer relationship management (CRM) software offers various tools to help businesses improve relationships with their customers and manage their sales processes more efficiently. We've identified the 14 most essential features and functionalities to look for when choosing and evaluating CRM systems to subscribe to so you can make the most of your investment.
The most essential CRM features include:
Contact management: Used to record, track, and manage the details of your business contacts.
Account management: Helps you keep track of all your lead and contact interactions, including activities and communication history.
Reporting and dashboards: Provides you with routine summary reports of sales figures, email marketing results, or sales agent performance.
Workflow automation: Automates actions in various CRM activities like deal management or email automation through triggers such as field entries, customer actions, or inactivity.
Customer database: Organizes customer data and manages your company's interaction with them.
Lead management: Helps sales teams organize and prioritize leads to ensure they pursue the right contacts and customers.
Territory management: Allows you to assign leads or accounts to specific agents based on geography, industry, product, or account size for more efficient follow-up.
Email marketing: Enables robust communication with your leads and customers using either individual emails or bulk messages and tracks the results of your email campaigns.
Sales forecasting: Generates predictions for upcoming sales or revenue based on past and present data and trends.
Document management: Collects, uploads, stores, and shares files and documents in a centralized location that all relevant team members can easily access.
Customizations: Lets you create unique fields for reporting or business-specific pipeline stages.
Integrations: Syncs your data with third-party apps and tools to extend the capabilities of your CRM.
Cross-platform compatibility: Allows you to run your CRM on various platforms, including desktop and mobile devices.
Here's a closer look at how these features benefit your business with examples from some of the best CRM systems for small businesses:
Learn more about the features included in popular CRM systems and how to choose the best platform for your team in our comprehensive CRM ebook.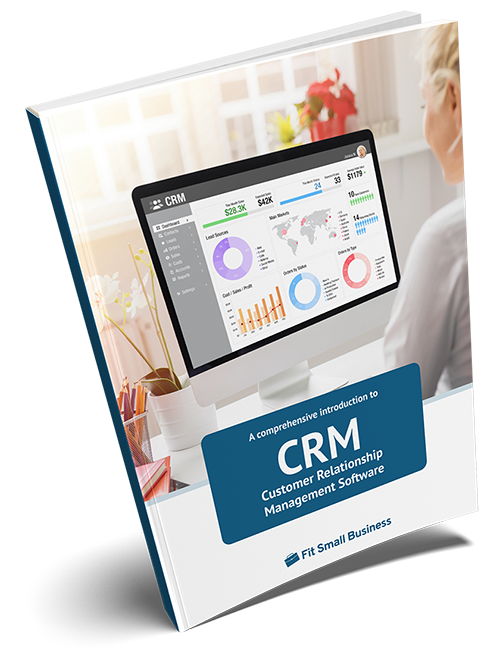 The Expert's Guide To Customer Relationship Management
Small Business Use Cases + Pro Tips
1. Contact Management
Contact management is a core CRM feature that allows you to create, store, track, and organize information about your prospects, leads, and customers. Details include names, addresses, contact numbers, social media accounts, job titles, and company details. While you can use a simple spreadsheet to store the information, a CRM system centralizes the information and makes it easier for multiple users or departments to access them at any time.
The contact management feature is especially useful when sales representatives need to reach out to their leads and get an overview of their profile before starting a meeting. They can simply pull up the contact entry from the CRM and note the important details to personalize their conversation and outreach.
Zoho CRM's contact management features:
Multichannel engagement allows you to communicate with prospects and customers via email, live chat, and phone.
Syncs contact information with relevant sales data and allows your support team to provide consistent customer support.
Based on interaction history logged in to the system, Zia—Zoho's AI assistant suggests the best times to reach out to contacts.
Add meeting logs to contacts, so that other team members will have background context on the company's interaction with them in future engagements.
To learn more about contact management features and services, check our guide to the best contact management software.
2. Account Management
Account management is a stage in the sales process applicable to a purchase of a product or service where continued servicing of a customer is required. For example, a construction project that usually lasts for months or years is considered an account that a business requires to ensure that the customers' needs are met through activities such as upselling and cross-selling.
The account management feature is crucial in ensuring all tasks for a specific client or project are monitored and delivered on time. It also allows users to monitor different metrics to determine an account's health and track conversations to understand if a customer is satisfied with their product or service.
Insightly's account management features:
Track account or project milestones through project pipelines that allow you to tag the appropriate team members.
Integrate the system with other third-party apps like email marketing or social media management, so all information for a specific project is synced.
Lets users personalize project management stages to fit their own internal processes.
Read our guide to the best account management software to determine which tool works best for your business.
3. Reporting & Dashboards
CRM reports and dashboards provide users with the data and metrics they need to monitor their business performance. They typically include an overview of sales activities, revenue status, new leads, sales pipelines, and key performance indicators (KPIs). These data are presented through visualization tools, such as charts and graphs.
CRM reporting tools help you make more efficient business decisions based on reliable, real-time data. This data helps spot business trends and identify your company's strengths and weaknesses. In addition, you can use compiled data to track your marketing campaigns and determine at which touchpoints your customers are most engaged.
Salesforce's reporting and dashboard features:
Sales agent performance reports allow users to see the individual performance of their agents, including deals closed and revenue brought in.
Opportunity reports provide visibility to spot top opportunities to prioritize based on potential amount and pipeline stage.
Pipeline reports show leads and deals in various stages including those that need qualification and analysis, as well as those that require proposal submission.
Interested to know more about the kinds of reports you can generate from your CRM? Check out our guide on the essential CRM reports.
4. Workflow Automation
Workflows automate steps to complete sales processes based on predetermined rules and conditions. It automates actions triggered by certain events such as field entries, customer actions, or inactivity in your various CRM tasks like deal management or email automation. When certain criteria are met, actions like automatically sending email alerts to customers or task reminders to follow up with a certain lead will take place.
There are different types of workflows you can create in your CRM platform. Some of them include deal management workflows, email marketing automation workflows, lead scoring workflows, and customer feedback workflows. Workflow automation helps salespeople reduce manual work as the system helps them move things along through various sales stages with intelligent triggers.
Agile CRM workflow automation features:
Create drip marketing campaign workflows that contain various emails sent at specific intervals or when certain actions occur.
Create lead scoring workflows to evaluate lead quality based on the actions taken on your various marketing activities or assets, including opening emails or visiting specific webpages.
Automate the routine administration of incoming tickets and the process that moves them through to resolution such as level of priority or customer follow-ups.
Our guide to the best sales automation software provides a rundown of the top tools you can use to enhance your sales process. In addition, learn more about other workflows you can create in your CRM software in our article on the best samples of great CRM workflows.
5. Customer Database
A customer database is one of the most fundamental CRM features that helps you organize customer information and manage your interactions with them. The content of this database includes your customer's personal information, the source of lead, points of contact with the customer, and levels of engagement.
It also allows you to access sales and marketing data associated with a particular contact, including purchase history. You can use the stored data in your customer database to uncover your customers' preferences, identify your top customers, and gauge your sales performance.
HubSpot CRM's customer database features:
Create up to 1 million contact and company records for free.
Add contacts manually by inputting all their contact information or extracting their details from emails or form submissions.
Send emails, make outbound calls, log sales activities, schedule appointments, and add deals directly from the contacts tab.
Gmail and Outlook integrations automatically log outgoing emails within the contact record.
We have compiled a list of the best customer database software. Check out this article to find out which solution is the best fit for your business.
6. Lead Management
Lead management is the process of capturing leads (potential customers), monitoring their activities and behavior, qualifying them, and nurturing them to convert them into paying customers. A CRM solution's lead management feature helps businesses organize and prioritize their leads to prevent missed follow-ups and improve overall engagement.
The lead management process starts with the automatic capture of lead data in your CRM system. The software then tracks the activities and behavior of that lead, including the webpages they visit and the conversations you have with them. After that, the leads are distributed to relevant salespeople or departments, depending on their location, interests, and other factors you define.
The lead qualification and scoring process starts once your company gets in contact with your lead. At this stage, leads are checked to determine which ones are worth pursuing, and those that show interest in your product or service are passed on to the lead nurturing cycle, where they receive multichannel engagement via email, text messages, or social media. Once they become sales-ready, they are passed on to the sales management team.
Zoho CRM's lead management features:
Capture leads from landing pages hosted on WordPress, Unbounce, Joomla, and other content management systems.
Card scanner app scans business cards and saves them straight into the system.
Sync Facebook lead ads to generate targeted leads from social media based on metrics, such as age, demographics, and interests.
Integrates with Google Ads to discover which types of ads convert the most leads.
Explore our guide on the best lead management software to learn which option can best help you optimize the use of the lead data you collect.
7. Territory Management
Territory management is an essential CRM tool that lets you assign leads or accounts to specific sales agents based on geography, industry, product, or account size. This allows your agents to specialize in specific geographies or industries, making their lead management tasks more efficient. For example, an agent focusing on the healthcare industry allows them to know the ins and outs of navigating the landscape such as compliance and patient data privacy regulations.
There are various territory segmentations you can set in your CRM system. The most common ones include location, customer size (number of customers assigned to a specific agent), and business industry. In some cases, hybrid segmentation may be used, which entails combining segments for better efficiency. For example, an agent may be assigned two territories: retail industry in a specific geographic location.
To learn more about how to maximize the benefits of the territory management tool, read our guide on how to successfully implement territory management.
Zoho CRM territory management features:
Territories are automatically assigned to records when it is created or modified.
Allows users to assign a maximum of 10 territories for each account or contact.
Sales managers can create forecasts for the users in the territory and provide role-based permission access.
Allows users to configure their business forecast settings and create forecasts every quarter or month based on identified territories.
Discover the top CRM providers with excellent territory management features by reading our guide on the best territory management software for small businesses.
8. Email Marketing
A CRM solution with email marketing capabilities lets you send professional-looking individual or mass emails to your leads and contacts directly from your CRM system. It typically includes pre-made email templates, email automation, and email campaign monitoring features. The emails sent out are personalized based on the customer data gathered by your CRM and their stage in the sales funnel, which fosters customer engagement and helps drive sales.
HubSpot CRM's email marketing features:
Extensive email template library and drag-and-drop editor that lets users send out professional-looking emails.
A/B or split testing feature allows users to create two versions of emails, send them out to different lists of subscribers, and evaluate which version performs better and gets more interactions.
Email marketing analytics provides in-depth information and insights on how subscribers are interacting with emails, including time spent reading the content and links that got the most clicks.
To discover which solution offers the best mass emailing features for your business needs, check out our guide on the top CRM software for email marketing.
9. Sales Forecasting
A sales forecast predicts when sales opportunities may close within a particular given time, as well as the corresponding revenue they bring. Most modern CRM companies leverage artificial intelligence (AI) to create predictions based on the available information, including lead quality and the estimated amount of revenue of each opportunity.
Freshsales' sales forecasting features:
Shows the status of deals and the likelihood to close in a month or quarter, or any identified closing date.
Freshsales' AI-powered assistant called Freddy Insights recognizes patterns in customer behavior and sales trends, and generates data-backed revenue forecasts.
Forecasts motivate your team to put in extra effort if they appear to be lagging behind their quotas, and can also serve as a basis for hiring additional staff if there is an increasing trend in opportunities.
10. Document Management
A CRM document management feature helps you capture, store, track, and share electronic documents. These may include business proposals, contracts, and digital scans of your business files. This feature also allows relevant team members or departments to access the documents from a centralized location without exiting the CRM app. You can also customize who has access to specific files and who is authorized to modify them.
With a built-in document management feature in a CRM, you no longer need to scan documents and share them with other team members manually. It also enables faster response times and improves employee efficiency because customer-related documents can be easily retrieved from your CRM.
Pipedrive document management features:
Send proposals, documents, and invoices, as well as sign deals with an electronic signature without leaving the Pipedrive dashboard.
Allows users to convert documents to PDFs within the platform.
Integrates with Google apps, including Slides, Sheets, and Docs.
Has an auto-fill functionality that lets users easily add customer information to their documents.
11. Customizations
Every CRM offers a different set of customization options. However, the most essential ones are your sales cycle, lead scoring variables, opportunities, and types of contact details you save. Most CRM systems allow you to add new or alter existing features to make the program a better fit for your business needs. Customization also covers sales and marketing tools or modules that you can turn on and off, depending on your specific business needs.
If you provide marketing services or resell third-party solutions to other companies, we recommend looking at our guide to white-label CRM software to see which provider offers the best package for you. This type of CRM is highly customizable and can be configured to fit the needs of your customers.
Bitrix24's customization features:
Create custom fields for webforms to get all the information you need that default templates might not include.
Change sales or marketing automation settings by adding or removing stages based on your own internal business process.
Scale up your CRM's capabilities by integrating it with other third-party apps.
For those looking for free or low-cost CRM solutions that are also highly customizable, open-source CRM software is an excellent choice.
12. Integrations
A CRM integration is a key CRM functionality that seamlessly connects your CRM app with third-party software. These connections help extend the capabilities of your CRM system and allow you to address gaps in its features. It improves productivity through workflow automations by giving you and your team access to all the data (and often much of the functionality) of both systems in a single platform.
For example, when you integrate HubSpot CRM with Trello, any changes you make in one app will be automatically updated in the other one. Some CRM solutions allow you to integrate with dozens of apps, while others have limitations to the number of integrations. If an app's native integrations are limited, it is almost always possible to extend its integrations with other apps through Zapier, a third-party integrating software.
To learn more about how integrations can help extend your CRM's functionality, read our comprehensive guide on CRM integrations.
13. Cross-platform Compatibility
Cross-platform compatibility is an essential CRM functionality because most businesses run their devices on various operating systems. Therefore, when looking for CRM software, it is best to choose apps that support several operating systems, including Windows and macOS.
The availability of iOS and Android apps is also key, especially for sales teams with remote and field workers who need to access their CRM from mobile devices. Robust mobile apps gives you access to essential CRM features and data, including updating lead information and tasks, moving sales pipelines to different stages, and communicating with your customers.
Pipedrive's mobile app features:
Access and update all of your CRM data on your smartphone, such as updating leads and tasks and moving deals in various pipeline stages—even when offline.
Desktop and mobile apps both reflect the same system customizations, making it one of the easiest mobile apps to use for agents who are constantly on the go.
Mobile apps can be synced to other popular mobile apps, such as WhatsApp, Gmail for mobile, Google Maps, and Microsoft Outlook.
Available to users of both iOS and Android devices.
Discover the top CRM providers with robust mobile apps by reading our guide to the best mobile CRM apps and find which one suits your needs best.
Bottom Line
There are many providers and types of CRMs available in the market, and each one offers a different set of features and functionality. When choosing CRM software, it is important to do your research to ensure the provider you choose has all the basic and essential CRM features and functionality you need—and our list above outlines the most fundamental ones.