A customer relationship management (CRM) strategy is an organization's plan of action to leverage available customer data to improve their relationship. Successful implementation of CRM strategy requires reviewing your business strategy, mapping your customer journey, understanding your team dynamics, and selecting the right tools needed to facilitate the implementation.
If you are developing your CRM strategy and don't know where to start, download our free CRM strategy template and use it to take notes while you follow the steps below. It's a worksheet you can use to list the elements to consider in developing a sound plan.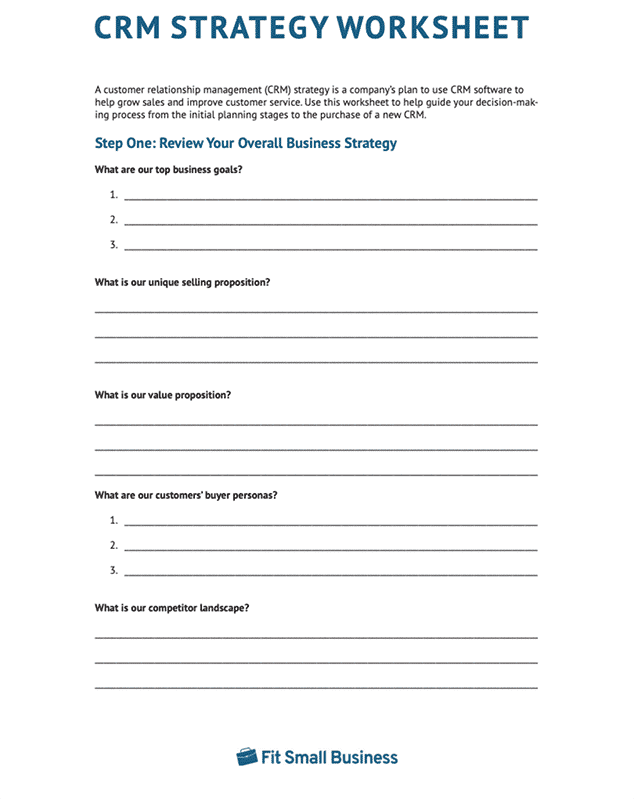 Thank you for downloading!
💡 Quick Tip:
Once you've created your customer relationship management (CRM) strategy, give your sales team the tools to execute it effectively with robust CRM software.
Use a CRM like Pipedrive to help your sales team collaborate on deals, develop sales reports, track deals, and create custom sales dashboards
Visit Pipedrive
This guide is intended for those in the process of developing their CRM strategy. While it is possible to do this without using a specialized application known as a CRM system, it is not recommended for businesses that want to nurture long-term relationships with customers. If you've already chosen your CRM system, visit our in-depth article on how to ensure effective CRM implementation.
1. Review Your Overall Business Strategy
Before creating an effective customer relationship management strategy, revisit your overall business strategies first. This helps you craft a clear vision of the results you want to achieve, which may include growing your revenue by a certain percentage, retaining your repeat customers, or increasing your workforce by 10%.
You must also determine how to execute your plan and who will be part of the process. Below are some elements of a business strategy to consider:
Identifying and documenting your high-level goals helps you form an effective CRM sales strategy that integrates with your overall business strategy. A survey report from Clutch found that more than half of business owners do not create sales, marketing, and customer service strategies. Meanwhile, only 15% of those who came up with their strategy documented them, which is likely why only 5% achieved their business goals.
To set appropriate business goals, take note of what you want to achieve within a year through your relationship management strategies. Doing this gives you an edge over your competitors.
Here are a few examples of high-level business goals:
Increase customer satisfaction survey ratings by 10 points
Boost productivity and efficiency by 30% by the end of the third quarter through the number of qualified leads brought in
Exceed sales target by 10% at the end of the calendar year
Increase workforce by 10% to accommodate a larger customer base
Create a dedicated department for the marketing team
---
A unique selling proposition (USP) sets you apart from your competitors and tells your customers why they should choose your company over others. Think about what you currently do or offer that similar companies don't have. A USP is a sweet spot between what you do well and what your customers want, and it plays a crucial role in your entire marketing strategy.
Here are a few examples of excellent USPs:
FedEx: "When it absolutely, positively has to be there overnight" (highlights FedEx's bold promise to fulfill next-day delivery)
Tattly Tattoos: "Fake tattoos by real artists" (tells you they offer temporary tattoos meant to look like real tattoos)
TOMS: "Shoes for moving forward" (a combination of the purpose of wearing shoes as well as helping others, as TOMS matches each shoe pair purchase with a donation)
---
An effective value proposition is a statement that summarizes the specific results and value a customer receives if they use your product or service. It is an innovation or a feature intended to make your company more attractive to customers.
Unique selling proposition vs value proposition: A unique selling proposition focuses on a company's unique qualities and the things that make it superior to its competitors in general. A value proposition, on the other hand, directly highlights how your business could improve your customer's life or address their specific pain points.
---
A buyer persona is a fictional character representing your ideal customer: their likes and dislikes, behaviors, and interactions with your brand. Creating a buyer persona helps you identify your specific target market, understand what your potential buyers are looking for, and provide your customers with what they want or need. It ensures your sales and marketing campaigns are not wasted on the wrong leads.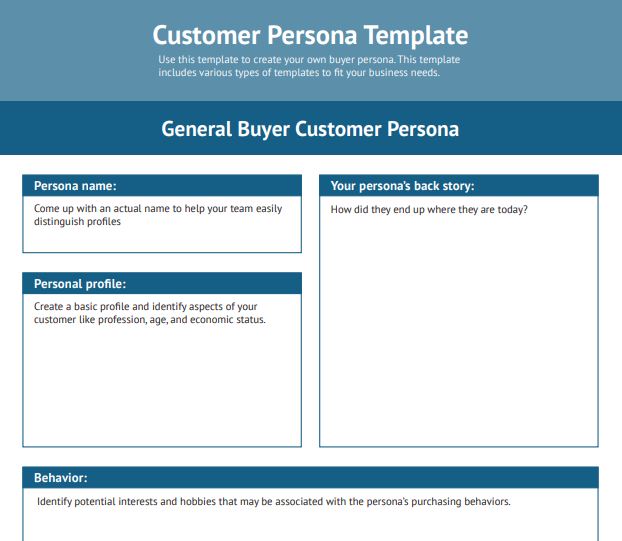 Thank you for downloading!
💡 Quick Tip:
Customer relationship systems like Zoho CRM allow you to store customer persona information and use tagging features to add traits to each prospect–making it easier to segment your customers into personas.
Visit Zoho CRM
---
Knowing who your competitors are and how your business fits into the industry lets you monitor trends, assess your company's ability to maintain a competitive advantage, and come up with CRM tactics. It also enables you to make business decisions based on notable trends and see how your competitors conduct their sales and marketing campaigns. Not knowing the competitive landscape puts you at a disadvantage because you won't know how to compete with them.
---
2. Establish Your Sales Channels & Sales Processes
Sales channels are the avenues your organization utilizes to distribute your products or services to a market. Some businesses use a business-to-business (B2B) approach, while others use a business-to-consumer (B2C) approach. Establishing and ensuring your sales channels and processes are streamlined means guaranteeing a good experience for your customers—from making a purchase down to post-sales activities.
Below is a quick comparison of B2B versus B2C:
B2C companies typically sell their products directly to consumers in a process called direct sales. Such transactions can be closed in person or via direct online purchases. In this process, your company handles product creation, inventory, supervision of the sales process, and hiring and management of the sales team.
Advantages of a B2C model:
Increased control over the speed of the sales process: Selling directly to customers, as well as handling your own inventory and logistics, gives you more control over how fast you fulfill orders and get them to your customers' doorstep as quickly as possible.
Opportunity to receive direct feedback from customers: When customers make a purchase straight from your website, their details are automatically saved in your database. This gives you the opportunity to ask for their feedback to improve your sales process.
More control over the selling price: Since you are directly selling from your own channel, you have complete control over the selling price. On the other hand, a distributor or reseller may increase the amount to balance out their operational costs and profits.
Larger businesses benefit from a B2B approach where they sell their products via resellers, distributors, retailers, or wholesalers. Here, your company does not interact with the consumers, and the resellers get a percentage of the product sale. While this may leave you with less control over the sales process and thinner profit margins, it could also open more opportunities to scale your business and reach more customers.
Advantages of a B2B model:
Reduced expenses for distribution: Resellers and distributors typically have a vast network of distribution channels and can help you reach more customers, such as retail chains or malls.
Increased chance for growth via new channel partners: Exposure to established and trusted distribution channels can give you many opportunities to be seen and discovered by new partners that might be interested in carrying your products.
Define the Sales Process
The sales process is the set of steps needed to move a prospective buyer from brand awareness to the stage of a closed sale. It is essential to define your sales process because it is crucial for the growth of your business. You can also leverage your CRM software's capabilities to track a prospect's movement through the nine stages of the sales pipeline.
3. Map the Customer Journey
The customer journey map is a visual representation or a diagram of a customer's interactions and experiences with your business across all touchpoints. To map your customer journey, envision their interaction with your company from their perspective—from the first touchpoint, such as an advertisement, to consideration and actual purchase.
When creating this visual, include your business touchpoints, stages of customer engagement, and the goals you want to measure. Mapping out the journey of your customers helps you identify stages in your sales process that need improvement, which we will discuss in the next section. The customer journey starts with awareness and ideally ends with a purchase. Different factors affect a buyer's decision-making at each stage.
Once you have outlined your customer journey stages, identify the obstacles in each stage that stop your customer from making a purchase. These challenges may include not having a comprehensive frequently asked questions (FAQ) page on your website, limited customer support channels, and generic email marketing that doesn't fit their interests.
Identifying these challenges in the customer journey map helps determine what actions you should take to address them. For example, you could revisit your FAQs page to address potential buyers' questions about specific product features, pricing, and shipping costs or send a satisfaction survey to customers who made a purchase.
---
For every touchpoint in the customer journey, provide different types of content that support your prospect. It could be a how-to guide or educational e-book that helps a prospect address a pain point. You could also provide product guides, webinars, or ads for customers.
Pro tip: Content marketing is one of the most effective ways to generate and nurture leads. To evaluate if your content strategy works for you, you can manage and track its performance in your CRM dashboard. This is where you can typically see how your content performed based on the actions of your customers—such as clicking links or making a purchase.
---
4. Select the Right CRM Software
When choosing the right CRM platform for your business, consider a wide range of factors, including pricing, features, capabilities, and integrations. Talk to your sales, marketing, and customer service teams to determine their required CRM tools. Ask them if they need features, such as auto-profile enrichment, email marketing, or social media platform management. Based on their answers, look for CRM options that fit those needs.
After identifying potential providers, sign up for free trials or schedule free demos to see firsthand what each CRM looks like and how it works. Doing so allows you to experience its features and determine its ease of use before signing up and paying for a subscription.
In our guide on how to choose the right CRM software, we break down the process into six steps:
5. Plan for CRM Implementation
CRM implementation is the process of setting up and deploying CRM software. It needs proper planning to maximize your investment and make sure that the software gets utilized. Things to consider when mapping out your CRM implementation roadmap include evaluating cultural readiness and identifying CRM roles. You also need to involve your sales, marketing, and service teams in the entire process, as well as conduct proper training.
Explore our guide on how to implement CRM in eight steps for more information.
Thank you for downloading!
💡 Quick Tip:
Implementing your CRM properly means you'll be able to manage all your customer data in a centralized system, track leads and deals, and analyze your overall business performance.
Consider providers like Pipedrive which has robust tools that include contact and lead management, visual sales pipeline, and sales analytics tools.
Visit Pipedrive
6. Define Team Goals & Set KPIs
Setting individual goals for your sales, marketing, and service teams helps set employee expectations and gives them something to work on as they move ahead. The goals you establish for these teams should align with your overall company objectives, as each team member's goal must contribute to the growth and success of the business. To make the process more organized, use the SMART model to guide you in coming up with your team's goals and key performance indicators (KPIs).
For example, the marketing team's use of the CRM system must contribute to an increase in mailing list subscribers, while the sales team's use of the tool must generate more high-converting leads. You can also set a goal for your service team to improve the overall customer satisfaction rate, as they have the CRM to help them streamline their communications with your customers.
Establish Key Performance Indicators
Key performance indicators (KPIs) are quantifiable elements that measure your company's performance against your set goals and objectives. They could include growth in revenue, net sales, average conversion time, number of contracts signed, and monthly website traffic.
You can track these metrics and generate reports using CRM analytics. A CRM tool like Salesforce can help you track metrics, such as the number of meetings an agent needs to set to close the number of deals required to hit the quarterly quota. Other KPIs you can track using these tools include pipeline deals, individual sales, conversion time, and lead qualification percentage.
Another provider you can consider is Freshsales, which has strong sales performance measurement capabilities. The system can track an array of metrics, such as average win rate, average deal size, average sale cycle, sales per agent, and sales by region.
Benefits of Having a Robust CRM Plan
Maintaining strong relationships with your customers is paramount to keeping them engaged with your business. Whether that is turning them into repeat buyers or making them ambassadors of your brand—either way, it helps your business grow. Below we list some of the most common benefits of having proper customer relationship management strategies in place.
Helps you reach your business goals: Your business goals should be your main guide when coming up with a CRM strategy. Reviewing your goals will remind you of things you must consider in the process, such as revisiting your targets, deciding on your sales channels, and profiling your ideal customer.
Provides a clear idea of what your customers want and need: Creating a proper CRM strategy will require you to look at existing trends and data to understand your customers' behavior. If you map your customer journey in creating your CRM strategy, you will understand their obstacles when it comes to making a purchase, which will help you create solutions to address their pain points.
Enables you to choose the right CRM for your business: Coming up with a CRM strategy helps you identify your business goals and review your sales processes. Once you've done these, it will be easier to identify the features and functions that you would like from your chosen CRM system.
Allows you to measure the success of your efforts: The best way to know if your strategy is working is to see if it helps you achieve your goals. One of the easiest ways to do so is to see how they measure up against the metrics you've set to determine your success.
Bottom Line
Creating robust CRM strategies is essential in nurturing customer relationships, growing business revenue, and improving the customer experience. Plus, it will help you come up with an effective CRM process. In addition, it strengthens the collaboration between your sales, marketing, and service departments. It also provides your company with metrics and data insights to guide you in creating future business strategies.