A customer relationship management (CRM) strategy is a company's plan to use CRM software to help grow sales and improve customer service. It incorporates an overall business strategy with input from sales, marketing, and customer service, identifying all potential touch points that occur during the customer journey.
Here are the seven steps for creating a CRM strategy.
1. Create an Overall Business Strategy
Creating an effective CRM strategy starts with understanding your company's overall strategy. The strategy you choose attempts to answer key questions like where, what, who and how you will operate in your market. The answers will help form the backbone of your sales strategy. The following are some of the elements of a business strategy you'll need to know before creating a sales strategy.
Understand Business Goals
Setting the right business goals will inform how you approach the other elements of your customer relationship and account management strategy. Doing this will set you apart from the majority of your competitors as more than 80% of small business owners, according to Staples' National Small Business Survey, don't even monitor their goal setting.
The following are high-level examples of business goals:
Improve the efficiency of my customer service team
Increase the margins on all new business by 5%
Implement a volunteer program for my employees
Boost yearly revenue by another 25%
Develop a Unique Selling Proposition
A unique selling proposition (USP) defines the factors that make your product or service different from and better than your competition. Knowing your USP gives you one high-level tool when asked: "how are you different from the other company?" The USP also becomes the marketing trunk from which you hang the marketing limbs.
Define Your Value Proposition
A value proposition is a statement of the specific results a customer will get, and the value they will receive if they use your product or service. Being able to articulate this to a prospect will get the sales conversation started (and keep it from ending too soon) and differentiate you from your competition.
Here are a few examples of what a value proposition is not:
"We provide cheap long distance phone services to small businesses."
"Our solution will reduce your accounting stress and help you sleep better."
"Our software helps attorneys draft legal documents."
Here's an example of a good value proposition from sales expert Jill Konrath:
"We help large companies reduce the cost of their employee benefits programs without impacting benefit levels. With the spiraling costs of healthcare today, this is a critical issue for most businesses. One of our recent clients, a large manufacturing company similar to yours, was struggling with how to reduce spending in this area. We saved them more than $800,000 in just six months."
Know Your Customers With Buyer Personas
A key foundational element for any business is understanding its potential buyers. This helps determine who and how you will be marketing, selling, and servicing them. It also helps you better position your business with the needs and goals of these buyers in mind. These fictional customer representations are called buyer personas.
Most businesses have more than one persona, but not so many — less than five — that each one becomes too granular and your marketing gets diluted because you are trying to cover too many messaging bases. Personas typically address the following areas: Demographics, which include age, location, gender, marital status, education, job title, and income; and psychographics, which include goals, challenges, interests, values, and personality.
For guidance on what to ask, check out this buyer persona template. Once you know what ask, the next step is asking. Here are the most common and effective ways to gather information for developing buyer personas.
Interview Your Employees
Employees, particularly those that interact with clients, possess a wealth of information. For example, a customer service representative talks to clients every day. They hear the challenges, goals, and even how they prefer to do their shopping.
Interview Current & Past Clients
The best way to learn about your ideal clients is to interview actual clients, current and past. Think about your best client, the one that represents the type you would like more of. Tell them you are trying to learn more about how to grow your business and would like to ask them some questions. These interviews are invaluable because you often hear things you didn't want to hear but glad you did. Keep the interviews short, no more than 20 minutes.
Conduct Surveys
Surveys are a great way to get answers about your potential buyers particularly if you have a lot of customers and prospects. A survey can streamline the process of gathering the data yet provide a clear picture of who your buyers are and what's important to them.
Understand the Competitive Landscape
If you don't know who your competitors are and how your company fits into the space, you'll be at a costly disadvantage. Knowing the competitive landscape allows you to spot industry trends, understand how your competitors are marketing and selling, and ultimately know how and if your company will keep its differentiators to maintain its competitive advantage.
There are many ways to compare the competition so you'll have to decide what's most important. Look at this competitive analysis guide to get started with questions to consider.
2. Map the Customer Journey
The customer journey map is a roadmap showing how a customer or prospect interacts with your company with all of the experiences they have along the way. This encompasses your operations, marketing, sales, service, and support — any aspect of your business — and any way that these teams may "touch" a prospect or customer.
Some example touchpoints include the following:
Your website
Social media mentions
Yelp reviews
Email marketing
Paid ads
Chatbots
Ultimately, these people have goals, and you're trying to help them achieve those goals whether it's educating a prospect on how your software differs from your competitors or showing a customer how to use a particular feature of the software. Like buyer personas, these maps are fictional representations of how these interactions will transpire. The steps and actions taken are dynamic, and that's OK.
Equipping your team with the right software will ensure they're prepared to go wherever the customer journey may take them. Using automated live chat software like Freshchat will give you the ability to customize chatbot conversations and workflows, so you dictate how the bot interacts with your website visitors. The chatbot engages visitors who are about to leave your website or are closer to making a purchase, qualifies them as leads, and auto-uploads the leads into a CRM (like Freshsales). Best of all, the basic version of Freshchat is free to use.
Which CRM Software is Right for You?
Identify Current Challenges
With the stages of your journey map outlined, review each stage to determine what issues and challenges you have for each one. For example, if your conversion rate after a software trial is low, determine why it's low. Once a prospect signs up, are they using the trial? Do you provide enough information to get them started? Do you provide them with a company point of contact to answer questions? Do you have an online support community?
Create a Content Plan
Each touchpoint in the customer journey will require content to support different stages. The types of content for prospects will differ from but also cross over to those of customers. For example, content for a prospect may include an asset like an educational e-book showing how a particular pain point can be resolved using a certain type of tactic. More specifically, a guide "How to Develop an Influencer Marketing Strategy" may be created by a marketing agency.
On the customer side, content can be assets like guides on how to use a product, instructional webinars, and paid ads for new or complementary products. These examples can also be used on the prospect side. You can see examples of content as touchpoints in the example customer journey map above.
3. Establish Sales Channels & Sales Process
The channels you sell your products and solutions will likely already have been decided unless you are just starting out. For example, if you own a residential roofing company, you are selling directly to the consumer. But if you're a business-to-business (B2B) software start-up, you have a number of possible sales channels to consider. What you sell and to who will determine what your sales process looks like, and how that integrates with your CRM strategy.
Sell Direct to Customers
As the name implies, you're selling directly to a consumer or another business if you're a B2B company. As in the roofing and software examples, you may offer a service that will be marketed and sold without involving any other selling layers. You have the most control over this process. However, for a company that needs to scale quickly, as in the software example, it can also be the slowest.
Sell Using a Distributor or Reseller
When you sell your products through a distributor or reseller, you are giving up both the one-on-one interaction with the customer and control of the sales process. You are also leaving the entire experience from branding to quality control to this "middleman." Your profit margins will also be thinner.
But for some businesses, these sales channels can mean the difference between growth and closing the doors. You can combine these with your current sales model like selling direct to maximize opportunities for growth.
Here are some of the benefits of using a distributor or reseller:
Instant access to established businesses and their clients, allowing for faster and larger rates of growth
Access to the sales experience of a reseller used to selling similar products
Lower potential barriers to entry
A competitive advantage over those not using these channels
Define the Sales Process
Creating a sales process is a sometimes overlooked part of a CRM strategy. However, it's crucial, especially if you plan on growing your sales team and business. The more complex your sales and the longer your sales cycle, the more detailed your process should be. Start by identifying the pipeline stages. These are the steps in your sales process needed to move someone from a prospect to a customer. They will be tracked in your CRM.
The stages in the process are sequential actions such as prospecting, initial contact, demo, proposal review, won, and lost. For each step, write out what's involved and what the expected outcomes. For more on pipelines, read
"8 Pipeline Stages For Sales "
.
4. Understand Organizational Dynamics
Whether implementing a CRM for the first time or switching to another platform, you'll need to know who will have access to the CRM and understand how the change may affect your team. Include relevant employees in all stages of your customer relationship management strategy from goal setting to technology considerations to selecting the CRM software. Employees with a voice in the CRM process will be more likely to embrace the new technology.
Evaluate Cultural Readiness
If your team is not already using a CRM, it's a good idea to take the pulse of everyone who will be using it. Identify who these users are and let them know you're going to be implementing a CRM. What's your team's CRM experience? Which platforms have they used? What did they like or dislike about those platforms or CRMs in general? How did it help them perform their jobs better?
Identify CRM Roles
Not everyone in an organization will need to have access to the CRM. Determine who needs access and what levels of access each team member will have. You also may want to name a CRM admin, which is the person that understands both the technology of the platform and all the business processes. For small businesses, this could be an office manager, IT person, or even the business owner.
Another position to consider is a CRM strategist. These professionals, often consultants, develop, implement and manage CRM strategies on either a temporary or permanent basis for businesses.
Align Sales, Marketing & Service
The departments that use a CRM the most are typically sales, marketing, and service. Bring these teams together to understand better how each one will use the tool and what existing tools, if any, each department is already using. For example, a marketing manager is using Mailchimp to send weekly promotional emails and keeps 20 GB of marketing collateral in Dropbox, which is not accessible by anyone else.
Knowing these details will help when it comes time to identify CRM requirements. If you continue to use Mailchimp, you want a CRM that integrates with it. You also may want a CRM with high or no storage limits if you plan to house marketing collateral in the software for easier access for everyone.
5. Define Team Goals
To evaluate the performance of your team, set goals for each group — such as sales — that will be using the CRM. These goals should tie in with your overall business objectives. Knowing these goals will not only set employee expectations, but they will also inform the requirements needed for the CRM.
For example, a software company's goal may be to close 80% of the demos it provides; however, it's only closing 60%. The company determines that part of this gap results from inadequate post-demo follow up. Thus they will want a CRM that can send automated follow up emails for better engagement post demo. The effectiveness of these emails can then be tracked with a CRM that has this capability.
Set SMART Goals to Track Performance Effectively
As you define your goals, make sure each one is SMART, which stands for Specific, Measurable, Attainable, Relevant, and Time-bound. There are variations of each letter so you might see achievable for attainable, but they're defining the same thing. For more examples of SMART goals, see our "20 Best SMART Goals Examples" article. In the meantime, below is an example for a salesperson's quota.
Specific: Sell $150,000 in new business in the Northwest region this quarter.
Measurable: Tracking and measuring progress towards goals was one of the reasons CRMs were created. Whether you're managing yourself or a sales rep., you need to know at any time how an individual or region is performing. The CRM should track progress towards the sales goal showing sales achieved to quota at any point during the quarter.
Attainable: Is $150,000 based on a whim or is it backed up by past performance or another objective indicator? Either way, it has to be believed to be attainable by the person setting the goal and the one tasked with achieving it or else it will never happen.
Relevant: Does the goal align with other sales goals in relation to the overall growth goals of the company? If not, it needs to be adjusted or rethought.
Time-bound: The goal needs to have time parameters in place that puts the goal into perspective. If you have a quarter to close $150,000, you won't expect to close all of that business in the first week. The target date instead allows you to work backward from that date to determine everything you'll need to do to achieve it such as setting five meetings a week to close one deal a week.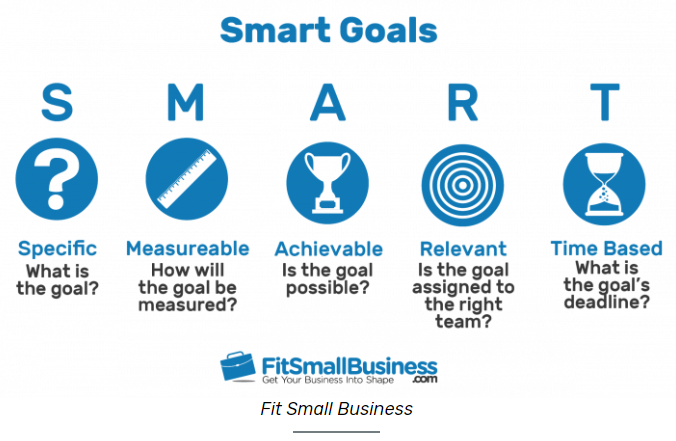 Establish Key Performance Indicators
Key performance indicators (KPIs) are simply metrics used to measure the performance of a person, team, and organization as they relate to their goals. The KPIs selected should tie directly to your company's overall goals and strategy. KPIs can be tracked with different CRM analytics like "close by lead type," "month-to-date sales vs. quota," and so on.
At the top level of a company, KPIs are typically broad like increasing revenue by 25% each month. At the mid-level, a sales team might have a departmental goal of increasing product demos by 20%. KPIs at this level help both goal achievement and building team cohesion. For an individual salesperson, it could be more specific to the success of that person as it relates to their specific targets.
For example, a salesperson with a $150,000 quarterly sales quota will need to set up 30 meetings each month to close on average five customers. In this case, the 30 monthly meetings are a KPI because it ties back to their quarterly sales quota. These metrics can be tracked and measured with a CRM easily.
6. Define the CRM Components
This is the more granular stage of the CRM strategy where you define the who, what, and how. It includes defining contacts, creating pipelines and deal stages, identifying requirements and selecting any additional software necessary for a successful sales team. These actions don't have to be created in the CRM initially, though it may help to visualize everything. If you haven't selected a platform yet, create these steps in writing until you do.
Define Contacts, Leads, Prospects & Opportunities
If you've used a CRM before you know how quickly it can get over-stuffed with contacts from various sources. Because not all of these need to be in your CRM, define what makes a good contact. At a minimum, it should be someone with a full name, email, and phone number. Some CRMs even require all of these before you can create a contact.
A lead may be someone who downloaded an ebook from your site. A prospect is someone who has the types of challenges that your company solves, which you may know because you met them at a tradeshow. An opportunity can be someone who has a challenge you can solve and is considering your company to help them solve it.
The best CRM software let you customize how you categorize a contact with the use of properties. In other words, you can identify them as a lead, prospect, opportunity or whatever label you want to use. Keep in mind, however, that some CRMs have different definitions for all of these. For example, some platforms consider a contact a lead that has been qualified. Depending on which CRM you use, you may have to adjust how you define these categories.
Create Pipelines & Deal Stages
While you don't need to create pipelines right away in your CRM process, it may help to see them "live." More important is identifying the different pipelines you have and the stages involved in each one. For example, if you sell products and services, you want different pipelines for each. The stages in the sales process will be different, and you'll want a way to identify and track these separately in the CRM for management and reporting purposes.
Within each pipeline, list all of the steps necessary to take a contact from lead to customer. These are things like first contact, discovery call, demo, proposal review, and so on. If you've created a sales process, these should be easy to plug in.
Identify the Software Requirements
Identify the requirements you'll need for the CRM by meeting with the sales, marketing, and service teams. What software are these teams using currently? Do they need to integrate with the CRM? Are they looking for new capabilities? For example, sales might need Gmail integration capability, as they would like the ability to send simple, automated emails to follow up with demo customers.
7. Selecting the Right CRM Software
There are dozens of CRM platforms each with their strengths and weaknesses with varying costs. For a small business CRM, expect to pay between $10 and $50 a month per user. Some are more specifically designed for specific industries while others have tools like social media integration or marketing automation built in. Understand the capabilities you need by discussing with your sales, marketing, and service teams.
Review & Research Requirements
For example, to learn more about how a CRM differs from marketing automation, visit "The Difference Between CRM vs. Marketing Automation." Review the requirements from the previous stage on building your system. Are there specific must-haves you need such as integration with Outlook or data integration requirements? Make a list of these. Then use sites like Fitsmallbusiness.com to compare the different features, use cases, and user reviews.
Test Drive CRMs
Once you've narrowed down a handful of CRMs that meet your requirements, review all the features, costs, and upgrade capabilities. Most offer 30-day free trials. Sign up for a few of these to get initial impressions. Then request a demo with the company and be sure to include department managers so they can ask questions. When you're ready, check out "How to Complete a CRM Implementation in 5 Steps" to learn what steps are required to get going.
Frequently Asked Questions: CRM Strategy
How Do I Set Up My CRM?
This will depend on what your CRM strategy looks like and which platform you decide to use. If you were using Insightly, for example, visit our article "How to Set Up Insightly."
What Are the Differences Between an ERP and a CRM?
Enterprise resource planning (ERP) software lets businesses manage all of their core business processes, such as accounting, human resources, and order processing, using a suite of integrated applications to increase efficiency and reduce costs. CRM software manages the contacts within a business and is used to help increase sales and improve customer service. You can read more in our article on ERP vs. CRM.
What Are the Differences Between Customer Relationship Management and Customer Experience Management?
Customer relationship management deals with the one-to-one personal interactions between salespeople and a business' customers, while customer experience management is more focused on the transactions between the two. Having a solid strategy for both is critically important to ensure repeat business or promote sales growth through positive word of mouth.
Are There CRMs That Are Industry Specific?
There are CRMs that were developed for industries such as real estate, insurance, automotive and others. As an example, this article on how real estate agents use Contactually focuses on the popular CRM for real estate professionals.
The Bottom Line: Customer Relationship Management Strategy
Creating a CRM strategy is crucial to grow a company's sales and improve customer service. Although sales will be the primary users of the software, other departments such as marketing and service should also be included in the conversations during the process as the use of a CRM will affect all customer touch points from website experience to demo follow up to knowledge base articles.