6 Best Omnichannel Contact Center Software of 2023
This article is part of a larger series on VoIP.
The best omnichannel contact center software offers multiple customer support platforms, distributes inquiries to the most skilled agents, and allows managers to make strategic business decisions based on real-time data. Offering meaningful insights about agent performance, they help create effective coaching programs and motivate employees toward improved productivity. They have robust third-party integrations, extending the system's capabilities.
Based on our research, these are the best omnichannel contact centers:
Best Omnichannel Contact Center at a Glance
Best Omnichannel Contact Center

Monthly Starting Price per User

Key Features

Supported Channels

FSB Rating

Custom quote

Interaction analytics
Artificial intelligence (AI) coaching and guidance
Integrated messaging and video conferencing capabilities

Voice, short messaging service (SMS), email, live chat, social media, mobile apps, and reviews

4.46 out of 5

Custom quote

Intelligent virtual agents
Screen pop
Workforce management and optimization

Voice, SMS, email, web chat, video chat, and social channels

4.42 out of 5

Custom quote

Whisper coaching
Conversation analyzer
Gamification

Voice, SMS, email, video chat, web chat, and social channels

4.33 out of 5

$110

Monitor, whisper, and barge
Co-browsing
Intelligent interactive voice response

Voice, SMS, email, chat, social media, and messaging apps

4.32 out of 5

$95

AI trainer
Agent Assist
Power and preview dialers

Voice, SMS, email, chat, and social messaging

4.26 out of 5

Custom quote

Intelligent routing
Conversational AI bots
Bring Your Own Channel (BYOC)

Voice, SMS, email, web chat, messaging platforms, social media, and mobile apps

4.05 out of 5
RingCentral Contact Center: Best for Overseeing Multiple Support Channels

What We Liked
Offers real-time coaching through AI
Integrated messaging and video conferencing capabilities are offered across all plans
Provides access to global telephony features
Where It Falls Behind
Outbound dialers are not included in the subscription plans; only available as an add-on
Customer relationship management (CRM) integration adapters require a separate fee
Poor customer service, according to some users
RingCentral Contact Center Pricing*
Standard: Automatic call distribution (ACD) with skills-based routing, interactive voice response (IVR), advanced call recording, and support for 30+ digital channels
Premium: Quality management and screen recording
Ultimate: Workforce management and performance management
*Custom pricing offered on all plans
RingCentral is the top omnichannel contact center software, providing support for a wide range of communication channels. It allows businesses to manage incoming calls more efficiently and launch outreach campaigns for prospects. The inbound call center system features skills-based routing and IVR, increasing team efficiency and minimizing long queues. Meanwhile, the outbound system has predictive, proactive, and progressive auto-dialing modes.
As for digital channels, the provider offers access to over 30 platforms, including:
Email
Live chat
In-app
Reviews
SMS and multimedia messaging service (MMS)
Social media networks (Facebook, Twitter, Instagram, and YouTube)
Messaging apps (Facebook Messenger, WhatsApp, Apple Messages for Business, and Google Business Messages)
In addition, RingCentral provides access to software development kits (SDKs), letting you connect more customer support channels to your contact center system. The best thing about this provider is its integrated team messaging and video conferencing capabilities. Communicate easily with colleagues while accommodating customer concerns.
While it's the best omnichannel contact center in our evaluation, RingCentral Contact Center offers CRM integration adapters as an add-on, requiring a separate fee. Unfortunately, the provider doesn't publish its subscription and add-on rates, but if you don't want to pay more for third-party app connectivity, consider Talkdesk. Its entry-level omnichannel plan offers integrations priced at only $95 per user.
RingCentral Contact Center Features
Automatic callback: Allow customers in queues to request a callback instead of waiting in line. This reduces the number of calls waiting and creates a more pleasant customer experience.
SmartAssist: Let clients find answers and resolve issues by using RingCentral's conversational artificial intelligence (AI) virtual agent SmartAssist. As this chatbot accommodates frequently asked questions and tedious tasks, your live human agents focus on more complex customer requests.
Dynamic reply assistance: To help agents reply faster, RingCentral Contact Center prompts response suggestions when users type a message. The recommendations are based on the channel, message category, and language. Reply templates have dynamic fields that automatically fill out customers' details.
Nextiva Contact Center: Best for Handling High-volume Calls

What We Liked
Features omnichannel routing that uses natural language processing (NLP) technology
Offers 99.999% uptime guarantee
Provides 24/7 support across all subscription plans
Where It Falls Behind
Lacks transparency in specific omnichannel features
Prebuilt integrations and intelligent virtual agent feature are available as add-ons
Connectivity with the provider's business phone system requires a separate fee
Nextiva Contact Center Pricing*
Premium: Blended inbound and outbound call center systems, call recording, digital channel support, essentials quality management, and Nextiva Voice integration add-on
Optimum: Enterprise quality management, enterprise workforce management, and proactive notification
Ultimate: Interactions analytics and entire workflow automation suite
*Custom pricing offered on all plans
Nextiva Contact Center is one of our top picks for omnichannel contact center software, well-suited for companies regularly receiving a large number of calls. The platform integrates with Nextiva's business phone service, which comes with a generous toll-free minute allowance. The maximum is 12,500 toll-free minutes, enough to accommodate multiple calls from several clients nationwide.
To help businesses comply with customer service standards, Nextiva Contact Center has various quality management tools, including basic scorecards and screen recordings. When you upgrade to higher subscription plans, you'll access features for coaching and advanced evaluation, making agent performance assessment easier while supervising several calls.
While Nextiva Contact Center supports high-volume calls, note that the business phone system requires a separate fee from the subscription plan. In contrast, RingCentral Contact Center includes unified communications features in all its packages without additional charges.
Nextiva Contact Center Features
Call recording: New hires and seasoned agents benefit from hearing actual phone conversations and identifying communication gaps. Capturing actual calls also help settle potential disputes between service representatives and clients in case miscommunication happens.
Interaction analytics: The contact center platform evaluates agent and customer sentiments and displays data in a visually appealing manner. Use the insights to pinpoint areas for improvement and improve customer service operations.
Performance dashboard: Oversee contact center activities and track key performance indicators. Using this feature, team leaders and supervisors make swift strategic decisions when issues like long call queues arise.
Vonage Contact Center: Best for Handling Fluctuating Volumes of Customer Inquiries

What We Liked
Outbound dialer is available in the entry-level plan
Allows businesses to offer video-based customer support
Complies with Health Insurance Portability and Accountability Act (HIPAA) and Payment Card Industry Data Security Standard (PCI-DSS)
Where It Falls Behind
Limited third-party integrations
Screen recording, a standard feature commonly included in contact center systems' subscription plans, is offered as an add-on
Doesn't offer unified communications features, like team messaging, in subscription plans
Vonage Contact Center Pricing*
Priority: IVR, priority call handling, analytics, and auto-dialer
Premium: Dynamic routing, whisper coaching, post-call survey, and access to APIs
Add-ons:
Speech analytics
Virtual assistant
Workforce management
Post-call surveys
Gamification
Visual engagement
Screen recording
Integrated unified communications experience
Web and mobile chat
CRM integrations
Vonage APIs
*Custom pricing offered on all plans
Given its unique a la carte pricing scheme, Vonage Contact Center is the best omnichannel contact center for teams that see seasonal rise and fall in the volume of customer inquiries. As you deal with an increase in the number of calls, emails, and social media messages, equip the contact center with tools from the provider's add-on menu.
For instance, add a virtual assistant that automatically answers customers' frequently asked questions, such as "How do I track my package?" or "What's my account balance?" Get workforce management to create strategic schedules accommodating the current contact center demand, ensuring you have enough staff during busy seasons.
Use gamification elements to motivate employees to work toward greater productivity. To identify performance gaps and know how to improve efficiency in customer service delivery, add screen recording. When the volume of customer queries subsides, remove add-on tools and use only the essential contact center features.
Unlike our top omnichannel contact center solution RingCentral, Vonage doesn't have unified communications features, like team chat and task management. If you must improve team collaboration among agents, RingCentral is the better alternative to Vonage.
Vonage Contact Center Features
Einstein AI: See valuable customer service insights from this AI-powered analytics, which categorizes and examines customer conversations. Use it to evaluate agents' product information mastery and compliance with standard workflows.
Dynamic routing: Distribute customer calls to agents based on the client's customer relationship management (CRM) data, priority status, or history with a particular service representative. Matching them with the most qualified agents increases the first contact resolution rate and improves the overall customer experience.
Visual engagement: Let team members interact with customers through video chat. They may use the screen-sharing feature to explain additional issues or processes for resolving problems.
Explore more of this provider's key features in our Vonage Contact Center review. Our guide also outlines its pros and cons, helping you decide if it's worth using in your customer service operations.
8×8 Contact Center: Best for Managing Financial Transactions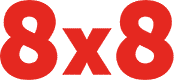 What We Liked
Offers 99.999% uptime guarantee
Features a native CRM tool
Lets users initiate co-browse sessions through chat or voice
Where It Falls Behind
Short retention period for call recordings and meetings (30 days)
Auto-dialers are locked behind the most expensive subscription plan
Payment processing tool 8x8 Secure Pay is a paid add-on
8x8 Contact Center Monthly Pricing
X7: $110 per user for skills-based call routing, call activity and supervisor analytics, omnichannel routing, and co-browsing
X8: $140 per user for auto-dialer, quality management, and speech analytics
With its Secure Pay feature, 8×8 is ideal for businesses looking for a contact center omnichannel technology that handles customers' financial concerns. Secure Pay is a payment processing tool allowing a service representative and customer to stay on the call while the system masks the financial card information keyed in from the client's phone. Thus, customers get peace of mind that sensitive information and the entire transaction are safe.
Secure Pay integrates with CRM systems and payment gateways to facilitate payments. The agent clicks the Secure Pay button from the CRM tool, fills out basic customer information, and goes to the card data collection page. They ask the customer to enter their card number, expiry date, and card verification (CVV). As the customer enters these details, the agent only hears dual-tone multi-frequency (DTMF) tones and sees starred-out digits on the input fields.
The system automatically processes the payment and sends a confirmation to the customer through email or SMS. Beyond offering the payment processing tool, 8×8 complies with PCI-DSS, a set of policies mandating the protection of credit and payment card transactions.
One drawback of using 8×8 as a contact center is that it only keeps call recordings for 30 days. In contrast, Talkdesk retains recordings for up to six months by default. But you may configure this limit to "Do not delete" in the Storage Settings.
8×8 Contact Center Features
SMS: 8×8 Contact Center supports one-way, two-way, and bulk messaging. If you must provide additional resources for customer support, send texts containing links to knowledge base articles.
Post-call survey: Gather customer feedback after a call, evaluating different metrics, such as customer satisfaction, agent performance, or net promoter score. Choose among various survey formats: IVR-controlled, agent-assisted, or standalone.
8×8 CRM: 8×8 automatically searches for an existing client record when a customer inquiry comes through the system. The agent then sees all the relevant information about the customer, including previous support cases, giving better context to concerns.
Check out our in-depth 8×8 Contact Center review to learn more about this platform. See why we gave it a perfect score on general features and customer service.
Talkdesk: Best for Industry-specific Contact Center Activities

What We Liked
Guarantees 100% uptime
Offers access to APIs in the entry-level plan
Features 60+ third-party integrations and more in the AppConnect marketplace
Where It Falls Behind
Doesn't have a search tool, making it difficult to revisit details in chats
Workforce management requires a separate fee from the subscription plan
Uptime guarantee is exclusively offered in the highest-tier plan
Talkdesk Monthly Pricing
CX Cloud Elevate: $95 per user for voice and digital engagement, quality management, screen recording, and conversations mobile app
CX Cloud Elite: $125 per user for custom reporting, access to cloud compliance app, performance management, and any one add-on from these options: workforce management, customer experience analytics, agent assist, and proactive outbound engagement
Experience Clouds: Custom pricing for prebuilt industry workflows, industry virtual agents, 100% uptime service level agreement (SLA), and any two add-ons from these options: workforce management, customer experience analytics, agent assist, and proactive outbound engagement
Talkdesk is the best contact center omnichannel software for healthcare and retail companies, offering subscription packages that feature niche tools. For instance, its Healthcare Experience Cloud for Providers plan has an interface aptly called Patient 360, as it's designed specifically to provide context, history, and information about each patient.
It displays relevant medical information, such as known conditions and medication orders. The patient journey panel shows past interactions with the patient and scheduled events, like checkups. Meanwhile, the Electronic Health Record (EHR) shortcuts panel contains links to screen pops for scheduled appointments and prescription refills.
Similarly, the Retail Experience Cloud for Providers plan has an interface designed specifically to improve communications with shoppers. It shows the brand's product catalog, along with customer profiles and past orders. It integrates with popular ecommerce apps, providing easy access to customer, product, and inventory data.
The best thing about Talkdesk is it offers a 100% uptime guarantee. However, it's only offered in the Experience Clouds plans, the most expensive package. In the case of 8×8's Contact Center, the 99.999% service level agreement (SLA) is available in all its subscription plans.
Talkdesk Features
Call monitoring: Let team leaders and coaches listen to live phone conversations to note agents' potential areas for improvement. Talkdesk features barge and takeover tools that allow supervisors to directly intervene and provide immediate resolution to customer concerns.
AI trainer: Improve AI capabilities in your contact center system without using complicated programming codes. With only a few clicks, managers and admins key in the intent for common questions and statements from customers. This helps train AI tools like Agent Assist and Virtual Agent to better understand phrases.
Preview dialer: Let agents see a client's record and decide whether to accept or reject a call. Service representatives prepare spiels better when they know who they'll speak to.
Use our Talkdesk review to determine if its features match your contact center requirements. Our review also includes our evaluation of the provider's ease of use and customer support.
NICE CXone: Best for Enhancing Efficiency Through AI

What We Liked
Complies with various data security standards, such as Global Data Protection Regulation (GDPR) and Customer Proprietary Network Information (CPNI)
Provides access to multiple interaction channels, including voice, email, web chat, messaging platforms, social media, SMS, and mobile apps
Self-service analytics offer meaningful insights into improving the IVR system
Where It Falls Behind
Outbound dialers are available as optional add-ons
Expensive subscription plans, according to some users
Steep learning curve because of the platform's rich feature set
NICE CXone Pricing*
Customer Engagement – Omnichannel: Self-service IVR, 90+ prebuilt custom reports, advanced audio recording, and support for digital channels
Essentials: Screen recording and quality management
Core: Workforce management and performance management reporting
Complete: Customer interaction analytics and feedback analytics
*Custom pricing offered on all plans
NICE CXone is our top pick for an omnichannel cloud contact center when you want to boost team productivity because it has plenty of AI tools that improve workflows. For instance, it features Enlighten AI routing, which predicts the best agent match for each customer and helps resolve concerns faster.
To route inquiries, the tool combines the data collected from the customer, interaction analytics, and the provider's vast customer experience database. It also considers agent insights, which include service representatives' historical performance, behaviors, training data, and skillsets.
NICE CXone also features the NICE Employee Virtual Attendant (NEVA), which automates repetitive tasks, such as onboarding new team members or determining a customer's eligibility for a credit card limit increase. With these tasks handled, agents focus on more critical tasks. Aside from increasing productivity, NEVA helps boost sales, providing sales scripts and suggesting sales promotions based on a customer's history.
Although NICE CXone is excellent for automating workflows, its outbound dialers are not included in the subscription plans. In contrast, Vonage Contact Center offers automated dialing tools as a standard feature in its packages.
NICE CXone Features
Real-time interaction guidance: This feature evaluates agent behaviors in real time, specifically measuring speech velocity, active listening, rapport-building, and effective questioning. With this, service representatives improve communication strategies while on the call, increasing customer satisfaction.
Unified communications as a service (UCaaS) integrations: Collaborate easily with team members through chat and video conferencing. NICE CXone connects with popular UCaaS platforms, namely Microsoft Teams, Zoom, and RingCentral.
Performance management: Provide agents with data-based feedback so they know their strengths and areas for improvement. Use gamification elements to motivate employees to work toward better performance.
If you're keen on adopting this platform, use our NICE CXone review to learn more about the system. We gave a breakdown of its pricing, features, and customer support to help you in your business decision.
How We Evaluated the Best Omnichannel Contact Center
To assess the best omnichannel contact center solutions, we considered each provider's subscription costs, routing and employee engagement tools, usability, and customer assistance. Our evaluation also includes our expert opinion on its value for money and popularity.
Learn how we evaluated the best omnichannel contact center by clicking on the tabs below:
10% of Overall Score
To determine affordability, we considered the cost of the base-level subscription plan and compared it to the prevailing fee in the market. We checked the number of subscription packages offered, giving more points to those with more than three and catering to companies' different levels of budget requirements. We favored those with discounts for annual billing and bulk purchases.
30% of Overall Score
The general features we looked at were ACD, call monitoring, and call activity analytics. We gave more points to those with robust omnichannel support.
25% of Overall Score
The specialized features we considered were virtual assistant and workforce management. The software with extensive integrations and outbound dialers earned more points.
10% of Overall Score
We evaluated ease of use by determining the expertise required to set up and operate the platforms. We also assessed if they have an intuitive interface.
10% of Overall Score
The variety of customer communication channels was part of our evaluation. We gave more points to providers with email, phone, and live chat support. We considered the hours these channels are active and operational.
15% of Overall Score
This includes our evaluation of the platform's standout features, value for money, and ease of use. We checked user ratings in third-party review sites to gauge its popularity.
*Percentages of overall score
Frequently Asked Questions (FAQs)
An omnichannel contact center allows businesses to provide more efficient customer service, as the data from various platforms are centralized. When customers switch from one channel to another, say, from a phone call to email, they don't need to repeat their inquiries as the omnichannel tool provides visibility to all communications, regardless of the channel used. With better context to customer concerns, agents respond faster and more accurately.
---
Omnichannel contact center systems are ideal for businesses that want to unify all customer communications in one tool. Various industries benefit from such a platform, including healthcare, retail, finance, and hospitality businesses.
---
Multichannel and omnichannel contact center systems provide support for several customer support channels. However, a multichannel contact center keeps data from each channel separate. On the other hand, an omnichannel contact center integrates all information across several platforms, allowing agents to see past interactions in other channels and resolve concerns faster.
---
Bottom Line
An omnichannel contact center allows companies to provide excellent customer service through timely and precise responses to queries and requests. However, not all providers support a wide range of platforms, robust routing tools, and analytics.
Among the platforms we reviewed, RingCentral Contact Center emerged as the best overall solution, as it features inbound and outbound voice and over 30 digital channels, skills-based routing, and various tools for measuring agent performance and customer satisfaction. It helps customer service teams collaborate better with team chat and video conferencing. Sign up for the provider's entry-level omnichannel plan to learn more about its capabilities.